The best dog bike basket is Snoozer Sporty Bike Basket.
Riding a bike with a dog will make your road trip even more enjoyable, no matter what the terrain is. Just like humans, dogs love the wind in their faces. Your pets will surely enjoy the ride.
However, you need to find the best dog bike baskets, and getting one is not that easy. Here are 9 of the top-rated dog bike baskets to help you in choosing the perfect bike basket for you and your pet dog.
The bikes were reviewed based on their safety, function, and comfort so you can make a well-informed choice.
#1 Snoozer Sporty Bike Basket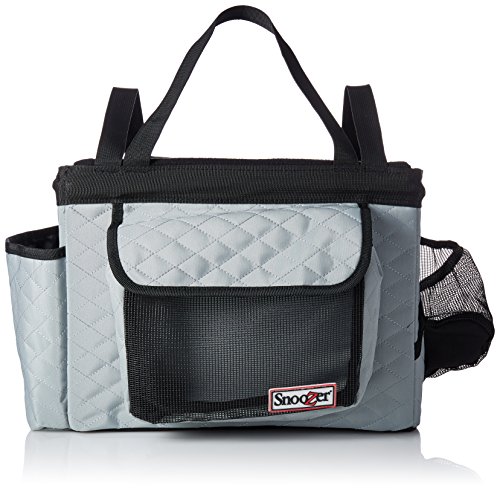 Snoozer Buddy Bike Basket, Grey and Black
EXPLORE TOGETHER. You don't have to leave your pup at home when you go out for a bike ride – now your dog can ride...
DIMENSIONS: The Snoozer Buddy Bike Basket is 10" high by 10" long by 13" wide and can fit dogs weighing ONLY up to...
FEATURES: No need to worry about your dog jumping out while you're biking – our dog bicycle basket features an...
Dog owners love this sporty bike basket from Snoozer. It is made of durable polyester material which is easy to wipe. The basket is available in different color combinations, and the cheapest option has a simple black and grey combination.
The Snoozer Bike Basket can only be mounted on the front of the bike, and not on the rear side. A front-mounted bike basket is so much safer as compared to a rear-mounted version, as you are always in visual contact with your dog.
The best thing about the Snoozer Sporty Basket is that it is durable, easy to clean and has excellent design. It provides excellent value for you and your canine which makes it our top pick.
Pros
---
This bike basket comes with multiple pockets for storing supplies such as dog food, treats, and essential accessories.
The basket's inner leash clip can be attached to a dog's harness to prevent excited pooches from jumping out of the basket while on bike rides.
The Snoozer bike basket can be folded flat for convenient storage when not in use.
The basket's plush interior lining and padded chin rest design provide sufficient cushioning and comfort for dogs while the product is in use.
This sporty bike basket is easy to install with adjustable straps that are attached to a bike's handle.
Cons
---
This bike basket tends to sway from side to side as the rider is making turns, and this poses a safety risk, in addition to being uncomfortable, for pooches contained in the basket.
Several customer feedbacks about the bike basket's straps coming loose while the product is in use.
#2 Travelin K9 Pet-Pilot MAX Bike Basket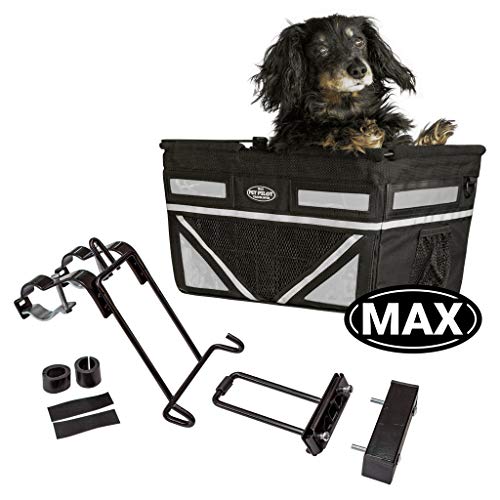 Second, in our list, this product is quite pocket-friendly. Travelin K9 Dog Bike Baskets are designed to carry more weight, as compared to the other front bike dog carriers in the market. They are made of a steel frame to ensure stability but equipped with a padded foam floor for maximum comfort.
This stylish and enhanced Pet-Pilot Max Dog Basket by Travelin K9 has all the features you probably want for your pet carrier. The latest model of the Pet-Pilot bicycle basket has a smart design and improves its functionality. It is considered one of the safest and feature-rich bicycle baskets in the market.
We love the two-point, safety leash added to the dog's harness to offer maximum safety. It gives you peace of mind as you and your pet explore your surroundings on those long bicycle rides.
Pros
---
This product features a front mesh air vent to help keep dogs cool while in the bike basket.
The Travelin bike basket comes with a 2-point, chrome clasp safety leash that can be attached to a pooch's harness to keep the dog in place in the basket while on bike rides.
The inside of this MAX bike basket is padded with a soft, plush material that caresses and provides comfort for a pooch's body when on rides.
The basket features side mesh pockets for storing dog leashes, water bottles, and other necessary accessories.
The Travelin K9 MAX basket is easy to set up and install in front of a bicycle.
Cons
---
The bike basket's lower bracing tends to slide off the handlebar stem and down towards the bicycle's front wheels.
This basket's bottom support basket isn't compatible with all bike types, with modifications required for use with bicycles that have a non-vertical handlebar stem.
#3 PetSafe Solvit Tagalong Pet Bike Baskets
SALE ALERT!!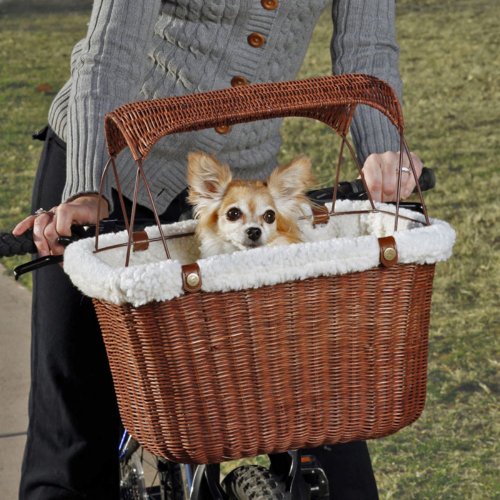 The Solvit Tagalong Bike Baskets by Petsafe are capable of creating a mobile, secure and luxurious environment for your little dog. They are equipped with a convenient bracket system, three-way adjustments, and considered the most affordable bike carriers on our list.
Your pooch can sit, turn and stand comfortably even with the harness attached to the safety lead. The comfort this bike carrier provides our dogs is what we like about this hamper.
Pros
---
The water-resistant material used in making this bike basket is effective at preventing the insides of this basket from getting wet.
The PetSafe basket includes a safety tether that can be attached to a dog's harness to keep the pooch in place during bike rides.
Installation of this bike basket is straightforward, and the product comes with clear and concise instructions on how to install it.
This PetSafe basket features a machine-washable soft fleece liner that is comfortable and cozy enough for pooches to sit in during bike rides.
The bike basket has a removable sun shade that helps to shield dogs from harsh sunlight.
Cons
---
Some customers claimed they received bike baskets that were made of plastic rather than the resin wicker material that is advertised in the product description.
This basket's dimensions are not compatible with all bike types, as incompatibility can affect the rider's balance while riding.
#4 Petsfit Dog Bicycle Basket
Petsfit is known for its dog products, particularly for its canine baskets that combine quality with affordability. This dog basket is designed beautifully to provide your pet with lots of comfort. Even though it is being sold at an affordable price, it still possesses excellent features.
The impressive thing about this dog bike basket is the inner pad that is very comfortable. It is also removable, and it is machine washable which is quite surprising for a bike basket at this price level. It is quite easy to install on your bicycle.
Pros
---
This Petsfit product's multipurpose design is suitable for use in a variety of ways, such as a bike bag, shoulder bag, and car bag.
The drawstring opening design employed in crafting this basket's top makes it possible for pooches to stick out their heads for fresh air and to enjoy the scenery.
The Petsfit bicycle basket features both mesh and zippered pockets for storing dog food, leashes, water bottles, and other accessories essential for a bike ride.
This bicycle basket comes with a safety leash with an adjustable tether clip that can be attached to a dog's harness to prevent dogs from jumping out of the carrier.
The reflective strip in front of this bike basket provides added visibility to prevent accidents when riding at night.
Cons
---
This carrier tends to tilt downwards since there is no support bracing for the bottom of the basket.
This product isn't a one-size-fits-all dog carrier, and its dimensions are incompatible with several bike models.
#5 Lixada Bike Basket
This stylish and affordable bike basket is made from durable oxford cloth that protects your dog from the elements, and yet it is super comfortable. Did we also mention? That the oxford cloth is tearproof – meaning that your mischievous pooch will find it difficult to damage it.
The mounting process is a simple 6 steps process – Lixada has made it such that you could get this installed on your bike in under 10 minutes.
Do take note that this has a weight capacity of 22 lbs, which might not be suitable for medium and larger-sized dogs.
We love the two-point, safety leash added to the dog's harness to offer maximum safety. It gives you peace of mind as you and your pet explore your surroundings on those long bicycle rides.
Pros
---
The Lixada bike basket features a quick-release handlebar mounting system that makes it easier for customers to mount and unmount the basket from their bikes.
This basket has a closure system that can be adjusted to create even more room for pooches inside the carrier.
The basket features a sturdy and highly durable aluminum frame construction.
The bike basket comes with easy-to-follow instructions for straightforward installation.
The Lixada bike basket has a front pouch for conveniently storing small dog supplies and accessories.
Cons
---
This bike basket doesn't come with a sewn-in tether that can be attached to a dog's harness for extra security on rides.
The basket's dimensions are found not to be compatible with all bike models, and it won't attach or fit nicely when mounted.
#6 RAYMACE Dog Bike Basket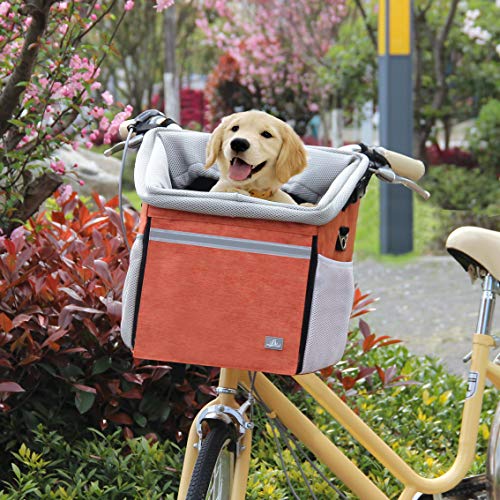 This RAYMACE Dog Bike Basket is a safe carrier for small to medium dogs. It can also be used as a shoulder carrier because it includes a comfortable long strap. It also has a restraining leash to keep the dog in its position comfortably throughout the drive.
This bike basket is perfect for a long bicycle ride with your pet on a sunny weekend. We like this comfortable, convenient, spacious and safe interior.
Pros
---
This multipurpose product can be effectively used either as a dog bike basket, dog travel carrier, dog carrier backpack or dog car seat.
This bike basket features mesh windows that provide sufficient airflow for a pooch to feel comfortable on rides.
The inclusion of an adjustable tether that can be attached to the collar helps restrict dogs from jumping out of the basket during rides.
The drawstring and adjustable mesh opening design of the RAYMACE bike basket is suitable for shielding pooches from harsh sunlight, as well as providing a means for dogs to stick out their heads and observe the environment.
This product's sheepskin liner provides a cozy feel for pooches contained in the bike basket.
Cons
---
Customers claim that this basket is too long to use on a bike and that it constantly slides down and hits the bike's front tire.
Installation can be cumbersome as this product doesn't come with instructions on how to set up and install the basket on a bike.
#7 Barkbay Pet Carrier Bike Basket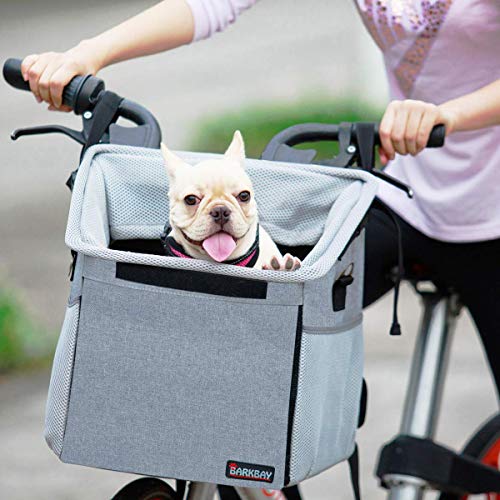 This cute pet carrier is easy to install. It has quick-release buckles for easy assembling and dissembling. Your pet will have a comfortable ride with its padded soft, sheepskin liner. The basket has mesh pockets to store your dog's treat, snacks, waste bags, and training kits.
The versatility of this carrier is what we admired the most. It is not just a bike carrier; it can also be used as a dog backpack and dog shoulder bag.
Pros
---
The Barkbay carrier has quick-release buckles that make it easy for customers to mount and remove the basket from the bike.
This Barkbay product's versatile design, with an included shoulder strap, ensures that it can be used in a variety of ways, such as a dog car seat booster, dog carrier, dog backpack, and dog shoulder bag.
The mesh venting and rolled-up front window included as part of this basket's design provide sufficient ventilation to ensure that pooches don't overheat while they are in this carrier.
The carrier comes with pockets for convenient storage of dog supplies when going on a ride.
The collapsible design of this dog carrier ensures that it can be folded for easy storage when not in use.
Cons
---
The carrier's tether, which is attached to the top of the basket, provides enough length for a pooch to jump out of the carrier, and this can develop into a dangerous situation while riding.
Several customer feedback noted how this carrier's straps easily loosen, thereby causing the basket to slide down and rest on the front tires.
#8 Walky Basket Dog Bike Carrier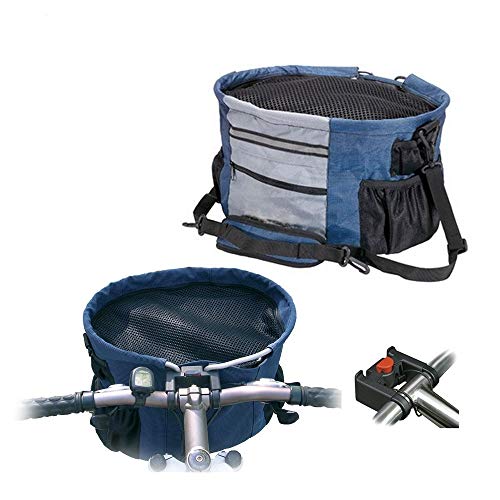 This Walky Dog Pet Basket is designed for carrying dogs at the front of the bicycle.
It is made of durable two-tone PVC fabric with detachable mesh top and padded bottom. The basket has high-quality nylon buckles, leash and strap to secure the dog while riding a bike. The carrier is attached with brackets to the bike.
You will love the zippered, mesh pockets which serve as storage space for the things you need to carry. It also has a reflective band for added visibility.
The ease of setting up the mounting bracket and hardware is what we like about this bike basket. It has two mounting brackets, so it is easy to transfer the basket from one bike to another.
Pros
---
The Walky bike carrier comes with a tether that can be attached to a pooch's collar and a zippered mesh cover that can shut to prevent dogs from jumping out of the carrier, hence providing safety while on bike rides.
This product features quick-release buckles that make it possible for users to easily detach the carrier from the bike.
The Walky bike carrier offers plenty of storage options with a zippered storage pocket and twin mesh pockets to hold dog supplies and accessories.
The carrier's floorboard is removable for easy cleaning and maintenance.
The product package typically includes the equipment and parts needed to install the carrier on a bike.
Cons
---
This product's metal basket frame tends to disengage from the carrier's plastic bracket when the biker encounters obstacles, and this can be somewhat dangerous for pooches.
There is minimal support for dogs at the bottom of the carrier, and this frequently causes the carrier to sag and hit the bike's front tires.
#9 ANZOME Dog Bike Basket
SALE ALERT!!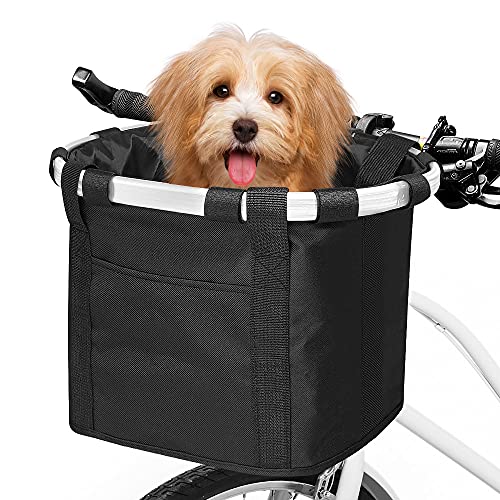 With the ANZOME bike basket, you and your pet dog will have an enjoyable ride together. You can bring him with you while shopping at the market, school or office.
Taking your essentials with you is also not a problem as you can store it in your ANZOME bike basket. This bicycle basket is not just stylish, but also very practical.
Aside from being versatile, this bike basket is easy to clean, so you don't have to worry if it gets dirty. Just wash it with water and let it dry. It is also affordable.
Pros
---
The ANZOME dog basket comes with a quick-release mount for easy installation and removal of the basket from a bike's handlebar.
This dog bike basket is removable and foldable for easy and convenient storage.
The ANZOME bike basket is easy to maintain and clean, with customers only needing to rinse the basket with water and air dry afterward.
This dog bike basket's construction, which features a sturdy metal frame and solid oxford fabric, is strong enough to carry small dogs that weigh less than 11 lbs.
This product features a water-resistant design that prevents the insides of the dog basket from getting wet.
Cons
---
This product doesn't come equipped with a safety mechanism to keep dogs in the bike basket while on rides.
Several customers claim that this dog basket tends to slide forward onto the bike's front wheels, even when the basket is firmly secured in place and unloaded.
---
Dog Bike Baskets Buyer's Guide
---
If this is your first time buying dog bike baskets, it is essential that you know the different types available in the market. They each come with unique sets of features that are important for new buyers to consider.
Positioning
There are bike carriers designed to be connected to the bicycle's handlebars, and others are placed on its back rack. Others are versatile that you can position it at the back or handlebars.
To determine which of these two types will best suit you, take into consideration your pooch's temperament and size. It is much easier for you to monitor your dog if it is in front of you.
Pockets
For dog owners who love to spend the entire day biking with their furry friends, storage compartments are very important. They will let you carry your dog's essentials like a leash, treats, small toys, and some water.
Versatility
The dog owners who want to take advantage of the many features of a dog bicycle basket should focus on the versatility of the product. Choose the one that can be used as a portable carrier and dog bed, which is handy in some instances. Make sure to choose a model that is easy to assemble and disassemble.
Safety Leashes
To prevent the dog from jumping out of the basket in the middle of the traffic, purchase the one with a hamper and an internal harness connected. Some models use domes or mesh-material tops for the same purpose.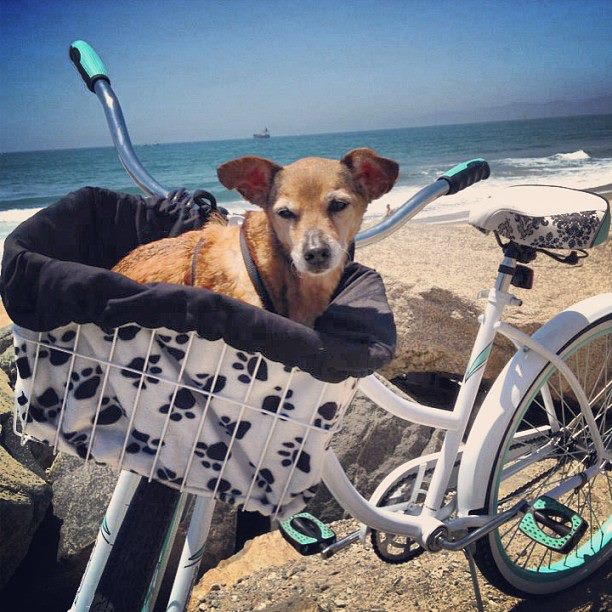 Tips on Choosing Bike Baskets for Dogs
If you are having a hard time deciding which dog carrier to choose, there are some features that you can consider to narrow down your options.
Keep in mind that perfect bike baskets do not exist, and especially so if you are looking for the one that costs less. But always remember that above anything else SAFETY is the most important.
Here are some of the features you should focus on when purchasing dog bike baskets.
Related: Best Dog Bike Strollers
Bike Baskets' Dimensions
Bike baskets' dimensions are very important. If the dog carrier for the bike is too small, your dog might not feel comfortable. On the contrary, if you choose a bike carrier that is too large, you might find it hard to bring it with you on public transportation.
The size of the bike baskets should be based on the size of the dog breed. For example, the smallest dog breed, Chihuahua or a Shih Tzu, is perfect on an extra small bicycle basket. On the other hand, bigger breeds such as the Boston Terriers and Yorkies generally need slightly bigger or standard size bike baskets.
Maximum Weight
The first thing you need to know when buying dog bike baskets is the maximum weight of the dog which they can carry. For instance, a smaller dog bike basket can take only up to 14 lbs, while the bigger ones can accommodate up to 24 lbs.
You can future proof your dog bike carrier by using our puppy growth chart to estimate the adult weight of your dog.
Safety Features
Never compromise the safety of your dog over the materials used for bike baskets. The safety strap should be firmly connected to your bike, and it should easy to assemble. A reflective strip is yet another great feature, particularly in low visibility cycling.
Ease and Comfort
Make sure that the bicycle carrier is comfortable for your pooch. You need to focus on your dog's safety and ease of sitting. The internal padding is a vital feature that will keep your dog comfortable as much as possible while on the road.
A rain cover is yet another plus factor in keeping your furry friend comfortable, which is provided on some dog bike carriers in their side pocket. The basket should have proper ventilation, so make sure it has an open design that will keep your pet comfortable.
Versatility and Accessibility
Many dog bike baskets are convertible and can be used for other purposes. If you prefer an all-in-one solution, then choose something that can be converted into a car seat or dog bed.
Accessibility is yet another critical factor as well as the number of pockets the bicycle baskets have. You can keep your dog treats, foods, toys, and other dog accessories that you need to bring particularly if your canine companion gets easily bored or hungry.
Attachment System
This refers to the process of attaching the dog basket carrier to the bike. It should be something easy to set up while maintaining stability. It is highly recommended to choose a dog basket carrier that has multiple security straps for added safety.
Built & Materials
Choose a bike basket that is durable enough to last longer. Microfiber is one such example. This kind of material keeps your dog comfortable. As compared to other baskets, the one made of microfiber is also much easier to clean up.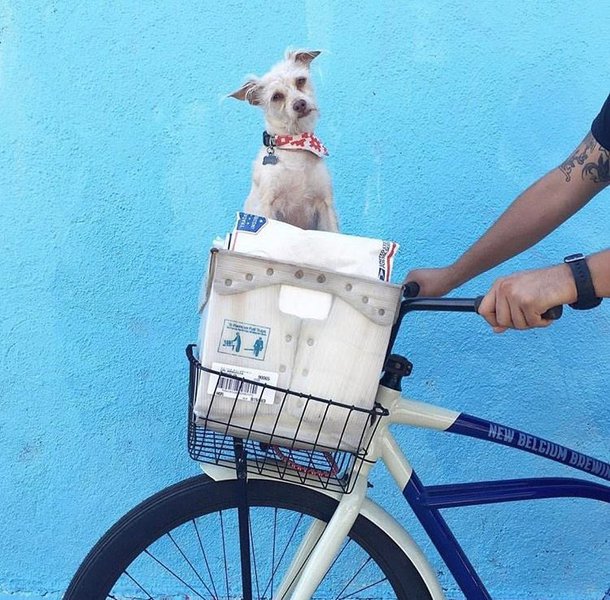 Safety Measures for Dog Bike Carriers
There are things you need to be aware of when taking your pet dog out for a bike ride. Keep these things in mind:
Connect the carrier as instructed. You would not want the basket to fall off from the bicycle while in the middle of the road. Read the instructions carefully on how to attach the carrier and secure the hamper firmly.
Prevent the dog from jumping out. Pups love to chase and bark at everything they see around them. To prevent them from jumping make sure that the basket leash is attached firmly to secure him in place.
Distance your pet from moving parts. Dogs can get excited and may act unpredictably. Ensure that their feet, fur, or tail are away from the moving parts of your bike.
Keep the dog hydrated. Your dog can get tired and thirsty even if he is not running. Newer models of bicycle carriers come with convenient storage compartments. You bring along the dog essentials and keep them well secured in the storage pockets.
Protection from weather. Most bike carriers have hoods or covers that will keep your dog shielded from the sun's rays, snow, or rain. The cover can also doze him down in case your dog gets too excited.
Related: Best Dog Goggles
---
Final Thoughts
---
The bike dog basket is a convenient way of bringing your four-legged companion with you on long bicycle rides. Just make sure that it is installed correctly and has all the essential features. Bringing your pet on a bicycle ride has never been this enjoyable, thanks to these safe and comfortable canine baskets.
Some people may feel that a bike trailer is much safer for a dog, however because of its high cost only a few pet owners can afford them. The baskets are much cheaper, and these are also as safe as the trailer and are highly recommended to those who are on a tight budget.
Among the 9 best dog bike baskets we reviewed, we find Snoozer Buddy Bike Basket as our top choice. It has all the best features we are looking for in a bike carrier. Although each model has at least one unique feature that separates it from the others, the Snoozer Buddy has the overall best features of most of the other brands. From the quality of the material used to the storage compartments and safety features, we find this brand as a standout.
We hope we were able to help you find the best bike basket for your dog. If you think this post is helpful to you, feel free to share this article with others.