The best dog food for Shih Tzus is Royal Canin Dry Dog Food For Shih Tzus.
Although Shih Tzus are one of the most popular dog breeds today, they've been around for hundreds of years and were originally bred as lap dogs in China. The name Shih Tzu means "lion dog" in Chinese, and Shih Tzus were prized for their ability to hunt small prey like rodents.
An adult Shih Tzu typically weighs around 9-16 pounds and has a compact and solid body. Choosing the right type of food for Shih Tzu is very important to control their weight, maintain optimal health, and improve the condition of their skin and coat.
If you're in the process of looking for the best dog food for Shih Tzus, here we have a list that we would specifically recommend for your pooch.
#1 Royal Canin Dry Dog Food For Shih Tzus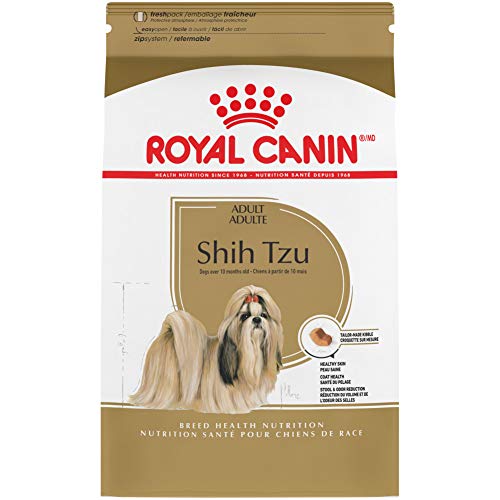 Royal Canin Shih Tzu Adult Breed Specific Dry Dog Food, 10 lb bag
FORMULATED FOR PUREBRED SHIH TZUS: Royal Canin Shih Tzu Adult Dry Dog Food is designed to meet the nutritional needs of...
SPECIALIZED KIBBLE: Unique kibble shape is designed for a small breed's short muzzle and underbite
SKIN SUPPORT: Promotes healthy skin and coat with an exclusive complex of nutrients including EPA, DHA, and vitamin A
In this list of the best dog food for Shih Tzus, our favorite is the Royal Canin Shih Tzu Dry Dog Food. We just love the fact that this product is specially made for the Shih Tzus.
They help encourage your pup to chew and enjoy their food. What's more, this food is made from ingredients that help to promote healthy skin, such as Vitamin A and Omega 3 fatty acids. It contains the nutrients specific to a Shih Tzu to help boost the areas that its immune system is lacking in.
The Royal Canin Adult Dry Dog Food is also the best dog food to feed to your beloved Shih Tzu if you want to improve the smell of their poop. It contains Omega 3 fatty acids (DHA and EPA), as well as Omega 6 fatty acids that help to minimize the poop's volume and odor. Furthermore, it is loaded with easy-to-digest proteins, healthy carbs, and fiber.
We love this dog food because it helps with the digestive problems of your Shih Tzu. Many Shih Tzu owners have commented that this dog food has improved their pup's bowels, It's also rich in fiber, proteins, and high-quality carbs.
Pros
---
A unique blend of breed-specific dog food that takes care of the nutritional needs of Shih Tzus older than ten months.
Your Shih Tzu's digestive tract can be regulated with this dog food because the fiber, carbohydrates, and proteins help with their stool, and prevent bad stool odor.
Takes care of your pup's coat, and keeps it shiny thanks to the presence of omega-3, omega-6, and biotin in this dog food.
Comes in a uniquely designed kibble that works for your Shih Tzu's underbite, and short muzzle.
Contains Vitamin A, DHA, EPA, and other nutrients, which take care of your Shih Tzu's skin.
Cons
---
Some of the ingredients in the dry food, such as soya oil, anchovy oil, and dried egg powder, can cause gastrointestinal discomfort for Shih Tzus with sensitive stomachs.
Some Shih Tzus may not like the smell of small dried kibble, and this means spending time pre-soaking the kibble before the pups eat it.
#2 Purina Pro Plan Small Formula
SALE ALERT!!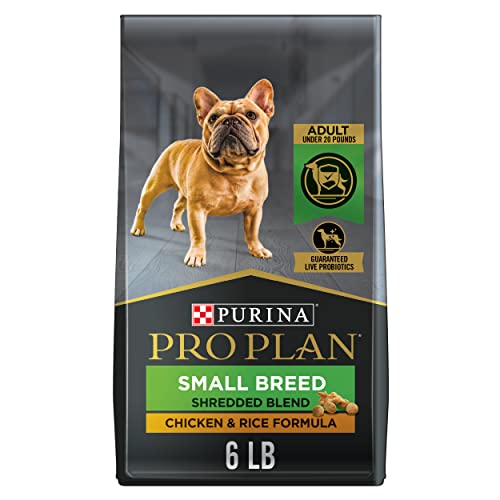 If your budget is limited, the right dog food for you is the Purina Pro Adult Dry Dog Food. This product offers the right amount of daily nutritional needs to your beloved Shih Tzu without having to spend a lot of money.
Your little pooch will surely love the crunchy and tender texture of the chicken and rice combination. Made with real chicken meat, this dog food recipe provides outstanding nutrition to your beloved pet.
The Purina Pro Adult Dry Dog Food has an optimal ratio of protein to fat and helps in maintaining the ideal weight for your pet. Plus, it contains linoleic acid, Vitamin A, and Omega 6 fatty acids that help to maintain healthy skin and a shiny coat. In addition, this dog food also contains natural prebiotic fiber that's derived from wheat bran. Manufactured in the US by Purina, this dog food recipe is definitely the perfect choice for a high-quality and nutritious meal that your beloved Shih Tzu deserves.
This premium dog food is made with essential nutrients that support your Shih Tzu's specific nutrient needs.
Pros
---
Tasty options for your Shih Tzus as it comes with nutrient-rich, small-sized tender kibbles in shredded, real chicken, rice or beef, and rice flavors.
Rich in live probiotics and natural prebiotics, both of which help with your pup's gut health and immune system.
High in protein that offers active Shih Tzus with energy much needed for its daily activities.
Rich in phosphorus and calcium, both of which gives your pup strong teeth and bones.
Rich in omega-6 fatty acids and Vitamin A to give Shih Tzus healthy skin, and a shiny coat.
Cons
---
Pups that have allergies or weak stomachs may experience diarrhea and vomiting.
Pups with weak teeth or jaws need their kibble pre-soaked before feeding them, and this can take time, and some pups may not like 'wet' food.
#3 Natural Balance Original Ultra Dry Dog Food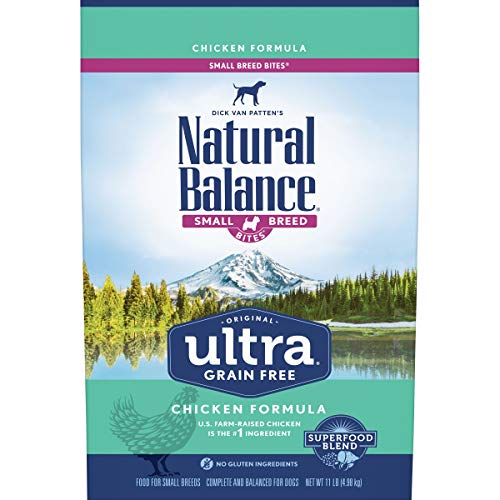 The Natural Balance Original Ultra Dry Dog Food is another product we would recommend. It's the kind of dog food that can nourish your Shih Tzu's wellbeing since it applies the whole body approach of nutrition. Furthermore, it's ideal for dogs that follow the gluten-free diet and it provides an optimal balance of premium proteins as well as key nutrients formulated by expert nutritionists.
If you're looking for a dog food that can support the nutritional needs of your Shih Tzu all throughout its life stages, from being a puppy to becoming an adult dog, then the Natural Balance Ultra Dry Dog Food is highly recommended.
We like that this product is formulated for all stages of the Shih Tzu life, from being a Shih Tzu puppy to an adult Shih Tzu. Indeed, this is the perfect dog food that can provide an optimal balance of nutrients to your pooch.
Pros
---
Available in a pocket-friendly 11-lb bag of dry dog food that is perfect for small pup breeds like Shih Tzus.
Comes in high-quality dry kibble that is made of USA farm-raised chicken.
Contains fatty acids like omega-3, and omega-6, which help with a shiny coat, and brain health for your Shih Tzu.
Superfood blend rich in vitamins, and antioxidants, which help to boost your Shih Tzu's immune system.
Made of natural ingredients, and is free of gluten, soy, corn, wheat, artificial flavors, and preservatives.
Cons
---
Some Shih Tzus do not like the grain-free version of this dog food as the taste is entirely different.
Pups with sensitive digestive tracts may experience some discomfort or vomiting if allergic to any of its ingredients.
#4 Cesar Small Breed Dry Dog Food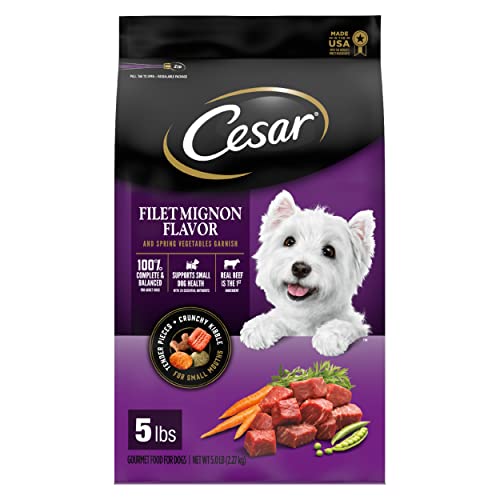 The Cesar Small Breed Filet Mignon Dry Dog Food is another dog food that your Shih Tzu will surely love, thanks to its delicious flavor. Made from high-quality meat and garnished with spring vegetables, this is the perfect high-protein food to feed small breeds like the Shih Tzus.
The meaty and tender chunks and crunchy kibbles will surely be a favorite of your Shih Tzus. They will surely love the variety and texture of this dog food. As a pet owner, you'll be happy with the fact that your beloved pooch is getting the right nutrition that it needs, thanks to this dog food's 26 nutrients.
We like that this product is made from real beef, something that your pooch will surely love. It's a gourmet dog food recipe made with tender meat and vegetables that will surely get your pet excited to eat its meal.
Pros
---
Available in an affordable 5-lb bag of dry dog food in Filet Mignon Flavor with Spring Vegetables garnish.
The dry kibble is ideal for your Shih Tzu as it helps to strengthen and clean both their teeth and gums.
Dog food contains up to 26 nutrients that are suitable for Shih Tzus' health and immunity.
Made of real beef chunks and other ingredients, which ensures your pup enjoys great-tasting dog food.
The dog food bag has a resealable zipper, which keeps the food fresh and safe for your Shih Tzu.
Cons
---
Some pups experienced watery stool and stomach discomfort after eating this dog food due to sensitivity to some of the ingredients.
Some pups experienced itchy or skin sensitivity after eating this dog food as a result of allergic reactions.
#5 Merrick Whole Earth Farms
The Merrick Whole Earth Farms is a type of grain-free dog food made of sweet potato and real chicken. It is made with 70% protein and some healthy fats. The recipe features boned chicken that's organically certified. And as the name suggests, this dog food doesn't contain wheat, corn, or soy and the ingredients are totally gluten-free.
Aside from the meat, this dog food contains fresh fruits and vegetables, including blueberries and potatoes. It's rich in vitamins and minerals, including Omega 3 and Omega 6 fatty acids. Furthermore, it also contains Chondroitin and Glucosamine that promote healthy joints and hips.
What really attracted us to this product is that it is made from all-natural ingredients that promote easier digestibility for Shih Tzus. Furthermore, this dog food contains essential nutrients that minimize the shedding of the hair.
Pros
---
Comes in a 12-lb bag containing grain-free pellets made with real chicken and turkey.
With the input from veterinarians and nutrition experts, this food contains prebiotics, and probiotic fiber, which helps with healthy digestion.
This dog food contains glucosamine and chondroitin to give your Shih Tzu healthy joints.
Contains proteins for energy, vitamins, and other nutrients for your Shih Tzu's immunity and overall health.
Rich in antioxidants, and essential fatty acids, which help with your pup's coat, skin, and immune system.
Cons
---
Not ideal for pups that are allergic to chicken or other ingredients in this dog food.
Some pups have been reported to suffer from bloody stool from the dry kibble, and in such a case, it is advisable to soak the kibble before feeding your Shih Tzu.
#6 Wellness Complete Health Natural Grain Free Dry Dog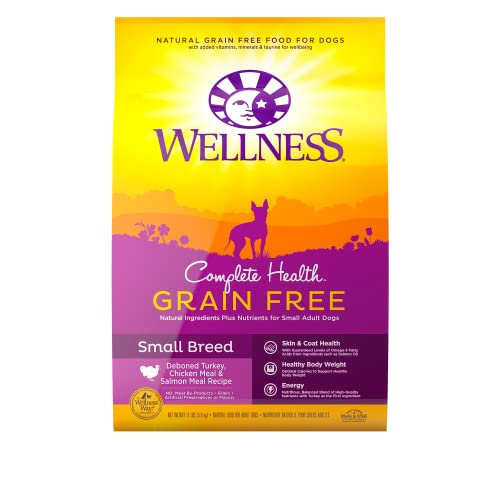 The Wellness Grain-Free Complete Dry Dog Food is specially formulated for smaller breeds of dogs, including the Shih Tzu. It features a hearty blend of chicken, salmon, and turkey, along with some vegetables, such as peas and lentils.
This grain-free dry dog food is filled with essential vitamins and minerals, including Omega 3 fatty acids that can help to improve the coat, skin, and your pooch's immune system.
We love this product simply because it's the perfect recipe to support the daily nutrient needs required by Shih Tzus.
Pros
---
Made in the USA with quality sourced natural ingredients, which are non-GMO and suitable for your Shih Tzu.
Your Shih Tzu's heart and digestive system are taken care of thanks to the probiotics, antioxidants, glucosamine, and taurine.
This is grain-free dog food that contains no artificial ingredients, meat byproducts, or fillers, which means your pup enjoys quality dog food.
Rich in Omega fatty acids, which are perfect for your Shih Tzu's skin and coat health.
The dry kibble helps with teeth and gum health for your pup.
Cons
---
Some Shih Tzus with allergies may experience bloating and loose stool after eating this dog food.
Not all pups like the flavors that it comes in.
---
Dog Food For Shih Tzu Buyer's Guide
---
The Shih Tzu, also known as the Chrysanthemum Dog, is a small dog that was originally bred to be a companion dog, but is now often bred as a small lap dog. This breed is known for being stubborn, fearless, and full of character. The Shih Tzu is a toy dog breed with a big dog attitude!
When looking for the best dog foods for Shih Tzu, you should consider the dog's nutritional needs. Their diet should include a healthy and balanced diet to prevent obesity and provide the essential vitamins and minerals that the dog needs.
Understand The Nutrient Content
Always do refer to the ingredients used in the various dog food brands to determine their nutrient content. You should know how many vitamins and minerals it has, including protein, carbs, and fats.
> Proteins
Protein is not only essential to humans. Dogs also need protein to stay healthy and strong. Therefore, you should ensure that the food contains the right amount of protein that your Shih Tzu needs. These meats are good not only for Shih Tzus but also for other dogs, unlike the meal byproducts. So try to look for dog foods that are made with real meat.
Some of the most popular meats for dog foods are beef, fish, turkey, and chicken. As much as possible, avoid novel proteins, such as bison and venison since they are usually hypoallergenic. They are not suitable for dogs that have chicken allergies. Instead, opt for plant-based proteins, such as those derived from vegetables, whole grains, and fruits. Or you can consider getting limited ingredient dog foods, which are suitable for a dog with allergies.
> Carbohydrates
Dog foods that are made of vegetables and whole-grain carbohydrates are the best choice for your pooch since they help with your pooch's digestive system. However, too many carbs are also not good. Just like humans, dogs could get obese or overweight when they consume a lot of carbs.
An automatic dog food dispenser would come in very handy to regulate the amount of food that your pooch is taking.
> Fats
It's not enough that dog food contains fats. The source of fats must also be of good quality as well. Also, the ideal ratio of proteins to fats should be 2 grams to 1 gram. This is to ensure that your Shih Tzus will get the right amount of calories for their daily meals.
Being a small breed, a Shih Tzu is a perfect companion for bringing along for your bicycle or motorcycle rides.
> Vitamins & Minerals
Vitamins and minerals are essential in ensuring healthy bones and teeth for your pooch. This is also important for the body's metabolic systems. So when you choose any food for Shih Tzus, make sure that it contains the right amount of vitamins and minerals to keep your pooch healthy. These are usually derived from fruits and vegetables.
Supplementing your pooch with multivitamins can also be beneficial to their overall health.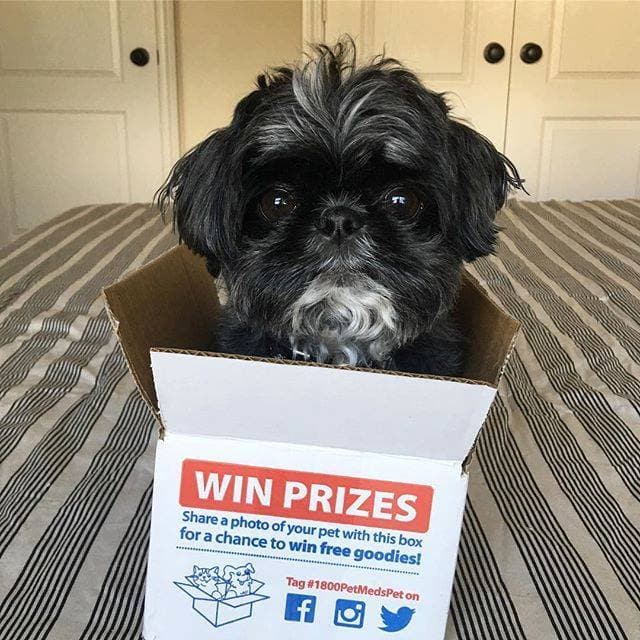 Important Facts About Shih Tzu Puppies
You are lucky to have a Shih Tzu puppy because they are some of the most affectionate and friendliest breeds of dogs out there aside from the fact that they look adorable. However, these dogs tend to be territorial and they bark a lot as soon as they hear your doorbell ring.
When it comes to keeping their coat healthy, you need to do daily brushing. Furthermore, their hair must be trimmed regularly with a dog hair clipper, especially those that are near the eyes area. Remember that as they age, the color of their coat may change.
Training your pup can be a challenge at first since they are known for being stubborn. You may have to repeat commands several times during training. Therefore, you need to have the utmost patience if you want to own a Shih Tzu.
How To Properly Feed Your Shih Tzu?
Usually, dog foods will provide you with instructions regarding the feeding schedule of your Shih Tzu. But if you're doubtful, you can always check with your vet. Usually, the number of daily calories that your Shih Tzu must consume will depend upon their level of activity, their age, their health condition, and their overall bone structure.
Changing The Dog's Diet
When changing the diet of your Shih Tzu, you must do it gradually. This applies to other breeds of dogs as well. Consider combining old and new food and slowly increasing the amount of new food in seven days. But if you're changing the dog's diet due to health reasons, then make sure you follow the vet's advice.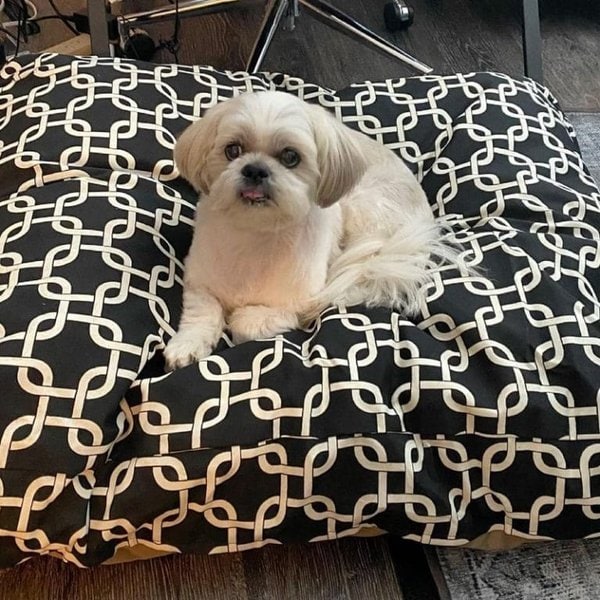 Ingredients To Avoid
There are certain ingredients in dog foods that are not suitable for your Shih Tzu so you have to avoid them at all costs.
Some of these include the following:
> Beef
While beef is considered a good source of fats and protein, it could lead to intolerance. Furthermore, it's not as digestible as other meat, such as lamb, turkey, or chicken. Studies also suggest that beef is among the most common causes of allergy among dogs.
> Cereals
The reason why dog foods containing cereals must be avoided is that they don't usually specify which particular grains are used for them. So if your Shih Tzu has an adverse reaction to grains, you won't be able to easily identify what exactly triggered it.
> Corn
This type of grain is the most common cause of intestinal problems among dogs since it's usually a challenge for them to digest. Therefore, dog foods containing corn should be avoided as much as possible. An easy option will be to consider these grain-free dog foods instead.
> Poultry By-Products
This is the part of poultry that humans don't eat, such as intestines, lungs, hearts, and heads. While they are not bad for your Shih Tzus, they are not as nutritious as the other parts.
---
Final Thoughts
---
We chose the Royal Canin Breed Health Adult Dry Dog Food as our top pick because of many reasons. First of all, it's designed especially for small breeds of dogs, such as the Shih Tzu. Also, the ingredients used for this food are loaded with the essential nutrients that your pooch needs, such as Omega 3 fatty acids and Vitamin A.
But what made this product stand out from the rest of the dog foods on this list is its ability to improve the smell of your dog's poop! So if you're looking for the best dog food to feed to your beloved Shih Tzu, you should choose the Royal Canin. So don't hesitate and give it a try right now.