The best motorcycle dog carrier is Kuryakyn Black Grand Pet Palace Motorcycle Dog Carrier.
Ever wanted to bring your dog along on road trips with your motorcycle?
Well, now you can. Your furry friend can now enjoy cruising down the highways with you using a motorcycle dog carrier.
It is an innovative product that can keep your dog safe while letting them feel the fun and excitement a motorbike ride can give.
Here's the list of the best motorcycle dog carriers that you can buy!
#1 Kuryakyn Black Grand Pet Palace Motorcycle Dog Carrier
If you are looking for a premium motorcycle dog carrier, then Kuryakyn Pet Palace Bag is the number one choice. This bag is designed to encase your pet pooch in an incomparable luxury that is also safe. The material used in this bag is UV-resistant. It is a 1200 denier textile that is weather resistant with a waterproof cover in case it rains.
With your furry friend's safety in mind, you can concentrate on your driving as your pooch enjoy the ride. For added protection, this motorcycle carrier has a rigid internal frame. It will not bend, crumple or fold. The base is also rigid, maintaining the overall structure of the carrier.
The sleeping pad inside will keep your canine companion comfortable. This cushion is removable, and you can throw it in your washing machine to clean. It also has windows for your furry friends to have a view and supply of fresh air while inside. Clearly, this is the best motorcycle canine carrier in the market today.
The mesh side windows and the top-down can give your dog plenty of options on how they can see the world while on your bike. We also love the little thoughtful details like the interlocking food dishes and the drink bottle pocket. It provides convenience for the pet owner. With multiple mounting systems, this motorcycle dog carrier is versatile for most motorcycle sizes.
Pros
---
The Kuryakyn motorcycle dog carrier comes with top and side mesh windows that provide optimum airflow and ventilation for pooches.
The UV-rated weather-resistant denier material used to produce the Kuryakyn carrier, combined with a removable rain cover, helps to protect dogs from the adverse effects of rain and sun.
Customers can conveniently remove and clean the foam cushion of the Kuryakyn dog carrier for easy maintenance and to ensure that pooches remain comfortable while housed in the carrier.
Kuryakyn's Pet Palace motorcycle dog carrier comes with several amenities, including an internal leash, food dish, water dish, and a removable stash pouch, which are intended to make road trips more convenient for both humans and dogs.
The inclusion of a sissy bar strap and multiple D-rings ensures that this dog carrier can be installed and used on different types of motorcycles, ATVs, and UTVs.
Cons
---
The Kuryakyn dog carrier doesn't come with comprehensive instructions on how to set up the straps and mount the carrier on a motorcycle.
Several customers have claimed that the leash that comes with this Kuryakyn product isn't effective at preventing pooches from jumping out of the carrier.
#2 Milwaukee Heavy Duty Motorcycle Dog Carrier
When it comes to durability, Milwaukee Heavy Duty Motorcycle Dog Carrier has superb PVC make. It won't be ripped apart that easily, even in an accident. This helps to keep your dog safe during all the motorcycle rides. It is also waterproof; your furry friend is safe when it rains. Another excellent characteristic of this carrier, aside from being comfortable, is it has two sturdy handles to carry around easily.
It also has a convenient dual mounting system; you can strap it onto your motorbike and, at the same carry it around like a backpack. It is well ventilated too, with mesh window panels and built-in small pouches to store the things for your furry friends while on a joyride.
This motorcycle carrier is not fancy like the others, but it does the job without complications. If you are the type who would go for functionality rather than aesthetics, then this model is for you.
If you want an affordable motorcycle dog carrier that is not too fancy and more on functionality, this is the model for you. What is good about this carrier is it can function as a motorcycle carrier and as a backpack. With its dual functionality, you can take your furry sidekick anywhere with you.
Pros
---
Milwaukee's heavy-duty motorcycle carrier for dogs comes with an adjustable universal strap and clips that make it possible for customers to mount and use the product with various types of motorcycles.
This motorcycle dog carrier comes fitted with three external pockets that customers can use to store their pooch's leashes, toys, medication, treats, and other essential accessories.
The breathable mesh panels used to construct this motorcycle dog carrier from Milwaukee provide proper ventilation and ensure that pooches don't get stuffy when housed in the carrier.
The top loader zipper opening of the Milwaukee bag provides a convenient way for customers to place and remove their canine buddies from inside the carrier.
The dual-handle design of the Milwaukee motorcycle carrier provides a way for customers to comfortably transport the bag when it isn't attached to a motorcycle.
Cons
---
Several customers have left remarks about the zippers of the Milwaukee motorcycle carrier not being up to standard and breaking easily when in use.
There have also been multiple comments about the Milwaukee carrier's inability to retain its shape due to the top portion of the bag's tendency to cave in.
#3 Outward Hound Pooch Front Dog Carrier
Outward Hound PoochPouch Dog Front Carrier, Medium, Grey
HANDS-FREE, PADDED STRAP PET CARRIER: The PoochPouch Front Carrier is ideal for carrying smaller pups who aren't...
BREATHABLE & DURABLE: The PoochPouch Front Carrier is designed with lightweight, mesh fabric that keeps your pup cool on...
INTERIOR SAFETY HARNESS: Clip your pup's harness into the interior safety harness and gently cinch in the top drawstring...
You can tuck your little buddy inside this Outward Hound Pooch Pouch, and together you can explore new surroundings while riding your motorbike and bicycle. It is made from waterproof nylon fabric and a plush material inside.
This motorcycle carrier has a nicely padded back and straps, while the pouch can provide maximum comfort for your pet pooch. It will also calm him down and reduce tension because it is front-facing and provides more physical contact with you.
This dog carrier is perfect for small breeds who want to go on a little adventure with you. We liked that it has proper ventilation and a padded strap and back for our furry friends to feel comfortable while on the go. It is comfortable, keeps the dog safe, and is easy to carry.
Pros
---
Outward dog carriers feature side mesh windows and are constructed with breathable material to keep pooches well-aerated and properly ventilated.
The side pockets that come with the Outward dog carrier are ideal for the storage of canine essentials, such as treats, toys, leashes, and medication, when going on trips.
The padded shoulder straps – with adjustable buckles – of the Outward carrier provide a comfortable alternative for customers that choose to carry their dogs rather than attach the carrier to a motorcycle.
The Outward dog carrier comes fitted with an interior safety clip that can be attached to a pooch's harness to prevent the dog from jumping out of the bag and potentially injuring itself or escaping.
This motorcycle dog carrier is available in sizes to conveniently hold and transport small and medium-sized pooches that weigh below 20 lbs.
Cons
---
There are several reports of the Outward Hound carrier's straps being too flimsy and tending to break while the product is in use.
Despite the fact that this bag is designed for use with dogs that weigh 20 lbs and less, multiple customers have commented that the carrier wasn't roomy enough to comfortably accommodate their small pooches that weigh below 20 lbs.
#4 NICREW Legs Out Front-Facing Dog Carrier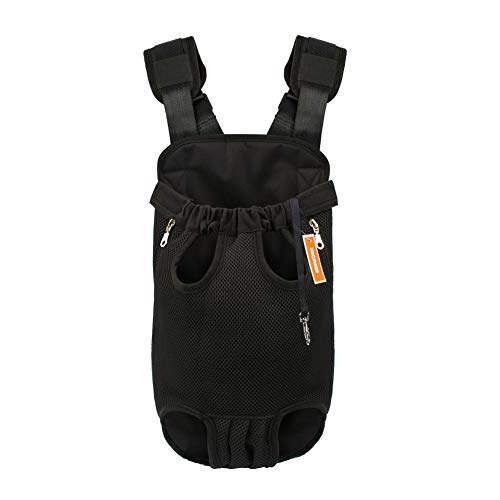 Another front-facing dog carrier that allows your puppy to enjoy the ride with his legs extended out and exposed. This is an ingenious design because the carrier can support the dog well and, at the same time, allows you to carry him comfortably.
You can wear this on your back while going on a hike, bike ride, and other outdoor adventures.
We found NICREW Legs out Carrier is excellent to carry your do wherever you went and however, be it on a bike or motorcycle. It is extra comfortable for you and your pet pooch, and it is easy to use.
Pros
---
The inclusion of two side zippers on NICREW's front-facing motorcycle carrier provides easy access and ensures that customers can conveniently remove and place their pooches in the carrier as needed.
The front-facing design of this dog carrier product ensures that pooches can be closer to, and keep an eye on their human, thereby preventing the development of canine stress and anxiety.
The wide, padded shoulder straps of the NICREW dog carrier provides comfort for customers that wish to carry the bag – with their pooch in it – on their backs or chest.
The breathable mesh material used to construct this NICREW product provides proper ventilation and prevents pooches from overheating while they are placed in the carrier.
The straps of the NICREW motorcycle carrier can be adjusted to provide a firmer and safer grip when transporting dogs.
Cons
---
This product has sizing issues, as several customers have reportedly received carriers that were either too large or small for their dogs, despite making purchases in accordance with the provided weight recommendations.
The absence of side pockets to hold customer accessories and dog essentials may be inconvenient for some.
#5 Saddlemen Pet Voyager Motorcycle Dog Carrier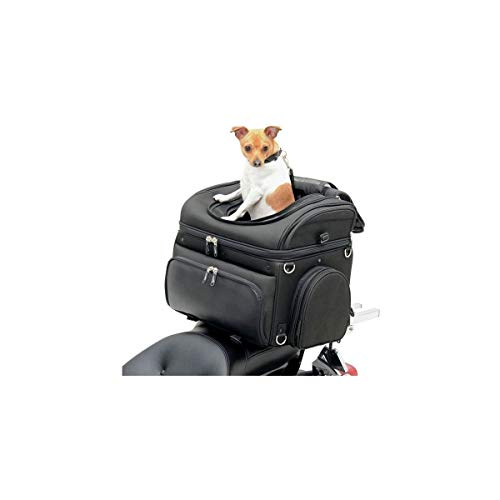 Saddlemen 3515-0131 Pet Voyager, Black
The best way to carry your small pet on your motorcycle in comfort, plus this carrier doubles as an effective cargo bag
Multiple vents and access flaps let you vent fresh air to your pet while providing easy access to your pet or cargo
Spacious pet compartment Includes a removable and washable bottom tray and resting pad for your pet's comfort; Includes...
At a glance, you can tell that the Saddlemen Pet Voyager has a lot of features to like. This model has a double mounting system that is compatible with any motorbike. It also has a comfortable and spacious compartment, and a comfortable pad included so your furry friend can travel along comfortably.
There is a hard bottom to support a maximum of a 15-pounder dog, with water and food trays neatly placed in the interior pockets. For optimum ventilation, it has flaps and vents, and your pooch will surely enjoy the views too. The extra sissy bar straps in the motorcycle carrier are to secure your four-legged companion from being tossed to and from while traveling.
What we like about this model is its versatility. Aside from mounting in your motorcycle as a canine carrier, it has straps included to convert it into a backpack or a carrier bag. Its features provide safety and comfort for the dog and comfort for you. The internal straps also offer added protection to keep your pooch calm during bumpy rides.
Pros
---
This motorcycle dog carrier product from the Saddlemen brand is designed with multiple flaps to provide customers with various ways to access and monitor the pooches contained in the bag.
Saddlemen's dog carrier comes with food and water trays, making it possible for customers to feed their pooches while on a road trip.
The Saddlemen Pet Voyager comes with an adjustable sissy bar strap system that provides a way to fix the bag to a motorcycle's seat, luggage rack, or sissy bar.
Both the quick-connect mounting straps and the sissy bar sleeve are included on the Pet Voyager, and they provide a way for customers to quickly detach the carrier from a motorcycle.
This motorcycle dog carrier also comes with backpack straps and a sturdy grip handle that provide customers with multiple ways to transport their canine buddies.
Cons
---
Multiple customers have claimed that the bottom portion of this dog carrier is too flexible and tends to sag down under a pooch's weight.
When used on bikes with a trunk, the Saddlemen motorcycle carrier typically sits too far forward and tends to uncomfortably intrude into the driver's seat.
---
Motorcycle Dog Carrier Buyer's Guide
---
There are many varieties of motorcycle dog carriers designed to make them more comfortable and safer for your furry friend to ride with you. As with all the other products in the market, you must have a discerning eye to know what is right and what is not.
Take a look at the features to consider when selecting a motorcycle carrier for your furry friends.
2 Different Types Of Motorcycle Dog Carriers
Motorcycle carriers have two types you can choose from – the wearable carrier and crate-style carrier.
Wearable Carrier
This carrier is similar to a backpack that you can attach to your body or strap to your back. The wearable carrier is stylish and the choice of dog owners during the parade to display their beloved pooch. It is a wearable carrier and provides your dogs with plenty of room to wriggle.
Sometimes, dog owners find them at a disadvantage, especially if their canine companion is not well-behaved. Most often, this motorcycle carrier is ideal for slow speeding and short trips.
Crate-Style Carrier
The crate-style carrier can limit your interaction with your furry friend. However, when safety is a concern, it is the best carrier that can protect your pooch better. Most of the crate-style carrier is built to withstand road debris, strong winds, and severe impact during an accident. This type of motorcycle carrier is suited for those long trips and high speeds.
Both types of motorcycle carriers can be appropriate for your dogs, and it all depends on the personality of your dog and your requirements. If you are the adventurous type, you will need both.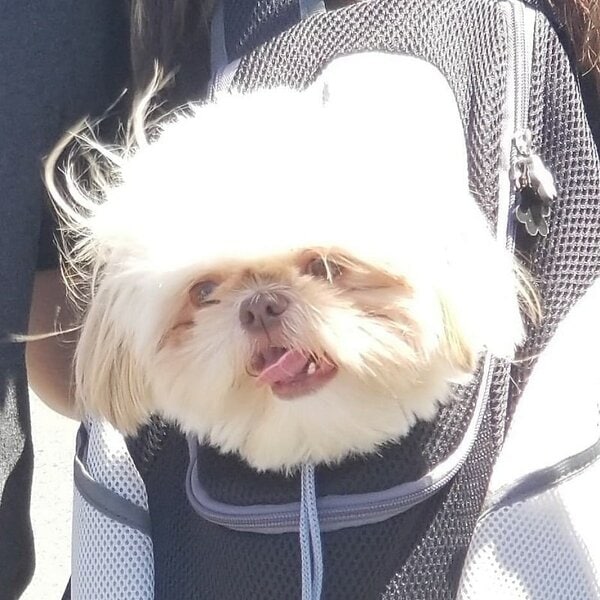 Consider The Safety Features
Safety should be your number one priority when it comes to choosing the right motorcycle dog carrier. It should keep your dog safe, secure, and snug during travels. For the wearable option, the size should be just right to contain the dog comfortably. If the carrier is not well-fitted, the dog might topple and might get hurt. It should also be sturdy and balanced to keep your pooch from tossing during bumpy rides.
For the crate-style option, make sure that you can fit it securely on your bike. The carrier should have sturdy latches and locks. It should prevent your furry friend from falling off the bike.
You can buy additional accessories for added safety, like a pair of protective glasses or goggles. This will ensure that their eyes are protected from debris and dust while riding with you. It will also be nice to throw in a helmet too for more safety precautions. There are helmets available for your buddy to protect him in case an accident happens.
Make Sure That It Is Comfortable
Your dog's comfort is another priority when choosing a carrier, or else your pooch will not be an unpleasant experience and never come again. If the wearable carrier, it should have just enough room but not be too confined either. It should also be made of comfortable materials and not cause chafing.
A bigger crate is not the perfect one all the time. You must select a size that will allow the dog to turn around, sit up and stretch. Dogs should not be given any other items while it is contained in the carrier to avoid any distractions. The padded interior can also add comfort and, if possible, a removable cushion.
Installation Or Mounting
Motorcycle dog carriers must have a hassle-free installation. When you select a carrier in a crate style, it should be easy to install and can be detached easily to avoid any damage. You should search for a detachable model for convenient cleaning and maintenance. It should also have adjustment points to customize its fit.
For wearable motorcycle carrier options, you must look for the same feature, adjustability. You must make sure that the carrier fits snugly on your body. Unless you are too tall or short, it should not be a problem to find the one that fits you and your furry companion perfectly.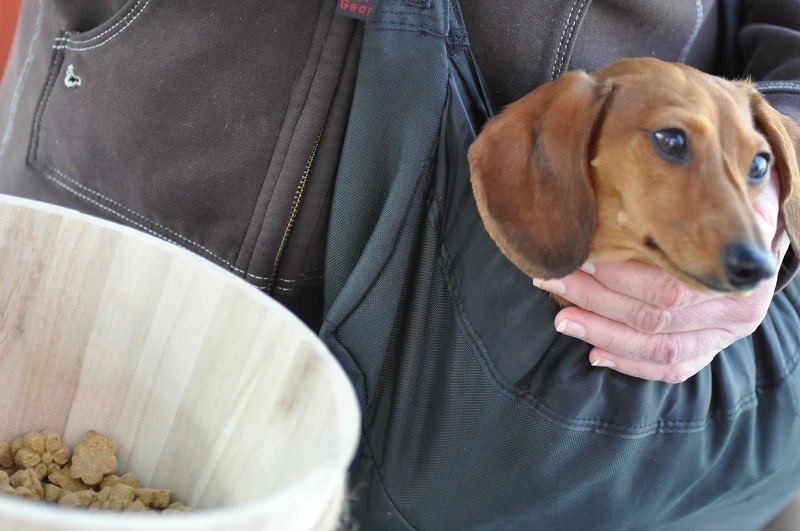 Lookout For A Weather-Proof Design
Drizzles can often come at a moment when you least expect them. Even when you are riding on a bright and sunny day, make sure to pick up a carrier made with waterproof materials. It will keep your dog from getting wet and keep it warm even during a sudden downpour. When it comes to this feature, the carriers in a crate style have an advantage. However, the new models of wearable motorcycle carriers for dogs are now water-proof.
Most of the new materials for dog motorcycle carriers come with weather-proof features to keep your dogs dry during the ride. With this type of material, you can enjoy long trips with your pooch, come rain or shine. As always, it is better to be well prepared by bringing along a dog raincoat too.
Durable Materials & Finishing
When you are riding on the highway for miles and miles, the wind and elements can take their toll on your gear, even on your motorcycle dog carrier. This is the reason why you must look for a dog carrier that has a durable finish and is of high quality so that you don't need to replace them very often.
The price of motorcycle dog carriers can vary greatly. Most of those carriers that lean towards higher selling prices offer more durability and high quality. The material and design also matter when buying a dog carrier. A heavily padded and waterproof dog carrier with storage space would be great for motorcycle riders. It has the right material for the intended use of the carrier and is well-built to serve its purpose.
---
Final Thoughts
---
As you can see, there are many motorcycle carriers that you can buy online or in retail stores.
Our top pick for the best motorcycle dog carriers is the apparent winner. It has a lot of robust features that will help to keep your dog safe while riding with you.
It is essential to think about your dog when choosing a motorcycle carrier and how it will fit in the carrier. You should also think about how you are going to use it and where you are going to mount it. When selecting a motorcycle dog carrier, take the cons into account and focus on how the carrier can benefit you and your pet pooch.