The best dog crate cover is HiCaptain Double Door Dog Crate Cover.
Choosing the best dog crate covers does not need to be overwhelming. The top covers will keep your canine safe and dry, be visually appealing, and be made from sturdy materials. Explore our top picks for dog crate covers, as well as how to choose one.
#1 HiCaptain Double Door Dog Crate Cover
SALE ALERT!!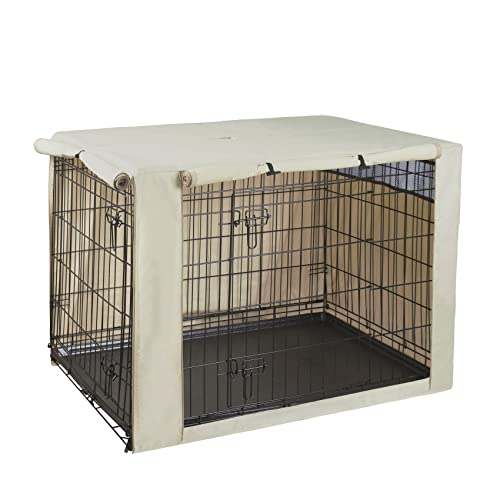 The HiCaptain Double Door Dog Crate Cover offers additional protection to your pet's wire crate. It is made of 600D polyester and is also water-resistant.
Measuring 37 inches long by 24 inches wide by 25 inches tall, the cover should fit any 36-inch crate size well. Its use is perfect for long road travel and visits to places like the vet.
There are two toggles at the corner, and this keeps the crate cover in place. There are two entrance doors with roller shades made of mesh. They can be easily rolled up and down to adjust ventilation and visibility for your pet.
There is a zipper on the entrances to help your pet enter and exit quickly. The pack contains one crate cover, which has a 3-year warranty.
We love that there is a durable and water-resistant cover from HiCaptain for my pet's crate. The mesh window will keep your pet calm and able to see as well as breathe. It's great that it can be fastened in place with the corner toggles. The entrance zipper makes it easy for your furry friend to enter and exit the crate.
Pros
---
Features a double door design.
Made of 600D polyester with a water-resistant coating.
Available in five different colors and six different sizes.
Toggles at the corner to keep it in place and a mesh window at the side for visibility and ventilation.
Roller shades and an entrance zipper.
Comes with a 3-year warranty.
#2 Explore Land Polyester Dog Crate Cover
SALE ALERT!!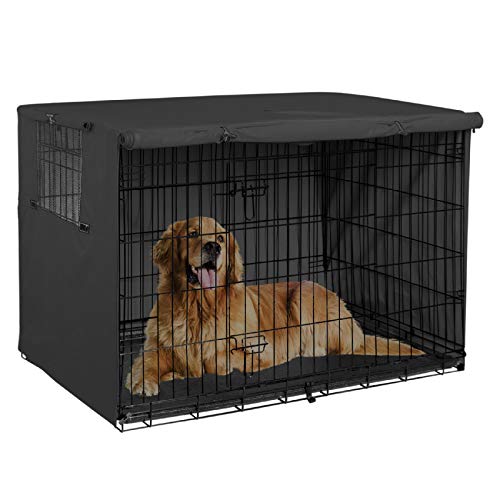 This budget-conscious pick is made from oxford cloth that is windproof, preventing your canine companion from having to deal with unpleasant weather. This particular size fits most 42-inch standard wire crates, but four other sizes are also available. You can even choose from two colors to match the style of whatever room your four-legged friend's crate is in.
The cover is both easy to install and remove. As you install it, take advantage of the five toggles along the cover's bottom to secure it to the crate. You will also appreciate the convenient zippers and the multiple lockers on the backside. When you remove it, the portable handle will make life easier.
The crate cover is also adaptable, featuring two entrance doors that you can use separately or together. There is also a mesh window so your canine can see outside, complete with a flap to customize ventilation and visibility.
This amazing cover from Explore Land for your canine's crate is available in five sizes and two colors, with sizing that should fit most standard crates. It is windproof and secured with toggles and lockers. There is a mesh window and two entrance doors, offering customization to fit Fido's needs.
Pros
---
Comes with a one-year warranty.
Secure the cover with toggles and lockers.
Windproof material.
#3 Morezi Heavy Nylon Waterproof Dog Crate Cover
This is one of the many waterproof dog crate covers from Morezi available in five sizes and seven colors, so you can choose one that fits your crate and sense of style. There is an open panel that you can easily fold back making it easy to open and close the door to the crate.
Secure the cover via hook and loop tabs that prevent it from sliding around and turn the crate into a cozy den. The material is also easy to clean as you can throw it right in the machine followed by the dryer. It also repels oils and stains.
Pet owners love that this cover from Morezi is waterproof and stays secure with its hook and loop tabs, giving your dog coziness. The fact that the cover's fabric is machine washable also adds convenience.
Pros
---
Machine washable.
Fold-back open panel.
Indoor or outdoor use.
#4 X-ZONE PET Dog Crate Cover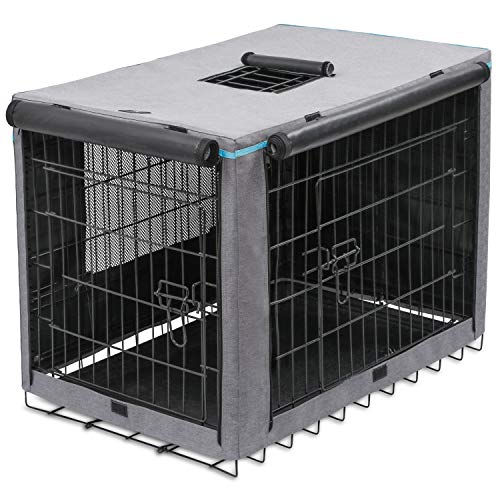 This X-ZONE PET crate cover works well indoors or outdoors. The cover comes with two sides in two different colors, namely gray and black, for ease of differentiation. It is made from Oxford material that is durable and protects against dust, insects, and wind. It is also machine washable.
The crate cover's design includes two roll-up panels and a mesh window that can be covered, offering multiple ways to add ventilation or some light to the interior. That mesh is breathable and anti-scratch, so your dog will not accidentally damage it. There is also a unique roll-up opening on the top so you can hold the crate's handle for easy transportation.
The sturdy and windproof Oxford cloth of this cover from X-ZONE PET is washable in the laundry machine for easy maintenance. The top panel that opens is particularly useful, as it gives you easy access to the crate's handle.
Pros
---
Roll-back top panel to access crate handle.
Windproof Oxford cloth.
Collapsible for easy storage and portability.
#5 Avanigo Dog Crate Cover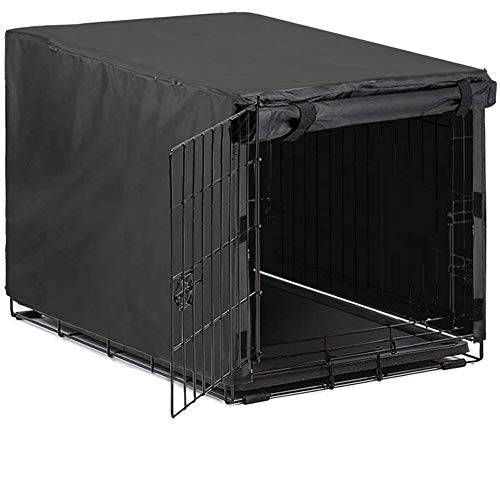 This Avanigo dog crate cover is made using high-density polyester so it is waterproof and windproof. The material is breathable and lightweight, especially compared to covers that use PVC coating. There are five crate sizes to choose from with the 42-inch one fitting most 42-inch wire crates.
After you put the crate cover into place, you can fold or roll up the flap along the side. There is also a top loop to secure the flap, so it does not get in the way of the crate's door. There are also roller shades on the entrance door, letting you adjust the ventilation and visibility. Just clean the cover using a little soap and a wet towel or soft brush.
As a waterproof and windproof dog crate cover, this option from Avanigo will keep your canine comfortable and dry. The material is lightweight for comfort for your furry friend.
Pros
---
Roller shades on door.
Roll-up panel with loop to secure.
Waterproof and windproof.
#6 Pet Dreams Crate Cover
SALE ALERT!!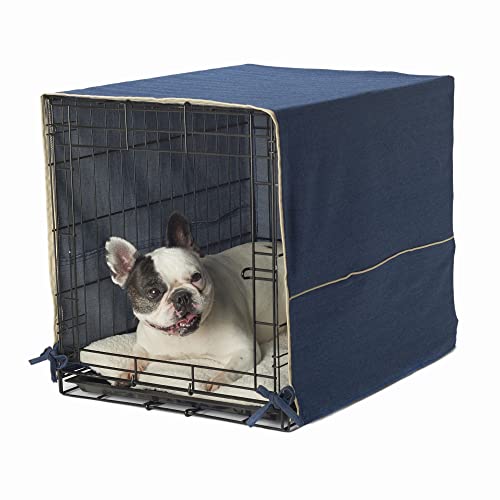 Pet Dreams- Denim Original Crate Cover- Denim - Large 36"
OPEN FRONT CRATE COVER ONLY! Fits Crates 36 in. L x 23 in. W x 25 in. H, CRATE NOT INCLUDED.
The "OPEN FRONT" feature Provides Proper Ventilation and a view for your pet, let your dog breathe!
CHOOSE A COLOR TO MATCH YOUR DÉCOR in brushed twill or luxe velour. Matching crate pads are available. Completely...
The Pet Dreams crate cover is made of denim and can fit pet crates between 24 to 48 inches in size. Its denim material is very durable and should be both machine washable and dryer friendly.
The cover will make your pet pooch feel safe and protected, thanks to its open-front-only design. It lets your dog breathe with the open front view.
You can also choose the color that matches your pet's mood. It comes in brushed twill or luxe velour. It is made of pet-friendly materials and is not coated with any artificial materials. This natural design and material help to keep the crate cool.
An interesting fact is that this brand is a women-owned business based in the USA and has been around since 1999. This is also the inventor of the original bumper, pad, and crate cover.
We love the denim design from Pet Dreams because it keeps the crate cool and looking stylish. It is machine washable, so we don't always have to worry about dirt or fur. We appreciate the fact that there are covers to fit different crate sizes.
Pros
---
Features an "open front" design to keep your pet calm and cool.
Made using denim fabric for the cover, and pet-friendly materials for other parts.
Fits wire crates between 24 to 48 inches.
Available in four different colors and five sizes.
Machine washable and dryer friendly.
Women-owned business since 1999.
#7 HONEST OUTFITTERS Dog Crate Cover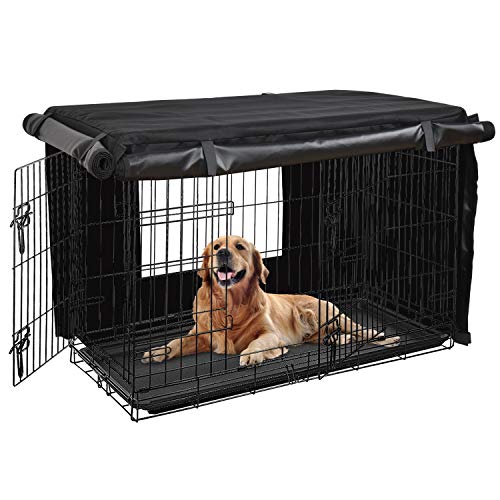 This crate cover from Honest Outfitters is made from Oxford fabric that is 600D, offering waterproof and windproof material. This makes it one of the rare Oxford fabric crate covers that are waterproof. The crate cover includes two side covers that are fully open and will not block the door. There is also a back mesh window.
Attach the cover with ease thanks to the four toggles at its bottom. Conveniently, this crate cover also includes two covered pockets. These are perfect for storing treats or toys.
This covers pockets for storing toys help pit stand out, as does the fact that it offers Oxford cloth that is waterproof in addition to being windproof.
Pros
---
Covered pockets for treats or toys.
Two side covers that fully open.
Waterproof and windproof Oxford fabric.
#8 MidWest Privacy Dog Crate Cover
SALE ALERT!!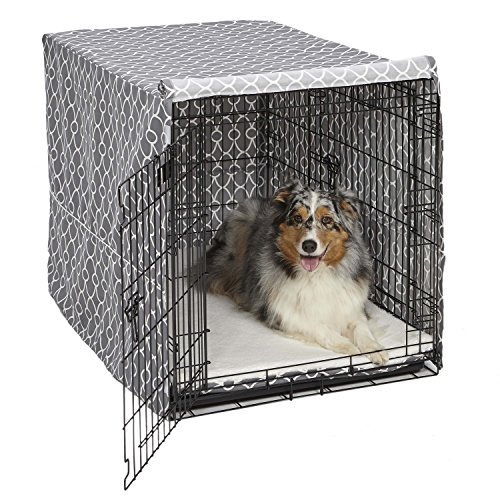 This cover from MidWest is protected with Teflon for added durability. The Teflon material helps repel oil and stains. Under this layer, you will find a durable polyester and cotton blend. The cover is machine washable and can go in the dryer.
This dual-layered cover can also work with multiple styles of crates, including those with rear or side doors and 1, 2, or 3 doors in a folding metal design. The crate also has five flaps.
There are six sizes and four patterns to choose from, with the 42-inch cover fitting most standard 42-inch crates. The cover stays in place with convenient loop and hook tabs. It comes with a one-year warranty.
The Teflon protective layer on this crate helps its longevity by preventing oils and stains. The crate cover is adaptable, working with multiple crate designs.
Pros
---
laps.
Fits most crate designs.
Uses a blend of polyester and cotton coated in Teflon.
---
Dog Crate Covers Buyer's Guide
---
To help you choose between the above best dog crate covers and understand how they stand out from the competition, consider the following points as you choose a cover.
Compatibility With Your Crate
The very first thing you need to do is make sure that your chosen crate cover will fit your canine's kennel.
Size
Ideally, the cover should fit the crate as closely as it can. If the cover is too large, it will let light, air, and the elements in. If it is too small, you will not be able to use it. Pay attention to the dimensions of a crate cover before buying it and confirm the measurements of your canine's crate.
Open Panels
The other aspect of compatibility to pay attention to is where your crate opens. Some crates open from the front, others from the side, and yet others from both. Choose a crate cover that will let you easily open and close the door on your crate. Most of the top crate covers will be versatile enough to work with most kennel designs, but you should still confirm.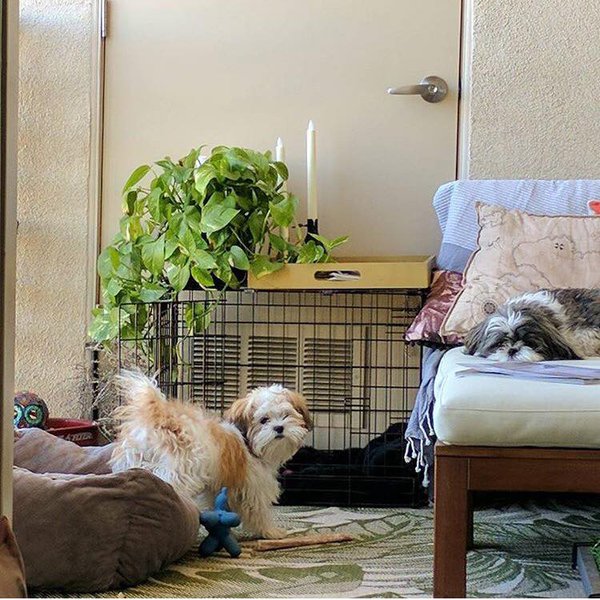 Materials
Take a few moments to consider the type of material that the cover is made from. Some of the common options include Oxford cloth, 100% polyester, and blends of polyester and cotton. Some covers will also have additional coatings, such as Teflon or PVC.
The material should provide the basic functionality you want from the cover, whether that is blocking out light or reducing sound somewhat.
Durability
Opt for a material that is known for its durability. You can confirm this by reading reviews in addition to the claims of the manufacturer. All of the crates on the above list use durable materials, so you do not need to confirm this yourself.
Weatherproofing
If you plan on using the crate cover outside, confirm that the material is waterproof and windproof. Most are windproof but not all are waterproof. This latter feature is essential because, without a waterproof crate cover, the interior of the crate could get wet in the rain. In the best-case scenario, your canine would be uncomfortable. In the worst case, your pup could get sick.
If you will put the crate and cover outside and live in an area with cold winters, consider a cover with extra insulation. This will cost a little more but it will help keep your canine warm in the cooler months.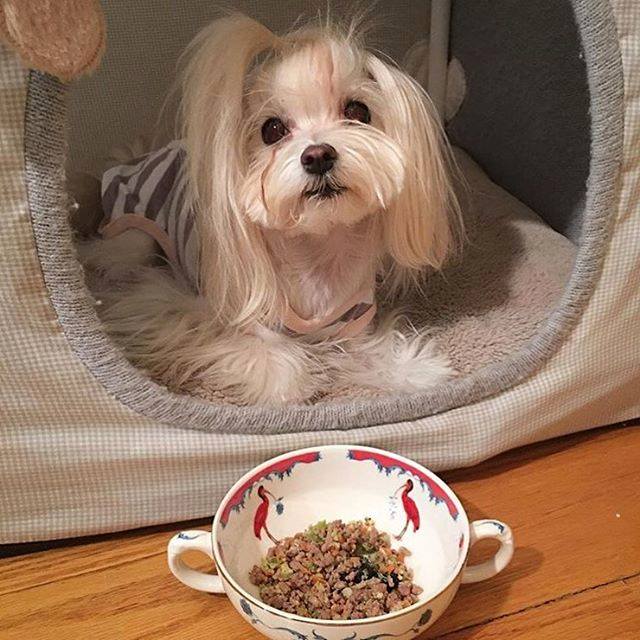 Ventilation
Take the time to confirm that your chosen crate cover offers enough ventilation for your canine to breathe freely. Ventilation is also key to your pooch's comfort as it prevents stale air. In hot weather, ventilation can also keep the temperature inside the crate at a reasonable level.
Breathable Material
Ventilation starts with material that is breathable and lightweight. Many manufacturers specify that their material is breathable, but not all do. All of the crate covers on this list have breathable material, so this is not a concern if you choose a recommended product.
Window And Foldable Panels
Additional ventilation comes via the panels. All the best crates will have at least one foldable panel, complete with a way to secure it in place whether it is open or closed. Some crates have more than one foldable panel. This lets you adjust the amount of ventilation, including light and visibility, inside the crate depending on the preferences of your furry friend and you.
Look for covers with window panels as well. These can be smaller than a side or a complete side and will feature mesh or a similar material. The window panels increase visibility and ventilation while the mesh keeps bugs out, so your canine companion remains comfortable.
Care And Maintenance
Do not forget to consider caring for and maintaining the cover. Most buyers will want this to be as simple as possible.
Cleaning
Most covers will require cleaning in one of two ways: either by spot cleaning with a brush or wet towel or by going in the washing machine and dryer. Neither of these options is better than the other; it depends on your personal preferences.
Some people prefer the ease of spot cleaning with a brush, as there is no need to remove the cover to do so. This method also lets you clean just the parts of the material that need it. Others prefer the ability to just remove the cover and throw it in their washing machine for minimal effort. Think about whether you have a preference, including whether you want to have to remove the cover for cleaning.
Installation
Speaking of removing the cover, maintaining dog crate covers typically requires the ability to easily install and remove them. Confirm that your chosen cover is simple to install and remove. Pay attention to the features it has to secure the material to your dog's crate, so it does not move around or come off.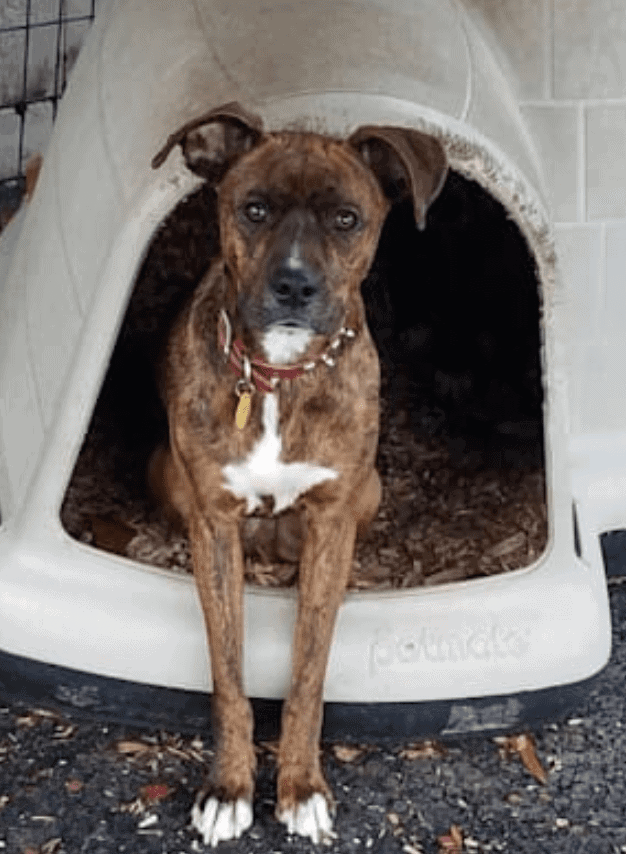 Appearance
Of course, you will also want to think about the appearance of the crate cover, if this matters to you. Think about where you will use the crate cover and the décor of that area. Some people prefer solid neutral colors like black that can blend into any décor. Others prefer fun geometric prints or patterns that bring some life to the cover and crate.
Extra Features
Some crates will also offer additional features, which you may or may not want. Most of these are helpful when available but the average pet owner does not need the majority of the features.
Having Pockets
One example would be having pockets. Some crate covers have convenient storage pockets so you can easily store toys or even treats right next to the crate. This is a good option for those who put the crate in an area that is low on storage.
Top Panel That Opens
Some kennel covers have a top panel that partially or fully opens. If you have one of the rare crates with a top door, then this is a must. If not, it is simply another way to add ventilation. The feature is, however, convenient for those who move the crate around regularly and want to be able to reach its handle without removing the full cover.
Foam Or Padding
Most crate covers are just the cover themselves. Some, however, will include bonus features, such as foam or padding that slips on top of the metal bars of the kennel to give your canine comfort. You can easily take care of this yourself by slipping a dog bed inside the kennel if you do not choose a cover that includes the feature.
---
Final Thoughts
---
When looking for the best dog crate covers, we highly recommend our top pick. An ideal crate cover is something that will fit your canine's crate and is durable. The best covers will be waterproof, making it possible to use them outside, even in the rain while keeping your furry friend dry. They should also be foldable for low-space storage and secure onto the crate with ease.
The best covers will not only have foldable or rolling panels but also will include something to secure those pieces out of the way. Look for mesh windows that provide visibility while preventing bugs. The crates will also be easy to clean and maintain.