Taking your dog with you when you travel is a fulfilling experience. But a traveling dog needs to have his natural needs met, among which hydration. So, how do you ensure that your dog has the clean and fresh water that he/she needs to stay hydrated while in a crate? Crate water bottles are the in thing.
To help you shop for the best dog crate water bottle, we have looked at the main brands and written a comprehensive review just for you. Keep reading to find details on each of our favorite dog crate water bottles.
#1 Choco Nose H590 Patented No-Drip Dog Water Bottle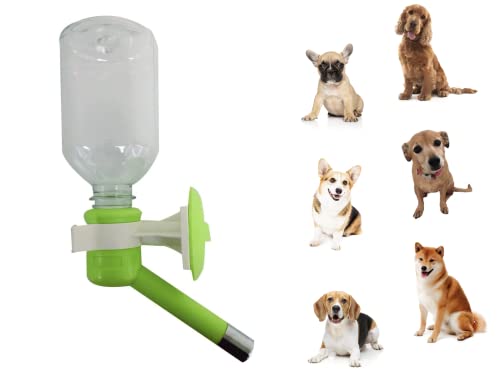 This US-patented dog water bottle is made of safe plastic, free of Bisphenol A (BPA). It's created for small and medium-sized dogs, those around 15 to 30 lbs. Its 16-mm nozzle is fitted with a stainless steel nip at the end.
The bottle holds 11.2 fl oz (331 ml) of water, enough to hydrate your dog for the better part of the day. If you prefer, you can replace the original bottle with a bigger one since most regular-sized PET (Polyethylene Terephthalate) bottles fit perfectly on the nozzle.
You won't need to worry about your dog messing with the car while drinking. The Choco Nose H590 is leak-proof and easy to snap on and off when you need to refill or clean. The bottle can be screwed on the side of the crate for a more secure setup and if you decide to use it at home, you can screw or nail it to a wall or wooden surface.
Despite its small capacity, the Choco Nose H590 dog crate water bottle has a nozzle that's compatible with other regular bottles. It's perfect as a dog crate water bottle since it can be screwed on the side of the crate and your dog can drink without making a mess.
Pros
---
This is a no-drip dog water bottle that is made of BPA plastic, and this is safe for pups.
The bottle comes with a U.S.-patented leak-proof nozzle that is 16mm in diameter for easy water flow, and it carries about 11.2 fl oz that keeps your pup well hydrated for hours.
The bottle is 7 x 2 x 3 inches in size and weighs 3.7 oz, which is ideal for hydrating medium and smaller pup breeds.
The bottle can easily be installed on the wall or wooden furniture with provided screws, and this helps to keep the bottle from being disturbed by your pups.
The bottle can easily be snapped on and off the bracket, and this makes it easy to refill and clean.
Cons
---
Should not be used to feed small animals or extremely small pup breeds, and this is because they might suffer from choking while drinking from the larger bottle nozzle.
The metallic part of the nozzle is rather soft, and pups that chew might swallow some of the pieces, and this can result in choking or stomach problems.
#2 Lixit Top Fill Water Bottle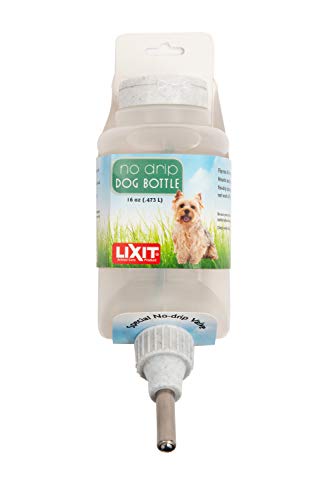 Lixit Top Fill NO-Drip Water Bottles for Dogs. (16 FL Oz (Pack of 1), White)
MADE FOR SMALL DOGS: The 16oz Top fill dog bottle has been specifically designed for small dogs. Its features a 7/16th...
FILL FROM THE TOP: The Lixit top fill dog bottle features a lid on the top that allows you to fill the bottle without...
NO DRIP VALVE: This bottle features Lixit's Patented no drip value. The valve is completely serviceable and can easily...
When shopping on a tight budget for your dog's water bottle, one that goes for less than $10 and holds a water capacity of 16 fl oz (473 ml), thereby giving you value for your money. Moreover, to stretch your dollar further, there are several other useful features, including a patented valve with a ball tip that lets your pet drink without making a pool in the cage.
To refill the bottle, you simply flip the top lid so you don't have to tamper with the no-drip valve and the nozzle. The Lixit bottle has two flat sides and can be mounted on the cage for ease of use. You have two clamp mounts in different positions so you can adjust the height.
Your dog's health is not compromised in any way since the bottle is BPA-free and extremely easy to clean.
No one would say no to a product that serves the purpose for which it's purchased without straining your budget. The Lixit dog water bottle is well-priced, holds plenty of water, does not drip, and is easy to refill and clean.
Pros
---
It is a white 16-oz bottle made in the USA that weighs about 0.19 oz and is perfect for hydrating medium to smaller pups.
Has an easy-to-use top-fill feature, and this means you do not have to remove the bottle from the cage to refill it.
This bottle has a 7/16″ tube quality 304 American stainless steel water tube.
Comes with a patented no-drip ball-tip valve that prevents leaking as your pup is drinking water from this bottle.
The bottle has two flat sides, and this ensures easy mounting against the inside or outside of the cage.
Cons
---
Some users have noticed some leaking from the tube, and this can be a problem if you leave your pup for hours alone at home as the kennel surface will get wet.
Your pup has to be patient to drink from the ball tip valve, especially if it is a larger breed that needs more water output than its smaller counterparts.
#3 Vannon Dog Water Dispenser
SALE ALERT!!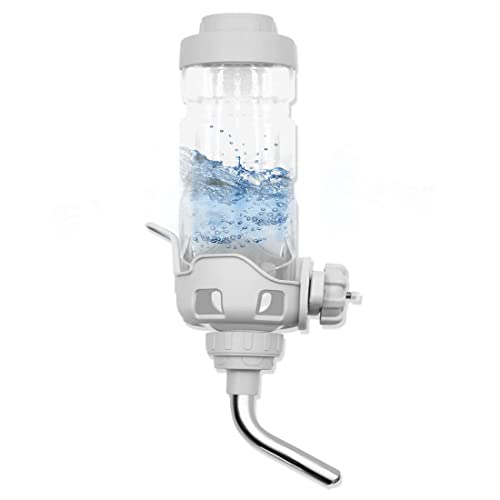 The Vannon dog water dispenser is a great way to keep your dog hydrated. It comes with a no-drip, leak-proof water bottle that can hold a 34-oz water capacity (1L).
Its nozzle diameter is 12 mm wide, which is suitable for dogs, cats, and other small pets, including rabbits. The nozzle is a one-piece design, so you don't have to worry about any pieces breaking off due to chewing.
The dispenser nozzle uses food-grade double stainless-steel balls, as well as a silicone seal interior which helps with leakage protection. The double anti-slip design helps to lock the bottle and hold it in place.
You don't have to take out the bottle for a refill as you simply have to unscrew the top and add water. It is also safe for your pets and odorless. Vannon offers a 100% money-back guarantee for each purchase.
It is important to have a water drinking set up for your pet, and this dispenser from Vannon is perfect for crates and cages in every possible way. It is safe for use and is leak-proof. Its large water bottle and easy-to-refill design are also a winner.
Pros
---
This 34-oz bottle is made of durable and BPA-free plastic and 100% food-grade silicone, and this ensures your pup enjoys safe drinking water.
The nozzle is a safe one-piece design that is hard to break off and has been tested to have 99% no leakage or less than a 5-ml drip under 24 hours.
Your pup can enjoy easy drinking, thanks to the food-grade three stainless-steel balls and silicone seal interior that also prevents leakage.
Easy to fill without removing the mounted bottle out of the cage, thanks to the top cap feature.
Comes with a 100% money-back satisfaction guarantee should the bottle not serve your pup well.
Cons
---
The stainless steel balls can sometimes roll out, which can be a choking hazard for your pup, and this can also cause leaking.
The bottle is sometimes harder to clean than most due to the many parts inside.
#4 Andiker No-Drip Dog Water Dispenser
The Andiker no-drip dog water dispenser is perfect for dogs and other pets to keep them hydrated. The bottle can be raised or lowered depending on where you are installing it and your pet's height.
It is made of ABS and stainless steel, which makes it safe for your pet. It has a no-drip nozzle, which can be turned in any direction by turning the top lid 360°. Its stainless steel balls help to block the hose tip and only let water pass when your pet pushes it.
You can unscrew the bottom nozzle bottle cap. There is a sealing ring inside the lid, which is usable on most water bottles. The product comes with a metal bracket for hanging the dispenser outside or inside your pet's cage. The bottle holds up to 8.4 fl oz (250 ml) water capacity.
We love that the pet can push water out of this Andiker dispenser whenever it needs a drink. The dispenser can also be hung both inside and outside of the cage. Its no-drip nozzle should reduce any potential water messes, and it is safe for your dog, thanks to the quality materials used to make the dispenser.
Pros
---
High quality and durable bottle made of BP-free plastic, ABS, and stainless steel and holds about 9.5 fl oz.
Comes with a metal ball-point tube and roller-ball nozzle, which helps to prevent excess leaking and gives your pup an easy time while drinking water.
The bottle nozzle can be turned at 360° to suit your pup's drinking needs, and the bottle height can also be adjusted higher in the cage.
Comes with a metal bracket, which helps you hang the bottle inside or outside your pup's cage.
The bottle is easy to clean and refill, which means your pup will enjoy safe drinking water regularly.
Cons
---
Water flow can be disrupted because the roller ball can fall out, which can also be dangerous for your doggie if they swallow it.
It takes some time for pups who have never used such a water bottle to get used to it.
#5 Choco Nose H528 No-Drip Rabbit Water Bottle
SALE ALERT!!
Choco Nose Patented No-Drip Water Bottle/Feeder for Puppies/Toy-Small Breed...
🐾 Why Choco Nose Water Bottle? Are You Tired of Changing the Wet Bedding for Your Pet Cage? This Is The Best Small...
🐾 This Small-sized nozzle (13mm) Is Recommended for Rabbit, Chinchilla, Cat, Toy Breed Sized Dog or Puppy: Shih Tzu,...
🐾 This Water Bottle Is NOT Recommended for Mini-Sized Pet, Such as Hamster, Guinea Pig, Hedgehog, Ferret, Rat. Please...
If you are looking to please your toy dog, this water bottle is for you. Choco Nose H528 is made from BPA-free plastic and has an 11.2 fl oz (331 ml) capacity. The 13-mm nozzle is made for small-sized dogs and is part plastic part stainless steel at the tip. It is also leak-proof and US-patented.
The screw-on bracket can be fixed on the cage when you travel or nailed to a wall or wooden surface for everyday use. If you require more water, you can switch the original bottle to a bigger one since the nozzle fits on most regular-sized PET bottles.
Choco Nose H528 is perfect for toy dogs who don't have huge hydration needs. Its 11.2 fl oz capacity is just enough to keep your little furry friend well hydrated and without making messes in the cage or the car.
Pros
---
This bottle is made of BPA-free plastic and can hold up to 11.2 fl oz, a capacity ideal to feed any small or medium-sized pups.
Comes with a 13-mm leak-proof and U.S.-patented nozzle made partly of plastic and also has a stainless steel tip, which can easily feed small pup breeds.
You can easily install the bottle on a wall or wooden surface or even take it with you during travel, thanks to the screw-on bracket.
The innovative design of the bottle and nozzle ensure that your doggies enjoy clean and fresh water without worrying about dirt or grime contamination.
This aqua-colored bottle is easy to clean and refill, and you do not have to unmount it to do so.
Cons
---
The nozzle ball can get stuck over time, and this can prevent your pups from enjoying a drink of water.
The metal part of the bottle is made of soft material and some pups can easily chew through it, messing up the bottle, and this requires regular and costly replacement.
#6 Pet Standing Water Dispenser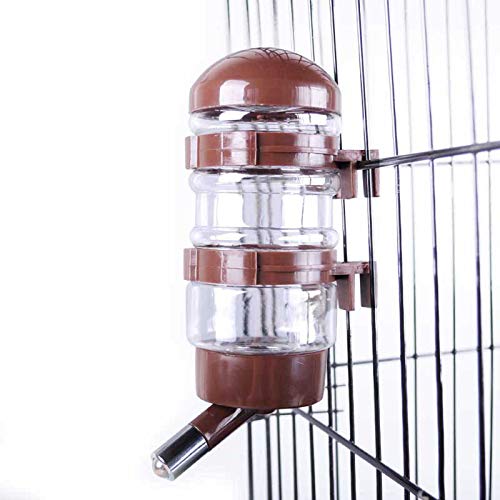 The Pet Standing Water Dispenser is another optimal choice for small or medium-sized dogs. It has a 15.2 fl oz (450 ml) capacity and a nozzle that is fitted with three stainless steel balls. The balls are different sizes and your dog has no chance of making a pool in the cage when drinking.
Pet Standing Water Dispenser is made of ABS (Acrylonitrile Butadiene Styrene) plastic, generally considered safe for human and animal use. When you hung the bottle on the crate, you can use one of the two hooks to achieve the desired length.
The top cover of the bottle is fixed and does not open. You'll need to turn the bottle over and open the nuzzle cap to refill.
A dog water bottle is only good if it saves you the trouble of manually feeding water whenever your dog needs to drink. The Pet Standing Water Dispenser is a great example that holds 15.2 fl oz of water and can be hung on the cage for your dog's easy drinking.
Pros
---
This bottle is available in brown and is made of ABS, a BPA-free material that ensures your doggies enjoy safe and clean water.
The bottle holds about 15.12 fl oz and also converts to a water dispenser, measuring 5.5 inches long by 2.1 inches wide, a convenient size that you can travel or take your pups for walks with.
The bottle is easy to install inside or outside of your pup's cage using a clamp that mounts the bottle and provides height adjustment ability.
Comes with a no-drip nozzle design with 3 stainless steel balls and an adjustable black ring that prevent water leakage while saving water and keeping your doggie's cage dry and clean.
Comes with a 100% money-back satisfaction guarantee should your pup be unsatisfied with the bottle.
Cons
---
Caution must be exercised when dismantling the bottle parts during cleaning to prevent losing them or your pup choking on them.
Pups that are chewers can easily destroy the bottle after some time.
#7 Poodle Pet Water Feeder Bottle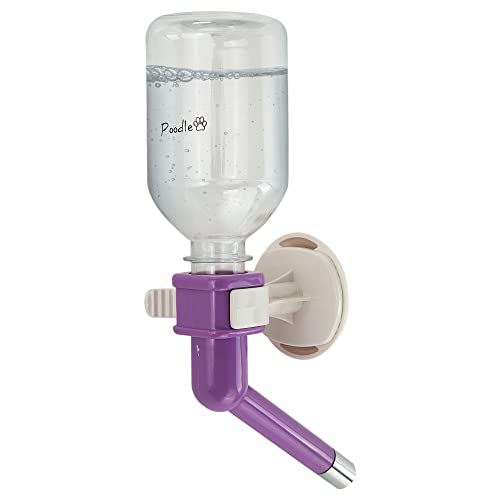 The Poodle Pet Water Feeder is a great choice for use on dog crates and kennels. It's designed to easily mount on the crate by placing one side of the bracket inside and the other outside, then turning it to hold. Its size favors small-sized dogs like the Poodle.
The bottle is made of eco-friendly dog-safe plastic and uses gravity to dispense the water. So water only flows when your pet touches the ball at the stainless nozzle-tip with the tongue. To refill, you simply unscrew the top. The bottle can be replaced with other similar size regular bottles.
Are you looking for a dog water bottle specifically designed for use on a crate? The Poodle Pet Water Feeder fits this description perfectly. All you need to do is place one side of the bracket in the inside and the other on the outside and turn it to hold.
Pros
---
Clear bottle that holds 12 fl oz made of safe BPA-free plastic, which lets your pups enjoy safe drinking water.
Easy to install inside or outside your pup's cage using the turnable "fixer " wheel.
You can easily refill the bottle by turning over the bottle, refilling and screwing back the bottle cap.
Comes with a part plastic and part stainless steel nozzle with a rolling ball to help your pup drink water without wasting while preventing leakage in the kennel.
Made by a local small business that provides quality pup products.
Cons
---
Chewer pups can chew through the nozzle and sometimes ingest the metal part, and this can be a health hazard.
Some users experience leakage from the nozzle after using the bottle for some time.
---
Dog Crate Water Bottles Buyer's Guide
---
Did you know, according to the American Kennel Club, adult dogs should drink an ounce of water per pound of body weight every day? And while this may vary depending on breed, dog activity level, and size, staying hydrated is a health requirement for all dogs.
So, how do you take care of your dog's water drinking needs when you are traveling and have his/her in a crate? Simple! Buy a dog water crate bottle.
However, not every dog water bottle is good enough to quench your furry friend's thirst while on the go. Look out for the following five must-have features when purchasing a dog crate water bottle.
Dog-Safe Material
We list this feature first because your dog's health must be protected while hydrating him/her. Experts disagree a great deal about what plastics are safe for dogs and which ones are not. But while they don't come to a consensus, look out for water bottles that are made of PET and ABS plastic and indicate that they are BPA-free.
Both our top pick and the budget-conscious pick are good examples of dog water bottles made of dog-safe plastic.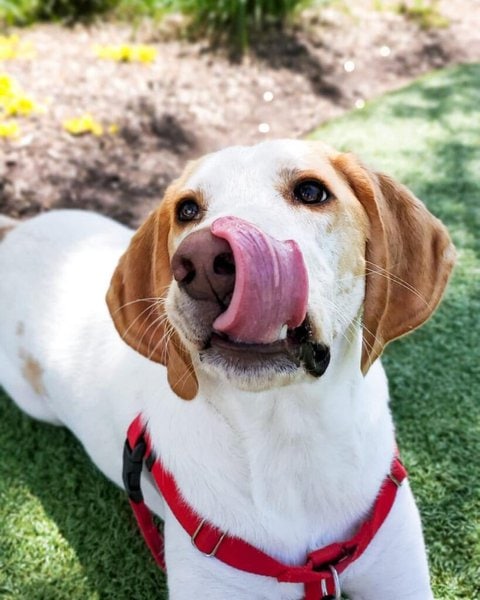 Firm Fix On Crate
If it reads 'dog crate water bottle', then it must be good enough to use on a crate. One way to confirm this is by checking whether the bottle has a feature that allows you to fix it on the crate while letting your dog drink with ease. The most common ways dog water bottles are fixed on crates are by hanging hooks or brackets that can either be screwed or fastened on the crate.
Check the Pet Standing Water Dispenser or the Andiker No-Drip Dog Water Dispenser to see how hooks work and the Choco Nose H528 No-Drip Rabbit Water Bottle or the Poodle Pet Water Feeder Bottle to get an idea of how brackets work on the cage.
Sturdy, No-Drip Nozzle
There's no doubt that you want to have your dog drinking its daily water supply while keeping your car dry. A no-drip nozzle is a must-have feature in that case. Nozzles with balls at the tip of the nozzle or those that function on gravity when the ball is touched by your dog's tongue are usually non-drip.
Consider nozzles that have a stainless steel tip since dogs tend to chew. A steel nozzle would be difficult to chew if your dog got frustrated with slow water flow from the bottle.
All our pick are no-drip and many of our picks have a stainless steel nozzle tip. See, for example, the Pet Standing Water Dispenser and the Choco Nose H528 No-Drip Rabbit Water Bottle.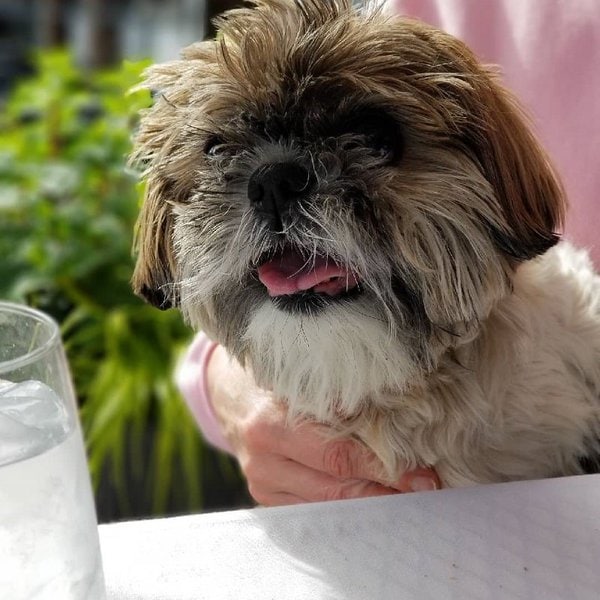 Dog-Appropriate Water Capacity
We started by saying that dog's hydrating needs may vary with size among other characteristics. If you are buying a water bottle for a large-sized dog, our top pick, Choco Nose H590, will not do because its 11.2 fl oz capacity is made for small and medium-sized dogs. But the Vannon Dog Water Dispenser would be excellent for a large dog.
Choosing the right water capacity bottle will save you the trouble of having to refill often and the risk of leaving your dog without adequate water when you are traveling.
Compatible Nozzle
There are two advantages to purchasing a dog water bottle with a nozzle that is compatible with most PET plastic bottles. First, you can replace the original bottle with a bigger or smaller one according to need or substitute it if it accidentally falls and breaks.
Second, if you are going on a long trip, you can fill several compatible bottles and simply replace the empty ones without needing to refill them.
Most of our picks have a tick for the compatible feature. That includes our top pick, the Choco Nose H528, and a few others on the list.
---
Final Thoughts
---
A good dog water bottle meets the above must-have features. How well does our top pick meet these features? Here's how:
Material safety for dogs – It's made with safe BPA-free plastic.
Fixed securely on the crate – Can be screwed on the side of the crate.
Sturdy no-drip nozzle – Uses a leak-proof 16-mm nozzle.
Water capacity sufficient for dogs – Its 11.2 fl oz capacity for small to medium-sized dogs.
Compatible nozzle – Most regular-sized PET bottles fit perfectly on the nozzle.
Now that you know what to look for, you are ready for a dog water bottle shopping spree.