The best memory foam dog bed is Friends Forever Memory Foam Dog Bed.
Dogs work so hard every day to bring us joy and show us they really are worthy of the 'man's best friend' title. It goes without saying that they deserve a nice and cozy place to rest after all the effort.
We have collated the best memory foam dog beds to treat your beloved pooch and reciprocate your love.
#1 Friends Forever Memory Foam Dog Bed
SALE ALERT!!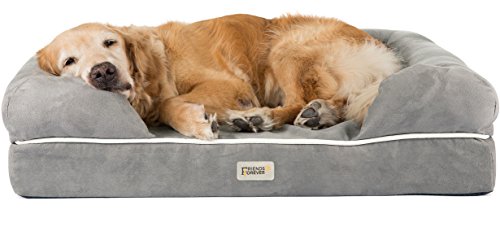 This Friends Forever dog bed has polyfill stuffing which is responsible for the memory foam effect. It is extremely soft and fluffy and takes on your dog's body contour with time for customized comfort. The polyester based material also offers the benefit of breathability which comes in handy with minimizing odors.
If you are worried about night-time potty accidents ruining the bed then you will appreciate the waterproof liner on this dog bed. It is designed to keep moisture out of the filling layer whether it is drool, pee or even sweat. This makes the bed durable and also contributes to minimizing funky smells.
The bed is also designed to make maintenance easy and convenient for you as the dog owner. When it comes to cleaning up, you can easily remove the outer cover and have a proper deep cleaning. The best part is that it is also machine washable so you do not have to do too much of the dirty work.
With its high-quality construction and numerous perks for both you and your pooch, this is easily one of the best memory foam dog beds on the market. It is definitely worth the investment if you are in the market for a bed offering premium quality materials, maximum comfort and easy maintenance.
Pros
---
Available in 4 different colors.
Rip-resistant cover.
Comes with a 1 year conditional warranty.
#2 BarkBox Memory Foam Dog Bed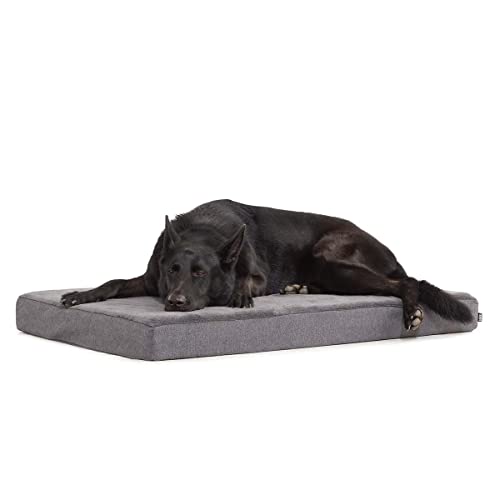 The BarkBox option is unique in that it uses therapeutic gel for the memory foam effect. It offers the same body contour support effect as polyester stuffing for your dog's comfort. This makes it every bit as effective and worth the investment.
The gel has an additional cooling effect that keeps the bed nice and chill for the pooch. This makes it a great alternative to consider if your dog is suffering from inflammatory orthopedic problems.
The dog bed also has a removable waterproof cover. This protects the inner gel layer from damage from liquids whether it is dog pee or wet paw. The removable cover is also machine washable which makes maintenance a breeze.
The dog will also enjoy the plush cover on the bed's top side. In addition to being soft to feel it offers an additional layer of ergonomic memory support. This is designed to further improve on their comfort whether they are fast asleep or just lounging with you in the living room.
This memory foam dog bed is definitely worth it if you are shopping on a tight budget. It offers both support and comfort for your dog whether or not they have orthopedic problems. It is also really easy to maintain which will make your life as the pet owner a lot easier.
Pros
---
Available in 7 different colors.
Comes with a free bonus toy.
Measures 41″ long x 29″ wide x 4″ high, suiting dog sizes from small to extra large.
#3 PetFusion Ultimate Memory Foam Dog Bed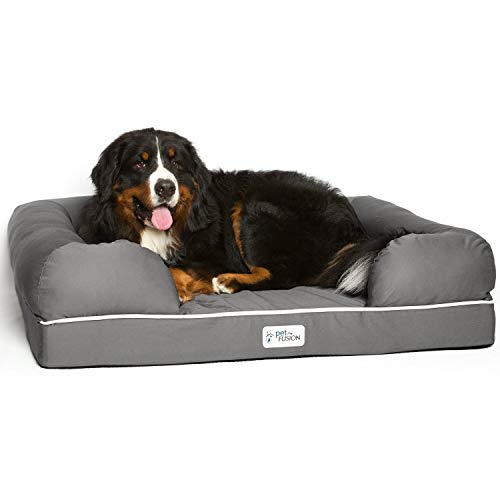 This bed features a combination of memory foam filling materials. Polyester makes up 65% and is responsible for the plush, ergonomic support offered to the dog.
Cotton is the second material and makes up 35% of the filling. It is responsible for offering soft yet firm support which is great for keeping your dog's pressure points taken care of as they sleep. This unique combination makes the bed very comfortable for the dog, as well as promotes aeration to keep it cool.
The base of the mattress has a no-skid base. This makes the bed ideal for lounging and playrooms where your dog will be constantly hopping on and off the bed. That way you do not have to worry about them skidding into danger as they do what dogs do best, play.
This is a good option to look into if you want a memory foam that offers firmer support. It is also wonderful as a lounging day bed for the playful pooch.
Pros
---
Comes with a 36-month warranty.
Removable and machine washable cover.
Waterproof liner.
#4 Dogbed4less Premium Memory Foam Dog Bed
The Dogbed4Less bed stands out from others in the memory foam niche with its filling design. It features gel infused memory foam which combines the best of both worlds. Your dog will enjoy the fluffy plush comfort of the memory foam fiber as well as the firm yet ergonomic support of the gel.
The cover on this dog bed is also worth celebrating as it offers the perfect combination of comfort, aesthetics and functionality. It is made out of 100% cotton denim which makes it soft and breathable for a cozy night's sleep. It is also durable and very easy to maintain as it is washing machine friendly.
This is a fantastic choice of dog bed especially if you are shopping for a fussy sleeper. With the comfort features it has to offer, your pooch will be down and out as soon as they hit the bed.
Pros
---
One extra removable external cover.
Waterproof liner.
High density filing for longevity.
#5 Brindle Waterproof Designer Memory Foam Dog Bed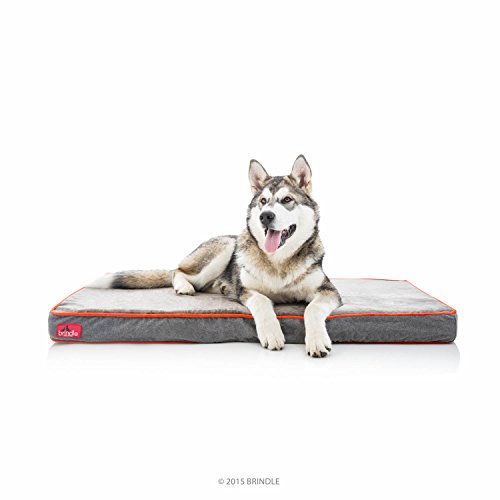 This dog bed features a combination of 2 inches of heavy density foam and 2 inches of memory foam. This makes the bed ideal if you do want something that is just right; not too plush and not too firm. It is particularly awesome for even extra large breed dogs as their heavier bodies require a bit more support than what many simple memory foam options have to offer.
You are also guaranteed safety with the bed's anti-skid base. This comes in particularly handy with its flat, open pad design. That way, even if your big furry bestie wanders in their sleep and rolls off the bed it will remain in place ready for them when they roll back on.
This is an excellent memory foam dog bed especially if you are shopping for a bigger or older dog that needs space, support and comfort.
Pros
---
Has a 3-year warranty.
Removable and machine washable cover.
Waterproof layer to protect from liquid damage.
#6 JOYELF Memory Foam Dog Bed
SALE ALERT!!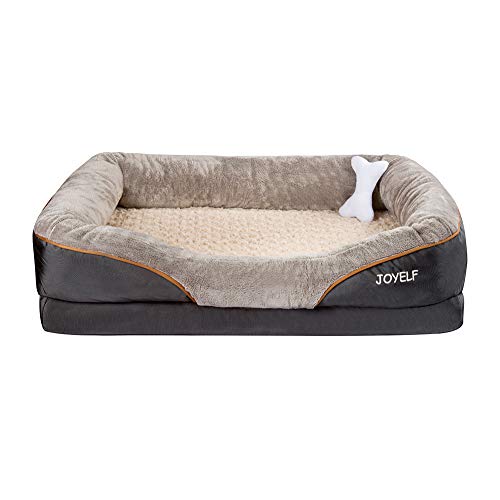 One of the best features of this bed is the presence of padded bolsters. These create a nice nook effect which is ideal not only for maximum comfort but also for support. It is a wonderful choice for puppies who often roll out of flat pad beds but is also suitable for older dogs who like to get nice and cozy.
The bolsters and the base all have high-quality memory foam padding. This ensures full ergonomic support from all sides for your beloved pooch. The thick and plush cover further adds to this coziness and feels like a warm cuddle for your dog as they drift off to sleep.
If you are drawn to the padded bolster dog bed style then this is definitely worth looking into for all rounded support and comfort for your dog.
Pros
---
Waterproof and non-skid base.
Removable and machine washable cover.
Waterproof inner liner.
#7 Furhaven Memory Foam Dog Bed
SALE ALERT!!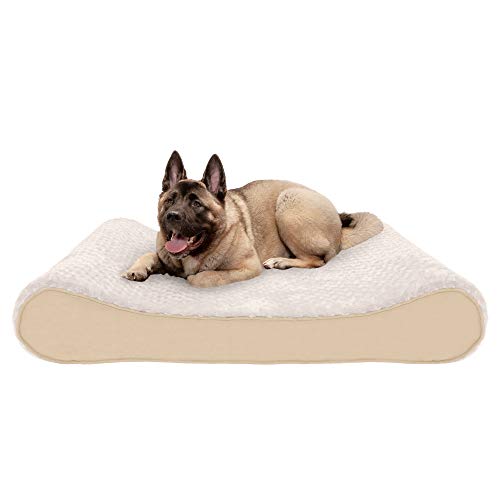 This bed is built to ensure maximum comfort for your bed. In addition to the plus memory foam mattress, it has a spacious open mat design which is particularly awesome for large dogs. They get all the space they need to spread out those aging and possibly aching joints. It also has a unique curved design that makes it that offers additional ergonomic support.
The cover is faux fur which the dog will enjoy as it kind of feels like they are cuddling with another pooch. In addition to this coziness factor, the faux fur is gentle on the dog's fur as well as bare surfaces like paws and the nose.
This is another good alternative for large dogs as it offers the right amount of space and support. It is also worth considering if you are shopping for a pair of small breed dogs that love to cuddle.
Pros
---
Available in 8 different aesthetic styles.
Removable and machine washable cover.
Has a medical grade support foam layer.
#8 KOPEKS 7-Inch Thick High Grade Memory Foam Dog Bed
SALE ALERT!!
What makes this KOPEKS dog bed stand out is just how thick it is. At 7 inches in depth, it is one of the thickest options on the market which makes it ideal if you are looking for something with firmer support. It is filled with high-quality, hypoallergenic memory foam which offers ergonomic support for your dog for maximum comfort.
The bed also stands out as one of the few on the market with an inbuilt pillow. This is a feature that mainly older dogs will enjoy as they get somewhere to rest their heads when fully sprawled out. The pillow is made out of the same lush memory foam making it just as comfortable as any other part of the bed.
This KOPEKS dog bed is unique and would be ideal if you want to give the in-built pillow design a try. It is particularly useful with larger dogs especially if you have one with a snoring problem as they get better head support.
Pros
---
Cozy plush cover.
Machine washable cover.
Has an anti-skid reinforcement base.
#9 The Dog's Bed Memory Foam Dog Bed
The Dog's Bed Orthopedic Headrest Dog Bed XL Grey Plush
XL Grey Plush 46" x 28" x 6" (+3" Headrest) waterproof orthopedic headrest dog bed. Solid 2" high density,...
A prudent preventative measure for younger dogs of breeds predisposed to joint conditions, ensuring your dog's joints...
Therapeutic bed designed to provide relief and comfort to tripawds, dogs with joint conditions such as hip and elbow...
This bed combines 2 inches of memory foam and 4 inches of support foam. The memory foam offers ergonomic support for the entire body but is particularly useful in cases of bone and joint problems. The support foam on the other hand is just the right amount of thickness to counter the dog's body's pressure. That way they do not sink into the bed to the point where it is no longer comfortable.
The top surface of the bed features a fluffy and comfortable faux suede cover that feels amazing to touch. This will definitely make the dog's night as they roll around in the warm and soft fabric.
You could also look into this model if you want a bed with an inbuilt pillow as well as firm support for the dog. As with other pillow options, this is ideal for older and/or larger dogs.
Pros
---
Available in 4 different colors.
Has an inbuilt pillow.
Removable and machine washable cover.
Replaceable covers, each sold separately.
---
Memory Foam Dog Beds Buyer's Guide
---
With so many styles of memory foam dog beds on the market, you might find it hard to narrow it down to the best option. And all those technical terms and vague specifications do not really make your life any easier.
Well, you have come to the right place. In the sections below, you will learn all you need to about the key feature variations with memory foam dog beds and what they all mean for you.
Bolsters VS Flatbeds
Bolsters are basically flatbeds with padded arms. It could be an all-around enclosure or on three sides to create a nook. These offer the benefit of keeping the bed nice and warm, which is perfect for both puppies and really old dogs. It is also worth considering if your dog sleeps in a curled-up position or tends to roll off the bed as it offers them additional support.
Flatbeds, on the other hand, are just that, flatbeds. The open pads are worth considering if your dog sleeps sprawled out as they get plenty of space to work with. They are also excellent options for play beds as the dog can easily hop on and off as they please without tripping over any raised part.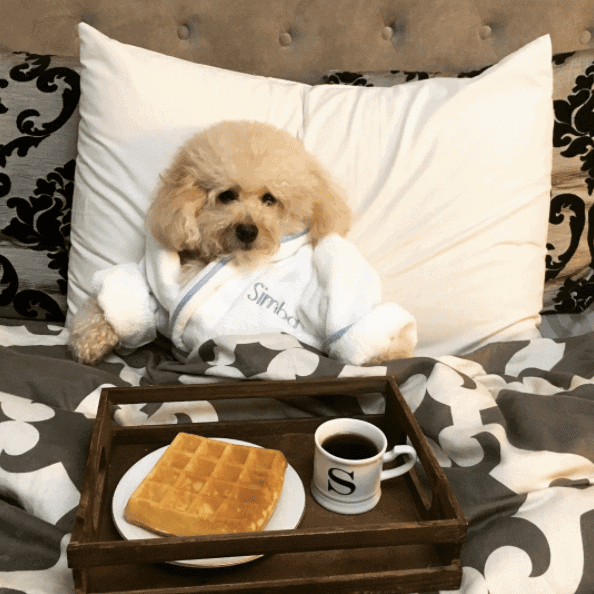 How Thick Should It Be?
The thickness of the bed depends a lot on your dog. Very thick beds usually include additional layers, whether it is a gel foam or support foam layer. These are best for dogs that need firm support, especially in orthopedic cases.
Thinner beds of about 4 inches, on the other hand, are significantly plusher and take the dog's form more than the thicker options. This makes them perfect for lighter dogs, including puppies and small breed pooches.
Fabric VS Gel Memory Foam
For the most part, memory foam mattresses are filled with fabric. This is beneficial for offering flexible and ergonomic support to the dog. Filling fabric is also breathable, which further contributes to comfort.
Gel foam, on the other hand, is a little bit firmer though just as comfortable and flexible. It is, therefore, a good option for dogs that need that extra bit of support. The gel also has a nice cooling effect that would come in handy in many orthopedic conditions.
Indoor VS Outdoor Memory Foam Beds
You need to take it into consideration while shopping for your dog bed, whether you plan on using it inside or in an outdoor dog kennel.
With outdoor beds, one of the most important things to factor in is the bed's weather resistance. This means that you need a bed with waterproof lining material as well as covers that are resilient as they will be exposed to a lot of potentially damaging factors. You also need to consider the size of the kennel as the last thing you want is a bed that is either too big or small for your pooch's home.
With indoor beds, on the other hand, anything goes. You can get whatever size you want; whatever material draws your eye, and features like waterproof lining become more of fun bonuses than must-haves.
---
Final Thoughts
---
If our top 9 are anything to go by, there are clearly many options for your dog to live like royalty. You just have to take your time and pick the right bed. Our number one pick is Friends Forever Memory Foam Dog Bed, which will definitely not disappoint you or your dog with its high-quality construction, comfort features, and ease of maintenance.
The other eight beds are also worthy contenders depending on your specific priorities and preferences. Just use the information on the shopping guide to figure out what different features mean for you and your dog, and you should arrive at the best conclusion.