The best dog grooming clippers is Wahl Bravura Lithium Pet Clipper.
If you have a dog, chances are you know how difficult it can be to maintain your pet pooch's fur. Whether it is from shedding or just the natural process of growing out, there will always be something that needs trimming.
Thankfully, with the right tools and a little patience, this daunting task becomes an easy fix for any doggy parent! All you need are clippers that are specifically designed for dogs. These are just like human clippers, but they have guards that let you control how close or far away from the skin you want to shave your dog's fur.
In this article, we have compiled a list of the best dog grooming clippers to buy, and where to find them so that your pup looks their best all year round.
#1 Wahl Bravura Lithium Pet Clipper
Our favorite hair clippers for dogs are the Bravura pet clippers from Wahl Professional Animal, and while they may be more expensive than many of the other options, they are worth the extra money. These dog clippers feature an excellent build quality that makes them more reliable than the competition, ensuring that they'll last longer. No wonder they are widely used by professional groomers.
Since these dog clippers last longer, you'll be less likely to need a replacement, which can actually save you money in the long run. They come with a 5-in-1 blade that can be easily adjusted for different parts of your dog's coat, ensuring that you don't have to fiddle around with replacement blades.
You can also find these dog clippers available in a range of different colors, so you'll have a small degree of customization. The battery in them can last for up to 1.5 hours, and it will take an hour to fully recharge. This runtime may be shorter than the competition, but it's mainly due to the power of these dog clippers.
Wahl has created a product that works equally well when used on fine fur or coarse fur, which is a breath of fresh air when compared to other models that can't make it through thick patches. This clipper also comes included with a choice of six high-quality guide combs.
Despite the higher price tag of this dog grooming clipper, the Wahl Professional Animal Bravura pet clipper provides you with immense value for their dollar. If you're looking for a high-end clipper, then this is the perfect combination of performance and reliability, which are two of the most crucial features.
Pros
---
This pet clipper from Wahl Bravura has a 5-in-1 blade that can be adjusted between five different sizes – 9, 10, 15, 30, and 40 – to offer a variety of cutting lengths when trimming a pooch's hair.
This pet clipper package from Wahl Bravura includes attachments, such as plastic attachment guide combs, a cleaning brush, and blade oil, that are intended to give customers the full grooming experience.
The cordless design of this lithium clipper offers customers flexibility and maneuverability when grooming their pooches with the clipper.
The clipper's metal head doesn't get hot, even with prolonged use, thereby ensuring that it can be safely used on a dog's skin.
Customers can continue to operate this grooming clipper at full capacity until the clipper's battery is fully depleted.
Cons
---
This dog clipper's blade head constantly pops off while in use, and this can be quite inconveniencing for users.
Wahl Bravura's lithium clipper tends to get clogged with hair while grooming a pooch, and this slows down the grooming process.
#2 Bousnic Two-Speed Professional Dog Clippers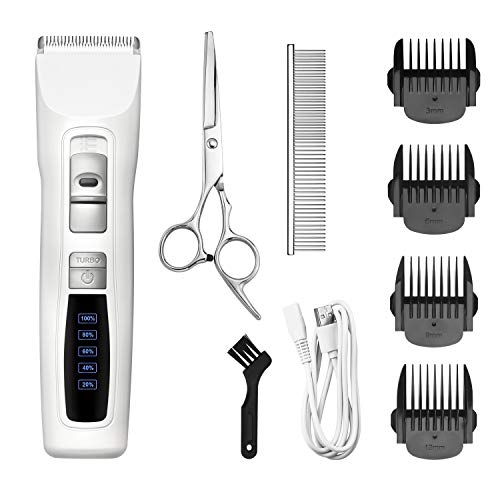 On the other end of the price spectrum, you'll find the Bousnic dog clippers, though it would be a mistake to assume that they're inferior because of their lower price point. While this grooming clipper can't match the previous Wahl Professional Animal model when it comes to raw performance, it beats it out in value for money.
This grooming kit is one of the cheapest options around, but unlike other cheap clippers, this one uses a quality motor. The motor is the most likely component to fail on any set of dog grooming clippers, and it seems like Bousnic has equipped this product with one that is surprisingly reliable.
All too often, buying a budget set of dog grooming clippers is like walking through a minefield of products that will fail within a week of use, but this product will keep going strong for months if not years. This clipper also runs much quieter than other products, which will make it less likely to scare your dog.
Unlike other bargain dog grooming clippers, this set features two-speed levels, allowing you to conserve battery when necessary. There is even a digital indicator that will let you know how much longer you can expect the battery to last. Finally, this model also comes with a complete set of accessories.
Even though most budget clippers have a reputation for poor build quality, this clipper kit from Bousnic combines reliability with features that have previously only been on mid-range and high-end choices. Features such as a lithium-ion battery and a low operating volume help make this one of the best value for money dog clippers around.
Pros
---
Customers can operate this dog clipper at two different speed levels to adjust to different dog hair types and give their pooches a variety of haircuts.
This two-speed clipper comes with a built-in 2200mAh Li-ion battery that holds a charge well and can be used to groom dogs for a considerable period before needing to recharge.
Four combs with different lengths are included in this Bousnic package to cater to varying dog hair lengths.
The Bousnic clipper's low-volume operation is ideal for grooming dogs that tend to easily become stressed and nervous.
The ergonomic design of the Bousnic dog clipper will fit well in most hands, thereby making it easier for customers to trim hair located in difficult-to-reach areas.
Cons
---
Fine dog hair tends to get caught in this clipper's blades, and there's usually no easy way for users to get rid of such hair.
This clipper's adjustable length can easily slide to a different length while being used to groom a pooch, and this can result in an injury for the dog in question.
#3 Andis ProClip AGC2 2-Speed Dog Clippers
Moving on to a mid-range option, we'll now go over the ProClip AGC2 from Andis. This two-speed clipper is designed to run quietly and cut through all kinds of fur. Whether you want to trim the delicate coat of a chihuahua or if you're looking to get through the resilient fur of a malamute, these dog grooming clippers will work.
These dog grooming clippers have a detachable blade that can be replaced when it begins to get dull. You can also remove the blade to make the dog grooming clippers easier to clean out after use. While the lower speed will be sufficient for most applications, the second one is perfect for thicker parts of your dog's coat.
With a 14-ft cable, you'll have all of the freedom of movement that you need without having to worry about the battery dying on you midway through a trim. Durability is also a major benefit when using this dog clipper, as it comes with shatter-proof housing that will resist falls.
The ProClip AGC2 is a more affordable alternative to some of the high-performance clippers on the market, and it provides impressive performance. While this clipper may not have as much flair as some of the other choices, its durability and excellent performance are two strong advantages.
Pros
---
With the Andis ProClip, customers can switch between two different cutting speeds – 2,700 or 3,400 strokes per minute – to ensure easy adjustment to various dog grooming demands.
The AGC2 clipper features a 14-feet heavy-duty cord that provides customers with enough reach to comfortably trim and groom their dogs.
The ProClip comes with a locking switch that ensures that the clipper won't power down when being used to groom a dog.
The Andis ProClip clipper is compatible with UltraEdge, ShowEdge, CeramicEdge, and Oster A5 blades.
This 2-speed clipper comes with a detachable blade and removable cap that can easily be detached when there is a need to clean and maintain the clipper.
Cons
---
The ProClip's blade tends to get hot really quickly when in use, and this can result in an injury to the pooch's skin unless the operator takes frequent breaks to let the blade cool.
#4 Oster A5 Two-Speed Professional Dog Clipper
SALE ALERT!!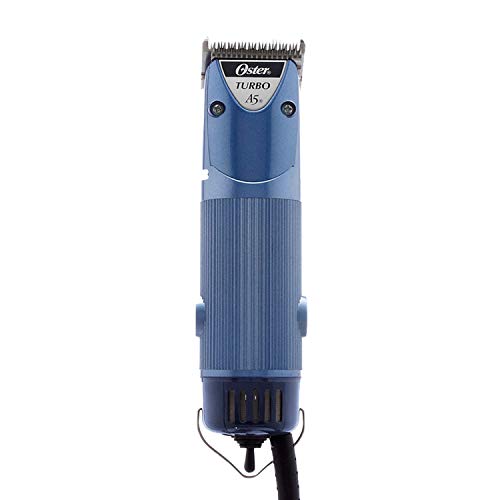 Oster A5 Hair Clippers for Dog, Cat, and Pet Grooming with 2 Speed Settings and Detachable Blade,...
Animal clippers deliver more strokes per minute and a wider blade sweep for faster clipping
Powerful, heavy-duty universal motor delivers 2 speeds: 3,000 SPM and 4,000 SPM
Clipper is ideal for grooming dogs, cats, horses, and livestock. Compatible with Oster A5 detachable Cryogen-X blades,...
Up next, we have a model from Oster, who is known for the excellent quality of their dog grooming clippers. The Turbo A5 Two-Speed is right in the middle of their animal clipper product line, and it features everything except for advanced ergonomics of Oster's more expensive products.
Despite its cylindrical shape, the Turbo A5 is not an uncomfortable set of dog grooming clippers to use, and the ridged grip helps to ensure that you don't drop it. While the standard Turbo A5 runs at 3,100 SPM, this two-speed model features rates of 3,100 and 4,000 SPM, which can be toggled at your discretion.
As this dog grooming clipper is part of Oster's Professional Groomers Series, then it can work with nearly all kinds of fur, ranging from a drop coat to a long double coat. Like many other mid-range competitors, this set of dog grooming clippers features a detachable blade that can eventually be replaced and also facilitates cleaning.
Oster has not disappointed with the Turbo A5 Two-Speed, and we'd argue that the additional setting makes this dog grooming clipper model a better choice than the base Turbo A5 model. This clipper set also comes with extras including blade oil, grease, a brush, and more. The only thing missing is an ergonomic handle.
Pros
---
The A5's dual speed setting – 3,000 (Low) and 4,000 (High) strokes per minute (SPM) – ensures versatility when it comes to carrying out different grooming operations on dog hair.
The A5's detachable blade system makes it convenient for customers to switch blades and groom different textures of dog hair, as well as carry out cleaning and maintenance activities when needed.
The Oster blades used for this dog clipper are cryogenically treated in the United States to provide extra hardness and ensure that they can last for a considerable period.
Customers can pair this 2-speed clipper with universal guide combs to provide added control and ensure precision when trimming dogs with long hair.
The A5 dog clipper is compatible with all Oster CryogenX detachable blades and the Take Down Quick Wide blade series.
Cons
---
The clipper's blades heat up too quickly and can cause serious harm to dogs being groomed, if care isn't taken.
The A5 clipper doesn't come with guards to prevent users from shaving too much of their dog's hair.
#5 Andis Excel Pro Five-Speed Dog Clipper
SALE ALERT!!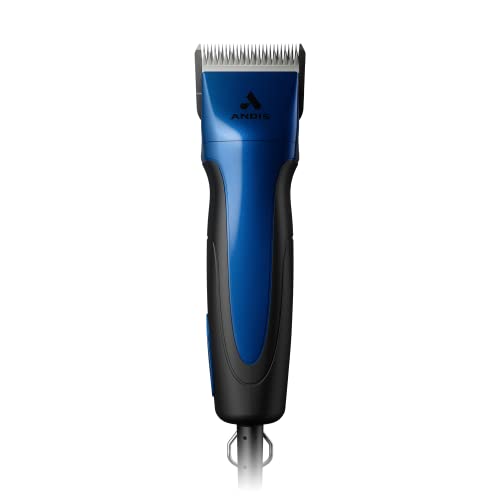 If you're willing to spend more money on higher quality, then the Andis Excel Pro Five-Speed Dog Clipper will be ideal for you. While this is one of the most expensive products on this list, it comes with a variety of features that aren't present on more affordable options, namely five different speeds.
The wide range of speeds allows you to choose the best option for the dog that you're grooming, so these dog grooming clippers are excellent for owners of several pets. If one of your dogs has delicate fur, but the other one has a thick double coat, then the wide range of adjustments in this model will work well for you.
This clipper is also meant to be easier to use, as it features an ergonomic shape coupled with a non-slip grip. The ceramic blade that comes with this clipper is another notable improvement over competing models, as it will absorb far less heat than a comparable one made out of steel.
While the high price point of these clippers will make most buyers opt for an alternative, the Andis Excel Pro is perfect for users who need power and versatility. Some users may find that the five speeds are overkill, but breeders and families with a lot of pets will appreciate this clipper's versatility.
Pros
---
The lightweight nature of this Andis clipper is complimented by a non-slip, ergonomic design that is specially contoured to fit nicely in the user's hands and provide a comfortable grooming experience.
This dog clipper's detachable blade design ensures that its blades can be easily swapped or removed when there is a need to clean the equipment or carry out other maintenance activities on the clipper.
The Andis Excel Pro comes with five different cutting speeds, and users can cut at speeds as high as 4,500 strokes per minute for versatility when grooming different dog hair textures.
Andis' detachable blades are manufactured in the United States to ensure compliance with quality control protocols.
The special hardening process used in preparing Andis blades provides increased durability and keeps the blades sharper for longer periods.
Cons
---
This clipper is reported to exhibit a tendency to switch speeds randomly during grooming sessions, and it is somewhat an inconvenience having to adjust speeds when it happens.
The plastic cap that covers this clipper's blade lever assembly tends to pop off easily, thereby resulting in hair wrapping around and damaging the clipper, if not removed in time.
#6 Wahl Professional Animal MiniArco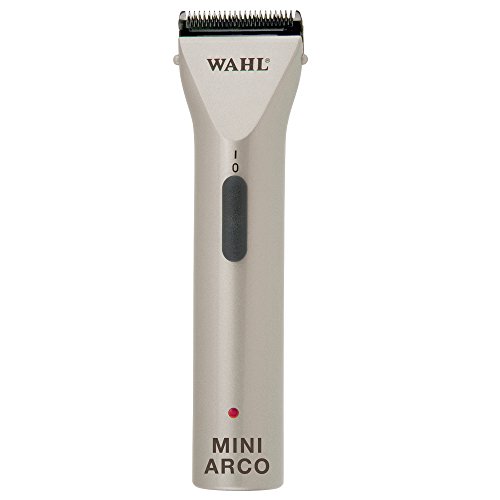 This is the last high-end set of dog grooming clippers that we'll be covering in our guide, but it's certainly not the least of them. The Wahl Professional Animal MiniArco features a powerful motor that is powered by a high-capacity battery, giving you all of the benefits of a rechargeable cordless clipper with none of the downsides.
This trimmer from Wahl Professional Animal is equipped with a #30 blade and two attachment guide combs to cater to trimming needs at specific lengths. It also provides at least 45 minutes of cordless runtime and weighs merely 4 oz, thereby enabling effortless grooming and trimming.
Housed in a distinctive champagne-colored hard plastic casing, this single-speed clipper operates at 6,000 SPM at low-noise levels of 66 dB. It also comes with a generous 1-year warranty.
This MiniAcro clipper from Wahl Professional Animal is perhaps one of the least expensive and better clipper models you can find on the market so far. Its cordless lightweight design is what appeals to us most.
Pros
---
The single-speed design of the Wahl MiniArco clipper provides a cutting speed of up to 6,000 strokes per minute, making it easier to power through thick dog coats.
Customers can use this dog clipper either with or without a cord, with the cordless operation providing up to 45 minutes of runtime before needing to recharge the clipper.
The lightweight design of this grooming clipper ensures that customers can continue to operate the equipment for as long as needed without putting unnecessary stress on their hands.
Wahl Professional clipper's detachable blades can be easily removed and fixed on the clipper when there is a need to either replace or clean the blades.
The clipper operates with a low noise level estimated at 66dB, which is comfortable for both dogs and humans.
Cons
---
Wahl's MiniArco clipper takes rather long to be fully charged, estimating 8 to 10 hours of charging time.
Several customers claim that this clipper stops holding a charge and working only after a few months of use.
#7 Oneisall Dog Clippers
SALE ALERT!!
These clippers from Oneisall boast an affordable price point that makes them an attractive set of clippers for beginners. If you've never trimmed your dog's coat before and you're looking to take your tentative first steps into dog grooming, you'll love the low price and simple controls of this model.
This set of clippers comes with a rechargeable battery that provides you with additional freedom of movement while in use. You can also connect a cable and use these clippers in wired mode if the battery dies before you've finished grooming your pet.
A low level of noise and vibration helps make these clippers more appealing for pets, as they won't be scared off by a high-pitched whine. There are even four-guard combs that come with these clippers. This impressed us, as you wouldn't expect to get many accessories with such an affordable product.
For customers who don't want to risk too much money figuring out whether or not they're up to the task of grooming their dog, these clippers are a reliable and user-friendly option. This product even comes included with everything you need to get started: fur shears, a comb, a cleaning brush, and guide combs.
Pros
---
The Oneisall clipper comes with six guard combs of various lengths – 3mm, 6mm, 9mm, 12mm, 15mm, and 18mm – to make it easier for customers to groom different lengths of dog hair.
The clipper operates at noise levels as low as 50dB to ensure that dogs don't get startled and stressed during grooming operations.
Oneisall clippers come with a rechargeable and built-in battery that ensures the clipper can be used to groom dogs in the absence of electricity.
The detachable blade design of the Oneisall clippers affords users ease of changing and cleaning.
This product package comes with several accessories, including a stainless steel comb, an oil bottle and stainless steel scissors, to provide customers with all that is needed to groom their dogs.
Cons
---
This clipper's blades tend to become dull and need replacing within a relatively short period.
The teeth on the attachments that come with this clipper are too wide to be effectively used to groom small dogs.
#8 HANSPROU Dog Shaver
SALE ALERT!!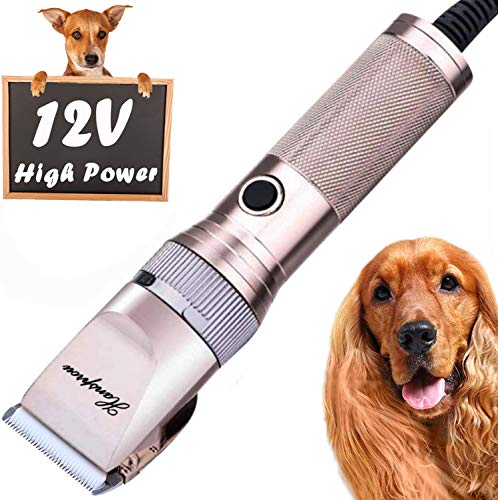 The HANSPROU shaver features a large 12V motor that provides sufficient power to quickly trim and smoothly cut through thick mounds of dog hair. The shaver produces a low vibration when in use, and the ultra-design helps ensure that dogs feel at ease when their hair is being shaved.
Additionally, this shaver comes with four guard combs, five levels shift, and two adjusting modes to make it easier to cut through different hair lengths. The shaver's high-quality fixed titanium blade and the ceramic shaving blade work in tandem to produce a double shaving experience, and the blades are detachable, thereby making maintenance easier.
The HANSPROU shaver is easy to operate, with users simply having to plug in and use, and a durable aluminum body construction, providing pet parents with a comfortable handling experience. As an additional safety measure, this shaver's blades feature an obtuse-angled, R-shaped design that cuts in all directions to prevent hurting the pooch's skin.
The HANSPROU shaver delivers what is promised to consumers – an efficient and durable means for pet owners to groom and trim their pet's hair or fur. The various safety features incorporated in its design ensure that dog parents can comfortably trim their pooch's hair with the knowledge that they won't accidentally hurt their canine buddies.
Pros
---
The HANSPROU dog shaver features a 12V motor that generates sufficient power and speed for customers to comfortably trim and groom their dogs.
The one-button operation of this dog shaver is convenient and easy for customers to use.
HANSPROU dog shaver features a double blade design – a titanium fixed blade and a ceramic moving blade – to provide clean cuts of dog hair.
This clipper comes with four different guide combs – 3mm, 6mm, 9mm, and 12mm – for trimming various different dog hair lengths.
The 3m-long cord that comes with this dog shaver provides users with the flexibility needed to groom dogs in a convenient manner.
Cons
---
This clipper's guards fall off fairly easily when shaving a dog, resulting in a prolonged grooming session.
The HANSPROU dog shaver package doesn't include oil for maintaining the equipment.
---
Dog Grooming Clippers Buyer's Guide
---
Dog grooming clippers are a great tool for any dog owner to have in their home. They come in all shapes and sizes, but the most popular ones are usually cordless with detachable blades. These Clippers can be used on many parts of your dog's body, including paws, face, and coat.
The criteria you should be looking for when purchasing a set of clippers include:
Sharp blades with rounded tips to prevent scratching and pulling at the hair.
Durable design that will stand up to heavy use without breaking down too soon.
Comfortable grip handles so you won't tire out in the middle of a long grooming session.
Multiple speeds to accommodate different types and lengths of fur on your pup's body.
Related: Best Dog Grooming Scissors
Wired Or Cordless
One of the first decisions you're going to want to make when purchasing your new dog clippers is whether they're wired or wireless, and each option has its own set of advantages. The best part about wired dog grooming clippers is that they tend to be more affordable than their cordless alternatives.
The inclusion of a powerful lithium-ion battery will usually result in a cost bump, and you also won't have to worry about the battery dying out when using a wired model. On the other hand, wireless dog clippers will provide you with much more freedom of movement, making it easier to trim your dog's coat.
Beyond ensuring that you can move around without the cord getting in your way, you can also use these dog grooming clippers nearly anywhere, since you won't need a power outlet to be in range. As for the issue of the battery dying, plenty of newer wireless models can be used while recharging.
Related: Best Dog Grooming Tables
Look Out For Guide Combs
The next thing to look for when buying the best dog grooming clippers for your dog is whether or not they come included with guide combs. These parts will attach to the front of the clipper, and they will allow you to control the length of the hair that gets cut, making them essential for precise grooming.
Once you've ensured that guide combs come included with your new clipper, you should take a look at how many of them there are and if their length is suitable for your needs. The quality of the guide combs that come with a set of dog grooming clippers will determine whether they last for a lifetime or break after a single use.
When choosing the right dog clippers, also take a look at how you remove and attach guide combs, as it should be a relatively simple process. If you're doing a complex grooming job, then you may have to switch between guide combs several times over the course of a single session.
Related: Best Dog Grooming Tools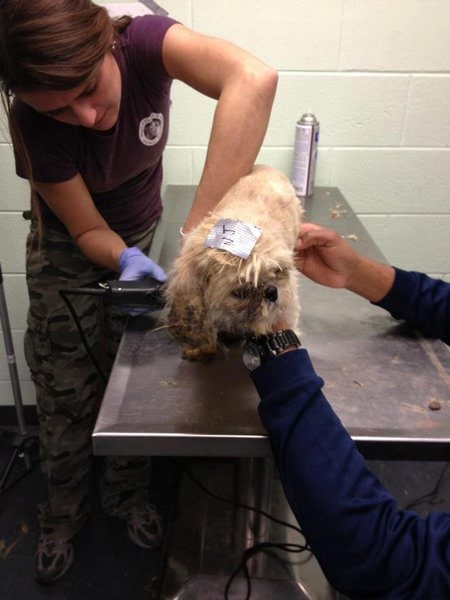 Loudness – Ideally Lesser Than 60 dB
While dog clippers have a reputation for being much louder than other grooming tools, plenty of progress has been made in reducing the amount of sound their electric motors produce. A quieter, low noise clipper will help keep a dog more comfortable while being groomed, as the whine of the motor may disturb them.
Most mid-range dog grooming clippers will produce noise levels between 50 to 60 dB, but there are high-end products that are even quieter than that. Keep in mind that a lower volume will usually mean that a clipper vibrates less too, meaning that it will be more comfortable throughout longer grooming sessions.
Speeds – Variable Speed Works Best
The speed at which your clipper runs can determine how effective it is at cutting through a certain type of fur, and there are two primary kinds of dog grooming clippers. The first variety is the fixed-speed clipper, and the second is the variable-speed clipper, and each has its pros and cons.
Variable dog clippers are ideal for owners with multiple pets or dogs that have a variety of fur types across their coats, though they are also more expensive. If you just need a basic set of affordable dog grooming clippers, then you likely won't need to pay extra for a variable-speed model.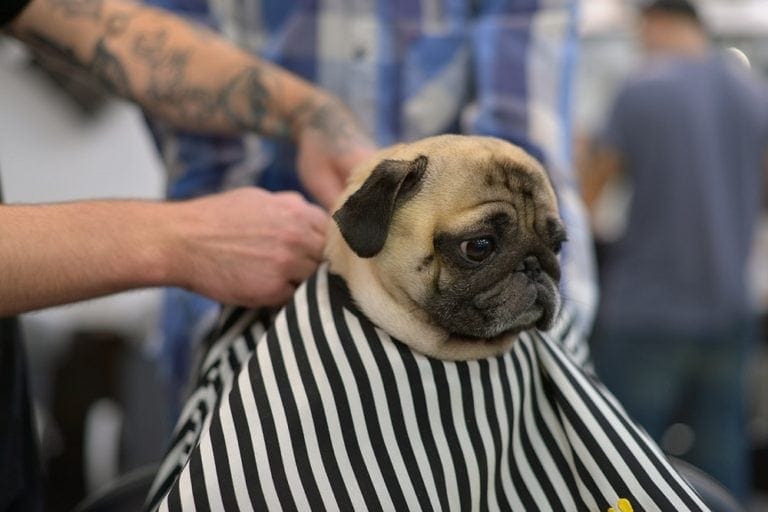 Blade Quality – Ceramic Or Stainless Steel Are Usually The Best
The next feature to look at in a new set of grooming clippers is the blade itself, as that will be the part that's directly responsible for clipping your dog's fur. The blade can determine how well the coat is cut, and it can also affect how hot the clipper gets, as some materials will retain more heat than others.
The most common material that blades are made out of is stainless steel, which is an excellent choice thanks to its resistance to corrosion. You won't have to worry about the blade rusting if it is used to cut damp fur, and stainless steel is also relatively affordable when compared to other choices.
High-end dog clippers will usually do away with stainless steel blades in favor of ones that are made out of ceramic. These blades will usually absorb only 25% as much heat as stainless-steel ones of comparable thickness, and they feature no reduction in cutting ability.
Accessories – The More The Merrier!
Many accessories can come with a set of dog clippers, and their inclusion may be essential if you're getting grooming clippers for the first time. Of course, beyond the mere addition of extras, you'll want to see whether they feature sufficient build quality, as a lot of accessories are poorly and hastily assembled.
Some of the most common extras include combs so that you can straighten out your dog's hair while it's being trimmed, brushes to help clean out the grooming clippers, and more. Some dog clippers will even come with replacement blades that you can use once the included one has worn out.
Other models come with essentials that can help you maintain your clipper like grease which helps keep the blades from degrading. Whether you're looking for a set of accessories with your new grooming clippers, or if you want to save some money because you already have your own, be sure to check if they come together with the purchase.
Related: Find Dog Groomers Near You
---
Final Thoughts
---
Out of each of these options, our top pick comes highly recommended, as it takes the features of the more expensive models and combines them at a lower price point. This clipper set provides you with extra value for money and is perfect for customers who need something high-end with a mid-range cost.
We've covered a wide range of products so that each of our readers can be more likely to find something that works for them. We hope that our reviews have been able to provide you with the info that you were looking for.