The best melatonin for dogs is K9 Select Melatonin Beef Chewable.
Sometimes, our furry little buddies need a little help with their melatonin production. Whether it is excess anxiety, trouble sleeping or even conditions like alopecia, these supplements go a long way towards making life easier for your pooch. Here are 6 awesome brands when it comes to the best melatonin for dogs.
#1 K9 Select Melatonin Beef Chewable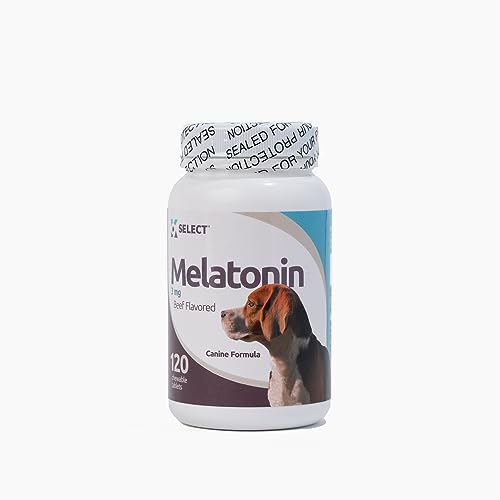 K9 Select Melatonin for Dogs, 3mg - 120 Beef Flavored Chewable Tablets - Canine Sleep Aid
Specially Formulated for Smaller Dogs - Each bottle contains 120 3mg melatonin tablets. For small dogs or a puppy,...
Helps Reduce Cortisol Levels in Dogs - Melatonin for Dogs may offer natural support for adrenal glands reducing excess...
Sleep Aid for Dogs – People and dogs naturally produce melatonin in the pineal gland, a hormone that regulates the...
Top on our list is the K9 Select Melatonin Beef Chewable. As its name implies, the supplements come in the form of chewable tablets. This makes it very easy to administer to the pooch as you can very easily just throw it into their food bowl during meal times.
The best part is that it features a palatable roast beef flavor. This makes it ideal for use with dogs that are picky eaters. The last thing you want is for them to spit out their food because something doesn't taste right. Moreover, with this option, you don't have to worry because it tastes just like most dog foods.
In addition to the dose of melatonin that your pooch gets, the supplement has antioxidant effects. These come in handy when it comes to boosting the little one's immune system. That way, they not only have great mental health but also physical wellness.
This is easily the best pick when it comes to melatonin for dogs. It is not only easy for the pooch to consume but also contains a decent dose of the good stuff to deal with anything whether it is stress, phobias or even trouble sleeping. It also doesn't hurt that the stuff tastes awesome for the dog.
Pros
---
It is available in a 120-tablet bottle with each tablet containing 3 mg of melatonin, and this is ideal for small and medium pups of up to 30 lbs.
This chewable beef-flavored tablet helps to provide melatonin to your pup and helps them to sleep well.
It helps to reduce excess cortisol in your pup's body and is perfect for taking during thunderstorms as well as to calm down an anxious doggie.
The free radical scavenger, antioxidant and anti-inflammatory effects in these tablets promote your doggie's immunity.
This melatonin chewable provides adrenal support and helps with skin and coat health.
Cons
---
It is not ideal for elderly dogs as it makes them lethargic and dull.
Dogs are different, and some still stay awake even after taking the proper dosage.
#2 NaturVet Quiet Moments Calming Aid For Dogs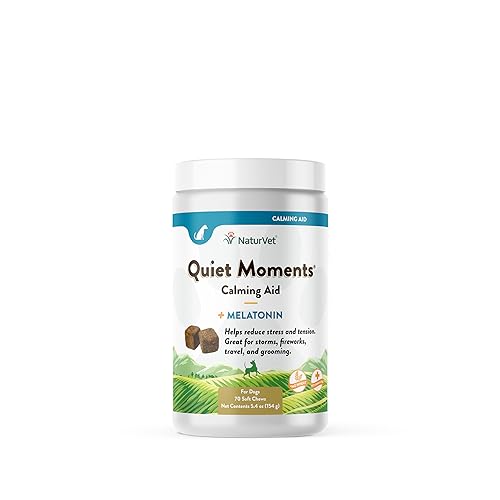 What makes this alternative unique is the numerous supplements your dog gets to enjoy. In addition to the melatonin, the NaturVet Quiet Moments Calming Aid for Dogs also includes Thiamine and L-tryptophan. These three are useful in calming the dog down and helping to stabilize the circadian rhythm for better sleep patterns.
The supplement also contains ginger. In addition to giving the chewable a nice and fresh flavor, it helps with easing sensitive stomachs. It is particularly useful for use on long trips with the dog. Thus, the first three ingredients keep the pooch calm while the ginger takes care of the queasiness from the motion sickness.
The melatonin chewables from NaturVet also stand out from other options with their wheat-free formulation. This will come in handy if you are shopping for a dog on a wheat-free diet whether it is for weight loss or due to gluten insensitivity.
With its formulation and multiple supplements, this is easily one of the best melatonin options for traveling with dogs. It will keep them calm and comfortable whether it is a road trip or a plane ride. The best part is that it is incredibly affordable which makes it even more worth it.
Pros
---
These melatonin soft chews are available in bottles of 30, 65, or 70 pieces.
Contains natural ingredients like chamomile, ginger, and passion flower, which work together with melatonin for a good night's rest or during tense situations like travel and thunderstorms.
It contains L-tryptophan and thiamin, which help to keep your pup calm and stress-free after 12 weeks of use.
It is vet-formulated and wheat-free, which is ideal for most doggie breeds, especially those with allergies.
The jar is resealable, which keeps the soft chews fresh and tasty all through.
Cons
---
The dosage may not always work for your pup as each dog has its individual needs.
Some doggies with allergies may experience hot spots on their skin.
#3 Nutrition Strength Melatonin For Dogs
This alternative is unique first and foremost because it is one of the few on the market that is human grade. This refers to the quality and overall effectiveness of the hormonal extract. It contains 3 mg of melatonin which is ideal for all sorts of issues from insomnia to anxiety.
The supplements also stand out with the presence of probiotics in the formulation. These offer the additional benefit of promoting gut function. You would be surprised how much of a difference having no abdominal discomfort will have on your pooch's mood. The probiotics also promote overall health and wellbeing.
This is one of the highest quality options for melatonin supplements for your dog. You can easily serve it up with food or crush and mix it into their water and with the dose you should see the results in no time.
Pros
---
This melatonin for dogs is locally manufactured and comes in a bottle containing 120 tablets.
Helps to reduce anxiety and fear during high-tension instances like during grooming, traveling, a storm or fireworks.
It contains natural ingredients that positively affect your pup's sleep cycle, giving them a good night's rest.
It contains prebiotics to help your doggie absorb them faster.
It is perfect for pups with allergies as these tablets are non-GMO and gluten-free.
Cons
---
The tablets are large, and not all pups can comfortably swallow them, so some grinding is necessary.
As dogs are different, the supplement may not work for all pups.
#4 Native Pet Calming Chews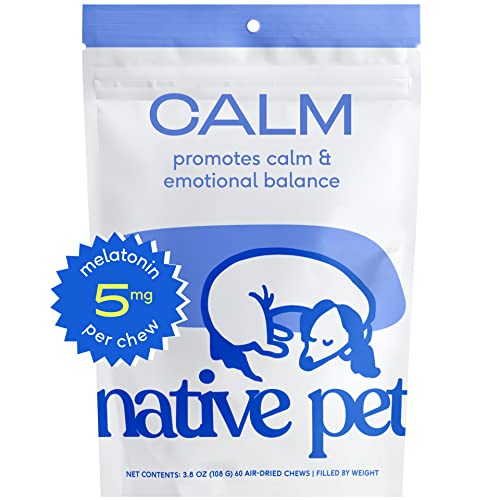 Native Pet Calming Chews help combat anxiety in your furry friend with this vet-recommended formula. It comes in an 8.47 oz pack with 60 servings. Made with real chicken, it contains a blend of natural ingredients to help calm your dog.
These chews contain melatonin that helps your dog to get a night of good sleep. It has a plant-based amino acid known as L-theanine to keep your dog relaxed. It also has vitamin B1 or thiamine, which is great for soothing the nervous system. The blend contains hemp seed powder to help with improving brain function. All other ingredients are safe for your pet.
We love great-tasting calming chews like Native Pet Calming Chews for dogs because it means the pup won't reject them. It has ingredients that help with soothing your pet, help them to get great sleep, and still maintain normal brain function. Talk to your vet before trying out any new products on your furry friend.
Pros
---
These chicken-flavored soft chews are available in a bottle of 60 chews, which are ideal for most doggie breeds as long as the dosage is followed correctly.
Contains natural all-calming hemp, which helps to calm your pup in tense situations while offering stress relief.
Contains nine natural ingredients, including melatonin, all of which work together to help give your pup a restful night's sleep.
Does not contain filler ingredients or artificial flavoring, which makes it suitable for doggies with allergies.
It is air-dried, meaning that it is able to retain its natural flavor for a longer period and make chewing and digestion a lot easier, as compared to freeze-dried processing.
Cons
---
It can make some pups sleepier than usual and unable to walk or stand.
Some pups may experience vomiting or dislike the flavor.
#5 Organic Dog Sleep Aid For Dogs With Melatonin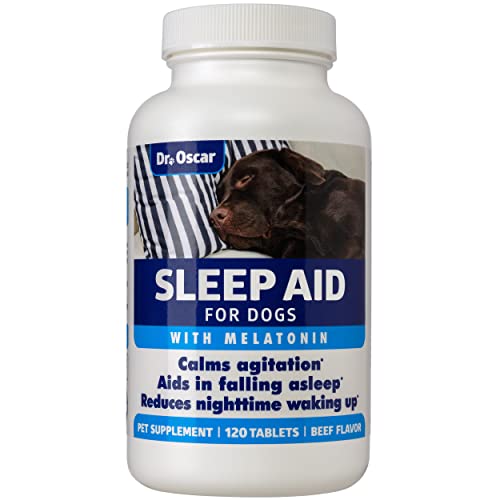 Dr. Oscar's Sleep Aid is designed specifically for dogs who have a hard time falling asleep or staying asleep. What sets it apart is that it is a combination formula with very high levels of melatonin. While other options have melatonin of a little over or under 1mg, this one hits your dog with a 3 mg punch that is sure to give them the much-needed help dealing with insomnia.
They also get to enjoy the benefits of other sleep aid and calming ingredients. These include valerian root, passion extracts, chamomile, and many others. The fact that you get all these plus a high dose of melatonin for your pooch is definitely worth celebrating this option.
If you need a stronger dose of melatonin supplement to help your pooch in getting some good quality and quantity sleep, then this is one option you should definitely consider.
Pros
---
These supplements are beef and ginger flavored, and they are available in a bottle of 120 pieces.
Contains ingredients, such as valerian root and passion flower, both of which help to reduce anxiety in pets.
It is rich in chamomile, ginger root, L-tryptophan, and melatonin, which help your pup to sleep well through the night.
It has neuroprotective, antioxidant, and anti-inflammatory benefits, which help not only the brain but also the nervous and immune systems.
These tablets are non-GMO and do not contain gluten, peanuts, wheat, soy, or artificial ingredients, and this is perfect for dogs with allergies.
Cons
---
Some pups were restless and experienced diarrhea after taking the tablets.
Some doggies experienced an increased heart rate and were overly excited.
#6 Zesty Paws Calming Dental Sticks For Dogs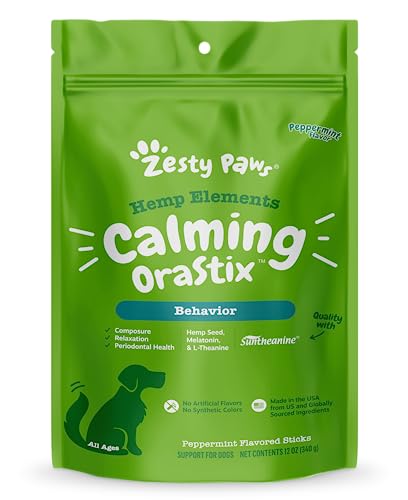 The Zesty Paws offers a 2-in-1 functionality for your furry friend to enjoy. It is primarily a dental chew stick that is designed to help combat bad breath and remove tartar and plaque. It features a fresh peppermint flavor in this case which in addition to countering oral odors helps ease gum inflammation.
The sticks are also infused with ingredients meant to help calm your dog down. These include melatonin and suntheanine. Their doses are metered for a calming effect without leaving your dog reduced to a drowsy mess. This means you can use it at any time of the day without interfering with your dog's activity levels.
This is a fantastic pick as far as multiple functionality is concerned and with the versatility you are pretty much guaranteed full value for your money and then some so definitely look into this as an option.
Pros
---
These supplements are locally manufactured dental sticks that are peppermint flavored and come in a 12-oz bag.
Contains rosemary, kemp and peppermint to help give your doggie healthy teeth and gums after chewing on the sticks.
Contains hemp seed powder fatty acids which help with your furry friend's nervous and immune systems.
Contains Suntheanine® which is an amino acid that helps to keep your doggie relaxed and calm during fireworks, thunderstorms or other tense situations.
Contains melatonin and chamomile among other ingredients that help your pup to sleep well through the night.
Cons
---
Some pups may not like the peppermint flavor and take some time to get accustomed.
These dental sticks make some doggies more hyperactive after chewing on them.
---
Melatonin For Dogs Buyer's Guide
---
Melatonin is a hormone that is naturally produced in the dog's brain. We won't turn this into a science class by going into all that it does- which is actually a whole lot. With melatonin supplements, it is effects like promoting sleep and relieving anxiety that should matter the most to you as the dog owner.
With this in mind, there are specific considerations you need to make in order to ensure that you end up making the very best decision. This information will come in handy when choosing from the several seemingly similar options on the market. That way you know what matters and is valuable and what will not help you with your specific problems. So, here is what you need to factor in: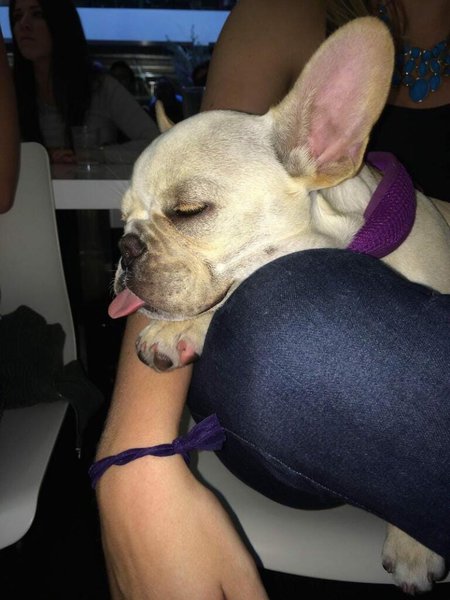 Consider The Melatonin Dosage
Different formulations of melatonin supplements come with different dosages of the hormone. Specialists recommend a dosage of between 2 and 5 mg of the active ingredient as being safe for the dog.
The dosage counts as it determines the effect that the supplement will have. If it is below 2 mg, it will have more of a calming effect on the dog. This makes it fantastic if you are dealing with something like anxiety, restlessness, or phobias.
Dosages of between 3 and 5 mg, on the other hand, will come in handy when dealing with sleeping issues like insomnia and frequent sleep interruption. Higher doses also help with management of medical conditions like Cushing's and alopecia.
What Form Do The Supplements Come In?
The form in which the supplement comes determines how easy it will be for you to administer it to your dog. There are multiple options in this case including solid oral preparations, drinkable liquids and injectables.
Solid oral preparations like tablets, capsules and chewables are without a doubt the easiest to administer. With chewables in particular, you can give them directly as treats or sneak them into your dog's food. Hard tablets are also easy to administer using the same tricks or crushing and adding to water.
Injectables, on the other hand, are available for professional use. They are usually the more potent and useful for managing medical conditions. So you might not find these as easily. Even if you did, it is not advisable to have them for at-home use.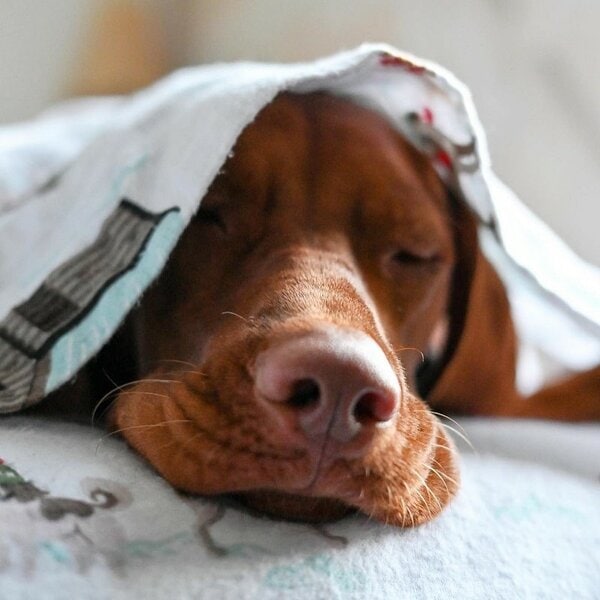 The Flavor Profile Matters
With oral preparations whether it is a soft chew kibble or a tablet, the flavor matters a lot. Dogs have very sensitive palates. This means if anything sticks out as unusual they will spit it out thereby missing out on all the wonderful benefits that the melatonin supplement has to offer.
It is therefore crucial here to find something that your dog will really enjoy. It could be anything from meat flavoring as with our top pick to flavorful ingredients like ginger or peppermint. Whatever the case, the point is to ensure that the dog is excited for the supplement as a treat which makes administering it a lot easier for you.
Factor In Your Desired Effects
Think about what exactly it is you need help with when it comes to choosing the right melatonin supplement for you. If you want help dealing with your dog's anxiety, you should settle for formulas that are specially designed to offer calming effects. In this case, drowsiness would be an undesired side effect so check on the melatonin dosage. You could also go for something with additional ingredients that help with promoting sleep.
If, on the other hand, you want something that will help put your dog to sleep, it is best to work with formulas that are specifically designed for this purpose. Calming supplements will not work as well and those used for medical conditions like alopecia might be too strong. So, go for something that hits that sweet middle spot and your dog should be enjoying an effortless snooze cycle in no time.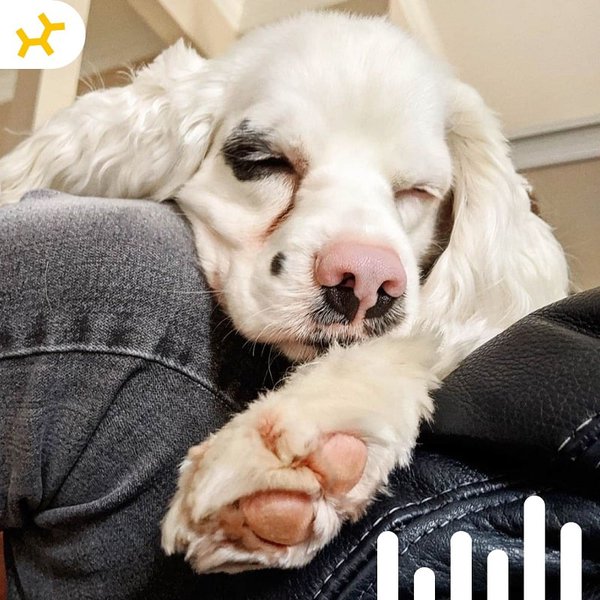 Melatonin-Only VS Combination Formulas
Melatonin-only formulas, as the name suggests, have only melatonin as the key active ingredient. These are ideal for dealing with sleeping troubles. However, they are not as versatile if you are looking for something to offer your dog multiple benefits.
Combination formulas on the other hand include multiple ingredients sharing the active substance spotlight. Some of the most commonly-used extracts include hemp oil, chamomile, Thiamine and L-tryptophan. These have a calming effect which boosts the anxiety-relief effects of melatonin. They are perfect for both calming and sleep aid formulations.
Are The Ingredients Pet Friendly?
With oral preparations like chewables, there is the active ingredient and what are considered fillers. These are what give the supplement bulk and carry the melatonin for easy consumption. It is important while making your choice of what brand to settle for that you factor in the ingredients used for the filler.
These are usually things like grains, heavy starches like potatoes or even peas. Whatever the case, you have to make sure that you do not compromise on your dog's overall health by exposing them to harmful ingredients like artificial flavors and colors. In case your dog is allergic to gluten then you will never go wrong with the grain-free varieties.
---
Final Thoughts
---
Melatonin could change your life and experience as a dog owner in more ways than you can imagine. It could help your dog deal with their fear of thunderstorms or the noisy street. It could make traveling with them less of a hassle. And most importantly, it might be the solution you have been looking for to deal with conditions like insomnia and alopecia.
Whatever the case, you have 6 fantastic alternatives to look into. Our number one pick is ideal for most of these needs and with its tasty formulation is something your pooch will enjoy in more ways than one. So start there as you set off on your now well-informed journey to finding the perfect melatonin supplement for your doggy.