The best muzzle for Pitbulls is CollarDirect Pitbull Dog Muzzle.
Owning a Pitbull is, to put it lightly, an interesting experience. You probably know better than anyone else that there is more to them than the famed 'beast mode'.
However, every now and then you need a little help handling these misunderstood beauties, in which case you need to get the best muzzle for Pitbulls on the market. Here are 7 of the best out there.
#1 CollarDirect Pitbull Dog Muzzle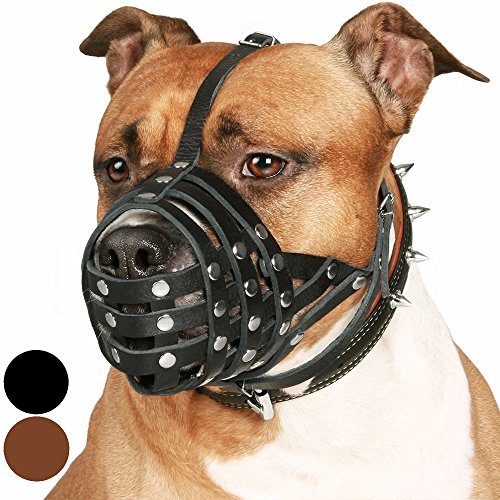 This leather muzzle is unique as it is made entirely out of genuine leather. Leather is more flexible than most other options you will find out there which makes it comfortable for your beloved Pitbull. It is also a very strong and resilient material that will keep the dog restrained while surviving the stretch and any chewing for a long time.
The leather material is designed in strips which allow for some range of movement while also offering spaces for air flow. These strips are held by secure metal rivets so you can rest assured there is no likelihood of having individual strips torn apart when your pitty goes on a rage.
The collar comes in a variety of sizes which is why you need to measure your dog before making the purchase. However, you also get the convenience of 2 adjustable straps that allow you to better customize the fit for something snug and secure.
With its unique and dog friendly design, this is easily one of the best models on the market. The use of high-quality materials also makes it a great buy if you are looking for something you will use on your dog for a long time.
Pros
---
CollarDirect's muzzle for Pitbulls is manufactured with durable, high-quality material that is soft and gentle on a dog's skin.
The two adjustable straps that come with this muzzle product for Pitbulls can be used by customers to provide a convenient fit and ensure that their canine buddies remain comfortable wearing this muzzle.
The cross-weave design of this CollarDirect muzzle provides ample ventilation and ensures that pooches can breathe properly while putting on the muzzle.
The versatile design of the CollarDirect Pitbull muzzle makes it suitable for a variety of uses, including to control unwarranted biting and also to prevent pooches from eating unhealthy substances.
The simple buckle fastening mechanism of this CollarDirect product provides a way for customers to securely lock the muzzle in place and prevent it from constantly falling off.
Cons
---
The rivets of this CollarDirect muzzle tend to get rusty after a few uses as a result of continuously being in contact with moisture from a dog's breath and drool.
The latches of the CollarDirect muzzle are considerably small and may prove to be difficult for some customers to secure on time.
#2 Mingri Soft Basket Muzzle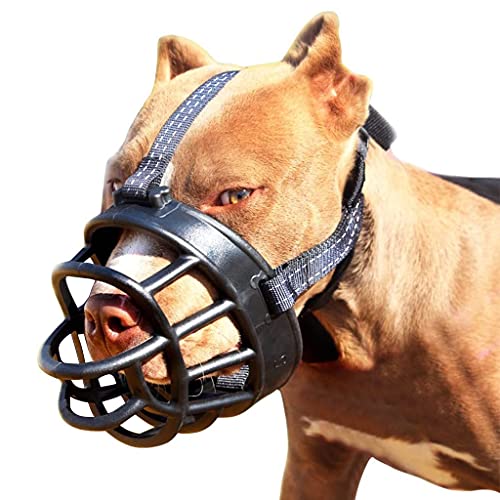 The Mingri Muzzle is unique as it is features a Silicone muzzle basket. This offers more structure than fabric based baskets and more flexibility than the metallic options. That way your pit bull is properly restrained without being too uncomfortable. The silicone also offers the advantage of durability as it is both weather-resistant and resilient against chewing forces.
Another handy feature is the removable front grill that allows you to access your dog's mouth during feeding time without leaving them completely unrestrained. This is very useful particularly during training when the dog may not be disciplined enough to feed safely.
You also get the benefit of adjustable straps. These ensure that you get the perfect snug fit for you Pitbull. Despite this, you still need to ensure that you get the right size as some important parts like the grill and face ring are fixed.
This is definitely worth the investment. It has great features for its price range. The construction is also high-quality which guarantees full value for your money. And the best part is you get to bond with your pitty during feeding time without putting yourself or anyone else, including the dog itself, in danger.
Pros
---
The basket-shaped design of this muzzle product for Pitbulls is breathable and ensures that a dog doesn't overheat and pant while putting on the muzzle.
Mingri's soft basket muzzle for Pitbulls is lightweight and can be conveniently worn and carried around by a dog without imposing excess weight.
The rubber design of this soft basket muzzle makes it possible for customers to heat-shape the product to provide an optimal and comfortable fit for their canine buddies.
The removable front grills of this basket muzzle product provide a way for customers to control their dog's access to drink and eat.
The Mingri muzzle comes with the option of an overhead security strap that customers can use to further hold and secure the basket in place over a pooch's snout.
Cons
---
The Mingri basket muzzle isn't chew-proof, and there are multiple reports of dogs being able to bite off sections of the muzzle while wearing it.
Several customers claim to have gotten Mingri basket muzzles that were either too small or too big for their dogs to wear, despite their best efforts to provide the manufacturers with accurate measurements of their pooches' heads.
#3 BRONZEDOG Pitbull Dog Muzzle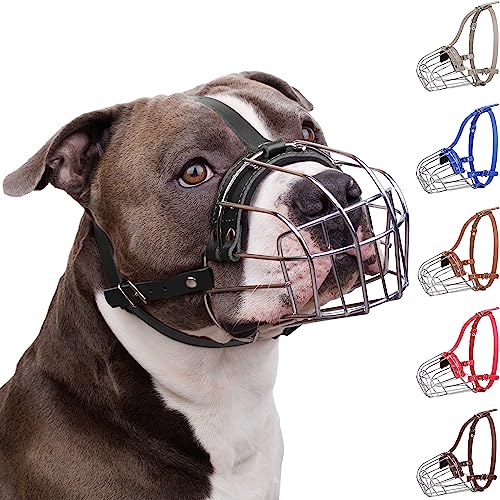 BRONZEDOG Pitbull Dog Muzzle has the classical wire basket design. The metal makes the frame strong and durable against the dog's biting and any other kind of damage while handling a feisty one. The metal used on this BronzeDog model is designed to also be corrosion-resistant which is will come in handy especially with drooling pitty dogs.
You also have the padded straps to look forward to with this basket muzzle for your pit bull. This makes it a lot more comfortable for the pit bull especially if there are any additional restrains like leashes or harnesses. The padding also protects your furry bestie by preventing skin bruising.
This model stands out with its perfect balance between restriction and freedom for the dog. They get to enjoy some jaw movement and fresh air without posing a danger to other humans, animals or even themselves.
Pros
---
The BRONZEDOG muzzle product is well-spaced to provide excellent ventilation and ensure that pooches don't suffer overheat and suffer breathing discomfort.
The four adjustment straps that come with this BRONZEDOG product provide a way for customers to make the modifications needed to ensure that the muzzle fits conveniently on their canine buddies.
The soft leather padding on this Pitbull muzzle product is gentle on a dog's skin and helps to protect the pooch's skin from getting injured by the metal basket.
The BRONZEDOG muzzle is shaped in such a way that Pitbulls can lick their noses while wearing the muzzle, either to cool down or get rid of dirt.
This Pitbull muzzle is suitable for various purposes, such as training dogs not to bite or eat off the ground and safe vet or grooming visits.
Cons
---
The leather straps of this Pitbull dog muzzle are unfortunately too thin, making it easy for a pooch to destroy.
Some customers have commented that it was difficult for their pooches to eat food and drink water while wearing the BRONZEDOG muzzle.
#4 Supet Dog Muzzle
Supet Dog Muzzle is an excellent option if you are in the market for a metal basket muzzle that also allows you to feed your Pitbull. It is designed with grills wide enough to allow aeration, free tongue movement as well as feeding without the need to remove the dog muzzle. This also makes it a great option as a starter model for restraint training.
Metal basket muzzles can be a little rough on the little guy which is why the soft inner layer between the dog's face and the basket on this model is such a great feature. This allows them to safely and comfortably move their faces without getting scratched, bruised or put in any form of discomfort.
This dog muzzle is built with the dog's safety in mind. With everything from breathability and feeding capabilities to the additional comfort padding, this is a great option to safely tame your wild Pitbull and get them on board with the idea of a muzzle.
Pros
---
The soft, cotton-padded lining of the Supet muzzle is designed to protect a dog's skin from chafing and ensure that the muzzle is comfortable for Pitbulls to wear.
The two collar loops that come with this canine muzzle provide a means to attach the muzzle to a dog's collar and prevent it from falling off.
The Supet dog basket muzzle is well-ventilated and provides dogs with unrestricted airflow and breathing while wearing the muzzle.
Its design is such that Pitbulls can conveniently eat and drink, even while putting on the muzzle.
The buckles of Supet's muzzle provide a way for customers to quickly and conveniently wear or take off the muzzle from their Pitbulls.
Cons
---
Multiple customers have commented that it was fairly easy for their canine buddies to take off this dog muzzle.
Some customers have also reported that the Supet muzzle covered part of their dog's eyes, thereby hindering the pooch's vision.
#5 Dogs My Love Muzzle
This is yet another metal basket option that is great if you want something durable and sturdy. With its dimensions and ergonomic design, it is an ideal option for boxers and pitty adults with smaller snouts. So make sure to measure your dog before you go shopping to ensure you get a good fit otherwise you will not enjoy the full mouth coverage offered.
Dogs My Love Muzzle also comes with a soft strap across the face where the basket meets skin. This is designed to offer some protection from friction at that particular point. And although it doesn't offer full face coverage, it does a great job at protecting your dog's nose bridge area from injury from the stiff metal basket edge.
This model is built for and therefore ideal for Pitbulls with short snouts. It offers proper coverage while ensuring the dog's comfort and safety. The quality construction is also a bonus perk that ensures that your investment is worth it.
Pros
---
This metal wire basket from the Dogs My Love brand is widely spaced to provide healthy ventilation and ensure that dogs don't have a hard time drinking and eating while wearing the muzzle.
The Dogs My Love muzzle is effective for several situations, including for visits to the vet or groomer, off-leash walks and training dogs to stop eating dirt off the ground.
This canine muzzle product is lightweight and can be conveniently worn and carried around by a pooch without weighing down on the dog in question.
Its non-stretch, adjustable straps make it possible for customers to make modifications to the product's sizing to guarantee their pooch's convenience while wearing the muzzle.
This Dogs My Love product is designed in a way that customers can conveniently wear and take off the muzzle from their dogs' heads.
Cons
---
This muzzle product for Pitbulls is available in just one size option and may not be a suitable fit for several dogs.
There are multiple reports of the Dogs My Love muzzle failing to stay on after it has been worn on a pooch.
#6 GGR Basket Dog Muzzle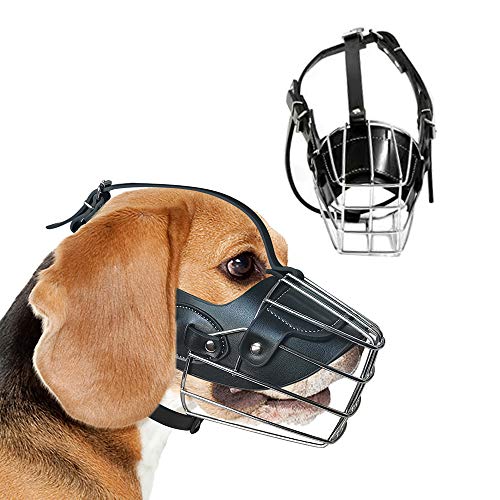 The GGR stands out from other metal basket Pitbull muzzles with its soft leather mask attachment. This is designed to offer additional support to the restraining mechanism which makes it a great option for larger and more aggressive pitty dogs. The leather mask also helps the dog by offering a soft and comfortable surface between the face and the metal brace.
The dog muzzle also features a vertical face strap. This offers additional support and stability for the entire setup. That way you do not have to worry about the dog muzzle slipping off and exposing anyone when the dog gets too worked up.
This is a great option for large and medium Pitbull dogs with its sheer size, unique design and reinforcements. It is also built for the dog's comfort which is awesome if you are shopping for a training muzzle as it is less likely to be rejected.
Pros
---
GGR's basket muzzle for Pitbulls is manufactured with a combination of thick metal and breathable leather to provide strength and durability while also ensuring that the muzzle is comfortable for dogs to wear.
The joints of the GGR muzzle are riveted together to provide stronger connections and ensure that the basket doesn't easily fall off a pooch's face.
Customers can make adjustments to the GGR muzzle's size with the four included straps to provide a convenient fit for their canine buddy.
The additional vertical overhead strap that comes with the GGR muzzle helps to further secure the basket in place and prevent it from constantly slipping off a pooch's head.
The basket shape of GGR's muzzle for dogs makes this an effective product for stopping Pitbulls from unwarranted barking, biting, and destructive chewing behaviors.
Cons
---
The metal wiring of the GGR muzzle gives the product an intimidating look, and this makes the muzzle inconvenient for taking Pitbulls on public walks.
There are questions over this product's durability, as multiple dogs have been able to destroy the muzzle basket with relative ease.
#7 Viper Delta Metal Wire Basket Dog Muzzle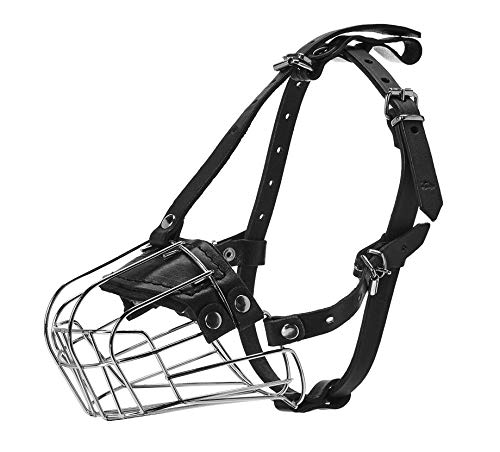 This is designed to be a multipurpose muzzle for Pitbulls. With its comfort features, it is ideal for training purposes while the wide grills come in handy for safe grooming including cleaning the teeth. It is also a great option for taking your Pitbull out for walks with its strong restraining capabilities as well as a loop at the back where you could easily attach a leash.
Your dog will also definitely enjoy the soft and padded felt material face mask between the wire basket and the pitty's face. In addition to comfort, this prevents all sorts of problems from bruises to skin reactions from the friction.
With its unique design and pet friendly features, this is a great option if you want great value for money with your purchase. You also have a lot to look forward to in terms of versatility which is also a major perk.
Pros
---
Viper Delta's metal muzzle for dogs is available in a variety of size options to ensure compatibility and effectiveness with different dog sizes.
The Viper Delta muzzle comes with three different strap adjustment points that provide a means for customers to make modifications that make the product fit perfectly on their dogs.
The leather material on the snout of this dog muzzle is padded with soft felt material to ensure that the basket is comfortable for Pitbulls to wear.
The spacious design of the Viper Delta basket makes it easy for Pitbulls to breathe while wearing the basket and also allows a dog to conveniently pant and drink water.
The high-quality leather and metal construction of the Viper Delta muzzle is sturdy and durable enough to be used for a considerable period.
Cons
---
Multiple customers have expressed difficulty in finding a Viper Delta muzzle that will appropriately fit their dog, due to the fact that the muzzles aren't custom-made.
Some customers have also commented that the bars inside this muzzle tend to leave rashes on their dogs' noses.
---
Best Muzzle For Pitbulls Buyer's Guide
---
Let's sugar coat it for a second and say that Pitbulls can be a little feisty. If you think yours is aggressive now just wait until you try and put a muzzle over them. However, there are ways to trick them into accepting the new status quo. One way to do this is by making the right decision on which model to settle for with their safety and comfort needs in mind.
To help make things easier for you, here are a few tips on how to make the best purchase for your dog. That way whether it is your first muzzle or a replacement you will end up with something that your dog will actually be ok with.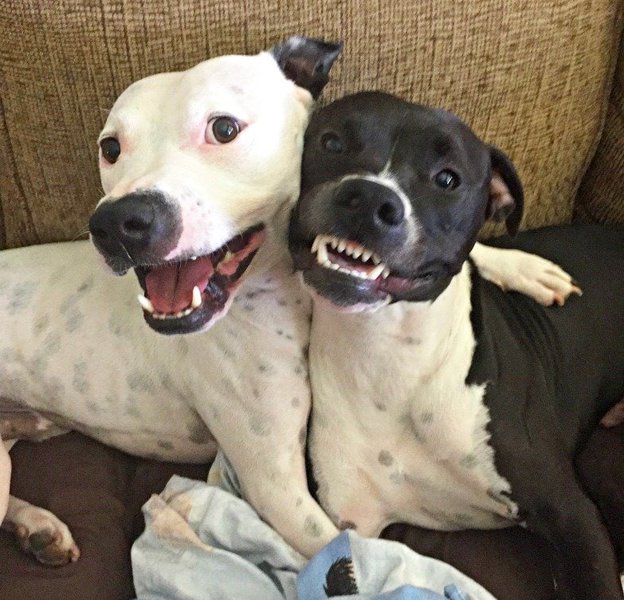 Consider Ergonomics
A muzzle is essentially like safety furniture for your dog's face so ergonomics cannot be ignored. It is important that you get a muzzle that is specifically designed for your dog's breed. However, there are a few other models out there for other dogs with similar structures which may be suited for your little furry buddy. Whatever the case, just make sure to find one whose dimensions and curves match your dog's to ensure maximum comfort.
Measure Your Pitbull Before You Shop
Size really does matter when it comes to shopping for the right muzzle for your Pitbull. Do not rely on adjustable straps to get to the fit just right. Instead, make sure to measure the specific dimensions required so that you can get the size right. That way, you will not end up with something that is too tight or that rides uncomfortably high on your dog's face because of the poor fit.
Make Sure Your Pitty Can Breathe
Remember that you are trying to restrain the dog's mouth and not to suffocate it. So do not go for anything too crazy in terms of face coverage. Strip and grill designs in this case are ideal as they give your dog room to breathe comfortably. And you would be surprised how much a breath of fresh air would do to turn change your Pitbull's mind about muzzles. So if you have been using a full face mask style of muzzle with no success then this might just be the solution.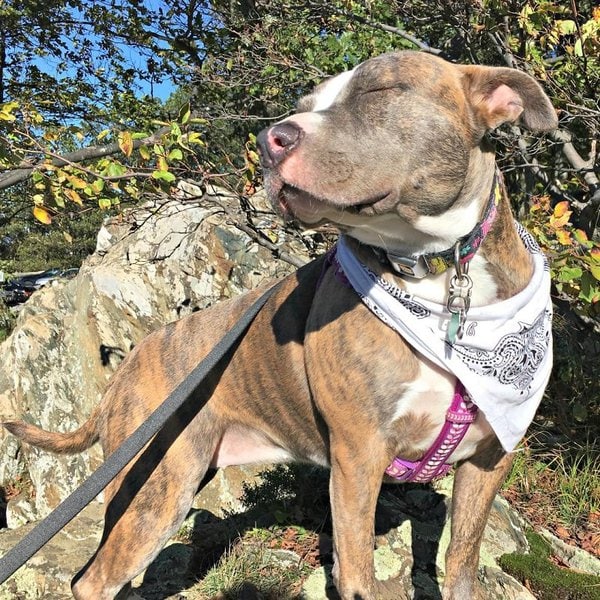 Consider Ease Of Feeding
After a while, the whole routine of putting the dog muzzle on and taking it off for feeding will get annoying. It also takes you several steps back on your muzzle training progress. Instead of going through all this, consider models that allow you to easily feed your dog. Some come with removable mouth baskets while others have wide enough grills to pass snacks, eat from bowls and drink water. This will make life a whole lot easier for both you and your dog.
The Choice Of Material Matters A Lot
When it comes to muzzle shopping for your Pitbull, the choice of material determines a whole lot more than just aesthetics and durability. It could just be what stands between you and your dog's compliance to wearing it. Flexible materials like leather and silicone are great if your pooch is resistant to the stiff and often uncomfortable metal baskets. However, if you really must go with the wire baskets than get something with face padding or an additional mask for the Pitbull's comfort.
---
Final Thoughts
---
In a nutshell, it is vital to remember that the dog muzzle should protect the Pitbull too. Get them something that fits, is comfortable and most importantly, is safe. That way, they will also be significantly more open to the idea of having it on making your life a lot easier when it comes to hooking them up to the dog muzzle.
So go forth and use all the information we have provided to make an informed decision. And if you have no idea where to start just check out any of our top 7 and you will not be disappointed.