The best muzzle for Shih Tzu is JYHY Short Snout Dog Muzzles.
Shih Tzu doggies are absolutely precious. That is, of course, when they are not barking up a storm or chewing on everything in sight. Getting the best muzzle for Shih Tzu might be an inevitability during training and the best you can do is make sure you pick the right one. Here are 7 awesome options to narrow your search.
#1 JYHY Short Snout Dog Muzzles
SALE ALERT!!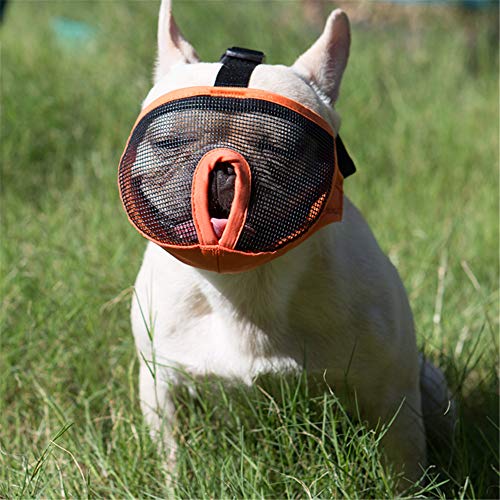 Shih Tzu doggies have a unique face shape. This makes most muzzles built for small dogs fit a little more awkwardly than you might like. However, our top pick is ideal for a brachycephalic breed like the Shih Tzu with its full face coverage design. With this, the pressure is distributed evenly over the edges and doesn't cause nose-bridge discomfort as is the case with other designs.
Relax; your Shih Tzu will not be walking around suffocating in an unforgiving face mask. This muzzle for Shih Tzu has a breathable mesh design with panels large enough for unrestricted breathing. Furthermore, your Shih Tzu can also enjoy great visibility through the dog muzzle from the design.
This dog muzzle for Shih Tzu stands out with its shih tzu-perfect design. It offers fantastic coverage and restraint while still allowing the pooch to see and breathe comfortably. The icing on the cake is the quality build and durable material that ensure your investment is more than worth it.
Pros
---
Made from durable nylon.
Adjustable straps.
Secure buckle fastening
#2 Wintchuk Short Snout Dog Muzzle Mesh Mask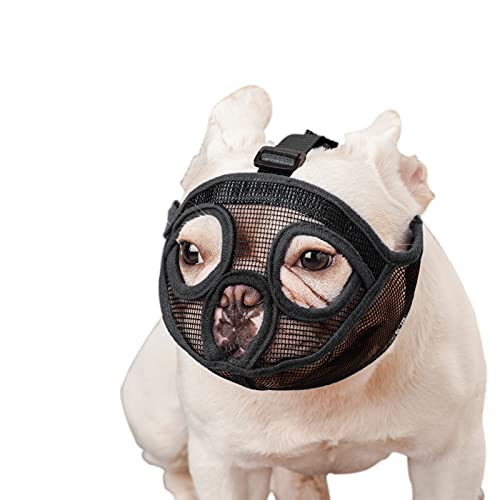 This is yet another full-face mask that is designed to fit the Shih tzu's unique facial structure. What makes it unique is the maximum breathability design for your pooch's comfort.
In addition to having all round mesh panels for ventilation, this dog muzzle for Shit Tzu stands out with the presence of eye and snout holes. The eye openings give your pooch full visual range which is fantastic especially with older Shihs hat may be losing their vision. The nose opening, on the other hand, allows them to breath freely.
If you are shopping on a budget and want something with plenty of perks for both you and your little, furry bundle of joy, then this is an alternative worth looking seriously into.
Pros
---
Mesh face panel for breathability.
Adjustable head and neck strap.
Soft, skin-friendly edges.
#3 Canine Friendly Short Snout Dog Muzzle
We have yet another full-face coverage mask on our hands. What makes this one different from others like it is the presence of a padded bumper. This is definitely worth celebrating as it serves as a protective barrier between the fabric and the face at one of the most exposed and vulnerable points.
As a result, you do not end up with issues like pressure discomfort or even bruising from friction. The soft edges of the rest of the mask also achieve the same around the face and chin for maximum comfort when your pooch is trapped in.
This is a fantastic alternative for feisty dogs that may hurt themselves trying to fight the mask. This way no matter how much they struggle or wiggle your pooch's face will stay saf
Pros
---
Wide mesh panel for easy visibility.
Straps are adjustable at 2 different points.
Nose opening for improved air flor.
#4 Real Pet Short Snout Dog Muzzle
This is one of the best constructed muzzles for shih tzus. Everything from the double stitching on the straps to the finishing on the edges makes this muzzle for Shih Tzu one that is truly built to last.
In addition to the construction, durability here is also pretty much guaranteed through the materials used. The mesh panel in particular stands out as it is strong enough to resist your pooch's scratching. That way you are sure it will not give in to their claw-driven protests.
The Real Pet muzzle is worth considering if you want full value for your money with good construction and high quality materials.
Pros
---
Soft edge design.
Eye and nose holes.
Durable ABS buckle.
#5 BEXU short snout dog muzzle
The materials, cut and stitching on this alternative have landed it a spot on our list for ensuring snug but flexible fitting. It stands out as one of the best options if you want something whose sizing charts are actually accurate. No one wants to go through the trouble of measuring their pooch only to end up with a size that runs too big or too small.
As if this wasn't awesome enough, you get to further customize the fit if you wish to with the adjustable nylon straps. These allow you to adjust at 2 different points so you have something that is secure and hangs comfortably on your Shih Tzu's flat face.
Getting the fit right means a lot and this is one of the most celebrated options when it comes to ergonomic design for perfect size matching.
Pros
---
Eye holes for maximum visibility.
Protective forehead pad.
All-round mesh paneling for breathability.
#6 GUXL Short Snout Dog Muzzles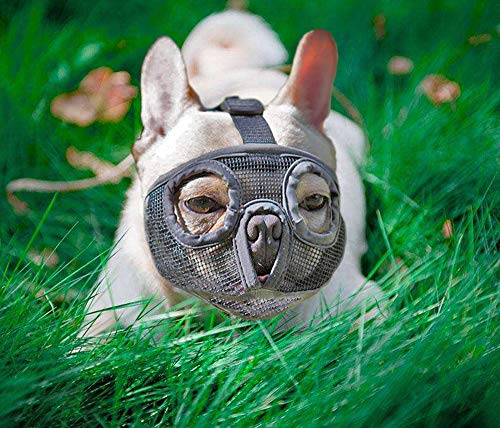 Masks tend to run hot and stuffy especially if your Shih tzu is a playful one. You do not want them getting all sweaty and uncomfortable when all you wanted to do was train them. You also do not want to have to deal with consequences like heat rash from the same.
That is what makes the full mesh construction on this option something worth celebrating. The design facilitates free airflow keeping your pooch's face cool and dry.
If you are shopping for something simple yet useful for bite training then this would be a wonderful pick.
Pros
---
Short snout full face coverage design.
Adjustable head and neck straps.
Eye and nose holes.
Anti-rubbing exquisite edges.
#7 Aucanus Dog Muzzles for Short Snout
PWhat makes this alternative unique is the fact that it features padding. What does this mean for your pooch? It means that they get to enjoy additional comfort. While it may not be as airy as full mesh options, the mesh layer over the padding ensures breathability so that your Shih Tzu is nice and cool even with the full coverage.
This is a really good alternative if you want something with some padding for younger and more accident-prone shih tzus.
Pros
---
Adjustable shoulder straps.
Wide eye holes for better visibility.
Soft edges all round to prevent rubbing injuries.
---
Muzzle For Shih Tzu Buyer's Guide
---
Shih Tzus are among the cutest dogs in existence. Also known as the Chinese lion, these furry, little energy balls need proper oral training to keep them safe and to get them disciplined. The last thing you want is your little one getting into trouble for waking up the neighbors with their barking or chewing your guests' shoes into oblivion.
Muzzles are therefore a necessity you may not be able to avoid when training them. However, choosing a good piece is not always easy given the dog's facial structures and their restlessness which makes them more likely to resist. To make your life easier, here are the special considerations you need to make in order to get the best muzzle for Shih Tzus.
Account for the short snout
Shih tzus have what is referred to as a brachycephalic facial structure. This means that their snout is shorter and almost flat against the face. This makes shopping for muzzles a little tricky as not all options built for small breed dogs will fit them comfortably and get the job done right.
In fact, your best option is a muzzle with a full face coverage cut. This is the best way to leverage their unique face structure for adequate jaw restriction as well as support to keep the dog muzzle securely on the face. That way, you will not have any awkward gaps or uncomfortably sitting masks that make your Shih Tzu's life a living nightmare.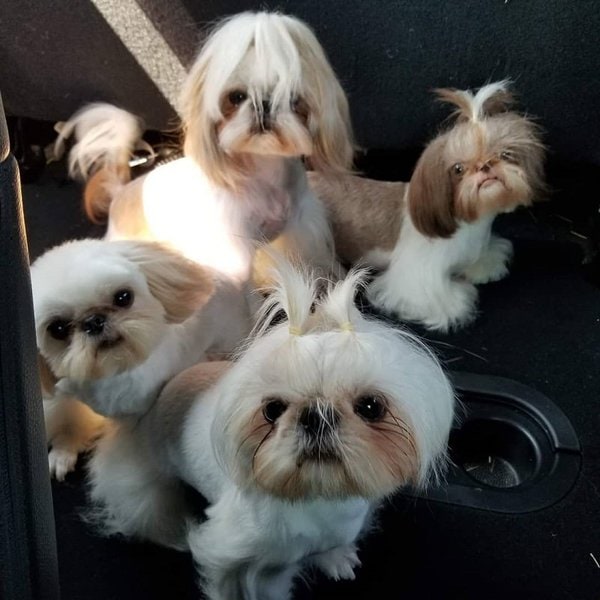 Why are you getting the dog muzzle in the first place?
With shih tzu dogs, there are 4 main reasons why you would want to buy a muzzle. The specific reason will determine a lot including the design, flexibility allowed as well as strength of materials.
If you are buying the dog muzzle to train your Shih Tzu to stop eating weird stuff off the ground, you want as limited mouth access as possible. This means that full coverage masks with no front holes are the best. To prevent chewing and biting on the other hand, you can get away with a muzzle that comes with a nose opening. This is because the design restricts their jaw movement to the point where though they may be able to pick stuff up, they will not be able to open wide enough for biting or gnawing.
Another reason you would be in need for a muzzle is to get that relentless barking under control. Young shih tzus in particular can get really loud and annoying so this would come in handy. Here you want a muzzle that offers strong jaw restraint. That way there is no room for the pooch to open their mouth and bark you into all kinds of hell with your neighbors.
Get something that fits
This is a dog training accessory that is designed to be restrictive. As a result, you want to make sure that you get something that actually fits the pooch. Otherwise, you will end up with a completely uncomfortable dog that is struggling to function properly with the ill-fitted mask.
The best way around this challenge is to ensure that you actually measure your Shih Tzu before you make the purchase. You should find a guide on how to make the measurements and their corresponding sizes. That way, you will find the best match for your pooch. And when it fits right they will be more likely to play ball whenever you have to put it on.
When considering fitting, adjustability should also be very high on your priority list. This comes in the form of straps that allow you to customize the fit. That way, even with the right size you can modify the fit to be just perfect for your furry bestie.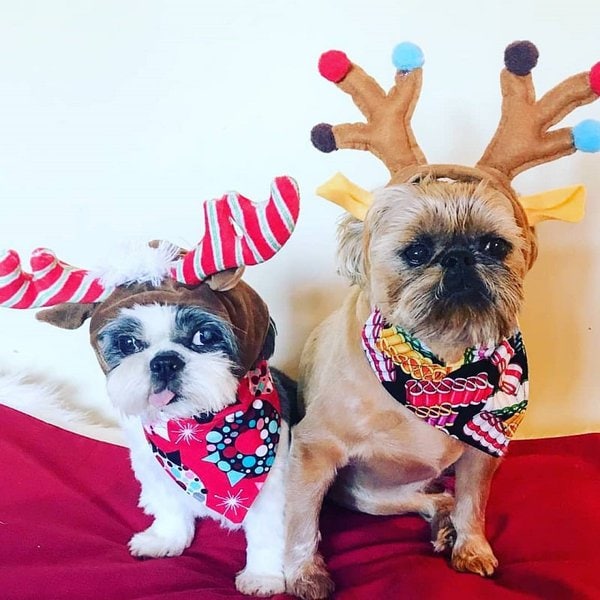 Factor the mane into your measurements
Shih tzus tend to have very hairy face. I mean, they didn't land the nickname 'Chinese lion' by accident. While this hair definitely contributes to the overall cuteness factor that the dog has, it also makes getting an accurate fit based on measurements a little difficult.
The problem is that not many brands out there account for the extra fur padding when it comes to measurement directions. So you have 2 options.
The first is actually giving your beloved pooch a trim. The hair, though beautiful, can also be a little annoying for the little one. So you would actually be doing them a huge favor freeing them from the responsibility of having to carry those locks around. With the extra fur out of the way, you should now be able to make a more accurate estimation of size.
Maybe you actually really like the furry mane. Maybe you are shopping for a show dog and their facial hair is their signature look. It is ok. You do not have to run for the scissors just yet. Instead, take your measurements as directed by the seller. Just make sure to apply a little pressure to realistically flatten the fair. This should mimic the lie and pressure of the mask on the face so you actually end up getting something that fits just right.
Consider the extent of coverage
Holes or no holes? That is the question.
Eye and nose holes on a dog muzzle with full face coverage have their fair share of pros and cons. They offer more avenues for airflow which makes the mask significantly more breathable. The eye holes are also great for improved visibility which is particularly useful for shih tzus that develop cataracts in old age. The nose hole comes in to give a sense of peace and comfort as the dog does not feel too restrained. However, this design makes the mask less sturdy as there are several interruptions in what should be a solid and sturdy unit.
No holes, on the other hand, mean a stronger and more cohesive mask which is particularly useful if you are dealing with a very aggressive or hyperexcited shih tzu. The mask keeps the jaw closed from both below and above for better restriction. However, in order to get the most out of this design, it is best to go for a piece with wide meshing. This makes up for the lack of holes by allowing breathability and visibility for your Shih Tzu.
---
Final Thoughts
---
Shih tzus are naturally very active, social and curious creatures. And though this may make them endearing, it may also land them in a lot of trouble. Getting a good muzzle is therefore crucial for effective training.
With all the alternatives discussed and the information on what really matters, you have all you need to make the right decision. Our top pick would be the ideal place to start your search. This muzzle for Shih Tzu has it all from comfort and safety features to ease of operation. And with the quality construction, you can rest assured that your investment will be worth it.