The best dog goggles is Namsan Dog Goggles.
There is probably nothing cooler than a dog in a pair of sun goggles. However, the best dog goggles have so much more to offer than just swag points. You just have to make sure you pick the right one. Here is a review of 7 of the best options on the market so you can get your pooch the perfect pair.
#1 Namsan Dog Goggles
SALE ALERT!!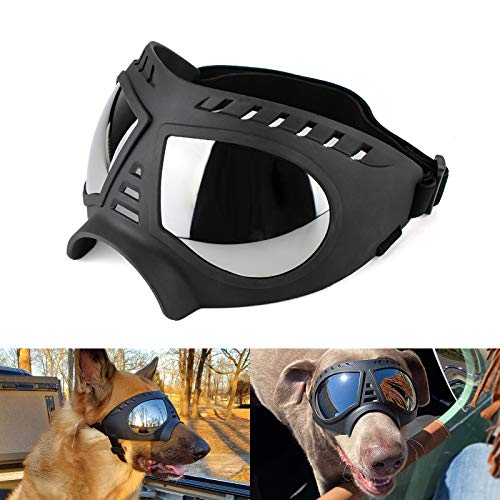 Ergonomics are vital when it comes to dog goggles, for the sake of their comfort. The Namsan offers this benefit with its unique design meant to flow with the geometrics of your dog's face. It also stands out with the use of soft TPE frame material which further allows the dog goggles to conform to your dog's specific bone structure.
This dog goggles is incredibly versatile and offers protection to your dog's eyes from a variety of weather elements and UV protection from the glaring UV rays from the sun. It is also a great option for debris protection. You can therefore use this dog goggles for any number of fun adventures with your dogs including swimming, bike-riding or even skiing.
With their tight seal design, you would be justified to worry about fogging of the lenses. However, this dog goggles solves the problem with the vapor vents that help prevent misting and ensure full-time visibility.
One of the best things about this anti-fog dog goggles is its all-weather use functionality so you can take your dog out whenever and wherever and you are guaranteed a good time. It also noted for its soft frame for ergonomics ensuring your dog is comfortable the whole time they are on.
Pros
---
Well-fitting goggles for medium and large pups as it is 8.23 x 7.13 x 3.78 inches in size and is lightweight at 8.11 oz.
It is a sturdy pair of goggles made of ultrahard lenses bounded by a soft TPE frame, and it comes with two adjustable elastic straps for a snug fit.
You can choose from silver, blue, or clear blue lenses that are UV-resistant and anti-glare, which keeps out light and exposure to UV rays.
Has a unique 3.7-inch bridge that helps the goggles comfortably sit on your pup's snout.
The wide goggles fully protect your pup's eyes from droplets, dust, or tiny stones while outdoors.
Cons
---
Some dog owners have found that their dogs took a long time to get accustomed to wearing this pair of goggles, as they are not comfortable wearing anything, much less having a pair of goggles around the eyes.
After some outdoor activities, the lenses can gain scratches affecting overall visibility or fall off altogether.
#2 QUMY Dog Goggles Eye Wear Protection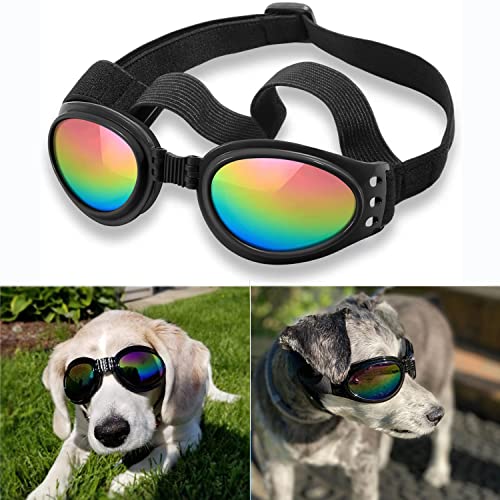 At first glance, these simple goggles kind of resemble basic human swimming goggles. But they are so much more than that to your dog. They serve multiple purposes including acting as sunglasses with the UV protection, and as swimming goggles with their waterproof seal.
You will also have a stress-free adventure with your proof knowing that they have on virtually indestructible lenses. The shatter-proof design makes the dog goggles ideal for outdoor expeditions where there may be rough contact including park trips and hiking. That way you do not have to worry about your dog falling and breaking their goggles.
You are pretty much guaranteed a secure fit with this dog goggles' adjustable elastic band. While you should measure them and order the right size, this feature gives you the freedom to further customize the fit for maximum comfort.
This dog goggles offers the perfect combination of simplicity in design and versatility in function. And at its price point, it is safe to say that it is an absolute steal if you are shopping on a tight budget.
Pros
---
These goggles are made of high-quality plastic with a soft PVC sunglasses frame and also have adjustable chin and head straps for an easy fit.
The lenses have 100% UV protection, which helps to protect your pup's eyes from bright light, raindrops, fog, wind, and small foreign objects.
The frame's inner edge has a sponge lining, while the frame bottom has holes to prevent fogging or sweating.
The goggles come in a black storage bag and are available in six distinct colors you can choose from, including Black, Pink, Blue, Yellow, Red, and White.
The goggles are 6.3 x 2.66 x 1.14 inches in size and are lightweight, at 1.41 oz, and fit doggies larger than 15 lbs.
Cons
---
The lenses can fall off or crack after some time, and this can be a hazard for your doggie.
Some pups take time to get used to the goggles, and some do not like having anything around their eyes.
#3 Doggles – ILS Lilac Frame with Flowers Lilac Lens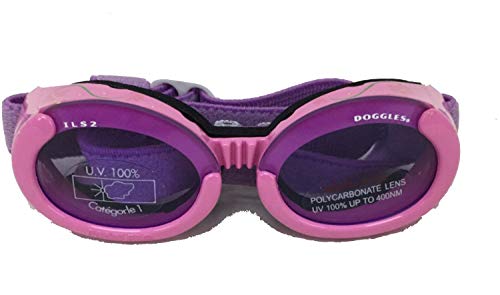 The UV protection lenses on this dog goggles are what makes them tick. They are made from strong polycarbonate material which is resilient to mechanical forces and significantly less likely to shatter on impact. It is therefore ideal if you have a super playful and accident-prone pooch and you do not want to keep replacing goggles.
Much like our top pick, the Doggles are also sought after for their flexible frame. This one is made of rubber which is not only flexible for ergonomics but also soft and comfortable for the dog. It also contributes to creating a seal to keep out wind and debris.
This is a good pair for simple outdoor activities like walks or bicycle adventures where the dog is not exposed to too much madness.
Pros
---
The goggles are 3.5 x 1.5 x 2 inches in size and 0.64 Ounces, which means they can fit many medium pup breeds.
The lenses offer 100% UV protection and anti-fog vision, and most importantly, they are shatterproof.
Its unique rubber lilac frame and design are one of the few with the Interchangeable Lens System, or ILS, meaning you can interchange the lens when needed.
Comes with a deep lens cup to keep the lens far from the pup's eyes with a wide nose bridge for comfort.
The frames can comfortably fit your pup thanks to the soft elastic adjustable head and chin straps.
Cons
---
Not suitable for small pups or those breeds with unique nose shapes.
Feisty pups can hurt themselves with the straps while trying to get the goggles off when they feel uncomfortable.
#4 PETLESO Large Dog Goggles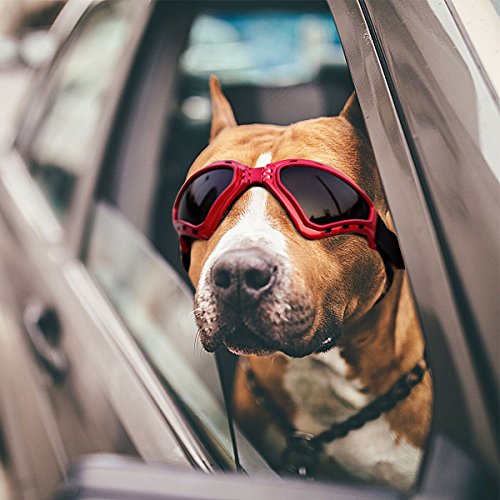 What's notable with this dog goggles is the attention to detail in terms of ergonomic design. See, dog goggles can be a little uncomfortable especially when worn for a long time- even with the right fit. And it is the nose bridge that often bears the brunt. This dog goggles solves the problem with the design meant specifically to evenly distribute pressure over the face for maximum comfort.
You are also guaranteed that the glasses will not fall off your pooch's face as you run, hike or ride your way through the adventure. This is due to the dual strap design with one going around the head and another under the chin for twice the security.
Petleso is yet another versatile pair designed with the dog's comfort in mind. These perks make it ideal if you have an active lifestyle with lots of outdoor adventures with your dog.
Pros
---
Nice, fashionable design and comes in three colors, which are Black, Red, and Gray.
It is made of PC lens and nylon tape, with dimensions measuring 7.2 x 2.4 x 2.4 inches and weighing 2.43 oz; plus, this is comfortable for most medium and large pups.
The goggles protect your pup from UV rays, dust, and other foreign objects while outdoors.
Adjustable and made to fit thanks to the chin and head straps.
Extra wide nose bridge, which ensures your doggie's snout is comfortable.
Cons
---
The lenses can smudge, scratch, or fall off during extreme outdoor activities.
The frames have no ventilation holes, so you can expect some fogging, which hinders their eyesight.
#5 Enjoying Dog Goggles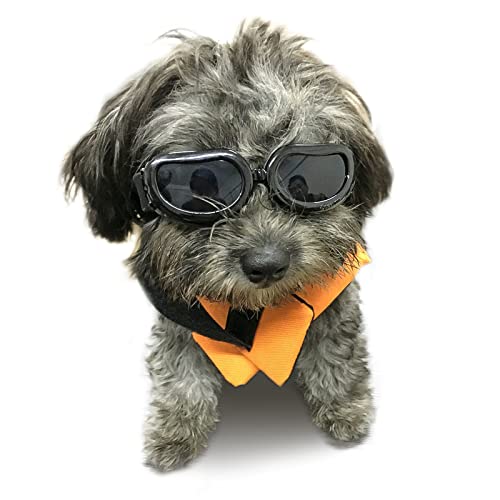 This is one snappy pair of dog goggles that will have your furry friend looking like the coolest biker that ever existed. It is therefore a fantastic option if you are shopping for something to help you make a fashion statement with.
In addition to looking really cool, these goggles offer protection to your dog's eyes from several the various elements of nature. It also boasts UV protection lenses to protect your dog's eyes against the UV rays from the sun. You can therefore use it for several outdoor activities including running and hiking where your dog not only gets to look awesome but also keeps their eyes safe.
If you are shopping for a nice pair of dog goggles with a lot of functionality to offer your puppies or small dogs then this dog goggles will not disappoint.
Pros
---
The goggles are 5.9 x 2 x 1.7 inches in size, weigh about 1.6 oz, and are suitable for small pup breeds from 5 lbs.
Made of an ABS frame and UV400 lenses, which protect your pup's eyes from harmful rays, sunlight, water drops, debris, and dust.
These fully enclosed goggles have foam padding on the inside of the frame and deep eyecups to protect the area around the eyes.
Easily adjustable to fit your pup's head thanks to the two straps.
The simplistic design goggles come in three colors that you can choose from.
Cons
---
The straps can sometimes tangle, making them hard to use.
Pups who do not like anything around their eyes will take them off, which means it will be a waste of money in this case.
#6 COCOPET New Version Cool Dog Goggles
There is probably nothing as uncomfortable for your dog as having hard plastic pressing down on their faces on what should be a fun day out with their best human body. These Cocopet goggles solve the problem with special padding around the inner surface of the frame. This offers a protective surface between the dog and the hard frame for comfort.
You will also definitely enjoy the fact that this pair of dog goggles is foldable. This makes packing and storing for traveling very convenient.
By design, this dog goggles is simple, compact and practical. It is an excellent alternative if you want something for use as a pair of sunglasses and for protection for your dog's eyes against debris on those casual days out.
Pros
---
The goggles' frames are about 6.5 inches, with a back strap that can fit between 6 to 16 inches and a chin strap that fits 6.5 to 11 inches.
Its frame has a foam pad lining on the inside to ensure your pup is comfortable.
This shatterproof anti-fog lens with UV 400 protection protects your pup's eyes from dirt, UV rays, harsh light, and debris.
The frame is made of plastic nylon and is available in six colors to make your pup look cool while wearing the goggles.
It is perfect for smaller doggie breeds like Chihuahuas or Poodles.
Cons
---
The small slots on the side of the frames will sometimes not prevent fogging, and this hampers your pup's eyesight.
The straps can tangle and eventually lose elasticity, which means you can't use the goggles any more.
#7 Enjoying Small Dogs Sunglasses
SALE ALERT!!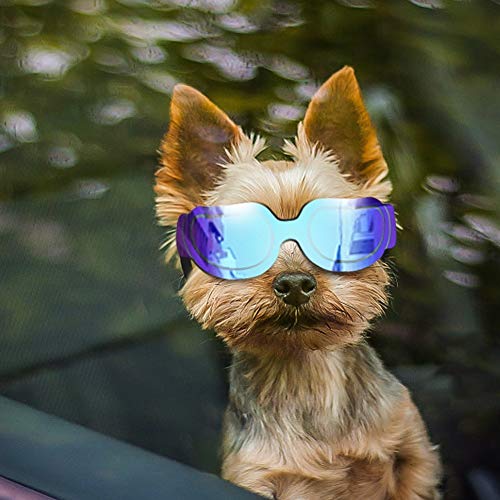 Enjoying Small Dog Sunglasses Dog Goggles Small Breed for UV Protection Snow-Proof Windproof Goggles...
Enjoying small dog sunglasses made of PE frame, the sunproof coating on the super-hard lens would block UV rays out into...
UV proof, anti-fog, windproof, waterproof, in summer walking, cycling, driving, riding, also snowproof, block wind in...
Only about 0.04lb, these puppy goggles are super lightweight, Height 1.3", Length 4.5". Head strap elastic 13"-17", Chin...
This dog goggles offers protection from wind and UV protection for your dog's eyes with resistance of up to UV400. This simplicity is ideal for equally simple adventures where the dog will not be exposed to anything too wild. We're talking simple walks to the dog park, morning runs or casual errands.
They are also a great pick for dogs that like to ride in the car with the windows down and their head out. That way your dog's eyes will not be exposed to any danger as it gets to enjoy the breeze.
The dog goggles is designed for small dogs and would therefore be a fantastic alternative if you are shopping for something simple for your puppy or small dogs.
Pros
---
The frames come with a plastic frame, are 4.7 x 0.3 x 1.3 inches in size, and are lightweight at a mere 0.64 oz.
The super-hard lenses have a sun-proof coating that blocks out UV rays and harsh light from your pup's eyes.
The inner part of the frame is lined with soft mats to make the goggles comfortable around the eyes.
Has two adjustable straps for the chin and back of the neck to keep the goggles in place.
They are dust-proof, waterproof, and wind-proof and can be used outdoors, while driving, or biking.
Cons
---
The frames are not flexible, and this can be uncomfortable for some pups.
They sometimes sit too close to your puppy's eyes, and this can cause discomfort or injury during activities.
---
Best Dog Goggles Buyer's Guide
---
Shopping for dog goggles is not like shopping for your own pair of sunglasses. You cannot just walk into the store or go online and pick the first cool-looking pair that you come across. While aesthetics are necessary and pretty cool to have, your dog's comfort and protection matter so much more. To help put things into perspective, here are 6 very important considerations to make in order to settle on the best pair for your pooch. That way they will not just look good but also receive full protective value from the dog goggles that you end up settling on.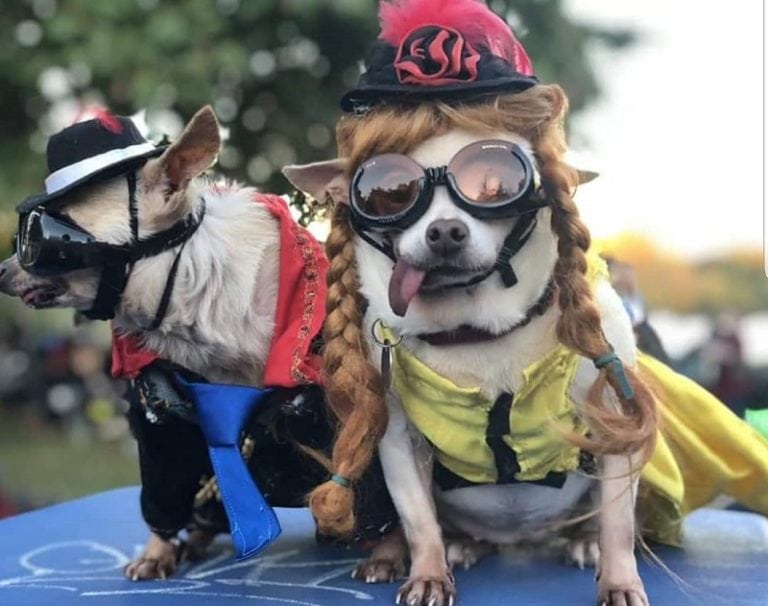 The Fit And Adjustability
Getting the right fit with dog goggles is crucial for two main reasons. The first is that it ensures maximum comfort for your dog. This is because they do not end up with anything too tight or uncomfortably loose on their face. The second reason is that the fit contributes to the effectiveness of the protective features. This is because a nice snug fit reinforces the seal that keeps out things like water, wind and debris.
It is therefore vital to measure your pooch and order the right size in order to ensure that they fully benefit from the pair of dog goggles. For this, you could use the measurement guidelines that most brands offer so you can find your fit based on their specific design. Adjustability also helps you customize this fit and makes the goggles easier to put on and take off than pairs with fixed straps.
Intended Purpose
What adventures are you planning on taking your dog on? Is it car or bike rides? Is it casual walks or running? Is it swimming? Maybe even skiing?
Whatever you plan on using the goggles for will inform your decision based on the functionality offered. If you want to go on adventures that involve water, then you want something waterproof. If it is high speed activities like skiing, driving or even running, you want to go for goggles designed to offer protection to your dog's eyes from debris and wind.
For the best value, however, just get something that offers you all the perks in one pair like our top pick. That way you do not have to be restricted in terms of activities you can enjoy with your dog. Yes, today you just want to go on a casual walk. But you might choose to go skiing tomorrow and you do not want to start shopping all over again for a new pair.
However, you should note that these are usually the more expensive options. Therefore, if you are on a tight budget and are unlikely to go on these wild adventures then you do not really have to splurge.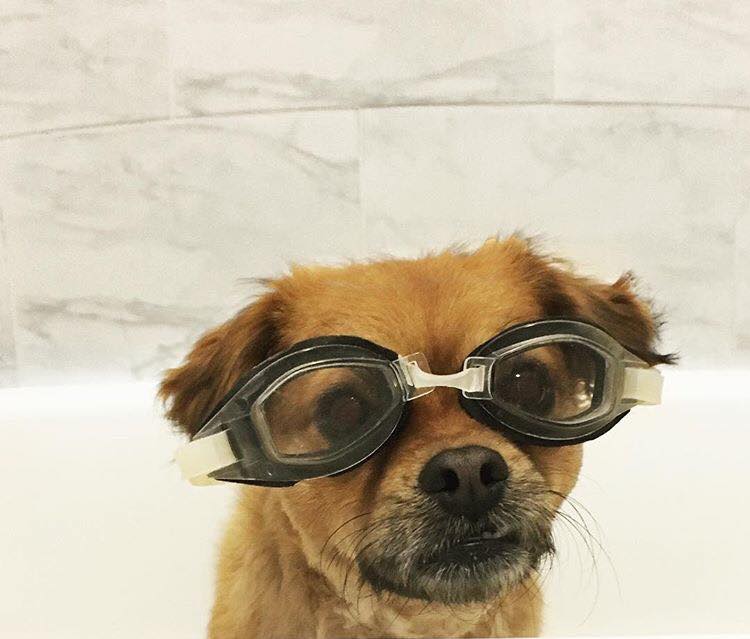 Ergonomics And Flexibility
How well does the pair of dog goggles fit your dog's face contour? A proper fit contributes to both comfort and overall functionality.
With poorly designed pairs, a lot of pressure is applied to bony prominences like the nose bridge and the rim of the eye sockets. This could lead to problems as simple as pressure lines or are serious as blisters and bruises. It is therefore always best to go for a pair that is designed to flow with your dog's face in order to ensure that they are protected from any unnecessary pain.
In terms of functionality, ergonomics help seal up any naturally occurring spaces that could allow things like water, wind and dust in.
So what do you go for? The best choice would be designed ergonomically and/or feature soft, flexible frames.
Materials Used
This goes for all parts including the lenses, frames and straps. The choice of material contributes to the overall comfort levels. Softer materials are gentle on the dog and therefore more comfortable to wear especially if you plan on your pooch having the dog goggles on for a long time. In this case, you can never go wrong with rubber or PTE frames and nylon or polyester straps.
The material also determines the durability of the pair of dog goggles that you settle for. High quality options are more resilient to natural forces that could lead to wear or tear including water, wind, dust and even greenery that you encounter outdoors. That way, you do not have to worry about issues like fraying, scratches or even shattering of lenses. Your dog therefore gets to be as wild and have as much fun as they want.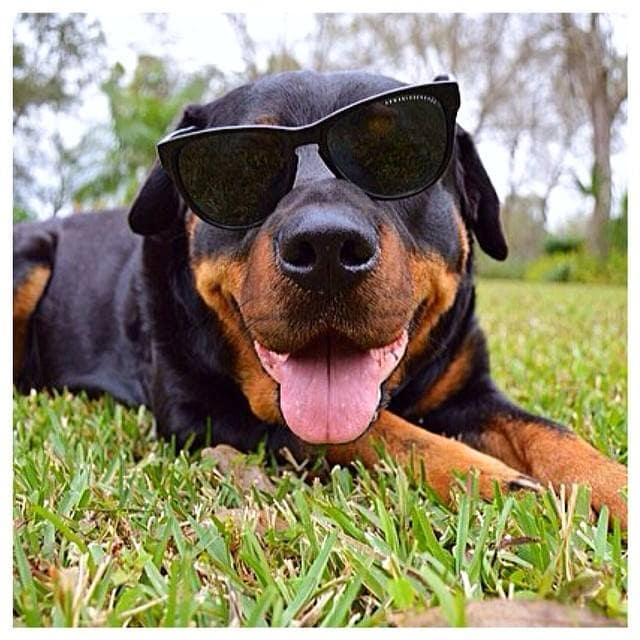 Anti-Fog Features
Make sure that you prioritize anti fog features when shopping for goggles. As your dog breaths and sweats, they will be producing a lot of vapor that could very easily fog up the glasses and cloud their vision. This is the last thing you want particularly when they are out and about playing, as it could lead to injuries.
So when shopping, make sure to only consider options with vapor vents that ensure the lenses stay clear for your dog's safety. These work by ensuring that there is enough air flow through the goggles to clear out any mist. The goal is to settle for a pair whose vents do not compromise on the quality of protection against things like water, dust and wind. It is all about that sweet balance.
Aesthetics
Quite frankly, aesthetics do not make or break the value of your dog's goggles. However, it really doesn't hurt to get a pair that has as much of a wow factor in terms of looks as they do in terms of performance. In this case, it is all about your personal preference.
You have a lot to choose from out there from simple oval lens pairs to professional ski designs that definitely make the dog look cool. The most important thing is to ensure that you do not compromise on the value of functionality for the sake of aesthetics.
---
Final Thoughts
---
All factors considered, our top pick clearly has it all. The best part is that it is ergonomically designed, ensuring not only comfort but also safety from issues like bruising or blistering when worn for a long time. It is also one of the most versatile pairs, offering protection from everything including UV rays from the sun, snow, water, wind and debris. That way you are pretty much guaranteed full value for your money.
And what about our alternatives? They are definitely worth checking out too depending on your preferences and specific priorities. Just take time to understand what matters and what doesn't so that you end up making the best possible choice for your dog.