The best salmon dog food is CANIDAE Sweet Potato And Salmon Dry Dog Food.
Is your dog a picky eater?
Perhaps it has a weak stomach and could be allergic to poultry meat?
A diet rich in salmon is not only hypoallergenic but extremely good for the digestive system and also for the brain. It is the go-to food for dog owners with allergic pooches.
Below we have chosen 7 of the best salmon dog foods available in the market right now.
#1 CANIDAE Sweet Potato And Salmon Dry Dog Food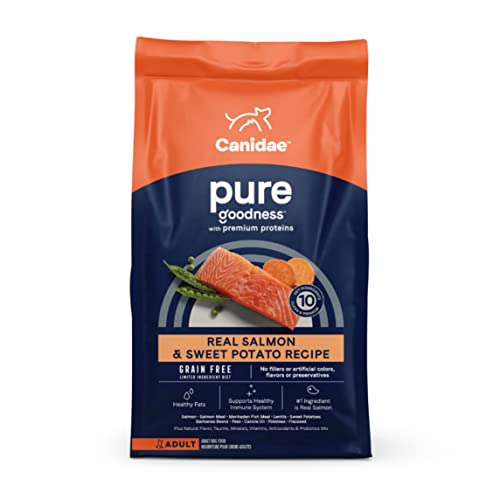 A favorite with dogs and their owners, the CANIDAE Sweet Potato And Salmon Dry Dog Food is a simple food formulated exclusively for dogs with sensitive stomachs. Not overcrowding a recipe, they have limited the ingredients to just 10 key items.
Steering clearly away from known allergens like wheat, soy, and corn. Instead, the Canidae Salmon Dry Dog Food relies more on wholesome nutrition from sweet potatoes, lentils, chickpeas. They are not only healthy for the gut but are also easy to digest.
Based on their dog's reactions, most dog owners have agreed that the Canidae Salmon Dry Dog Food is great-tasting dog food.
The main ingredient in this recipe is salmon. The food also consists of probiotics, vitamins, and essential minerals. It is free of hormones, antibiotics, grain, and gluten.
This grain-free, sweet potato recipe dry food is suitable for dogs in all stages – puppies, seniors, and normal healthy adults.
The high-quality dog food conforms to AAFCO regulations and provides wholesome nutrition to your pet. All ingredients are sourced from the USA and the dog food is manufactured in Texas. It's our top pick for the best salmon dog food.
What makes the Canidae our favorite and a top pick as the best salmon dog food is that it is suitable for sensitive tummies. With its salmon recipe, it is free from the harmful antibiotics, hormones, and allergens such as wheat, corn, and soy. The dog food is also manufactured in the USA from material sourced locally – a clear indication of the high quality of the dog food.
Pros
---
This CANIDAE dog food product uses salmon as its first ingredient and the major source of protein to provide the nutrients that are needed for the optimal physical development of a dog.
This grain-free CANIDAE recipe is devoid of soy, corn, wheat, artificial flavors, colors, and preservatives, which makes it the ideal product for dogs with food sensitivities.
The blend of probiotics, antioxidants, omega-3 and omega-6 fatty acids contained in this dry dog food provides balanced and complete nutrition for the healthy development of a pooch.
The Glucosamine and Chondroitin nutrients contained in this CANIDAE dry dog food are essential for the development of healthy bones and joints in pooches.
This whole food recipe is produced in the CANIDAE facility located in Texas to ensure compliance with safety and quality manufacturing practices.
Cons
---
Several customers have claimed that the kibbles of this CANIDAE product easily disintegrate into crumbs that their dogs can't eat.
There have also been multiple reports of pooches refusing to eat this salmon dry dog food product.
#2 Purina ONE SmartBlend With Real Salmon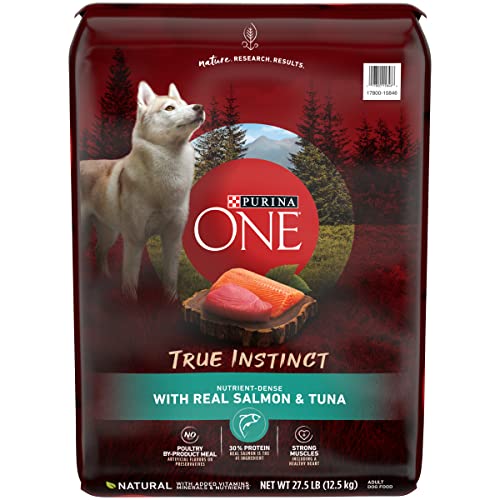 Made from real salmon, the Purina ONE SmartBlend is a dry dog food suitable for adult dogs. It contains a nutrient-dense formula that is made from real salmon and tuna.
It also contains has the all-important omega-3 fatty acids and four different sources of antioxidants to improve the immune system. On a nutritional basis, the Purina ONE has 30% protein which aids the growth of the muscles in your furry friend.
Formulated to meet all the energy needs of your dog, the Purina One is easy to digest and good to taste. The high-quality dog food is also free of fillers and has only awesomeness written on every morsel of food.
The Purina ONE SmartBlend is our choice for budget conscious because it offers a complete nutrition to your dog at a very cost-effective price. Using real tuna and salmon, it contains vitamins and minerals that keeps your dog immune system strong.
Pros
---
The combination of salmon and tuna as the major source of protein in the Purina ONE SmartBlend promotes the formation of strong and healthy muscles in dogs.
The PURINA ONE SmartBlend contains four different sources of antioxidants to provide the canine immune system with the support needed to fight off diseases.
This canine formula is rich in omega-3 and omega-6 fatty acids to provide the nutrition needed to facilitate the development and maintenance of healthy skin and coat on dogs.
The calcium nutrient contained in the crunchy Purina SmartBlend kibbles ensures that a pooch can grow strong and healthy teeth and gums.
This SmartBlend recipe is crafted in Purina-owned facilities located in the United States to ensure that kibbles are produced in accordance with quality standards.
Cons
---
Multiple customers have bemoaned the strong, unpleasant smell of the Purina ONE SmartBlend kibbles.
There are doubts over this product's quality control, as several customers have reportedly received SmartBlend bags that contained insects, bugs, and mold.
#3 Merrick Grain Free Real Salmon & Sweet Potato Recipe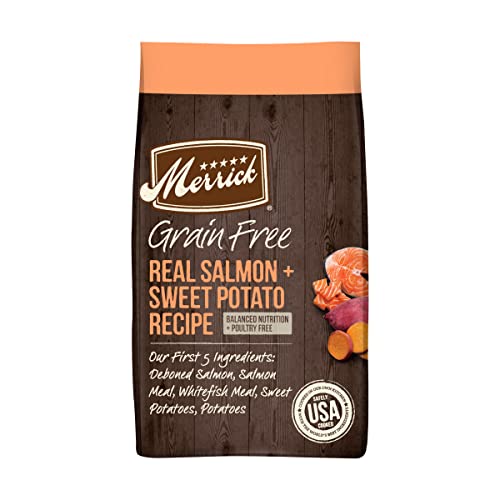 As a regular on most lists that talk about dry dog foods, the Merrick Grain Free real salmon & sweet potato recipe is full of the goodness of high-quality protein and poultry free. It contains chondroitin and glucosamine which help in the development of good healthy bones and joints.
Unlike low-quality dog foods, this product recipe does not make use of fillers but uses all essential ingredients. The first five ingredients the recipe uses are deboned salmon, salmon meal, sweet potatoes, peas, and potatoes. Sweet potatoes are a great way of providing energy to your pooch.
It is suitable for adult dogs of all sizes and of all breeds too.
The Merrick is favored by dog owners for its real salmon ingredient and because it is formulated in Hereford, Texas, with ingredients sourced from within the USA.
Pros
---
The combination of proteins and fats that makes up the bulk of Merrick's grain-free recipe assists with the maintenance of optimal canine weight and also provides the energy needed for a pooch to go about its daily activities.
This high-protein recipe contains glucosamine and chondroitin for the formation of healthy joints in dogs.
The high levels of omega-3 and omega-6 fatty acids contained in this Merrick salmon recipe ensure that a dog's skin and coat maintain a healthy appearance at all times.
The Merrick salmon recipe is crafted with real whole foods, while its ingredient list is devoid of grains and other related ingredients, thereby suiting pooches with grain allergies.
This deboned salmon recipe from the Merrick brand is manufactured and suitable for consumption by small, medium, and large-sized dogs.
Cons
---
Frequent formula changes have resulted in multiple dogs suddenly refusing to eat the Merrick kibbles.
Some dogs have reportedly developed diarrhea and began vomiting after feeding on the Merrick real salmon recipe.
#4 Instinct Limited Ingredient Dog Food With Real Salmon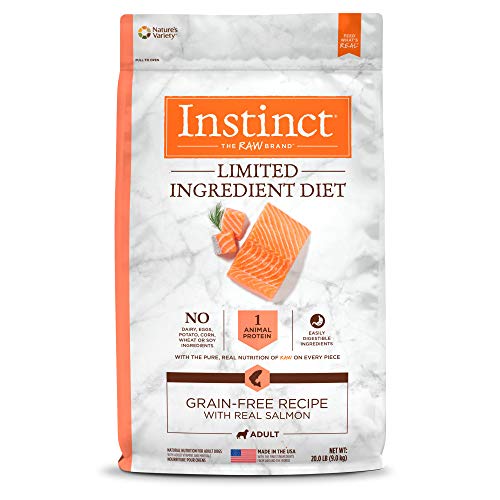 The Limited Ingredient recipe contains only one source of protein to meet your dog's nutritional needs. Fewer ingredients allow your dog's digestion to reset, which should help with inflammation and stomach problems due to food sensitivities.
This Limited Ingredient dog food is naturally high in essential fatty acids that help to enhance skin and coat health. It is made from real wild-caught salmon and packaged in freeze-dried pellet form in its raw state.
Salmon is also a high-quality protein source that dogs can digest with ease. This formula is perfect for dogs who have sensitive stomachs.
No common food allergies, such as corn or soy, are present, and no artificial ingredients or preservatives are used. The only vegetable used in this recipe is peas. The kibbles are also coated with freeze-dried raw cod for added nutrition and flavor.
If you're looking for high-quality dog food for allergies, this is a product you should look into. Since it is a grain-free dry dog food with a large proportion of specified meat meals as its primary source of animal protein, Instinct Limited Ingredient Diet comes highly recommended.
Pros
---
Instinct's limited ingredient diet for dogs is manufactured with wild-caught salmon, which provides the proteins needed for a pooch to develop physically.
The guaranteed levels of natural omegas contained in the Instinct limited diet promote the formation of healthy skin and coats for dogs.
The minimal processing procedure employed in the production of the Instinct kibbles ensures the retention of a greater percentage of the nutrients contained in the ingredients.
The limited ingredient recipe of the Instinct kibbles, which are devoid of grains, dairy, chicken, chickpeas, wheat, and beef, makes this product ideal for dogs with food sensitivities.
The Instinct limited ingredient dog food product is manufactured in the United States, with ingredients gotten from reputable sources around the world.
Cons
---
There are several reports of the Instinct kibbles becoming stale and crumbly in a short period after opening the product.
Multiple dogs have reportedly developed diarrhea after eating the Instinct limited ingredient kibbles.
#5 Blue Buffalo Wilderness Salmon Dry Dog Food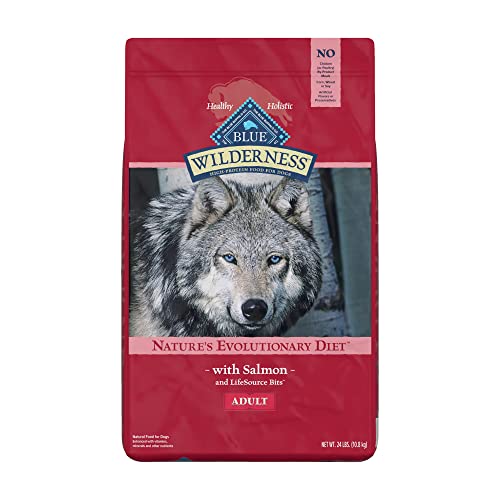 Blue Buffalo Wilderness High Protein, Natural Adult Dry Dog Food, Salmon 24-lb
MORE SALMON IS COMING: An evolution of your dog's formula with more salmon than ever, plus wholesome grains
PACKED WITH REAL SALMON: A recipe made to satisfy your dog's natural love for meat, this high protein dog food...
HEALTHY INGREDIENTS: BLUE Wilderness grain free dog food, made with healthy carbohydrates including sweet potatoes and...
Another high protein grain-free dry food enriched with salmon. The Blue Buffalo is a brand that is well respected by dog owners. Deboned salmon is the main ingredient of this dog food. It also contains healthy vegetables and fruits to meet all the protein requirements of your dog.
It also provides the essential omega-3 and omega-6 fatty acids required for a healthy coat and good immunity.
The specialty of this high-quality dog food is that the kibble is processed at low temperatures to preserve its nutrient value and also improve its lifespan as no artificial preservatives are used.
A great food choice for dogs that cannot tolerate poultry. The Blue Buffalo Wilderness Salmon Dry Dog Food is all natural and available in various sizes for dogs in various life stages.
Pros
---
Blue Buffalo's salmon recipe contains LifeSource Bits, a precise blend of antioxidants, vitamins, and minerals, which has been formulated to promote canine immune health and support the various growth requirements of a dog.
Healthy carbohydrates, such as sweet peas and potatoes, both of which are featured in this Blue Buffalo recipe, provide the energy needed by a pooch to maintain an active lifestyle.
The Blue Buffalo salmon dog food doesn't contain chicken by-product meals, corn, soy, wheat, artificial flavors, or preservatives, making it largely healthy for pooches to consume.
This salmon recipe from the Blue Buffalo brand contains a healthy level of calcium and phosphorus to facilitate the development of strong bones and teeth in dogs.
The kibbles of Blue Buffalo's salmon dry dog food are prepared by a cold-forming process that ensures the retention of a greater amount of the nutrients contained in the ingredients.
Cons
---
Several customers have commented that their canine buddies became sick after eating the Blue Buffalo salmon recipe.
There are doubts over this product's quality control processes, as several customers claim to have found mold and bugs mixed with the kibble.
#6 AvoDerm Natural Salmon & Vegetables Dry Dog Food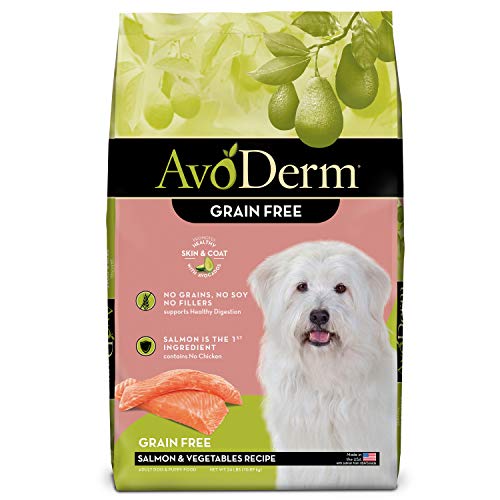 AvoDerm Natural All Life Stages Dry & Wet Dog Food, Grain Free, Salmon & Vegetables Recipe, Seafood,...
One (1) 24 Pound Bag: Avoderm Natural Grain Free Dry Dog Food, Salmon & Vegetables Formula All Life Stages Dry Dog Food
Promotes Healthy Skin & Coat: Premium Dry Dog Food Made With Omega-Rich Avocados To Promote Healthy Skin And Coat
Grain Free Natural Dog Food: Wheat Free, Corn Free, Soy Free, Chicken Free. No By-Products Meals, No Artificial Flavors,...
The AvoDerm Natural Salmon & Vegetables Dry Dog Food is made with salmon as its first ingredient. This formula is the best in this brand because it is hypoallergenic in nature too.
What makes this stand out among its competitors is that Avoderm's dog food consists of avocado that provides essential fats required for healthy skin and coat.
A healthy blend of antioxidants, proteins and carbohydrates, the AvoDerm Natural Salmon & Vegetables Dry Dog Food is a top favorite with dog owners.
Pros
---
The use of real salmon as the major ingredient in this dry dog food ensures that pooches get access to the proteins that are needed for optimal physical development.
AvoDerm's natural salmon recipe for dogs contains a natural blend of vitamins, minerals, and antioxidants that provides dogs with balanced nutrition at different stages of their lives.
The omega-rich avocado and avocado oil ingredients used to produce this dog food provide essential fatty acids that help to promote the development of a healthy coat and lustrous skin.
AvoDerm's salmon dog food is produced in the brand's California-based manufacturing plant, with ingredients sourced both locally and from reputable suppliers around the world.
AvoDerm natural salmon kibbles are pressure-cooked to ensure that ingredients retain their quality and pooches enjoy optimum nutrition from the consumption of these kibbles.
Cons
---
Some dogs have reportedly developed diarrhea after eating the AvoDerm natural salmon kibbles.
There have also been reported instances of pooches reacting adversely to some of the ingredients contained in this AvoDerm recipe.
#7 Wellness Simple Natural Dry Dog Food Salmon & Potato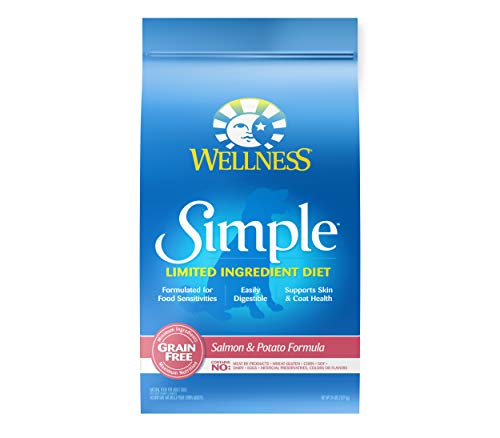 Potato and salmon form the main ingredients in this dry dog food formulated for dogs prone to allergies and food sensitivities. Limiting the number of ingredients used, the Wellness Simple Natural Dry Dog Food ensures that allergens are minimized.
A delightful blend of protein from salmon and easily digestible carbohydrates, the food is free from any additives and fillers. To aid digestion further, probiotics and prebiotics have been added.
The omega-3 and omega-6 from the salmon ingredient ensure that your dog's coat is healthy and glossy.
If you have a dog with digestive issues, this formulation prepared using limited ingredients and topped with probiotics will be the right choice.
Pros
---
Salmon is used as the first and major ingredient in this Wellness recipe to provide a natural omega-rich source of protein that is beneficial for canine physical, coat, and skin health.
Wellness' salmon recipe also contains potato, which serves as a source of complex carbohydrates, vitamins, and minerals to boost overall canine health.
The limited ingredient and grain-free formulation of this salmon dog food make this product suitable for consumption by pooches with food sensitivities.
The natural prebiotic fiber and probiotics contained in this Wellness salmon recipe promote canine digestive health by facilitating the growth of healthy bacteria in a pooch's gut.
Wellness' salmon & potato dog food is produced in the brand's facility located in the United States, with high-quality globally sourced ingredients.
Cons
---
The quantity of fiber contained in this Wellness salmon recipe promotes easier bowel movements, which results in dogs producing and passing out more poop than usual.
Several customers have bemoaned the unpleasant smell of the Wellness salmon kibbles.
---
Salmon Dog Food Buyer's Guide
---
Dogs can suffer from poultry allergy which causes allergic reactions. At the same time, they need their daily intake of protein.
Salmon and other seafood provide a notorious source of protein for your pooch. They are light on the stomach but filled with nutrients and amino acids essential for a healthy immune system. Not only salmon, but most fishes are a rich source of omega-3 fatty acids which are necessary for healthy skin.
That is why we have provided a list of the best salmon dog food available.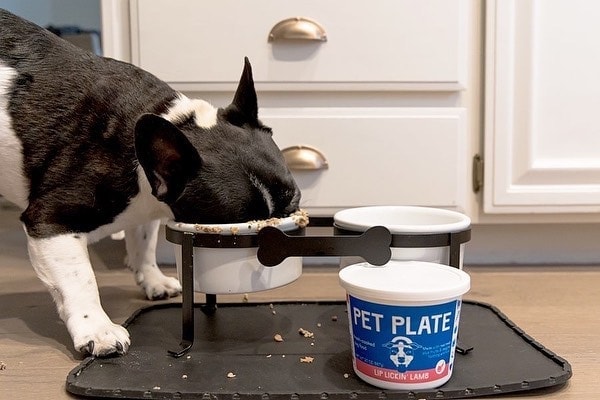 Why Should You Get Salmon Dog Food?
Here are a few reasons why salmon is good for your dog.
Rich in proteins: It has very high-quality protein necessary for all bodily activities. It is a rich source of omega-3 fatty acid which is essential for the overall health of its skin and joints.
Amino acids: Amino acids are required for hormonal health and cartilage building. These are present in abundance in salmon.
Full of nutrients: Salmons are also high in rich nutrients such as magnesium, potassium, zinc, vitamin D and vitamin B12.
Low-mercury content: According to the FDA, salmon fishes are one of the five most common eaten fish that are low in mercury. Therefore, having your pooch eating salmon dog food will minimize mercury overexposure. Prolong exposure to mercury can be detrimental to your pooch's overall wellbeing.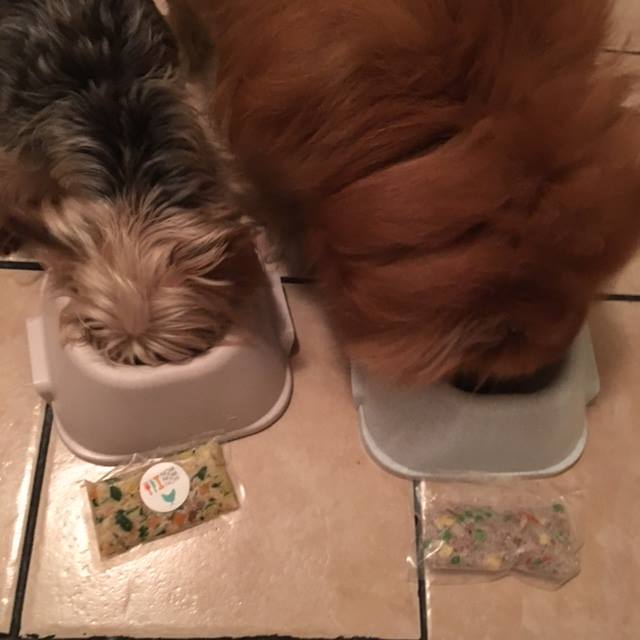 Tips On Choosing A Salmon Dog Food
Salmon is the preferred protein source for dogs that are allergic to meat. But many times, salmon is used in combination with other protein sources.
Real Salmon: Check the label to find out if the food is made from real salmon/salmon meal and not salmon flavoring. Artificial salmon flavoring will have no health benefits that the real thing has.
Complete Nutrition: You must ensure that the dog food you choose is wholesome and complete. The calorie content and the nutritional values of the ingredients must match the guidelines laid by the Association of American Feed Control Official's nutritional adequacy. It must be a balanced mix of carbohydrates (such as sweet potatoes), proteins, and essential fats. It should also contain additional benefits of Vitamins A and E, which work as powerful antioxidants.
Filler-Free: The food must not have any fillers, colors and poor-quality grains like corn, wheat, and soy. It must be free of meat by-products too. Only whole meat must be used in dog foods. Avoid poultry meat if your dog is allergic to it.
Avoid Artificial Preservatives: Steer clear of dog foods with artificial preservatives. Instead, look for labels that make sure tocopherol and ascorbate as preservatives. They are Vitamin E and Vitamin C which are naturally found in foods. Ensure that the dog food does not contain any BHT, BHA or ethoxyquin.
Dog Age: You must choose foods according to the age and the energy needs of your pet. Almost all brands are labeled with "Senior" or "Small Breed" to indicate which stage the food is suited for. The AAFCO has regulations on how much calories and protein puppies and senior dogs need.
---
Final Thoughts
---
Going all-natural is the best way to ensure that your dog is free from allergies caused by additives and colorants.
We highly recommend our top pick as the best salmon dog food, and the simple reason is that it is as natural as it comes. Made with fresh salmon, it is free from all known allergens, hormones, and antibiotics. Be sure to visit their page as they do have seasonal sales running from time to time.
Apart from that, it is also rich in protein and other beneficial fatty acids. It is made in the USA from local ingredients and is ideal for sensitive tummies.