The best senior dog food is NUTRO Ultra Senior Pate Wet Dog Food.
As dogs grow older, they become less active and need lesser energy. With a slower metabolism, older dogs are more likely to become overweight or obese.
Thus, you would have to change their diet too. Most dogs enter their senior years when they are between 7 to 10 years old.
Senior dog foods are specially formulated with:
Lower calories – For a slowing metabolism
Higher fiber – Improves gastrointestinal health
Lesser fat – To aid with obesity
Here's a comprehensive list of the best senior dog foods you can get for your aging pooch.
#1 NUTRO Ultra Senior Pate Wet Dog Food
SALE ALERT!!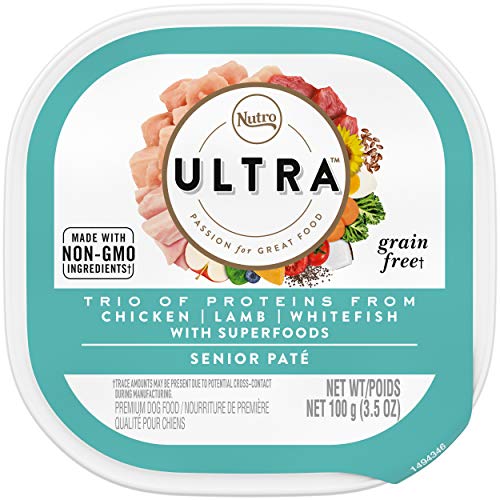 Our top pick is the senior dog food from NUTRO – the best way to ensure an aging dog remains healthy even as it gets older. This senior dog food for older dogs features an excellent blend of only the highest quality of ingredients with chicken, salmon, and lamb as its main ingredients.
This formulation is quite different from all the other canned dog food specifically made for senior dogs as most only contain a single kind of meat. With the NUTRO Senior Plate Wet Dog Food, different meat sources are used so the dog enjoys a well-rounded diet, as well as receives all the protein its body needs to remain strong.
We've tried giving our older dogs different senior dog food from different brands, but even our pickiest eaters enjoyed NUTRO's formula. If your dog is a picky eater and you are not sure what to get it, then we suggest you stick with this one.
Aside from being incredibly easy to feed to a picky eater, the dog food also has several aspects that work well together in boosting the health of a dog, including a surprisingly high concentration of glucosamine, chondroitin, and omega fatty acids to support your dog's joint health and give its skin and coat a better look.
The NUTRO Ultra Wet Senior Dog Food is the best choice for senior dogs as it allows a dog to enjoy its food even when it's grown to be picky. It also ensures a dog is eating healthy and consuming nothing but ingredients packed with nutrients.
Pros
---
Uses several protein sources.
Great for a picky eater.
Boasts of high-quality ingredients.
Rich in vitamins and minerals.
#2 Hill's Science Diet Dry Dog Food
SALE ALERT!!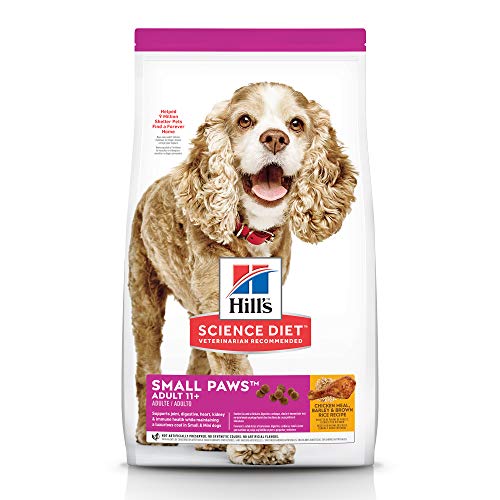 For the budget conscious dog parent, an affordable choice of senior dog food is the chicken meal, barley and brown rice Senior Dog Food from Hill's Science. It's actually composed of a special antioxidant blend to help your aging pooch's immune system.
What we were surprised about with this senior dog food is that it is supplemented with omega-6 and vitamin E in order to give a senior dog a healthier skin. However, we felt that this senior dog food could have came added with glucosamine and chondroitin, which would have been beneficial for aging joints.
You can always add some glucosamine dog supplements to go with their meals.
For under $30 for a 15.5-pound bag of Hill's Science senior dry dog food, your senior dog gets real chicken as its source of protein, as well as whole grains for aiding digestion.
Pros
---
Affordable and yet excellent in quality.
Helps with a senior dog's skin & coat.
Supplemented with omega-3.
Made in the USA.
#3 ORIJEN Senior Dry Dog Food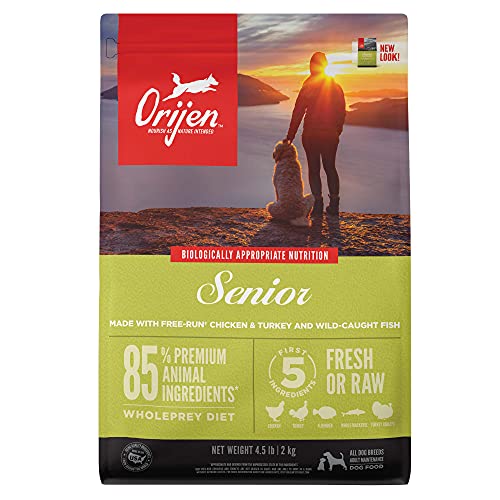 ORIJEN Dog Senior Recipe, 4.5lb, High-Protein Grain-Free Senior Dry Dog Food, Packaging May Vary
ORIJEN Senior dog food delivers a diet rich and varied in fresh, whole animal ingredients from free-run chicken and...
With 85% quality animal ingredients, ORIJEN nourishes dogs according to their natural, biological needs
Using fresh and raw animal ingredients, including meat, organs, cartilage, and bone, ORIJEN is the Biologically...
ORIJEN Senior dry dog food uses fresh and animal ingredients to improve your dog's general wellness with a grain-free formula. The recipe is low in carbohydrates and fats to prevent weight gain and high in animal protein to support lean muscle mass.
It features 85% animal protein to ensure your pooch gets all the essential amino acids and fatty acids for healthy skin, coat, and brain development. In addition, the fatty acids ensure that the cognitive health of your pooch does not rapidly decline even as they grow old.
ORIJEN Senior food is deemed to be high-quality since it ensures its food meets the AAFCO nutritional level standards. Being available only in chicken flavor, it is perfect for dogs with sensitive stomachs or food allergies because it doesn't contain common allergens like wheat, soy, or corn.
If you are looking for a grain-free formula for your senior dog's aging joint and muscles, this is it. ORIJEN Senior dry dog food provides all the necessary nutritional needs for an aging pooch.
Pros
---
Whole food locally-sourced ingredients.
Fresh and chilled ingredients with no additional preservatives.
No rendered meat or animal by-products.
High levels of omega fatty acids.
Suitable for all dog sizes and types from 7 years to old age.
No reported recalls to date.
#4 Hill's Science Diet Senior 7+ Dry Dog Food
SALE ALERT!!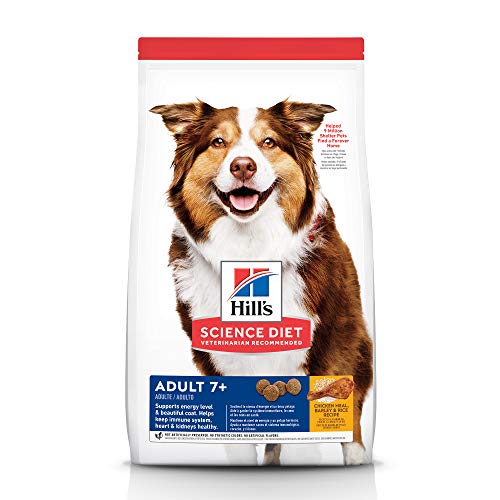 This Hill's Science Diet offer comes with an amazing senior formula for adult dogs aged 7+. It is the perfect choice for your kibble-loving canine. If your dog prefers the normal size kibble, simply get the regular-sized version.
In terms of ingredients, it's worth noting that this senior dog food includes an antioxidant blend with vitamin C for a stronger immune system and to promote a healthy weight. L-Carnitine is also added to help restore the energy levels of the dog, which is crucial for keeping it active.
As it is included in our list of the best dog food for older dogs, you can expect it to contain no trace of artificial colors, preservatives, or flavors. It is perfectly safe for an aging pet's gut as well as dogs with allergies.
Being one of the best dog foods to give to senior dogs, it gets our recommendation. The formula has been proven and tested by thousands of pet parents to help give older dogs energy despite their old age.
Being one of the best dog foods to give to senior dogs, it gets our recommendation. The formula has been proven and tested by thousands of pet parents to help give older dogs energy despite their old age.
Pros
---
Clinically proven antioxidant blend.
Gives older dogs an energy boost.
Great for sensitive tummies.
#5 IAMS Proactive Health Mature Senior Dry Dog Food
What we love the most about this dog food for senior dogs, IAMS Proactive Health Mature Senior Dry Dog Food, is that it is very easy to feed to a senior dog. Even picky eaters enjoy the formula, making it the selling point of this particular senior dog food from the manufacturer.
Furthermore, each kibble contains vitamins, minerals, and fatty acids that are naturally sourced, which resulted in less scratching in our senior dogs.
From what we have observed, this specific brand is effective in helping older dogs that are experiencing skin and coat problems. It is also competitively priced, giving pet parents one more reason to opt for this brand.
If you want to boost the appearance of your furry friend's skin and coat, start feeding the IAMS Proactive Health Adult Dry Dog Food to it. Being a product of a reputable dog food company for 50 years and satisfying hundreds of thousands of pet parents and dogs alike, there is no reason not to trust its formulation.
Pros
---
Quality protein – real chicken.
Promotes skin and coat health.
Moderately priced.
#6 VICTOR Super Premium Dog Food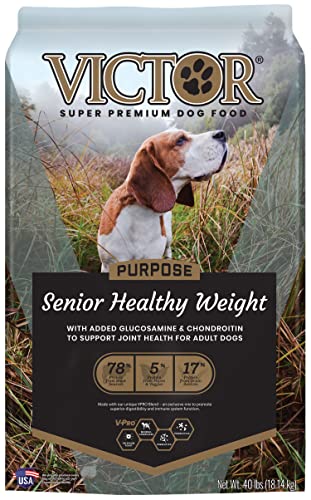 VICTOR Super Premium dog food is formulated with premium ingredients such as chicken, pork meals, and beef, all of which are healthy protein sources. The recipe also contains selenium yeast that boosts the immune system, metabolic function, and cellular regeneration.
It contains gluten-free grains such as whole-grain millet and grain sorghum that provide carbohydrates, making it ideal for dogs with allergies. Also, it does not contain meat by-products and thus assures dog owners they know what they are feeding their pooch.
The Victor Super dog food is beneficial for dogs with dry skin thanks to the omega-3 and omega-6 fatty acids to maintain your pooch's coat and shiny skin. It contains 79% protein from protein-dense ingredients such as chicken, pork, and beef.
In addition, the ingredients make a rich and savory flavor that your pooch, and even those with fussy tastebuds, will surely enjoy.
VICTOR Super Premium dog food should be your go-to choice if your want a healthy diet for active working, pregnant, or nursing dogs. Its incredible formula will provide your pooch with sustained energy while supplying endurance and stamina.
Pros
---
Nutrient-dense recipe specially formulated for dogs of all sizes.
Gluten-free.
Improves both hip and joint health.
79% protein.
Made in the USA.
#7 Blue Buffalo Wilderness High Protein Natural Senior Dog Food
SALE ALERT!!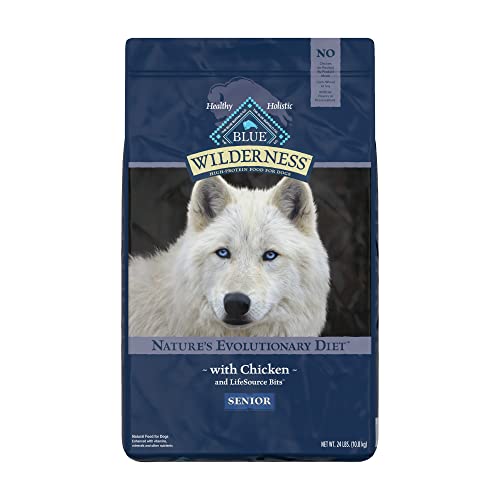 Blue Buffalo Wilderness High Protein, Natural Senior Dry Dog Food, Chicken 24-lb
PACKED WITH REAL CHICKEN: A recipe made to satisfy your dog's natural love for meat, this high protein dog food...
HEALTHY INGREDIENTS: BLUE Wilderness grain free senior dog food is formulated with ingredients to help support your...
ANTIOXIDANT-RICH LIFESOURCE BITS: A precise blend of antioxidants, vitamins and minerals carefully selected by holistic...
The more active adult dogs will love this grain-free, high protein recipe from Blue Buffalo Wilderness. Huskies and pit bulls will benefit the most with the Wilderness Dry Dog Food.
Its main protein source is chicken, so you can expect your canine to devour its meal in a second. If you have a pet that enjoys a fishy flavor more, you can opt for salmon instead of chicken.
As it is grain-free, we suggest you stick to this one if your pet is allergic to grains. Take note that the omega-3 content of this dog food for older dogs is high (at 1 percent), which means it is specifically made for senior dogs with a longer, thicker coat.
Omega-3 is known to have anti-inflammatory properties. If your dog has itchy, sore skin, the Blue Buffalo Wilderness Dry Dog Food will soothe the itching.
Even if the Blue Buffalo Wilderness Dry Dog Food is not the cheapest senior dog food in the market, it has managed to garner customers up to this day because of its special formulation. As it is grain free and rich in protein, it is easier for a senior dog's stomach to digest. It promotes a healthy coat as well.
Pros
---
Real meat being the first ingredient.
Packed with vitamins and minerals.
Has glucosamine and chondroitin for joint support.
Grain-free without filler ingredients.
#8 CANIDAE PURE Senior Dry Dog Food
SALE ALERT!!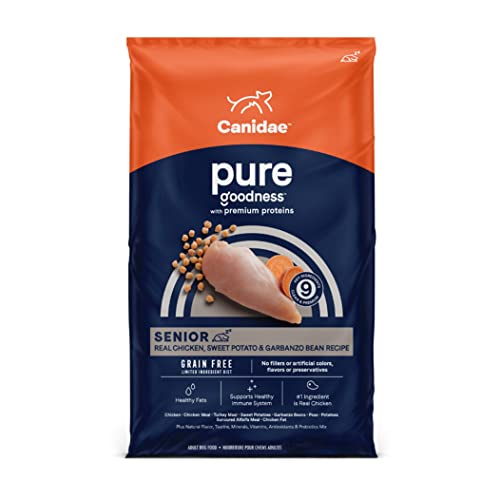 One of the best choices for an aging pooch is CANIDAE's Pure Grain-Free Dry Dog Food. It appeals to dog parents that are looking for food that's free from grains and high in meat protein. All the ingredients added to this dog food are good in quality, which is important as older dogs have a more sensitive stomach.
Furthermore, the CANIDAE's Pure Dog Food helps dogs approach old age with youthful energy. It's free of antibiotics, gluten, hormones, soy, or corn, so it is also safe for a canine with a food allergy.
It's worth mentioning that its formula includes sweet potatoes, which are good sources of complex carbohydrates.
A product of a holistic dog food brand, CANIDAE Pure Grain-Free Dry Dog Food offers your senior dogs a balanced diet. Real chicken is its number one ingredient. As for the other ingredients, they're all simple to assist an aging dog's digestion issues.
Pros
---
Premium ingredients.
Made for sensitive older dogs.
Rich in protein.
Grain-free.
#9 Nulo Senior Dog Food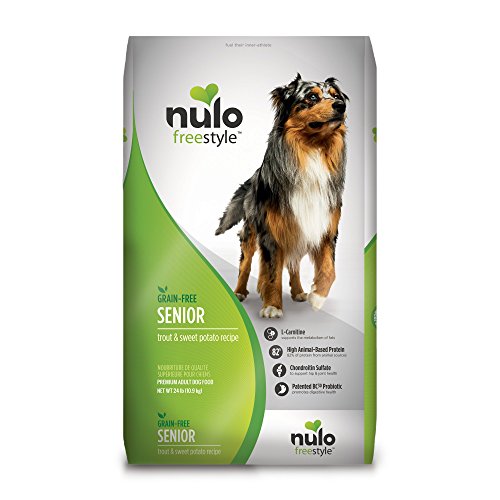 Nulo SR Trout Grain-Free Dry Food, 24 lb
GRAIN-FREE recipe contains no corn; wheat; soy; white potatoes; tapioca; artificial colors, flavorings or preservatives....
HIGH MEAT/LOW CARB proprietary formula 80% animal-based protein for more amino acids and better flavor using fewer carbs...
Nulo Sr Dry Dog Food more closely resembles your dog's ancestral diet than grain-based carbohydrate formulas. MAY...
If what you want is dog food that is capable of preventing medical issues as a dog grows older, then Nulo Senior Dog Food is exactly what you're looking for.
Because our older dogs rely entirely on us to give them proper nutrition, their food must provide them with a consistent protein intake and a healthy diet not just for a strong immune system but also for organ and joint function.
The main reason why we think the Nulo Senior Dog Food is one of the best around is because it includes pea fiber, salmon oil, dried chicory root, and menhaden fish meal among others.
The Nulo Senior Dry Dog Food comes complete with vitamins E, D3, B12, A, B6, B1, folic acid, thiamine, and riboflavin.
Both chondroitin and glucosamine are typically required for a senior dog's diet in order to retain the range of motion and full functionality of the dog's joints. With Nulo Senior Dog Food, you have nothing to worry about as it even comes with the essential fatty acids apart from chondroitin and glucosamine.
Pros
---
Easy to digest.
Offers a balanced diet.
Supports an aging dog's joint health.
#10 AvoDerm Advanced Senior Health Dog Food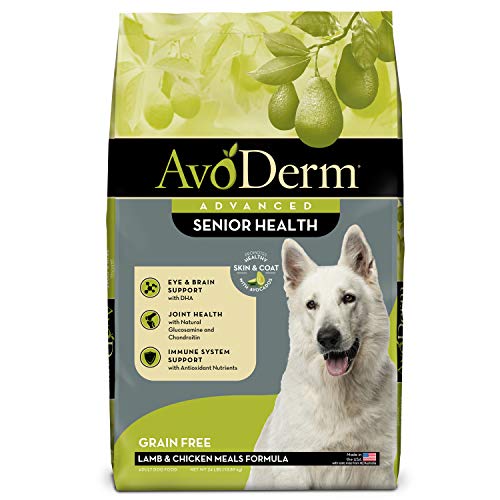 AvoDerm Natural Advanced Senior Health Dry Dog Food, Grain Free, Lamb Recipe, Grain Free Senior, 24...
One (1) 24 Pound Bag: AvoDerm Natural Advanced Senior Health Grain Free Lamb Meal Dry Dog Food
Supports Joint, Eye, And Brain Health: Natural Chondroitin Sulfate, Glucosamine & DHA Helps Support Senior Dog's Joints,...
Promotes Healthy Skin & Coat: Premium Natural Dry Dog Food Made With Omega-Rich Avocados To Promote Healthy Skin, Coat,...
You may be wondering why this senior dog food contains avocado. Contrary to popular belief, avocado is actually a fantastic ingredient, most especially for dog food for older dogs.
Because dogs can't digest the pit or the skin of the avocado, just the fruit meat is added to the formula.
Avocado in this senior dog food makes it dense with nutrients, giving the animal several different vitamins and minerals as well as antioxidants.
Just like flaxseed, an avocado is rich in omega-3 and omega-6 fatty acids, both of which assist brain and heart functions. As you may already know, an avocado is an excellent source of protein.
But, that's not the only protein source with the AvoDerm Advanced Senior Health Dog Food. Its main ingredient, lamb, gives senior dogs a protein source that's easier on its digestive system.
The best aspect about the AvoDerm Advanced Senior Health Dog Food is the added organic California avocado. Together with the other high-quality ingredients, an aging dog will be able to maintain its joint health and eye and brain function with the formula.
Pros
---
Rich in protein.
Specially made for senior dogs.
Supports brain, heart, and joint health.
Contains no preservatives or artificial coloring.
#11 Instinct Raw Boost Adult Grain-Free Dry Dog Food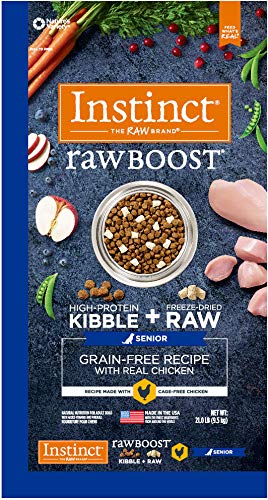 Instinct Raw Boost's high protein count is from the cage-free chicken added as the first ingredient of this product on our list of the best senior dog foods. It landed a spot as it doesn't contain any potato, wheat, grain, wheat or by-product meals.
You will also find no traces of preservatives and artificial coloring in its formulation.
Featuring 70% nutritious oils and meats from animals, plus 30% veggies, fruits, and other wholesome ingredients, it can help even senior dogs develop strong and lean muscles.
Just like other top senior dog foods from trusted brands, it comes with the guarantee that it has natural probiotics and antioxidants to support an aging dog's immune system and digestive health.
The biggest reason why we support the consumption of Instinct Raw Boost Adult Grain-Free Dry Dog Food is because it closely resembles a dog's natural diet. It also provides just the right amount of vitamins and minerals.
Pros
---
Cage-free chicken being the first ingredient.
Pure and nutritious.
Comes with dried raw pieces.
#12 Eukanuba Senior Maintenance Dry Dog Food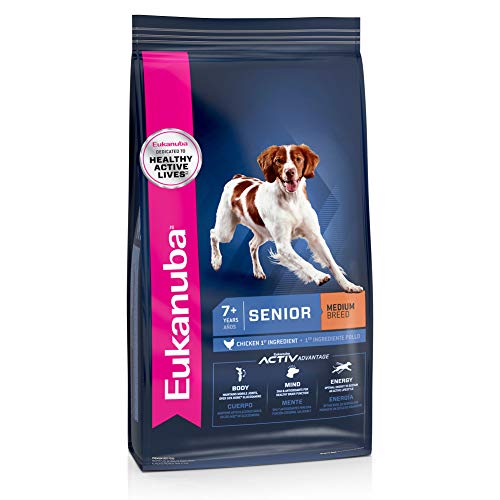 Eukanuba Senior Medium Breed Dry Dog Food, 30 lb
FOR MEDIUM BREED SENIOR DOGS: Eukanuba Senior Medium Breed Dry Dog Food is complete and balanced nutrition for senior...
MUSCLE & JOINT SUPPORT: Chondroitin sulfate and 50% more glucosamine (vs. Eukanuba Adult Medium Breed Dry Dog Food)...
HEALTHY BRAIN FUNCTION: DHA and antioxidants support healthy brain function in senior dogs
A sure winner for dogs aged 7 and above is the Eukanuba Senior Maintenance Dry Dog Food. As a matter of fact, this is a favorite among senior dogs because of its chicken and poultry flavors.
Of course, it has chicken as its main ingredient which is why the senior dog food is worth recommending. A 30-lb bag of this senior dog food also comes with vegetables and essential fatty acids.
This means it's rich in vitamins that will give a dog's skin and coat better health and appearance.
The only problem with the Eukanuba Senior Maintenance Dry Dog Food that we've seen is its wheat gluten content.
It can't be given to a dog with a sensitive gut.
If your aging pooch is strong and healthy, then it is a very good choice, especially because of the fact that dogs love fresh chicken!.
Not all senior dog foods are up to par with what we think is the best one that's currently available in the market. But, the Eukanuba Senior Maintenance Dry Dog Food manages to provide senior dogs with a balanced diet while retaining a low price!.
Pros
---
Offers a balanced diet.
Increases energy levels.
Promotes a lustrous coat.
---
Senior Dog Food Buyer's Guide
---
As a dog ages, it becomes susceptible to illnesses and medical conditions. As you've learned from the products featured above, dog food that is made specifically for older dogs helps it manage the physical changes it has to go through.
Although not all pets require a massive change in their diet or nutritional composition, there are a couple of nutrient adjustments you'll find that can benefit our senior pooches and they include the following:
Added Joint Supplements
As a canine age, it develops arthritis, especially if it is overweight. Make sure that your senior dog's diet includes chondroitin and glucosamine supplements to deal with arthritis symptoms and soothe its pain. Also, you should consider getting dog food with a high concentration of omega-3 and omega-6 fatty acids. These nutrients are scientifically proven to minimize joint inflammation.
Higher Protein Content
An older dog's protein reserves get depleted quickly compared to when it was younger. Just like humans, senior dogs also lose muscle mass gradually. That being said, a senior dog needs food that is rich in protein not just to replenish its protein reserves but also to make up for lost muscle mass. It is advisable for a dog's diet to have 2.65 oz or more of protein for every thousand calories.
Still, you need to be cautious when you increase your dog's protein intake. You have to ensure that its food contains a low level of phosphorous as it is detrimental to a dog's health, most especially if it already has kidney problems. Basically, increase the protein intake whilst ensuring phosphorous is low in what the dog is eating.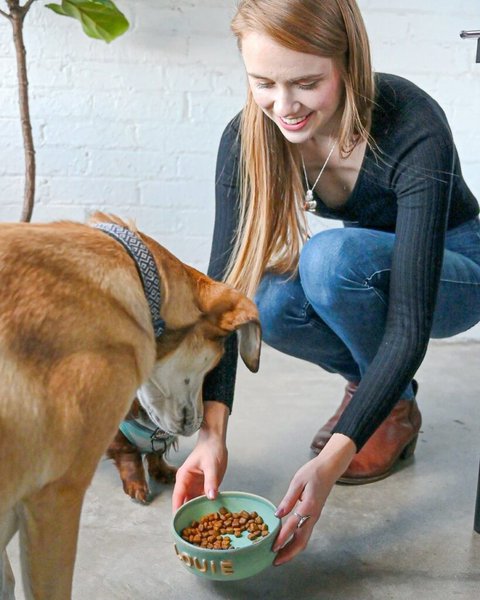 High Digestibility
The digestive systems of dogs change as they age. You may have noticed that your aging dog now has food allergies, pancreatitis, or inflammatory bowel disease. If your dog is starting to get sensitive, then only get food that is made of organic ingredients. Avoid wheat, soy, and corn as well.
You can also opt for dog food with probiotics and digestive enzymes as they will ensure your dog has regular bowel movements and a healthy digestive system.
Vitamins And Minerals
Vitamins and minerals boost the immune system of your dog and keep it disease-free. Before you purchase any dog food, check the ingredients list to make sure these essential elements are included.
Bonus: For a dog that's suffering from constipation, dog food that's high in fiber will help. Still, be cautious as too much fiber will compromise the animal's ability to absorb all the other essential nutrients.
---
Final Thoughts
---
No matter the size and breed, your aging best friend deserves nothing but the best. Because it is now entering its golden years, it is just right that you give it all the love, care, and attention in the world. Of course, that includes a balanced diet and nutritious food!
The highest quality of all the products we tested, as well as the gentlest to a dog's stomach, is our top pick. With it, your canine buddy can age while remaining healthy and strong.