The best dog food for Pitbulls is Bully Max High Performance Dog Foods.
Pitbulls are likely the most misunderstood dog breed on the planet. They can be aggressive, yes, but they have the same needs as any other dog. Indulge (and train) them in the right way, and you'll be rewarded with loyalty, affection, and love.
There are several things you have to consider when feeding a Pitbull. How much to feed, what to feed, and how often to feed are the crucial parts of owning a Pitbull. Many owners of the dog may not realize the importance of feeding your Pitbull. A healthy Pitbull is a happy Pitbull.
Here's a comprehensive list of the best dog foods for Pitbulls.
#1 Bully Max High Performance Dog Foods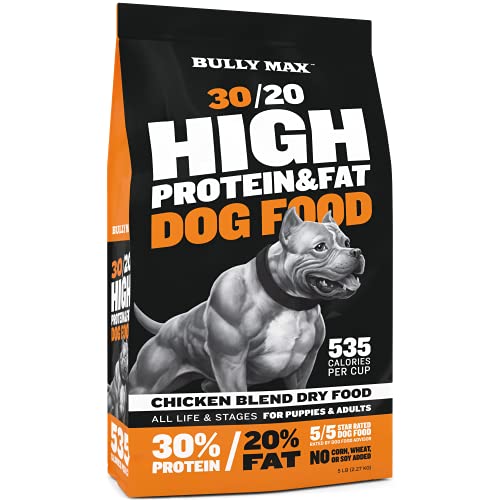 Bully Max High Performance Super Premium Dog Food (15 lbs.)
The ONLY 5 Star rated performance dog food. Rated by the world's #1 online dog food review site.
The ONLY Meat Based formula in its class. Unlike other brands which are plant based, Bully Max dog food uses real meat...
MORE CALORIES than any other formula in its class (535 per cup). When you feed your dog Bully Max high performance dog...
Bully Max has created arguably the best dog foods available in the market for your puppy. Formulated with only premium ingredients, devoid of artificial flavors, additives, and hidden chemicals, it is sure to provide the perfect blend of nutrients for your Pitbull.
Pit Bulls are biologically wired to be a more muscular and larger breed than other dogs. Bully Max Dog food contains the high protein and fat content needed for your pup to grow strong and healthy. Research shows that Pit Bulls need more than 40% of their diet to come from protein and 20% from fats. Bull Max packs in 30% more protein and 20% more fat than its other counterparts.
And all of this protein and fat comes from high-grade protein sources, a class above the most traditional plant and soy-based products on the market. This achieves the perfect amino acid ratio for the health, bone, and muscle development of your dog.
With the premium quality of ingredients, a 3-step testing system to ensure food safety, and the massive amount of calories (535 per cup), Bully Max rounds up to be the best food that you can feed your Pitbull.
Pros
---
The use of real meat as the major ingredient for formulating this dog food product satisfies a Pittie's natural desire to consume animal meat.
The 30% protein formulation of Bully Max's high-performance food for Pitties provides nutrients that are essential for lean muscle formation in these dogs.
The high-calorie concentration of this dog food product – which reportedly contains 535 calories per cup – ensures that customers can meet their Pitties' daily calorie needs by feeding them less food.
This dog food product is formulated for and suitable for consumption by adult Pitbulls and puppies aged four weeks and above.
The triple-check system employed by the Bully Max brand, which involves carrying out three different tests on each food package before shipping out, ensures that this product is safe for dogs to consume.
Cons
---
This dog food product has a strong fishy smell that some humans and dogs find to be unappealing.
The high amount of phosphorus present in this high-performance dog food makes it unsuitable for dogs with kidney issues.
#2 IAMS Proactive Health Large Breed Adult Dry Dog Food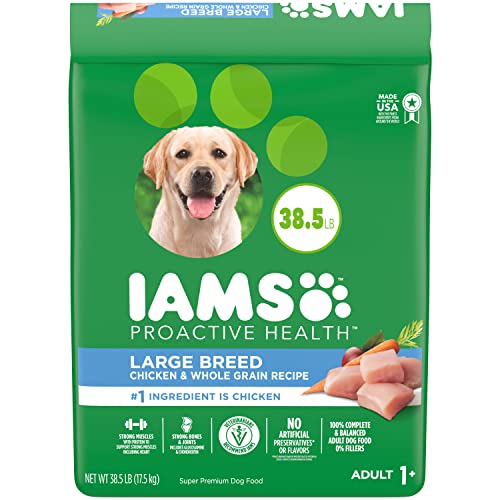 IAMS Proactive offers the great health benefits of premium dog food at a significantly lower price. Formulated with a touch less meat and more greens, fruits, and grains than Bully's, it still packs quite a punch with its premium chicken and egg-based formula.
IAMS is formulated with glucosamine and chondroitin sulfates, both of which are compounds that aid enormously in proper bone and joint health, and the amino acids from the protein sources aid in muscle development. As well as that, it contains healthy omega-3 fatty acids to give your furry friend's coat the shiny gloss it deserves.
IAMS' ingredients are naturally sourced and easily digestible, thus boosting your dog's metabolism, and immune system, keeping your Pitbull strong, stealthy, and healthy.
As its main ingredient is chicken, IAMS gives your Pit Bull the protein content it needs to be and stays in tip-top shape. The specially formulated kibble with glucosamine and chondroitin sulfate is designed to aid bone and joint development, all at a reasonable price point.
Pros
---
The premium animal protein – gotten from farm-raised chicken – contained in this dry dog food facilitates the formation of lean muscle mass in Pitbulls.
IAMS' large breed dog food contains a tailored blend of fiber and probiotics to ensure that Pitties can digest the kibble without issues and also strengthen their digestive system over time.
This IAMS recipe for adult dogs contains ingredients, such as calcium, that are needed to maintain bone and joint health in large and active dogs, especially Pitbulls.
This adult dry dog food is devoid of harmful artificial preservatives, flavors, and filler ingredients that have no real nutritional benefits for dogs.
This IAMS Proactive recipe is manufactured in the United States, with ingredients gotten from reputable sources around the world.
Cons
---
Several customers have commented that their dogs won't eat this kibble unless it is mixed with other dog food products.
Multiple dogs have reportedly become sick with vomiting and diarrhea after consuming this adult dry dog food from IAMS.
#3 Taste of the Wild Dry Dog Food With Roasted Bison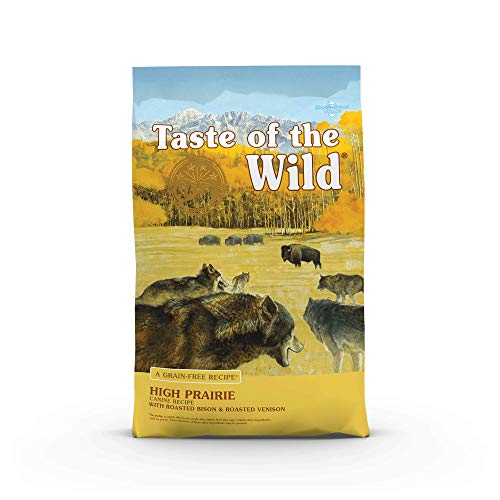 Made with real Bison meat, we love it for its high protein content, its no-frills with zero preservatives, family-owned, and salt of the earth touch. This premium dog food contains grain-free without corn, wheat, or filler products, all sustainably sourced and naturally grown for both your dog's and the earth's benefit.
Its chelated minerals allow for easy digestion and easy absorption of the nutrients into your pet's GI tract, allowing it to experience all the healthy goodness it deserves.
This Taste of the Wild's premium dog food delivers many optimal benefits to your pit-bull in a tasty and organic fashion.
Pros
---
The high protein formulation, which is reportedly as high as 32%, of this dry dog food product provides nutrients needed for forming strong bones, joints and lean muscles in Pitbulls.
This dog food product contains K9 strain proprietary probiotics to ensure that Pitbulls can conveniently and healthily digest the consumed kibble.
Taste of the Wild's dry dog food contains a balanced proportion of omega fatty acids needed to maintain a polished appearance for a pooch's coat and skin.
The grain-free recipe of Taste of the Wild dry dog food is suitable for pooches with food sensitivities and allergies to grains and other related ingredients.
This dry dog food contains fruits and superfood ingredients that are rich in vitamins and minerals that support a pooch's immune system and promote the dog's overall welfare.
Cons
---
This dog food product contains a significant amount of lead that can be extremely harmful to dogs when consumed regularly.
There are controversies surrounding the ingredients contained in this dog food, with reports linking the consumption of such ingredients to the development of heart-related conditions in dogs.
#4 Natural Balance Limited Ingredient Dog Food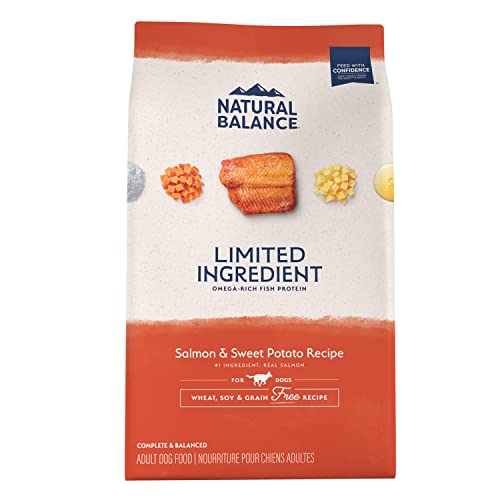 Formulated with high-quality carbohydrate sources such as sweet potato and protein such as fish, Natural Balance delivers optimal nutrition in a no-fuss, no-frills approach. Supplying your precious pet with all it needs to supplement its health, growth, and happiness.
Containing no artificial ingredients or preservatives, the golden ratio of the product shines through in the form of your dog's shiny coat, skin, and digestive health.
Natural Balance's no-frills quality and clear results make it one of our notable picks for your Pitbull. It comes with a 100% satisfaction guarantee, which includes full food transparency via a UPC tracking number on their website.
Pros
---
The various animal meats – salmon, chicken, beef, or duck – that are used as the major protein source and ingredients in this dog food product contains essential amino acids that are needed for the formation and maintenance of strong muscles in Pitbulls.
This recipe contains sweet potato, which is a grain-free source of fiber that ensures that Pitties can comfortably digest whatever Natural Balance kibble they consume.
This limited-ingredient diet from Natural Balance is formulated with a simplified list of ingredients to cater to dogs with allergies, irritable skin, and food sensitivities.
This Natural Balance diet is formulated and manufactured in U.S.-based facilities, with each product rigorously tested to ensure compliance with safety standards.
The natural sources of fatty acids contained in this dry kibble product promote the development of shiny coats on dogs.
Cons
---
This Natural Balance limited ingredient product is relatively expensive, compared to other dog food products available on the market.
Several customers have commented that they received food bags filled with powdery substances that their pooches couldn't eat.
#5 Blue Buffalo Wilderness Grain Free Adult Dog Food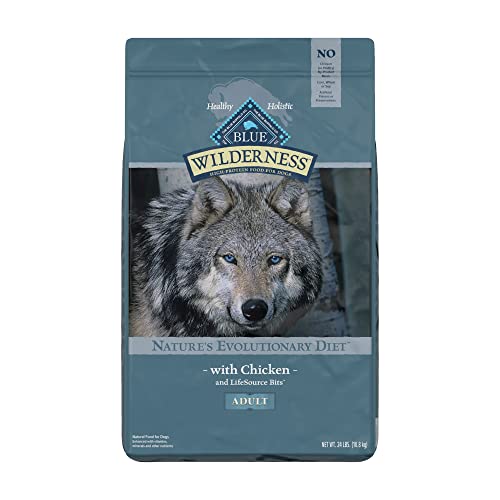 Blue Buffalo Wilderness High Protein, Natural Adult Dry Dog Food, Chicken 24-lb
MORE CHICKEN IS COMING: An evolution of your dog's formula with more chicken than ever, plus wholesome grains
PACKED WITH REAL CHICKEN: A recipe made to satisfy your dog's natural love for meat, this high protein dog food...
HEALTHY INGREDIENTS: BLUE Wilderness grain free dog food, made with healthy carbohydrates including sweet potatoes and...
Blue Buffalo Wilderness's grain-free dog food is a prime choice if you're looking for a high protein, low carb infused nutrition product for your canine companion. These meet the energy and nutrient requirements needed for your pup to grow into a healthy, shiny individual.
It is high protein, grain-free, and naturally sourced thus promoting your dog's immune, skeletal and muscular system. As well as that, the product is naturally grown, with the purest of ingredients. The added blend of healthy antioxidants promotes an ideal oxidative balance to support your pup's hopefully active lifestyle.
The ideal composition and balance of nutrients make Blue Buffalo Wilderness's dog food another of our favorites.
Pros
---
Real animal meat – chicken, duck, or salmon – used in producing either of the Blue Buffalo recipes provides the nutrition that makes it possible for Pitties to build strong and healthy muscles.
The antioxidant composition of this adult dog food offers additional support for the canine immune system.
Healthy carbohydrate sources, like sweet potatoes, that are included in this recipe ensure the release of sufficient energy to support the active lifestyle of Pitbulls.
This dog food product is produced without ingredients – such as chicken by-product meal, corn, wheat, and soy – that typically trigger food sensitivities in pooches.
This Blue Buffalo diet contains a balanced composition of omega-3 and omega-6 fatty acids to support healthier skin and a lustrous coat for Pitbulls.
Cons
---
This adult dog food product is expensively priced for most customers.
There are concerns about this product's quality control as several customers have reportedly found various types of foreign bodies after unsealing their Blue Buffalo food packages.
#6 Eukanuba Adult Dry Dog Food
Eukanuba Adult Large Breed Lamb 1st Ingredient Dry Dog Food, 30 lb
COMPLETE AND BALANCED: Eukanuba Adult Lamb 1st Ingredient Dry Dog Food is complete and balanced nutrition for large...
MUSCLE & JOINT SUPPORT: A combination of animal protein, glucosamine, and chondroitin sulfate promotes lean muscle...
HEALTHY BRAIN FUNCTION: DHA and vitamin E support healthy brain function and help keep dogs sharp
Chicken is the prime ingredient in Eukanuba's Adult Dry Dog Food offering, supporting lean muscle development and overall bodily nutrition. It also provides a special one-of-a-kind fiber system made from natural beetroot pulp and probiotics that supports nutrient absorption thus promoting a healthy GI tract and digestive system.
In addition, it contains minerals and vitamins that support skeletal development, skin and coat health.
The specialized fiber system gives Eukanuba the cutting edge in digestive health for your pups, making it one of our solid choices.
Pros
---
Eukanuba's adult dry dog food contains a combination of animal proteins, glucosamine and chondroitin sulfate that work together to facilitate lean muscle development and promote joint health in dogs.
Optimal levels of fat and carbohydrate contained in this dry dog food provide the fuel needed by Pitties to maintain an active lifestyle.
This adult dry dog food is formulated with vitamin E and DHA compounds to promote the mental development of pooches.
The use of real lamb meat as the main source of protein in this dry dog food satisfies a Pitbull's natural urge to eat meat and ensures that the pooch doesn't miss out on the nutrition gained from a raw diet.
Eukanuba's dry dog food features a dental defense system that promotes canine dental health by reducing plaque and tartar buildup on dog teeth.
Cons
---
This dog's food package doesn't contain information on the kibble's expiration date, thereby increasing the risk of customers feeding their pooches with expired and compromised kibble.
Some pooches have reportedly reacted adversely to some of the ingredients contained in this dry dog food.
#7 Wellness Core Natural Grain Free Dry Dog Food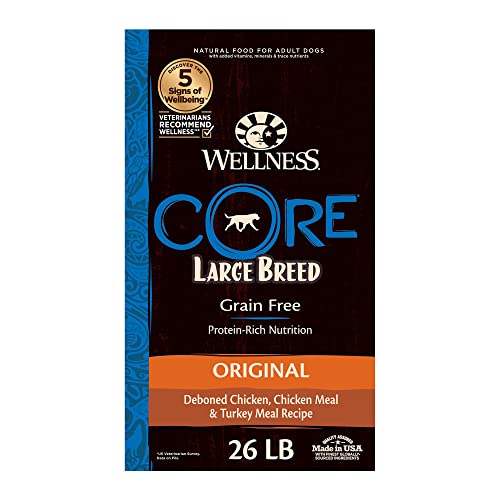 Another prime choice for its easily accessible protein-based formula of chicken and turkey boosted with antioxidants, vitamins, and minerals, Wellness Core delivers its promise of tasty goodness and nutrition with every morsel.
The product is safe, clean, and devoid of additives, bent on supplementing your pet's nutrition naturally and safely. Added to that you've got bone and joint health-increasing additives, and you've got a winner of a tasty morsel of dog food for your canine's needs and whims.
Wellness core fulfills its promise to us, you, and your Pitbull by its stellar quality ingredients and safe production, making it onto this list.
Pros
---
Wellness core dog food is completely grain free, and this makes it suitable and ideal for pooches with irritable skin and grain allergies.
The nutrient-rich superfood ingredients, such as blueberries, apples, and carrots, that are included in this dry food recipe
This grain-free dog food contains ingredients like flaxseed oil that produce guaranteed amounts of omega fatty acids that play vital roles in ensuring that a pooch's coat and skin remain healthy.
Wellness Core dry dog food is manufactured in state-of-the-art facilities located in the United States with ingredients gotten from reputable global sources.
The high concentration of protein contained in this dry dog food supports the formation of the lean and well-toned muscles that are characteristic of Pitbulls.
Cons
---
Some dogs reportedly started passing out significant amounts of loose stools after consuming this food product.
There have been several reports of dogs with no previous history of food pickiness showing no interest in eating this grain-free dry food.
#8 Diamond Naturals Real Meat Recipe Dog Food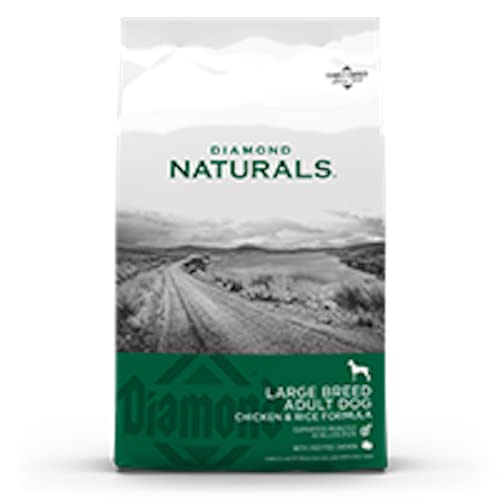 Made with cage-free chicken and love, Diamond Naturals offers an optimum ratio and blend of proteins, grains, antioxidants, and fats to guarantee your pet has the right nutrients suited to its needs. The amino acid profile allows maximum muscle growth, the superfoods aid in absorption and digestive health, and the fats aid in the structural integrity of the body.
No preservatives, additives, and artificial flavors allow it to be wholly the same and natural for consumption, so you know exactly what's going into your canine companion's body.
Diamond Natural's formula possesses all that is required for the health and happiness of your Pitbull, and it does so with high quality and flair. Therefore, it is our last contender on our list.
Pros
---
This Diamond Naturals meat recipe for large dogs contains superfood ingredients that provide the vitamins and minerals needed to fortify a pooch's immune system.
Diamond Naturals stays true to its promise of a real meat recipe by using cage-free chicken as the main ingredient and major source of protein in this dog food product.
Glucosamine and chondroitin included in this real meat recipe ensure the formation of strong muscles and joints in dogs.
The proprietary probiotics and prebiotics included in this dog food product guarantees convenient digestion of consumed kibble.
This Diamond Naturals recipe is specifically formulated to meet the nutritional levels established by the Association of American Feed Control Officials (AAFCO).
Cons
---
Several pups have reportedly developed gastrointestinal issues after eating this dog food.
Multiple customers claim to have found mold in their Diamond Naturals kibble, indicating that they either received expired or poorly processed product.
---
Best Dog Food For Pitbulls Buyer's Guide
---
When well-cared for Pitbulls, by nature, grow up to be friendly, lovable, very active canines known for being extremely loyal, strong and the perfect best friend you could ever have. Extremely confident and outgoing, all they need is good food with the right nutritional requirements (check our list above), a good home, and great company to reach their full potential in life: being loved and giving love.
The ASPCA website gives the pit-bull breed an endorsement that is glowing and ringing with truth. It says, "Other Pit Bulls were specifically bred for work and companionship. These dogs have long been popular family pets, noted for their gentleness, affection, and loyalty. And even those Pit Bulls bred to fight other animals were not prone to aggressiveness toward people." Who wouldn't want such a fantastic friend?
We know it's hard trying to find the perfect dog food for someone as special as your precious pup. Therefore, we have done all the research and work for you on which factors you should take note of before buying dog food for your Pitbull.
Which Ingredients Should You Look Out For?
The most important factor when deciding which dog food to go for is protein and fat content.
Pit Bulls naturally grow to be larger, stronger, and more muscular than most other dog breeds. About 20% of their diet needs to come from fats, 45% should be protein, and the rest can be a blend of carbohydrates, vitamins, minerals, and fiber.
Carbohydrates aren't required for optimal growth, but a decent 20% would round up to a well and balanced diet.
The fats are needed to make hormones, increase fluidity in joints, and maintain cell metabolism. The protein is essential as its amino acids are the building blocks for all cells, muscles, bones, and other bodily tissue. This is the prime ingredient, instrumental for proper growth to the full potential and for preventing ailments and stunted growth.
While most dog food is great for most breeds, a Pit Bull requires more protein and fat for its optimal growth. Added ingredients for bone density and joint fluidity, such as glucosamine and chondroitin sulfate, will aid in the structural foundation and the skeletal system of your dog. These will keep him or her strong and healthy, and lively.
Related: Best High Protein Dog Food
Additional Ingredients To Consider
It is also advisable to consider the plant and soy-based content of dog food. Food that is more plant and soy-based contains less nutritional value per calorie for your Pitbull.
As Pit Bulls are largely carnivorous creatures, they benefit more from meat-based dog food, particularly that of beef and chicken. Fish, turkey, and other forms of lean meat and protein are also adequate substitutes. High soy content can cause problems with a pet's internal endocrine system. Giving these to your pet may foretell a trip to the vet is in your future.
Due to Pit Bulls suffering from more frequent gastric problems than other dogs, essential ingredients such as probiotics can be a lifesaver when it comes to prolonging the immune system and life span of your furry friend. They also keep the GI tract clean and functional, with the help of fiber that allows your pup to be smooth sailing in its digestive and excretory system all day long, saving you the trouble of cleaning up after him.
All high-quality dog food should also contain DHA which are premium omega-3 fatty acids that are brilliant for shiny coats, hair, and skin of your pets. Whole grains as well may make up part of their food diet but the less they are in proportion, the better as it allows for more protein and fats to be packed into the base of the pet food as carnivores don't get too many nutritional benefits from grains or heavy carbs such as potatoes.
Organic grains are preferable, but they are no real substitute for meat and protein. Avoid formulas with 'grain fragments' – these are non-nutritive fillers designed to bulk up nutritional product content. This goes the same for corn or any wheat-based product as well.
Related: Best Dog Food For Gaining Weight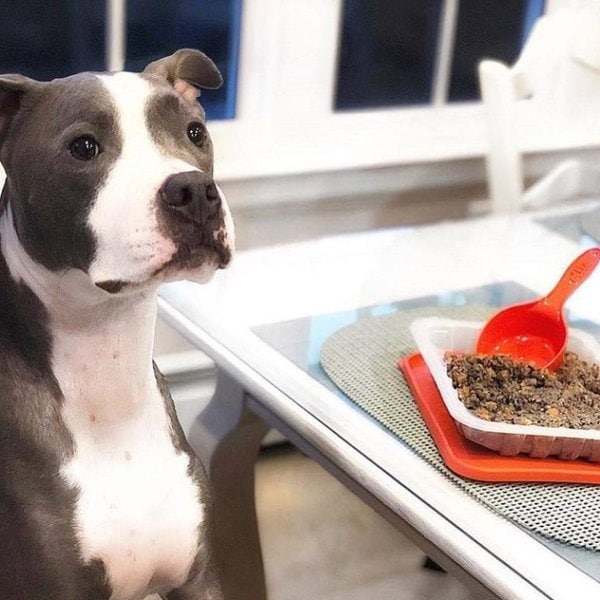 Why Dry Dog Food?
As you may very well notice, every product on our list is dry dog food. This is because it does not require refrigeration, a prime advantage over other kinds of dog food, as it contains almost 90% dry ingredients and 10% water, thus making it much easier to store for the long term.
Dry dog food is made by mixing and cooking sources like meat and grains. This process converts the starches in the food into an easily digestible form, while simultaneously destroying toxins and flash sterilizing the components. Dry dog food is also found in a range of varieties and is much cheaper than most wet or other textures of dog food available on the market. They also let you pack in more calories per bag than wet or other kinds, this is great as your Pit Bulls are generally very active, muscular, and friendly strong companions.
What Other Factors Must Be Considered?
Safety should also be a concern for the discerning buyer. All our picks are naturally sourced and safely harvested, containing pure, simple ingredients that should cause no problem to the health and well-being of your canine friend. Preservative, artificial flavoring, and additives-free allow dogs of various pedigrees to enjoy the tasty morsels without fear of landing in the vets' office.
Another thing of note is the age of your pup. When dogs are just puppies, they require special food and as they grow, those requirements and their diet changes, so it is best to purchase dog food that is right for dogs from a wide range of ages. Very young puppies should eat softened dry food two to three times daily while adult dogs can regulate their own nutrition levels reasonably well.
The best by date is also something to watch out for. Ideally, your best bet is getting one that has a date ten, eleven, or even a whole year away so that you know the food was made recently and is as fresh as it can be for your dog.
Checking the nutritional adequacy statement may also prove to be of service. This will back up the product's dietary claims that make it right for your dog. This will be a statement that will specify whether the product is right for which age range, breed or size of the dog.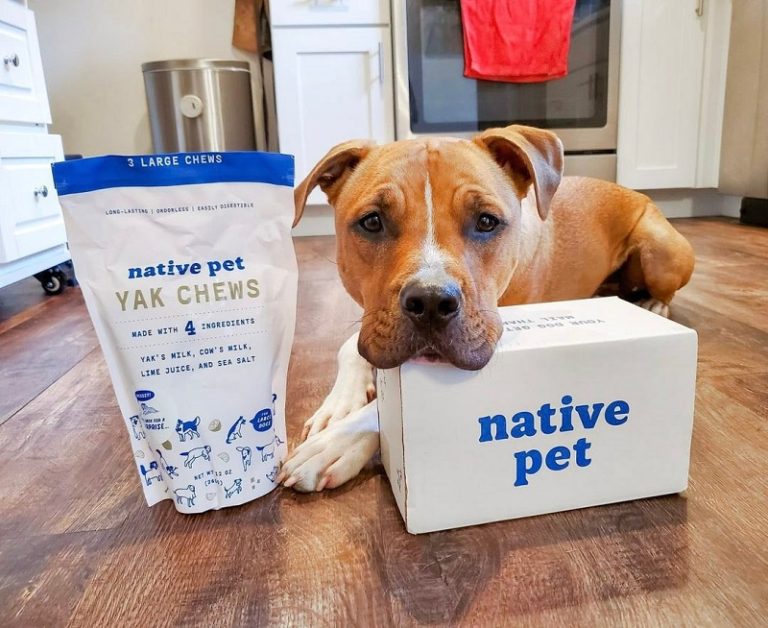 Tips For Proper Feeding & Maintenance
If your pup has a tendency to chow down on their food fast, it may be helpful to give them small meals frequently rather than one or two large meals and also exercise them only after an hour or two after mealtime. Pit Bulls quite frequently suffer from diarrhea and gastric torsion which is when they bloat due to the buildup of excess gas in the gastric tract. This can all be avoided by proper pacing when eating.
It is also best to note allergens that may affect your Pitbull. Symptoms of dietary allergies usually consist of irritation of the skin, irritability, bloating, upset stomachs, and changes in energy levels. Closely monitoring this is also essential as this will save you the time and money spent in the vet's office again. You would want to consider grain-free dog food products to avoid some of the most common allergies associated with grains.
If obesity is a concern, regulate your pet's mealtimes and feed them only when they seem to be hungry as they are much better predictors of their own fluffy body and nutrition levels, although these tasty treats may leave them wanting more food that often.
Keeping snacks and treats to a minimum will also save you and your pup the trouble of nutritional abnormalities. Once a day should be more than enough, especially with proper quantities and quality of dog food provided.
It is worthy to note that when buying dog food, we should not be buying with the idea and notions attributed to our diet – that means no magic weight loss foods for your pup, no low fat, no Atkins diets. High moisture content, veggies, and fruits to simulate real-life prey tastes and flavors, supplemented with that enormous content of protein and mid-levels of fat are ideal for your perfect pit-bull.
Clean your dog's bowl always before feeding. Wash kitchen utensils and surfaces thoroughly to avoid cross-contamination, harmful bacteria, and other nasty pathogens.
You Can Buy Dog Food Online
We know you could just grab your car keys and hurry down to the nearest convenience store to grab that right back of dog food (preferably from our list) for your furry friend.
But with the convenience of the internet right at the tips of your fingertips, why not just buy online? All our recommendations are available on Amazon so they can be delivered right to your doorsteps in a matter of days. As well as that all our products are well-rated and testified with real reviews from customers that cement their quality, and assurance in the product.
We have faith in it, they do as well and so should you.
---
Final Thoughts
---
Well, a dog owner will always know completely well how much they end up caring for the canine friends.
Bully's high-performance dog food still remains the best pick for its high protein and fat content, grain-free, no preservatives and additives, and joint health, and naturally sourced ingredients. Its high-calorie count per cup also makes it economically a good bargain for the long term. So even if you're paying more at the beginning than other alternatives, you are guaranteed to get more bang for your buck in the long run.
At the end of the day, it pays to buy premium ingredients with no nasty preservatives or additives as the health of your companion matters more. When you see your pup growing strong and healthy and loving every day, It is guaranteed that you'll find every morsel worth it.