The best dog food for weight gain is Bully Max High-Performance Super Premium Dog Food.
Have you ever walked in on your pup devouring his bowl of food with such enthusiasm, only to find out that he's not gaining any weight?
Well, it turns out that some dog foods are better for weight gain than others. You might be wondering why this is the case. The answer is simple: protein!
A dog's metabolism works differently from a human's, so they need more protein to maintain their body mass than we do. Protein will help them burn off fat and build muscle, as well as keep them satisfied longer since it takes longer for the stomach to digest protein-rich foods.
These best dog foods for weight gain will make the process of sustainable bulking a smooth one that results in having a healthy and happy dog for years to come. So without further ado, let's jump into our top picks!
#1 Bully Max High-Performance Super Premium Dog Food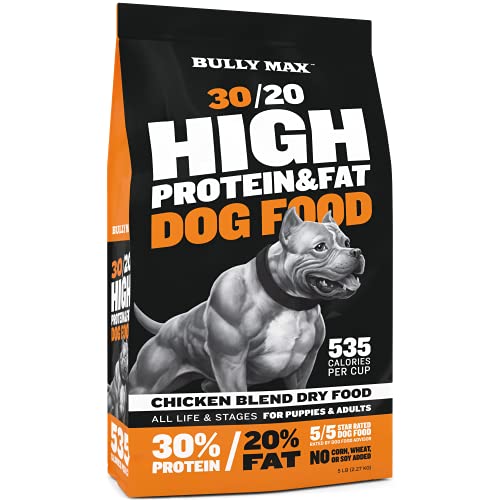 Bully Max High Performance Super Premium Dog Food (15 lbs.)
The ONLY 5 Star rated performance dog food. Rated by the world's #1 online dog food review site.
The ONLY Meat Based formula in its class. Unlike other brands which are plant based, Bully Max dog food uses real meat...
MORE CALORIES than any other formula in its class (535 per cup). When you feed your dog Bully Max high performance dog...
If you're looking for dog food for weight gain and stamina, look no further than Bully Max High-Performance dog food. This dry dog food is a top-rated brand with 5 stars that includes a meat-based formula sure to help your dog create healthy eating habits.
There are 535 calories in a single serving, and are also packed full of protein and beneficial fats. One feature that really helps set this brand apart from the rest is that only high-quality natural ingredients are included, as opposed to soy or wheat. Natural ingredients alone make this dog food worth the price advertised.
This dry dog food for weight gain is ideal for use as a long-term diet plan for larger dog breeds, as it ensures that they gain both a healthy amount of weight and muscle. Unlike other brands, this dog food is perfect for all breeds, even small Yorkies or chihuahuas. However, your dog must be at least 4 weeks old before consuming Bully Max.
Bully Max's high-performance premium dog food provides essential weight-gaining calories and protein stemming from its purely meat-based formula.
Pros
---
This 15-lb bag of dog food is the only meat-based brand in the same category, and this is because most options available are plant-based.
It comes in a chicken blend and is rich in nutrients, which can be enjoyed by doggies in all life stages, which means both puppies and adult dogs can eat this dog food.
It contains 30% protein and 20% fat, which means it helps your pups with weight management, managing their cholesterol levels, and giving them the energy to play.
This dog food formula provides about 535 calories, and this helps your doggies to eat less food, ensuring that the food you buy should last longer.
This is a perfect meal for your allergic furry friends as it does not contain wheat, soy, or corn.
Cons
---
Some pups experienced lethargy, vomiting, and bloody stool, and this means that the food affected their health.
Some dogs' behavior changed for the worse as some owners said their docile pups became aggressive and started biting.
#2 Blue Buffalo Wilderness Rocky Mountain Recipe
Blue Buffalo is a well-established dog food brand who is known for its high-quality products that can meet the special needs of pets. This particular dog food allows you to both save money and also make sure your dog gains a substantial yet steady amount of weight.
All the essential protein is included in this dog food for weight gain recipe, along with healthy fruits and vegetables that contain antioxidants, an important part of a healthy diet.
The bag sizes available for this dog food are 4 lbs and 22 lbs, giving you the option of a short-term or long-term investment with each purchase. Another benefit is that no chicken meal is included within the recipe and formula, as well as any preservatives or artificial flavor additives.
If you are looking for a quick way to help your dog gain weight on a budget, this is your best bet. It is important to consider its meat-based formula that includes bison, an ingredient whose quality is unmatched in this price range. All-natural ingredients are usually found in higher price ranges, so this dry dog food for weight gain is a great value.
Pros
---
This dog food is available in a 22-lb bag and contains real bison, which helps to maintain lean body mass, and Lifesource bits, which your pup will enjoy for a while.
Aside from bison, the dog food contains sweet potatoes, peas, and other natural ingredients that give it that natural taste that the pup will love.
Contains vitamins, minerals, and antioxidants, which help to boost immunity while providing nutrients at all life stages.
Rich in fats, such as omega-3 and omega-6, which help to keep your doggie's skin healthy and give them a shiny coat.
It does not contain artificial ingredients, soy, wheat, corn, and other animal by-products, which makes it an ideal option for those will allergies.
Cons
---
Some doggies experience diarrhea or loose stool, and this is due to digestive tract sensitivity.
There are doggies who do not like the smell or taste of the food, and this could be because they don't like some of the ingredients in this dog food.
#3 Crave Grain-Free Adult Dry Dog Food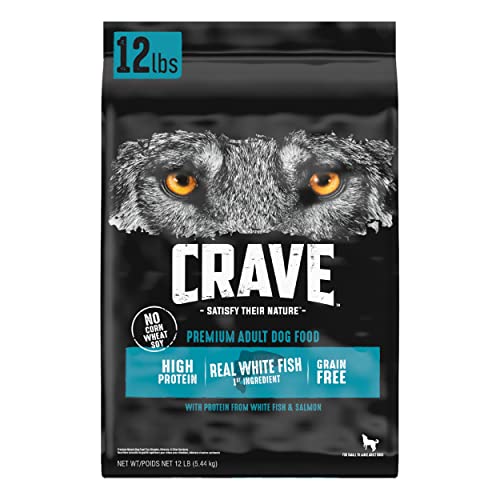 Crave is one of the best dog food brands if you are looking for dry dog foods to help your dog of any breed gain weight, especially if they prefer seafood. The recipe and formula for Crave slightly differ from the other brands, as it contains salmon as its main ingredient.
The salmon used is authentic and is a fantastic source of protein for your dog. It is also safe to say that your dog's overall well-being and activeness level will increase due to the healthy carbohydrates that can be used as an energy source.
The high-protein content stemming from its stand-out formula is also another bonus, ensuring that your dog will gain much-needed weight and muscle, no matter the size or breed.
Pros
---
Available in a 12-lb bag that contains adult dry dog food that contains salmon, white fish, and it is also grain-free, and this means that more adult doggies can enjoy the taste and health benefits.
It is made with natural ingredients like real meat and white fish as the first ingredient and also contains 34% protein that helps your furry friend maintain a lean yet strong body.
The dry kibble is free of grain, wheat, soy, and artificial flavors, so it is suitable for pups with allergies or sensitive digestive tracts.
It contains carbohydrates like peas, and they provide your pup with energy to play or train.
This dog food contains vitamins, antioxidants, folic acid, and many other minerals, which boost your doggie's immune system and overall health.
Cons
---
Some pups urinated and pooped more often than usual after eating this dog food.
Other pups seemed lethargic and too tired to perform regular activities after eating this dry dog food.
#4 Purina Pro Plan SPORT Formula Dog Food
SALE ALERT!!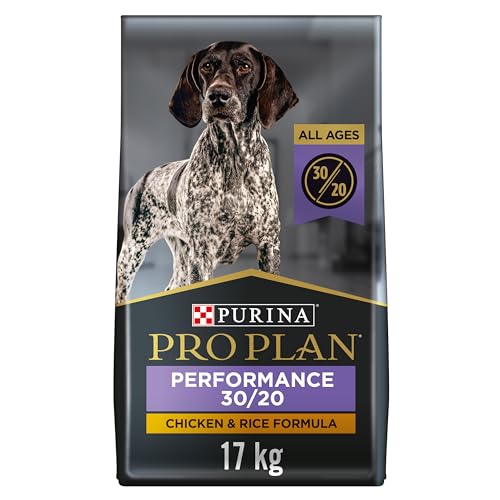 Purina Pro Plan SPORT is a special dry dog food that can help your dog pack on weight in a healthy way. The sport-inspired formula is ideal for most dog breeds, especially for dogs that compete in competitions or are more active. The main ingredient in this dog food for weight gain is real chicken.
There is an astounding amount of protein and fat that specifically caters to your dog's metabolic needs and muscle retaining abilities. This dog food includes multiple health-based additives, such as essential amino acids that help prevent your dog's muscles from cramping or aching during much-needed exercise and fitness periods.
That way, whether it be training for a competition or a simple stroll through the park, your dog is covered.
The ingredient that makes this dog food stand out is its amino acids. They can help your dog grow at a healthy rate, which is just one reason we highly recommend this dog food for weight gain.
Pros
---
Available in a 37.5-lb bag of adult dry dog food that is suitable for pups at all life stages thanks to its natural ingredients.
It contains a high protein formula, which is a 30/20 Chicken & Rice Formula that helps your doggie maintain a lean body mass.
The concentrated nutrition value in this dog food (VO2 Max) helps to boost oxygen metabolism, and this is what gives your pup endurance while playing or training.
It is rich in vitamin A and omega-6 fatty acids, and this gives your dog smooth skin and a shiny coat, while EPA, omega-3, and glucosamine are responsible for their bones, joints, and mobility
Contains amino acids, which nourish your doggie's muscles after training sessions.
Cons
---
Some loyal customers feel that the formula and taste of Purina Pro Plan have changed, which means some furry friends do not eat it as well as they should.
Some doggies experienced loose stool and upset stomachs after a few days of eating this dog food.
#5 Purina ONE True Instinct High-Protein Dry Dog Food
Although it is one of the most common dog food brands, Purina ONE True Instinct high-protein dry dog food is another effective way to help your dog reach a healthy weight.
If your dog is a picky eater, besides 100% real beef, this dry dog food is also mixed with salmon, guaranteed to whip up an appetite. Each serving of True Instinct dog food contains 32% of protein and is formulated entirely without grain, even though there are some sources of potato-source ingredients as the leading vegetable in the formula.
Thankfully, no corn, wheat, or harmful soy products are included in the recipe. Helpful vitamins and minerals, such as glucosamine, are included in every serving. Pairing with its use of real beef as the number one ingredient, this makes it a premium choice.
Purina ONE True Instinct has all of the basics your dog needs for both gaining and maintaining a healthy weight in relation to its size. From simple vitamins and minerals to a high count of protein, this dog food provides a great start in improving your dog's overall well-being and bulking up.
Pros
---
Available in a 27.5-lb bag that contains natural ingredients and real beef and salmon, which is great tasting for many pups.
The dog food contains real beef as the first ingredient and is 32% protein in each serving, and it helps your pup get strong muscles and a healthy heart.
Contains essential fatty acids like omega-6 and glucosamine, both of which help with a shiny coat and healthy joints.
The dog food is a mixture of crunchy bites and tender, meaty morsels that give your pup more energy and a strong immune system.
It is ideal for most pups because it does not contain animal by-products or fillers, such that each ingredient has a health purpose for your doggies.
Cons
---
It can be too salty for some doggies, and this makes them drink more water than usual.
There are pups that experienced diarrhea or loose stool after eating this dry dog food.
#6 Eukanuba Premium Performance SPORT Adult Dry Dog Food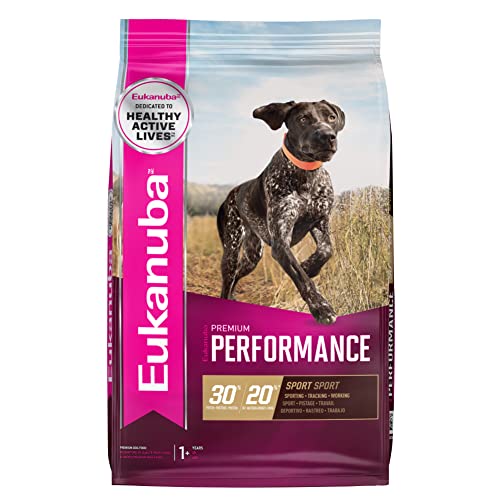 Eukanuba Premium Performance Adult Dry Dog Food
Eukanuba Premium Performance 30/20 SPORT – nutrition with a ThermoEdge. The only formula field tested to help reduce a...
Formulated for sporting, tracking, and working dogs with an optimal nutrient ratio of 30% protein and 20% fat to help...
Supports sustained performance with animal-based proteins to deliver essential amino acids to aid in strengthening and...
While other dog food brands advertise their dog foods toward dogs of different ages and breeds, Eukanuba Premium Active Adult Dog Food is clearly only for adult dogs. This is not a dog food suitable for puppies; however, it can be very effective in bulking up your adult canine.
Not only is Eukanuba perfect for adult dogs who need to gain weight and overall muscle mass, but it is also effective for adult dogs that are constantly training or working.
There is a high amount of both protein (minimum 30%) and fat (minimum 20%) that helps to promote sustained muscle growth and prevent muscle issues later on in life. This dry dog food is a great start to helping your dog maintain a well-balanced diet that is packed with healthy nutrients.
We highly recommend this dry dog food for healthy weight gain, as well as both for its energy-boosting and unique dental cleaning abilities.
Pros
---
Available in a 30% protein and 20% fat formula with Thermoedge that helps with sporting performance, which means it gives them energy and muscle integrity.
Contains glucosamine, chondroitin sulfate, and EPA, and they help with joint health and mobility.
Contains a blend of fibers and prebiotics that helps their digestive tract and bowel movement.
The dog food bag comes with a resealable opening, and this keeps the food fresh and dry for a long time.
Contains an antioxidant cocktail to boost immunity and promote post-training body recovery, which is ideal for tracking dogs, sporting dogs, and working dogs.
Cons
---
Some pups take some time to get used to the unique-tasting formula this dog food offers and may not eat as much as they should at first.
Some pups may be sensitive and allergic to some of the ingredients in the food, and this causes vomiting or loose stool.
#7 Taste Of The Wild Dry Dog Food With Roasted Bison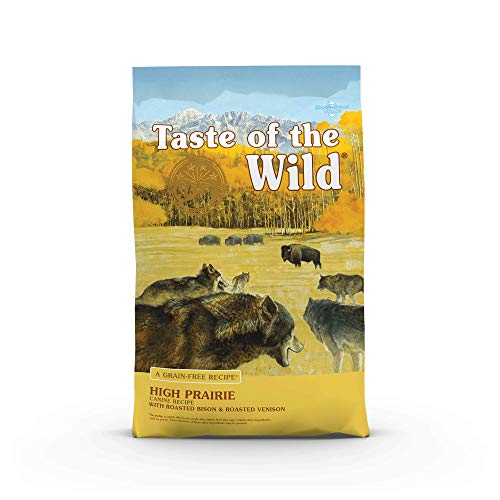 Looking for a way to help engage your dog's natural carnivorous instincts and to help your dog gain weight and maintain it for its size? Taste of the Wild dry dog food with roasted bison has you covered. It is made up of 32% protein to help support healthy, lean muscles.
This dog food also has antioxidants for a healthy immune system along with prebiotics and probiotics for digestive health.
The ingredients used are sourced from reliable locations, and no artificial flavors are added due to the flavor-packed recipe and formula. No eggs or egg products are included in the recipe, which makes it ideal for dogs who have specific allergies or sensitivities.
If you have a dog with a sensitive stomach, then this is the perfect dog food that will allow them to bulk up.
Taste of the Wild is ideal for dogs who may have sensitive food allergies or trouble digesting their food, especially dry food. We recommend this dog food for weight gain, as its natural and homegrown ingredients are an excellent addition to your dog's diet.
Pros
---
Comes in a 28-lb bag of adult grain-free dog food, which contains real meat as the first ingredient.
It is a high-protein formula of about 32%, and it helps give them lean, strong muscles as well as a strong bone structure.
Contains fruits and superfoods that provide vitamins and minerals to your pup, and this helps to boost their immunity.
Contains prebiotics, probiotics, and antioxidants, which boost proper digestion and overall health.
The dog food contains roasted bison and venison, which also contain omega fatty acids for a shiny coat and smooth skin.
Cons
---
Some doggies may not like the taste of ingredients like fruits, bison, or venison, which means you will spend more money buying another alternative.
There are pups that experienced stomach upsets and diarrhea after eating the dog food, and this could be an allergic reaction to some of the ingredients.
---
Dog Food For Gaining Weight Buyer's Guide
---
Some dogs are naturally more active than others, and some need to gain weight because they could be underweight. The best dog food for gaining can vary depending on the type of breed or individual needs but there is always a way to help your pup pack pounds!
The most important thing you should do when looking at how much time they spend outside each day is to carefully consider their diet, starting with breakfast. From that point onward, make sure all meals meet their nutritional requirements as well as pack in extra calories with treats whenever possible – so if you're not giving them anything else during the evening, then supplement it by adding something like peanut butter onto his kibble before bedtime for instance.
Work With Your Vet
It is extremely important that you work alongside your veterinarian when choosing to help your dog gain weight. A dog that is underweight needs to be examined to check if there are any underlying health issues that are the root cause. Dogs that are underweight could be suffering from diabetes, dental problems, thyroid irregularities, or worse.
Only after getting screened by a licensed professional should you start altering your dog's diet to help reach a healthy weight. Your veterinarian may also recommend a specific meal plan or dog food brand that is tailor-made for your specific pet, so make sure to consult a professional so that your dog's needs can be met in the best way possible.
You can use the dog foods in this guide to show your veterinarian and see if they might be good for your dog's specific situation. Most, if not all, of the brands on this list are dog foods of good quality, and it is thus likely that they will be approved for use with your pet. However, it is still advised that you ask, just in case.
Related: Best High-Protein Dog Food
Start Slow And Take Your Time
Weight gain in dogs is a gradual process. It is imperative that you take the time and effort necessary to build your pet back up to a healthy weight without creating other problems that will affect it down the line. In order to feed a malnourished dog safely, a change in feeding habits is required.
Some recommended techniques involve feeding your dog more often or letting the dog eat on their own schedule with the owner refilling the food bowl as needed. Perhaps use calorie-dense treats, which can be a valuable addition to a high-calorie diet.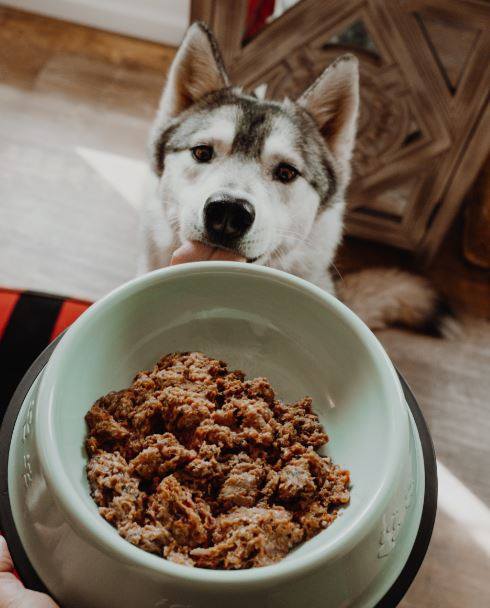 Read Up On The Ingredients List
Not only can reading the ingredients list inform you of what you are considering purchasing, but it can also prevent potential incidents or mishaps. While all of the food and brands listed here are healthy and effective, it is important to be cautious.
Read up on the list of ingredients and make sure there are no ingredients such as eggs that may be common allergic ingredients for dogs. The ingredients list can demonstrate how nutritious the food is and what functions it can improve.
Pay Attention To The Serving Sizes And Calories
Calorie counting is an important part of effective weight gain. While you may count calories to lose or gain weight, this can also be an essential step in helping your dog as well. This process can be difficult at first, especially if you take into account your dog's metabolic levels (it is best to receive this information from a trusted veterinarian).
If your dog does actually need to gain more weight, it is best to select a high-calorie dog food with a higher fat percentage. An added supply of protein is not required but can be beneficial, especially for dogs of smaller breeds. Instead of looking at the suggested or totaled calorie amount for an entire bag (whether it be 20 lbs or a smaller, 4-lb bag), start to look at the servings and suggested cup sizes.
Cup size information can be found on the back of the bag, where other listed ingredients are found.
If you would like a more precise amount, assessing information from reputable internet sources and your personal veterinarian is a great option. Calorie counts and serving amounts are other important factors to review when making your purchasing decision. If you want to bulk up your canine, you have to be extremely precise with the food that you give to it.
Related: Best Affordable Dog Food
---
Final Thoughts
---
Even though there are several dog food brands that supply protein and help your dog gain weight, our top pick remains the best compared to other popular, more widely available brands you may come across in other places.
It has also an impeccable rating and many satisfied customers who have seen real results. The all-natural ingredient list paired with the entirely meat-based formula is worth the premium price.
However, most of the dog foods on this list are viable alternatives and can be more suitable for your budget or preferred meat of choice. These dog foods can help your dog become more active and attain a healthy weight through bulking up.