The best ultrasonic dog bark control device is PetSafe Indoor Bark Control Ultrasonic Pet Training System.
Despite our love and best intentions for our dogs, they can sometimes be extremely loud and frustrating, especially when the dog has a loud resonating bark.
The behavior can cause inconveniences for you and your family.
Thankfully, this errant behavior can be rectified using the best ultrasonic dog bark control device.
In this article, we look at the top 8 ultrasonic bark control devices on the market today. Also, we have provided a detailed buying guide to help you make a more informed decision when looking for the best ultrasonic bark dog collar.
#1 PetSafe Indoor Bark Control Ultrasonic Pet Training System
SALE ALERT!!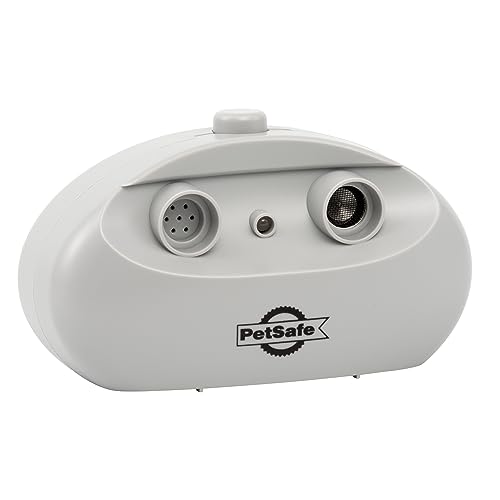 Our top ultrasonic bark deterrent device is the PetSafe Indoor Bark Control Pet Training System, which is a strictly indoor tabletop device designed to stop your dog's annoying barking and bring peace and quiet into your home.
Simply place it on a table in a room where your dog barks the most and it will release an extremely high pitched 2-second ultrasonic tone that's unpleasant to your dog. Pretty soon your dog will start associating the unpleasant ultrasonic sonic with its barking behavior and stop barking in just a few days.
The PetSafe Indoor anti barking ultrasonic device has a range of 25 feet, which is basically the size of 1 or 2 rooms in a typical house. You can set the device to deliver the ultrasonic tone automatically every time your dog barks or you can manually press a button to release the sound when the dog becomes too loud.
This bark deterrent unit uses a 9-volt alkaline battery that can last for as long as 6 months depending on how often your dog barks.
This is a safe and harmless bark control device that can be used on dogs of any size or breed. It comes with a strong microphone that can detect your dog's barking and avoid false corrections. If you're looking for an affordable, versatile, and safe bark deterrent device, the PetSafe Indoor bark control system is your best option.
Pros
---
The high-pitch correction tone produced by PetSafe's bark control training system is safe for the canine ear and usually inaudible to most humans.
This ultrasonic system can either be automatically activated by a pooch's bark or manually activated by customers with a range of up to 25 feet.
The LED light on PetSafe's bark control system indicates when the device is active and also alerts customers when the product's battery is running low.
The PetSafe indoor bark control system is easy to set up, with customers just needing to place the device on a table or counter within a short distance from the barking pooch.
Customers can either choose to add more units of the PetSafe bark control system to provide more range for rooms larger than 25 feet or set up separate devices in each room.
Cons
---
This product doesn't come with an ON/OFF switch, which means that customers usually have to put and remove the batteries to either use the device or turn it off.
Some dogs have reportedly been able to adapt to the ultrasonic frequency produced by this device which, in turn, reduces the system's effectiveness at curbing incessant barking.
#2 Zelers Upgrade Rechargeable Mini Bark Control Device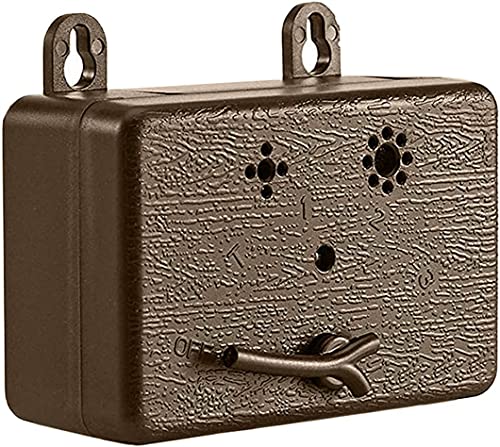 Our most budget-conscious ultrasonic dog anti-bark gadget is definitely the Zelers Upgrade Rechargeable Mini Bark Control Device. This is a solid bark control unit designed in a black box shape but with a host of features and functions to prevent your dog from barking unnecessarily.
The Rechargeable Zelers Mini Bark Control is designed for both indoor and outdoor uses. It comes with 4 range levels to choose from and can even detect a dog barking 50 feet away.
This can be used on dogs of any size although the manufacturer insists on using it on dogs aged 6 months and above. It's run by a rechargeable battery that can run for a whole month from a single charge.
The unit has a low power indicator that shows you when to replace the battery. It's an easy-to-use ultrasonic anti-bark control unit that can easily be hung on a wall, fence post, or tree.
The Zelers Upgrade Rechargeable Mini Bark Controller is a budget-friendly anti barking device with all the key features found in other higher priced models. Its adjustable ultrasonic levels are safe for dogs of all sizes and ages. It's an easy-to-use device that you can even mount on a tree or fence post outdoors. It also comes with a No Bark Guarantee from the manufacturer. If your dog doesn't stop barking after using the product, you can return it anytime and get a refund.
Pros
---
The high-frequency sound produced by this Zelers device is humane and doesn't have any damaging effect on a pooch's hearing.
The lightweight and portable design of the Zelers mini bark control device, as well as the inclusion of hang holes, ensures that this product can be conveniently mounted on trees, walls, and fence posts.
This mini bark control device from the Zelers brand comes with 4 different levels of operation – including a test mode – to ensure that customers can make adjustments to suit their dog's individual needs and personality.
The sensitive microphone contained in the Zelers bark control device can effectively isolate and pick up a dog's bark from up to 50 feet away.
This device comes with a no-bark guarantee from the Zelers brand, which makes it possible for customers to return the product if it doesn't curb their pooch's barking.
Cons
---
The absence of indicators on this product makes it difficult for customers to tell whether the device is on or off.
Several customers have commented that the instructions that came with this product were not helpful in helping them to set up the device.
#3 Frienda LED Ultrasonic Dog Repeller & Trainer Device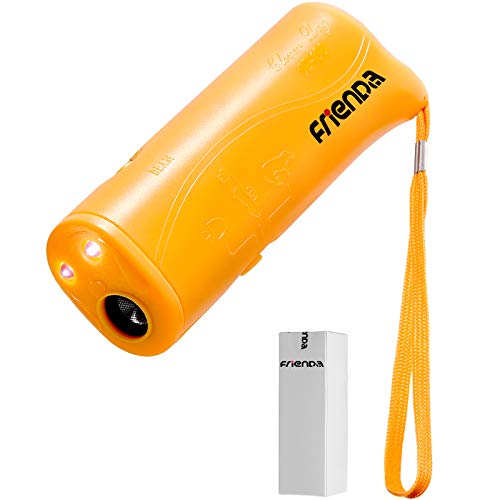 If you're looking for an effective solution for your dog's annoying barking, then you may need to check the Frienda LED Ultrasonic Dog Repeller. This is a 3-in-1 anti-bark handheld dog training device that produces a high pitched sound audible only to the dog and completely harmless to humans and other pets.
It's quite easy to use too. Just press a button on the sonic bark deterrent device for a second or two and give a verbal command like "Quiet" or "Stop!" and the device will release a strong ultrasonic wave that will instantly stop the dog's bad behavior.
The Frienda LED Ultrasonic Dog Repeller is a conveniently portable handheld pet trainer that's 100% safe for your dog. It may however not work as efficiently on large dogs as it does for smaller breeds.
Pros
---
The lightweight and portable design of the Frienda ultrasonic trainer product makes it convenient for customers to carry the product around for on-the-go use.
The powerful LED light included on the Frienda bark control device ensures that this product can be comfortably used as a flashlight.
In addition to being used as a bark control device, this Frienda trainer device can also be used to effectively resist and prevent dog attacks.
The Frienda trainer device is easy to use, with customers just needing to press and hold down on the button for a few seconds to stop their pooch's barking.
The ultrasonic frequency produced by this Frienda device is harmless to both dogs and humans, which ensures that it can be safely used to control a pooch's barking.
Cons
---
This Frienda product is inconsistent as it has a tendency to be selective when being used to control a pooch's barking.
Several customers have commented that they were unable to comprehend the instructions that came with this product.
#4 BarxBuddy Anti-Bark Dog Training Device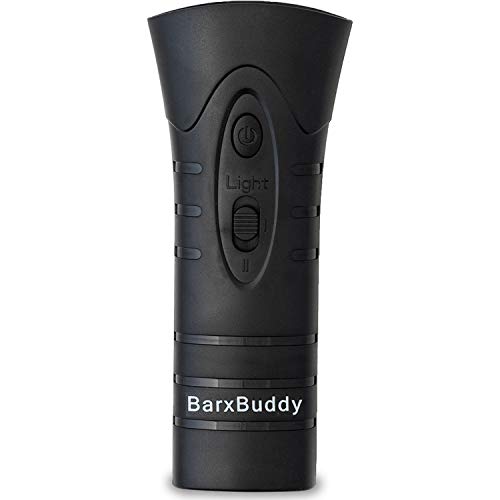 BarxBuddy's anti-barking device is the perfect device to stop actions such as chewing, fighting, digging, eating unsafe foods, and other unwanted behaviors. It creates an ultrasonic sound within a pooch's hearing range of 15 Hz to 120 kHz, and the sound grabs the attention of your dog.
Since a human's hearing range is between 20 Hz and 20 kHz, you will not hear it. It is portable and handheld, meaning it can be used anywhere for dog training at home, in the park, or inside your car. The barking device comes with a wrist strap and will comfortably fit in your pocket, making it safe and easy to use.
It features an LED flashlight with multiple settings, which you can also use to stop an approaching pooch. Holding down the button emits an ultrasonic sound while flashing the bright LED, stopping a dog's behavior.
BarxBuddy is a modern ultrasonic device capable of creating a high-pitched noise that only dogs can hear, and it stops dog barking almost immediately. In addition, it stops other dogs from approaching you or near this device while walking, cycling, or jogging.
Pros
---
The BarxBuddy bark control device is handheld and portable, which makes it suitable for use in training dogs at various locations.
The bright LED flashlight that comes with this BarxBuddy training device provides customers with a way to stop approaching dogs and also provides illumination in complete darkness.
The BarxBuddy anti-bark product is easy to use, with customers simply needing to point and click the device at their canine buddies to release frequencies that train a pooch to stop barking needlessly.
This anti-bark training device works to curb incessant barking on pooches of all sizes and breeds, with a range of up to 20 feet.
This device is powered by a 9V battery, which also comes included with the product package.
Cons
---
Several customers have remarked that this product didn't do anything to stop their canine buddies from barking.
Some customers have also bemoaned the poor quality of the plastic material used to produce the BarxBuddy anti-bark device.
#5 Good Life Inc. Bark Control Pro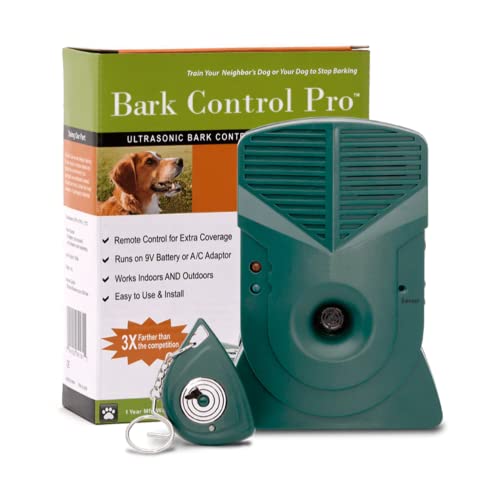 Is your dog or your neighbor's denying you the peace and quiet you long for in your home? Make all the dogs in your immediate surroundings stop their loud annoying barking using this Good Life Inc. Bark Control Pro device.
This device has an adjustable bark sensor that allows you to lower or raise sensitivity level and silence dogs both indoors and outdoors.
The device emits a high pitched sound that a barking dog will find extremely irritating. It also comes with a remote control that you can use to manually control dogs beyond the device's 50 feet automatic range.
This is a great bark deterrent device for both indoor and outdoor use. It has a wide automatic detection range of up to 50 feet and is quite easy to use. You can rely on the Good Life Pro to make your neighbor's dog stop its noisy barking.
Pros
---
The high ultrasonic sound produced by the Good Life bark control device is an effective and humane way of stopping dogs from incessant barking.
The Good Life Bark Control Pro can automatically detect barking dogs within range to trigger the release of ultrasonic frequencies and customers can, as well, manually activate the device to curb barking pooches that are outside the auto-detection range.
The portable and lightweight design of the Bark Control Pro, as well as the inclusion of an adjustable wrist strap, makes it convenient for customers to carry the device around for on-the-go bark control.
The bark sensitivity dial that comes with Bark Control Pro can be used to adjust the sensitivity of the microphone to improve the accuracy of the device's bark detection.
In addition to its ultrasonic sounds, this device also has an audio mode where an audible tone, paired with training commands, is used to control pooches instead.
Cons
---
Multiple customers have commented that this bark control device tends to use up batteries pretty fast, making battery replacement a costly affair.
The Bark Control Pro tends to shut down unexpectedly when exposed to strong winds.
#6 STOPWOOFER Ultrasonic Dog Training And Bark Control Device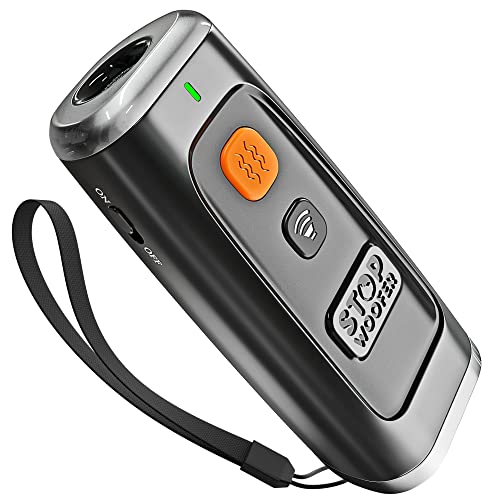 STOPWOOFER ultrasonic bark control device is an innovative solution that helps correct unwanted dog behavior and barking. It has a set ultrasonic frequency of 25 kHz that affects dogs and rectifies any lousy behavior.
The ultrasonic device can be used for pooch training anytime and anywhere, whether during your walks or at home. It is effective for dog sizes ranging between 5 lbs to 120 lbs and aged between 6 months to 8 years.
In addition, it has a built-in safety feature that shuts off automatically if its activation button is triggered beyond 8 seconds long. This way, it protects the dogs' sensitive hearing.
The bark control device is rechargeable and gets fully charged in two hours. Once charged, this device should last you for about 14 days, which is an ideal duration for behavioral training.
STOPWOOFER ultrasonic bark control device should be your go-to option if you want a straightforward device. It works by just pressing a button, and it can perfectly fit in your hand and be carried in your pocket.
Pros
---
The security keypad lock on the STOPWOOFER bark control device can be toggled ON or OFF to prevent the device from being activated due to accidental pressing.
This bark control device works with a rechargeable battery, and it also packages a USB charging cable that can be conveniently used to recharge the device whenever it is low.
The STOPWOOFER bark control device automatically shuts down after 8 seconds of releasing ultrasonic sounds to protect dogs from overexposure to this frequency.
This STOPWOOFER device features four different training modes, with contrasting effects and durations, that a customer can use on their pooch, depending on such a dog's temperament.
With a compact design, this bark control device weighs approximately 2.2 oz, ensuring that customers can conveniently carry it in their pockets and use it anywhere.
Cons
---
Feedback obtained from multiple customer reviews suggests that this product tends to be less effective on larger dogs.
Customers have also mentioned that this product typically fails to stop over-excited dogs from barking.
#7 Esosy Anti-Bark Device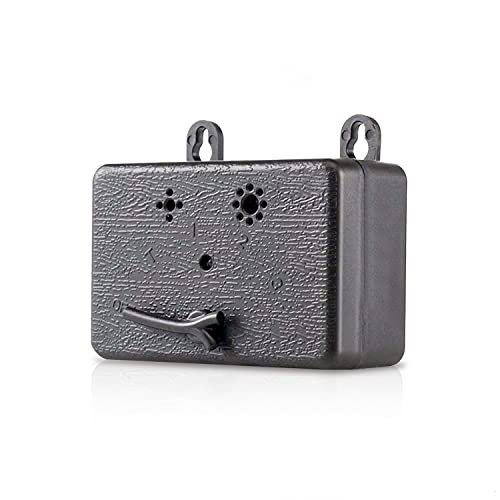 Coming with a luxurious design, the Esosy anti-bark device boasts the ability to make your dog happy and feel good. This updated ultrasonic dog bark deterrent also comes in handy whenever you're training your dog.
It is designed to emit high-pitched sounds, with an ultrasonic penetration range of 32 ft, covering a big area, both indoors and outdoors. In addition, the ultrasonic bark control automatically stops high-pitched emitting sounds when the dogs stop barking.
Fortunately, these ultrasonic sounds will not cause any human interference since only dogs can hear them. However, not all dogs will exhibit the same sensitivity to ultrasounds. So, you should always test various frequency bands by adjusting the knob and observing your dog's reaction.
Unlike a traditional dog training device, the Esosy Anti-bark device lets you train your dog hands-free. Its powerful battery and great ultrasonic penetration range provide a continuous operation and an impressive performance in training your dog's behavior.
Pros
---
The test mode of the Esosy anti-bark device can be used by customers to verify that the product's speaker and microphone are working optimally.
The inclusion of hang holes on this Esosy device makes it convenient for customers to mount the product on the wall, trees, and other elevated surfaces.
The Esosy anti-bark device is rated IPX4 waterproof, which makes it capable of surviving damage from a certain level of exposure to moisture when used outdoors.
The control lever of this Esosy product can be used to switch through the product's four levels of operation, which also includes a test mode, depending on a pooch's specific needs.
The Esosy anti-bark device is reportedly capable of detecting and being triggered by dog barks, with ultrasonic penetration, within a range of 32 feet.
Cons
---
Several customers have commented that this product is not effective at getting their pooches to stop barking.
There have also been reports about the batteries of this anti-bark device running down rapidly, needing a battery replacement within a very short period of use.
#8 Elopaw Dog Barking Deterrent Device
SALE ALERT!!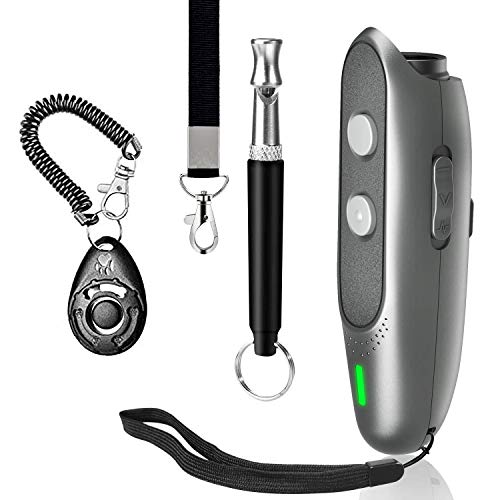 The Elopaw Dog Barking Deterrent Device has a wider frequency range between 15 Hz to 120 kHz. It also features three different frequency waves that ensure your dog won't get used to. The 16.5 ft controls range also ensures convenient outdoor use. It fits well in your hand and includes an adjustable wrist strap for comfort.
It emits ultrasonic sounds at about 25 kHz, which is still above the human hearing range. This way, the device can grab the dog's attention, make them feel uncomfortable and, in turn, help them stop their bad behaviors.
Additionally, this barking control device comes with a rechargeable 300 mAh battery that provides a full charge in about two hours, and the charge can last up to 12 days of consistent use.
Finally, the human beep function is important for conditioned reflex as you can easily press the beep to help dogs understand their bad behaviors.
With a broad 16.5-ft range and wider frequencies spanning from 15 Hz to 120 kHz, the Elopaw Dog Barking Deterrent device is a reliable choice and should serve well for most dog breeds. In addition, the three different frequency waves ensure your dog doesn't get used to one simple frequency, improving the training results.
Pros
---
The Elopaw barking deterrent device works with three frequency waves that customers can switch between to effectively control their pooch's barking.
Users of this Elopaw device can choose between ultrasonic or audio modes, depending on a pooch's temperament, to control a dog's barking.
The Elopaw barking deterrent device is designed to fit seamlessly on a customer's palms, with an anti-static wrist strap also included to provide a firmer grip and make it easier to carry the device.
The 25 kHz frequency produced by this product provides direct control at an effective range of 16.5 feet, which is suitable for indoor use.
The human beep function of this Elopaw device provides a way for customers to help their pooches identify and correct unwanted behaviors.
Cons
---
A considerable number of customers have commented that the beep produced by this device isn't sufficient to grab their pooch's attention and stop barking.
Some customers have also expressed difficulties in comprehending the instructions that come with this Elopaw product.
---
Ultrasonic Bark Control Devices Buyer's Guide
---
It's quite natural for dogs to bark. When the barking becomes unbearably annoying then you need to take measures to stop it.
There are many ways to stop your dog from barking remotely but the most humane and effective method is by using ultrasonic dog bark control devices. This is a form of dog bark deterrent that is commonly used by dog trainers.
What Exactly Is An Ultrasonic Dog Bark Control Device And How Does It Work?
To know how ultrasonic dog bark control devices work, it's imperative to first understand what ultrasonic sounds are. Ultrasound tones are sound waves which when measured on human hearing frequency reach beyond 20,000 Hz. These are extremely high pitched sounds that humans cannot hear. Dogs can hear higher frequency sounds of up to 45,000 Hz, which is more than 25,000 Hz in comparison to what humans, with perfect hearing, can hear.
The ability of dogs to hear higher frequency sounds means that we can use ultrasound frequencies to train the animal without disturbing other humans. Ultrasound devices help to get a dog's immediate attention and correct any unwanted behavior such as barking, jumping on people, scratching, and biting just to mention a few. These devices use high pitched sounds to train your dog to be calm and quiet.
The extremely high pitched sounds produced by ultrasound devices are irritating to the dog and when automatically or manually emitted when the dog barks or misbehaves, will help stop the bad behavior. The dog soon learns to associate the irritating sound with unwanted behavior. The devices help to prevent and stop continuous barking to give you peace and quiet in your home.
Are Ultrasonic Bark Control Devices Safe For Your Dog?
Ultrasonic dog bark control devices are 100% safe for both you and your dog. The sounds emitted by these devices cannot damage dog or human ears. The sounds will be unpleasant to your dog but will not cause them any form of extreme distress except remind them to stop their bad behavior.
Ultrasonic anti barking devices work as a form of positive punishment to attract the dog's attention in a gentle and harmless way. The dog learns to associate the unpleasant sound or experience with barking or other bad behavior and eventually drops the unwanted habit.
Ultrasonic devices are more humane than other forms of anti-bark control methods such as shock and spray treatment. Ultrasonic sounds are safe and have even been tested by experienced professionals and vets and found to be harmless to pets and humans.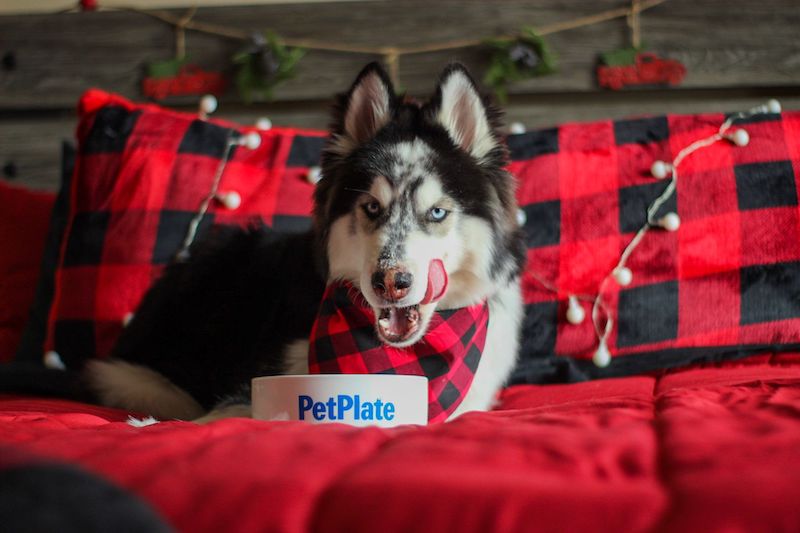 Things To Consider When Shopping For An Ultrasonic Bark Control Device
Finding the best ultrasonic anti-bark control device is not an easy task, especially when you are concerned about the welfare of your dog. Most customers are often worried about the possibility of the device to hurt their dog's ears or cause distress or unnecessary anxiety to their loving pet. You may also be too overwhelmed by the many brands and models of ultrasonic bark control devices on the market today to know the right product for your dog.
To help you narrow down your choices, here are some of the key factors to consider when shopping for the best ultrasonic bark control device for your dog.
Type Of Device
The type of device you choose will depend on your dog's barking behavior as well as how and where you intend to use the device.
For instance, if your dog is a frequent indoor barker, then you'll probably want to get an indoor ultrasonic unit or a handheld model. If the dog is a loud neighborhood nuisance, then definitely get an outdoor ultrasonic unit designed to withstand harsh weather conditions.
An outdoor unit, also called a birdhouse device due to its shape and design, will also need to have a good range of 50 to 150 feet. Indoor ultrasonic anti barking devices have a shorter range of between 10 and 25 feet.
Sound And Sensory Levels
A majority of ultrasound bark deterrent devices come with 3 sound and 3 sensory levels. You can increase sensory range by feet and stop your dog barks from a longer distance. Sound levels refer to the intensity of the sound that the device emits.
If your dog seems to not respond to low levels of sound intensity you can increase the sound intensity to a level that has the most effect. It's therefore important to buy a device that allows you to adjust both sound and sensory levels.
Sensory Range
Different ultrasonic anti-bark devices have different sensory range distance but most come with a sensory range of between 20 and 50 feet. The range can be as little as 10 feet or as big as 150 feet. Your choice when it comes to the range will depend on your unique needs and situation.
For instance, if you spend lots of time with your dog outdoors or have a pretty big backyard then get a device with a long range. If your pooch spends most of its life indoors then a short-range device will suffice. For an indoor device, make sure it faces the center of the room so that the sensors can efficiently sense the origin of the bark.
Power
Ultrasonic anti-barking devices are powered by batteries. The device will need batteries to work so make sure to get a model with long-lasting batteries. Some models come with batteries included while others don't. The batteries usually last as long as 3 to 6 months depending on how frequently the device is used.
If possible, get a model that has an automatic power saving mode. This feature turns off the device when it's not being used to save battery juice. Most devices have an LED light that shows you when the battery is full and when it runs low. It will normally flash red when the battery is charged and red when the battery runs low.
PS: If you are looking for a stop-gap measure, here's a 15-hour playback of ultrasonic sound on Youtube.
---
Final Thoughts
---
Ultrasonic anti-bark devices are 100% safe methods of stopping your dog from barking incessantly. The devices won't affect your dog's hearing or welfare in any way but will help stop the annoying behavior. They work as a gentle sound reminder to the dog of its undesirable behavior so you can relax and have a good night's rest.
However, shopping for the best ultrasonic dog bark control device can be difficult given that there are numerous models and brands on the market today.
Our recommended product in this category is our top pick. It is durably designed and quite effective in performance. It comes with a strong microphone that can sense your dog barking anywhere in your home. The device is safe and can be used on dogs of all sizes and breeds.