The best outdoor dog bath is Flying Pig Pet Portable Bathtub.
Dogs have a love-hate relationship with dog baths and it is your job as the pet owner to get them on board with the process. One way to do this is using the best outdoor dog baths, where everything from the blue skies to the beautiful greenery distracts them from their fussing. In this case, here are 7 of the best options on the market for you to look into.
#1 Flying Pig Pet Portable Bathtub
SALE ALERT!!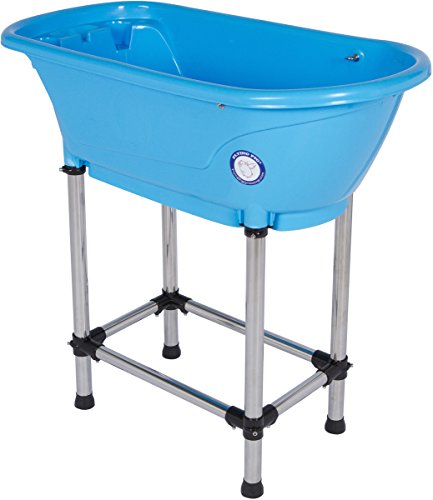 A deep basin is a great thing to have when it comes to outdoor dog baths. While spilling is not always an issue, especially on bare earth, no one wants their yard turned into a marshy mess after all the splashing about. At 24 inches long by 12 inches wide by 11.5 inches deep, our top pick offers you the benefit of having a roomy bath for your playful small and medium dog.
Another functionality feature for you to look forward to is the convenient 360° access offered by the elevated stainless steel stand design. With this construction, you can move around as your dog moves around in the tub for easy and stress-free cleaning.
One awesome standout feature you have to look forward to is the leveler. Sometimes outdoor spaces are not cooperative and you may not always find a perfectly flat surface on which to set up the dog bath. With this leveler, you can adjust the stand keeping the basin stable in such circumstances. The anti-skid rubber reinforcement on the feet further contributes to this stability ensuring your dog is safe even if they choose to play around during bath time.
It truly seems that the designers thought of everything with this dog bath ensuring a hassle-free bath time for both you and your dog. It is spacious and ergonomically built for the dog's comfort while you get to enjoy the convenience of all-rounded access, portability, and stability.
Pros
---
This outdoor dog bath measures 37.5 x 19.5 x 35.5 and can carry doggies of up to 150 lbs.
The basin is made of heavy-duty plastic material and is available in Blue, Royal Blue, and White.
The stand has four long legs with bottom pads and is made of stainless steel to hold up the basin during baths and also prevent you from straining your back.
It has an adjuster to help level the bath on uneven ground, and you enjoy 360° access.
It is easy to clean, lightweight, and portable, so you can easily fit it into a regular bathtub and also move it around when needed.
Cons
---
The bottom pads of the legs come off after a short time, making it hard to keep the bath in place.
Putting it together is a challenge, and the stoppers are hard to remove for some pup owners.
#2 Fuloon Kiddie Pet Pool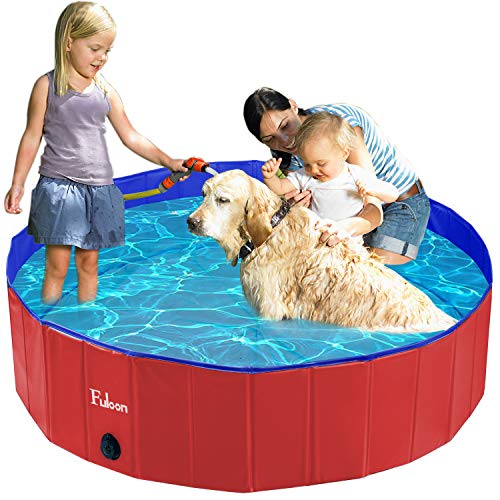 One way to get your dog on board with bath time as something fun is by turning it into a pool which is exactly what you have to look forward to with this pet pool from Fuloon. The best part is that you or your children could hop in there with the pooch for a truly good time as it can double up as a small above-ground pool.
Pools are fun and all but with all that space and excitement, aren't slip accidents inevitable? Glad you asked. This alternative comes with a non-slip inner lining design. You, therefore, do not have to worry about anyone including your dog getting hurt while in the pool bath.
This pool bath comes in red, blue, and orange. Besides, it is available in four different sizes; 32-inch in diameter by 8-inch depth, 39.4-inch in diameter by 11-inch depth, 47.2-inch in diameter by 11-inch depth, and 63-inch in diameter by 12-inch depth. Pick the right size and you can join your dog's pool party!
The best part is that you do not just have to wait to get home to enjoy the pet pool. If you are planning on taking a fun trip whether it is a picnic or a hike, you can simply tag it along and give your doggie something to look forward to after all the activities. It is easily foldable into a small compact package making portability an absolute breeze.
If you have the space for it in your yard and would like to make bath time more fun for your dog then this is a dog bath with a lot to offer you. In addition to the versatility in terms of how much fun you can have, the Fuloon Kiddie Pet Pool also offers convenience both in terms of use and portability. In a nutshell, all its perks make this dog bath more than worth its price.
Pros
---
This pet pool measures 32 x 8 inches and serves as a doggie bath, kiddie pool, ball pit, or even outdoor water pond, making it a versatile product.
It is made of extra-tough PVC material all around and a thicker slip-resistant material at the bottom, making it durable and easy to use.
It is easy to fold and store, which means you can take it with you as you travel with your pup.
It has a built-in functional plug, which drains out the water when removed.
It is easy to clean and maintain.
Cons
---
The wall of the pool either sags or folds inwards, making the pool hard to use sometimes.
Pups with claws can easily scratch or puncture the surface.
#3 Booster Bath Elevated Pet Bathing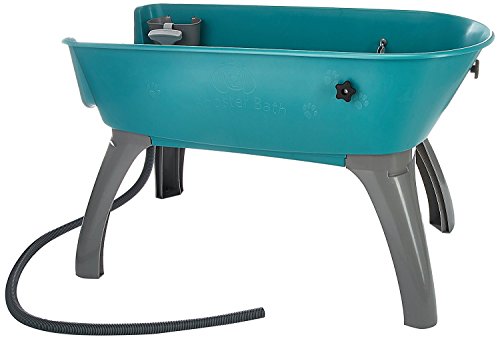 Safety should always be a priority for you whether it is an indoor or outdoor dog bath. With this option from Booster Bath, there are several measures in place to ensure that bath time does not end up being a disaster.
One measure is its built-in safety harness with a collar. You can use this to keep your excited dog restrained until you are done cleaning them up. Second, there is a non-slip mat on the base of the basin to help further protect the pooch from injuries during bath time.
Setting up this bath outdoor is also going to be super easy for you quick-snap legs. These will come in particularly handy if you want something you can easily move around for indoor-outdoor use or for packing during adventure trips with your dog.
Safety is clearly a priority with the Booster Bath Elevated Pet Bathing tub and you could consider it as an alternative to younger and more angsty, accident-prone dogs.
Pros
---
This is an extra-large bath measuring 50 x 21.25 x 15 inches for your doggie of up to 175 lbs, and it comes in a blue/gray color combination.
It has a 19-inch leg height with an overall height of 32.25 inches, which helps to prevent back pains while using the bath.
The legs snap on easily, so you can take them off to adjust the height or use the tub on its own as needed.
Has a 25-inch U-entrance, which helps your pup easily get in or out of the bath.
It has a 5-inch drain hose for proper water drainage after use and a fan nozzle with controls for easy rinsing.
Cons
---
The plastic is not scratch-resistant and cracks easily.
Some pup owners noted that the drain o-ring was missing from the pack, and this caused excessive leakage.
#4 ddLUCK Multi-Functional Collapsible Pet Bathtub
SALE ALERT!!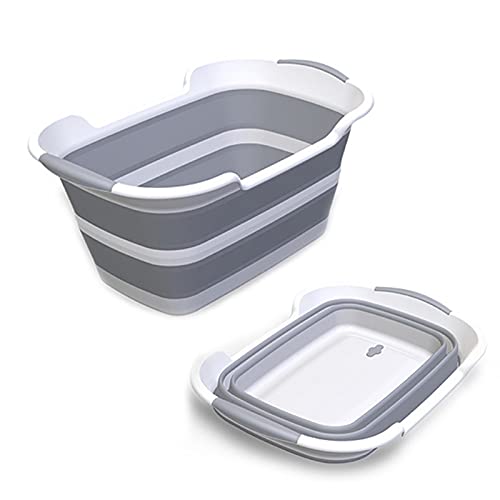 The ddLUCK pet bathtub is a multifunctional product constructed from durable polypropylene and thermoplastic rubber material and is intended for use in bathing small pets that weigh less than 33 lbs.
Apart from its use in bathing pets, the multi-functional ddLUCK bathtub can also be used as a large laundry basket, as a bowl for washing clothes, or as a storage organizer for both the bedroom and bathroom. The ddLUCK bathtub also comes with a convenient drainage hole for the easy disposal of wastewater.
This bathtub features a convenient foldable design that makes storage and transportation when traveling easy for users.
At maximum capacity, the dimensions of the ddLUCK bathtub are a width of 8.3 inches, length of 16.1 inches, and an 11-inch depth. However, when collapsed, the bathtub becomes 15.2 inches wide by 23.6 inches long, and the depth is reduced to just 2.3 inches.
The robust and durable build of the ddLUCK bathtub, as well as its suitability for use in a variety of ways, is something that most people will be grateful to have. Additionally, the fact that this foldable bathtub doesn't take up much storage space and can be easily packed for travel is the major takeaway.
Pros
---
This bath measures 24 x 15.75 x 3.25 inches and weighs 2.7 lbs, perfect for pups of up to 33 lbs.
It is collapsible, and this makes it easy to store away or take it with you as you travel.
It comes with a small but convenient drainage hole, which you open after bath time to easily drain the water.
It is made of strong PP and TPR plastic material, which makes it strong and durable, and it also comes in gray and green colors that you can choose from.
It is multifunctional and can be used as a storage for toys, pet products, and even fruits or vegetables.
Cons
---
Has a short return window of 30 days, which means you might be stuck with a faulty bath if it breaks outside of that time period.
It is too shallow for some pup breeds making bath time messier.
#5 Petsfit Foldable Dog Pool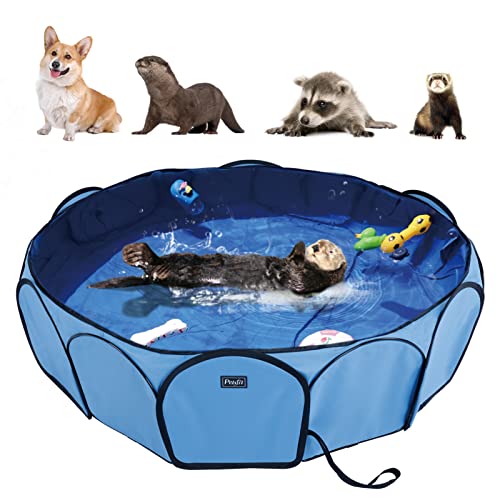 The foldable dog pool from Petsfit is one of the strongest dog pools on the market today. It is made of strong and durable PVC material. The pool doesn't have an outlet for draining off the water but you can easily push the panel inwards to empty the water out.
Weighing merely 3.7 lbs, its lightweight design makes it a makeshift bathtub anywhere you are outdoors and if your beloved pooch is in dying need of a proper bath. Spanning 41-inch in diameter and a 12-inch depth, it is able to bathe dogs of all sizes. Once done, it can be folded easily for storage and portability.
This amazing Petsfit foldable dog pool is a pool designed to contain a large amount of water without leaking. It is also suitable for dogs of all sizes and is made of strong PVC material for added durability while outdoors.
Pros
---
This is a round-shaped foldable dog pool measuring 40.94 x 40.94 x 12.01 inches, which makes it perfect for small and medium doggie breeds.
It comes with a leakproof double wall design covered in a tough puncture-resistant Oxford and nylon fabric, which can withstand doggie claws.
It has a wire frame ring around the top of the pool, which helps hold it together even when full of water.
It does not require inflating and you can easily drain out the water by pulling down one of the wall panels.
It is easily foldable to take with you on the road or store away at home.
Cons
---
It gets a hole on the surface, which makes it leak and hard to use after a short time.
Some pup owners find it hard to fold, and it sometimes refuses to stand after some time, making it hard to fill up with water.
#6 Pet Gear Pup-Tub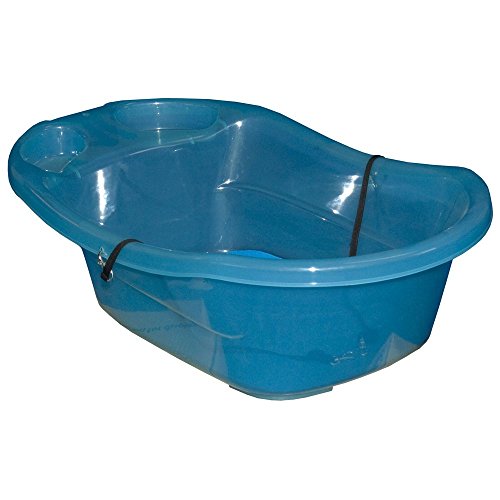 If you are shopping for a puppy then this is a wonderful alternative from Pet Gear to look into especially for safety features.
Colored in ocean blue, this bathtub comes with built-in tethers that are meant to help keep the dog restrained and steady. This brings a lot of conveniences as you can easily wash your dog without having to keep chasing the little one around the tub while trying to get it to sit still.
Another excellent safety feature that your pup gets to enjoy is the anti-slipping rubber bottom. Considering how soapy and slippery bath time can get, this is definitely a feature worth celebrating as it helps to minimize the incidences of slip-related bath time injuries.
Lastly, the bathtub weighs merely 3.5 lbs, giving it the portability factor when needed.
This is a nice and simple choice from Pet Gear if you are shopping for puppies with its convenient dimensions, translucency, and safety features to minimize the drama during bath time.
Pros
---
This ocean blue tub measures 30 x 18 x 9 inches and is suitable for pups weighing up to 20 lbs.
It has a slip-resistant rubberized bottom that helps your pup to stand properly during a bath.
The tub is made of strong and durable translucent plastic, which allows smaller pups to see through the sides during a bath.
It has two storage compartments on one end of the tub, which can hold shampoo, soap, and toys being used during a bath.
It comes with two tethers that firmly hold your pup in place while bathing, and it is easy to drain.
Cons
---
The drain has a slow leak making it hard to use on the floor, and you have to use it either in a bathtub or outside to prevent any accidents.
It cracks after some use, and this means getting a replacement tub.
#7 Furesh Folding Bathtub And Washing Station
SALE ALERT!!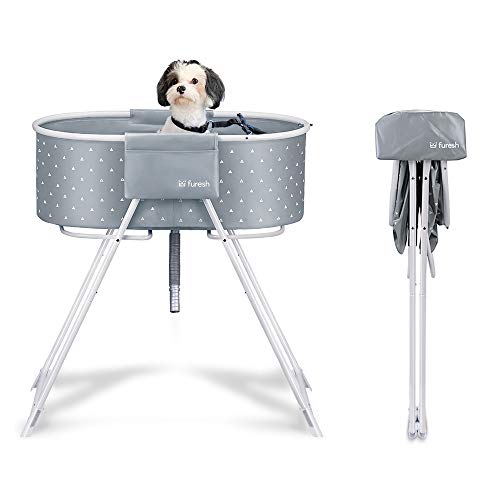 This Furesh bathtub and washing station is a product that provides a convenient way for pet owners to bathe their small and medium-sized furry friends. It measures 33 inches long by 17.8 inches wide by 11.5 inches deep, and it also comes equipped with a three-point leash restraint system to keep pets stable while being bathed.
This bathtub is constructed from marine grade PVC, with stainless aluminum tubing that can handle pet weights of up to 40 lbs and a total weight of 110 lbs, including the water's weight. The tub material is easy to clean and resistant to scratches from pets.
Users can take advantage of the elevated bathtub to bathe their pets while standing, thereby helping reduce stress on the back that comes with kneeling while bathing pets. This bathtub also has a patented folding design, making it possible for users to fold the tub from 33 inches to less than 6 inches thick for easy storage and transportation.
Two pockets located on the sides of the bathtub make it easy to store and access bathing and grooming essentials such as shampoo and brushes. The bathtub comes fitted with a drainage point where a stretchable drainage hose can be fitted to divert wastewater elsewhere.
The Furesh bathtub and washing station provide a simple yet effective means of grooming and keeping our furry friends clean. This tub's lightweight design can comfortably accommodate medium-sized pets, and the elevated design of the tub is something that most pet parents will find convenient to use.
Pros
---
Made using durable PVC, this washing station measures 35.7 x 20.7 x 35 inches when unfolded and can support doggies of up to 130 lbs.
It is easy to fold and unfold and has removable legs for storage or travel convenience.
This is an elevated bathtub, which reaches a height of 35 inches, and this makes bathing and grooming easy on your back and knees, and it also has storage space for shampoo and toys.
It comes with a three-point leash restraint with an adjustable collar, which helps to keep your pup of up to 40 lbs in place during baths.
For maintenance, the product is easy to clean as all you have to do is wipe it dry, and it also comes with a 2-year warranty.
Cons
---
The water drains slowly, and the drain closes on its own severally during drainage.
Some pups are afraid of the elevated washing station.
---
Outdoor Dog Baths – Buyer's Guide
---
When shopping for outdoor baths, you will come across all sorts of features and design specifications. Which ones matter? Which ones are just fun bonuses to have? Here are some answers to help make your shopping experience a little easier and more straightforward.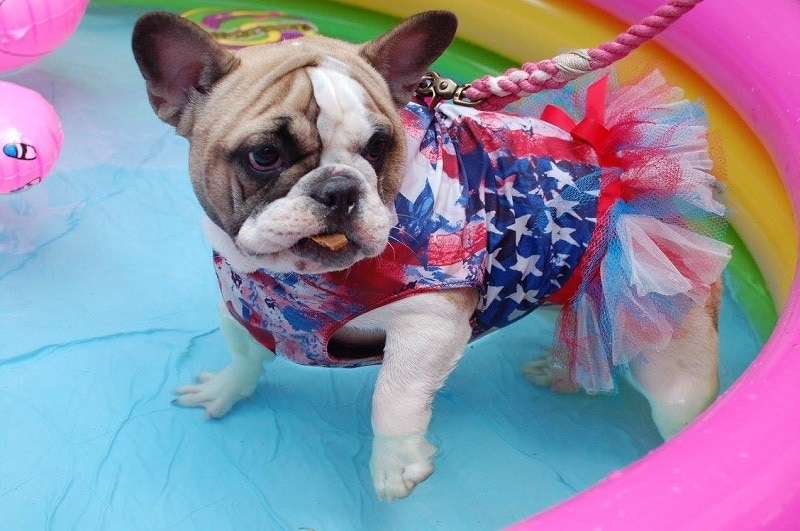 Where Do You Plan On Storing It?
If you are planning on leaving it outside most of the time or even full time, you will need something that is weather-resistant and generally durable. In this case, go for high-quality tub materials, such as HPDE, PVC, and similar alternatives. The frame should also be up to the task in which case you can never really go wrong with corrosion-resistant options.
If, on the other hand, you are planning on storing the dog bath indoors, what matters most is the portability and ease of assembly if you need to take it apart for storage. Just get something that you are willing to set up and take down with every bath, and it should be something that will not take up too much space.
Your Dog's Safety
More often than not, outdoor dog baths are elevated. This adds a unique aspect of danger compared to normal indoor baths and showers. It is therefore absolutely important to go for a tub that comes with safety features. The most common of these are anti-slip mats and built-in harnesses or leash hooks.
However, simply getting something with a deep basin and a sturdy frame could be more than enough. The depth ensures that there is no risk of the dog jumping out and getting hurt while the steady base keeps the whole setup solid even when the dog is being a little difficult.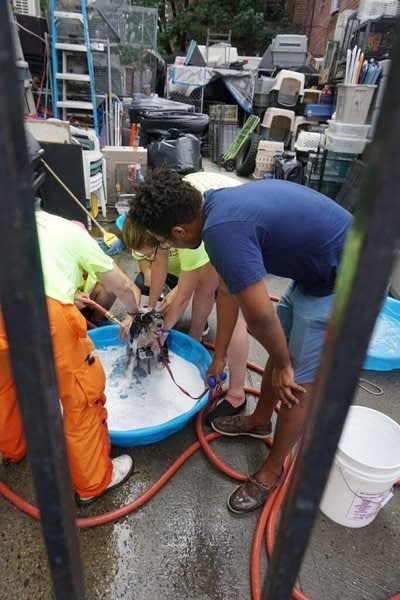 Water Source
With outdoor baths, you have two water source options. You could use a hose with the dog bath as a reservoir and drain. This is usually the easier and more convenient option that works with pretty much all bath designs. It also allows you to set up pretty much anywhere on your outdoor space as long as it is within the range of your hose's length.
Your second option is getting a dog bath that allows faucet attachment and comes with its own showerheads. This, though fancy, is not always the most convenient option as you have to set your bath up close to the water source. However, if you already have a designated outdoor wash space this option of outdoor showers will definitely help make bath times a lot more convenient.
Storage Of Cleaning Accessories
Remember that your outdoor bath does not come with the convenience of indoor shower spaces including bathing tool nooks and hooks. You therefore need to prioritize getting accessory storage spaces on your outdoor dog bath. This could be in the form of a tray, shelves or even hollow nooks where you can place things like soap, brushes, shampoo bottles during the bath.
---
Final Thoughts
---
All factors considered, our top pick definitely hits the mark with everything from convenience and safety to high quality construction and durability. Whether you are using it out in the wild on your adventures together or simply in your backyard, you can rest assured that you will be getting full value for your money and then some.
Therefore, if all the options on the market had you stumped on your shopping expedition, you now have a great place to start your search. And the best part is that you know what is important so you will be able to make an informed decision.