The best dog calming treat is GOODGROWLIES Calming Hemp Treats.
Are you having a hard time disciplining your boisterous dog? Remember that there are many reasons why your dog is acting unruly.
The most common reason is that your dog is probably suffering from anxiety. Maybe your dog knows that you're going to take it to the vet, and this can be a scary experience for it. Another reason is perhaps your dog is threatened by the presence of a new dog in the family.
It can be hard to handle a dog that's suffering from anxiety. You'll find it barking and howling excessively, cowering, chewing stuff, hiding, and showing other strange behaviors. The solution is to use a dog calming treat.
As the name suggests, these treats are meant to calm your dog whenever they are feeling anxious and acting strange.
Here's our review of the best calming treats for dogs.
#1 GOODGROWLIES Calming Hemp Treats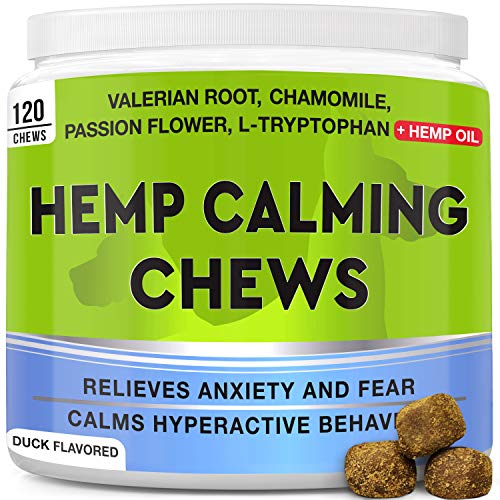 Our top pick is the Calming Hemp Treats from GOODGROWLIES. Made from organic hemp formula, this treat is nutritious and delicious enough to keep your pooch calm. It also provides relief from pain so it's a great choice for dogs that are suffering from inflammation, which may be the reason behind its strange behavior.
Dubbed as the primal mobility formula, this treat is made from Organic Hemp Seed Oil that's loaded with fatty acids, nutrients, and proteins. This treat will not only calm your pet but will also help to keep it healthy and strong.
Dog experts consider this treat as the complete dietary supplement for dogs since it helps support their immune system and keeps their skin and coat healthy and shiny. These treats are manufactured in an FDA-approved facility, which means that they are totally safe for your pooch to consume. With this treat, you get to choose from the duck and chicken flavor.
Pros
---
The GOODGROWLIES hemp treats, due to the inclusion of ingredients, such as valerian extracts and organic hemp seed oil, are generally effective at calming anxious dogs during stressful situations.
This product is formulated and suitable for consumption for all dog breeds and sizes.
GOODGROWLIES calming hemp treats are manufactured in the USA with ingredients produced, following strict GMP compliance guidelines, in FDA-registered facilities.
These calming treats are devoid of sugar, dairy, corn, and soy-derived products that tend to trigger allergic reactions and are generally unhealthy for pooches to consume.
The product package comes with 120 hemp treats, which ensures that dogs can continue using the treats for a considerable period.
Cons
---
Some customers claim that this dog treat didn't work to calm their pooches and that it only made their anxieties and aggressiveness worse.
Some owners of picky dogs also claim that their pooches refused to eat the GOODGROWLIES calming hemp treat.
#2 VetIQ Supplements For Dogs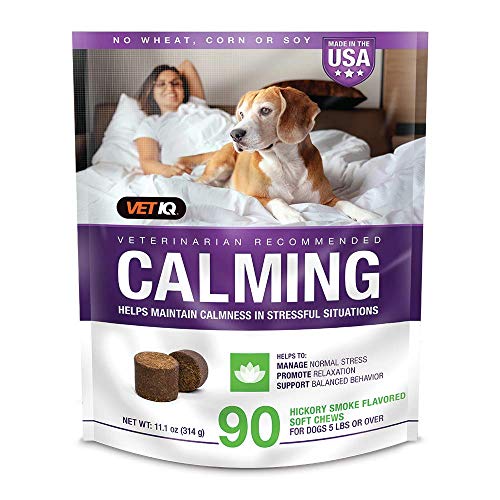 Yes, dogs need some supplements for their overall well-being. VetIQ Supplements for Dogs is a collection of supplements, each with a helpful purpose for your dog.
There are soft chews for digestion, coat and skin, multivitamin, and for improving both hip and joint health. They come in chicken and hickory smoked flavors. We will focus on the calming supplement.
This hickory smoked, calming supplement soft chews are perfect for your dog. They are natural and contain no wheat, corn, or soy additives. It helps to calm your pet, keeps them feeling relaxed, and also helps to manage their stress levels. The pack is 11 oz and comes with 90 soft chews. It is proudly made in the USA, and satisfaction is guaranteed.
The soft chews from VetIQ are great for any type of dog. We like that there is a safe supplement for keeping my dog calm, relaxed, and stress-free. The hickory flavor means that they will enjoy the supplements. There are no traces of soy or wheat, so it is safe for your dog.
Pros
---
This product is manufactured in facilities located in the USA to ensure compliance with safety and quality standards.
VetIQ supplements for dogs contain ingredients, such as chamomile powder and Thiamine Mononitrate, that are effective at helping dogs remain calm in stressful situations.
The VetIQ supplements contain no soy, corn, or wheat additives that typically trigger allergies in dogs.
The product package comes with 90 chews to ensure that pooches can continue using the supplements for a longer period.
These supplements typically work without inducing any side effects in dogs.
Cons
---
Several customers claim to have received supplements that were crumbly and too hard for their pooches to chew.
Feedback from customers also suggests that it might be difficult to pinch the sides of the supplements to close the treat.
#3 MAX Calming Treats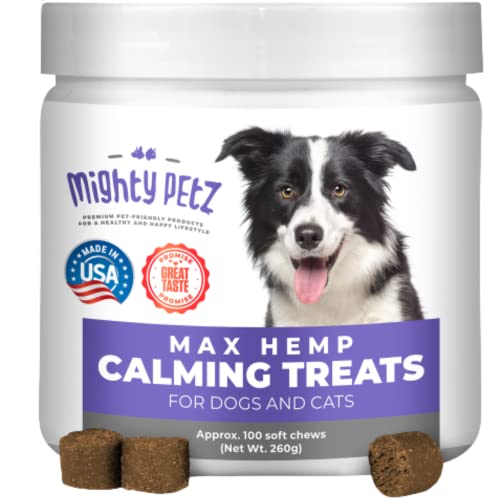 If your dog is feeling anxious all the time and gets frightened easily by loud noises, new people, and the presence of other animals, the MAX Calming Treats is the perfect solution to calm your pet. When you feed your dog with this treat, you'll notice an improvement in its behavior. Your dog will no longer be scratching, licking, chewing, or barking excessively.
It works by soothing the nerves of your dog, making it feel relaxed. As such, you'll enjoy a quiet moment for yourself without getting disturbed by the constant barking of your unruly pet.
Made from Advanced Calming Formula that consists of nine soothing ingredients, including hemp seed powder, hemp oil, chamomile, melatonin, and passionflower, this calming treat can help to effectively relieve symptoms of stress and anxiety in your canine friend.
Furthermore, these soft chew treats are low in sodium, allergen, and calories.
Pros
---
MAX calming treats feature nine active ingredients – such as hemp seed powder and oil, passion flower, ginger root, and valerian root – that are quite effective at calming stressed dogs.
These treats are manufactured in GMP-certified facilities located in the USA to ensure that quality standards are adhered to.
The product package contains 100 calming treats that can last pooches for a considerable period.
MAX calming treats are typically low in sodium, calories, and common allergens, which makes this product ideal for customers seeking a healthy way to allay their dog's anxieties.
Cons
---
Several customers have commented that they didn't notice any changes in their pooch's temperaments after administering MAX calming treats.
These treats come with a strong scent that may be unappealing to some pooches.
#4 NaturVet Quiet Moments Calming Aid Dog Supplement
NaturVet Quiet Moments Calming Aid is a dog supplement that contains melatonin and is wheat-free. It has been in the market for over 20 years and is perfect for dogs aged 12 weeks old and above.
The supplements contain ginger, L-Tryptophan, thiamin, and melatonin. It comes in soft chews and is perfect for daily use.
You can give these chews to your pet to keep them calm and stress-free, especially during thunderstorms or fireworks. You can also give them when you're traveling or visiting the vet, or during grooming sessions.
The 6.4 oz pack is a 30-day supply and contains 70 chews. They are also great tasting, so that is a plus for your dog.
If you want to keep your dog calm and anxiety-free during fireworks and storms, keep a jar of these around. They taste great and are wheat-free. They stay fresh thanks to the re-sealable jar. We like that it comes with a 30-day supply of soft chews.
Pros
---
The unique blend of Thiamine and L-Tryptophan used in formulating this dog supplement is effective at reducing tension in stressed dogs.
The supplements are packed in a resealable jar, which ensures that the treats remain fresh and healthy for dogs after the jar is opened for the first time.
Calming aid dog supplement products from NaturVet are produced in cGMP-compliant facilities located in the USA.
Ginger contained in this dog supplement is good for stabilizing sensitive stomachs, which makes this product ideal for calming dogs that tend to get upset when traveling during fireworks and thunderstorms.
NaturVet soft chews are wheat free, thereby making this product safe for pooches with grain allergies to consume.
Cons
---
There have been several customer feedbacks about the efficacy of this calming dog supplement, as it is reported to be either not working to relieve stress in a dog or worsening the pooch's anxiety.
Its smell may not be appealing to some dog owners and their pet dogs.
#5 PREMIUM CARE Calming Treats
SALE ALERT!!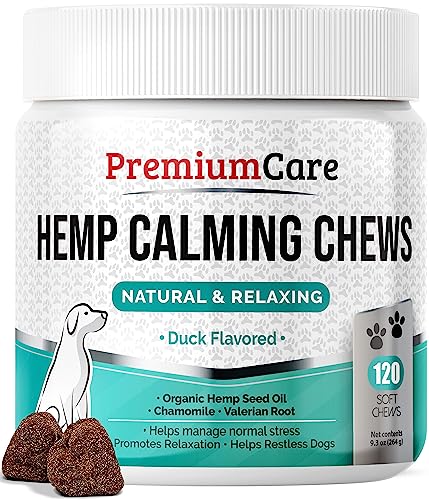 Another hemp-based dog treat that can help calm your unruly dog is this PREMIUM CARE Calming treats. This is the best solution for dogs that tend to suffer from separation anxiety whenever their pet owners leave them. Available in duck flavor, which is different from the other calming treats in this list, your dog will definitely not have issues in eating this treat.
It is the hemp oil in this product that can help to effectively calm down your anxious dogs. Other calming ingredients in this treat are chamomile, organic passionflower, valerian root, and ginger root. This calming treat for dog relies mostly on plant-based ingredients in calming your pet while the hemp helps to make it even more effective.
Pros
---
This dog treat comes in a pack of 120 soft chews, which is sufficient to last for a considerable period.
PREMIUM CARE treats are made in a cGMP-compliant facility within the USA to ensure compliance with safety and health compliance.
Natural ingredients – such as organic passion flower, organic ginger root plus chamomile, and valerian root – help create a sense of calm in dogs without inducing drowsiness.
Customers can subscribe for and enjoy automated, flexible deliveries of PREMIUM CARE calming treats without having to reorder every time the treats run low.
Cons
---
Several customers have claimed that these calming treats didn't work to alleviate their dog's stress.
Owners of dogs with sensitive stomachs claim that their pooches developed diarrhea after being fed with this calming treat.
#6 Pet Naturals Calming For Dogs And Cats
How can you tell your pet is anxious? Symptoms can include a loss of appetite, diarrhea, aggressive behavior, whining, barking, scratching, and isolation.
This is why you should consider getting Pet Naturals Calming supplements. These are not only for dogs but also cats. It helps to manage stressful situations and should be taken at least 30 minutes before such a situation.
It comes in chicken liver flavor and contains no wheat, artificial additives, herbal ingredients, corn, or L-tryptophan. You can give your furry friend a double or triple dosage, and its effects last up to 4 hours.
These supplements are certified by veterinarians to be made in the USA. They also have been approved by the National Animal Supplement Council.
We like this supplement because it works for both cats and dogs. It doesn't contain wheat, starch, or artificial ingredients. It works within 30 minutes and lasts up to four hours. You can be assured that your pet will love the chicken liver-flavored soft chews.
Pros
---
Pet Naturals calming is formulated with natural products like L-Theanine, Colostrum, and Thiamine that help put dogs in a calm state without having a sedative effect on the pooches in question.
The calming effect of the Pet Naturals dog treats typically kicks in within 30 minutes after use, and this effect can last for as long as 4 hours after administration.
Pet Naturals Calming is designed for and effective at alleviating stress in dogs of all ages and sizes.
This calming product doesn't contain wheat, corn, L-tryptophan as well as other herbal and artificial ingredients that are either harmful or non-beneficial to dogs.
Pet Naturals treats are manufactured in the USA in an FDA-approved facility, and the products are approved and certified safe to use by the National Animal Supplement Council (NASC).
Cons
---
Customer feedback suggests that these calming chew treats tend to dry out and harden after the product package is opened.
Some customers also claim that these treats are too hard for their dogs to break down and chew with ease.
#7 Valerio Organic Dog Hemp Chews
The Valerio Organic hemp calming treats are among the most effective remedies in treating anxiety in dogs. Made from natural ingredients such as hemp, chamomile, and organic hemp oil, this calming treat is safe and effective. It's also very nutritious and a good source of omega-3, omega-6, and omega-9.
These calming treats for dogs will not only make your pooch feel relaxed, but will also help it stay strong, healthy, and happy. This is the perfect solution for dogs that hate calming pills and refuse to take them.
Pros
---
The Valerio hemp chews are completely free of THC, which is known to have psychoactive effects on dogs.
These hemp chews are typically effective in calming dogs for up to 24 hours after administration.
Valerio hemp chews are manufactured in an FDA-registered facility located in the USA to ensure that the chews produced are safe and healthy for pooches to consume.
This hemp chew product is devoid of soy, toxins, chemicals, and harsh impurities that can be detrimental to a dog's health.
In addition to its effectiveness in calming dogs, the Valerio hemp chews product contains omega fatty acids that help promote healthy joints, nails, and coat development in pooches.
Cons
---
Multiple customers claim that administering Valerio hemp chews did not have any noticeable calming effects on their dogs, casting doubt over its effectiveness.
Some customers also remarked that their pooches refused to eat these hemp chews, despite having no previous history of food pickiness.
#8 VetriScience Laboratories Calming Behavior Support Supplement
The VetriScience Laboratories Calming Behavior Support Supplement is made from a blend of natural ingredients that have been proven safe and effective in treating your dogs' anxiety.
However, compared to the other treats in this list, this product is not that powerful. It can work for small dogs that are sensitive to the ingredients used in other treats, and it can be an excellent alternative.
Furthermore, this treat is available in a liquid formula that can be combined with water or any liquid food, making it easier to feed to your dog.
Pros
---
VetriScience's calming formulation includes Colostrum, L-Theanine, and Thiamine, all of which have been proven to have a calming effect on dogs.
The calming effects of this support supplement are usually noticeable between 30 to 45 minutes after administration, and these effects typically last for up to 4 hours after use.
With this supplement, customers can safely double or triple the recommended dosage to achieve the desired calming effect on dogs.
The VetriScience calming supplements are vet-formulated and manufactured within the USA.
Its supplement is also available in a liquid form that is considerably easier to administer to pooches.
Cons
---
Several customers have reported that these supplements come with a smell so strong that it seems to repel their canine buddies.
Multiple customer feedback has indicated that this behavior support supplement didn't have a calming effect on administered pooches, casting doubt over the effectiveness of the product.
#9 Zesty Paws Calming Treats For Dogs
SALE ALERT!!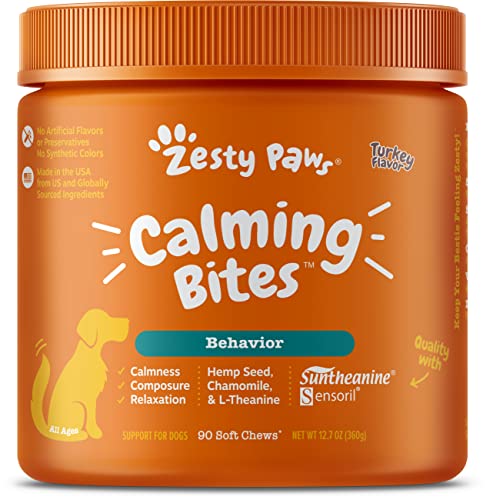 Developed by Zesty Paws, one of the leading brands of pet products worldwide, this dog treat offers great value for your money. Made from high-quality ingredients, this treat is effective at keeping your pooch calm during stressful situations.
The people who make this product are dedicated pet enthusiasts. All the ingredients used are safe and effective for your pet and are clearly listed on the packaging of the product. This is what makes Zesty Paws a trusted brand for pet products, including dog treats. These calming soft chews are the perfect solution for pets that are prone to anxiety and stress.
Pros
---
These chews contain Suntheanine, a premium form of L-Theanine that has been clinically studied and proven to create a sense of calm in dogs.
Zesty Paws calming treats are manufactured in the USA with ingredients gotten from within the country and some quality international sources.
Each Zesty Paws chew contains Thiamine and organic chamomile, both of which are effective at relaxing hyperactive pooches.
This calming treat is suitable for consumption by all dog breed types and sizes.
These calming treats also contain extra ingredients such as valerian root, organic hemp seed powder, organic passionflower, magnesium citrate, and L-tryptophan, all of which provide additional calming support for dogs.
Cons
---
This product typically expires in less than six months after delivery, so be sure to feed dogs the calming treats in time to prevent wastage.
Some customers claimed that their pooches became more hyperactive after feeding them the Zesty calming treats.
---
Best Calming Treats For Dogs Buying Guide
---
As pet owners, we are solely responsible for feeding our dogs with the best treats or foods. Dogs cannot feed themselves so they rely on us for their daily diet. If your pet is suffering from anxiety, then it's even more important that we choose their food very carefully.
When it comes to calming treats for dogs, you'll find numerous options that can be overwhelming, especially if you have no idea what it is that your dog needs. Before you make a purchase, consider the needs of your dog. Take your dog to the vet and ask advice on what product can work best for your dog. This is to ensure that you will be getting the right calming treat to treat your dog's anxiety.
Always refer to the packaging of the product that you plan on buying. Some of the technical terms might be confusing, especially for first-time buyers. To help make it easier for you to choose the best calming treat for your dog, we have explained below each of the important factors that pet owners must take into consideration when buying dog treats to help calm their pets.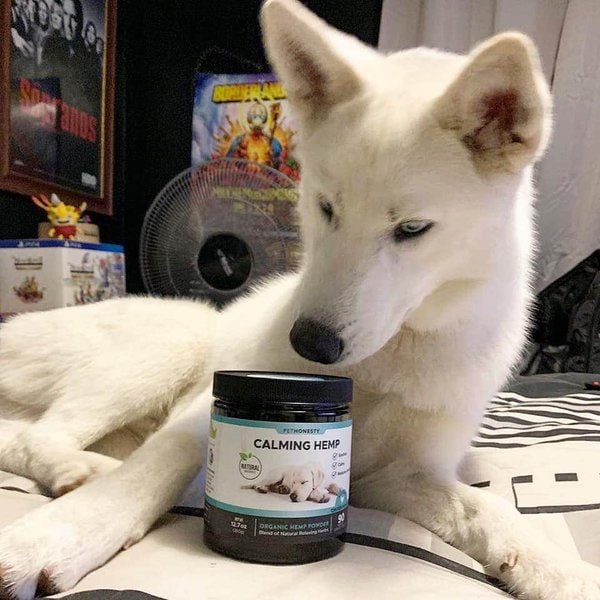 Packaging
The overall packaging of a product is important. In fact, it's the first thing that the customer notices. When it comes to buying a calming treat for your pooch, choose a product that's well packaged and looks attractive. Above all, the list of ingredients on the packaging should be clearly stated and well presented.
Some of the most reputable brands of dog chews for anxiety indicate the full recipe of the treats at the back of the packaging and list down the main ingredients at the front. It's important that you know exactly what ingredients have been used in producing the calming treats that you plan on buying.
Filler Products
Reading the packaging very carefully before buying can help to ensure that you are not wasting your money on low-quality products that contain lots of filler ingredients that are not safe for your dog. Some of these filler ingredients include wheat, soya, and sugar.
These ingredients are not really harmful to your pooch, but they are not helpful to them in any way. They only make your pet fill full fast and keep it satisfied for longer. This is why some of the most reputable brands of calming treats clearly state that their products don't contain any fillers or preservatives. With these treats, you can be sure that your dog will only get the best and the tastiest treats.
Ingredients
If you take a look at the various ingredients used in making these calming treats, you'll notice that the ingredients are almost similar to each other. Most treats are made from five common herbs, such as chamomile flower, ginger root, passionflower, valerian root, and l-tryptophan. All these ingredients are meant to prevent aggression and anxiety in dogs, which helps them to stay calm.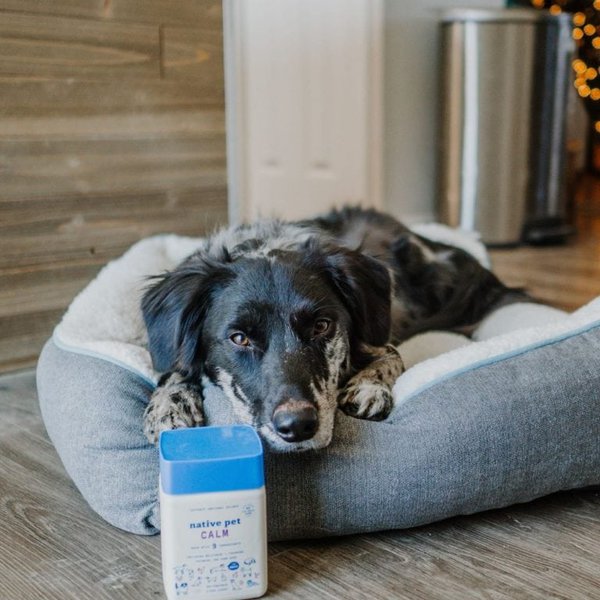 Taste
Depending on the brand that you prefer, some of these treats might come in certain flavors. Flavored treats will be more appealing to your pooch. So if you have a very picky dog, you might as well get it flavored treats. This way, it will be much easier for you to administer the treat.
But when it comes to buying flavored treats, make sure you choose the flavor very carefully. Dogs are sometimes discouraged by the strong herbal smell and this can make them feel weary, which defeats the purpose of buying a calming treat for your dog. Going for savory flavors like duck and bacon might be a better choice.
Nutritional Value
Although the calming treats for dogs are specially designed to minimize the feeling of anxiousness and stress on your pet, some of these treats may also be effective in keeping your pooch healthy and strong. Most brands avoid using a heating process in producing these treats to ensure that the nutritional value and other nutrients remain intact. This can help dogs to get the most out of every treat that they eat, which ensures that they will not only be free from anxiety but also from other diseases too.
Will Calming Dog Treats Really Work?
Pet owners who have tried using these calming treats for their dogs have found that these treats are indeed effective as a calming aid for their pooch. But the result may not be the same for all dogs. This will also depend on the breed or type of your dog, and some other factors. Sometimes, it may be necessary to purchase several different types of treats before you can figure out what works best for your pooch.
---
Final Thoughts
---
You'll never go wrong with our top pick and the multiple benefits it brings to the table.
First of all, it's made from organic hemp formula that's proven to be safe, effective, and healthy for your pooch. The treat can also work as a pain reliever for your pet, which is great for dogs that suffer from inflammation and pain.
You can also be sure that this product is safe for your dog since it's produced in a facility that's FDA-approved.