The best dog frisbee is Hyperflite Jawz Competition Flying Disc Dog Frisbee.
If you're thinking about getting a toy for your dog, then don't forget to pick up a frisbee. Frisbees are one of the most popular types of toys because they can be used in so many different ways and they last almost forever. They provide hours of entertainment for both people and their pooches!
The best dog frisbees are made from a strong, flexible rubber that's good for both fetch and chewing. On the other hand, hard plastic frisbees are difficult for dogs to grab and can hurt their mouths if they accidentally bite down on a hard edge.
We have prepared a list of some of the best dog frisbees in the market. Our analysis is based on flexibility, color choices, size options, thickness, safety, comfort, and durability.
#1 Hyperflite Jawz Competition Flying Disc Dog Frisbee
The Hyperflite Jawz Competition Dog Disc is our top pick in the market. It's an ideal choice for dog owners looking for an action-packed and high-flying fetch session. This frisbee features a unique aerodynamic design that makes it easier to toss far and wide. In addition to this, it's a highly durable product. It's actually designed for competition-level tossing. This means that it will withstand wear and tear for a long time.
We also noticed that the disc is puncture-resistant. Even if the dog holds onto it tight with its canines, it won't break or get damaged. The frisbee has an Anti-Glare Technology too that delivers great playtime without straining the eyes, especially during a sunny day. The Hyperflite Jawz Flying Disc is available in a wide variety of colors.
We loved a few things about the Hyperflite Jawz disc. First, the Frisbee delivers a high-performance thanks to its durability. It's also slightly narrow compared to traditional Frisbees in the market. This makes it easier for smaller dogs to catch it. The disc is also quite compact in its design. It measures 8 ¾ -inch-wide and 145-grams in weight and this makes it our top pick in this review.
Pros
---
Puncture resistant materials for extra longevity
Dual grip makes it easier to hold and throw
Bright colors including blueberry that are easy to see from far
#2 Chuckit! Paraflight Dog Frisbee Toy
SALE ALERT!!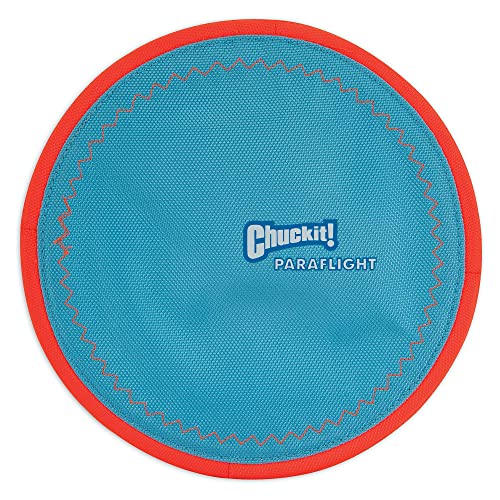 The Chuckit! Paraflight Dog Toy is designed for a budget-conscious dog owner. It delivers a lot of value at a surprisingly low cost. The Frisbee also offers a cool aerodynamic design that allows it to gradually descend from the air. This makes it perfect for long-distance games of fetch with any type of dog.
Additionally, the disc has a lightweight and buoyant fabric that can easily float on water. If you want to play fetch in a pool or on the beach, this one should be your first choice. The Chuckit! Paraflight Flyer will also withstand rugged and extended play outside thanks to its strong multilayer nylon construction.
The soft rubber edges and raised sides make it easier to carry around too. The disc is available in small and large sizes. It's versatile enough to make sure that a wide variety of dogs can play with it. Besides, the frisbee also comes in orange and blue colors so that it's easier to spot on tall grass or from a distance.
The aerodynamic design is quite brilliant. It's more like a bird. The disc can soar high into the sky and float in the air for some time before coming down gradually. This really makes it fun for the dog. The disc is also versatile enough to work on water. So, if you are planning a fetch session on the beach, the lake, or the pool, you are in for a treat. We also liked the price. It's really affordable, especially when you consider the features it includes.
Pros
---
The toy comes with a multilayer construction for added durability
Bright colors will guarantee good visibility even in tall grass
The soft and sturdy material used makes this frisbee ideal for the dog's mouth
Can also be used in water
#3 West Paw Zogoflex Zisc Frisbee Toy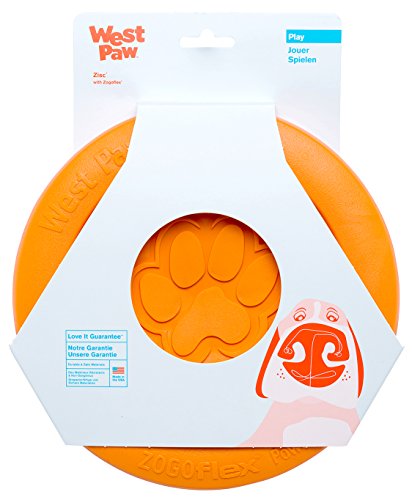 The West Paw Zogoflex Zisc is a highly floatable frisbee that can go the distance. If you want to add more intensity to playtime, then this would be a good option to consider. It's more flexible than a traditional hardshell Frisbee. But it's still quite faster than lighter designs made using fabrics. This frisbee is perfect for parks, small yards, and even water.
The materials used to construct it are also soft and flexible for the dog's mouth. They are BPA-free and non-toxic.
In addition, the West Paw Zogoflex Zisc can serve as a chew toy but it's not primarily designed for this. It's available in two sizes; large and small. For smaller dog breeds, choose the smaller size. The bigger sizes should work for bigger dogs.
The West Paw Zogoflex Zisc Tough Flying Disc is made using a very unique material. This material is so soft on the dog's mouth that it can be used as a chew toy too. It can easily stretch and comes with an unstoppable bounce that will make your fetch sessions fun and more exciting. The disc can also float on water which makes it ideal for pools, lakes, and beaches.
Pros
---
Soft on the dog's mouth
FDA compliant – has no toxic substances such as BPA or Phthalate
Made in the US
#4 KONG Flyer Durable Rubber Flying Disc Dog Toy
KONG - Flyer - Durable Rubber Flying Disc Dog Toy - for Large Dogs
Soft Catch: The natural rubber makes for a softer, forgiving catch during fetch. It also delivers a dynamic rebound if...
Instinctual Needs: This toy promotes your dog's instinctual need to play and encourages lots of healthy exercise
Durability: The natural KONG Classic red rubber formula is created to be durable, and flexible for a soft catch
The KONG Flyer Durable Rubber Flying Disc is one of the best soft rubber discs in the market at the moment. This frisbee is built using strong and durable KONG Classic rubber. It's safe for the dog's teeth and gums. The rubber offers a strong grip making it easier to throw further away. It creates a soft catch too. This means that your dogs will actually enjoy putting it in their mouth again and again.
Additionally, although the disk weighs a little more than the traditional plastic frisbees, this can be an advantage, especially for people who want more control when they throw. Besides, rubber is much softer on the dog's teeth and gums than plastic.
If you have a dog that likes to chew on everything aggressively, then you have to get the KONG – Flyer. The rubber is soft for the dog's teeth and gums but still durable enough to withstand aggressive chewing. There are many plastic frisbees that will tear apart as a result of this.But the KONG – Flyer will not let you down. In addition to this, this frisbee is a little bit heavier than traditional plastic designs. This gives you more control over how far you can throw each time.
Pros
---
The rubber material used is highly durable and long-lasting
Features accurate flight and a soft catch.
Soft and flexible surface
#5 Hyper Pet Flippy Flopper Dog Frisbee
SALE ALERT!!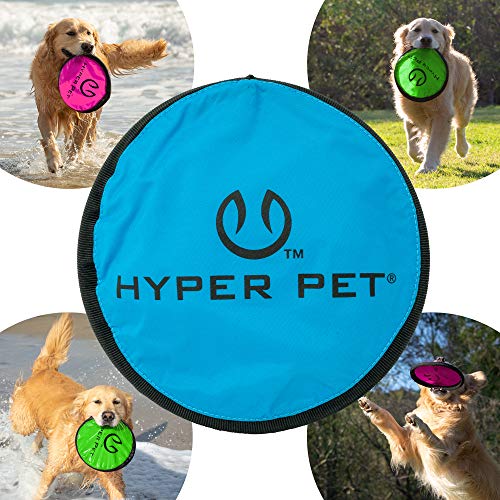 The Hyper Pet Flippy Flopper Dog Frisbee is not your regular frisbee. It measures about 9 inches long and it's made using a combination of nylon and soft rubber. This makes the disc quite safe for dogs' teeth and gums.
Besides, the flier can also float. So, if you are thinking of taking the fun to water, you will have the right frisbee. The Hyper Pet Flippy Flopper is also made in the US. The manufacturer has been making dog toys for thirty years. They have enough experience to guarantee a high-quality product.
The Hyper Pet Flippy Flopper Dog Frisbee has a way of mesmerizing dogs. A lot of dogs we saw fetching this frisbee seemed to be enjoying it to the fullest. We also noticed that, if you throw two frisbees midair, the dogs tend to go for the Hyper Pet Flippy Flopper instead of the other brands. This says a lot about the design. We also noticed that the frisbee is slightly lighter which makes the throw much better.
Pros
---
Made using a double layered, heavy duty ballistic nylon
One of the safest frisbees in the market
Can float on water and it's also water resistant
#6 IMK9 Dog Frisbee Toy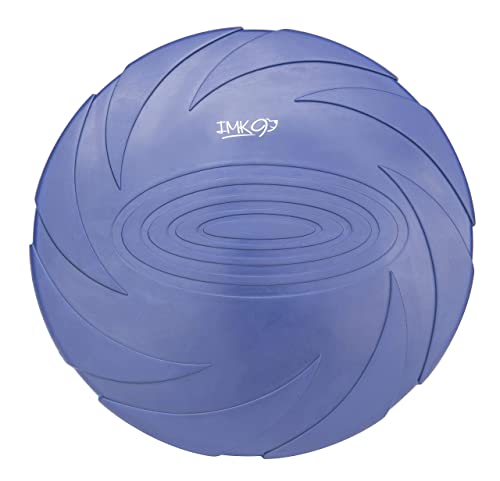 The IMK9 Dog Frisbee Toy is a lightweight frisbee that is perfect for pet training. If you are playing fetch with your dog for the first time, this would be the perfect choice for you. The discs are made using high-quality non-toxic rubber. The rubber is too strong to break up even in the roughest terrains.
However, its soft nature ensures it doesn't hurt the dog's teeth or gums. The frisbee comes in three distinct colors too including orange, purple, and red. The IMK9 Dog Frisbee is also able to float so you can use them on water too. However, for the best results, it's recommended to use the discs in wide and open spaces like parks. You will definitely enjoy the experience!
The IMK9 Dog Frisbee is 100% natural. It's made using natural and non-toxic rubber. If safety is one of your biggest concerns, you can completely rely on this product. We also liked the versatility. The rubber discs can be used on both land and water. In addition to this, it's a soft frisbee that doesn't hurt even if your dog is an aggressive chewer.
Pros
---
The discs are made using natural and non-toxic rubber
The soft rubber is soothing on dog teeth and gums
Great option for doggies that are playing fetch for the first time
Comes in three color options
#7 Nerf Dog Nylon Flyer
The Nerf Dog Nylon Flyer is a high-flying frisbee that delivers action-packed fetch sessions. The flyer is made using durable FDA-approved nylon. It is also reinforced with a tear-resistant coating for extra strength and durability. The flyer is 100% non-toxic. It's BPA-free and can float on the water quite easily.
Durability is one of the key features of the Nerf Dog Nylon Flyer. The frisbee also flies quite well due to its unique aerodynamic design. It's soft and easy on the dog unlike many other plastic frisbees in the market at the moment.
Pros
---
100% non-toxic. It's BPA-free and uses FDA-approved nylon
Tear resistant design for longevity
Flies higher and longer for action-packed sessions with your dogs
---
Dog Frisbee Buying Guide
---
There are a lot of dog frisbees on the market, but finding the best one can be challenging.
The first step to finding what you're looking for is deciding which type of material you want your dog's frisbee to be made out of: soft or hard. Soft frisbees are made from mallable plastics are great for dogs that like playing fetch in water as they float better than hard plastic discs.
For those who prefer dry land games and dogs with teeth issues, hard plastic discs work better because they don't have any give and are less likely to break from chewing. After that, it is time to figure out what size disc is right for your pup! There are small, medium, large, and jumbo sizes available depending on how big your dog is.
Related: Best Automatic Dog Ball Launcher
Different Types of Dog Frisbees
There are many different types of frisbees, including discs, rings, and saucers.
Some dogs prefer softer surfaces while others like a more rigid surface. You can get a variety pack of frisbees so that you can see which one your pup prefers. A good frisbee should be durable and easy to throw, though it is not necessary for the dog to catch in its mouth.
A key factor when choosing a disc is how fast they fly through the air – if you have an energetic pup or live near water, then avoid discs with high lift as these will only leave your pet frustrated! The material used for production matters too: rubber disks don't float making them unsuitable if you want to play by the pool, but silicone does make them perfect for aquatic activities.
Related: Best Dog Pools
Material
Many materials are used to make dog frisbees. The material determines how the disc flies, its safety, durability, and buoyancy in water. The best materials should be safe for the dogs' teeth and gums. They should also be non-toxic, light, and tear-resistant.
Size
The size of the frisbee you should buy will depend on the size of your dog. Bigger dogs love big frisbees. There are many Frisbee designs specifically created for smaller dogs and others for big ones. Consider the size of your dog and choose accordingly!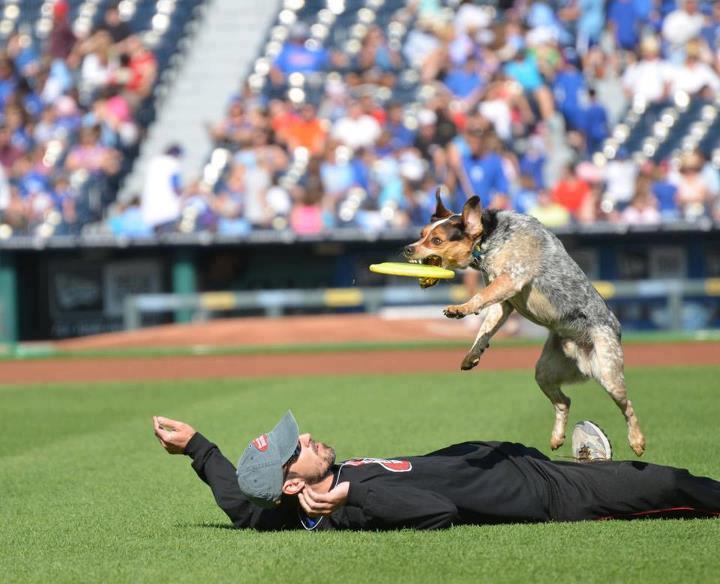 Color
Naturally, you want the frisbee to be brightly colored so that you can easily locate it on the ground and on the air. Most designs tend to be bright in color but some are brighter than others. Go for the latter.
Flotation
Fetching with dogs is not meant for dry land alone. It can also be fun on water. In case you want to play with your dog in a pool, a lake, or the beach, make sure you choose frisbees that float very well.
It's A Good Bonding Activity
They are a great way to teach your dog how to bring you back the toy. They also help give your pup exercise, which is important for their health and well-being. Frisbees provide mental stimulation because they require interaction between the owner and pet in order to play fetch with one another. This game can be played indoors or outdoors, although we strongly recommend the outdoors!
Related: Best Dog Summer Shoes
---
Final Thoughts
---
Each of the frisbees above has unique features and is all quite good. However, the Hyperflite Jawz Competition Dog Disc leads the way slightly compared to the other options in the list. It's a highly durable Frisbee with excellent aerodynamics. The materials used are also tear-resistant, non-toxic, and very strong. The Frisbee can handle any terrain too.
Even though the other designs are good, we would highly recommend the Hyperflite Jawz Competition Dog Disc as the top choice for people looking for that extra bit of quality.