The best summer dog shoes is HiPaw Summer Breathable Dog Boots.
Dog shoes can help keep your pet's feet safe on the hot sidewalk, but they can also add a bit of flair to the look of your furry friend.
To help you find the best dog shoes for summer, we have put together this comprehensive guide.
We'll cover everything ranging from specifications to overall performance, giving you a detailed look at what to expect from each product.
#1 HiPaw Summer Breathable Dog Boots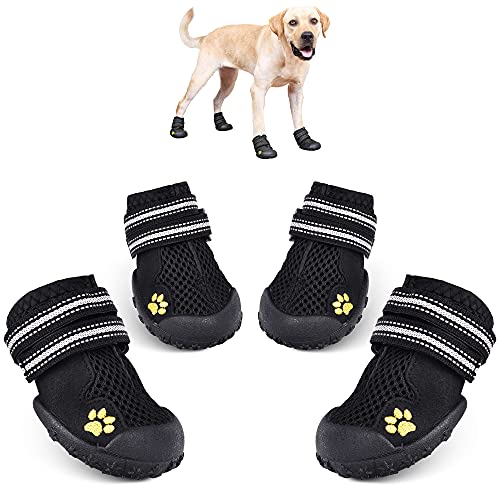 HiPaw's Summer Breathable Dog Boots are one of the best value for money choices on this list, as there are two variants of them. The first type of boot features a summertime design that is designed for improved ventilation and heat dissipation, especially on the hot pavement during summer, while the second type comes with a winter lining for the colder months.
The rubber sole on these boots is non-slip, and it's durable enough to put up with plenty of use before wearing out. This product also has a hook and loop closure that makes it easier to tighten while on your dog's feet. There is even a toe-cap on the front of these boots to protect them from collisions.
Keep in mind that these dog boots are designed for dog breeds that range from medium to large, as the smallest size is a 4 while the largest is an 8. There are even reflective Velcro strips that are on the fasteners so that your dog can be safer when you take them out on night walks.
Versatility is the main attraction of this dog shoe model, as the choice of variants allows you to specialize your dog's boots based on the season. Along with this expanded level of versatility, this summer dog shoe also features a more reasonable price point than some of the other choices on this list.
Pros
---
Dual mesh material for breathability.
Durable non-slip rubber sole.
Made for medium and larger dogs.
Toe cap for added protection.
#2 Ruffwear Grip Trex All-Terrain Dog Shoes
RUFFWEAR - Grip Trex, Red Currant, 2.0 in (4 Boots)
PROTECT THEIR PAWS: The Grip Trex are high-performance boots that protect your dog's paws from extreme environments so...
TACKLE ALL TERRAIN: The non-marking Vibram outsole is rugged and resilient, providing traction and flexibility on all...
GEAR UP AND GO: The hook-and-loop with hardware closure is simple yet secure. The gusset design provides a wide opening...
The best durable dog boots for summer are from Ruffwear, as they are designed to work in all kinds of terrain. If your dog is an explorer and likes to go off the beaten path, then the grippy design of these dog shoes makes them a perfect option. Whether you're going on a walk to the park or a long hike, these are the ideal shoes.
The durable rugged antislip sole of the Ruffwear Grip Trex helps ensure that your dog won't get hurt by anything that it walks over, whether it's a thorn or a broken tree branch. However, these dog booties are also perfect for summer use, as they are made out of breathable fabric.
These dog booties have been tightly woven together to ensure that they're more durable than other models that feature fabric construction. Since they're assembled so well, these shoes will also prevent dirt and small rocks from getting into the shoes and making your dog uncomfortable.
While many other dog shoes feature a double-strap closure system, this one has a high-quality hook and loop closure that is easy to fasten and provides a secure fit. Putting on these dog shoes won't be too much of a problem, as they feature a stretchy tongue that allows them to open widely.
These are the perfect dog shoes for summertime as they will help ensure that your dog's paws don't get too hot, and they can also protect them from all kinds of obstacles. Whether the hot pavement is too much for your dog or if it needs protection from jagged protrusions, these shoes are perfect.
Pros
---
Provides traction across all terrains.
Comes in three colors.
Hook and loop closure.
Breathable air mesh is woven tightly.
#3 QUMY Dog Boots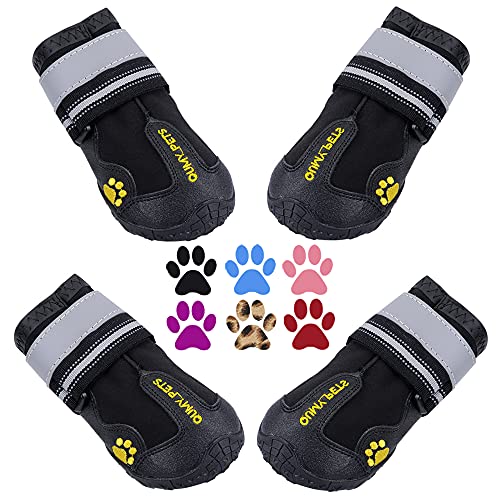 The QUMY dog boots are some of the best for use in the summer, as they have a durable design that helps prevent your dog's feet from getting burned. Along with thermal insulation, these dog shoes will also provide added defense against thorns and other sharp objects on the ground.
Putting these dog booties on shouldn't be a challenge, as the Velcro straps will make the job easier for you. Similar to many other dog shoes, these also feature flexible adjustable straps that opens wide enough so that you can fit them around your dog's paws without a problem.
The nonslip waterproof soles of these boots also means that they can be used in the rain, though they won't be able to keep water out if they're completely immersed. Due to their sizing, these boots are primarily designed for larger dogs. You can find the QUMY boots in different sizes, from size 2 to 8.
If you have a larger pet and you need some dog boots for the summertime, the QUMY Dog Boots will serve you well. The durable soles are coupled with a simple closure design that helps make these shoes easy to put on, making them a perfect set of beginner dog shoes.
Pros
---
Velcro straps for simple closure.
Soles protect from thorns and heat from hot pavement.
Water-resistant design.
Opens wide to be put on.
#4 XSY&G Dog Boots
SALE ALERT!!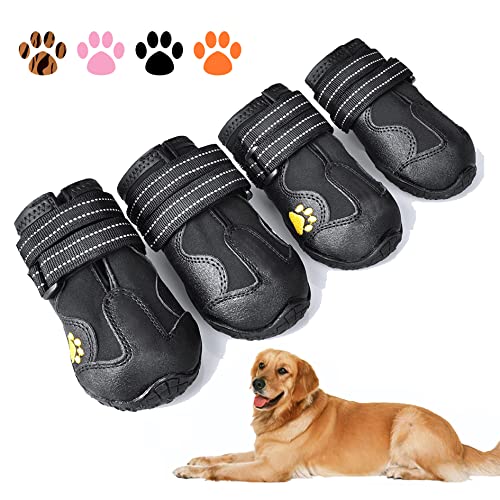 For maximum breathability and comfort, XSY&G Dog Boots have got your back no matter the weather. The boots stay put on the paws, and the paws stay dry, thanks to a sturdy anti-slip sole and waterproof design, as well as the reflective Velcro straps around the shoe opening.
The XSY&G Dog Boots perform well and can be used in treating paw injuries apart from as a piece of protective equipment. The boots can withstand a lot of heat or cold while keeping your pooch's feet cool, making them perfect for outdoors and indoors.
The boot's fabric is washable, making the cleaning process easy and fast even when your dog gets the shoes dirty in their walk. In addition, the boots are available in eight different sizes, one of which should fit your pooch perfectly.
If you are looking for versatile dog boots that will serve you in both summer and winter, then XSY&G Dog Boots will be a worthy purchase. Its anti-slip soles will offer excellent mobility and stability, an exceptionally great feature for elderly dogs.
Pros
---
Anti-slip and puncture-resistant sole.
Uses a safe adjustable strap system.
Wear-resistant and low-maintenance fabric.
Breathable and soft to paws.
High-quality materials.
#5 HiPaw Breathable Mesh Dog Boots
Finally, we'll take a look at another very affordable set of dog boots, once again made by HiPaw. Whereas the previous boots were more expensive and versatile, these are exclusively designed for summer use, as they feature a fully breathable design with a basic sole that protects from heat from the hot pavement.
While the sole isn't designed for all-terrain use, it will be durable enough to last if it is used exclusively on pavement. The sole also features non-slip construction that makes it perfect for use on tile and wooden floors. This helps make for some of the best indoor dog shoes for the summer.
You can choose between blue and black colors, and the blue variety also features optional reflective straps, which makes them safer for nighttime use. The interior of these dog shoes features additional nylon padding along the front, which keeps your dog's nails safe.
If you have a larger pet and you need some dog boots for the summertime, this product from QUMY will serve you well. The durable soles are coupled with a simple closure design that helps make these dog booties easy to put on, making them a perfect set of beginner dog shoes.
Pros
---
Available in two colors.
Soles protect from thorns and heat from hot pavement.
Water-resistant design.
Opens wide to be put on.
---
Dog Shoes For Summer Buyer's Guide
---
Summer is here! It's the perfect season to be bringing your pet pooch around. But with summer, that brings about another challenge – the blistering heat in the hot weather and the hot pavement.
In fact, according to a research conducted by the Frostburg State University, the surface temperature of a asphalt payment can reach 122°F (50°C).
As a result, your dog's paw pads will get burnt and hurt.
That's why you absolutely need your dog to wear dog shoes when going out during summertime. It provides the much needed paw protection so that your dog's pads are kept safe.
Check If Its Comfortable
One of the main things that matters when you're choosing the best dog summer shoes is their degree of comfort. If you want your dog to like the shoes that you buy them, then they'll have to be as comfortable as possible, and a few different factors will play into this, including fit and quality.
The first thing that you should ensure is that you have chosen the right size for your dog, and you'll usually want to go a size larger, just in case. This ensures a proper fit and that the dog shoes wouldn't be too tight.
Up next, take a look at the materials and how they're assembled, as a stitched shoe will usually be easier to break in than one that has been glued together.
Breathability – Meshed Materials Work Best
If you need a quality dog shoe for the summer, you'll want it to be breathable enough to keep your dog's paws from overheating. Breathable shoes will usually feature some mesh elements that will make it easier for air to travel from the interior of the shoe to the outside and vice versa.
This will prevent the shoes from starting to smell, and it will also keep your dog more comfortable than otherwise. Some summer dog shoes will be nearly entirely made of mesh for maximum breathability, while others will only incorporate mesh panels so that they can still have some additional reinforcement.
Ease Of Wearing The Dog Shoe
Next, you have to take a moment to look at the closure method that is used on the shoes and how much effort it will require to put them on your dog's feet. Many dog summer shoes will feature an elastic material along the center that will allow them to stretch out, which will make them easier to fit around a paw.
Once you have the shoe on your dog, you can then fasten it so that it doesn't come flying off in the middle of your walk during summertime. The majority of dog shoes will come with Velcro or hook and loop closure systems that are easy to adjust but still relatively straightforward to fasten.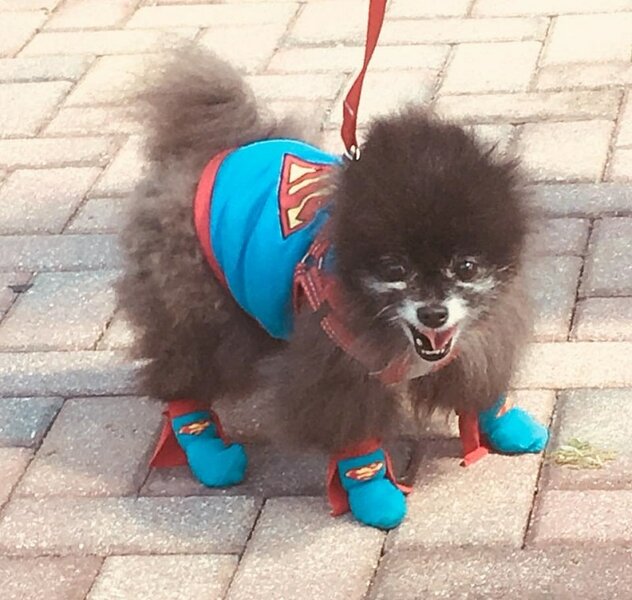 Water Resistance
Up next, take a look at how your chosen dog shoes can handle the water. A greater degree of water resistance will help ensure that the boots can be used in the rain.
If your dog's paws don't get wet through the shoes, you won't have to worry about cleaning up after their mess when you get home.
Intended Terrain – Different Shoes Are More Suited For Different Terrains
You should also see whether or not your future dog shoes are made for all-terrain use, as they'll need reinforced soles to deal with the obstacles that you'll come across. On the other hand, if your dog's shoes will only be used on pavement, then they won't need much of a tread.
Durability
Finally, take a look at how sturdy your chosen set of summer dog shoes is, as this will ensure that you don't have to replace them for a long time. More durable shoes will also be able to protect your dog from things like thorns and broken glass, whereas weaker shoes may end up getting sliced through.
For additional health tips during summer, be sure to check out this guide by Harvard Health.
---
Final Thoughts
---
While all five of these dog shoe models are excellent for summertime, we think that the best option on the market is our top pick because of its all-terrain design. Since these shoes can be worn nearly anywhere from hiking trails to the hot pavement, they are highly versatile, and they feature a reasonable price for their quality.
Picking out the best summer dog shoes for your needs can be a simple matter if you know what to look for, so we hope that this guide has managed to help you out.