The best tactical dog harness is Rabbitgoo Tactical Dog Harness.
Military dogs or not, the best tactical dog harness is always a GREAT idea.
You can easily attach equipment, toys, a water bottle, and other things to it. No more lugging things around!
How practical is that?!
Make your hikes and outdoor trips with your pooch much more convenient with these awesome tactical dog harnesses.
#1 Rabbitgoo Tactical Dog Harness
SALE ALERT!!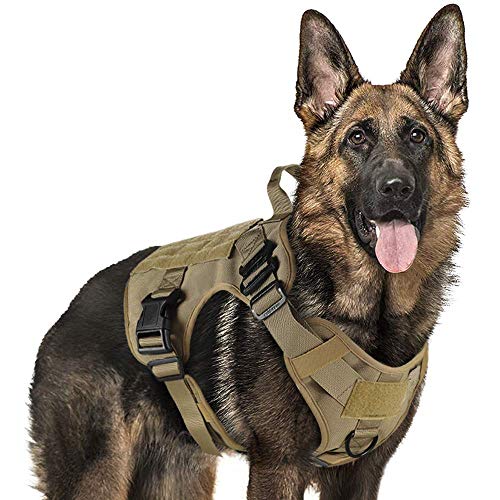 Whether you are training your pooch or out hiking in the wilderness, the Rabbitgoo Molle tactical dog harness keeps things easy, comfy, and clutter-free. It's got a Molle system, so you can strap on your pet's gears and water bottles. No need to fish out that drinking bottle, toy, and treats from your pack. Hassle-free, isn't it? If you've got a Husky, Golden Retriever, or any large breed dog, this dog harness is just perfect.
This tactical dog harness is made of nylon with durable stitching, so it won't fray too easily. There are sturdy buckles that can handle your all-muscle Fido's strong pull, but also allow for quick release at the same time.
It has got ample ventilation to keep your pooch cool all the time. The paddings are strategically positioned in every pressure point. That's very important to eliminate any pain on your hard-working dog. Worried it might be too tight? You can quickly adjust the tightness to ensure a nice, snug fit.
Good-looking and functional, the Rabbitgoo Molle tactical dog harness is a crowd-pleaser. This tactical dog harness is easy to put on, adjust, and remove. A true must-have for military dogs, companion dogs, and just about any large breed. It gets our nod of approval for its superior comfort, support, and practicality for pups on-the-go.
Pros
---
Suitable for large dog breeds.
Secure and snug fit.
Excellent control and protection.
#2 FIVEWOODY No-Pull Tactical Dog Harness
SALE ALERT!!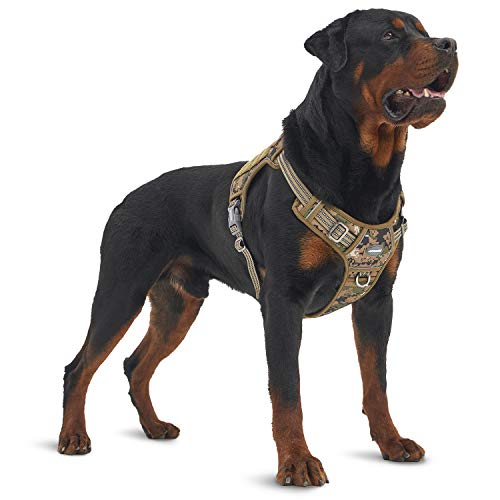 The best tactical dog harness does not have to cost you dearly. Fivewoody's no-pull tactical dog harness definitely won't burn a hole in your pocket. It's a decent harness to use when training or walking your pooch, hunting, hiking, and every outdoor activity you can think of. The 900D nylon is durable and great for field use. It may not be as thick as the Rabbitgoo but it's still fairly sturdy nonetheless.
There are two 1-inch strips of rugged Molle stitched on both sides. This makes it easy to attach your pet's gear for play, work, or training. And did we mention this tactical dog harness is easy to hook onto the leash? Just a few clips and it should be good to go. No amount of pulling can get it loose. Yep, even if your super strong pooch pulls like crazy. Most importantly, it keeps your pet comfortable. It is breathable and padded in all the right places for excellent support.
Rain or shine, this tactical dog harness from Fivewoody can handle the toughest weather – and the strongest pull. It is secure and durable, making it ideal for all types of field use. This is a great training and hiking essential to keep your pet's needs within arm's reach.
Pros
---
Minimalist and practical design.
Zero-pull and super comfortable.
Molle system keeps things organized.
#3 Hanshengday Outdoor Tactical Dog Harness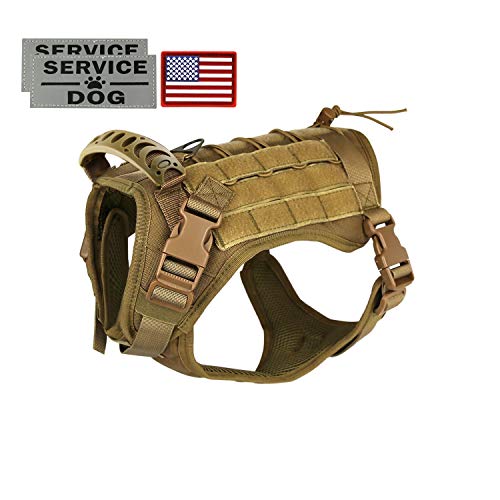 You know that a flimsy harness and leash just won't cut it… Especially if you have a big, powerful dog that likes to play the Alpha pup during your walk. This is why the Hanshegday tactical dog harness joins our list. It can take a serious beating from all that pulling your pooch makes. But beyond the durable build and design, it is plenty functional, too. The Molle system allows you to quickly strap on your pet's essentials such as snacks, toys, and other gears. You won't have to tote these around in your pack anymore.
This tactical dog harness is all-nylon with metal buckles for security. Just a couple of clips to go and boom – it is highly secure on your dog's leash. There are also pads in every pressure point there is. This helps prevent bruises on your pet's skin even if he pulls vigorously. Taking a stroll with your dog on a hot and humid day? No worries – this tactical dog harness has a mesh lining to keep your pooch cool all the time.
Secure and comfortable, your pet will absolutely love the overall feel of this tactical harness. There are plenty of attachments to help you keep organized, too. A true must-have for those hikes and stroll with the pup. And did we say this tactical dog harness looks pretty cool?
Pros
---
Nylon with rubber padding.
Easy-peasy clip-on design.
Comes in 2 cool colors.
Breathable and durable.
#4 Stpiatue Tactical Dog Harness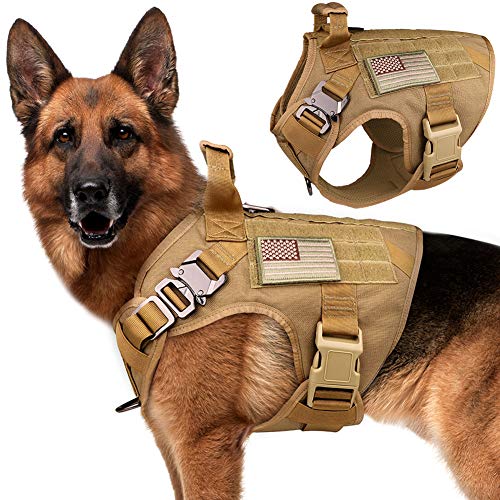 The Stpiatue tactical dog harness has been constructed with an enhanced 1050D oxford fabric with a high density for additional durability and increased resistance to water, dirt, and abrasion. It also offers extra comfort and protection, thanks to a breathable mesh lining with a soft sponge padding plate.
This harness features a versatile velcro system in the back, sides, and chest. This allows your pooch to carry many things such as camping gear, patches, water cups, and pouches, keeping your hands free. It is perfect for running, daily walking, hunting, training, and other outdoor adventures.
The Stpiatue harness is convenient because of the two heavy alloy buckles that ensure quick release to your pooch's shoulder while also providing extra security. In addition, its heavy front clip is beneficial as it discourages pulling for normal walks, while its padded handle on the back gives you better control of your pooch.
Stpiatue Tactical dog harness is the best if you are looking for a durable harness to prevent tearing and chewing. It also has a lot of stitches on each joint and heavy load point, mode stitching, and double stitching to ensure maximum durability.
Pros
---
Heavy hardware and padded handle.
Easy to adjust.
Versatile velcro system.
Reinforcement stitching.
Available only in army yellow color and in two sizes, namely Medium and Large.
#5 Hanshengday Molle System Tactical Dog Harness
SALE ALERT!!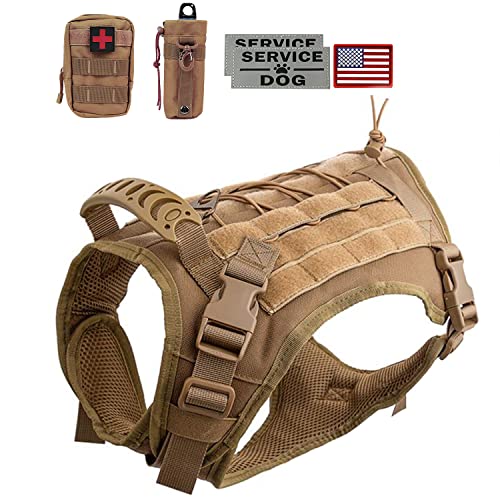 When it comes to durability and value for your money, you can never go wrong with this tactical dog vest from Hanshengday. It is all-nylon, which keeps it waterproof, durable, and flexible. The material makes it easy to dry it off, so your pet won't have to deal with a stinky, soggy harness. The breathable material keeps your hardworking pooch comfortable throughout the walk, playtime, or training.
Speaking of comfort, there is a Molle system on both sides of the tactical dog harness. Attach your pet's favorite snacks and essential gear, and you're all set on your outdoor adventure.
This tactical dog harness is available in 3 sizes. You should be able to choose the perfect fit for your pet. It is adjustable and secure, so once you find the right size, it is good to go. And as a bonus, this tactical dog harness comes with reflective patches. This increases visibility when you are out and about with your pooch for a stroll at night.
The best thing about this tactical dog harness is its waterproof design. Even if your pooch sweats buckets, the tactical dog harness should be easy to air-dry to keep it fresh. This helps prevent bacterial growth while keeping your pet comfortable during those long strolls under the sun.
Pros
---
Comes in 3 sizes.
Reflective patches add visibility.
Keep organized with a Molle system.
Waterproof and moisture-wicking.
#6 PET ARTIST No Pull Tactical Dog Harness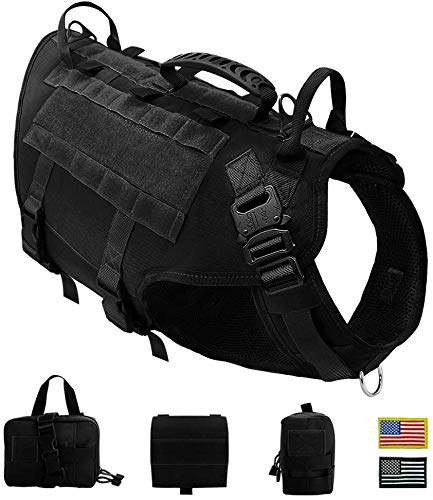 Perfect for big dogs, the Pet Artist tactical dog harness can handle up to 1,000 lbs of hefty load. There is a hook and loop system underneath the belly portion, which prevents any discomfort on your pet. No matter how strong your dog pulls on the leash, you can count on this tactical dog harness to handle it. There is a D-ring on the front that gives you better control of your pet. As for the padded handle, this allows you to lift your pet to get over tough barriers during your hikes and treks.
There are 4 positions for adjusting the dog harness. This helps you ensure an accurate fit for your dog. It is very important in ensuring comfort while maintaining support. Most importantly, the tactical dog harness won't slide and slip out of your pet. So, you can ease your worries and rest assured that your pooch is secure all the time.
This tactical harness is best for pet owners and dogs leading an active lifestyle. It is solid, snug, and secure – great for your outdoor missions. A comfortable harness that is soft in all the right places but tough to take on the beating each time.
Pros
---
Adjustable in 4 different positions.
Provides comfort to your pet.
Designed for large dogs.
Comfortable fit for optimum support.
#7 EXCELLENT ELITE SPANKER Tactical Dog Harness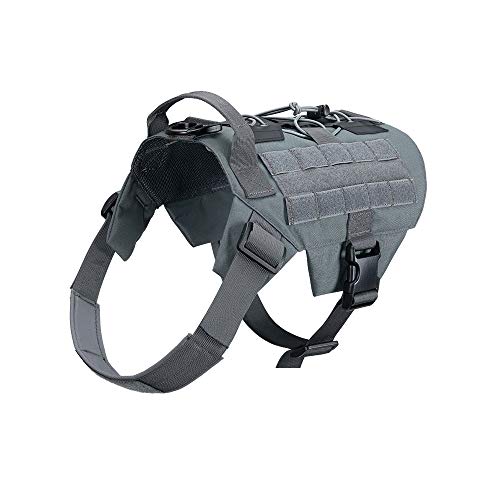 K9, hunting dogs, companion dogs – these canines will benefit from this tactical dog harness. It is highly durable and ideal for any dog breeds. You should be able to adjust it easily, which helps you achieve the right fit. Want to keep it lightweight and comfortable? Check, check! There is padding to add to the weight, yet it is breathable to keep your pet cool.
If you need to add your dog's ID, that's very simple to do so. There is a magic sticker panel for your pet's ID, which is a very important security feature. The Molle system is also great for attaching your pet's essentials. You won't have any problem taking your dog's water bottles, food, and snacks when on a hike. Just hook these in the attachments, and they should be ready to go.
Whether you are training your dog or simply taking a walk with your canine buddy, this tactical dog harness is a true necessity. It keeps your pet secure and gives you great control of your dear Fido when out and about. There are no paddings but that's one way to keep things light without the extra heft.
Pros
---
Available in multiple sizes.
Great for camping and long day trips.
Secure, comfortable and adjustable.
#8 VIVOI Training Service Tactical Dog Vest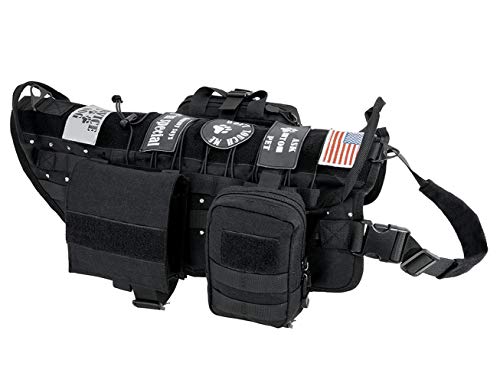 Made from the toughest and thickest nylon, this tactical dog vest is comfortable and supportive. It features a unique technology with its laser hole drilling to ensure ample ventilation. This keeps your pet cool while preventing bacteria from forming on the interior of the vest. There are strong buckles with reinforced stitching, which can handle the strongest pull. This gives you excellent control of your pet, knowing that its quick release buckles won't just give out and have your pooch running free.
There are 3 pouches that come with this dog harness. These include the tool pouch, waist pack, and EMT bag. You can organize your pet's gears in these extra storage spaces without any problem. And yes, these are detachable, so you can hook them in or leave them at home as you wish.
This is a heavy-duty dog vest that is great to bring during your outdoor trips. The strong buckles are securely fastened, so your pet will not easily get loose. This is very important when you are training your dog or out on an adventure outdoors.
Pros
---
High-quality material.
Hassle-free adjustment system.
Offers maximum control.
Thick and durable nylon.
#9 OneTigris Breathable Tactical Dog Harness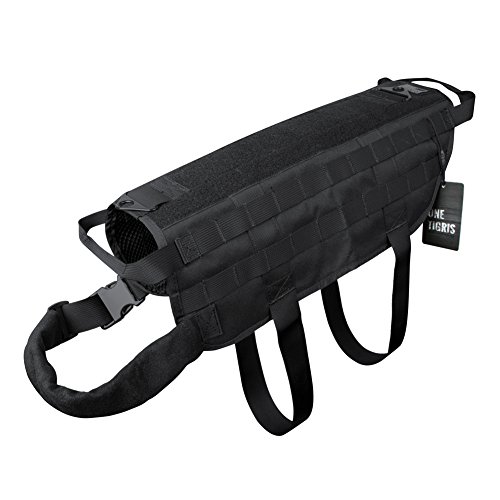 Are you having a challenging time finding the perfect dog vest for your canine buddy? In this case, the One Tigris dog harness may be just what you have been looking for. This vest comes with a Molle system for attaching medical supplies and treats easily. The nylon material is lightweight and breathable. There is also mesh padding to provide ventilation to keep your pet cool.
There are many colors and sizes available to this tactical dog harness. Choose the one that suits your pet best, and it should be perfect for those outdoor trips. With a heavy-duty and waterproof design, this tactical dog harness is something you can always count on when the going gets tough outdoors!
When you need a dog harness that your pet can use for years, this One Tigris harness has got to be it. It is solid and heavy-duty to handle abuse perfectly. The Molle system is a great feature, too – makes it a breeze to attach pet essentials in seconds.
Pros
---
Lightweight and breathable material.
Mesh padding adds ventilation.
Available in various sizes and colors.
Heavy-duty and built to last long.
---
Buyer's Guide For The Best Tactical Dog Harness
---
Let's keep it real: Not all dogs need a tactical harness.
But why would you want one? Well, pretty simple. A dog harness is perfect during your outdoor trips. It offers protection from potential dangers such as thorny bushes and similar things that can hurt your pet.
You can also use the built-in handles to many tactical harnesses to lift your pet. This is the case when your canine buddy needs assistance when getting into the car or going over serious obstacles while out and about.
Most tactical dog harnesses also have a Molle system. This makes it quick and simple for you to attach pouches and gears to the tactical dog harness. That makes it very convenient for you to grab these things easily when needed.
And yep, nobody can deny the fact that a tactical dog harness makes your pooch look awesome.
So what are the features to consider when buying a tactical dog vest? Here are the most important ones to look into: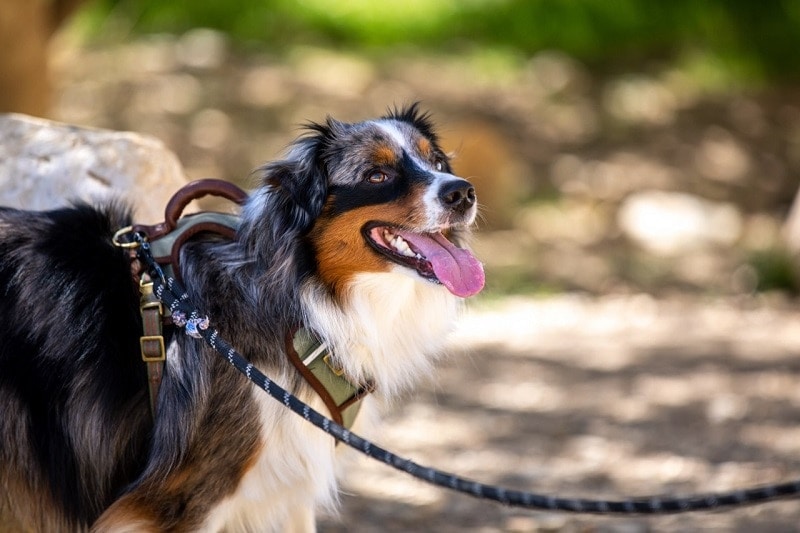 Size
This is even non-negotiable. You need to make sure the tactical dog harness fits your pet perfectly.
If it's too big, it just tends to slide off your pet's back. If it's too small, this will not make your dog feel great at all because of how tight it is.
Manufacturers offer a size chart you can refer to, which allows you to pick out the right size for your pet. Be sure to follow instructions on how to measure your pet's body, so you can figure out the best size of harness to buy.
Material
Tactical dog harnesses come in different materials.
Your best bet is a 1000D nylon, which is just the perfect mix of lightweight and durability. Go over or under this number, and it may be a tad too heavy or flimsy for a powerful dog.
Also, be sure to check if there are D-rings and metal buckles. These boost durability and make sure the tactical dog harness stays securely attached to the leash.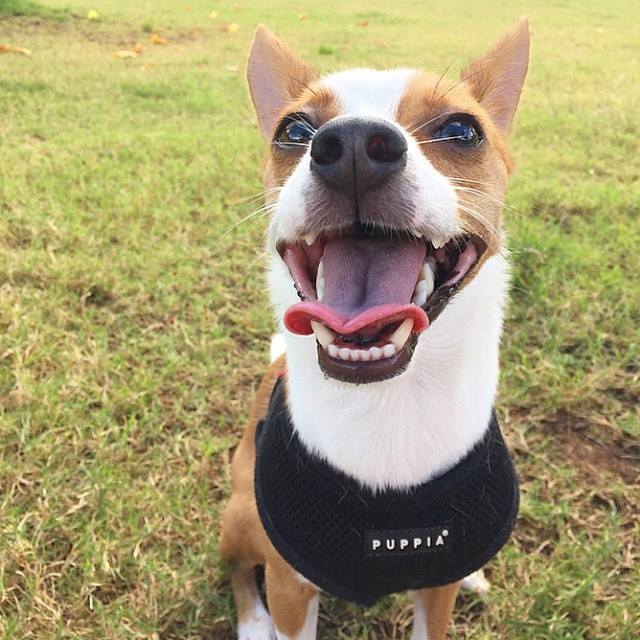 Molle System
It looks cool, that's for sure.
But beyond great looks, a Molle system lets you attach pet essentials in a snap. You can secure your pet's water bottle, snack, toys, and what-not in the straps provided for.
However, don't go crazy about attaching too many things. The last thing you want is to overburden your pet with the added weight. Imagine going camping while carrying lead weight in your backpack. Not fun, right?
Ventilation And Comfort
You definitely need to keep things cool with your pet.
Mesh lining is perfect for this purpose. It adds ample ventilation to enhance your canine pal's comfort during the walk.
Padding is great for those pressure points but if you have too thick of a padding, this reduces the ventilation and increases the overall weight of the tactical dog harness.
Find the sweet spot that keeps the tactical dog harness light, yet comfortable and supportive at the same time.
---
Final Thoughts
---
Gone are the days that you need to tote around a heavy backpack when out for a walk with your pooch.
A tactical harness eliminates the extra bag. Just clip some essentials on, make sure the tactical dog harness fits, and you're good to go with your four-legged pal.
This is why we simply love our top pick. It's got a minimalist design without compromising comfort, support, and practicality. But don't just take our word for it – test it out on your pooch and see for yourself why this tactical dog harness rocks our world.