The best toy to keep dogs busy is SNiFFiz Smellymatty Snuffle Mat For Dogs.
The #1 cause for destructive behavior in dogs? Boredom.
When dogs get bored, they tend to look for ways to keep themselves entertained. This can lead to excessive chewing on furniture, digging of holes in your garden, etc.
Thankfully, there's an easy (& cheap!) solution for your dog's boredom.
What your dog needs is a variety of boredom buster toys that can pique their interest and keep them entertained.
Below is our selection of the best toys to keep your dogs busy.
#1 SNiFFiz Smellymatty Snuffle Mat For Dogs
SALE ALERT!!
According to some experts, two of the most essential mental activities for your pup are sniffing and nose work. When it comes to this, the SNiFFiz SmellyMatty Dog Snuffle Mat is what you need. This dog toy will not only keep your dog entertained but will also help to hone its senses and skillset.
This dog toy comes in the form of a mat that consists of five toys that dispense treats made from Oxford fabric. The toys are durable enough to withstand the rigorous tugging of your furry friend.
Simply arrange the toys in the different mat pockets and your pooch will work harder to look for its rewards. Each toy will have different challenges for your canine buddy, giving it no reason to be bored.
This interactive toy from SNiFFiz works well for large and small dogs, and it features different challenges that will surely keep your furry friend from getting bored. Although it says that the toy can be machine-washed, we would recommend gentle washing for this toy to ensure its longevity.
Pros
---
The SNiFFiz Smellymatty toy for dogs makes it possible for customers to choose from between 5 different unique treat puzzles to keep their pooches engaged during meal times.
Customers can utilize the pockets located behind the petals of this snuffle mat to hide treats and provide mental simulation for dogs that are sniffing to find these hidden treats.
The durable oxford fabric used to produce this canine snuffle mat can be machine-washed, thereby providing a convenient means of maintenance for customers.
The foraging design of the SNiFFiz snuffle mat promotes slow feeding of dogs and prevents pooches from just consuming large amounts of kibble at a go, without proper chewing.
The non-slip bottom and anti-flip design of this snuffle mat for dogs helps keep the product in place and prevent it from unnecessarily moving around.
Cons
---
Customers claim that this snuffle mat comes with an unpleasant chemical smell that tends to linger, even after the mat has been washed.
The fabric material of the SNiFFiz snuffle mat is not chew-proof, and the product can be easily torn into pieces by an enthusiastic chewer.
#2 Outward Hound Interactive Puzzle Toy
SALE ALERT!!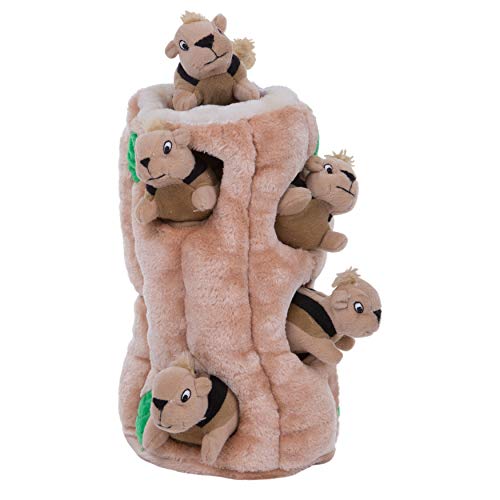 Outward Hound Hide A Squirrel Plush Dog Toy Puzzle, XL
HIDE & SQUEAK FUN: The Hide A Squirrel dog puzzle is an easy way to get your furry friends engaged for hours of fun!...
2-IN-1 INTERACTIVE PLAY: Toss the squirrel-filled trunk, place it on the ground, or take the squeaky plush toys out and...
CHALLENGING & IRRESISTIBLE: Keep boredom at bay and your curious canine mentally-stimulated while feeding their natural...
Dog owners who are budget conscious will surely love the Outward Hound Interactive Puzzle Toy for their dog. This interactive toy features interactive squirrels hidden inside a plush tree trunk, something that your pooch will surely enjoy playing with.
Your dog will enjoy playing a game of hide-and-seek with the fuzzy squirrels and will love to bite, squish, and throw the soft toys around.
This toy from Outward Hound is a great option that will pique the interest of your furry friend, and your dog will be busy going after the squirrels as they find their way out of the holes. This boredom buster toy is perfect for active dogs and will encourage cognitive stimulation among them since it's also a form of a puzzle game.
You'll have four different sizes to choose from for this interactive dog toy, from the junior size to the large ones. All sizes are capable of providing a level of playfulness for your furry friend.
The biggest size comes with five different hiding spots for the squirrels and will keep your pooch entertained for several hours. However, some dog owners complained that the toys tend to get damaged easily so you may want to keep your dogs from chewing the toy.
We like this soft squeaky toy from Outward Hound because it can stimulate your dog's mental ability through a fun and entertaining hide-and-seek game. It's a great toy for toss and fetch games, both indoors and outdoors.
Pros
---
Outward Hound's interactive puzzle toy comes in an engaging array of shapes, textures, and sounds that customers can choose from to keep their canine buddies busy.
The plush texture of the Outward Hound interactive puzzle toy is soft and gentle on a pooch's teeth, which ensures that it can be used by both puppies and adult dogs.
The squeakers that are included in this interactive puzzle toy produce a sound that draws and maintains a pooch's attention, thus providing mental simulation.
The versatile design of this interactive puzzle toy makes it possible for customers to either leave the entire Outward Hound toy set for their pooches to play with or remove and toss the squirrels for a game of fetch.
Customers can purchase replacement squirrels for those that get damaged by a pooch while playing with the toy.
Cons
---
Several customers have commented that it is too easy for their dogs to destroy the stuffed squirrels that come with this interactive puzzle toy.
The stuffed squirrels of this interactive puzzle toy pose a choking hazard, as they can be easily swallowed by larger dogs.
#3 Nina Ottosson Dog Smart Beginner Dog Puzzle Toy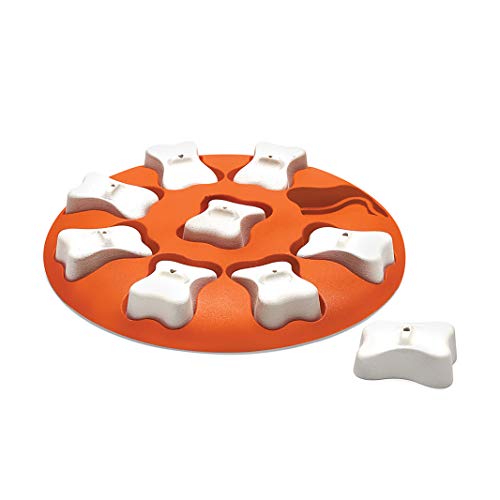 Nina Ottosson by Outward Hound Dog Smart Orange Interactive Treat Puzzle Dog Toy
BEGINNER DOG PUZZLE: The Dog Smart by Nina Ottosson is a level 1 interactive dog puzzle toy that will prepare your pup...
ENGAGING & MENTALLY STIMULATING: This interactive dog puzzle features 9 hidden compartments that are covered by 9...
REDUCES BOREDOM & DESTRUCTIVE BEHAVIOR: The Dog Smart interactive dog treat puzzle provides your pup with a fun and...
This dog puzzle toy from Nina Ottosson is guaranteed to keep your active dog entertained. Your canine companion will have a great time looking for treats by moving the different blocks in different circles.
It's an easy game for your pooch to play with but it's challenging enough to keep them entertained. The toy is a perfect training tool to teach your furry friends how to open doors or grab your morning paper.
What's great about this dog puzzle toy is that you can adjust the level of difficulty by simply locking some blocks using bone pegs. Your dog will be challenged to unplug the blocks by lifting the pegs and moving the blocks that contain some treats.
The Nina Ottosson puzzle toy helps to further develop your relationship with your dog by playing together this fun and interactive game. This interactive toy is considered a Level One game, which is ideal for preparing your puppy for a more challenging puzzle game.
Pros
---
The one-step action design of Nina Ottosson's beginner puzzle toy provides a great way for customers to introduce their pups to problem-solving and puzzle games, in general.
The toy's nine compartments can be used to hide canine treats and keep pooches busy as they attempt to gain access to these treats.
The scent holes included in the removable bone covers of this puzzle's treat compartments release the flavor of the hidden treats, thereby keeping dogs mentally stimulated.
The plastic material used is free of BPA, PVA, and phthalates, and it is easy to maintain as it can be kept clean by regularly washing with mild soap and rinsing with water.
Customers can vary the level of this toy's difficulty either by placing the treats flat or tilting them up at an angle over the hidden compartments.
Cons
---
Several customers have claimed that it was relatively easy for their pooches to work this puzzle toy and gain access to the hidden treats.
The plastic legs of this interactive toy pose a choking hazard to dogs, as they can be easily popped out and swallowed by a pooch.
#4 Lickimat Classic Dog Slow Feeder
This Lickimat classic dog slow feeder mat is a great toy to keep your pooch busy and active. Simply spread out some tasty treats on this mat. Available in two styles, the Lickimat Soother is designed for runny foods, while the Lickimat Buddy is designed for chunky spreadable treats.
Both styles serve the same purpose, which is to keep your furry friends from getting bored in a calmer and more relaxing way. Your dogs will no doubt have a great time licking their favorite treat off this feeder mat.
There are different spreadable treats that you can use for this mat. You can opt for wet food, peanut butter, or come up with your mixture. Regardless of the spread that you'll use, you can be sure that your dogs will love the challenge of licking everything out of the mat. You can also keep the mat in the freezer after spreading the snack, which keeps the treats fresh for longer.
The Lickimat classic dog slow feeder mat is great at keeping your furry friend entertained in a calm manner. The mat features a maze-like pattern, which also helps to pique the interest of your pooch as it licks every bit of treats that you have spread on it.
Pros
---
Lickimat's classic slow feeder can be used with a wide variety of food substances, including raw, wet, or spreadable dog foods.
The design of the Lickimat Classic product promotes slow feeding of dogs, thereby helping to prevent bloating or choking on kibble.
The nubs on the Lickimat Classic slow feeder provide a texture that gets rid of plaque and tartar buildup, thereby helping to keep a pooch's teeth clean and promote fresh breath.
The licking habits promoted by the Lickimat slow feeder trigger the release of endorphins, which help to calm dogs down when they are stressed.
Licking the Lickimat slow feeder triggers the production of saliva, which contains enzymes to break down food substances and ensure easy digestion for a pooch.
Cons
---
The pieces of plastic that tend to break off this slow feeder pose a choking risk to dogs when swallowed.
The absence of anti-slip bottom results in the Lickimat slow feeder moving around easily when used on smooth floor surfaces.
#5 PetSafe Busy Buddy Twist 'n Treat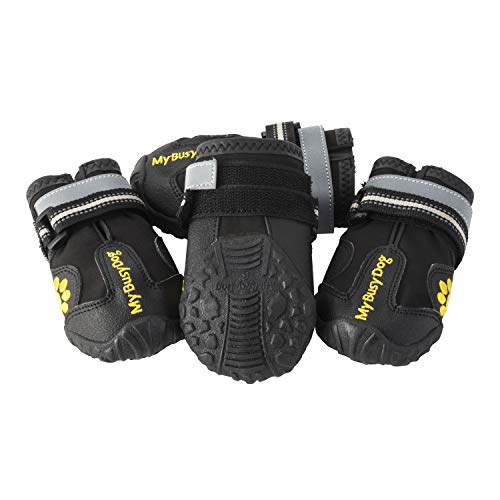 Every dog owner is probably aware that dogs love tugging a lot. When it comes to this, the perfect treat-dispensing dog toy to keep them from getting bored would be the Buddy Twist' n Treat. This dog toy helps to develop the multisensory function of your dog, thanks to its tugging mechanism, which brings about more interactiveness.
With the PetSafe Busy Buddy, your puppy will learn how to smell, hear, and identify foods. So aside from playing, this toy also allows it to indulge in its favorite treats. The toy is made from non-toxic material that helps to ensure maximum safety for your dogs.
Furthermore, the materials used are of premium quality so durability is not an issue with this dog toy. It's perfect for all kinds of dogs, including those that weigh more than 40 lbs.
What pet owners love about this treat-dispensing dog toy is that it's straightforward to set up. All you need to do is unscrew the container, place the treats, and then put it back on. The device works according to your dog's tugging motion on the rope. As your dog tugs, the treats will be slowly dispensed.
This PetSafe Busy Buddy toy is fairly easy to set up and convenient to use. What's more, you can clean and wash it with no fuzz. Simply leave it at the top rack portion of the dishwasher.
Pros
---
The PetSafe Twist 'n Treat toy for pooches is made of soft, non-toxic material that can withstand light to moderate chewing from dogs.
This canine interactive toy features two halves that can be adjusted to fit different types of small treats and kibble, hence providing an innovative way of feeding dogs.
Customers may change how quickly goodies are released from this toy by twisting the pieces apart for quick treats or closer together to make it harder for food to fall out and keep their dogs playing with the toy for longer.
The interactive treat dispenser of the Busy Buddy product dispenses treats randomly while a pooch is playing with the toy, thus helping to maintain the dog's interest in the toy.
The PetSafe Busy Buddy toy is top-shelf dishwasher friendly, which makes it easy for customers to keep the product clean and healthy for their canine buddies to play with.
Cons
---
Several customers have commented that the Busy Buddy toy comes with an overwhelming plastic smell that raises doubts about the safety of the product for pooches.
Some customers have also remarked that it is difficult to screw and unscrew the pieces of this toy together, thus making it difficult to use for them.
#6 West Paw Zogoflex Dispensing Dog Puzzle Treat Toy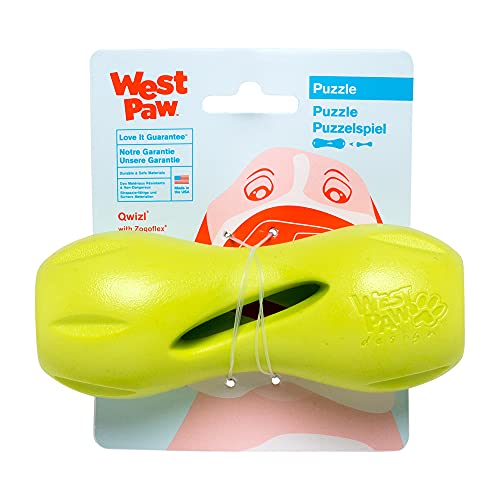 For very aggressive dogs and a bit tough to disciple and train, the West Paw Zogoflex might be the perfect toy to keep them entertained and prevent them from getting bored. It works like a treat dispenser and puzzle in one.
This dog toy is made in the United States and made from sturdy and durable materials that could withstand your ferocious chewer.
The West Paw Zogoflex puzzle treat-dispensing dog toy is ideal for dogs of any size. You have the option of choosing from three different colors – Aqua Blue, Tangerine, and Granny Smith.
It's capable of holding treats securely inside the toy and challenges your furry friend during playtime while allowing it to indulge in some treats as well. The best thing about this toy is that it floats, which is why it's also an ideal dog toy to use in the water.
This puzzle treat toy from West Paw Zogoflex allows dog owners to be creative with the treats that they are going to place inside the dispenser.
Pros
---
The center cut-outs on the Zogoflex toy release the scent of the treats contained in the product to pooches, thus enticing them to play with the toy.
The ergonomic design of the Zogoflex treat toy, which is emphasized by a curved design, makes it easier for pooches to grasp and place the toy between their paws when playing with the product.
The plastic material used to manufacture West Paw's puzzle treat toy is non-toxic and can be recycled, making this product environment-friendly.
In addition to its use as a treat dispensing product, customers can utilize the Zogoflex toy in a game of fetch with their canine buddies.
The West Paw Zogoflex toy is dishwasher-safe, which makes it easier for customers to get rid of dirt and ensure that the product remains healthy for their pooches to play with.
Cons
---
The Zogoflex toy isn't chew-proof and can be comfortably shredded by a pup with a destructive chewing habit.
Several customers have commented that it was difficult for them to get treats in and out of this product due to the small openings on the toy.
#7 Pet Zone IQ Treat Ball
SALE ALERT!!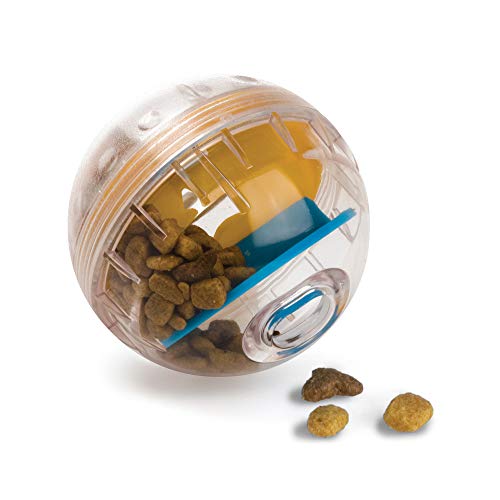 You can have your pet work and play at the same time with this Pet Zone IQ Treat Ball toy. This treat-dispensing dog toy is one of the most exciting ways to feed your pooch with its favorite treats. It's easy and convenient to use. Simply fill the ball and choose the level of difficulty and leave your dog to do the work!
Your furry friend will surely have a great time playing with the ball while figuring out how to get access to the tasty treats inside. With different adjustable levels, this treat-dispensing dog toy is truly a fun way to challenge and train your dog. This game will not only reward your canine buddy with treats but will also help to develop its mental and physical activities.
The Pet Zone IQ Ball treat-dispensing dog toy because it keeps your pooch entertained in a more challenging way, which prevents it from getting bored.
Pros
---
Pet Zone's IQ treat ball is designed to limit the amount of treats that a dog gets, thus promoting slow, healthier feeding for pooches that tend to rush through kibble.
With the internal movable disc, customers may alter this product to three difficulty levels to make it harder for dogs to get treats out of the ball, thus increasing playtime.
The hard plastic material of this treat ball can be conveniently dissembled to provide customers with a convenient way of cleaning the product.
The IQ treat ball is made of non-toxic, durable plastic material that can withstand damage due to the rough play activities of a pooch.
The Pet Zone IQ treat ball is produced in two size options – 3 and 4 inches – to ensure that customers can purchase toys that are suitable and safe for their canine buddies to play with.
Cons
---
The top half of this interactive dog toy splits into two further halves after disassembly, and this makes it difficult for some customers to reassemble the toy.
The hard plastic shell of this canine interactive toy produces a considerable amount of noise when rolling around on hardwood floors.
#8 KONG Stuff-A-Ball Dog Toy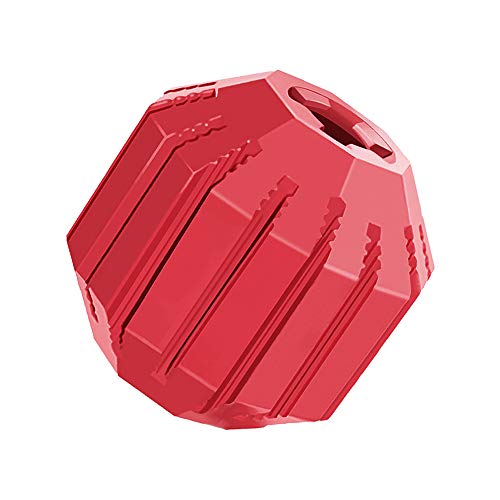 A better version of the KONG Classic, this chew toy is not only a boredom buster toy for your dog but also works as a dental cleaning device. It's designed to contain some of your pooch's favorite treats, and it dispenses the treat when your furry friend starts to roll, chew, or play with the ball.
Your dog will have a great time extracting the content by playing with the ball. It will keep your pooch happy and busy for a longer time and prevent it from getting bored. In fact, this is an excellent chew toy for dogs that have behavior issues.
This KONG toy offers the best of all worlds – it works as a treat dispenser, dental cleaning device, and a bouncing rubber ball.
Pros
---
The irregular shape of the Stuff-A-Ball toy produces an unpredictable bounce that draws and maintains a pooch's attention for a considerable period.
The patented Denta-Ridges design on this KONG toy helps to get rid of plaque and tartar buildup on a pooch's teeth, thus promoting canine dental health.
Customers can stuff the center and ridges of this dog toy with treats that dispense as a pooch plays with, chews and rolls the ball, thereby keeping the dog busy.
The KONG interactive dog toy product is available in small, medium, and large size options to ensure that it is comfortable for dogs in different weight categories to play with.
Customers that aren't satisfied with the performance of this KONG product can get a full refund if they return the toy within 30 days after purchase.
Cons
---
Customers have expressed difficulties in finding treats that can fit in the KONG dog toy without falling out.
The stiff nature of this toy makes it difficult for some pooches to spread the ridges and gain access to soft food substances kept inside.
---
Toys To Keep Your Dog Busy Buyer's Guide
---
Just like our kids, our beloved dogs need our care and attention. But because of our busy lifestyles, we sometimes neglect spending quality time with our furry friends.
So to keep your four-legged companion from getting bored, you should give it the best boredom buster toys that will keep it entertained.
How To Keep Your Dog Busy?
Aside from giving your pooch some toys, there are several other ways how you can keep your dog busy.
Here are some of them.
Let It Peek Through The Window
Allow your dog to enjoy the outside views by opening your window blinds and curtains. This also allows it to enjoy the fresh air and this will surely improve its well-being.
If your pooch can't reach the window, help them out by installing a set of pet stairs.
Spread Peanut Butter On Dog Toys
Treat your dog to tasty peanut butter by spreading some into its toys. Your dog will surely have a great time licking the toy, which is guaranteed to bust its boredom. But be sure to make sure that the peanut butter doesn't contain xylitol. It's a type of artificial sweetener that is harmful to dogs.
Let Your Dog Watch Animal Planet
Tune into the Animal Planet channel and let your dog watch the episodes on the couch. It may not understand anything, but the sounds and sights of its dog fellows will keep it entertained!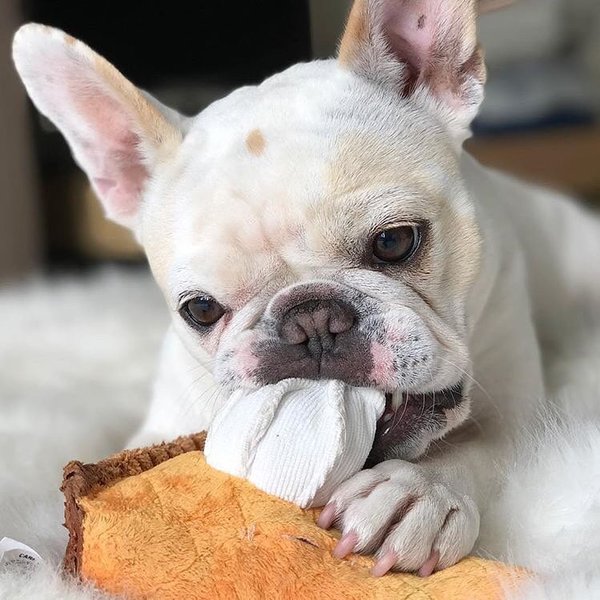 Get Your Dog A Brother Or Sister
If you only have one dog, then there's a good chance that it will get bored quickly. So, look for another dog that you can adopt, and your furry friend will have a brother or sister that it can play with.
Let Your Dog Play A Block Of Ice
Dogs love to play with a block of ice, so freeze some of its favorite treats and let your dog play with them. Place some kibbles or any dog treats in an ice cream container, add water, and store in the freezer. Once frozen, give it to your dog to play with!
Organize A Scavenger Hunt
Dogs love to rummage through things, so let your dog play a scavenger hunt to keep it from getting bored. You can hide some kibbles on its toys and let your pet pooch hunt these treats.
If you are planning to organize the scavenger hunt in your backyard, make sure that your pooch doesn't jet off suddenly. Canine accessories such as a wireless dog fence or a dog GPS tracker will come in very handy.
Let Your Dog Play A Puzzle
A puzzle game is one way to keep your dog occupied for long hours. There are lots of puzzle games for dogs out there. We have compiled a list of 17 interactive dog toys in this article.
Why Your Dog Needs Toys?
Aside from the obvious reason of preventing your dogs from getting bored, there are many other reasons why your dog needs toys:
Mind Stimulation
As mentioned, dogs can get bored as well. And if your dog is bored, you cannot prevent it from digging or chewing on some of your household items. This is why you should give your dog a boredom buster toy to keep it active and entertained while encouraging mental stimulation.
Bonding
Although there are many ways that you can play and bond with your pet pooch without the use of toys, having toys will make your bonding even more exciting and fun.
The toys also help to develop a great relationship with your canine companion. Above all, it also helps in improving your dog's social skills.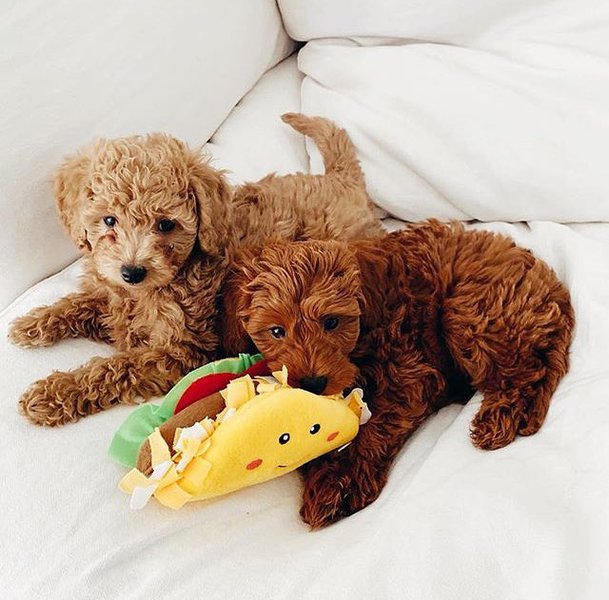 Exercise
Like humans, dogs need exercise too. Sure, you may take them for a walk or a run from time to time, but that is not enough. You need to let your dog play with some toys that will develop its physical strength and ability. Remember that exercising your dog is one way to keep it healthy and prevent it from getting obese.
Dental Health
There are certain types of dog toys that are not only designed to keep your dog entertained but also help to clean and improve their dental health. With these toys, your pooch's teeth will be healthy and strong. Your dog does not have to see the dog dentist that often, which will save you some money.
The toys that are good for your dog's dental health are those that encourage chewing and stimulate their saliva, helping to prevent and diminish plaque. Dental chews work the same way too, so it's recommended to feed your pooch these chews too.
---
Final Thoughts
---
Of all the dog boredom buster toys on this list, the top pick is our favorite. We love this toy since it's guaranteed to keep your canine companion entertained for a long time while honing its skills and encouraging mental stimulation.
Furthermore, it's made from high-quality materials that can withstand rigorous use. So even if your furry friend will play with this toy daily, you won't have to worry about it getting worn out.