The best treat dispensing dog toy is KONG Wobbler.
Is your sofa and furniture getting gnawed at excessively by your dog?
That's what happens when you have a pooch at home with too much energy. A solution will be to take them out for walks more often. But as working adults, our time constraints might make that not possible.
An effective and inexpensive solution will be to get a treat dispensing dog toy for your pooch! Simply load the dog toy up with its favorite treats and you are good to go.
Here's our list of the top-rated treat dispensing dog toys that are currently available in the market.
#1 KONG Wobbler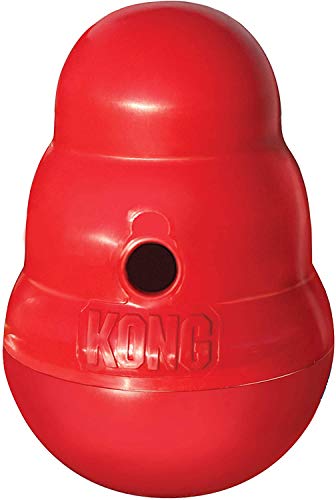 KONG Wobbler Dog Toy - Interactive Dog Treat Dispensing Toy - for Large Dogs
Highly Durable: The KONG Wobbler Dog Toy is a food-grade level, high-strength, and hard plastic polymer toy, created to...
Instinctual Needs: This stimulating dog toy also acts as a dog treat dispenser. Simply add your dog's favorite treat or...
Functionality: The KONG Wobbler's top unscrews at the bottom, making it an uncomplicated dog toy that can be repeatedly...
The KONG Wobbler treat dispensing dog toy is built to last and it's a top favorite with dog owners. Its wobbling mechanism ensures unpredictable movement, which means that your pooch will never get bored of it.
Hollow in the center, this dog toy can be stuffed with any treat of your choice to double as a treat dispensing dog toy.
You can even put homemade treats or your pet's favorite kibble into the KONG Wobbler. Here's a great tip that was provided by a dog owner – Make the canine toy even more challenging by sealing it with peanut butter or freezing the entire toy.
What's more? The wobbler is made in right here in USA so you know that the quality is top-notch.
The KONG Wobbler is available in small or large sizes and it is suitable for both puppies and adult dogs.
It is also very easy to clean. Simply unscrew the KONG toy, chuck it in the dishwasher with warm and soapy water.
The KONG Wobbler is very simple and easy to fill with treats, while complex enough for your pooch to be entertained for hours together. Its unpredictable nature means that your furry friend will never get bored of it. Furthermore, it is reasonably priced and is durable enough to last for a long time.
Pros
---
This is a portable treat-dispensing toy measuring 7.5 x 5.13 x 5.13 inches, and it is lightweight at 1.79 lbs, which makes it suitable for most dog breeds.
It is ideal for training teething pups and is a great chewing toy that will keep your pup busy.
It is made of strong food-grade polymer, which makes it durable and also safe for your doggie.
It is easy to use as you simply twist open the top and insert the treats, and its wobble action entices your pup to play with this toy.
It is easy to clean and dishwasher safe such that you do not have to worry about your pup eating dirt or foreign objects when using this toy.
Cons
---
It is made using hard plastic, which means a strong pup can crack or break it into small pieces, causing it to become a choking hazard.
The wobble action does not function, and the toy doesn't stand upright when filled with treats.
#2 Starmark Treat Dispensing Chew Ball
SALE ALERT!!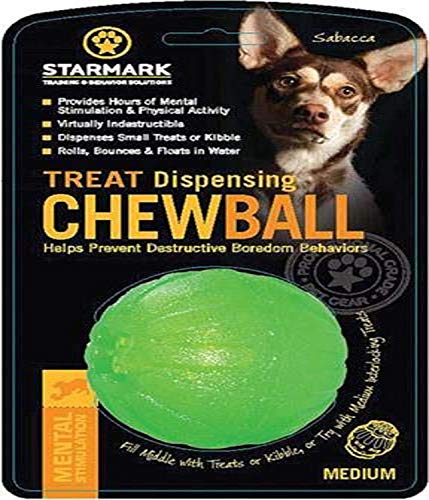 It is no wonder that the Starmark Treat Dispensing Chew Ball is a favorite among dog owners because it is packed full of features. Not only does it dispense treats but also doubles up like a bouncy ball that can float on water too. This makes it perfect when you are bringing your dog to the swimming pool.
Shaped similarly to a tennis ball, the Starmark Toy is made from durable silicon which makes it virtually indestructible. It can withstand all of the chewing, rolling, kicking, biting while dispensing treats along the way.
There are tiny openings on the sides of the ball for you to fill it up with treats. It is also dishwasher safe and comes in 2 different sizes.
The Starmark Chew Ball is our budget pick because it is so affordable and so versatile. It can be used as a dispenser that can double up into an interactive toy to keep your dog engaged for hours together.It is easy to clean and easy to stuff with treats. We think that the Starmark Chew Ball is a great buy for any dog parent.
Pros
---
It is available in two sizes, Medium with a 2.75-inch diameter and Large with a 4-inch diameter, to cater to many dog sizes.
It is made of a material that is more durable and stronger than rubber, thereby being capable of withstanding any strong chewing or impact.
You can fill the chew ball with dog food or treats, and this can keep your pup busy for hours.
It bounces and can also be used in water as it floats, so your pup will be able to enjoy the ball and treats indoors or outdoors.
You can keep the ball clean regularly as it is dishwasher safe.
Cons
---
Some strong pups can break the toy, and this makes it dangerous for your pup as they can choke on the pieces.
It has an overwhelming scent when unboxed the first time, and this can put off your pup from using the ball.
#3 OurPets IQ Treat Ball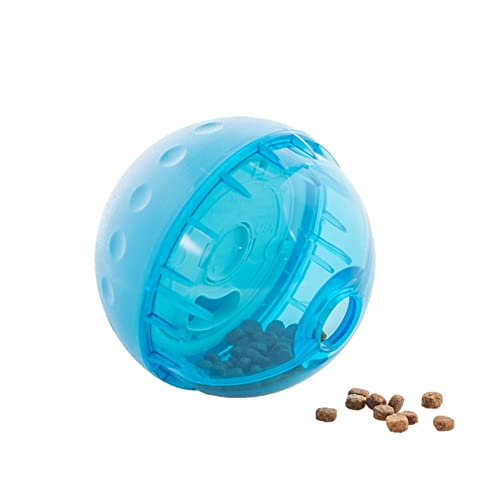 What can be more attractive than a dispenser that also entertains your dog? The IQ treat ball does just that. It ensures that your pooch is active as it plays with it to get to the treats.
It is made from non-toxic hard plastic and can be easily twisted open to fill with treats and kibble. The plastic is built to withstand even aggressive chewers.
This treat dispensing dog toy will be challenging to your furry friend because it must roll the ball to make the treat fall into the second compartment before it reaches it. It helps to promote active feeding and exercising the dog simultaneously.
With an adjustable difficulty level, it helps with fostering your dog's problem solving skills.
With its unique 2-tier compartment feature, the OurPets IQ Toy Dispenser not only dispenses treats but also stimulate your dog's brain.
Pros
---
You can get either the 3-inch or 4-inch treat ball, depending on your doggie's size.
It is made of safe, non-toxic plastic, which makes it safe for chewing and playing.
It promotes discipline and training as your pup can only enjoy the dispensed treats or dog food.
You can adjust the difficulty level of this treat ball to help boost your pup's IQ.
It is easy to clean and maintain as all you have to do is place it in a dishwasher.
Cons
---
This ball's design enables the two parts to separate during play, and this exposes the inner divider that pups can chew and swallow.
The plastic can break and cause cuts to your pup's mouth or become a choking hazard.
#4 StarMark Bob-A-Lot Interactive Dog Toy
SALE ALERT!!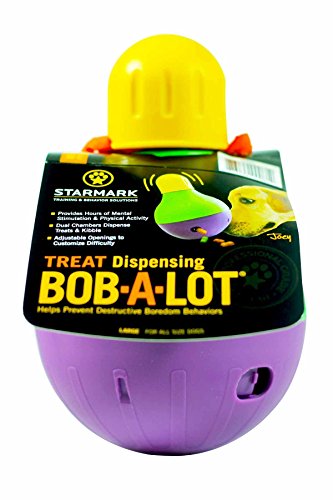 You can not only adjust the difficulty level but also the amount of food your dog can get from the dispenser. A large bottom compartment in the dog toy has been designed to accommodate a full meal comfortably.
Currently, this treat dispensing toy is available in two sizes and is suitable both slow eaters and aggressive/impatient dogs.
It has a weighted anti-slip bottom that gives it an unpredictable nature for endless fun for your pooch.
You can adjust the difficulty level of the treat dispensing to keep your dog engaged for a longer time and make the play time more interesting. This helps to expand the pent-up energy while providing for hours of endless fun.
Pros
---
This interactive dog toy comes in 2 sizes, measures 6 x 6 x 8.5 inches, and weighs only a pound which makes it ideal for use by most dog breeds.
It comes in attractive colors and a unique design which helps to train your pup and boost their IQ.
It comes with two chambers, with the bottom chamber capable of holding up to three cups of dog food, enough for a full meal.
It comes with a weighted anti-slip bottom which allows the toy to wobble and entice your pup to play with it.
The top and bottom openings are adjustable and let you change the difficulty level for dog training.
Cons
---
Some pups take time to get used to the toy's wobble action and may attack or bark at it, causing irreparable damage or a noise nuisance.
It is hard to access the small holes for proper cleaning, and you can only use water to shake and clean this toy.
#5 Omega Paw Tricky Treat Ball
An active dog will enjoy finding treats in this tricky treat ball from Omega Paw. The balls have several holes of varying sizes which can be filled with treats. The lips on the holes will prevent the treats from falling off. The dog gets a good workout when it rolls the ball and throws it around in an effort to get to the treats.
With a vinyl textured surface, this treat dispensing dog toy is lightweight and easy for any pooch to roll and play with.
It is available in various sizes.
As compared to the other treat dispensing dog toys on this list, the Omega Paw Treat Ball is harder to clean. Hence, it is recommended to use bigger treats instead.
This treat dispensing dog toy has been designed to keep your dog engaged for hours. Watch it have its playtime as it rolls and bounces the dog toy.
Pros
---
This treat ball is available in 3 sizes and is easy for most pup breeds to play with as it measures 3.54 x 3.54 x 3.54 inches and weighs 3.84 oz.
This orange ball has a great and unique design that will attract a dog to play with it for hours.
It can hold dog treats or dry kibble, and it is easily loaded from a hole at the top.
Made of safe, non-toxic material that makes it durable and easy to chew on.
It is easy to clean and maintain and is dishwasher safe.
Cons
---
An aggressive pup can easily put a hole into the toy and destroy it.
The treat-dispensing hole is small, and some pups can hardly get any treats out.
#6 PetSafe Busy Buddy Kibble Nibble
SALE ALERT!!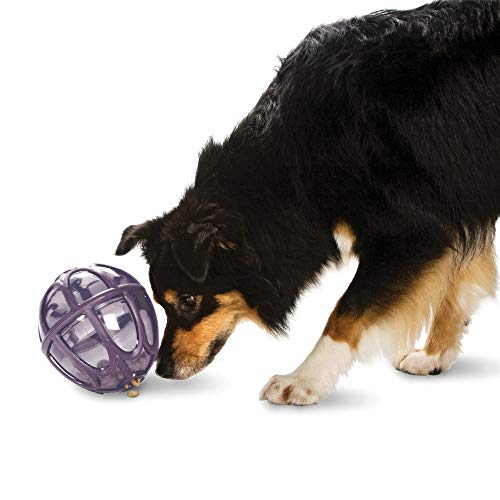 Overfeeding treats is definitely not good for your dog's health.
Therefore, the PetSafe Busy Buddy Kibble Nibble ensures it gets some exercise too as it interacts with your dog and dispenses the treats randomly.
It is easy to open and fill. Simply twist the dispensing toy at the sides and fill up one of its compartments with treats. You can fill this treat dispensing dog toy with kibbles up to 2 full cups. Also, it is dishwasher safe.
The difficulty level can be adjusted based on your pet's age and level of learning.
Based on reviews from dog owners, it is recommended to start with smaller dry treats first. So that the smaller treats will come out faster and rewards your dog as it plays. Once they are more experienced with the PetSafe Busy Buddy, use larger treats to make it more challenging for your pooch.
With the largest 2-tier compartments among the other dog toys, the PetSafe Busy Buddy holds enough kibble for a full meal. Make your dog work for its meal and expand its pent-up energy while eating.
Pros
---
This treat-dispensing toy is available in 2 sizes, Small for doggies under 20 lbs and Medium/Large for those over 20 lbs, and you can choose between purple and orange colors.
It is made of non-toxic plastic material with rubber bumpers all around the exterior and can withstand chewing pressure from most doggies.
It is the perfect weight management tool as it slows down meals by changing the treat access difficulty level by trimming the prongs.
It is easy to use, and all you have to do is twist apart the two sides and fill one end with treats or dog food.
It is easy to clean as it is top-rack dishwasher safe so that you can clean the toy regularly.
Cons
---
The plastic part of this treat dispenser is prone to cracking and breaking off, and this can cause your pup to choke on the parts.
The toy easily unscrews during dog play, and this can cause the treats to spill out.
#7 West Paw Zogoflex Toppl Interactive Treat Dispensing Dog Toy
If you have a dog who have loads of energy, then the West Paw Zogoflex Toppl Toy will be a delight for it. Manufactured from non-toxic durable plastic that is free from toxic materials such as BPA and latex, you can be sure that your pooch is in safe hands.
With this dispenser, you have the option to use homemade treats such as apple slices and carrot cubes too.
Simply put the treats into this treat dispensing dog toy and your dog will be entertained for hours.
Pros
---
This dog toy is available in 3 sizes and 3 colors to choose from, with the small size measuring 7.09 x 5.51 x 3.15 inches and weighing 5.29 oz to cater to most dog treats.
It is made of non-toxic and recyclable material, and it is free of latex, BPA, and phthalates such that it is safe for moderate chewers to chew on.
This toy floats on water and can hold treats and dog food in a sizable chamber.
It keeps your pup busy as you can twist and push the 'Toppl' and turn it into a fun puzzle.
You can easily clean this toy as it is dishwasher safe.
Cons
---
Some doggies can easily chew some chunks off this toy, and this can be a choking hazard or cause stomach upsets if swallowed.
It is pricey as you have to buy the two rubber domes separately.
---
Treat Dispensing Dog Toys Buyer's Guide
---
Toys are known to stimulate the brain of dogs and there are plenty of options available in the market. Encouraging your pooch to play with their dog toys will reduce destructive behavior that stems from boredom.
But it is not always possible for you to always play with your pet because of time constraints. Therefore, with a treat dispensing dog toy, you can keep your pooch engaged for hours and free you to attend to your own chores.
There are plenty of other dog accessories out there, such as dog balls, dog chew toys and dog puzzle toys. Do take note that some of these accessories have a treat dispensing option.
Why Should You Get One?
Mental Stimulation: Dogs are creatures that need a constant stream of activity. These treat dispensing dog toys challenge them as they try to reach the treats within. They need to figure out ways to get to the treats and this will keep them engaged and mentally healthy.
Exercises Your Dog: Your dog burn calories as they try to play and forage for their food from the treat dispensing dog toys. This will also lead to expending all the excess energy they have and keeps your expensive furniture safe from their paws.
Good For Digestion: It is a great method of feeding all the meals in a healthy manner. because the food comes out randomly. Your pooch will not gulp down the food too fast and suffer from indigestion. Instead, it encourages healthy eating habits which helps in maintaining a healthy weight.
Keeps Boredom Away: The constant chewing and reward in the form of treats will keep destructive behavior at bay.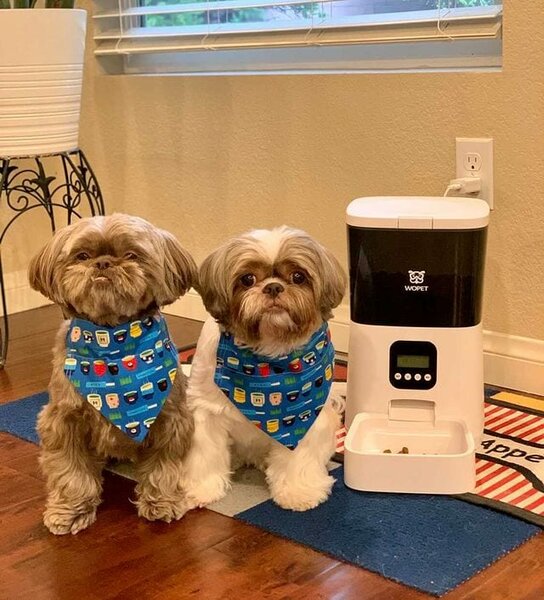 How Do They Work?
Treat dispensing dog toys are specially designed so that you can hide treats inside them. The treats are usually placed in special compartments within the dog toys and your pooch will have to figure out how to get these treats out.
It is an inexpensive option of keeping your dog occupied as it learns new ways of reaching for its treats.
For your dog to pick up the scent of treats in the dispensing toy, it is highly recommended to use its favorite treats which have a strong odor. Once your dog learns to get to the treats you can mix up a variety of kibble. You must start slow, let it learn and not discourage it from using it.
Once your pooch associates the treat dispensing dog toys with a treat reward, you can be sure that it will be occupied for hours.
Tips On Choosing A Dispensing Toy
There is no universal treat dispensing dog toy. You must select a toy that is suited to your dog's temperament and personal preference. Here are a few guidelines which we have identified.
Size of Toy: The dispenser must be large enough to accommodate the treats your dog is usually used to. Make sure that the dispenser is just large enough to hold the treats inside and not too large for them to fall out.
Age of Dog: The treat dispensing dog toy must be the right size for your puppy or dog to handle. It cannot be too big or too small that the dog doesn't find challenging and interesting enough to pursue.
Durability: Dogs can be aggressive in their chewing habits hence the treat dispensing canine toy must be made of a material that can withstand the chews persistently. For strong chewers, it is recommended to get treat dispensing dog toys made of toughened silicone. For less aggressive chewers, a softer material is preferred instead.
---
Final Thoughts
---
Keep Your Pooch Occupied!
The best treat dispensing dog toy is one that is easy to fill, clean, and challenging enough to keep your pooch entertained for a long period of time.
From our research and feedbacks from actual dog owners, the Kong Wobbler is the best treat dispensing dog toy in the market right now. It is manufactured in USA and extremely durable, making it a hot favorite with dog owners.