The best calming dog collar is ADAPTIL Calming Dog Collar.
If your dog is having a hard time dealing with anxiety and stress, you should give buying a calming collar for your canine companion a thought. Already decided to do so? Our list of the best calming dog collars will help you buy the best product for your pet.
#1 ADAPTIL Calming Dog Collar
SALE ALERT!!
ADAPTIL Calming Pheromone Collar for Dogs, Medium/Large
ADAPTIL is the #1 vet recommended and selling solution to help calm and relax you dog wherever they go
Effective and drug-free solution may help to comfort dogs during stressful situations such as staying home alone,...
May increase focus during training sessions
This vet-recommended ADAPTIL calming collar is ideal for calming and relieving stress in dogs. Each collar, designed to be worn around a dog's neck, works by releasing dog appeasing pheromones that mimic a mother's nursing pheromones.
Pheromone percentage in the ADAPTIL collar typically ranges between 2.5% to 5% depending on the size you buy.
The ADAPTIL collar is easy to use, and all that is required is for dog owners to simply place the collar around a pooch's neck. The collar is activated by heat from the dog's body and is safe to wear all day. Each collar is intended to be used for a period of four weeks, after which it should be changed to maintain effectiveness.
Also, in addition to helping keep a dog calm during stressful situations, the ADAPTIL collar helps eliminate undesirable behavior associated with stress in dogs, such as destructive chewing, excessive barking, and separation anxiety, just to mention a few.
The ADAPTIL calming collar delivers what it exactly promises – a calming effect on dogs going through a stressful situation. The collar is easy to use, and the capability for 24-hour daily use over four weeks helps keep a dog calm both indoors and outdoors.
Pros
---
The collar has a clasp with a strong grip that holds firm around a dog's neck, thereby preventing it from falling off easily.
The drug-free formulation of the ADAPTIL collar makes this product safe for pooches to wear.
This collar is easy to use, and its calming pheromones are naturally activated by the heat emanating from a dog's body.
The collar is highly durable and is effective for up to four weeks after activation.
This collar works well to calm dogs with behavioral issues such as fear, stress, and separation anxiety.
Cons
---
Customers have reported that constant wearing of the ADAPTIL collar caused their dogs to develop hotspots on their necks.
The collar isn't water resistant and doesn't work well when exposed to wet situations, such as rainfall or when a pooch goes swimming.
#2 KOOLTAIL Adjustable Calming Dog Collar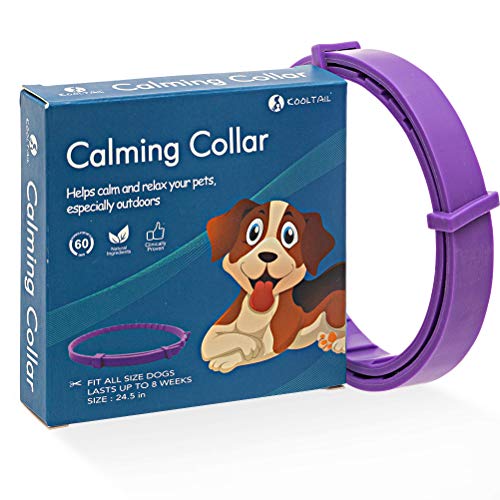 The all-natural pheromone ingredients present in the calming collar are capable of pacifying your dog without posing any threat to its well-being. It doesn't interfere with your pet's chemical mechanism, rather it works on communication signals.
Kooltail Adjustable Calming Dog Collar works quickly and helps your dog in staying calm continuously for 30 days. It's highly recommended or pet's with anxiety issues as it helps your furry companion in overcoming everyday fears which are the root causes of anxiety and stress.
It's a one size fit and is suitable for dogs as well as cats of all ages, sizes, and breeds.
This flexible pet collar measures 24.5 inches in length and can either be used as a whole for older dogs or cut into parts and keep the extra part sealed to be used next time on a puppy.
We'll highly recommend this dog calming collar to the pet owners who're looking for an effective collar that comes at economical pricing. If your pet is often fearful and anxious about minor things, this pet calming collar can keep it under control. Going by the price, it's not a big investment at all, making it a safe purchase.
Pros
---
The collar's 24.5-inch length is adjustable, and it comes in a one-size fit for all, which makes it suitable for both small and medium-sized dogs.
This collar is quick-action, and its effects on a stressed pooch are usually noticeable within one hour after use.
Pet parents can cut off extra lengths of the KOOLTAIL collar after fastening it on their dogs' necks for a neater look and ensuring their comfort.
Pheromones released by this KOOLTAIL collar are effective at calming anxious, nervous, and overactive dogs.
There are no noticeable side effects associated with the use of the KOOLTAIL adjustable collar on dogs.
Cons
---
The collar comes with a strong lavender scent that can be overwhelming for both dogs and humans.
Customer feedback suggests that this collar may not be effective for all dog breeds.
#3 NurtureCALM 24/7 Pheromone Dog Collar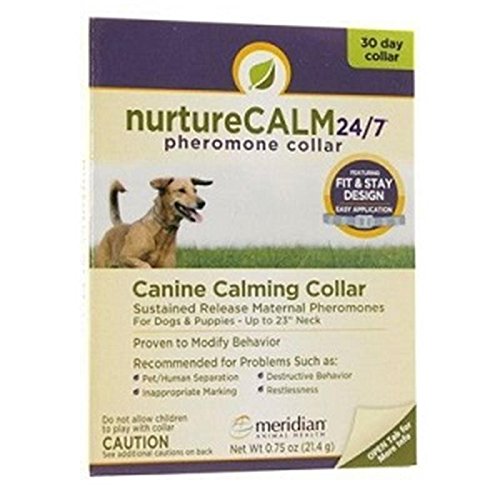 NurtureCALM 24/7 Pheromone Dog Collar works best to keep in check your furry friend's abnormal behavior like loss of appetite, panting, anxiety, stress, aggression, restlessness, inappropriate marking, and pet/human separation.
This product contains all-natural pheromones that ensure the continuous calming effect, 24/7 for 30 days from the date of attachment. It's suitable for adult dogs as well as puppies for neck sizes up to 32 inches.
You won't detect any scent in this dog collar because it contains pheromones that can only be detected by dogs which have a much stronger sense of smell as compared to humans.
You should go for this dog calming collar right away if your bongo is suffering from multiple stress and anxiety-related symptoms. It can also cure symptoms like making loud noises, showing abnormal behavior during vet visits and traveling, etc.
Pros
---
The all-natural pheromones contained in and emitted by this dog collar are not toxic to a dog, even if the pooch chews on the collar.
The collar's long-lasting pheromones continue to be effective for up to 30 days after attachment and activation by heat released from a pooch's body.
The scent given off by the pheromones released by this collar isn't offensive to the human nose and can only be detected by dogs.
This 24/7 pheromone collar can conveniently fit on dog necks that are up to 23 inches wide. The collar can also be adjusted and cut to fit smaller neck sizes.
Cons
---
Several customers have reported that the NatureCALM collar didn't reduce their pooch's stress and anxiety effectively.
There have been reports of this collar causing allergic reactions in dogs.
#4 Relaxivet Calming Pheromone Dog Collar
This calming dog collar from Relaxivet works by alleviating the fear and stress-related behaviors like frightening, excessive barking, stress, anxiety, etc. in your pet. Its 100% natural pheromone formula makes your canine buddy overcome psychological fears without any harm or addiction.
Being crafted from a flexible material and manufactured to be highly adjustable, makes it suitable for dogs of small and medium-sized breeds.
Its pleasant-smelling lavender essential oil pheromones help your pet in getting adapted to a new home, staying calm while home alone, friendly behavior with other dogs, getting acquainted with thunderstorms and loud noises, etc.
We'd want our pet to feel relaxed in otherwise tensed up situations and Relaxivet has the best formula to achieve that. In doing so, this pheromone dog collar doesn't cause any chemical imbalance in your dog's body and there's no fear of getting addicted.
Pros
---
This collar comes with a pleasant lavender scent that has left several customers happy and helped relax dogs.
The collar is constructed with a soft plastic material that is lightweight and very comfortable for a pooch to wear all day.
This 26-inch collar can conveniently fit on most dog neck sizes, and any excess length can be cut off after fixing the collar on a pooch's neck.
The locking mechanism on this product helps ensure that the collar stays firmly in place after it has been worn on a pooch's neck.
Cons
---
Customers have reported that the plastic used in making this dog collar is of inferior quality and that it tends to break easily.
Some customers have left feedback that, instead of a pleasant lavender scent, this collar comes with an unbearable plastic smell.
#5 Healex Dog Calming Collar
The Healex dog calming collar does a great job in providing relief to your bongo from separation anxiety, fear of sudden loud noises, and stress which give rise to several unusual symptoms in your pet such as panting, loss of appetite, excessive licking, barking, scratching, etc.
It's a lavender and Citronella oil formulation with sedative properties and pleasant scent that helps your furry friend in combating stress and anxiety-related disorders.
Finding a perfect-fit dog collar for puppies and large hounds can get a bit tricky but this one size dog calming collar fits dogs and puppies of all sizes and breeds.
There're no side-effects whatsoever in this product which makes it a preferred purchase over some hemp-based CBD tinctures, dog treats, or others. Besides that, it lasts twice longer as compared to other collars in this range.
Pros
---
The Healex collar's effectiveness is found to last longer when compared to other products on this list, with up to two months of constant pheromone release and stress relief after activation.
The collar can easily be adjusted to fit around different dog neck sizes, ranging from puppies to adult dogs.
The lavender and citronella oil formulation of this dog collar is safe and hasn't been reported to cause any adverse effects in dogs.
The sedative properties of this dog collar are effective at fighting stress and combating anxiety-related disorders in pooches.
Cons
---
Several customers claim that this collar doesn't stay in place and that it tends to fall off a pooch's neck rather easily.
This collar comes with a strong odor that several customers find to be overwhelming and unbearable.
#6 CPFK Calming Dog Collar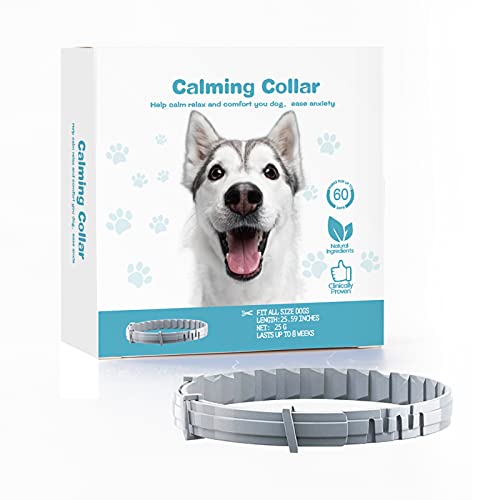 This 25.6-inch CPFK collar features an adjustable length, making it suitable for different dog sizes. Not only is this calming collar waterproof, but it also is equally flexible and can conveniently fit around different pooch neck sizes, and a handy tooth system prevents the collar from easily loosening.
The CPFK collar uses all-natural lavender and chamomile essential oils to generate pheromones, and this generation can only be activated by heat from the pooch's body. Activation typically takes place within one hour after the collar is worn around a dog's neck.
Upon activation, the CPFK collar releases odorless pheromones that have a calming effect on scared and anxious dogs. This collar can also be worn round the clock, and this product is capable of continuously releasing pheromones for up to 60 days after activation.
With a promise of continued effectiveness for up to 60 days, the CPFK calming collar offers more longevity than most other dog calming products out there. And additional features such as a waterproof design and the use of natural essential oils to provide a calming effect on dogs make the CPFK collar worth giving a try to relieve stressed pooches.
Pros
---
This calming collar is designed to be waterproof and can be used effectively in rainy and snowy situations or when bathing the dog.
Pheromones contained in this dog collar can continue to have a calming effect on dogs for up to 60 days after this product is activated.
The effectiveness of this product is known to be rapid-acting, and there are reports that its effects on a stressed pooch are noticeable within one hour after the collar is worn on the dog.
This CPFK product comes with an adjustable tooth system that helps keep the collar in place and also ensures that it fits around different dog neck sizes.
The natural lavender and chamomile essential oils that are used in producing this dog collar are effective at relieving tension and anxiety in pooches.
Cons
---
Customers have claimed that the collar's construction isn't durable and that it is easy for their pooches to remove the collars from their necks.
This dog collar comes with a strong scent that can be overwhelming for dogs and humans that are extra sensitive to smells.
#7 ThunderEase Calming Anti-Anxiety Pheromone Dog Collar
SALE ALERT!!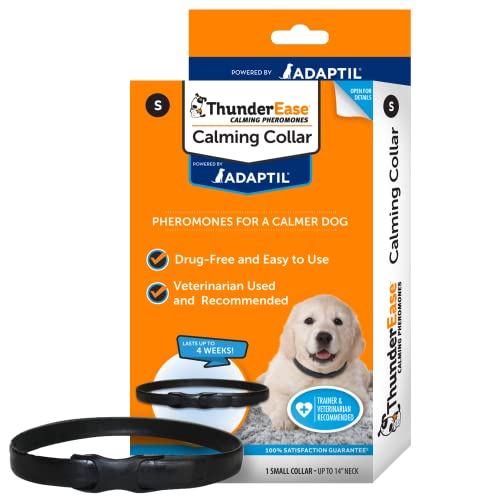 ThunderEase Calming Anti Anxiety Pheromone Collar for Dogs (Small)
POWERED BY ADAPTIL: Recommended by thousands of vets and scientifically studied and verified for over 20 years.
FROM THE MAKERS OF THUNDERSHIRT: The most trusted brand for reducing dog anxiety - you can trust ThunderWorks for...
STOP PROBLEM BARKING, destructive chewing, trembling, fear of loud noises, separation anxiety, and many other...
The ThunderEase calming collar works by releasing pheromones that mother dogs typically use to calm newborn puppies. This drug-free calming solution contains 5% pheromones which are sufficient to have a calming effect on dogs.
The dog's body heat should trigger the release of pheromones contained within the collar. The calming effect of these pheromones should help curb the barking problem, destructive chewing, and other undesirable traits associated with stress in dogs.
With an effectiveness span of four weeks, dog parents can keep their pooches calm with the ThunderEase calming collar for as long as possible, and its calming effects are typically visible on dogs within one hour after activation.
The ThunderEase calming collar provides an effective means of relieving stress in dogs with its drug and chemical-free nature, ensuring it remains a safe solution for problems of canine anxiety.
Pros
---
This dog collar is easy to use, and its pheromone release is automatically triggered by heat generated from a pooch's body.
The ThunderEase dog collar is designed to keep releasing pheromones for up to four weeks after activation, ensuring that a pooch can remain calm for a longer period of time.
This collar is easily adjustable, and it can also be trimmed down, which makes it suitable for use on dogs of different ages with varying neck sizes.
The collar is waterproof, and it won't be affected by water in any way, be it when the pooch is being bathed or if the dog gets into a pool.
Cons
---
Some customers have reported that the ThunderEase collars caused their pooches to develop allergic reactions.
There are reports that this dog collar tends to automatically fasten, like a zip tie, around a pooch's neck, and this can pose a choking hazard.
---
Calming Dog Collars Buyer's Guide
---
There are several things to consider when buying a dog calming collar.
Pheromone Concentration
The effectiveness of a dog calming collar is directly proportional to the amount of pheromone that it houses. By making a comparison between dog calming collars manufactured by different brands based on the amount/concentration of dog appeasing pheromone it contains, one can easily decide the best choice for its bongo.
Therefore, when buying a pheromone-based calming collar for your pet, you should always look for a dog calming collar that contains a high quantity of pheromone. Most of such collars come with pheromone quantities varying between 0.02% and 6%, higher percentage giving better results.
At the end of the day, the effectiveness of a calming collar depends on how your doggie responds to the pheromone. Based on a specific breed, size, and age, different dogs may respond to different pheromone concentrations differently.
Type Of Pheromone Used
Not all dog calming collars are made from the same pheromone content. A dog calming collar may either contain essential oil pheromone like lavender oil, chamomile oil, etc. or herbal ingredients. Other than these, some collars also make use of sound to pacify your pet.
You can either try different collars and then deduce which type of collars works best for your bongo or consult a vet to seek more personalized guidance. You should also know that other than calming collars many other calming methods like calming dog treats, tinctures, etc. are available as well. However, if you're looking for the safest way to provide mental support to your bongo, we'd recommend you to go for a dog calming collar.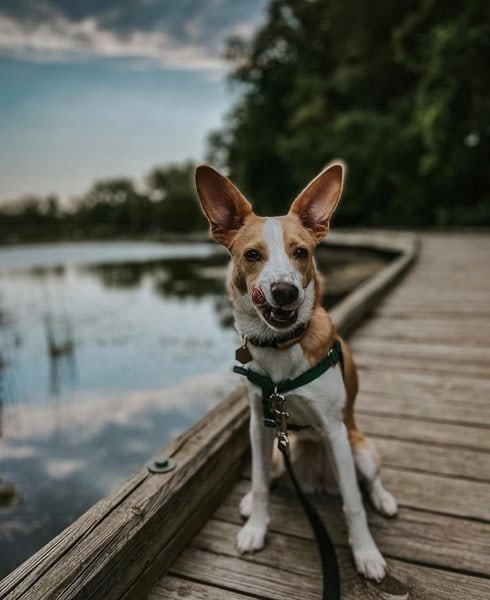 Collar Size
Different brands offer collars in different sizes; some are suitable for little pets, some for medium ones while some are crafted for large hounds. However, there're a good number of dog calming collars that come in fit-for-all size. Such collars are manufactured up to optimum length and based on the girth of your bongo's neck you can easily cut the extra part of the collar and use it another time.
Scented Or Odorless
If your canine is prone to allergies, you'd want to stick to a collar that is not adulterated with any fragrance. Large portfolios of dog calming collars highlight fragrances as one of their main features, that's why carefully check the label of the product you're about to buy and make sure it secretes odorless pheromones. However, if your pet isn't allergic to scents, you can go for a scented collar as well. A delightfully scented collar can also help your pet in achieving good vibes.
Long-Lasting Effectiveness
When buying a dog calming collar, you should always go for a genuine quality product even if it costs a few cents more. It's because only genuine quality collars are able to secrete pheromone levels of the same effectiveness until a replacement is needed. Others begin to lose their effectiveness within just days of usage and are not much use to your pet for the rest of the period. Although most of the collars highlight 30 days/60 days of usability, not all are able to perform.
Besides that, you should choose to buy a waterproof collar if you're going to take your pet for a swim or if your pet has a fear of bathing. Ordinary dog calming collars lose their pheromone content once they come in contact with water.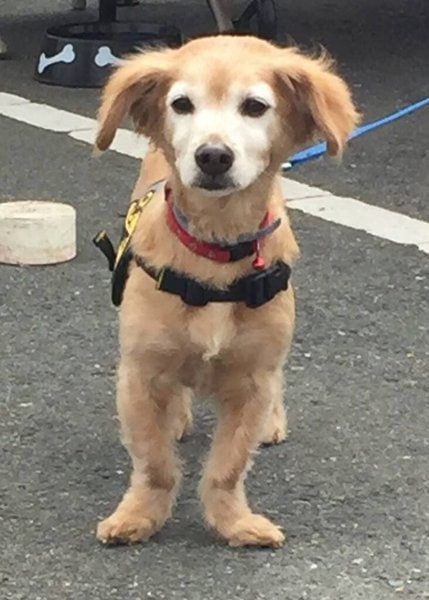 Comfort
Choosing to buy a comfortable dog calming collar for your canine friend is the most critical step when buying a collar for your pet. Always make sure that you're choosing a perfect fit collar for your pet. Even if a collar is a perfect fit, there's no guarantee that its material will be comfortable for your pet. That's why you should confirm the type of material used in the collar is habitable for your pet and only then buy the suitable option.
Ease-Of-Use
It may not seem like such a big deal at first but ease-of-use is something you should definitely look into before choosing a specific dog collar. E.g. you should go for a compatible calming collar if you're planning to use a leash or a harness as well. The collar you're about to buy should be versatile enough to cause no discomfort to your pet bongo when switching between different dog accessories.
Other Options
If you're curious about what are the other calming options available for your pet, we'll feed your curiosity right away. You can also choose to use a calming dog collar as well as any of the other alternative methods simultaneously to see improved results.
Treats
All dogs are fond of tasty treats so feeding your dog a delicious calming treat will help your dog in getting control over anxiety as well as make your doggie happy and healthy.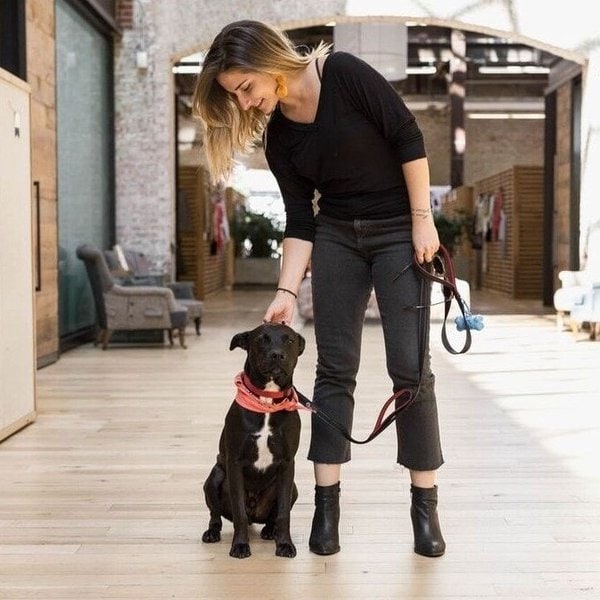 Diffusers
Buying a portable pet diffuser that can be easily attached to your dog's collar is also a good way to keep your doggie's anxiety at the bay. Here you'll not need to make your doggie wear a separate calming collar which is a plus point in this option.
Calming Wearables
The wearables like calming jackets and wraps act on your dog's anxiety issues by providing a sort of hugging touch to your pet. These apply just the right amount of pressure on your doggie's body keeping it calm and relaxed.
Does Your Furry Friend Need A Dog Calming Collar?
Knowing when your dog needs a calming collar is indispensable knowledge that you acquire through experience. However, we'll help you in judging the symptoms that indicate that your furry friend needs the support of a calming collar.
The symptoms like panting, loss of appetite, excessive barking, trembling, crying and whining, cowering and coiling, diarrhea, etc. are some of the major indicators of anxiety and stress.
However, you shouldn't just put on a calming collar on your pet right after noticing the symptoms. Firstly you should try to find the root cause of the issue and consult your vet to get assurance that your pet isn't suffering from any serious issue.
---
Final Thoughts
---
We're very hopeful that our vet-recommended product catalog of dog calming collars and the buyer's guide will help you in making the best choice for your pet.
Going by the detailed analysis, we'd like to point out that our top pick for this list is the collar product you should go for. Being a natural pheromone-based calming collar, it poses no risk of addiction, allergies, or any other health hazards.
Other than that, our top pick can also be considered a steal deal, considering its benefit-cost ratio and its attractive price point.