The best bully stick for dogs is Pawstruck Bully Sticks for Dogs.
The best bully sticks for dogs are pretty awesome as a multifunctional treat for your furry little buddy. I mean what else gives you the benefits of dog treats, nutritious dog food, and chew toys all in one? However, with all the options available on the market,
it might be a little hard to settle on the right brand. To help you out, here are our favorite 7 bully sticks that dear Fido will definitely fall in love with.
#1 Pawstruck Bully Sticks For Dogs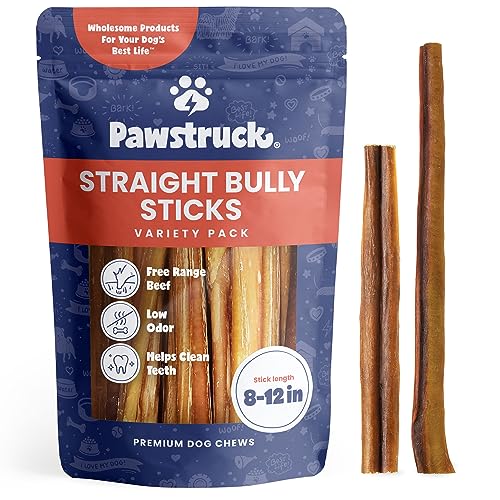 This tasty treat is derived from free-range cattle. This means that your furry bestie gets to enjoy the very finest when it comes to nutritional value with the dog treats' high protein and low-fat content. This makes it great for dogs in all age groups as they get a nice caloric supplement to their main diets.
The bully sticks are prepared by slow roasting. This serves multiple purposes with the most important being enhancing the overall flavor and as a result making your dog more open to the idea of chewing on them. The cooking also helps with preservation such that no other chemicals are required to guarantee longevity.
These dog treats are available as both thin and thick sticks, and they are fully digestible. This is ideal as you can easily pick out the perfect size based on your dog's age and breed. Larger dog breeds work well with the thicker and longer sticks while puppies and small breed dogs work best with the thin variety.
This brand of bully sticks stands out with its many perks including the high-quality source, the nutritious value and the odorless preparation. It is a great product for dogs of all sizes and ages. All you have to do is to ensure that you pick out the right stick size for your dog's safety and comfort.
Pros
---
Constant chewing on the tough Pawstruck bully sticks is effective at reducing and removing harmful plaque and tartar build-up.
The single-ingredient formulation of the Pawstruck bully sticks – which is devoid of chemical additives and artificial preservatives – helps ensure easy digestion of these bully sticks.
Beef used in manufacturing these bully sticks is sourced from free-range and grass-fed South American cattle and not originating from countries with questionable quality and safety practices.
Each Pawstruck bully stick is weighed by hand to ensure that customers get full value for their money.
By partnering up with nonprofit animal rescue organizations, every purchase of a Pawstruck product goes to helping animals in need.
Cons
---
Some customers have remarked that the Pawstruck bully sticks come with an unbearable odor.
Customer feedback suggests that these bully sticks are either too small or too thin to last for pooches that are aggressive chewers.
#2 Cadet Bully Sticks
These bully sticks come in 4 to 7 inch length varieties. This is a good thing as you have a variety of options based on how long your dog takes to chew through one stick. It is also important to note that this size range makes the bully sticks ideal for small and medium dogs which includes puppies from all breeds.
These fully digestible bully sticks are made purely out of beef with absolutely no additional ingredients that could cause harm to your precious pet. The beef is rich in nutrients particularly protein and fiber which in addition to helping with growth and strength also promote the dog's gut health.
These alternative dog chews is prepared by slow roasting which adds a lot of flavor to the bully stick. It also helps tenderize it enough for the small dogs and puppies to safely enjoy the nice treat while still maintaining the chewy consistency for dental health and long chewing time.
With its high protein content and general pet-friendly preparation, these are great dog chews for their price point. You're in luck if you are one of the pet owners looking for high-quality dog treats on a tight budget. You are also pretty much guaranteed value for your money as their consistency ensuring that one bully stick will take your dog a good long while to completely chew through.
Pros
---
These bully sticks are formulated from a single ingredient, beef, which contains a high protein content that is beneficial to a pooch's health.
The tough nature of this Cadet product is effective for cleaning a pooch's teeth while the dog in question is chewing on these bully sticks.
Cadet Bully Sticks don't contain gluten, grain, or preservatives that don't add value to or improve a pooch's health.
Each Cadet bully stick is inspected in the United States before releasing onto supermarket shelves to ensure compliance with safety and quality standards.
These sticks are prepared with a slow-roasting method to ensure that the flavor of the products appeals to pooches.
Cons
---
The lengths and thicknesses of these bully sticks are inconsistent, with some packages containing sticks that are either too thin or too short for pooches to safely chew on.
A significant amount of Cadet Bully Sticks packages contain thin sticks that dogs tend to chew up within a few minutes.
#3 Jack&Pup 12-Inch Premium Grade Odor Free Bully Sticks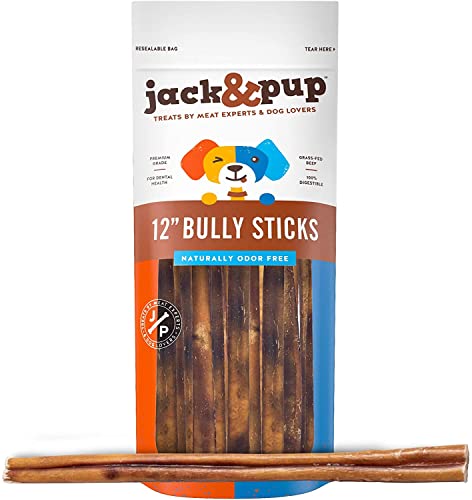 These bully sticks are also from organic free-range cattle which means your best buddy is getting the very finest ingredients. The beef is not only high in protein and low in fat but also safe for the dog in general as there are no harmful additives like hormones or other growth enhancers to be passed down through the dog treats.
These dog chews also stand out in that they are 30% thicker than most bully sticks. This will definitely come in handy if you are shopping for a bigger and more aggressive dog that would chew through ordinary bully sticks faster than you would like to replace them.
They are awesome dog treats to consider if you want a bully stick that is packed with flavor as an extra special treat for your favorite furry friend. That extra smoking step in the preparation definitely makes a huge difference in this case. The thickness also ensures that you get full value for your money with dog treats that will definitely last a long time.
Pros
---
The high protein and low-fat content of this product ensure that these bully sticks can be used as health supplements for a pooch's diet.
Jack&Pup bully sticks contain glucosamine and chondroitin, both of which are effective at promoting the development of healthy joints in pooches.
Consistent chewing on the firm texture of the Jack&Pup premium bully sticks is an effective way of reducing tartar and plaque buildup on a pooch's teeth.
The preparation process of the Jack&Pup bully sticks, which includes boiling, roasting, smoking, and slow-drying, helps lock in a natural beef flavor and ensures that the sticks have little unsavory odors.
These bully sticks are sourced and produced from free-range and grass-fed cattle without treatment from antibiotics or hormones.
Cons
---
The inconsistent sizing of this product is highlighted by the fact that several customers have left feedback that they received medium-sized bully sticks instead of the extra-large sticks they ordered for.
While these bully sticks are advertised to be odorless, some customers have remarked that the sticks have an unsavory smell.
#4 Sancho & Lola's Bully Sticks For Dogs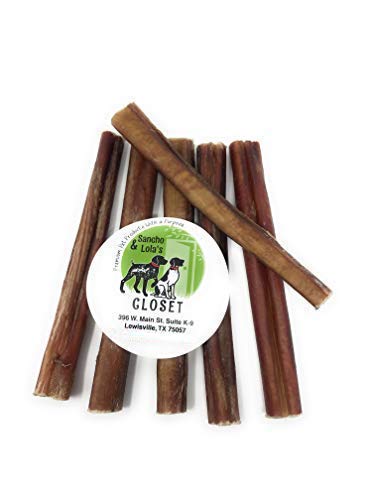 This is another brand of bully sticks that is ideal for puppies as well as small land medium size adult breeds. This is because of the 4 to 6 inch length that they come in. These are long enough that that they will keep your pooch occupied for a long time but not so long that they become too difficult for your little buddy to handle.
These fully digestible dog chews are also made fully from beef parts with no additives or preservatives. This will definitely help keep your dog safe by minimizing exposure to unnecessary chemicals used during production.
This is a good alternative if you are shopping for small and medium sized dogs due to the size. It is also a great option if you do not mind the bully stick odor which some dogs are actually very drawn to
Pros
---
These bully sticks are hand-graded, hand-trimmed, and packed by weight to ensure consistent packaging for customers.
Cattle used in producing these bully sticks are strictly sourced from high-quality North and South American farms with free-range grass-fed cattle, and the bully sticks themselves are packaged in the United States.
The Sancho & Lola bully sticks are formulated with 100% beef pizzle, which makes them safe for pooches with allergies to chew on safely.
The tough texture of the Sancho & Lola bully sticks is ideal for clearing plaque and tartar buildup that is detrimental to a pooch's dental health.
Cons
---
Customer feedback suggests that these bully sticks tend to cause an obstruction of a pooch's gastrointestinal tract, thereby resulting in an upset stomach.
Sancho & Lola's bully sticks typically come with an odor that might be unappealing to humans.
#5 Best For My Pets Odor Free Bully Sticks
This is a great option for odor free bully sticks. For the most part, most dogs do not really mind the bull stink. However, for your own comfort as the pet owner, having an odorless option will definitely help you tone it down on the dog-related musk in the home and is therefore definitely worth considering.
The bully sticks themselves come cooked which is great as in addition to minimizing the odor it helps get rid of some of the germs present on the bull's parts. The slow cook preparation also helps with impacting flavor which makes them great dog chews and dog treats.
These are great alternative dog treats if avoiding a stinky home is a priority for you. At least now you do not have to add bull stink to the list of dog-related smells in your home. It also offers great value for money with all the features and perks to the dog considering its friendly price point.
Pros
---
Production of these bully sticks involves a slow and multi-step process that helps lock in the natural flavors that dogs enjoy.
The beef used in producing these bully sticks is sourced from premium free-range and grass-fed cattle.
Chewing on the Best For My Pets Bully Sticks helps eliminate tartar and plaque build-up, which in turn, helps keep a pooch's teeth and gums clean and strong.
Each bag of these bully sticks is hand-weighed to ensure that customers get consistent sizing with each delivery.
The pure-beef, gluten-free, and grain-free composition of these bully sticks makes this a product that can be digested by pooches without any complications.
Cons
---
While the flavor of these bully sticks may be appealing to pooches, several customers have commented about the unsavory smell that typically accompanies these bully sticks.
Inconsistent packaging means some customers receive bully sticks that are either too thick or too thin for their pooches to chew.
#6 Natural Farm 6-Inch Bully Sticks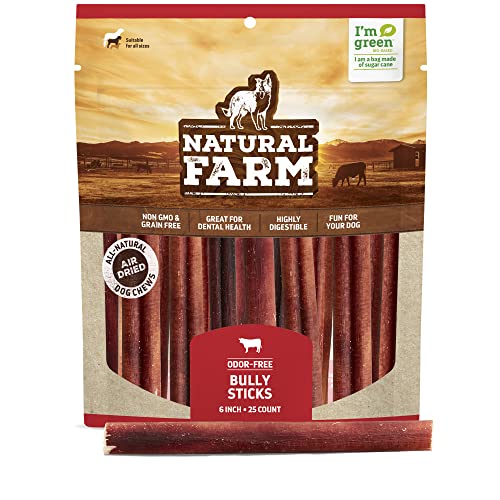 These bully sticks for dogs stand out mainly in how they are prepared. They are oven baked which in addition to making the sticks flavorful has an impact on the consistency. The preparation makes them chewy which in turn promotes the overall longevity of them as dog chews for your best buddy.
These dog treats are also unique in that they maintain a degree of uniformity in terms of thickness. This standard size will definitely make your life easier as you do not have to keep finding the perfect stick for your pooch's specific needs. So no more fishing in the bag for a size that your dog will actually like.
These are good alternative dog treats if you want to switch things up for your dog in terms of the flavor. If they have been rejecting smoked, dried and raw options then you might want to try them. The minimal odor feature will also make your life a lot easier as the home and pet owner.
Pros
---
These bully sticks are slow oven-baked to ensure the retention of nutrients that are beneficial to pooches.
The single-ingredient Brazilian beef pizzle composition of this bully sticks product is devoid of grains, chemicals, and preservatives that can be harmful to a pooch.
Constant chewing of these Natural Farm Bully Sticks stimulates and strengthens a pooch's jaw muscles and also prevents plaque and tartar buildup.
The 6-inch thickness of these bully sticks is great for pooches that are heavy chewers, and this product also comes in a 25-pack variation that is designed to last for weeks.
Cons
---
Several customers have reported a considerable variation in the sizes and thicknesses of each package of the Natural Farm Bully Sticks they've received.
Several customers have shared some feedback on their pooches either vomiting or developing diarrhea after consumption of these bully sticks.
#7 Beloved Pets Thick Bully Sticks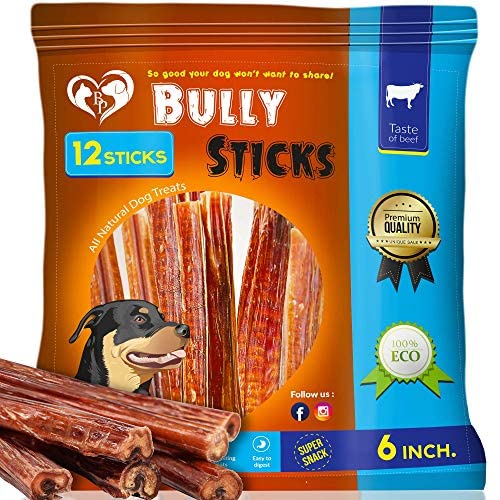 These bully sticks come in two sizes. The 6 inch bully sticks are ideal for small and medium dogs while the 12 inch dog chews are great for large breeds. The thickness however, is more or less standard for all lengths which ensures value for your money through long chewing times whether you are shopping for a little pup or a beautiful beast.
It is very important that your choice of bully sticks is gentle on the dog's stomach. These chewy dog treats are rich in fiber and come completely gluten free. These two make it very easy for the dog to digest once swallowed.
In general, these are commendable dog chews as alternatives if you are looking for tasty dog treats for your dog that will not leave your house smelling weird. Your dog also gets to enjoy something that is safe for them in terms of gut health and overall well-being.
Pros
---
Beloved Pets bully sticks are produced from natural beef only, which makes them easy for pooches to digest.
These bully sticks are devoid of ingredients such as soy, corn, sugar, hormones, preservatives, and artificial flavoring that can have an adverse effect on a pooch's health.
Customers can order from a variety of Beloved Pets Bully Sticks sizes and quantities to suit their pooch's individual needs.
Chewing on the tough texture of the Beloved Pets Bully Sticks is an ideal way for pooches to get rid of unhealthy plaque and tartar buildup on their teeth.
The thick nature of these bully sticks ensures that this product lasts longer when being chewed, which makes it good for pooches that are aggressive chewers.
Cons
---
Like most other bully stick products, this product sometimes comes with an odor that can be quite unbearable for humans.
Several customers have remarked that they received bully sticks completely covered in mold.
---
Bully Sticks For Dogs Buyer's Guide
---
For the most part, dogs really love bully sticks. I mean what's not to love about dog treats that, in addition to being tasty, offer tooth and gum massages while also filling their bellies? However, this is not to say that all bully sticks are good enough for your best buddy. Here are a few very important considerations you need to make while shopping in order to get best sticks.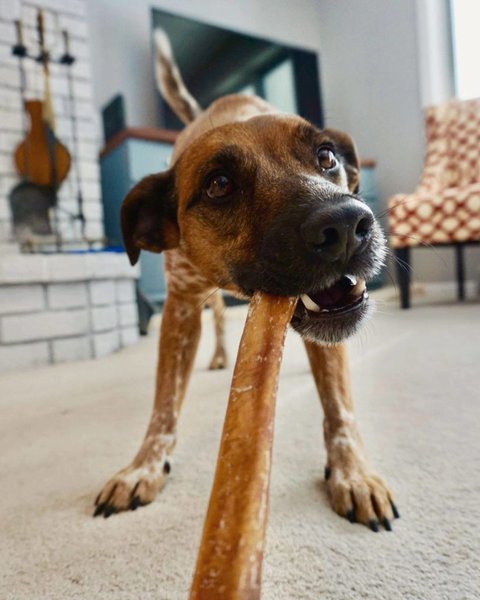 Dry vs. cooked vs. raw
Bully sticks come in different forms including dried, cooked and raw. These all have their different sets of benefits to offer to your dog. The dried sticks are incredibly chewy and are great for dogs going through teething. However, they can be a little dry which is not always a good thing.
The raw ones on the other hand are not easy to come by and are meant to serve more as a nutritious treat than a chewy one. Despite their high protein content, they are more prone to carry germs and also tend to last shorter which may not be sustainable in the long run.
Finally, there are the cooked options which are easily the most popular. In addition to being durable and sufficiently chewy, they are also tastier. You can therefore never go wrong with these especially if you are getting your dog used to the new treat.
Consider consistency
While chewiness is a major recurring theme when it comes to what makes different top bully sticks popular, it is important to understand that not all of them are equal when it comes to quality based on consistency. You want to hit that sweet spot where the stick is neither too hard nor too soft. It is also important to note that this might differ based on your specific dog breed and size.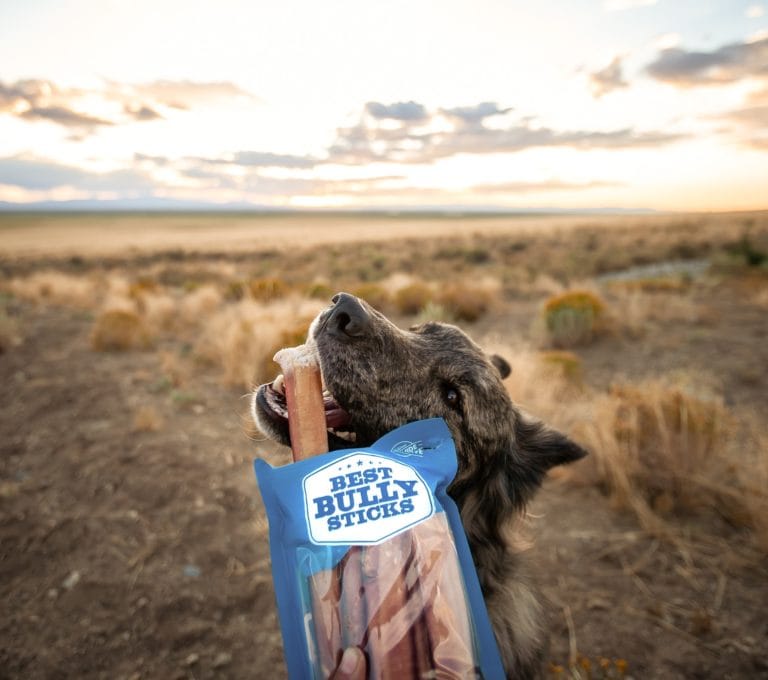 Read the fine print
When shopping for your bully sticks, there are specific perks you want for your pet. These include bully sticks that are 100% natural, chemical free and of course grain free. All this and other important information is always on the labels so make sure to give them a look so that you understand exactly what you are giving your best buddy.
Size actually matters
Most of them come in lengths of either 4, 6, 7, 8 or 12 inches. It goes without saying that larger bully sticks are ideal for larger breeds. These is because it is easier for them to handle. I mean imagine your little pup trying to hold down the super long treat. It would end up being more frustrating than anything.
Shorter bully sticks of 4 to 7 inches on the other hand are better for small dogs and may actually end up being a choking hazard for larger breeds.
---
Final Thoughts
---
With their nutritious benefits, dental health perks and supreme distraction capabilities, bully sticks are no doubt a great investment to make as a dog owner. However, it is important to ensure that you find something that your dog will not only enjoy but will also benefit from.
The 7 best bully sticks for dogs highlighted above will definitely not disappoint. The best part is that they are all 100% natural and therefore safe for your dog. And with all the information provided in our shopping guide, you should be in a position to settle for the best possible brand for your pooch. So go forth and find the best treats for your best friend.