The best wet dog food is CESAR Classics Poultry Flavored Wet Dog Food.
Studies have shown that wet dog food are generally higher in nutrients such as proteins, lower in carbohydrates and does not have as many synthetic preservatives as compared to dry kibble.
After all, we only want the best for our dogs. Right?
Generally, wet (or canned) dog foods are most suitable for dogs that have lost their sense of smell or they are unable to chew due to existing dental conditions. Having wet dog food makes eating more palatable for them!
Let's jump straight into comparing the different brands & varieties of the best wet dog food available in the market right now.
#1 CESAR Classics Poultry Flavored Wet Dog Food
When you need something more than just a meal for your furry friends, you want reliability and the promise of complete nourishment.
Do you agree?
The CESAR Classics Poultry Flavored Wet Dog Food comes along with the commitment that you look for in dog food.
It promises to include unadulterated love and nourishment in all the meals that it manufactures. While reviewing this wet dog food, we realized how the formulation has been done keeping in mind the need to bond over flavorful food and a healthy lifestyle.
If your pooch is the type that has a sophisticated palette and does not really pick up any and everything for snack times, then this is a culinary experience he is bound to enjoy. You can choose from meaty juices to saucy textures as per your pet's preference.
Whether you have a smaller breed or a larger breed, this wet dog food will cater to all your needs. The sheer variety of poultry selections makes this canned dog food all the more tempting for the wagging tails out there.
The best part?
Not only is the texture tantalizing in itself but is also packed with essential vitamins and minerals to nourish your canines with balanced meals.
Yet another interesting feature of this canned dog food is the fact that it is sold along with convenient trays that allow maximum retention of freshness and zero-fuss as far as maintenance is concerned.
We recommend this because of the fact that it is wholesome and real meat that can be had by pups of all sizes and does not need to be served selectively.
Pros
---
This pack of wet dog food contains 24 easy peel-away 3.5-oz packs with different flavors, such as Duck, Grilled Chicken, Oven Roasted, Chicken and Turkey, and this gives your doggies more taste and variety for their meals.
You have the option to serve the wet food alone or combine with crunchy kibble, which gives your pup a meal with varying textures.
These food packs contain real protein from the meat, and this provides your pup with energy and lean muscle.
Contains vitamins and minerals, which help with immunity, bone structure, muscle build and overall health.
This is made with all-natural ingredients and is grain-free such that most pups with allergies can also enjoy this food.
Cons
---
Some pups were lethargic after eating this dog food.
Pups with sensitive stomachs were reported to have experienced diarrhea.
#2 Purina Pro Plan Savor Wet Dog Food
SALE ALERT!!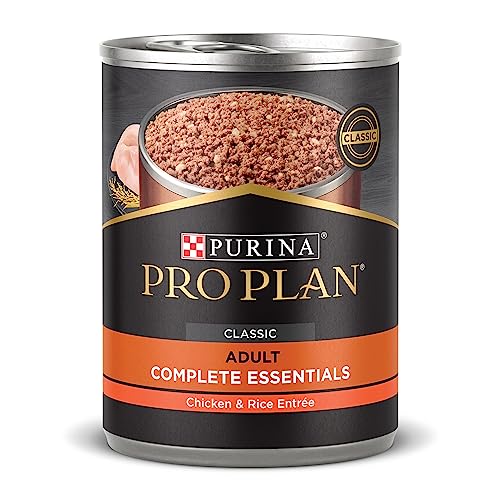 Let's get straight to the #2 choice.
The Purina Pro Plan Savor Wet Dog Food comes in at a narrow second.
Why?
They have been formulated to enhance your dog's defense mechanism and improve immunity, digestion, skin and coat. Most dog owners have reported how these cans effortlessly meet the energy and vitality needs of your adult dog.
There is no denying the fact that real meat is the number one ingredient in this formulation. High-quality protein makes up this formula that can be enjoyed by puppies, adult dogs as well as your senior dogs.
It helps with your canine's digestive health too.
The Purina Pro Plan Savor Wet Dog Food contains natural prebiotic fiber, originally sourced from wheat bran that can significantly improve your dog's gut health.
The other essential vitamins present in this canned dog food are Vitamin A and linoleic acid that is a component of Omega-3 fatty acid. You will notice a marked difference in your dog's skin and coat health from the time you start offering this canned dog food.
A few dog owners we spoke to told us how their pooches had been very picky eaters till the time they started the Pro Plan Savor chicken and rice variety and there has been no stopping them since then. They simply love the flavor and mealtimes are no longer a task.
The texture and size of this canned dog food is something that both dog owners as well as dogs themselves seem to love. It is formed in the shape of hard kibbles along with a few shredded and tender pieces that offer variety in taste as well as texture.
We recommend this because it is made of optimal levels of protein and fat that will maintain an optimal condition for your canine companions.
Pros
---
A pack of this wet dog food contains half a dozen of 13-oz cans of wet pate made of rice and chicken entrée.
This is a high protein meal containing real chicken that helps with muscle build for your doggies.
Contains 23 essential vitamins and minerals, which help to boost immunity, offer brain health and helps with bone density and other bodily functions.
It helps to nourish your pup's skin and coat.
It can be eaten as plain wet food or combined with dry kibble for more texture.
Cons
---
Some pups do not like the taste and smell of the food.
Some doggies experienced loose stool after eating this wet food.
#3 Blue Buffalo Wilderness Natural Adult Wet Dog Food
SALE ALERT!!
The best way to look after a family member is to provide wholesome and nutritious food to them, to begin with. This is exactly how the Blue Buffalo Wilderness wet dog food intends to care for your furry friends.
The ingredients are natural, holistic and limited to minimize food sensitivity and to maximize nutritional value extracted from this canned dog food.
Did you know?
Turkey is known to provide high-quality proteins and that is the first ingredient dog owner will be talking about.
To keep your dog active through the day, there are potatoes and there is oatmeal that are sources of digestible carbohydrates to sustain energy and keep them up and about all day. To take the nutritional value to the next level, this canned dog food also contains a great blend of vegetables, fruits and micronutrients that further assist in the process of digestion.
This wet dog food maintains a blend of Omega 3 and Omega 6 fatty acids to boost the immune system and also improve skin and coat health. The presence of glucosamine and chondroitin in the wet dog food keeps joints more mobile.
This canned dog food is so high on flavor that your pet will keep coming back to it. Even if you are dealing with pets that have food sensitivities, you have nothing to worry about because it is free from corn, soy and wheat.
We recommend this because your pooch gets a completely balanced meal from amino acids in the deboned chicken, complex carbohydrates from the whole grains and fiber from fruits and vegetables.
Some of its key ingredients include chicken broth, beef broth and chicken liver.
Pros
---
This wet dog food comes in a pack of a dozen 12.5-oz tin cans and is formulated for adult doggie breeds.
It is made with real beef and chicken grill, a rich source of proteins, which provide not only energy but lean muscle.
It contains added minerals and essential vitamins, which give your doggie a shiny coat, smooth skin, body immunity and overall wellness.
It can be eaten as a complete meal on its own or mixed in with dry kibble so that your furry friend can enjoy a variety of textures in their meal.
It is free of corn, wheat, soy and other artificial ingredients, which makes it safe for pups with allergies.
Cons
---
Some doggies were lethargic and lacked energy after eating this dog food.
Some smaller doggie breeds experienced stomach gurgling and loose stool.
#4 Natural Balance Ultra Premium Wet Dog Food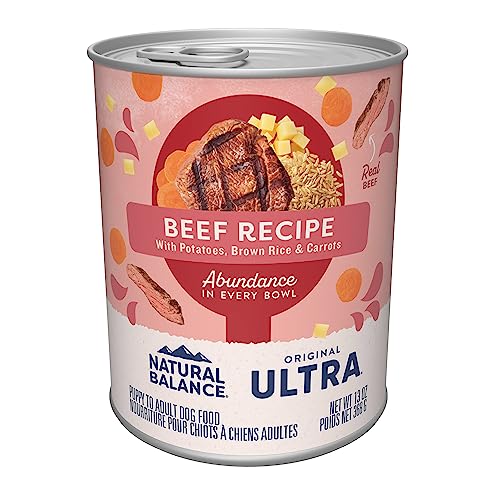 Look:
The Natural Balance Ultra Premium Wet Dog Food comes stocked with high-quality nutrition that is formulated for adult as well as puppies.
It is a blend of wholesome quality ingredients like beef, grains and vegetables to support the growing stages of puppies to the energetic phases of an adult dog, without any artificial colors.
What's more?
With the assurance of high digestibility, this wet dog food ensures that there are no added colors or preservatives to reduce its nutritional value.
When they say perfectly balanced nutrition, they mean a precise blend that goes like, 30% protein, 40% fats and 40% carbohydrates that help your growing dogs develop strong bones and muscles, energize them with just the right amount of fat stores and the perfect amount of complex carbohydrates.
The formula in this canned dog food gives your pets lasting energy by including complex carbohydrates like oat brown rice and potatoes instead of simple sugars that would otherwise cause sudden spurts of energy and then a terrible sugar slump.
If you are dealing with a picky eater, you have five great tasting formulas that you can choose from. There is the standard beef and chicken and the exotic lamb and liver that none of your pets would be able to refuse.
This high-quality canned dog food is also one of the more affordable options out there.
We recommend this because when they say balanced nutrition, they genuinely mean it and your puppies as well as your adult dogs will hugely benefit from it.
Pros
---
This dog food is available in a pack of a dozen 13-oz cans, which are suitable for most doggie breeds and is also suitable for puppies and pregnant doggies.
It is protein-rich as its top ingredient is real beef, which helps with lean muscle and energy levels.
It is rich in amino-acids, which help to boost immunity, and this keeps your doggie healthy at all life stages.
This wet dog food contains carrots, potatoes and brown rice, which are rich in fiber and help to regulate your pup's digestive system.
It contains Omega-3 and Omega-6, which give your pup a shiny coat and smooth skin while also helping with brain development.
Cons
---
Many customers complained of the 'sticky mud' consistency of the food, which some doggies did not like.
Some pups experienced indigestion and loose stool after eating this food.
#5 NUTRO Hearty Wet Dog Food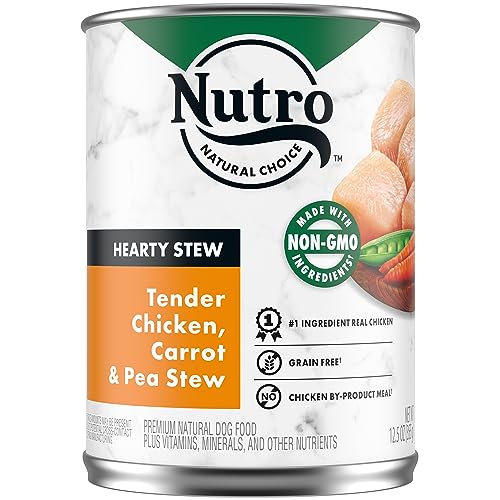 There is nothing quite like the goodness of home-cooked food and NUTRO Hearty Wet Dog Food are made responsibly to provide your pets with the finest natural ingredients you could ever offer.
Wow, it comes with real chicken too.
Unlike other wet dog foods that can only claim to have chicken but in reality, contain chicken by-products, this canned dog food contains real chicken and lamb protein and other wholesome natural ingredients.
With this formula of rice and lamb dinner, you can promote healthy skin and a shiny coat effortlessly.
What's more?
This formula has been slow-cooked in broth to maximize the absorption of natural ingredients, vitamins and minerals.
To be honest, feeding your dog simple healthy meals should be convenient and not full of hassles. This is what the company aims at. To add to the goodness of the ingredients, this canned dog food is quite affordable and easy to opt for in the longer run.
We recommend this because this is made from natural ingredients sourced and supplied from trusted farmers and suppliers to provide wholesome nourishment to your furry friends.
Pros
---
You can purchase a pack of this wet dog food containing a dozen 12.5-oz of meat cuts soaked in gravy and is suitable for both large and small doggies.
It is made of farm-raised chicken, which provides protein for lean muscle build and weight management.
It contains carrot, which is a great source of vitamins and fiber and it helps with food digestion.
It contains antioxidants like selenium and thiamine, which help to boost your doggie's immunity.
They can get vitamins and minerals from ingredients like chicken liver, peas and dried tomatoes and these have many health benefits.
Cons
---
Some pup owners noted a chemical smell after opening the can of food.
Some pups experience stomach upsets and lethargy a few days after eating this dog food.
#6 CANIDAE Life Stages Canned Dog Food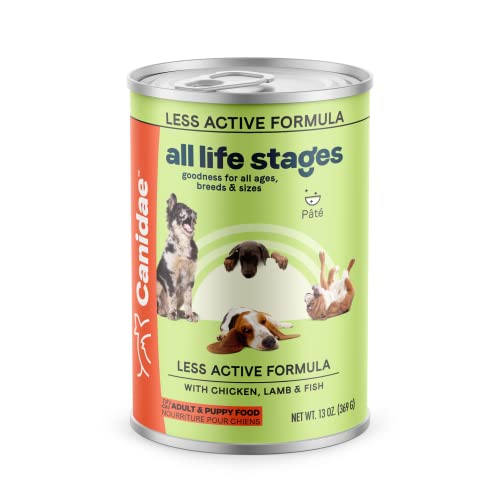 When you want great tasting nutrition in a can, opt for CANIDAE Life Stages Canned Dog Food.
It offers great taste and nutrition, all at the same time packed in a can. You can completely rely on the quality provided to keep your dog at his healthiest and happiest.
If you happen to have a number of pooches in your household, then this formula is clearly the best solution. Whether you have puppies, adults, lesser active dogs or senior dogs, this formula will take care of all your multipurpose needs, as far as ages, breeds and sizes are concerned.
The meat, fish are slow-cooked and simmered in natural broth to ensure maximum retention of nutrients. Chicken, lamb and ocean whitefish come together for the perfect blend of wholesome goodness. You will not have to worry about potential allergens like wheat, soy and corn because this canned dog food is free from all three.
This recipe contains brown rice and white rice that are better choices of grains than corn and wheat. The inclusion of peas and potatoes ensures that your pet is active all day, being fueled by complex carbohydrates.
The rest of the ingredients in this canned dog food make up for your dog's fat requirements and it also adds flaxseed to boost heart health.
Given the quality and ingredients, this canned dog food is relatively cheaper than the premium grain-free wet dog foods available in the market.
We recommend this because of its versatility, maximum retention of nutrition and affordability.
Pros
---
It comes in a 12-pack of 13-oz cans containing dense wet food in broth for less active doggies like recovering or elderly pups.
It is rich in protein as it contains lamb and chicken, which help with weight management and lean muscle.
It contains fish, which provides fatty acids and omega for brain health, smooth skin, and a shiny coat.
Contains probiotics for better digestion and antioxidants to boost immunity.
It is made free of soy, grain or corn, which is suitable for pups with allergies.
Cons
---
Some doggies did not like the smell of the food and refused to eat it.
Some experienced vomiting and diarrhea a few hours after eating this food.
#7 Hill's Science Diet Adult Dog Wet Food
SALE ALERT!!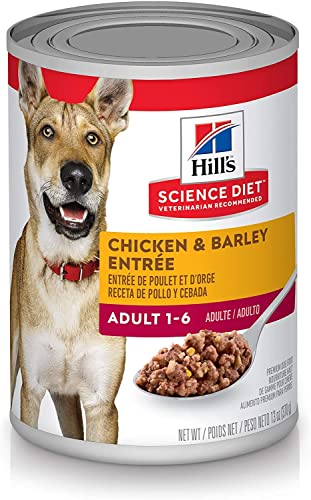 Protein is undoubtedly the building block for the formation of lean muscles and to enhance advanced fitness.
This is what made the manufacturers of the Hill's Science Diet Adult Dog Wet Food included wholesome chicken and barley along with other natural key ingredients to promise your furry friend lifelong health and happiness.
High-quality lean proteins included in this wet dog food go a long way in maintaining advanced fitness. This canned goodness helps in maintaining ideal body weight and is also easy on the stomach. Its precise blend of key nutrients ensures that appropriate amount of energy is distributed for an ideal body weight.
When nutrients are optimally absorbed, they reach all the right places and this is how the Hill' s Science Diet works. This is recommended for dogs between the ages of 1 and 6.
We recommend this wet dog food because it is perfectly equipped to handle all your advanced fitness needs, preloaded with essential fatty acids, right from a year old to a six-year-old canine without any issues.
Pros
---
It is available in a 12-pack of 13-oz entrée suitable for most doggie breeds between 1 and 6 years old.
It is made with real chicken as its top ingredient, which gives your doggie sufficient protein for muscle build.
Contains a powerful antioxidant blend that helps to boost immunity.
It has barley as part of its formula, which provides fiber for a healthy digestive system.
Contains vitamins, minerals as well as fatty acids for overall health, smooth skin and a shiny coat.
Cons
---
Some pup owners noted there was more gravy than solid food in the cans, which means dogs need to eat more food to be satisfied.
Some doggies experienced allergic reactions to some of the ingredients.
---
Best Wet Dog Foods Buyer's Guide
---
We only review the best wet dog foods in the market. We find the best by researching authoritative sources on wet dog food (source #1, source #2, source #3, source #4), but also we take the pain of speaking to experts and dog owners individually.
Once we have all the information, we collate them together and come up with what you call a review article.
Not to mention, we have included a buyer's guide too!
For those readers that are new pet parents, the handy buyer's guide contains more information that would hopefully let you make an informed decision on which high-quality wet dog food to buy.
This guide contains the A-Z of all that you need to know about wet dog food and it will assist you in making the final choice. We are here to assure you the best of reviews.
We know.
There is no denying the fact that you will always know what is best for your beloved furry friend.
That's why we have created this Buyer's Guide to help you to choose the top-rated wet dog food for your pooch.
Check For These Ingredients
When you are out to buy wet dog food, make sure that the ingredients are all-natural. The canned dog food should also balance the nutrients well. You will also have to make sure that it is free from artificial flavorings and additives. Listed below are the things that are a must-have in your wet dog food can:
Protein
Protein should always rank as the number 1 ingredient in wet dog food. It should always be labeled as chicken, lamb, beef, etc because these help to form lean muscles and are quintessential.
Grains
You must look out for whole and unprocessed grains. Although it is not imperative to have grains and starches in your wet dog food, you are bound to find them in some form or the other. It is always better to opt for brown rice or wild rice and avoid wheat gluten as far as possible.
Veggies
Dog food that contains non-starchy veggies like carrots, apples and alfalfa are the best kind of wet food. The inclusion of potatoes and sweet potatoes is acceptable as long as they are not primary ingredients.
Check If It Has A "Complete And Balanced" Label
Dog food that is complete and balanced will usually have passed the AAFCO feeding trial.
Simply being labeled as complete and balanced will not do if you are looking for genuine canned dog foods because the ingredients might not have been conclusively tested for the best and safest results.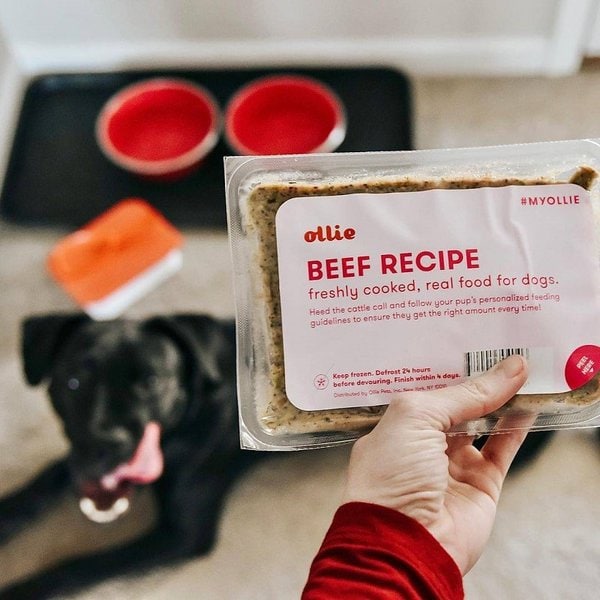 Ingredients That You Should Avoid
There are a lot of varieties of dog food in the market. However, there are some ingredients that you must avoid at all costs. These can be listed as:
By-Products
If a particular brand is selling low-quality dog food, it would invariably list out an ingredient that reads like, meat by-product, modified beef, etc. These are highly processed low-nutrient food that will not help your dog in any way. You should avoid these at all costs.
Unnamed Animal Sources
Unidentified poultry or unidentified organs are not something that you should ideally offer to your beloved pets.
Food Binders
Wet dog food that contains highly processed meat sources need binders that make them resemble natural chunks of food. These include wheat gluten and other gums that should be avoided as far as possible.
Sweeteners
Wet dog food that tastes good will not need sweeteners. However, the ones that are low in quality will add them to enhance the taste. While sugar and molasses are common, try and avoid food with corn syrup in it.
Artificial Color/Preservatives
While most wet dog food will not need preservatives, the low-quality ones tend to add artificial coloring. This is best avoided due to the chemical nature of the coloring.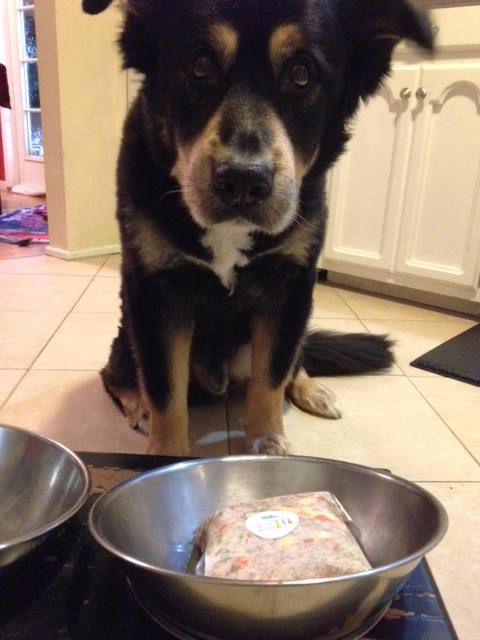 ---
Final Thoughts – Dogs Should Eat Healthily Too!
---
Look:
Now that we have given you a fair idea of what to expect from the best wet dog food, we can hope that you make a wise decision based on the buyer's guide and the reviews of the top picks of canned dog foods given here.
Here's a quick recap on what to look out for.
While offering wet foods, the only couple of things that you need to remember are the inclusion of wholesome and natural ingredients, a proper balance of proteins, fats, vitamins, minerals and fiber content and the exclusion of artificial flavors and colors.
This ensures a healthy diet for your dog.
There is no compromise that a pet parent would like to make as far as dog wet food is concerned.
This is why we are here to advise you on what to buy and what not to buy for a lifetime of wagging tails of sloppy kisses!