The best hands free dog leash is SparklyPets Hands-Free Dog Leash.
A hands-free dog leash is a perfect way to experience more freedom and convenience.
Well, it allows you to go – hands-free. The traditional dog leash requires you to hold the leash in one hand. With the hands-free version, the leash is secured to your waist with an adjustable belt instead. You would no longer be restrained by your dog's movements.
This keeps your hands free and you can definitely experience the convenience of going outdoors with your furry companions!
With so many different options available, it can be tough to know which one to choose! We've put together this list of the best hands-free leashes for every type of adventure with your furry friend.
#1 SparklyPets Hands-Free Dog Leash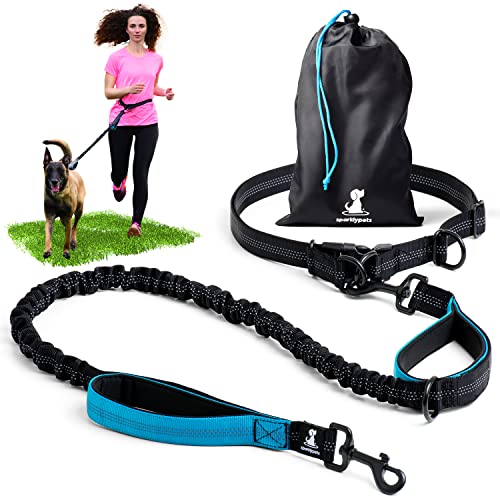 This hands-free leash from SparklyPets is the perfect solution for dog owners who want to take their dogs out for a walk, jog or run without having to worry about holding onto the leash.
Did you know that it comes with a 47" leash too?
This leash has been designed with a unique extendable 47″ bungee system that absorbs shock and allows you to control your pet whilst keeping your hands free. The belt clips onto your waist and you can clip the lead into place when you're ready to go. This is a great option if you have an energetic dog or are training them to walk alongside you in heel position while off the leash.
Pros
---
Bungee is extensible from 28″ up to 47″.
Reflective stripes for nighttime usage.
Ergonomically designed to provide a comfortable yet secure grip.
Cons
---
Not suitable for small-sized dogs.
#2 Kurgo Dog Leash
SALE ALERT!!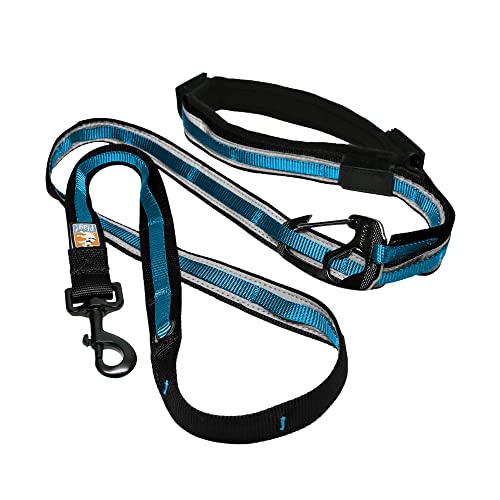 The Kurgo dog leash can be used in a variety of ways, which includes as a tether for hitching dogs, a 3-ft or 6-ft training leash, a double dog leash, and a shoulder-type leash, or even a waist leash. With the many functions that this 6-in-1 Kurgo leash can provide, a durable and strong nylon webbing is, therefore, used in crafting the leash.
The leash length is adjustable, varying between 48″ to 72″ (including the handle). The Kurgo leash is lined with a reflective material that ensures the pooch can be easily spotted in situations where there is low visibility.
Additionally, this leash comes with a padded handle that protects handlers from the painful effects of dogs pulling hard on the leash, thereby helping to maintain control over the pooch while on walks.
The Kurgo leash system's versatility is one that dog parents around the world will be grateful to have. This leash's versatility is backed by its strong and durable nylon build, and the padded handle design ensures that walks are equally as comfortable for handlers as they are for the pooches.
Pros
---
Has a special carabiner adjustment.
Can be used in six different ways.
Adjustable length – from 48 inches to 72 inches.
Lined with reflective trim to provide better visibility.
Uses a nylon build for increased strength and toughness.
Uses a padded handle design.
Cons
---
The design of its carabiner can be further improved to handle shear forces for better security.
#3 Mighty Paw Hands-Free Dog Leash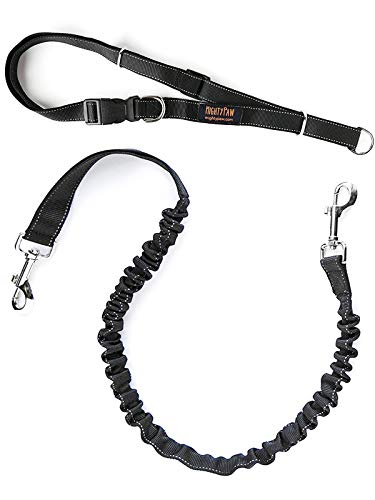 There is no denying the fact that this dog leash is the brainchild of active dog owners and it is specifically designed for people who love activities of all kinds.
Whether you run, jog, walk or hike, the Mighty Paw hands-free dog leash is well-equipped for any adventure you intend to go on with your beloved pooch. It comes with two extensibility options, namely 36″ and 48″.
The material of the leash is of premium quality that can stand the test of time. Its properties include high weather resistance and durability. It also has a lightweight well-thought design that makes it perfect for versatile usage. The leash will give you enough space while the D-ring around the waist belt will keep your dog in position.
Pros
---
Lightweight design.
Weather-resistant material.
Suitable for most dog sizes.
Cons
---
The extra metal clip could weigh it down a little.
#4 Pet Dreamland Hands-Free Dog Leash
SALE ALERT!!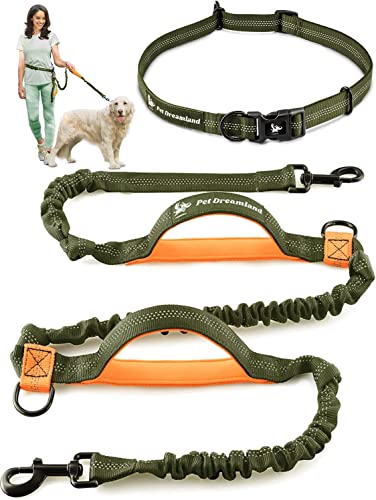 Is running with your pooch getting increasingly difficult?
Worry not because the Pet Dreamland hands-free dog leash will ensure that have a splendid hands-free dog walking experience.
If you have a kid that you need to walk along with or carry in a stroller, this one is your best bet. Moreover, the waist belt ensures that you can store all your essentials without any hassle.
This dog leash gives you more control and added comfort for the price of one. Made of tough neoprene and nylon materials, you need not worry about its durability.
What's more, the leash is available in five unique colors and four size options to suit nearly all dog breeds.
Pros
---
Great for parents with younger children.
Super comfy.
Suited for handling large dogs up to 150 lbs.
Cons
---
The handle at the bottom of the leash could be difficult to reach.
#5 Tuff Mutt Hands-Free Dog Leash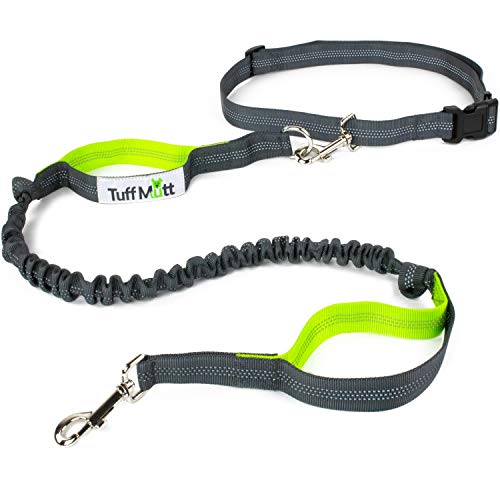 If your dog is one of those pets that could go hyperactive from time to time, the Tuff Mutt Hands-Free Dog Leash is exactly what you need!
The bungee absorbs a good amount of shock even when your dog is at its wildest. This makes the leash apt for jogging and hiking.
The other feature of this dog leash is its ability to help maintain your natural running form. If you are a city walker, this 48" leash will keep your dog close to you.
If you are an active mom, you can pay complete attention to your child while keeping your dog in control. It is weather-resistant and is made of durable materials to ensure durability.
Last but not the least, it helps relieve back and shoulder strains.
Pros
---
Ergonomically designed to provide maximum control and freedom for both you and the dog.
Weather-resistant.
Available in 13 unique colors to suit your style.
Cons
---
Has a fairly shortest leash length.
---
Buyer's Guide – Hands-Free Dog Leash
---
Hands-free dog leashes are essentially waist belt dog leashes that are specifically designed to let you do your own activities without worrying about your dog running away. We have also seen that hands-free dog leashes are often referred to as the buddy system.
Are you wondering why?
These hands-free dog leashes are designed as dog walking belts and are meant for owners of running dogs, people who use bikes, or ones with strollers or in a wheelchair; these leashes pair effortlessly with dog running harnesses.
Related: Best Dog Leash For Running
If you are concerned about safety, security, and convenience, we will help you find out the best hands-free dog leash right away! That is why we reviewed the top picks available in the market and assist you with a detailed analysis of why they are the best.
We understand that you are still trying to figure out the sizes, materials, and factors that you need to look for in a hands-free dog leash.
Benefits Of A Hands-Free Dog Leash
There are several benefits and we have listed the most important ones for you here.
Hands-free leashes give you that security and convenience you look for when out on the streets with your pet.
You can walk, run, cycle and hike easily while keeping your pet along with you.
You can keep your dog in control, especially on busy roads and with other dogs around.
If your dog has not undergone obedience training, a hands-free dog leash will be a God-sent. You can keep an eye on your dog while working, jogging, hiking as well as in the dead of night if they happen to have LED lighting or reflective stitching.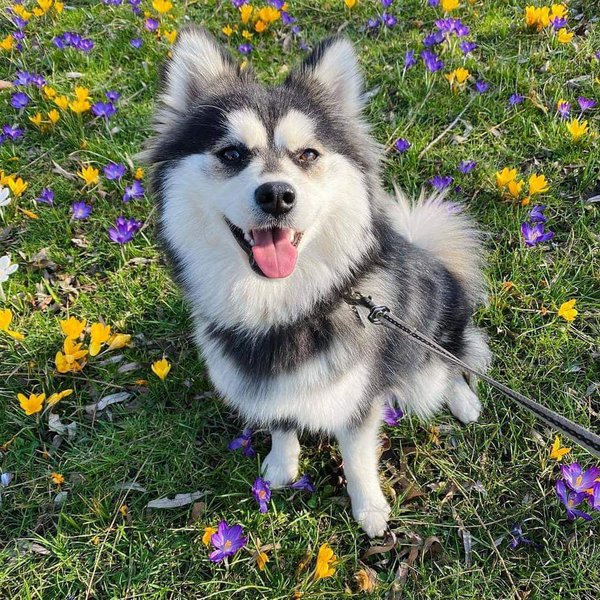 Additional Factors To Consider
While buying a hands-free dog leash, there are a few factors that you must keep in mind.
Length
This completely depends on how big your dog is and what your own dimensions are. If it is too long, you are only going to be overwhelmed by it soon. If it is too short, there won't be much clearance for your dog as well as for you. You and your dog might end up clashing against each other.
Adjustability
A dog leash should ideally be quite adjustable so that emergency situations can be handled with ease. Dog leashes that stretch up to 5 feet are good enough.
Durability
Dog leashes that are weatherproof, waterproof, and can stand the test of time are what you should look out for. The build is of prime importance because that will decide how long the leash will last without wear and tear.
Handles
If you have a dog that is always on the run, you will benefit from D-loop handles that allow quick handling when in a hurry.
Color
How is this important? You do not want bikes and rollerbladers to end up hurting you or your dog when the lights are dim. Reflective stitching and bright leashes can help rash drivers notice your dog passing by. In addition, you feel better if there is a color available specifically to go with your style for the day.
Related: Best No-Pull Dog Harness
---
Final Thoughts – Run & Jog With Ease
---
Now that we have given you a fair idea of how hands-free dog leashes work, we hope that you can make an informed choice.
Whether you have a small or a large dog, hands-free dog leashes will benefit you in all situations.
The top pick according to us is best suited for you because it fits all dog sizes and you will not have to worry about space and comfort. The next four options are equally good with their own features to flaunt.
At the end of the day, all you need is a happy pet and a comfortable you!