The best handheld vacuum for pet hair is BLACK+DECKER Furbuster Handheld Vacuum.
Stick and canister vacuum cleaners may be powerful, but they're not suitable for quick, targeted cleaning sessions – say if you need to remove some pet hair off of a piece of furniture, for example. So, what should you use for that kind of cleaning session?
Enter the best handheld vacuum for pet hair.
Handheld cleaners are compact, lightweight, and easy to use, making them the ideal choice for small cleaning tasks.
#1 BLACK+DECKER Furbuster Handheld Vacuum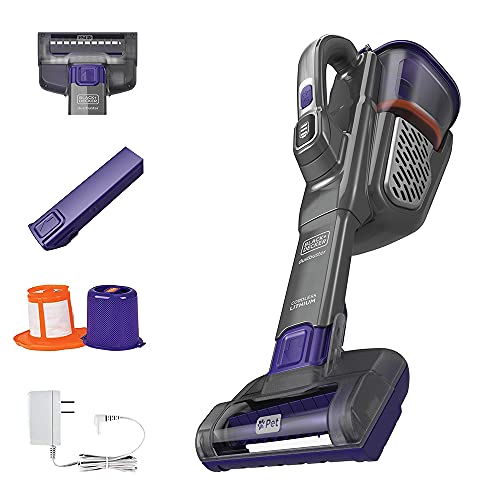 This BLACK+DECKER Furbuster is a cordless, handheld vacuum designed to help pet parents easily clean and get rid of dirt and debris from areas where their pets frequently visit, as well as to remove pet fur from furniture.
This handheld gray-colored vacuum features anti-tangle rubber bristles that are motorized to ensure easy removal of pet hair that's proving difficult to remove. The vacuum also boasts an extra-long crevice tool that is capable of reaching and cleaning areas that would normally be difficult to access.
Users looking to get work done much quicker with this handheld vacuum can activate the power boost mode to generate more power, and a handy battery indicator helps users determine just how much longer they can keep working.
Also, to ensure easy maintenance of this handheld vacuum for pets, both the machine's filter and pre-filters are designed to be washable. The vacuum's XL dustbin, with a one-touch empty feature, can hold as much dirt and pet hair as is needed to make the home clean.
This gray BLACK+DECKER vacuum's cordless design and extra-long crevice tool ensure convenient operation. Its motorized operation ensures that pet hair can still be removed from the most difficult areas to clean.
Pros
---
The Powerboost feature of the BLACK+DECKER vacuum for pet hair provides more suction via the push of a button to generate more power for customers to clean out hair that is proving tough to remove.
The cordless design of this handheld vacuum product is backed by a 20V MAX lithium-ion battery that runs for a considerable period and can be recharged when low.
The anti-tangle rubber bristles of this handheld vacuum are effective at picking up pet hair without the hair constantly getting caught in these bristles.
This handheld vacuum product comes with a clear dirt bowl that enables customers to keep an eye on the amount of pet hair collected by the vacuum, and this bowl can be ejected with the push of a button for convenient waste disposal.
The inclusion of an extra-long crevice tool on this handheld vacuum makes it possible for customers to clean areas, corners, and elevated surfaces that would normally be difficult to reach.
Cons
---
This handheld vacuum product doesn't come with a brush tool, and there is no option for customers to attach this tool to the vacuum.
The pre-filter and filter components of this pet hair vacuum tend to fall out while the vacuum is emptied.
#2 Bissell 33A1 Pet Hair Eraser Handheld Vacuum, Corded
SALE ALERT!!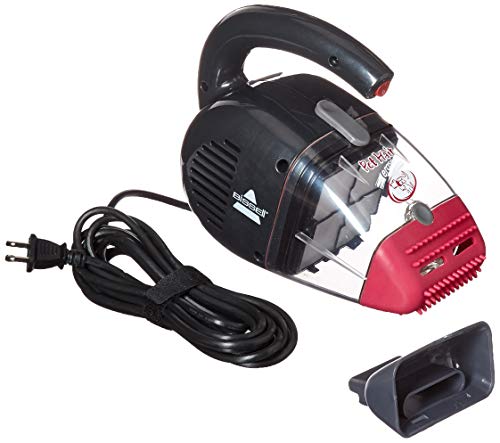 Bissell Pet Hair Eraser Handheld Vacuum, Corded, 33A1
Surface type: Upholstery, auto, stairs; Power rating: 4 amperes
Filtration: multi layer filtration, the Bissell hand vac uses the cyclonic cleaning system
16 feet power cord. Cleans stairs, upholstery and hard surfaces. Dirt cup capacity: 0.78 litre
Our runner-up is the Bissell 33A1 model vacuum cleaner that's so cheap yet so powerful, making it an ideal choice for those on a budget.
The fact that this is a corded model shouldn't be a deal-breaker for most users as the cord is quite long, measuring 16 feet to be exact, which means that it offers a broad reach. Besides, the power that the 33A1 should make up for the corded design – when used reasonably, that is.
What does that mean, you ask?
It means that you should set your expectations right. This is an exceptionally affordable vacuum cleaner. It might not be the most powerful around, but it provides enough power to remove pet hair from fabrics and other soft surfaces.
That doesn't mean that you can't use the 33A1 to clean hard floors, though, as it sports a specialized rubber nozzle that attracts hair and pulls out dirt from stairs, upholstery, and such. It also comes with a suction nozzle that can be used to pick up dry messes like spilled dog food or cat litter.
Despite having a low price tag, the Bissell 33A1 manages to be one of the best handheld vacuum cleaners for pet hair thanks to its versatility and efficiency. We would highly recommend this model for anyone on a budget.
Pros
---
Bissell's corded handheld vacuum comes with a contoured rubber nozzle with comb-like bristles that are effective at pulling out and removing pet hair from upholstery and on stairs.
With a lightweight construction weighing less than 4 lbs and an ergonomic, easy-grip handle, customers can comfortably handle the Bissell handheld vacuum to carry out extended cleaning operations around the home without feeling hand fatigue.
Customers can conveniently switch out nozzles on the Bissell handheld vacuum by pressing down on the nozzle-release button to eject the current nozzle and snapping the replacement into place.
This handheld vacuum product features a 16-ft cord that extends from the power outlet to provide customers with sufficient reach to easily and conveniently clean an area of interest.
The multi-level filtration system of the 33A1 vacuum, which is backed by a cyclonic cleaning operation, ensures that customers can get rid of pet dander that usually triggers allergic reactions.
Cons
---
The design of this handheld vacuum places the product's exhausts at the sides of the vacuum, thereby resulting in dirt usually being blown away before the nozzle can pick it up.
The nozzle design and bulky build of the Bissell 33A1 vacuum make it considerably difficult for customers to clean crevices and corners.
#3 Shark WANDVAC Handheld Vacuum
SALE ALERT!!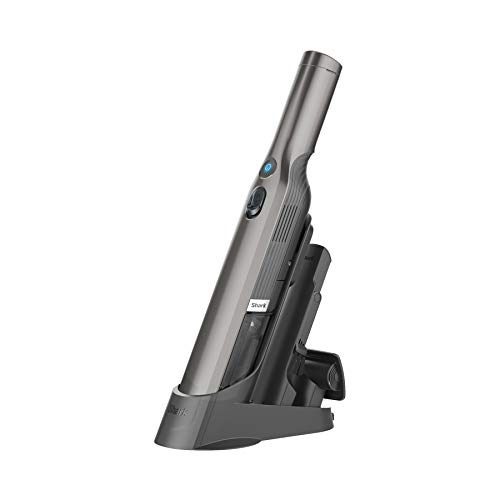 The Shark WANDVAC looks modern and sophisticated – and that's exactly what it is from the inside. With a weight of 1.4 lbs that is well distributed throughout the vacuum's body, the gets our thumbs up as one of the best handheld vacuum cleaners for pet hair, but that's not the only perk it offers.
This Shark WV201 model boasts a slim design, enabling you to clean even the hardest-to-reach spots in your house or car when using the Duster Crevice. The vacuum also comes with a Multi-Surface Tool, which can be used for all kinds of surfaces, from carpets to hard floors. Considering that this is a cordless model, the included tools should be more than enough to cover all of your house as well as your vehicle.
The filtration system used in this model is equally efficient, as it captures dust and large debris to extend the lifespan of the vacuum. Adding to the fact that emptying the dustbin is as easy as clicking a button, you've got yourself a monster in terms of efficiency and convenience.
Although there is a lot to love in the Shark WANDVAC, we especially admire the sophisticated features it offers, which take the convenience to a whole new level. If you can shell out some extra cash for extra features, then this is one of the best handheld vacuum cleaners for pet hair that you can get today.
Pros
---
Shark's handheld vacuum product features a high-speed brushless motor and streamlined airflow, both of which combine to provide accelerated suction power for collecting pet hair.
The WANDVAC vacuum comes with a sleek charging dock – which also doubles as a way to hold the product when it isn't in use – for quick access and fast charging of the vacuum.
The LED light that is included on this product's control panel makes it easy for customers to determine the vacuum's battery level at a glance and charge the product when the battery is running low.
The one-touch empty design of the Shark handheld vacuum, which is backed by a detachable dust cup and removable filter housing, makes it possible for customers to get rid of collected pet hair with the push of a button.
The multi-surface pet tool that comes with this handheld vacuum can be used to lift pet hair off a variety of surfaces, including upholstery and carpets, while the duster crevice tool provides convenient cleaning, or corners and difficult-to-reach areas.
Cons
---
Several customers have bemoaned the poor battery health of this handheld vacuum, with there being several claims about the vacuum dying within minutes of use.
The debris collection box of this handheld vacuum is on the small side, thereby resulting in customers needing to pause their cleaning operation every few minutes to empty the box.
#4 BLACK+DECKER 20V Max Handheld Pivot Vacuum
SALE ALERT!!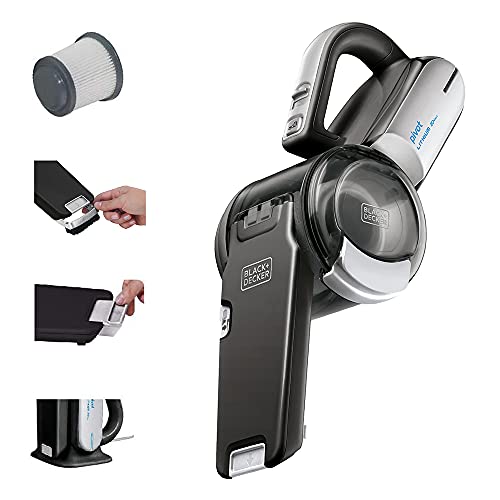 Circling back to BLACK+DECKER, another excellent handheld vacuum is the Pivot Vacuum, which is cheaper than its counterpart, Furbuster Vacuum. This BDH2000PL model is lightweight, weighing only 3.8 lbs, and compact, measuring 18 inches long by 6.88 inches wide by 6.75 inches in depth.
Actually, what really makes the tool stand out is its exceptionally compact design for easy storage and portability and its intuitive pivoting nozzle for cleaning hard-to-reach corners and narrow areas.
For power, this Pivot Vacuum uses a 20V MAX* lithium-ion battery that is able to operate with a consistent and powerful suction throughout the cleaning session.
Two things we truly like in the BLACK+DECKER BDH2000PL Pivot Vacuum are its price which is attractive to budget-conscious pet owners, and the pivoting nozzle that makes this unit as compact as vacuums can get. If you're looking for quality without breaking the bank, this is one of the best handheld vacuum cleaners for pet hair that money can get you.
Pros
---
Its easy-to-empty, removable dirt bowl and washable filter make the maintenance of the BLACK-DECKER handheld vacuum easier for customers.
The 20V MAX* lithium-ion battery that comes with this handheld pivot vacuum provides customers with extended runtime to clean pet hair messes.
The pivoting nozzle design of this BLACK+DECKER vacuum can be adjusted to provide convenient cleaning of areas, such as shelf tops and underneath couches, which are usually difficult to reach.
The 3-stage filtration system of this handheld pivot vacuum, which is enhanced by a pleated filter design and a wide-mouth design, provides effective cleaning of pet hair, dander, and dust.
This BLACK+DECKER product comes with a base that provides convenient charging and a way to compactly store the vacuum when it isn't in use.
Cons
---
The batteries of this handheld vacuum are not replaceable, thus rendering the product ineffective when the pre-installed batteries eventually run down.
This vacuum product tends to produce a lot of noise while operating, which can be distracting and startling to pets.
#5 VacLife Handheld Vacuum
VacLife Handheld Vacuum, Car Vacuum Cleaner Cordless, Orange (VL189)
CORDLESS & PORTABLE: This hand held vacuum-(VL189) is cord-free and hassle-free which gives you more convenience to your...
DEEP CLEANING: This small vacuum cleaner cordless can help you to do all-around cleaning with powerful motor and long...
PROFESSIONAL ATTACHMENTS: This handheld cordless vacuum is equipped with 2 different attachments to better meet your...
This VacLife handheld vacuum cleaner comes equipped with a brush tool specially designed to loosen and remove hair or dust entangled with objects. The vacuum also boasts a crevice nozzle tool that is efficient at cleaning corners and crevices.
The vacuum's handheld design is easy to operate, and the cordless nature of this vacuum cleaner means users can move and use the product in areas that are difficult to access. This portable vacuum has a powerful motor that provides good suction to remove dirt, and the strong battery ensures that you can clean for as long as is needed.
Additionally, the VacLife vacuum features an innovative LED light that helps users gain better visibility when cleaning corners or dimly lit areas. And the fast-charging capabilities of this VacLife product ensure that you're ready to clean within 2 to 3.5 hours after plugging in the handheld vacuum.
The VacLife vacuum cleaner delivers what it promises to customers – a convenient and efficient means of getting rid of pet hair and dirt located around the house. The vacuum's cleaning tools provide the needed variety needed to clean different surfaces, and the cordless build of this vacuum is one you'll be sure to enjoy handling.
Pros
---
VacLife's handheld vacuum product comes with multiple accessories, such as a dusting brush, crevice nozzle, and cleaning brush, to enable customers to carry out various cleaning tasks around the home.
The highly efficient motor of this handheld vacuum product, which reportedly produces 28,000 RPM, generates sufficient suction power for the removal of pet hair.
The dual-filter system of the VacLife vacuum provides enhanced and effective cleaning and removal of pet hair, dander, dirt, and dust on carpets, furniture, and upholstery.
The built-in LED light that comes with this handheld vacuum can be turned on to illuminate the area being targeted for cleaning, thereby making it easier for customers to carry out cleaning tasks in dark areas and corners.
The lightweight, cordless design of this VacLife product makes it possible for customers to comfortably carry and use the product to clean pet air in various locations around the home.
Cons
---
The small size of this handheld vacuum makes it inconvenient for significant cleaning operations, as it usually takes a considerable period to clean large areas with this product.
Several customers have claimed that the suction provided by this handheld vacuum isn't enough for deep-cleaning activities.
#6 BISSELL AeroSlim Lithium-Ion Vacuum
SALE ALERT!!
BISSELL AeroSlim Lithium Ion Cordless Handheld Vacuum, 29869
Every Bissell purchase helps save pets. Bissell proudly supports Bissell Pet Foundation and its mission to help save...
Cordless Power: Lithium-ion battery provides up to 12 minutes of cordless cleaning power for quick clean ups almost...
On-the-Go Cleaning. Compact enough to store, clean and charge in your car or office.
The cordless BISSELL AeroSlim vacuum cleaner comes with a small lithium-ion battery that provides users with up to 12 minutes of power. This short usage is sufficient to carry out quick cleaning operations around the home, at your desk in the office, or inside the car.
What separates this cleaner from other cleaners is its 2-in-1 crevice tool and dusting brush fitting that enables users to clean dust located on both plain surfaces and in tight corners around the home. Moreover, the vacuum product comes with an integrated tool stand to provide easy and safe storage of the cleaning tool.
The AeroSlim vacuum features a sleek, handheld design that is comfortable to operate, and the USB charging port and cable provide users with a convenient means of charging this product when needed.
The AeroSlim vacuum cleaner from BISSELL provides an effective go-to solution for carrying out minor cleaning operations. This product's cordless design is convenient to operate, and its modern aesthetic will fit well into any space. The battery of the cleaner life is sufficient to handle quick cleaning operations, and the vacuum can generate enough power to clean dust effectively.
Pros
---
The AeroSlim handheld vacuum package includes a 2-in-1 crevice tool and dusting brush that customers can easily use to clean corners and pick up pet hair from various surface types.
This dirt bin of this handheld vacuum product from BISSELL can be easily removed and emptied to provide convenient disposal of collected pet hair and dirt.
The dual-level filtration system of the BISSELL AeroSlim includes filters that can be removed, washed, and reused to ensure longevity and provide enhanced cleaning performance.
The cordless, compact, and lightweight design of the AeroSlim handheld vacuum ensures that customers can conveniently carry the product around for an on-the-go cleaning experience.
This handheld vacuum product comes with an integrated storage tool and a stand to neatly hold the equipment and its accessories upright when they are not in use.
Cons
---
The opening of this handheld vacuum is so small that customers need to pass the equipment over the target area several times to completely collect pet hair.
The brush attachment tool of this handheld vacuum tends to fall off while the equipment is in use, thereby resulting in customers needing to pause their cleaning operations at intervals to reattach this tool.
#7 ZesGood Handheld Vacuum Cordless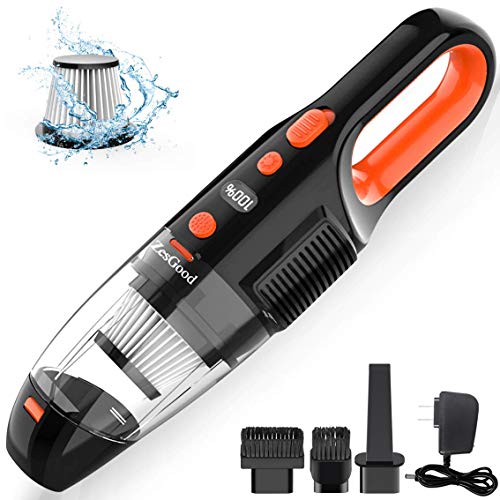 The ZesGood vacuum comes fitted with a 120W cyclonic motor capable of generating over 7,000 Pa of suction power sufficient to carry out thorough cleaning operations on different surfaces.
This ZesGood vacuum features three built-in 2200mAh lithium-ion batteries with a quick-charging feature that guarantees a long runtime. The inclusion of a battery protection chip in this vacuum helps prevent overcharging, and an integrated LED display enables users to know exactly how much battery is left.
The ZesGood cleaner features a large-capacity dust cup that is capable of holding over 18.5 fl oz of debris. This dust cup features a detachable curved head design that is easy to empty, and the HEPA filters located in the dust cup can be washed and reused.
The vacuum also boasts special noise-reducing technology that enables the equipment to be operated at sound frequencies lower than 75 dB. With a 1.5-lb lightweight design, the ZesGood can be easily operated with one hand, and the inclusion of several accessories in the product package contributes to a wholesome cleaning experience.
Lightweight, cordless and powerful, the ZesGood vacuum provides users with a complete cleaning experience. This vacuum cleaner generates enough power to handle most dust-cleaning tasks, and the inclusion of three lithium-ion batteries, complete with a fast-charging feature, ensures users can clean for as long as they want.
Pros
---
ZesGood's handheld vacuum product comes with a built-in 120W cyclonic motor that generates enough suction to carry out deep-cleaning exercises around the home.
The three multipurpose attachments that come with this handheld vacuum – long brush nozzle, short brush nozzle and crevice tool – can be easily swapped to enable customers carry out various cleaning operations on different surfaces.
This handheld vacuum features special noise-reducing technology that caps the noise generated by this equipment at 75db to ensure relatively quiet cleaning operations.
The large capacity dust cup that comes with this handheld vacuum is designed to hold up to 550mL of dirt and the detachable design of this cup ensures convenient disposal of collected dirt.
The built-in LCD screen of this cordless vacuum provides a way for customers to keep an eye on the equipment's battery level and determine when it needs to be recharged.
Cons
---
Several customers have claimed that the suction provided by this handheld vacuum isn't enough to pick up a great amount of dirt and pet hair in one go.
The lack of a flat base usually results in this vacuum rolling over when it is placed down without support.
---
Handheld Vacuum For Pet Hair Buyer's Guide
---
Handheld vacuum cleaners can be categorized according to two criteria:
Cordless VS Corded
The first thing that you need to consider when looking for the best handheld vacuum cleaner for pet hair is whether the unit is corded or cordless. With no cord attached, you'll get more flexibility and better maneuverability, but you'll usually have to sacrifice some power to reap the benefits of convenience. Also, cordless vacuum cleaners take several hours to charge, giving the user less than half an hour of runtime, which may be a deal-breaker for some consumers.
Corded models, on the other hand, offer plenty of suction power, giving them the upper hand when it comes to performance. The obvious downside here is that you're going to be a bit limited when using a corded vacuum. Thankfully, most corded models come with long power cords these days.
Bagged VS Bagless
Bagless vacuum cleaners are taking the lead these days because of two reasons: first, they're easy to empty and clean, and second, they don't require any extra investment to get new bags every time. That said, many homeowners still believe that bagged models are superior because they're more hygienic. Although there is a truth behind such a claim, you needn't really worry about the hygiene of bagless vacuums as long as they come with an efficient filtration system that can keep harmful particles away.
There isn't a best and worst here, as it boils down to personal preference.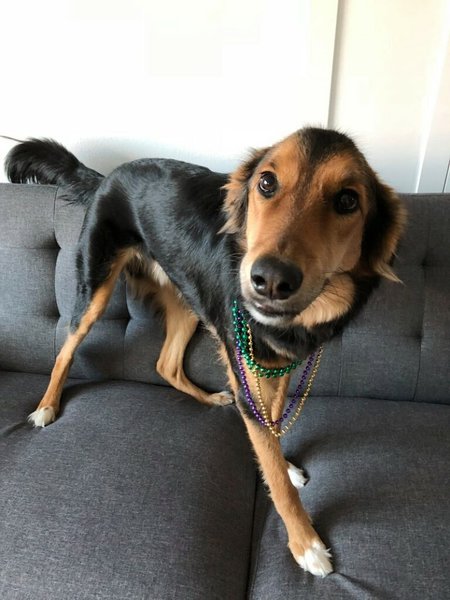 Factors To Consider Before Purchasing A Handheld Vacuum Cleaner For Pet Hair
When it's finally time to pick the best vacuum cleaner for pet hair out of the recommended models, there are several factors that you should look out for, including:
Suction Power
The suction power is the pillar of vacuum cleaners, and handheld models are no exception. This is the factor that will determine how well the vacuum is going to remove pet hair from floors, carpets, and furniture.
To evaluate the suction power of a vacuum cleaner, all you have to do is check its air-watt rating. If the unit offers more than 100 air watts, it should be more than enough for your occasional cleaning and pet hair removal tasks.
Size And Weight
As handheld vacuum cleaners are designed to be carried around when you're cleaning your house, they have to be lightweight and compact. Thankfully, all of the models that we reviewed above check both boxes, so you shouldn't worry about the ease of use and dimensions, regardless of which model you choose. They're also well-balanced when it comes to weight distribution, which adds to the ease of use and convenience.
Another thing that you should factor in is how and where you intend to use the vacuum. If you're planning to use the unit every day, you ought to go for the lightest model. On the other hand, if you only need the vacuum occasionally, then the size and weight shouldn't really be on top of your list of priorities.
Runtime And Charging Time
If you're rolling with a cordless vacuum cleaner, there are two specs that you should consider: the runtime and the charging time.
Most models available today pack lithium-ion batteries, which offer enough runtime for quick cleaning sessions while taking only a few hours to recharge. These factors are especially crucial to consider if you're always running on a tight schedule, as they make or break your experience.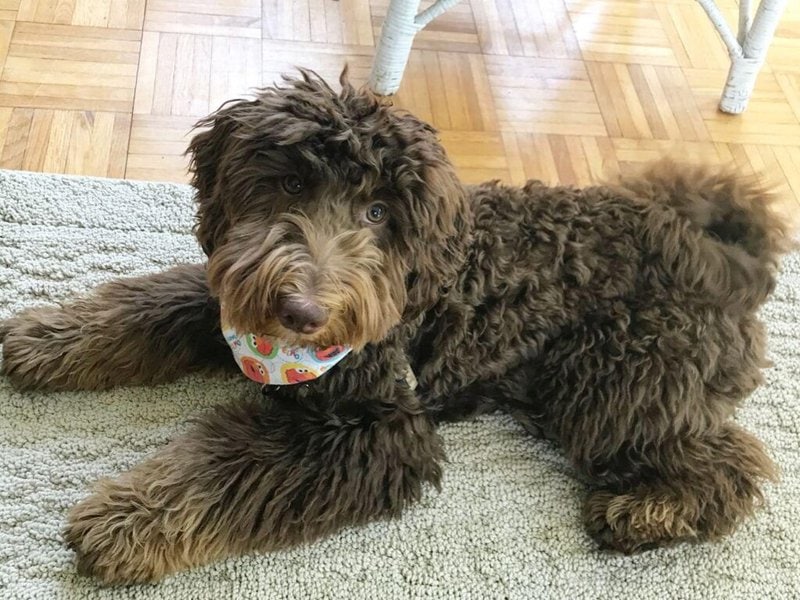 Dustbin Capacity
The last thing you need when vacuuming your house is to have to empty the dust container several times during every cleaning session. Take a look at each model's dustbin capacity and, depending on how much your pet sheds every day, determine whether it's going to be enough to cover your needs.
Filtration
As a general rule of thumb, you want to stick with vacuum cleaners with multi-layered filters, as they're the safest to use, especially if you have asthma or suffer from allergies.
Although HEPA filtration is preferred, it isn't a necessity, but you need to make sure that the filters in your vacuum cleaner are long-lasting, efficient, and, of course, easy to clean.
Attachments
The attachments or tools of a vacuum cleaner as the parts that will allow it to take care of its intended job. Vacuum cleaners usually come with different accessories to deal with various scenarios. When looking for the best vacuum cleaner for pet hair, there are three tools that you need to look for:
Motorized brush, which picks up stubborn pet hair.
Crevice tool, which removes the nooks and crannies of pet fur.
Dusting brush, which can remove dust, dirt, and pet hair from delicate surfaces.
If you want to go the extra mile and grant yourself a higher level of convenience, you can shell out some extra bucks to get a vacuum cleaner that comes with additional add-ons, such as a wand or hose that can be used to clean hard-to-reach spots.
Price
The price is a critical factor to consider when purchasing any device, not only the best handheld vacuum cleaner for pet hair. We made sure to review products from different price points so offer something for everyone. No matter your budget, you'll find something you like and can afford on our list.
---
Final Thoughts
---
For occasional pet hair cleaning tasks, a handheld vacuum would do wonders without blowing a hole in your budget. To get the most out of your investment, you ought to get a model that balances the price, size, and features.
Our top pick gets the title of the overall best handheld vacuum cleaner for pet hair for a variety of reasons, including the reasonable price, compact, lightweight design, and impressive suction power that can take care of any fur issue. If you can't make up your mind, go with our pick of the day, as it's the safest bet.