The best dog nail clippers is BOSHEL Dog Nail Clipper.
We know how important it is to take care of our four-legged friends' nails. It can be difficult to do sometimes, especially if your pup doesn't enjoy having his or her paws touched. But when we don't trim their nails regularly, they're more likely to break or curl under into an uncomfortable position.
Dog nail clippers purchased in many shapes and sizes, with the size typically correlating to the size of your pup's nails. The most common types of these clippers are guillotine style, scissors style, or pliers style – all three have their pros and cons with some being easier to use than others.
There are a lot of different styles and types of clippers out there, so it can be hard to decide which ones to get. Fortunately, we've done the heavy lifting for you! In this blog post, we'll show you some of the best dog nail clippers as well as give you tips on using them properly.
#1 BOSHEL Dog Nail Clipper
SALE ALERT!!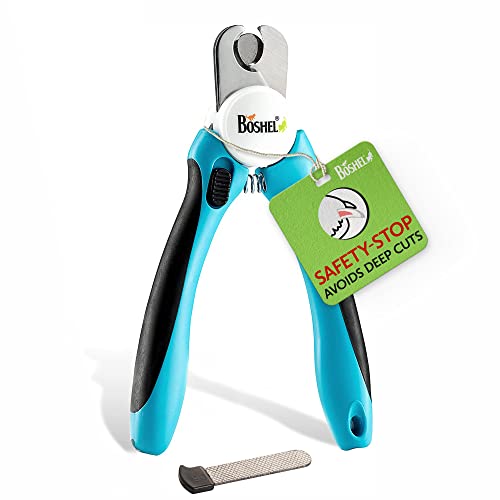 Used by professionals and vets all around the world, this trimmer from Boshel makes the job easy. It is mostly recommended for medium and large dogs, as well as cats. The design is user-friendly and easy to adjust to, while a small bonus of a mini nail file for nail trimming makes it a package deal.
Every dog owner knows how daunting this procedure is, but it is also mandatory. The possibility to trim a nail in one cut while providing some safety makes this clipper a vet's favorite choice. The unit is so easy to use that even first-time users will get along with it.
Pros
---
The stainless steel blades used to manufacture this clipper are 3.5mm thick, strong enough to effectively cut and reduce a dog's nail length.
The BOSHEL nail clipper comes with a special safety stop that prevents users from cutting too short and damaging a dog's quick.
This nail clipper is designed with a non-slip surface that provides users with a firm grip when trimming a dog's nails.
This dog nail clipper comes with a mini nail file that can be used to smoothen a dog's nails after trimming with the clipper.
This nail clipper is easy and uncomplicated to use.
Cons
---
Multiple customers have commented that they received BOSHEL nail clippers with blades that were too dull to trim their dogs' nails.
Some customers claim that this clipper's safety lock has a tendency to slip back on when the clipper is being used on a dog's nails.
#2 Safari Professional Stainless Steel Nail Trimmer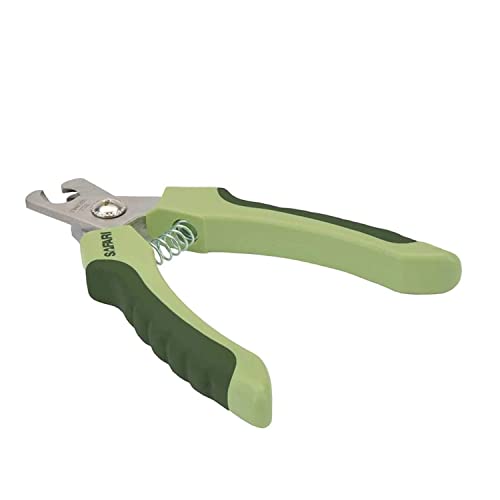 Available in more sizes, the small/medium combo is by far the most popular version of this professional dog nail clipper. It is suitable for both beginners and experienced groomers – hold the paw firmly and cut the nail in one go. Extra attention is required for quick operation.
The value for money is by far the main reason wherefore this dog nail clipper and trimmer is so popular among both amateurs and professionals.
Pros
---
The ergonomic and user-friendly design of this nail trimmer is emphasized by a non-slip surface that provides a firmer grip when cutting dog nails.
The inclusion of a tension spring in this nail trimmer provides fluidity and ensures that users can groom their pooch's nails with minimal effort.
The Safari nail trimmer has a double-bladed design to ensure clean cuts for a dog's nails.
This nail trimmer can be used and is equally effective for both left and right-handed people.
This professional nail trimmer comes with a safety stop that prevents users from cutting into a dog's quick, thereby reducing the risk of injury when trimming a pooch's nails.
Cons
---
Customers have commented that this trimmer's screw tends to come off easily and that they constantly have to tighten this screw to finish a nail trim.
The Safari nail trimmers rust after some time, thereby dulling the blades and rendering the product useless.
#3 Epica Professional Dog Nail Clipper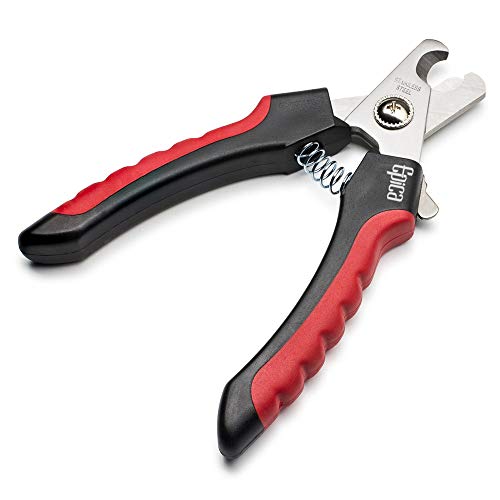 The small/medium version is the optimal one and may even work on large dogs, yet you should get the medium/large version if you have a giant breed. Blades allow extra precision. Given its sharpness, the operation is less likely to become traumatic for your furry friend. Furthermore, it features a lifetime warranty.
The lifetime warranty and the semicircular blades providing precise cuts are by far the main considerations responsible for the popularity of Epica's professional pet nail clipper.
Pros
---
This clipper's rubber handles provide users with a firm grip by preventing the clipper from sliding when being used to trim a dog's nails.
The semi-circular design of this clipper's blade makes it easier for customers to make clean and precise cuts on their pooch's nails.
This nail clipper comes with a safety lock for keeping the blades closed that can be activated when the product isn't in use to prevent curious kids and pets from harming themselves.
This product is covered by a lifetime warranty in the event that it gets damaged or breaks down while being used.
The stainless steel blades used to produce this dog nail clipper are capable of retaining their sharpness for long periods.
Cons
---
Information gathered from multiple customer feedback suggests that the small/medium-sized variants of this nail clipper are too big to safely trim the nails of some small dog breeds.
Several customers have commented that this trimmer's stop tends to become loose and move around a lot, which can be quite dangerous when cutting a pooch's nails.
#4 Gonicc Dog Nail Clippers and Trimmer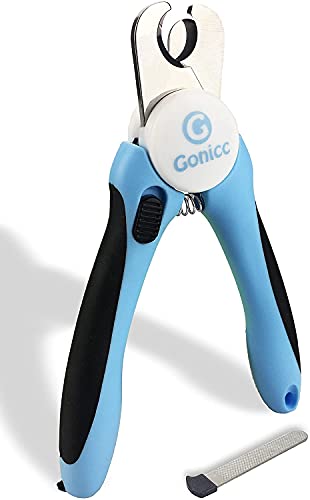 Designed to provide a full nail clipping experience, Gonicc's dog nail clipper is designed for home uses with a professional touch – suitable to groomers as well. It is backed by a full lifetime warranty. Moreover, handles are made of recycled materials. As for breed recommendations, it is suitable for most dogs apart from very small or giant breeds.
The Gonicc nail trimmer is so simple, yet it has all the right features to ensure a good job, including a safety lock as well. The environment-friendly build adds to it, too.
Pros
---
The high-quality stainless steel material used to manufacture this nail trimmer is powerful enough to cut dogs' nails at a go.
This trimmer has a safety stop that prevents users from cutting a dog's nail too short and potentially injuring the pooch's quick.
This dog nail clipper comes with a free nail file that can be used to smoothen rough edges after trimming a dog's nails.
This trimmer's ergonomically designed handles feature non-slip rubber cutting to provide users with a firmer grip, thereby making it easier to cut a dog's nails.
The Gonicc trimmer comes with unlocking protection that keeps the sharp blades firmly closed when the product isn't being used to reduce the risk of domestic accidents.
Cons
---
There is a potential risk of injury when this nail clipper is used on small dogs, due to the powerful nature of its blades.
Multiple customer reports about these trimmer's blades being too dull to effectively cut a pooch's nails.
#5 Millers Forge Dog Nail Clippers
SALE ALERT!!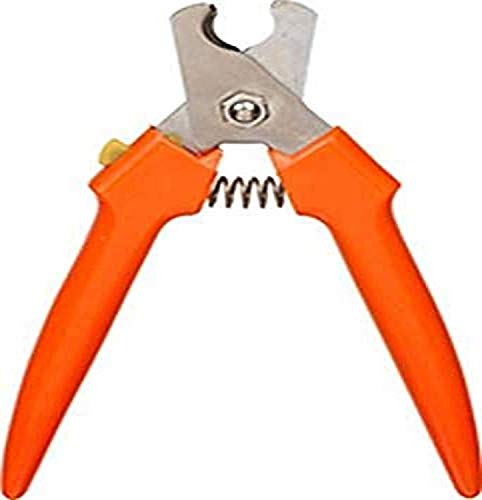 Although it looks industrial, the Millers Forge Dog Nail Clipper is sturdy and designed with large breed dogs in mind. It features a spring loaded mechanism for more power while cutting nails – a one stroke operation. In terms of safety, the guard can be moved in the right position to prevent cutting the quick.
It is easy to tell what makes Millers Forge's nail clipper so popular among groomers and dog owners, yet it is so simple to use that even new pet owners can do it. Its quality standards make it a front-runner, while safety makes the difference.
Pros
---
Millers Forge clippers come with locking caps designed to keep the trimmers' blades closed for safe storage.
The spring-loaded action of this nail clipper makes it possible for customers to achieve fluid, clean cuts of their dogs' claws.
This dog nail clipper has a comfortable plastic grip that provides customers with a secure grip to avoid losing control of dogs during nail trimming operations.
This cutter's heavy-duty cutting blades are made of durable stainless steel that can withstand years of continued use.
The plier-style design of this dog nail clipper is intuitive and easy to use.
Cons
---
Customers claim that this clippers' rubber handle tends to slip off too easily, thereby complicating the nail trimming process.
Some users may find it difficult to maneuver their dogs' claws into the circular opening in this nail clipper.
#6 GoPets Dog Nail Clippers
SALE ALERT!!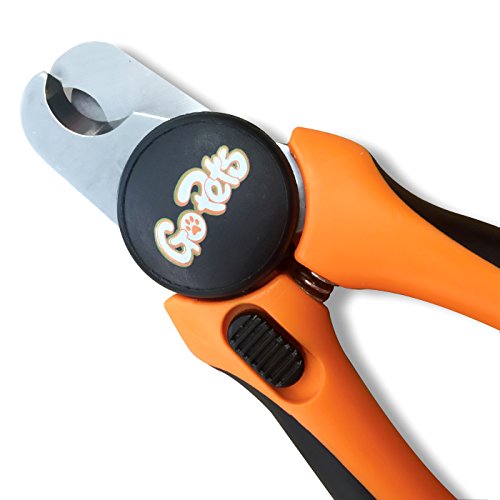 Cutting your dog's nails with care is much easier and safer when you use these GoPets Dog Nail Clippers. This product features a 3.5mm thick stainless steel which makes them durable and reliable for consistent performance over time, especially when compared to cheaper alternatives of inferior materials like plastic that wear out quicker or even break easily.
The quick sensor safety guard helps reduce the risk of injury while cutting nails by reducing over-cutting because it automatically stops when the correct length is reached on each cut. Not only from less often injury risks but they have easy locking blades which are great for safe storage as well but also allows for precise cuts every time without any hassle.
With a large ergonomic non-slip handle, these clippers are easy to use with either hand – just ensure they're on the right paws because they work quietly in one fast simple cut of a scissor blade. It's not only great for when your pet might need grooming in public but also at home or while traveling.
Whether it is the simplicity, the power, or the nail file, this trimmer from GoPets will make your life easier. Blades are also lockable for safe and convenient storage.
Pros
---
GoPets dog nail clippers are made of stainless steel with a 3.5mm thickness that can stay sharp and continue to provide clean cuts for a considerable period.
This clipper's non-slip handles are comfortable to grip and ensure that the nail trimming operation can proceed smoothly without hand fatigue.
The GoPets nail clippers come with a quick sensor safety guide to prevent customers from over-cutting and injuring their pooches.
Customers can lock this clipper's blades when not in use for safety and convenient storage.
The angled design of this dog nail clipper provides better visibility and reduces the risk of accidental cuts by making it possible for customers to see exactly where they are trimming.
Cons
---
The GoPets nail clippers are reportedly smaller than what is advertised and may not be effective for trimming the nails of large dogs.
The safety latch on the bottom of this nail clipper has a tendency to get caught while trimming, thereby making the entire nail-cutting process slower.
#7 Shiny Dog Nail Clippers
SALE ALERT!!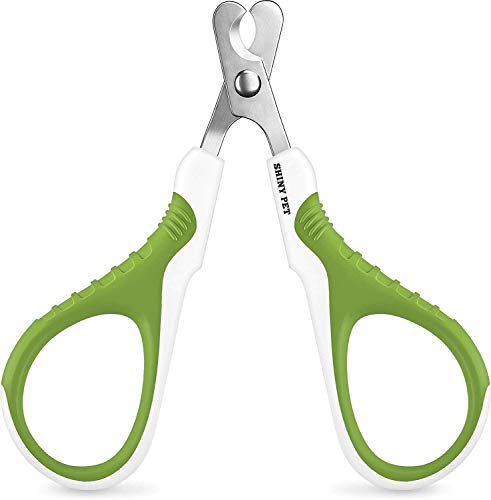 Shaped like a classic everyday scissor, this nail clipper from Shiny Pet is excellent for comfortable and risk-free use. It is only available in one size, so it is not suitable for large dogs or cats. Handles are made from 100% recycled plastic, while each product from Shiny Pet comes with a lifetime warranty. Apart from dogs and cats, you can use it for bunnies and birds, too.
The compact size of this dog nail clipper makes the experience much easier for a pet owner. Your hands are close to the nails, so you have more control over the blades to prevent accidents efficiently. It is also suitable for more animals for diversity, hence its popularity among groomers.
Pros
---
Shiny Dog nail clippers feature an ergonomic design with loops for comfortable handling and a nonslip handle that provides customers with a firm grip when trimming dog nails.
The Shiny Dog product package contains an informative e-book that provides customers with information on how to safely trim dog nails like a pro.
This dog nail clipper has an intuitive design that is easy to use and comfortable for customers to maneuver when trimming a pooch's nails.
This clipper's durable blades are made of durable stainless steel blades that can effectively trim a dog's nails without breaking.
This nail clipper is specifically produced for use with small and medium-sized dogs.
Cons
---
Several customers claim that this dog nail clipper has dull blades that make it difficult to safely trim a dog's nails.
Multiple dissatisfied customers also report that this clipper tends to create sharp, jagged edges after trimming a dog's nail.
#8 Thunderpaws Professional-Grade Dog Nail Clippers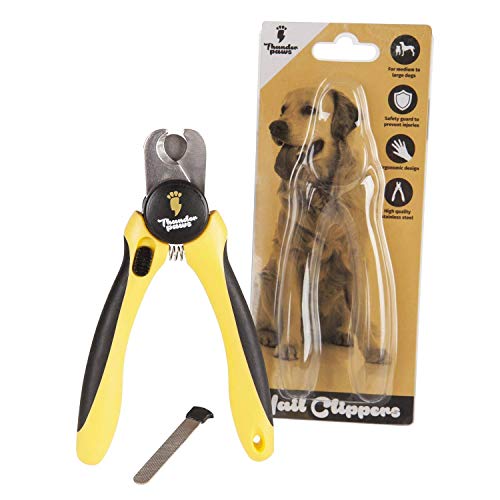 Mostly recommended to medium and large dogs, the nail clipper from Thunderpaws features a 90-day guarantee and a lifetime warranty. It is widely used by groomers and vets due to its durability and ease of use. In terms of value for money, it will probably cost you less than a trip to the local vet.
The trimmer will save you a fortune in the long run on groomer bills, even if you have never done such activities before. Using it is fairly simple and can prevent nervousness or potential accidents.
Pros
---
The dog nail clipper comes with instructions that help customers make clean cuts on their pooch's nails.
The Thunderpaws nail clipper package includes a small file for smoothening the edges of a dog's nails after trimming.
The non-slip rubber handles of this dog clipper provide a comfortable yet firm grip and ensure that users can safely groom their pooch's nails.
Thunderpaws nail clippers come with a protective guard that prevents users from over-cutting and injuring a dog's quick.
This product's safety lock can be activated when the clipper isn't in use to keep the blades firmly closed and prevent accidents.
Cons
---
This dog nail clipper reportedly fails to stay closed and locked after being used to trim a pooch's nails.
Thunderpaws nail clippers make a loud clicking noise that most dogs will find uncomfortable.
#9 Bissell Dog Nail Clippers
SALE ALERT!!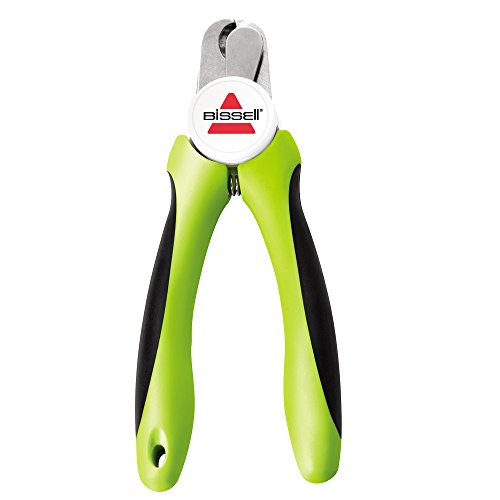 This Bissell trimmer leaves no room for mistakes and provides simple, yet straightforward operation even for the least experienced. The guide will teach you how to trim your dog's nails in a stress-free experience. Handles are rubberized, so the clipper will not slip out of your nervous sweaty hands.
What makes Bissell even better is the fact that the company donates up to $10 to its pet foundation for each product sold. As for its operation, it feels like the classic scissors used to trim your own nails, so no experience is needed.
Pros
---
This dog clipper product comes with a built-in and adjustable angled safety guard that makes the process of nail trimming straightforward for users.
Bissell dog nail clippers are suitable and ideal for different dog sizes, from small to large breeds.
This Bissell product comes with a bonus nail file that stores in the clipper's handle and which can be used to create smooth edges after trimming a dog's nails with the clipper.
The Bissell nail clipper product package includes helpful and easy-to-understand instructions on how customers can trim their pooch's nails like a professional.
The ergonomic and smooth design of this clipper's handles reduces trimming time and makes the entire process easier for both the user and the dog.
Cons
---
The guards located on both sides of this nail clipper are bulky, and they tend to obstruct a user's view when trimming a pooch's nails.
The clipper's blades constantly lock after trimming each nail and this, in turn, slows down the dog grooming operation.
#10 Fur Goodness Dog Nail Clippers
Only available for large dogs, this trimmer from Fur Goodness ensures a quick and painless cut to your furry friend. Its sharpness puts no pressure on nails but cuts right through them without stressing your pooch. To make things even easier, you will also receive an informative guide on how to use the clipper like a professional.
Fur Goodness's trimmer is created with safety, ease of use and precision in mind. Instructions are crystal clear, while the extra-long handles add to its capabilities.
Pros
---
This dog nail clipper has an easy grip handle that fits appropriately in different hand sizes and ensures that customers can comfortably trim their pooch's nails.
The Fur Goodness nail clipper comes with a built-in coil spring that ensures fluid blade movements when trimming a dog's nails.
A safety guard that prevents users from cutting too much and injuring a pooch's nails is incorporated in the design of this dog nail clipper.
Customers can make use of the nail file attached with this clipper to smoothen rough nail edges and trim areas that are difficult for the clipper's blades to reach.
The Fur Goodness dog nail clipper is manufactured with a stainless steel blade that is designed to last for a considerable period.
Cons
---
This nail clipper isn't particularly effective for trimming the thick nails of large dogs.
Some customers received Fur Goodness clippers with blades that weren't sharp enough to make clean cuts on a dog's nails.
#11 Dudi Dog Nail Clippers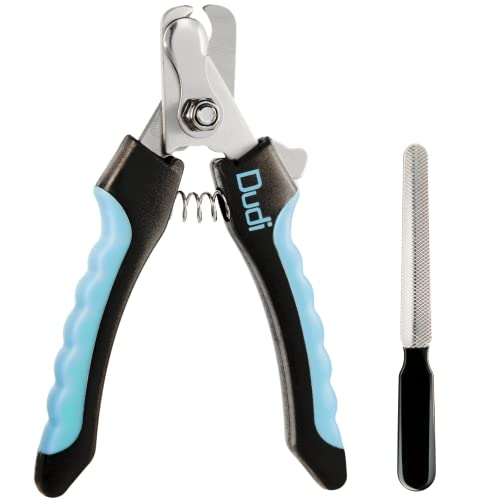 With top-notch customer service and a money-back guarantee, this nail trimmer from Dudi is available in two different shades of blue. It is manual to prevent putting stress and pressure on your canine companion. Other than that, it works on both small and large breed dogs and the guide will teach you how to do it.
The high standards of safety make this trimmer an excellent choice for beginners, as well as professionals who need a reliable tool. In terms of sharpness and durability, there is nothing to be concerned about.
Pros
---
The user-friendly design of the Dudi dog nail clippers features ergonomic non-slip rubber handles that stay firm in a customer's hands while this product is being used to trim a pooch's nails.
To reduce the risk of domestic accidents, customers can squeeze this clipper's handle to slide the lock into a safe position when not in use.
The 3.5mm stainless steel blade used to manufacture this dog nail clipper is strong enough to trim dog nails with a single stroke.
This dog nail clipper features a safety stop that can be activated to prevent users from injuring a pooch by cutting into its quick.
Dudi dog nail clippers come with a complete lifetime warranty that covers damages to the product.
Cons
---
The spring located on this clipper's handles tends to fall off easily, thereby making it more difficult to trim a pooch's nails.
This clipper's lock constantly falls back into place after each clip of a dog's nails, and this makes the grooming operation more tedious.
#12 Resco Original Dog Nail Clippers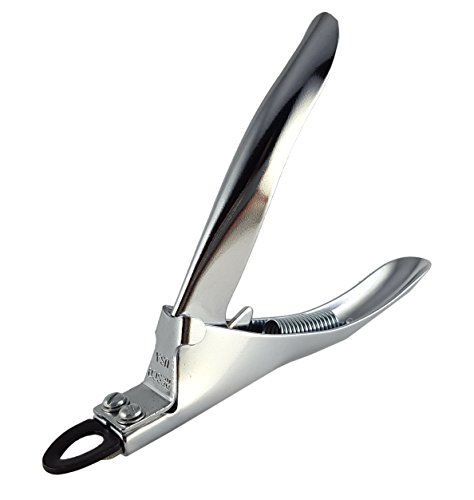 Resco's clippers come in three different sizes – tiny, small/medium, and large. The large one is the most popular choice, yet it depends on the size of your dog. Resco is known for developing the first guillotine-style clippers and trimmers back in 1937. Today, its dog nail clippers are made to last longer and come with many recommendations and a top-notch warranty.
Several technologies make Resco's guillotine the perfect tool to trim your dog's nails or claws. Make sure you choose the right size though. It works differently from other units in this segment, but the instructions will teach you how to use it.
Pros
---
Resco nail clippers are available in three size options – small/medium, large and tiny – to ensure a proper fit with the various dog nail sizes.
This dog nail clipper features patented blade replacement technology that makes it possible for customers to change dull blades without having to purchase a new product.
The deluxe models of the Resco dog nail clippers provide customers with a comfortable grip to ensure that nail trimming operations are quicker and easier.
The guillotine-style design of this nail clipper makes it possible for users to trim their pooch's nails without exerting excessive pressure.
Resco Original dog nail clippers come with a conditional lifetime warranty.
Cons
---
Some customers claim that the polished metal on this nail clipper is too slippery to offer a firm grip.
Several customers have bemoaned the poor blade quality of this product, claiming that they can't make clean cuts with the nail clipper.
---
Dog Nail Clipper Buyer's Guide
---
Dog nail clippers are an essential tool for any dog owner. Keeping your pup's nails trimmed is not only good for their health, but it can also be a lifesaver during emergencies.
However, finding the right clipper can be difficult since there are so many different types to choose from and each one has its own pros and cons. To help you find the best option for your needs, we have put together this handy guide on how to choose the perfect set of nail clippers for your pup!
Related: Best Dog Nail Grinder
Types of Dog Nail Clippers
There are many types of dog nail clippers, so it is important to match the type with your pet's needs and size. The most common types of dog nail clippers are guillotine-style, scissor-style, catclaw cutter, or plier-style.
A great way to find out which type would work best for your pet is by consulting a veterinarian or the store where you purchase supplies for your pet.
Related: Best Dog Grooming Tools
1. Guillotine Clippers
Guillotine clippers are self-explanatory. They work like a classic guillotine; only they are not vertical. They usually work horizontally, yet the principle is the same. They feature a small hole in the middle. Stick the pet's nail in there and squeeze the handles. As you squeeze, a blade will come out from your direction and target the opposite end. The nail will be cut through and end up below the guillotine.
According to most experts, guillotine pet nail clippers are more appropriate for small and medium dogs. While possible to find, large guillotine clippers are not so common in commerce anyway.
2. Scissor Clippers
Scissor clippers work just like standard scissors. They are available in all kinds of sizes, yet their operating principles are quite similar. However, unlike guillotine clippers, they are more suitable for large dogs. It is easy to understand why – you do not push a small blade to cut through, but you use your force to get the scissors to work. They compile way more force, and they can easily cut through the thick nails of big dogs.
You can find them in small sizes for small and medium dogs as well though.
3. Grinding Tools
At first glance, grinding tools may not seem as efficient as actual clippers. However, they do have their pluses and minuses. When it comes to positive parts, they are great for really big dogs. If their nails are too thick, scissors may sometimes be too weak to cut through. On the other hand, some dogs are simply scared of the little shock they get when you clip their nails. It is not painful, but that tick makes them uncomfortable.
Grinding does have a minus though – the grinding sensation might transmit throughout the dog's body. It feels like going to the dentist and getting the grinding tool in your mouth – you feel it everywhere. From this point of view, grinding tools may require some training to get the dog comfortable with it.
Patience is also a must, as grinding takes way more time than clipping.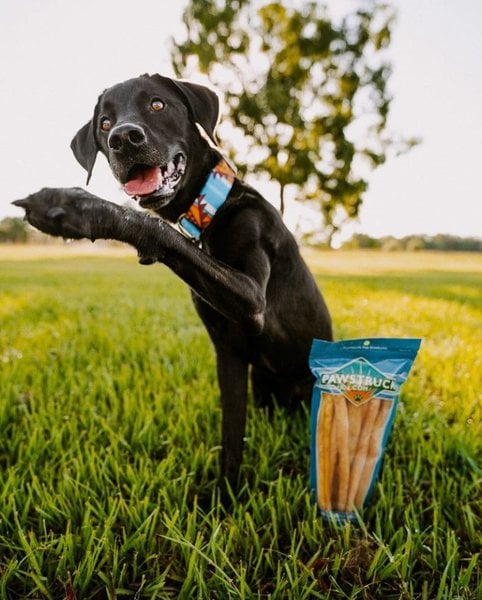 Common Considerations Regarding Dog Nail Clippers
Pet nail clippers might seem identical, but quality standards will affect their use in the long run. It is imperative to invest in a quality unit that will keep you going for years, without risking harming your furry friend.
Ease of Use
Ease of use is about the comfort associated with this experience. For instance, there is one thing that most manufacturers do not mention when you shop online – the handle length. It is often overlooked, yet it is extremely important. Some brands mention the overall clipper size, so you can still get a clue about what to expect.
A longer handle will give you more leverage. Cutting nails gets much easier as you can stroke them comfortably. It does not mean that you should get clippers the size of those gardening scissors though. Just make sure their size makes it comfortable for you.
The easier it is for you to hold the clippers, the more strength you have in holding your dog for this operation.
Comfort
Comfort can also go in a few different directions. The best pet nail clippers on the market come with rubberized handles. They are covered in rubber because it is more comfortable than a thin piece of metal. At the same time, rubber handles have a non-slip surface. You do not have to squeeze the handles too tightly to prevent slipping and injuring your friend.
Comfort is directly proportional to the size, too. Some large units might be hard to operate with one hand only, so you might need another family member to help to hold the dog.
Blade
Blades come in the same sizes and standards. Most of them are made of stainless steel, with different levels of reinforcement or sharpness. However, stainless steel is quite diversified. Certain types of steel are better than others. They will last longer, but they will also sharpen in no time or maintain their razor sharpness for ages.
The blade quality is more important for the actual pet and not necessarily for you. If the blade gets dull too often, you will need constant replacements. You will have to pay attention to the pet's reactions and see if it experiences any pain – nobody wants to hurt their pet.
Furthermore, trying to clip with a dull blade will not cut the nail, but crush it eventually – another painful episode for your dog.
The more such episodes occur (even one can be a problem), the harder it will be to get your dog calm before clipping nails.
Blade quality affects your finances as well. It is more cost-efficient to buy a quality pet nail clipper with a quality blade that would last for ages, rather than spending money on a new blade every few weeks.
Safety Features
Safety is critical when dealing with sharp objects. While cutting nails may not be such a big problem for you, pets have a different construction. Both dogs and cats have quicks – some blood vessels that end in the nails. If you cut the nails too close to their paws, you risk cutting the quicks as well. It is not only extremely painful for them, but they will also bleed and run away whenever you try to do it again.
Some units come with a quick guard, which does not let you get too close to the paw. This way, you are less likely to cut the quick.
You always have to double-check. Different dogs – even from the same breed – have different quick lengths. The good news is you can see the quick if you look closely. Use the guard for stability, but always double-check because no manufacturer can ever come up with a quick guard that protects every single pet out there.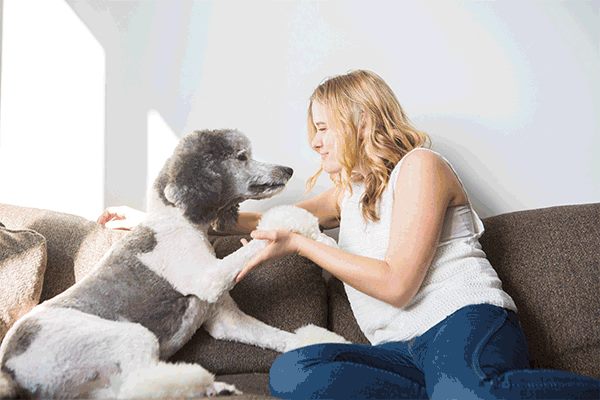 Getting Ready to Clip Nails as a Beginner
Having the best dog nail clipper on the market is not everything, as you also need to get both yourself and your pooch in the mood to do it. So, what are the best ideas to ensure a good job without too much stress?
Preparing the Environment
Ideally, the dog should be familiar with this process while still a puppy. Dogs accept things easier when young if trained correctly. You can still do it with adult dogs; only it will be a bit harder. The general idea is relatively simple – make nail clipping look like a routine cleaning procedure and not a traumatizing experience.
There are a few steps to get your dog calmer before proceeding with the actual clipping.
Get the dog used to touching their feet. Do it when you play, when about to sleep, or just out of nowhere. Conduct some small inspections around. They will be curious, but they will soon realize that you are not doing anything wrong.
Clippers or trimmers must be introduced in a friendly way. Bring them into play, but in a closed position. Just place them around while you check their feet. They will smell the new tool, but they will not be worried about it.
If everything goes alright whenever you perform these steps, give your furry friend a small treat for being good.
After a few days of standard procedures, you can start opening and closing the clippers in a friendly way to avoid scaring your dog. Some dogs might be a bit nervous. If they keep calm or end up relaxing, pull out a little treat.
The next step implies clipping. However, there is no rush. You want both you and the dog to feel calm and confident about it. Here's a great nail clipping scheduling guide provided by the American Kennel Club.
Finding the Quick First
Whether you have a quick guard or not, you want to know where the quick is for extra safety, as well as your peace of mind that you are not hurting your dog. Do it every single time before clipping. After a few times, you will get used to the optimal nail length though. If the nails are lightly colored, finding the quick is a piece of cake. You can see it from the outside – get closer and look.
If nails are dark, the quick is not visible, so you will need to perform a few little tricks and still give yourself a few millimeters just in case. First, you can flex the paw. You will spot the underside – that is where the vein becomes visible.
Second, check the paw from the profile. The vein is located where the nail goes thicker.
Related: Best Dog Hair Dryers
---
Final Thoughts
---
Bottom line, nail clipping should not be so complicated if you follow some simple steps and you get the right tool. While many of the tools mentioned above will get the job done (and they all come from reliable manufacturers), the Dog Nail Clippers and Trimmer by Boshel is the ideal choice. It doesn't only have all the basics you need to get the job done, but the quality standards are superior.
If you ask dog owners and groomers around, chances are many of them rely on this model.