The best dog hair dryer is Flying One 4.0 Hp Motor Pet Grooming Dryer With Heater.
A dog hair dryer is designed to help dog owners get their pets' fur looking fluffy and clean in between baths. Dog hair dryers come with a variety of options, including cordless models or more powerful ones with different types of heating elements such as ceramic or tourmaline.
As you may know very well, drying dogs manually is difficult, especially if you only use a towel as dogs can be uncooperative.
Towels won't dry them off completely either. With a dog dryer, you don't just reduce the drying time but you also ensure the coat of the dogs looks fresh, shiny, and of course, healthy.
We've compiled a list of some of the best dog hair dryers on the market today!
#1 Flying One High Velocity 4.0 Dog Hair Dryer
SALE ALERT!!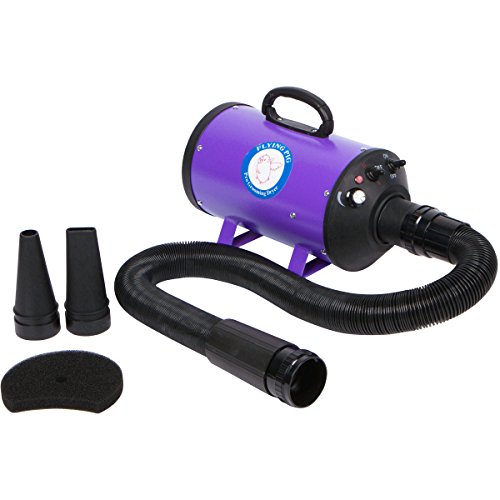 The highly versatile and easy to use Flying One 4.0 HP Motor Pet Grooming Dryer is our most recommended product because of its high velocity, which makes it an incredibly powerful machine. You can expect great performance out of this dog hairdryer with a heater, regardless of whether you are a professional dog groomer or a pet parent.
From our experience, the motor does blow air with force into a pet's coat, resulting in a significant reduction of a dog's drying time. It is safe to say that this impressive dog hair dryer is heavy-duty especially with its steel shell, 81°F to 160°F temperature range, and long-lasting motor.
It has a control panel that's laid out properly, so it offers several ways to adjust the settings. This dog hair dryer has temperature controls and adjustable airspeed. It has interchangeable nozzles, as well as a flexible hose that's 8 ft long, making drying pets easy even with bigger breeds.
Apart from being powerful, we should also praise the quality of the construction of this dog hairdryer. Its steel shell ensures you get the most use out of your investment and it even has a nice finish! On top of all that, we can't see any reason to dislike this beast of a blow dryer, making it the best dog dryer in the market today.
Pros
---
This dog hair dryer comes with a 10-feet long hose that makes it convenient for users to maneuver the equipment when in use.
Customers can choose from multiple air speeds and two heat settings, with one-switch adjustment, when grooming their dogs with this hair dryer.
The Flying One hair dryer is fitted with a powerful four-horsepower motor that can effectively reduce hair drying times by up to 60%.
The removable design of this hair dryer's filter ensures that customers can conveniently take out the filter to clean and maintain.
The Velocity 4.0 dog hair dryer has a durable steel build that can withstand heavy-duty use.
Cons
---
The nozzle of this dog hair dryer tends to fly off when the blower is on medium or higher settings, and this is unsafe for both the pooch and the operator.
This hair dryer can be unbearably loud when used at higher speeds.
#2 SHELANDY 3.2HP Dog Grooming Dryer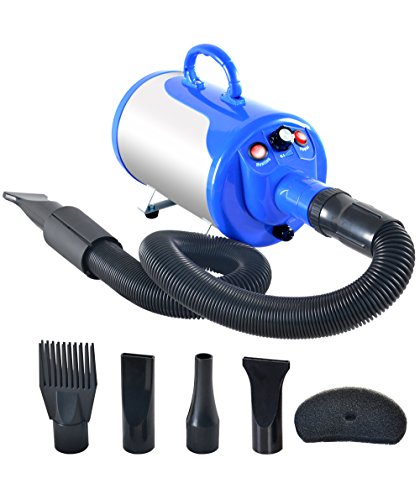 Another well-built and very powerful dog hairdryer is the SHELANDY 3.2HP Force Dryer with Heater but with a more affordable price tag compared to our top pick. Its 2400W adjustable power output ensures this dog hair dryer does its job effectively and efficiently.
At $79, it is a whopping 50% cheaper as compared to our top pick! What's more? It comes with a one-year warranty, with a simple warranty claim & a free replacement promise by the manufacturer.
What's surprising about the SHELANDY Dog Hair Dryer is its noise level which is low because it comes with four layers for noise reduction to ensure your dog remains calm while it is being dried.
The package comes complete with four nozzles and a spring hose to give you freedom in creating as many shapes or styles for a dog's coat. The temperature control of this particular dog hair dryer only gives you two options, but it is still the perfect choice to achieve an optimum dry. It's a device that's great in blowing away thick to thin fur.
This is the best choice if you are on a budget or you just want a dryer to get started as it's under $100. It still is powerful enough that it hastens a dog's drying time. Not just that as it also comes with the necessary accessories for dog drying. Top that with a comprehensive warranty and you get a product that is definitely hard to resist!
Pros
---
This SHELANDY grooming product features noise reduction technology to ensure that the dryer can be conveniently used in quiet neighborhoods and without startling the dog.
SHELANDY grooming dryer comes with 2400W output power that can be adjusted to dry a dog's coat faster or slower.
This dryer's hose can be expanded up to 7 feet in length to provide more flexibility when carrying out dog grooming operations.
This dog grooming dryer comes with four different types of nozzles that can be fitted on the hose to carry out various grooming operations on different dog hair types.
This dog dryer comes with a one-year warranty package and free replacement of damaged equipment.
Cons
---
Despite the inclusion of special noise reduction technology, several customers have commented that this equipment is too loud when being used.
This grooming dryer tends to overheat fairly quickly, and this can be quite inconvenient for the dog being groomed.
#3 K-9 III Dog Grooming Dryer
The main highlight of the K-9 III Dog Grooming Dryer is sheer power. Under the hood, it features a two-speed system and 18.5HP motors capable of reaching 62,000 FPM. Poodles come with a coat that's challenging to dry, but this dog hair dryer can dry these dog hair types in under 20 minutes.
The body makes use of 18-gauge steel. Despite being a heavy duty dog dryer, it's still lightweight. You'll have no problems moving this dog hair dryer around. It comes with a 10-foot hose. This feature makes it convenient to use as there's no need to move the entire when drying certain parts of a dog.
Keep in mind that because this is a powerful dog dryer, you may have to monitor the temperature output. While it rarely gets too hot, you still want to be careful when drying smaller dogs or puppies.
The best thing about this dog hairdryer is its power, and that means you can finish the job a lot faster. The use of high-quality steel is also desirable as you can expect this dog hair dryer to last for quite some time.
Pros
---
The K-9 III dryer features 18.5HP motors that generate enough power to complete grooming tasks faster.
The 18-gauge steel body of this grooming dryer is durable yet lightweight, capable of resisting wear and tear from constant use.
This dryer comes with a 10-foot hose that makes grooming operations even more convenient for customers.
The K9-III dryer has two different blower tips that provide variety when grooming dogs.
This grooming dryer features a 2-speed system that customers can choose from to dry their dogs' hair faster or slower.
Cons
---
This dog grooming dryer tends to overheat, thereby resulting in intermittent failure of the equipment's motors.
There is no way for users of this grooming dryer to regulate the equipment's temperature when it heats up.
#4 Metro Air Force Steel Commander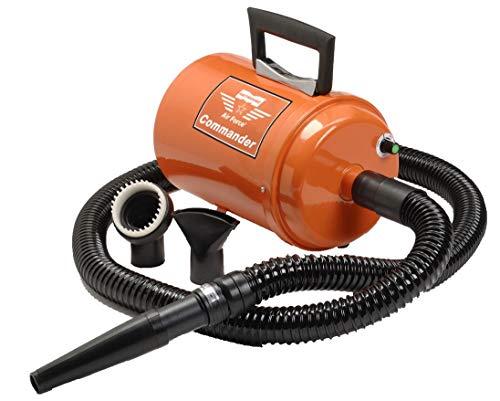 Metro Air Force Steel Commander Variable Speed Dog Dryer, 4.0 HP
Portable, fast dog grooming dryer saves you time and effort by quickly drying short-haired large and small dogs in...
Compact and lightweight – use on the floor or table top, standing vertically or horizontally
Quickly and efficiently dry pets fur without drying out their coats, control the flow of air, and use versatile...
One of the first things you will notice with the Metro Air Force Steel Commander dog hair dryer is the relatively large body to house its drying power. In most cases, you will be able to dry out a large short-haired dog faster compared to most dog dryers out there.
Its overall compact design allows this dog dryer to be portable and you can use it whether in a horizontal or vertical position. It's a unit that's friendly to users with not a lot of room to work with.
It features a 6-foot hose. It's not the longest, but it should be enough to help you access those hard-to-reach places. Another thing that's worth mentioning are the filters, which are very easy to replace. This can save you a lot of hassles.
The unit's ability to work effectively despite in a vertical or horizontal position is a desirable trait. Also, the replaceable filters that are easy to access are an excellent bonus.
Pros
---
The Steel Commander's 12-foot cord, combined with a flexible 6-foot hose, provides ample length for customers to conveniently move the equipment around their dogs and clean areas that would, otherwise, be difficult to reach.
The Metro Steel Commander package includes several attachments, such as an air concentrator, air flare tool, and groomer rake, that can be used to provide even better grooming results.
The lightweight, compact design of this equipment ensures that customers can conveniently maneuver and use this dryer as desired when grooming their dogs.
The Air Force Steel Commander has a powerful 4-HP motor that can be operated with two speed variations to dry dog hair faster.
The MetroVac Air Force dryer comes with a 5-year limited warranty on the dryer unit and motor, as well as a 1-year limited warranty on parts, switches, and cords.
Cons
---
This dog hair dryer tends to overheat when in use, and this can be inconvenient for the pooch that is being groomed.
MetroVac Steel Commander blows only cold hair, thereby prolonging the hair drying process.
#5 Go Pet Club Dog Grooming Hair Dryer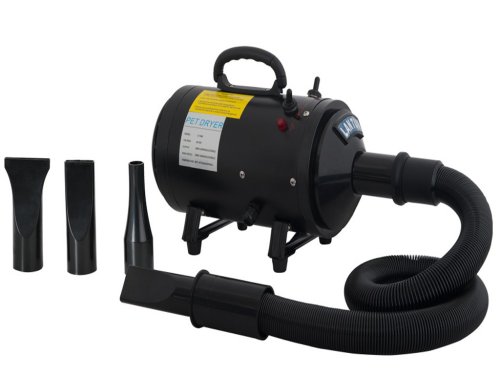 Go Pet Club Pet Grooming Hair Dryer for Dogs and Cats
The Go Pet Club Pet Dryer is designed to give your pet professional style grooming at home! Powerful airflow dries...
This dryer features 2 adjustable speeds, 2 adjustable temperature controls low volume technology.This unit has a...
Air speed : 25M/S - 50M/S. Temperature : 30-75F. Power : 2400W. Voltage : 110V.
This Go Pet Club Dog Hair Dryer can work for cats and dogs, which makes it a great option if you have both kinds of pets in your home. It features more of an industrial design, and it's as powerful as it looks.
The unit comes with two temperature settings so you will be able to adjust it to better cater to the task at hand. It also comes with two adjustable speed settings.
Perhaps the defining trait of this dog hairdryer is the body. It's robust and durable, featuring a puncture-resistant body and a double reinforced hose. It's an excellent option if you want something that will last for a very long time.
The thing that makes the Go Pet Club very attractive is its build quality. Everything is designed to be very tough like the double reinforced hose and the puncture-resistant body.
Pros
---
The puncture-resistant design of this dryer's body can withstand, to a certain extent, damage from a dog's claws and any other sharp items.
This dryer features two adjustable speed levels and two adjustable temperature controls to give customers various options when it comes to grooming their dogs.
The low noise technology that is a feature of this hair dryer makes it possible for users to groom pooches without startling the dogs in question.
This hair dryer is powerful enough to take on dog grooming operations, thanks to the inclusion of a 2400W motor.
The Go Pet hair dryer can be used to loosen the undercoat and prevent indoor shedding in dogs with a high tendency to shed.
Cons
---
Despite the inclusion of low noise tech, this hair dryer reportedly makes a loud whistling sound that can be startling to both dogs and humans.
Multiple customers have commented that this hair dryer works only for a short period before breaking down.
#6 Free Paws Dog Grooming Hair Dryer
The Free Paws Pet Grooming Hair Dryer comes with a bit of style and not just raw power thanks to its black and orange color combination. The package includes five nozzles, which means you can get the job done quicker by choosing the right tool.
The newest model sports a 4HP motor. It's not the most powerful on the list, but it should be enough for the average consumer.
The unit comes with noise-reduction features such as a noise-assimilation sponge and noise-eliminating covers. This is a desirable feature as pet dryers tend to be noisy. The two-temperature setting is also an attractive feature.
The best thing about this dog hair dryer is that it comes with noise-reduction features. Running a pet dryer can be very noisy, which can be a source of inconvenience for you and your family.
Pros
---
The Free Paws hair dryer comes with five different nozzles, including the 7-finger, wide slot, cylindrical, and standard slot nozzle type, all of which can be interchanged when needed while grooming various dog hair types.
This hair dryer comes with two airflow speeds – low and high – that make it possible for customers to adjust the speed of the air coming out of the dryer to the dog's comfort.
The inclusion of non-slip, rubberized footing helps to keep this hair dryer stable when it is in use.
The Free Paws dryer is manufactured to minimize noise when in use and this, in turn, keeps the dogs that are being groomed from getting scared.
Customers can choose to regulate this hair dryer's temperature as either off, low or high to keep their dogs comfortable while being groomed.
Cons
---
This dog hair dryer doesn't come with a storage bag for keeping the accessories when the equipment isn't in use.
The durability of the Free Paws hair dryer is questionable, as several customers have commented that their equipment stopped working within a short period after purchase.
#7 Metro Air Force Steel Variable Speed Blaster Dog Dryer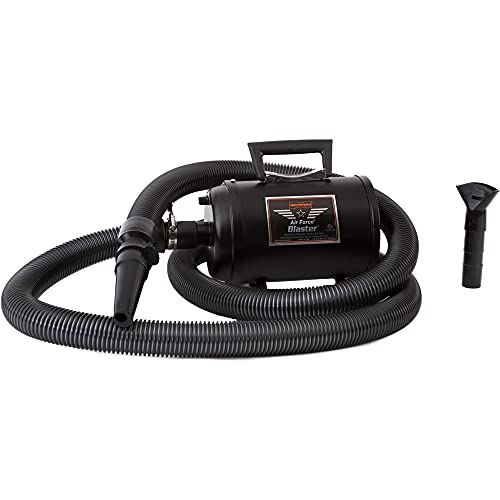 With a 4HP and 2-stage dual fan motor, this dog dryer can perform well for most users. It also features variable speed so you'll have better control over the airflow and noise. This also means you can be more efficient as you can adjust the setting to the optimum level to get the job done.
The body is constructed of high-quality steel. You can expect this dog hairdryer to take a beating and still work as intended. Also, it comes with a 12-foot cord and a 10-foot hose.
The thing that separates this dog hair dryer is that it doesn't come with a heating element. Hence, it's an excellent choice if you are worried that you might cause burns for your beloved pet when drying.
This dog hair dryer is beautifully engineered that it can get the job done without the use of a heating element. This also means that it's safer to operate.
Pros
---
The 4HP, 2-stage dual fan motor that comes with the Speed Blaster dryer is powerful enough to take on most dog grooming operations.
The lightweight design of this dog dryer ensures that customers can comfortably carry and maneuver the equipment to groom their pooches without stressing their hands.
This dog dryer has a variable speed feature that customers can use to control the equipment's airflow and, by extension, the dryer's noise level to ensure that dogs remain comfortable while being groomed.
The absence of a heating element in this dog dryer ensures that owners can safely dry their dogs without causing damage to their coats or skins.
The durable steel construction used for this dog dryer ensures that the equipment is sturdy and also guarantees a long period of continued use.
Cons
---
The dryer's hose is heavy and not flexible enough for some users to handle it in a comfortable manner.
The heaviness of this equipment's hose results in the dryer tending to tip over and fall when not properly mounted or weighted down.
#8 B-Air Fido Max 1 Dog Dryer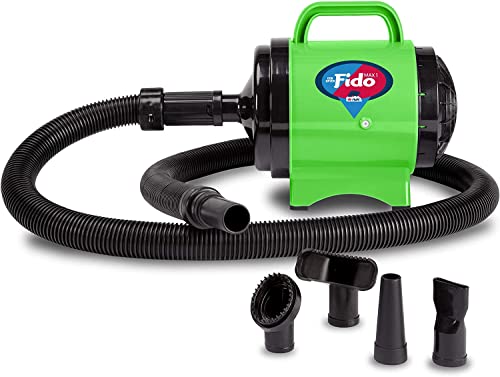 B-Air BA-FM-1-GN Fido Max 1 Dog Hair Dryer Premier Grooming Collection, Lime Green Pack
You can now save time, money, and enjoy washing and drying your dogs at home, making for happier, stress-free pets.
The Fido Max 1 can be used to De-Shed your dog's coat and even has the ability to give a light massage that your pup...
Save time and take care of last minute emergencies caused by rainy weather, dirty hiking trails and dips in the pool....
B-Air Fido Max 1 is one of the few dog dryers that are officially ETL certified. Thus, it's a safe option and an excellent choice if you are not experienced when it comes to operating a pet dryer.
The dog dryer is also powerful enough that it doesn't use a heating element to dry your dog. It only uses wind power to blow out moisture and water. It can even help de-shed your dog. If you want to blow out dirt and dust from your pet's hair, then this dog dryer can help you.
This dog dryer is small and lightweight enough that you can easily carry it around. Also, it includes several nozzles to help you do a better job for whatever task you are doing.
The quality that makes this dog dryer attractive is that it's powerful enough to dry your dog's coat without the use of a heating element. It's also ETL certified, which makes it safer to operate compared to other pet dryers.
Pros
---
The B-Air dog dryer gives out high-velocity wind at 165CFM to effectively dry a dog's coat without needing to use a towel.
This ETL-certified dog dryer doesn't contain a heating element, which ensures that dogs remain comfortable during grooming sessions.
The airflow produced by this dog dryer is effective for blowing dirt off a dog's coat without needing to wash the pooch beforehand.
B-Air dog dryer comes with several nozzle heads that serve different purposes, and this includes a brush nozzle that can be used for deshedding a dog's coat.
Cons
---
The B-Air Max 1 dog dryer is quite loud when being operated, and this is usually inconvenient for both the groomer and the dog being groomed.
The dryer's 3-feet long hose is relatively short and may not offer customers the convenience and maneuverability that is needed for grooming dogs.
---
Dog Hair Dryers Buyer's Guide
---
You may be wondering why there are dog dryers being sold in the market when there are also human hair dryers which may or may not cost less. Of course, you can save some cash if you simply use the blow dryer you have at home! But, there's a catch.
Animals, specifically dogs, have thicker fur, which requires more time and power for drying.
Most hair dryers for humans are too hot to be used on dogs. If you do use them on your pets, it is likely for the dryers to burn their skin. This means you're inflicting pain onto your dog. What's more, you now have to tend to the wounds or burns of the animals and your pets are now afraid of hair dryers, possibly the whole bathing process as well.
Hair dryers that are specifically made for human use are often incapable of completely drying the thick fur of dogs. Human hair dryers push air through, over, and around our sparse hair. As for dogs, they have dense fur. Some even have several layers of thick fur. This means you MUST forego the use of a human hair dryer for drying dogs. If you don't have a dog dryer, it is better to not use one at all than using your own blower.
High-velocity blow dryers or force dryers made specifically for dogs don't use internal heat. Instead, the air gets heated only by sheer pressure as it goes out. This is why they are safe to be used on animals.
Related: Best Dog Grooming Tables
Things To Consider When Making A Selection
When choosing between different dryers, you would want to make sure that you pick the one that works well and operates safely for the sake of the dogs.
To do so, remember the following aspects as you make your choice:
Dog's Coat
Keep the coat of your pet/s in mind as some dogs require dryers that move more air if they have thick, double coats, especially chows and huskies. For dogs with thin and short fur, they can be dried easily with less powerful blow dryers.
Dog's Size
Select a reliable dryer that's great for your dog's size. You need a dryer that's longer if you will be drying a Great Dane compared to when drying a Chihuahua. Also, the dryer must be able to operate for hours without overheating if your dog is big. For the case of dog groomers, a heavy-duty dryer is a must-have.
Related: Best Dog Grooming Tubs
Hair Dryer's Airflow & Heat Settings
Buy a dog hair dryer that has adjustable airflow and heat settings. You would want to adjust the heat and air that's pouring out from the dryer easily. You also want different settings to ensure the comfort of the dog that you are drying. If a dryer is meant to be used on several breeds of dogs, then you would want this flexibility from a dog hair dryer.
For professional groomers: a dog grooming business needs a force dryer that can stand up to prolonged, constant use. It is, therefore, recommended for you as a professional to invest in a dryer and spend more than what a dog parent may feel the need to spend on the unit.
Why Grooming Experts Don't Recommend Towel Drying Dogs
You may be wondering why you can't just towel dry a dog or why a blow dryer that's made specifically for a pet is necessary. There are dog parents that can get away with towel drying and skipping the use of a hairdryer, but dog grooming experts think a good dryer is essential for these key reasons:
A Wet Dog Can Easily Become Ill
Although being wet, cold, and shivering won't cause illness directly, it'll reduce a dog's immune response similar to us humans. When this happens, it's exposed to various illnesses. That is why you need to ensure your dog dries as quickly as possible after it is given a bath.
Wet Dogs Make An Entire House Smell Musty
If you've been a dog parent for a while, then you know a dog that's just gotten out of the shower brings a musty smell and the odor wafts through the whole house. By drying a dog thoroughly right after its shower, you won't be dealing with this problem.
A Wet Dog Can Soak Up Carpeting And Furniture.
Dogs run all over your house to look for any fabric to rub themselves into. This is a dog's post-shower ritual. As a result, the entire house becomes damp and the moisture may even destroy expensive furniture. Dry your dog completely after a bath so that it doesn't cause chaos inside your home.
Related: Best Dog Grooming Clippers
---
Final Thoughts
---
If you are a groomer, a dryer is indispensable to your work. The best one that we've found to help accelerate a dog's drying process is the Flying One 4.0 Hp Motor Pet Grooming Dryer with Heater. If you're a dog parent and you just want to test using the device, then we would suggest you go for the budget-friendly SHELANDY 3.2HP Dog Hair Force Dryer.
Regardless of your choice, we are confident you'll make an informed buying decision as you're now well-versed in every single aspect of dog dryers.
Happy grooming!