The best invisible dog fence is PetSafe Stay & Play Compact Wireless Pet Fence.
Let's start with an alarming statistic – over 6 million dogs lose their lives in road accidents every year. There have been tens of thousands of dog owners that lost their furry buddy to a road accident.
You don't want that to happen, but you also don't want to snatch away your dog's freedom and keep them confined to your home, do you?
But guess what? You can now have both your dog's safety and freedom, thanks to invisible dog fences. These fences help to keep your dog safely confined to your property, which emits a warning sound (or a static correction) whenever your dog approaches the invisible boundary.
We have listed the top 7 invisible dog fences available today – this will help you gain a better understanding of these products and make it easier for you to make an informed choice.
#1 PetSafe Stay & Play Compact Wireless Pet Fence
SALE ALERT!!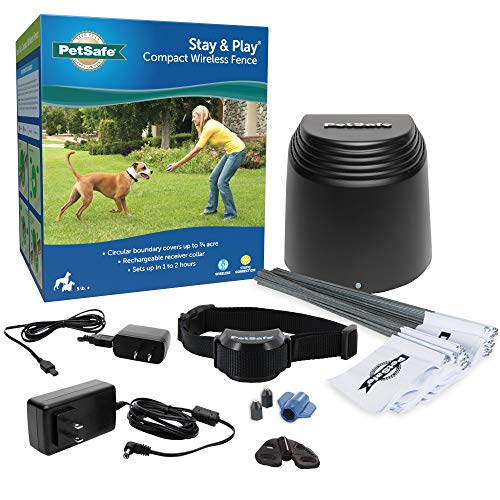 This is the best invisible dog fence from PetSafe money can buy, and there are more than a few reasons for that. The most important one, however, is that it's completely wireless while offering all the benefits of a wired system, including an expandable range coverage, with the default coverage area of ¾ acre.
There's a lot of flexibility as the range is adjustable using the indoor transmitter. The range can be expanded very easily using an additional transmitter, which is a great feature to have for those that need a much longer range.
Being completely wireless makes it incredibly portable and easy to install, the reason it's the favorite choice for RV camping and vacation homes.
This system can be used for all pets that are 5 lbs and more, with neck sizes of 6 to 28 inches. You can use it for as many pets as you like by just getting additional collars compatible with this system.
Unlike most other dog fences, the ergonomic collar this system provides is rechargeable and typically lasts up to 3 weeks on a single battery charge, with the charging being reasonably quick as well.
The combination of flexibility and functionality in this fence system from PetSafe is impressive. Most dogs would learn their boundaries surprisingly fast with the five different levels of correction and a tone-only mode.
Pros
---
The wireless design of this compact fence product for dogs allows customers to conveniently set boundaries around different locations in their homes without needing to dig holes or bury wires.
The portable design of the PetSafe wireless dog fence makes it possible for customers to transport and use the product both indoors and outdoors, provided there is a power outlet nearby.
This wireless pet fence comes with a waterproof and rechargeable receiver collar that has five adjustable correction levels for customers to use in teaching their pooches to stay in the designated play area.
The intuitive and easy-to-read LCD display that comes with this compact wireless fence makes it possible for customers to determine, at a glance, how far their pooch's play area expands.
The warning system embedded in this wireless PetSafe fence alerts users whenever there is an error that affects the proper functioning of the fence system.
Cons
---
Several customers have claimed that this transponder is not able to function well when blocked by house furniture, thereby rendering it useless in homes with limited free space.
There are inconsistencies in the containment boundary lines of this wireless fence, with multiple customers reporting that their pooches were shocked despite being a considerable distance away from the fence flags.
#2 Extreme Dog Fence (Second Generation)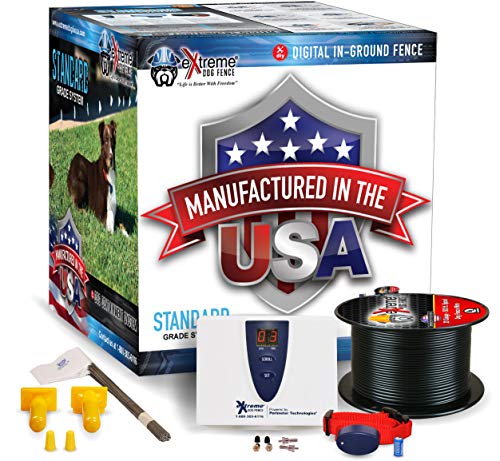 If you want to cover a vast range while being able to spend considerably less than what you would on the above product, then this Extreme Dog Fence is likely your best bet.
It covers up to 6 acres, which should be enough for most people. Besides land, it would even protect your dog in the water, as it is completely waterproof and submersible up to 10' deep into the water.
The durability can be a problem with cheaper wired dog fences, but not with this one. It comes with a 20-gauge heavy-duty boundary wire and will hold up well for years to come.
Another feature that differentiates it from its cheaper counterparts is its effectiveness at controlling larger dogs. While even the more affordable dog fences can control smaller dogs, the larger breeds are usually much harder to control or restrict.
However, this one works perfectly for large breeds as well, without being a bad or an "overkill" dog fence for the smaller ones as well.
Finally, you would be glad to know this product is made in the USA, and customers have heaped praise on the outstanding U.S.-based customer support.
This next-gen Extreme Dog Fence offers a huge operating range, high-grade wires of waterproof rating, the option to buy additional collars for multiple dogs to use with the same system, two different contact points (medium and large), and a reliable boundary range that doesn't fluctuate like other systems.
Pros
---
The Extreme Dog Fence comes with a waterproof collar receiver that can be submerged up to 10 feet deep, thereby ensuring that a pooch can swim without affecting the functionality of the product.
This product's collar comes with a set of metal-infused rubber comfort covers that are designed to ensure that the contact probes are comfortable for a pooch to wear around the neck.
Its initiative 12x battery check feature automatically monitors the status of the training battery collar at 2-hour intervals, thereby helping to prevent false low battery alerts.
The next-gen fence kit is designed to keep pooches confined within a space, with a range that reportedly covers up to 6 acres when used with the additional 20-gauge wire.
Customers can confine multiple pooches with this individual dog fence system, and each collar's correction strength is individually programmed to prevent interference and misplaced shocks.
Cons
---
This product's collar usually doesn't hold up when used with active/playful pooches, and it is considerably expensive to purchase replacement collars.
The Extreme Dog Fence product doesn't come with comprehensive instructions on how to install the wires or set up the collar receiver for use.
#3 SportDOG Brand In-Ground Dog Fence System
This is another excellent wired fence system from SportDOG that turns out to be incredibly effective in controlling and restricting all types of dogs. It also boasts a reasonably long range of 1 ⅓ acre by default, but it can be expanded to up to 100 acres with more wires.
The collar is waterproof, and the battery lasts a good 6 to 12 months. Although it fits any dog that is 10 lbs and more, it might turn out to be slightly bulky for a dog that's less than 25 lbs.
There's a warning mode that's activated when the dog gets within a 5-feet range of the boundary, and if they still go ahead and step on the boundary, they do get a shock.
There are four different stimulation levels, though, and you must check them all to make sure you choose a correction level that would be just enough for your dog and not hurt them hard.
An invisible dog fence perfect for hard-to-train dogs. Many customers mentioned in their reviews how it only took them from a couple of hours to two days to train their dogs, with many of the dogs never trying to breach the boundaries after getting the shock once.
Pros
---
Owners of this SportDOG product can upgrade the in-ground fence system to cover up to 100 acres by purchasing additional wires and flags and installing them to increase the perimeter accordingly.
SportDOG's in-ground fence system comes with an anti-linger warning that is used to prevent dogs from staying too long near the fence's boundaries and draining the collar battery faster in the process.
Customers can utilize additional collars to contain multiple pooches within the invisible dog fence provided by SportDOG.
The collar that comes with this canine fence system features unique tones, vibrational warnings, and four static stimulation levels that customers can choose from to achieve the best effect with their canine buddies.
The transmitter of this invisible fence product features a wire-break system that notifies customers whenever there is damage to the buried wires, as well as a lightning protector for the fence's wires.
Cons
---
Several customers have reported that this product's collar tends to malfunction, shocking the pooch even when it is nowhere near the fence's boundaries.
The instructions manual of this system doesn't explicitly guide customers on how to determine the distance between the warning zone and the fence boundaries, such that customers have to conduct trial and error in an attempt to ascertain the working distance.
#4 PetSafe Stubborn Dog In-Ground Pet Fence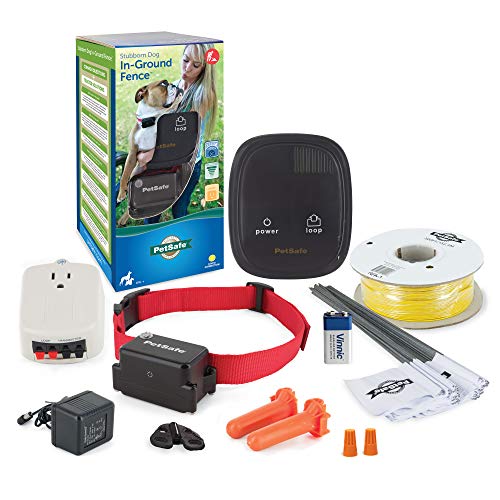 This is the cheapest invisible dog fence from PetSafe on our list, but it can be a particularly good in-ground dog fence for stubborn dogs, especially if you're on a budget.
The product comes with four levels of static shock, but the fourth level is very high in intensity. The stubborn dogs would probably never try to cross the boundary after a second-level shock or, at the most, a third-level shock.
By itself, it is only able to operate up to a range of ⅓ acre, which can be a bit on the lower side for many. However, it is expandable up to 25 acres using wires.
The collar is adjustable and will fit dogs weighing 8 lbs or more and with neck sizes of 6 to 28 inches.
This PetSafe wireless fence system is available at a reasonable price, which comes with its own proprietary perimeter technologies.
Pros
---
The PetSafe in-ground pet fence package includes 500 feet of wire to cover ⅓ acres of land, with customers having the option to purchase additional wire to increase the play boundary for their pooches to 25 yards.
The PetSafe in-ground fence comes with a waterproof collar that can be adjusted to comfortably fit on dog neck sizes, ranging between 6″ and 28″.
The Run-Through prevention-correction feature of this in-ground pet fence system increases in intensity to deter pooches that attempt to run through the fence boundaries.
The receiver collar of this PetSafe in-ground fence comes with four levels of static correction that customers can adjust accordingly to provide a safe and effective means of notifying pooches when they are close to the fence boundary.
Customers can purchase several PetSafe receiver collars with this in-ground pet fence system and use them to contain multiple dogs within the play boundaries established by the fence.
Cons
---
The wire connectors that come with this invisible fence system are considerably flexible and tend to shift in the housing, thereby making it difficult for customers to make solid connections.
The red bands that are used for this product's collar are light-duty and tend to break easily, with customers often needing to purchase replacements.
#5 PetSafe Wireless Pet Fence Pet Containment System
SALE ALERT!!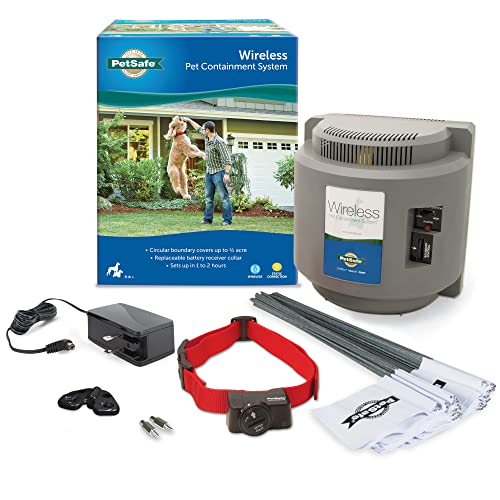 If you don't want to tear up your yard and are acceptable with a limited range of up to ½ acre, then this PetSafe fence system is one of the few dog fences you have that would fit the bill perfectly for you.
But to many dog owners' surprise, this range is expandable as well. You just need to get additional transmitters to do that. As for the installation, you can set it up in as little as about 15 minutes, but it shouldn't take anyone more than a couple of hours at the most.
It's an incredibly useful product with five correction points, although the shock on the second setting will turn out to be more than enough for most dogs.
This pet fence system from PetSafe is similar to our top pick in many ways, except for its smaller range and some other more advanced features. That said, it's still an excellent choice for even the most stubborn of dogs, as most of them get trained for the dog fence in just a few days.
Pros
---
This pet containment system from PetSafe is designed with an adjustable circular range that covers up to half an acre from where the product's portable indoor transmitter is placed.
Customers can increase the range of the PetSafe containment system up to 180 feet by purchasing and appropriately installing extra wires and an additional transmitter.
The humane design of this PetSafe containment system ensures that dogs can safely return home without being corrected whenever they manage to pass through the fence's boundary.
The waterproof collar of this PetSafe wireless fence system can be adjusted to fit dog neck sizes ranging between 6″ and 28″, ideal for dogs of various sizes.
This collar comes with a tone-only mode and five different intensities of correction that can be adjusted to prevent pooches from crossing the specified boundaries based on each dog's individual temperament.
Cons
---
Several customers have reported gaps and blind spots in the boundaries produced by this pet containment system that pooches can exploit to escape the fence.
The beeping produced by this PetSafe product is considerably soft and, when there are other background noises, often isn't audible enough to warn dogs approaching the fence boundary.
#6 Dogtra E-Fence 3500 System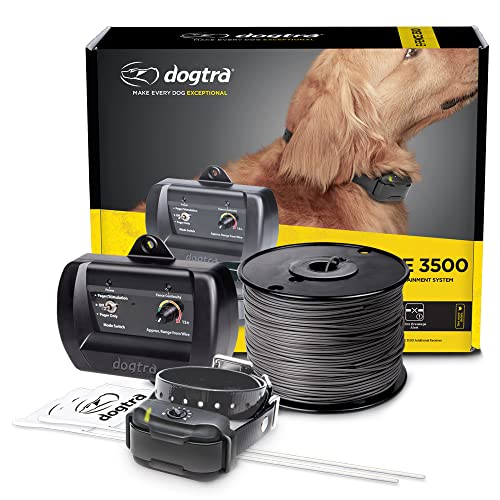 The Dogtra E-Fence 3500 system is an underground containment system that can keep your dog safe while letting it roam free on your property. It has an operating range of up to 40 acres.
You can also control the area your dog can access by adjusting the field width. It has an advanced filtering system that prevents external electrical sources from activating the fence. It also has a waterproof receiver.
This Dogtra system has two modes. The Pager Only mode has a clear vibration that lets dogs know when they approach the boundary. The Pager/Correction mode adds on a correction aspect.
It has a transmitter that will light up and alert you of any wire breakage. It also has a warning beep to ensure you're aware of the problem. It operates on lithium polymer batteries that only need 2 hours of rapid charge.
We love that the Dogtra E-Fence 3500 system protects your dogs with up to a 40-acre range. The transmitter will alert you with light and beeps to alert you of any wire breakage. It also has adjustable field width and two modes to protect your dog. We love the advanced filtering system that won't allow other power sources to accidentally activate the system.
Pros
---
The Dogtra 3500 containment system features an advanced filtration system that ensures the product continues to function optimally by preventing external electrical sources from triggering and activating the receiver.
Customers can adjust the distance of the fence's boundaries from the product's transmitter to either widen or shorten their dogs' play area.
This containment system comes with a boundary wire continuity light that turns off and issues a warning beep to notify customers of breakages in the fence's wires.
Owners of this E-Fence system can choose to either deter their pooches from the fence's boundaries with just a vibration or follow this up with a corrective shock based on their pooch's temperament.
The Dogtra 3500 system can be used with a lightning/surge protector that shields the system from damage caused by sudden voltage spikes.
Cons
---
This system occasionally fails to activate on time when a pooch runs past the fence at full speed, thereby increasing the risk of dogs escaping.
Multiple customers have reportedly received Dogtra 3500 fence systems with transmitters that were not working, casting a doubt over its quality assurance.
#7 KoolKani Remote Dog Training Shock Collar And Dog Containment Fence System Combo
The KoolKani remote dog training shock collar and dog containment fence system combo has a remote range of up to 0.74 mile. It also comes with a 500-ft boundary wire that will cover up to ⅓ acre.
The collar can withstand rough conditions and can be used during field trips, outdoor sports, and hunting. The base controller box has a large LCD display which makes it easy to adjust settings.
The underground wire can be buried between 3 to 6 inches into the ground. It is also multi-collar compatible, and you can use it to train up to three dogs individually.
You can train your dog with the remote controller and leave your dog within the containment fence without having to take off the collar. It operates on rechargeable batteries and is recommended for dogs six years and up.
We are in love with the KoolKani remote dog training shock collar and dog containment fence system combo. You can train up to three dogs with the same system, and it works for dogs aged six years and up. We love the large LCD display that lets you see the settings. You can use it outdoors as it is able to withstand tough conditions.
Pros
---
The dual-purpose design of this KoolKani combo product makes it suitable and effective for carrying out remote training operations and confining pooches within a well-defined boundary.
The KoolKani invisible dog fence system can work with multiple collars, thereby making it easy for customers to contain several pooches at the same time.
The training collar that comes with this KoolKani product is waterproof, which makes it suitable for use in the rain or when a pooch is swimming, and this collar can also be recharged when it runs low.
This base controller box of this dog containment system comes with a large LCD display that customers can use to adjust the fence's settings based on their dogs' specific needs.
This KoolKani package includes a detailed and easy-to-understand user's manual that provides detailed information on how to set up and use the containment system for pooches.
Cons
---
Several customers have reported that the KoolKani collars didn't produce a corrective shock even when their pooches were standing on the fence's boundaries.
Multiple customer reports about the KoolKani collars breaking down only after a few months of use.
---
Invisible Dog Fence Systems Buyer's Guide
---
While an invisible dog fence can be a relatively inexpensive way of giving your dog the freedom to roam around without having to spend thousands on a traditional fence, you do need to be careful the way you use it.
Some dogs may get very frightened or even horrified if they get an extreme shock when they approach the boundary. If you're not careful with the kind of shock treatment your dog gets, it could lead to the development of behavioral issues for them. This is true for other canine shock products, such as the bark collar.
That said, it can be an incredibly useful product for many dog owners, and we know you have your furry buddy's best interests at heart when you install it. But if you end up with the wrong system or the wrong settings, then it may give your dog a rough time.
Always Monitor The Correction Level
This is especially concerning the shock level. A small chihuahua wouldn't be able to stand the kind of shock a large golden retriever could, and that's important to consider.
If you set a higher shock setting than what your small buddy can handle, then it can turn out to be dangerous for them. So you would always want to check the shock level yourself, and ideally, start from the lowest shock level and move your way up to make sure the dog fence does just enough to prevent your dog from wandering out of the boundary, but nothing more than that.
Always ensure that your dog is properly leashed first, as you do need time to set up the invisible dog fence.
Get A Invisible Dog Fence With Multiple Correction Settings
Similarly, if you have a small dog, then one of the systems we reviewed with multiple shock settings would be ideal for you, as those without these options may not be suitable for small dogs with less resistance to a static shock.
As for the systems that come with a remote control to help you train your dog, you have to use them even more responsibly. Treating your dog with static shock effects every now and then is a fast way to disturb them mentally while also risking them developing negative feelings towards you.
When installing the boundary of the invisible dog fence, you have to make sure that it covers the area of your outdoor dog house too.
Now, let's get to some more essential things to know about.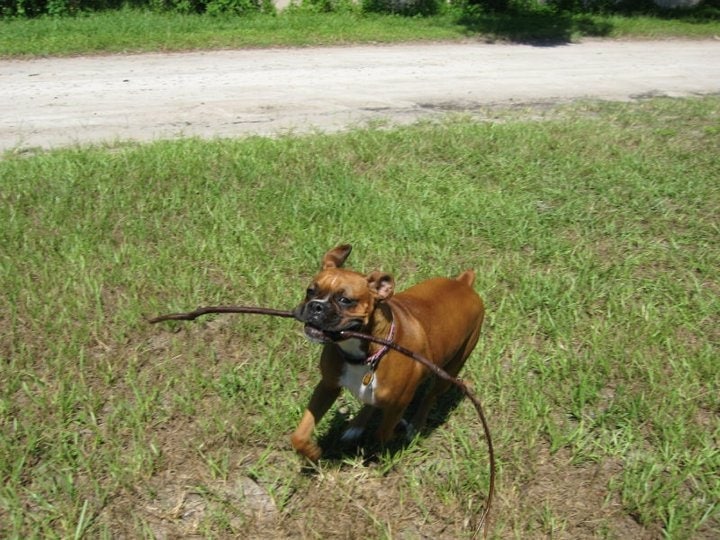 Wireless VS Wired Invisible Fence Systems
These are two popular types of dog fences you would have come across when hitting the market for an invisible dog fence system. Both of them come with their own set of advantages and drawbacks, of course, so you need to consider what matters more than you to be able to choose the right one.
Wireless Invisible Fence
Wireless systems use radio signals to create an invisible boundary for your dog and do not cause any wire mess. However, these systems can only create a circular boundary, although that's not going to be much of a drawback for most people.
The installation process is far easier and hassle-free than a wired system, and you may be able to install a good system in under an hour. Needless to say, they are also very portable and easy to use.
Similarly, you don't have to make any major changes to your backyard, which may demand both more money and time.
The wireless transmitter can also be clipped onto any existing dog collar, making the ease of installation quick and easy.
Wired Invisible Fence
On the other hand, wired systems can be used to create a boundary of any shape and aren't limited to a circular boundary. But they can be a bit of a struggle to install, and you may have to make some changes to your backyard, get additional wires and spend more money to install them.
However, they are typically waterproof and more consistent and reliable than a wireless system. The boundary also doesn't tend to fluctuate like a cheap wireless system.
They also work just as well for sloped landscapes, where a wireless system is usually not even an option.
Our top pick, however, is a wireless system that manages to avoid pretty much all the drawbacks of a typical wireless system (except using on a sloped landscape), which may mean the best of both worlds for you.
Features To Look Out For
Now that you understand what type of system to go for to suit your needs, let us quickly walk you through some essential features to consider when deciding on a particular product.
Area Coverage
The range of the system is one of the most critical factors, as you're likely getting one to allow your dog more freedom in the first place.
Depending on the type of dog fences, you may get a range of less than one acre to up to 20 acres or more. While the wireless systems are typically at the lower end here, the wired ones offer the highest range.
That said, the best wireless dog fence systems allow you to extend the range easily by simply getting additional transmitters without any further hassle of a complicated installation.
You have to ensure that the area coverage is sufficient to cover your outdoor dog kennels.
Likewise, if you have an outdoor dog pool, be sure to switch off the static correction before allowing your pooch inside the pool.
Ease Of Installation
The wireless systems win hands down here, as we have already discussed above. If the ease of installation (and maintenance) is crucial for you, then you would want to go for an excellent wireless system.
Correction Levels
We have already discussed in detail about multiple correction levels above. In addition to that, it would also be pretty useful to have a tone and vibration warning, especially for smaller dogs.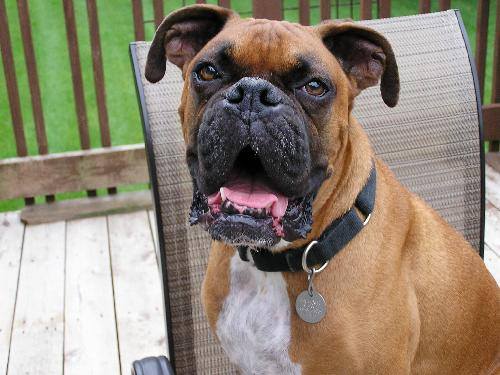 Help! My Dog Runs Through The Invisible Dog Fence
You have probably invested in an invisible electric dog fence in order to secure your pet and prevent it from escaping out of your home. But suddenly, your dog managed to escape out of the fence! Now you might find yourself wondering if this has something to do with a faulty fence or whether it's the fault of the dog itself?
In this article, we'll talk about the possible reasons why your pooch managed to run through the electric fence. We'll also offer tips and advice on how this can be prevented.
Why Does This Happen?
Wired dog fences are great training aids for dogs. This invisible barrier keeps your dog contained without using any physical barrier. So if it malfunctions, then it would be useless.
Here's what you can do to check if the system is working right:
Make sure the boundary width has been set to optimal distance.
Assess the batteries at the collar and see if it needs replacement.
Pass over the fence to check if the collar is still working.
Turn the transmitter dial-up.
When the collar is working, check that your dog is properly groomed so the fence will be closer to its skin.
Check if everything is plugged in properly.
If you believe that the invisible fence is working well, then it's time to find out other possible reasons why your dog made it through the fence.
Take Advantage Of Static Correction
Static correction ensures that your dog respects the boundary and that it should stay only within the confined area. This will teach your dog that and if it doesn't move away from the boundary, it will be given a warning beep and a static correction.
When introducing a static correction to your dog, it's crucial that you start at the lowest level that the collar offers and then eventually increase if needed. While some dogs may respond better at the lowest level, there are dogs that require a higher level.
The collar that your pet will wear will provide harmless mild electric stimulation that will remind it to remain within the boundary. It's not designed to hurt your dog in any way. Most of these collars offer different ranges and levels of static correction, so choose something that you think is suitable for your dog's size and temperament.
As you progress with your training, the goal is for you to opt for the lowest level possible and get the result that you need. When your dog responds to the beep and avoids the static correction, then that's when you can proceed to phase three of the training.
Keep Your Dog Away From Temptations
For the third phase, the goal is to teach your dog to remain within the boundary despite the presence of distractions and temptations outside of the confined area.
You can use any form of distraction or temptation at this stage, such as your pooch's favorite toy. If you're satisfied with his performance at this level, then it's time to move to the next phase.
Try Off-Leash Supervision
At the off-leash phase, take the non-metallic collar off and leave the receiver collar. Now see how well your pooch behaves if it doesn't have a leash. Since this will be the first time your dog doesn't have a leash since the training started, it's recommended that you stay by its side and always keep a close eye on it.
Monitor Your Dog in a Relaxed Way
The final phase to discipline your pooch by respecting the boundaries is through relaxed monitoring. While it's still vital that you keep a close eye on your dog at phase five, there is no need to stay outdoors with them all the time. Just check them from time to time.
This is why this phase is called relaxed monitoring. After you're certain that your dog won't cross-boundary, then all your training efforts will have paid off!
---
Final Thoughts
---
Let us reiterate the fact that our top pick offers the best of both worlds in the form of a completely wireless system with an expandable range, great reliability, and consistency.
It is also the most portable fence system on the market that is perfectly effective. Its five different correction levels further add to the overall flexibility of the system, making it suitable for all dogs of different breeds and sizes.