The best leather dog collar is Soft Touch Collars Luxury Real Leather Padded Dog Collar.
In most places, buying a dog collar is a legal requirement for all dog owners in preparation for trips out with your pet. Plus, it's a valuable place to write your dog's particulars (name and vet details) which will make it easier to find his owner should he ever get lost.
Leather is the ideal material for your dog collar. Besides being extremely durable, leather dog collars are easy to clean and maintain.
Here are our picks of the top 11 best leather dog collars on the market, with pros and cons for each so that you can make an informed choice.
#1 Soft Touch Collars Luxury Real Leather Padded Dog Collar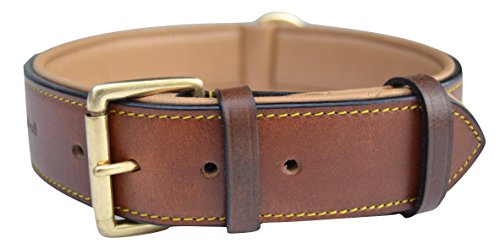 There are many reasons why we chose the Soft Touch Luxury dog collar as the best leather dog collar on our list.
First of all, this leather collar made from padded leather which is as comfortable and soft as it is durable. Unlike dog collars that are made from cheap materials, this one won't develop an odor over time and will remain dry as well. It will retain its smell of genuine leather because it's made from natural sheepskin leather that's fully tanned. Your dog certainly won't develop any rashes or discomforts when wearing this leather dog collar.
Soft Touch spared no expense while designing this dog collar, as evidenced by its robust hardware. Take the D-ring for example, which is made from rust-free and non-corrosive metal that can handle water without getting damaged.
All in all, you and your dog will enjoy this leather dog collar for many years to come thanks to its exceptional blend of durable and aesthetically-pleasing design.
The soft sheepskin leather is comfortable enough to be worn for long periods of time without irritating your dog's neck.
Pros
---
Premium and stylish design
Gorgeous two-tone color
Comes with a lifetime guarantee
#2 Mighty Paw Leather Dog Collar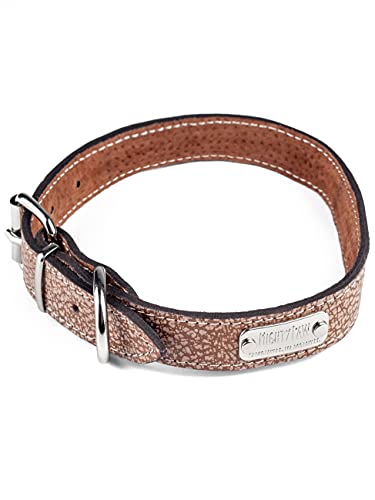 Coming in as second on the list of the best leather dog collars. this comfortable padded leather collar from Mighty Paw is designed for the active pup that regularly hikes and runs with its owner.
It's lightweight, nicely designed, and durable. This leather dog collar can handle the elements and won't tear easily, thanks to its sturdy natural cowhide construction, which is accented by premium quality alloy hardware.
Your dog can play and run freely without restrictions, as this leather dog collar is made to fit comfortably. Instead of bulky leather, it has a very soft texture that's lightweight and completely non-abrasive. It's very different from bulky dog collars that you may be used to, which can be quite heavy for most pups.
This leather dog collar is built tough and comes in five adjustable sizes to choose from so that your pup can wear it for years to come.
This cowhide collar is made from the finest leather and has a modern distressed design with an embossed logo. It's not only stylish but durable and long-lasting too.
Pros
---
Soft to the touch
Adjustable for comfortable and long-lasting wear
Made from top quality leather
#3 Beirui Genuine Personalized Leather Dog Collars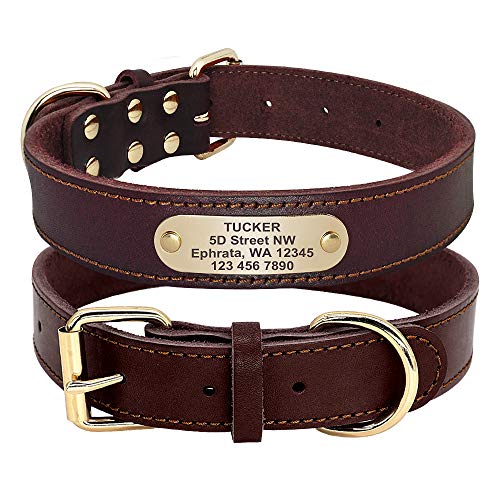 It can be hard to find a good quality leather collar for large breed dogs which is why Beirui has designed this personalized leather dog collar. It's made from soft and lightweight leather that's durable enough to withstand the daily wear and tear of an active and large-sized dog.
It has a modern yet minimalist look that's characterized by accents like the chromed D-ring and an alloy buckle. This is in addition to the handy nameplate ID tags which you can use to inscribe your dog's name and details.
It comes in different widths and sizes for dogs of all ages. Plus, it comes with a 100% money-back guarantee from Beirui that covers quality defects.
The simple, straightforward design of this sturdy dog collar from Beirui is ideal for dog owners with active pups. It offers premium quality construction and a money-back guarantee to back it.
Pros
---
Made from 100% genuine leather
Comes with a durable buckle
Easy to personalize
Available in different sizes for dogs of all ages
#4 Warner Brand Cumberland Leather Dog Collar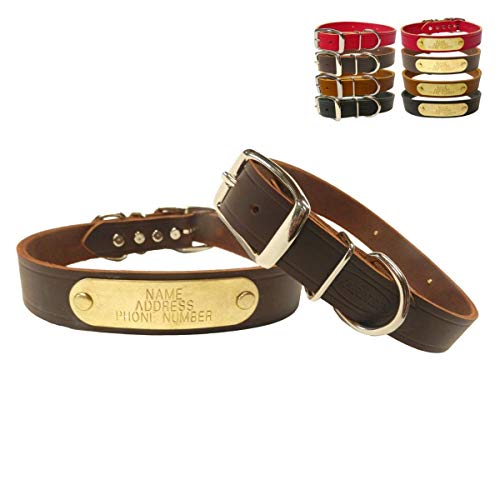 Apart from attaching to your dog's leash, a collar makes it easier for dog owners to provide identification of their furry companions. This dog leather collar from Warner Brand Cumberland features a stylishly designed ID tag in durable brass metal on which you can emboss your dog's details.
This is a genuine leather collar proudly handmade in the US. Plus, it's available in three different colors, including rich brown, tan and black, with a sturdy D-ring that you can use to attach your leash whenever you go on hikes or walks with your dog.
This leather dog collar from Warner Brand Cumberland is made from top-notch leather and features an engraved ID tag. It also happens to be reasonably priced and yet it's one of the most comprehensive options on this list.
Pros
---
Made in the US
Features nickel plated hardware
Made from genuine leather
#5 CollarDirect Leather Dog Collar
Thanks to CollarDirect's expert craftsmanship, this leather collar is one of the best that we've seen on the market. It's lightweight yet durable enough for your dog to wear comfortably regardless of the situation. It's suitable for small and large dogs alike and it's made from genuine full-grain leather.
This leather dog collar comes in several different colors to suit all types of dog personalities. It features solid brass hardware that's suitable for dogs with skin sensitivities. You can even use it on pups that suffer from conditions like psoriasis.
The soft interior padding won't irritate the coat and you'll be glad to know that this is one of those long-lasting collars that you can look forward to using for the rest of your dog's life.
This is one of the most well-made leather dog collars that we've seen. The attention to detail and the stitching is simply out of this world. It's also tough wearing and long-lasting as well.
Pros
---
Available in nine different colors
Handmade using expert craftsmanship
Made from genuine full-grain leather
#6 Ellie Dog Wear Full Grain Leather Dog Collar with Saddle
With quality and durability in mind, Ellie Dog Wear created this exceptional full grain leather dog collar. It's comfortable for your dog to wear and durable enough so that you won't have to buy another one for many years to come.
You'll find that it's soft to the touch when you handle it and it's coated with saddle leather wax for added strength. This is what makes it better than full-grain leather collars.
In terms of design, this heavy duty leather collar has a distinct vintage look with rustic detailing that gets better with time. The Ellie Dog luxury collar is perfect for small pups but it comes in different sizes for older dogs too.
Ellie Dog is a trusted manufacturer of dog collars, and for a good reason. Their collars are made from premium quality leather that's coated with saddle leather wax to improve durability.
Pros
---
Features premium brassware
Coated with saddle leather wax
Has a rustic and vintage design
#7 Chede Luxury Real Leather Dog Collar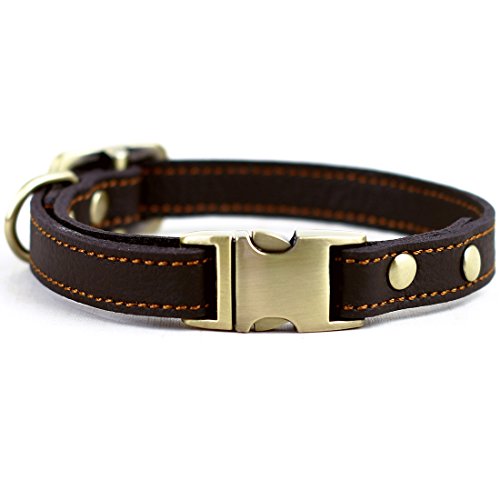 If you're looking for a combination of style, durability, and luxury, the Chede dog collar is the ultimate gift. It's handmade from 100% genuine leather and it features edges that won't irritate the skin. It's smooth to the touch and fully adjustable so your dog can continue to wear it as he gets older.
It's perfect for medium to large-sized dogs, while the lined interior is padded for maximum flexibility and comfort. Your dog won't even notice they're wearing this leather collar and will continue to run around and have fun with no restrictions.
The Chede Luxury dog collar is made for pups on the move. It features 100% genuine leather with very impressive metal detailing and stitching. Plus, all you need to clean it up is a soft damp cloth and perhaps a mild leather cleaner.
Pros
---
Handmade from real leather with detailed stitching
Features beautiful metal detailing
Has a luxury feel and look
#8 Perri's Padded Leather Dog Collars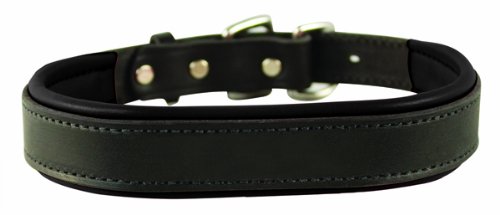 This Amish-made collar from Perri's is a budget-friendly yet good quality option that can withstand the elements. This means you can take your dog for walks no matter the weather, knowing that this dog leather collar won't get damaged. This is not one of those "here today, gone tomorrow" value buys.
It's handmade in the US from 100% fade-proof and durable lambskin leather. It's available in a number of different colors to suit different preferences, with our favorite being the red and white theme. It's soft to the touch and comfortable to wear because it doesn't irritate the skin.
You'll also be glad to know that this dog collar is easy to clean, and its solid brass fittings won't get damaged over time.
Perri's Padded Leather Dog Collar has certainly earned its spot on this list with a unique and handcrafted design. It's available in different colors, at a reasonable price and it's super comfortable.
Pros
---
Made from soft and durable lambskin leather
Features stainless steel hardware
Handmade in the US
#9 Logical Leather Padded Dog Collar
This padded leather collar from Logical is well, a "logical" option for any dog owner. It's made from comfortable leather with multiple layers for extra padding. This dog collar makes it easy to restrain your dog on outings without chocking it.
It's made from full-grain leather that won't fray or rip like traditional dog collars, and at 26 inches long, you can rest assured that it will fit most dogs no matter the size.
This dog leash also features sturdy loops that will give you a peace of mind after you've attached the leashes and tags, while the premium quality metal clasp and leash ring make for nice finishing touches. Just be sure to measure your dog beforehand to make sure that this dog collar is suitable, otherwise, it's a good quality leather collar option and you can't beat the price.
This high-quality leather dog collar is handmade in the US of A, and it features a stylish design that any pet owner can be proud of. It's perfect for taking your dog on walks and it's suitable for training or just relaxing as well. It's very comfortable.
Pros
---
Made from full grain leather and premium hardware
Comfortable with padded interior
Comes with a lifetime guarantee
#10 Coastal Pet Circle T Nickel Buckle Latigo Dog Collar

Coastal Pet Circle has created a formidable leather collar with an adjustable size that guarantees a comfortable fit regardless of dog breed or size. This is a handcrafted model with durable materials like Latigo leather which is known for its non-irritating quality.
Thanks to its unique construction, this leather collar is perfect for dogs with long hair and sensitive coats as well. It's lightweight, easy to clean, and is suitable for use on all occasions.
We really like the strength and durability of this leather dog collar. It's adjustable and comes highly recommended for longhaired dogs. Plus, the nickel-plated snap is a nice touch.
Pros
---
Handcrafted from premium quality leather
Adjustable sizing for optimal comfort
Extremely durable and strong
#11 Viosi Leather Padded Dog Collar

The Viosi padded leather collar is the perfect choice for cute pooches. It's very soft and lightweight, with comfortable padding for non-restrictive long wear. It doesn't stretch very much but we're sure that most dog owners will appreciate the tanned buffalo hide construction.
This is an excellent design with an inner leather layer and extra cushioning for added support. This prevents the neck from being inflamed and can easily be worn all day without a problem.
The stitching is done with super durable thread that's made to ensure that the leather collar doesn't fall apart no matter how much you and your dog put it through. Plus, it won't shrink over time because it has a genuine leather interior while the solid brass handle will keep your pup secure whenever you go for walks.
Take your dog on a comfortable walk knowing the leash is secure thanks to this affordable yet high-quality leather collar. It comes with notable features that include detailed hand stitching, a solid brass buckle, and an eco-friendly design that makes it suitable for use in different climates.
Pros
---
Comfortable padded leather interior
D-ring leash attachment
Solid brass buckle is nicely designed
Top quality hand stitching makes for added durability
---
Leather Dog Collars Buyer's Guide
---
As with any purchase, it's important that you make an informed choice based on proper consideration. Here are some of the most important things to know when looking for the best leather dog collar.
Size & Design
You want your dog to feel comfortable when wearing its collar and that's why fit is important. Thankfully, most collars are either adjustable or available in different sizes. It's always a good idea to measure your dog's neck beforehand to make sure that you get the correct size.
Durability
Leather is one of the most durable materials known to man which is why leather collars are unmatched in quality. But, there are different types of leather, some cheaper than others. You'll do well to opt for a good quality option even if you need to pay more for it. A collar should also come with a durable metal D-ring that won't break when you pull on your dog's leash during walks.
Comfort
You also want a collar that's comfortable for your dog to wear, one that won't choke or irritate the coat. Padded collars with a soft leather interior are your best bet in this regard and are the first preference for most dogs.
Style
Style is a personal matter of course, but it's safe to say that there are plenty of stylish options out there. Some leather collars are designed according to a rustic and vintage style, while others have a more modern and minimalist look.
Most dog collars come in a brown or tan color, but there are other colors out there for those who would prefer a more unique option. Some designs are even specially made to suit a specific outdoor activity – such as hands-free dog leashes. But, the most important thing is to look for durability first and style. Secondly, be sure to choose a color that suits your dog's personality and temperament.
Keep in mind that it will take a few days to break in a leather collar and your dog might fidget during that time but after that, it'll become completely comfortable.
To maintain the leather, it's very important that you clean it whenever necessary and rinse it after every walk. Leather moisturizers are also a good idea if you want to preserve the quality of your dog's leather collar.
How Tight Should A Dog Collar Be?
Getting a collar for your dog is essential, whether you own a puppy or an adult dog. The collar will help you keep your dog safe and protected as you go for a walk outdoors. You can also attach your contact info and other important details on the collar of your dog. That way, if your dog gets lost accidentally, whoever will find your dog will know whom to call.
These days, you'll find a wide variety of dog collars in the market. They are available in different sizes, styles, and are made from different materials. But it's extremely important that you exercise caution when attaching the collar to your pet's neck since it tends to go around its neck and might lead to choking.
So how tight should the collar be? To address this question, read on as we talk about how you should attach your dog's collar in a way that your pooch will feel safe and comfortable.
Related: Best Chew-Proof Dog Collar
How Much Space Should There Be Between The Collar And Your Dog's Neck?
Considering the things discussed above, it's vital that pet owners are aware of the recommended space that should be between the dog's collar and its neck. If you see a small space in between the collar and your pet's neck, then just leave it there. Otherwise, you'll run the risk of it becoming too loose and allowing your pet to be able to slip easily.
Try to slip your two fingers in between the neck and the leather dog collar, and if they fit snugly, then that should be right. Remember that your two fingers shouldn't feel tight when you push them in.
If you feel that they are too tight, then loosen the collar a bit. But there shouldn't be plenty of space around your fingers, or it will be too loose, and your pet will easily slip through. This method is what dog experts call the two-finger rule.
What About The Width Of The Dog Collar?
You should also consider the collar's width when choosing one for your pet. Small dogs like pugs would feel more comfortable with a thinner collar, but large dogs must have thick and wide collars to accommodate their large neck.
If you're going to use a thin collar on your large dog, this might make it feel uncomfortable while small dogs find thick colors annoying and uncomfortable.
If possible, bring your dog with you as you shop for a collar from a pet store. Get your pet to try the collar before deciding to buy it. The store attendants should be able to offer the best advice when it comes to the right collar for your pet.
Related: Best Dog Collar For Pulling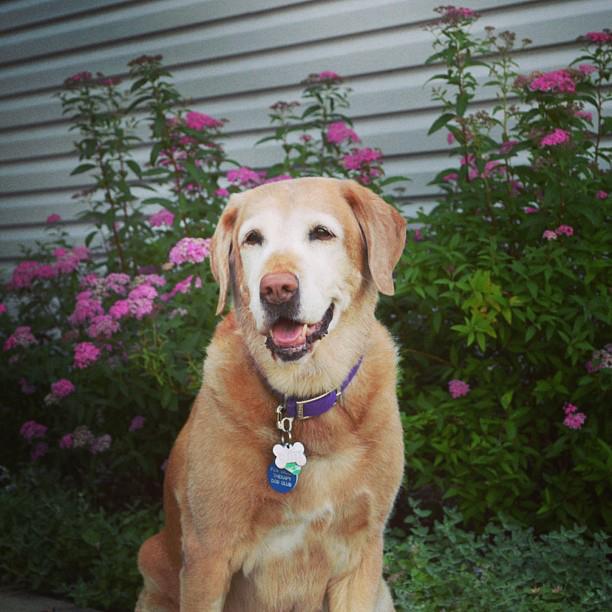 Dog Throat Injury From Collar: Here's What You Need To Know
One of the most important accessories that dogs wear every single day of their lives is the dog collar. So when it comes to buying a collar for your dog, you should only go for the best. The leather dog collar is, without a doubt, one of the best types of dog collars out there. It's very durable and is guaranteed to last long despite daily use.
But before you get a leather collar for your pooch, you need to first educate yourself about the dangers of a dog throat injury. Here's everything you need to know about this issue.
What Happens If You Don't Fit the Collar Properly?
An ill-fitting collar will cause your dog's neck to chafe and might eventually lead to long-lasting discomfort and injury to your dog's throat. It's truly unfortunate that some pet owners are not aware of this issue and that's usually because the leather dog collar conceals the abrasion on the skin. Also, dogs are not able to tell their master what it is that's causing the discomfort.
Usually, leather dog collars that are too tight on your dog could irritate its neck and could lead to chaffing. Some of the most common symptoms of a chaffed neck are hair loss, redness, and skinned appearance. The chaffing will usually come in the form of a string or line that mimics the shape of the collar.
Chaffing shouldn't be mistaken for dermatitis or other skin conditions, which usually come with inflammation and itchiness on the wrists, eyes, limbs, ankles, toes, and groin.
What to Do If Your Dog's Neck Gets Injured?
Here are some of the most practical solutions when it comes to addressing your dog's throat injury resulting from the use of a dog leather collar.
Loosen Up The Collar
Understandably, if the collar is too tight for your dog, then this will most likely cause injury. When attaching the dog leather collar to your dog's neck, use the two-finger test to ensure that the collar is not too tight. Simply insert your two fingers on the collar and if it's not too loose or too tight, then leave it at that.
Remove Collars That Cause Pain
Don't use any collar that could trigger pain, such as the prong or shock collar. Instead, opt for other types of collars such as the Martingale collar that's made of leather. This is usually safer and more comfortable for your dog and prevents any throat injury.
Train Your Dog How To Walk When On A Collar
If you noticed that your dog tends to pull and strain as it walks with the collar on, then you should train your dog the right way to walk so it will not end up injuring its throat. Teach your dog to walk calmly, and when it does, encourage it by giving it treats.
Consider The Moisture
Usually, a wet or moist collar could trigger the chaffing of your dog's neck. Therefore, make sure you take off the dog leather collar when it becomes wet. Wipe the collar dry before you put it back on your dog's neck.
Treat Chafing Carefully
Minor injury on the throat of your dog resulting from the use of a dog leather collar can be treated with salve, which is the same product used in treating nappy rashes. You can also apply coconut oil but keep the neck of your pooch free from the collar while you leave the treatment on.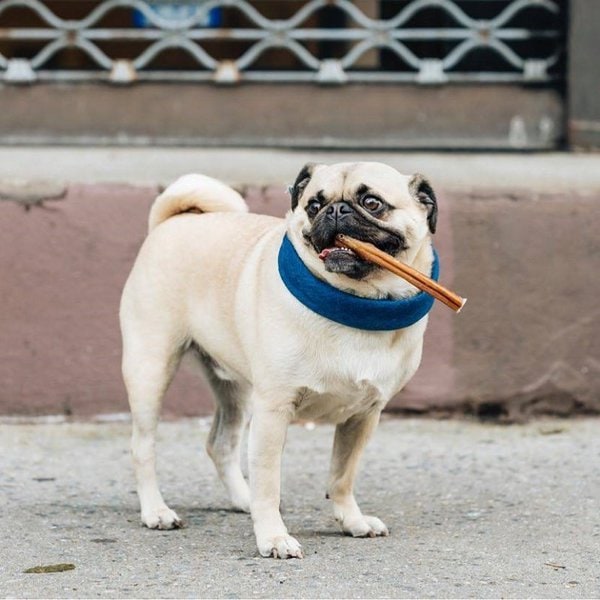 Dog Collar Materials: What Are They Commonly Made Out Of?
Dog collars are available in a wide range of options. They come in different colors, sizes, and designs. This variety of choices can be overwhelming for most pet owners. Knowing what to choose and what to leave behind requires a lot of research, and it may take more time than you'd expect.
But once you have decided the type of dog collar you want for your pet, the next step would be to pick the right material. A few different materials have been used to make dog collars over the years. Each of the materials has its advantages and disadvantages.
Let's dive into our list of some of the common dog collar materials, their advantages, as well as their drawbacks.
Material #1: Neoprene
Neoprene is a type of soft rubber that's reinforced with nylon webbing. It's a highly durable material that can stretch quite easily. Neoprene is also very water-resistant.
Pros
Water-resistant
Great for dogs with allergies
Very comfortable to wear
Dries quickly
Cons
Costs higher than other options
Designs and styles are limited
Relatively bulkier compared to things like nylon
Material #2: Leather
Leather is a popular material that is used in dog collars. It has a classic appeal too. Although it costs more than your average dog collar, leather designs will give you long-lasting service for years. Leather dog collars are also available in two broad categories. You can decide to go for either flat or rolled-up options. Rolled-up leather collars are often recommended, especially for dogs that have thick hair.
Pros
Long-lasting
Can be cleaned easily
It's a natural material
Breathable and doesn't stink
Great for pets that have regular allergies and skin sensitivity
Cons
The cost is relatively high
Limited designs
Without proper care, it may become smelly after a while
Comes with colored dies that stain dog fur if used for long
Material #3: Nylon
Similar to leather, nylon dog collars are also very popular. However, nylon offers a much wider variety in terms of both style and design. If you are looking for a collar that also makes a fashion statement on your dog, you will get fanciful design options with nylon.
Pros
Very affordable designs
A huge variety of styles, patterns, and designs
Easy to put on and remove
Cons
Gets smelly sometimes
Not nearly as durable as the other options
Difficult to clean
Material #4: Chain
Chain collars are mostly used for dog training. They are also referred to as choke chains. However, you should never leave your dog unattended while wearing a chain. This is because there's always a risk of strangulation with these types of collars. If used inappropriately, chain collars may cause neck and trachea issues for your dog.
Pros
Durable material
Effective in training dogs
Doesn't stink
Cons
Shouldn't be used during extreme cold weather
Incompatible with several leashes
You can't leave the dog unattended
Cleaning is very difficult
---
Final Thoughts
---
A good quality leather dog collar is crucial to keeping both the pup and the pet owner happy. You can go hiking or walking with your furry best friend knowing that they're comfortable and secure.
Our top pick from our list of the best leather dog collars is the Soft Touch Padded Dog Collar. This luxury collar is made from durable genuine leather and has an attractive two-tone color with stylish finishes. It's flexible and comfortable to wear on hunting, hiking, and walking expeditions. Plus, it's non-corrosive and non-irritating.