Dogs are known for being chewers, and if you're a dog parent, then you know the importance of having a chew-proof dog collar. However, when armed with one of the best chew-proof dog collars on the market, your pup will be safe and secure.
When it comes to choosing the right collar, among the many factors influencing the decision, the material used and the safety factor are two major ones to consider. Firstly, a regular nylon or leather collar can easily be destroyed by an aggressive or determined chewer, but a double-layer nylon/polyester will fare better. Secondly, every collar should have safety features by design such that when pulled, it does not choke a dog yet secures the dog well.
In this blog post, we'll take a look at some of the best chew-proof dog collars on the market so that you can find the perfect one for your furry friend. We'll also discuss why it's important to have a chew-proof dog collar and how to choose the right one for your pup.
#1 Yunlep Adjustable Tactical Dog Collar
The Yunlep collar is one of the best options on the market. It is made of high-quality military 1000D nylon derived from ballistic nylon, which was originally developed as protective fiber for Second World War soldiers.
The collar's durability is augmented by the heavy-duty and hard-to-break metal buckle. The metal hook on which you attach the leash is sturdy and can withstand your dog's pulling. The control handle comes in handy during training or when handling your dog from close.
To enhance your dog's comfort, Yunlep collar has a soft-padded lining on the inside. This avoids any form of irritation and makes the collar perfect for dogs with less fur. The Magic sticker on the back of the collar can hold name tags, badges, and other identity tags. All three available sizes (M, L, XL) are adjustable.
A dog collar made from high-quality military nylon will make your dog think twice before planting its teeth into the fiber to try and chew its way out of the collar. This is even more difficult when the buckle and hook are made of heavy-duty metal impossible to break by pulling.
Pros
---
The collar is sturdy and durable as it is made of 1000D nylon, which also makes it abrasion-resistant.
You can easily and securely secure the collar thanks to its heavy-duty military-grade buckle and control handle.
The collar is soft, lightweight, and comfortable for your pup because of its padded nature, which also protects pups from allergic reactions.
You can get a collar that fits small to large dogs as it comes in 3 adjustable sizes, namely M, L, and XL.
The collar is practical as it also doubles up as a harness and even comes with a magic sticker to place your pup's ID tag.
Cons
---
Not recommended for very large dogs as they can chew through the collar with ease.
Both the buckle and Velcro mechanisms are reported to stop working after some time, which means your pup is not entirely secured with this collar.
#2 Tuff Pupper Heavy-Duty Dog Collar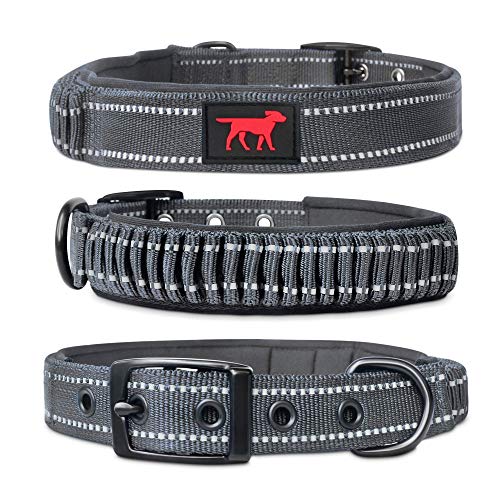 Tuff Pupper Heavy-Duty Dog Collar comes with a metal buckle. This collar is made with 3-mm fray-proof ballistic nylon. It comes in 3 sizes which are determined by the dog's neck circumference – Small at 13 to 17 inches, Medium at 17 to 21 inches, and XL at 20 to 26 inches.
You will notice the well-done accent stitching, which means it is built to last and chew-proof. The buckle and other metal parts are made with 100% stainless steel. When you need to secure your pet in a tense or crowded space, the stretch bungee safety handle gives you more control.
The collar has soft neoprene material and a mesh padding on the underside, making sure your pet is comfortable. It also has a dual 3M reflective stitch rim for walking in nighttime or low-light places.
Tuff Pupper believes in this collar and will offer a replacement within 30 days if needed. It also comes with a lifetime warranty.
This chew-proof collar offers comfort, security, and durability. If you need to walk in traffic or in places that could induce anxiety in your pet, the stretch bungee handle is perfect. You can enjoy walks in dark places or the nighttime, thanks to the reflective feature. Tuff Pupper's 30-day replacement guarantee and lifetime warranty are additional reasons to choose their collars.
Pros
---
A secure and durable collar with a 100% stainless steel buckle and is made using 3mm thick rip and fray-proof ballistic nylon with accent stitching.
Comes with a sturdy stretch bungee safety handle, which is comfortable and makes it easy to control your pup in any situation.
With its reflective 3M stitched trim, padded Neoprene material, and inner mesh padding, the collar offers increased visibility, breathability, and comfort.
It can fit most pup breeds, as it comes in three sizes, and you can also make use of the adjustable strap for a more snug fit.
Thanks to the rust-proof zinc alloy ring, you can easily attach a leash to this collar.
Cons
---
It is not ideal for very small pups like poodles because, despite the adjustable collar, it still remains loose on much smaller necks.
The collar handle begins to fray after a short time if you use the collar frequently.
#3 Metal Plates Martingale Dog Collar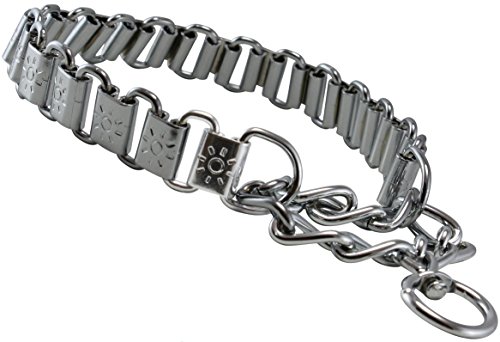 Metal Plates Martingale Dog Collar 3mm Link Chrome (19.5"-23")
Made of high quality chrome plated steel for durability and resistance to rust and tarnishing
Limited closure ensures dog's safety
Metal plates; 3mm link chain. Variations with link connection are 7/8" wide; variations with plate connection are 1"...
Metal dog collars can seem uncomfortable at first sight. But if you are looking for a chew-proof option, this is it! The collar is made of high-quality chrome-plated steel, ensuring durability and giving an anti-rust finish that is healthy and feels comfortable on your dog's skin.
The decorated metal plates are connected with 3-mm link chrome hooks, adding extra resistance and durability.
It is important to measure your dog's size when buying to ensure it fits right on the neck when closed and passes easily through the head when open. You can choose from 6 available sizes that range from 13 inches to 15 inches for Small and 21 inches to 24 inches for X-Large.
The chrome-coated metal plates and links that make the Metal Plates Martingale dog collar are extremely chew-proof. Your dog will try to chew through but without success.
Pros
---
It is durable as it is made of high-quality chrome-plated steel.
The anti-rust finish makes this collar safe and comfortable on your furry friend's skin.
Thanks to its link chains, the collar is made to be strong and chew-proof, with the link connection being about 8 mm wide and variations with the plate connection being 1 mm wide.
Comes in 6 sizes that you can choose from depending on your pup's neck size.
You can be assured of your pup's safety because of the limited closure.
Cons
---
Not ideal for strong dogs who pull on their collars as the links can break apart with some tensile force.
The metallic material may cause a negative reaction in dogs with super sensitive skin.
#4 FDC Dog Tactical Collars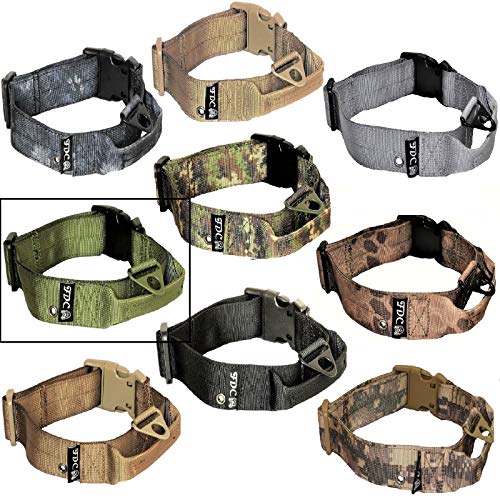 The nine-color variety of collars is made from high-quality military-grade polyamide webbing that is 1.5 inches wide. A second layer is sewn together to ensure the utmost sturdiness. The connecting buckles are from ITW (Illinois Tool Works), a company that makes most military equipment, giving surety of strength and durability.
The adjoining buckle and triangular metal ring can easily withstand a pull force of 350 lbs. The comfort handle is an added advantage when it comes to holding your dog close. You can easily hang name tags on the rivet hole next to the FDG quality sign.
The FDC dog collar gives you the surety that the military-grade polyamide and the ITW connecting buckles are strong for any pull by your dog. Your dog will try in vain to chew through the material.
Pros
---
Offers military-grade strength during pup training as it is made of ITW Nexus buckles and a 1.5-inch wide military-grade polyamide webbing sewn into two layers.
It is snap-proof, which means dogs that pull will not be able to break it.
Long-lasting and budget friendly because you can regularly machine wash it.
Has a convenient handle on the back of the collar, which fits a standard adult's hand, which makes it perfect for controlling your furry friend in any situation.
Available in four sizes for pup necks between 12 to 24 inches.
Cons
---
The leash ring is not as durable because the collar is reported to be broken with some tensile force.
The collar sizing is limited when it comes to neck sizes smaller than 12 inches, so it may not comfortably fit on smaller dog breeds.
#5 Mighty Paw Neoprene Padded Dog Collar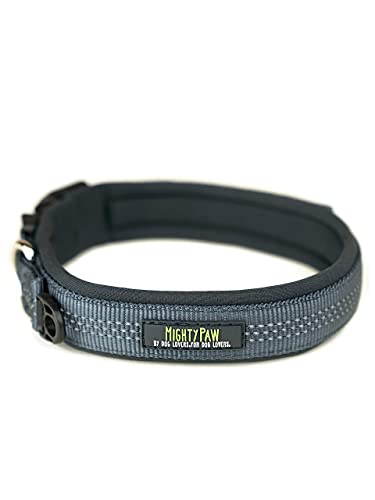 This dog collar is not just tough and durable but also weather-resistant. It is built with sturdy material to resist the pull of sportive dogs. The neoprene padding cushions your pet's neck from the pressure of high-energy activities like running, swimming, and the 'catch' game.
Being weather-resistant also means that your active dog does not have to put up with sweat that is absorbed in the collar. The triple-reflective line allows you to keep track of your dog in the dark.
Depending on your dog's size, you can choose from a wide range of colors and sizes (Small, Medium, Large, and X-Large).
The Mighty Paw is a sturdy material dog collar that is Neoprene padded on the insides, making it a suitable choice for high-activity dogs. Besides, the weatherproof feature keeps your dog from the discomfort of its sweat.
Pros
---
Your pup's comfort is considered thanks to the Neoprene weather-resistant and odor-resistant cushion that offers improved traction and prevents skin irritation.
Strong and durable as it is made with quality materials.
The reflective stitching around the collar gives it a fashionable look and also offers visibility in busy places and low light.
Adjustable collar and is also available in 4 sizes to suit your pup's neck size.
Lightweight and secures your furry friend well thanks to the clasps, buckle, and fuzzy fastener.
Cons
---
The buckle is sometimes hard to use and can be a hassle when you need to take it off quickly.
The Velcro fastener frays and stops functioning in a short time, which means your pup can easily take it off.
#6 Pitbull Dog Collar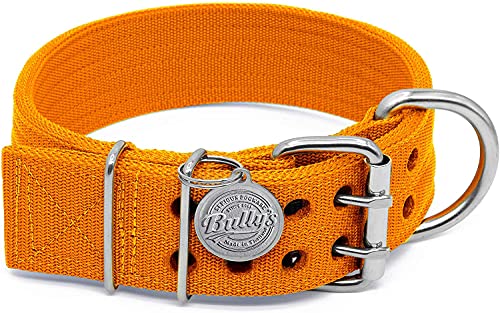 This is a comprehensive dog collar that takes care of the smallest and the largest dogs. Sizes will range from X-Small to XXX-Large. The collar is made of heavy-duty nylon and specially designed for additional sturdiness.
The hardware is equally strong and made of healthy and non-rust stainless steel. You have a range of rivet holes into which you can adjust the width around the neck. The collar is extra wide, ranging between 1.2 inches, 1.5 inches, and 2.0 inches.
This is the collar to go for if you do not want to risk buying a non-fitting one. It targets larger breeds and has several rivet holes where you can adjust the collar according to your dog's neck size.
Pros
---
Tough and durable as it is made of heavy-duty nylon material.
It is made of lightweight but effective tactical materials.
It is perfect for outdoor use as it is rust and tarnish-resistant thanks to the stainless steel hardware.
It is not only extra-wide for comfort, but the material is also washable.
Comes in 6 different colors and up to 7 neck sizes of between 15 to 31 inches.
Cons
---
The collar can irritate the skin as it does not have soft padding as its inner lining.
The extra-wide collar can be too loose for smaller pups, generating some level of discomfort.
#7 The Black Rhino Dog Collar
SALE ALERT!!
The Black Rhino comfort collar is made from tough and durable material to ensure resistance from your dog's pulling and chewing. Each collar has a Neoprene padding on the insides that is made with a contrasting color from the one on the outside, giving it an appealing design.
The collar's hardware is strong and can resist the strain of your dog's pulling or vibrant activity. Two reflective lines are placed along the length of the collar on each side, helping you easily track your dog.
You also have a couple of rivet holes on which to adjust the size. The collar sizes range from Small (11 inches to 15 inches) to X-Large (22 inches to 26 inches).
The Black Rhino combines durability, appeal, and comfort to give your dog a collar that is strong for its pull but, at the same time, comfortable on its neck.
Pros
---
Strong and durable as it is made of double-stitched nylon material, which makes it perfect for all your pup's activities.
Soft and sensitive to your dog's skin thanks to its thick Neoprene padding, which is also odor and water-resistant.
The reflective stitching around the collar makes your pup visible at night or in low-lit areas.
Comes in many colors and four adjustable sizes to fit most pup breeds.
The metal buckle doubles up as a clasp and adjustment mechanism for your pup's extra comfort.
Cons
---
The sizes are rather rigid, so not all pups will find the perfect size for them.
Because of its thick Neoprene padding, your furry friend may suffer from irritation and some discomfort upon prolonged wearing of the collar due to sweating and heat.
---
Best Chew-Proof (Indestructible) Dog Collars Buyer's Guide
---
Collars can feel uncomfortable on your dog's neck. But they are a necessity. They serve several functions, including restraining, offering protection, attaching identification info, or simply for fashion. Whatever function we attach to dog collars, it is important that they are comfortable. Uncomfortable colors can make your dog want to chew its way out of it. Sometimes, dogs will even give a hand to fellow canines by chewing each other's collars.
While discomfort is a major reason, dogs chew collars, anxiety, boredom, and lack of attention can also lead your canine to want out of a collar. In these or other cases, chew-proof or indestructible collars become a necessity.
Qualifying a dog collar as chew-proof or indestructible does not necessarily mean your dog will never manage to chew it. It means that these collars will give your dog a harder time and take longer to destroy. The collar is more resistant to chewing and lasts longer compared to other easily chewable collars.
For your shopping guide, comfort should be a primary quality when choosing a chew-proof collar. But this feature should be coupled with durability. Read on to understand the details of these two indispensable characteristics of chew-proof dog collars.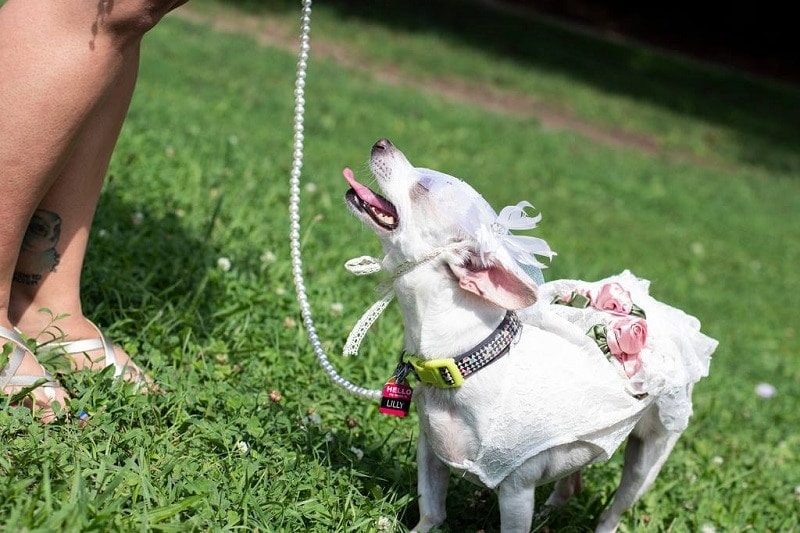 Comfort
When it comes to dog collars, comfort encompasses two key characteristics; to be of the right fit, and to be made using the right material.
Right Fit
This means that your dog's collar should not feel too tight or too loose on its neck. Tight collars can block your dog's breathing and blood flow and threaten its life.
Loose collars will keep moving on the neck and can cause injuries from the edge, especially when your dog pulls consistently.
Most manufacturers will offer you a variety of sizes from which to choose. It's always advisable to measure your dog's neck size before making an order. Avoid standard collars since they can be a problem with dogs who have smaller heads than their necks, like the Whippet and the Greyhound. Manufacturers also enhance the comfort of dog collars by making them adjustable. See as an example the Pitbull Dog Collar with its multiple rivet holes.
Right Material
The core factor when it comes to material and comfort is how the collar feels on your dog's neck. This can mean using material that feels soft on your pal's neck as in the case of Mile High Life (our budget pick) or including a soft-padded lining as in the case of Yunlep Adjustable Tactical Dog Collar (our top pick).
Right material may also imply the density of a double-layer collar to prevent it from digging into the dog's skin (see the FDC Dog Tactical Collars). A 2019 study found that double-layer nylon/polyester collars reduced the mean pressure exacted on dogs' necks when compared to single-layer collars.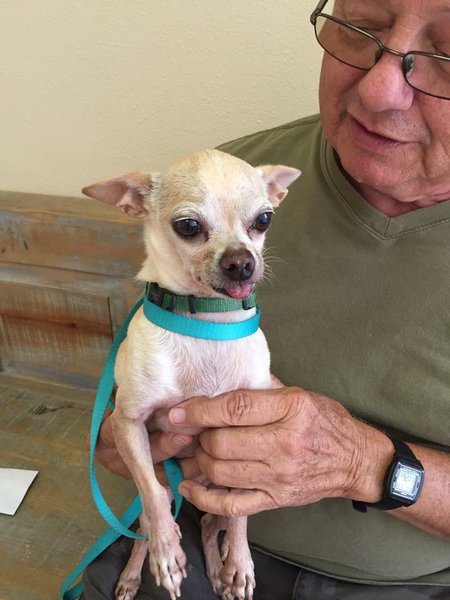 Safe Design
Your dog's collar design should provide safety. A collar that is not adjustable may be risky for your dog. It might become too tight on its neck when pulled, which may be life-threatening. Adjustable collars will allow you to make the right fit on your dog's neck. The recommended allowance is usually space where two of your fingers can fit with ease.
Some collars also adjust automatically. A good example is the Martingale collars. These are made with a larger loop that fits the head and a smaller one that fits the neck.
When your dog pulls, the larger loop tightens to prevent your dog from getting out of the collar but not so much as to choke it. The AKC considers Martingale collars to be safe on all dog breeds and sizes but recommends consistent supervision while your dog is wearing such a collar. See the earlier reviewed Metal Plates Martingale Dog Collar as an example.
Durability
Durability is ensured using study material and hardware. High-quality military nylon, leather, and Thermoplastic Polyurethane are examples of sturdy dog collar materials. Metal collars are also sturdy and chew-proof, even though some dog owners may be wary about using them.
But metal is the recommended material for collar hardware. Buckles and rings made from chrome-plated steel not only last longer than plastic but are hard to chew and withstand your dog's pulling. An often recommended metal for dog collar hardware is from ITW since it is endowed with the strength of military equipment.
---
Final Thoughts
---
Dog collars should feel comfortable on your dog's neck. This means that they have to be the right fit, be made of a material that feels soft, and be of a design that can be easily adjusted to prevent your dog from choking or slipping out the collar.
To be indestructible and chew-proof, the collar should be made from sturdy material that could be military-grade nylon, leather, or Thermoplastic Polyurethane. Strong metal hardware reinforces the durability of your dog's collar.
Our top pick passes the durability test since it is made of high-quality military 1000D nylon and hard-to-break metal buckles. The soft-padded lining leaves any dog feeling extremely comfortable while donning the collar.