The best dog crates for truck beds is Owens 55006.
While there are endless choices for dog crates in general, there are very few crates that are specifically designed for a truck bed.
However, the ones that are do cost a pretty penny, and you wouldn't want to go with the wrong one as it can be an expensive mistake, both in terms of the money you would pay and the safety compromise you might make for your dog.
Make an informed choice by going for one of our best dog crates for truck beds below.
#1 Owens 55006
This dog crate has pretty much everything you would want in a dog crate.
It's made using rugged diamond tread aluminum, which is the best material a dog crate can be made of. So you can expect an exceptional level of safety for your furry buddy.
This dog crate comes with two compartments – and both are lined and large – to make sure your dog has more than enough space to move around. This also makes it an ideal crate for large dogs, which can feel cramped and uncomfortable in smaller crates.
The slam latch doors are lockable and come with storm covers as well. This will help protect your little friend when it gets stormy outside, while the lockable doors would keep your dog safe as they wouldn't be able to jump out at will.
Further, the ventilation and airflow are pretty good with side vents and a ventilated door. The crate also has a top compartment that offers a fair amount of storage.
This is a very complete dog box that leaves nothing to be desired. Although it does come with an expensive price tag, it's undoubtedly not more expensive than the safety of your dog.And with the excellent latching system and insulated layer, it offers an environment that's both safe and comfortable for your dog even when traveling in extreme temperatures.
Pros
---
Large crate area for your dog's comfort.
Great ventilation.
Smooth and easy latching system.
Comes with an insulated layer.
#2 Gunner Kennels G1 Intermediate Dog Crate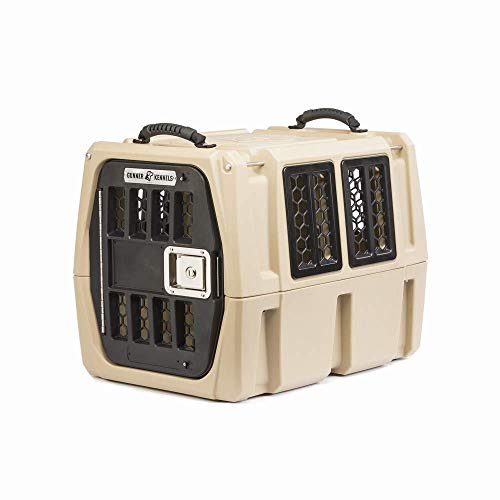 What if you don't have the budget for our top pick but don't want to compromise on the safety of your dog? Well, in that case, the Gunner Kennels G1 will fit the bill perfectly for you.
Despite being much cheaper, it offers top-notch safety. In fact, according to the manufacturer, it's the only dog crate to get a 5-star rating in a test crash.
But we aren't taking the manufacturer's word for it here for obvious reasons. However, the customers reinforce what they said, and this thing doesn't even move even when the truck hits a speed bump even at 20 mph. A cheaper crate would give your dog a real hard time in situations like that.
It's not just its durability or how solid it is, though. It also boasts an extremely smart, thoughtful construction with excellent airflow engineering and ventilation.
It would certainly do much better than the average dog crate out there when it comes to protecting your dog against extreme weather in both summer and winter.
It's designed to protect your dog against all types of seasonal elements while making sure your little buddy has a comfortable ride without getting hit against the walls when taking sharp turns.
Pros
---
Solid, thoughtful construction.
Escape-proof with aluminum frame door.
Ventilation on all sides.
Double-wall construction with extra insulation layer.
#3 Owens 55015
Owens (55015 Dog Box
4 seasons vents without storage dog box
Package Weight: 94.94 pounds
Package Dimensions: 41.11 L x 9.41 H x 20.46 W (inches)
This dog box is very similar to our top pick, and being offered by the same manufacturer. However, the significant difference is that it's much smaller, and it doesn't come with the top storage like the first dog box we reviewed above.
But if you're on a limited budget and have a smaller dog, then you would be glad about what this dog box brings to the table at this price.
It's incredibly well-made with rugged diamond tread construction, a lot of ventilation, a lockable slam latch door (that makes operating the door effortless and smooth), and a rubber mat floor. It also comes with storm covers so you won't have to spend extra money on them if your dog has a habit of chewing things.
This product is very similar to our top pick, but specifically designed for those on a budget, and with a smaller dog. It's very heavy-duty and provides excellent ventilation, while also protecting your dog against different weather elements.
Pros
---
Made using high-quality, durable material.
Latch locking system is secure and smooth.
Just the right size.
Valued for money, a great price point for quality you can expect.
#4 Dee Zee DZ91781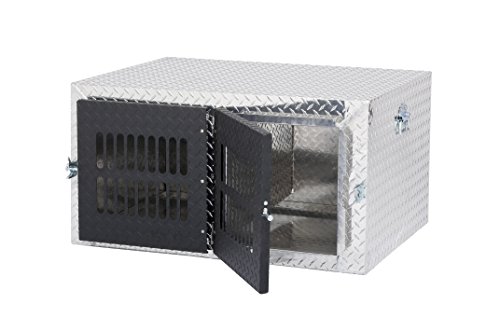 Now, if you have two smaller dogs and you won't like to spend a lot of money buying two dog crates for them, then this dog box might be right up your alley.
It's a dog box that comes equipped with dual dog crates in separate compartments. But the separator can be removed to be used as one large dog crate to house a large dog.
However, it would only make sense for people with small dogs, as the ones with a large dog can go for a better product in this price range.
These dog crates are made using durable aluminum that's resistant to rust, and there are no sharp edges so your dog wouldn't struggle through the ride.
On the downside, the ventilation is adequate but not perfect, there's no insulation, and the removable entry divider isn't the best quality.
While this dog box isn't without flaws, there shouldn't be a big concern for smaller dogs, as it's suitably designed for them. You shouldn't use it for very long rides in extreme weather though, given the lack of any insulation.
Pros
---
Budget dog box for two small dogs.
Made using rust-free aluminum.
Latches are well-made and secure.
#5 UWS DB-4848N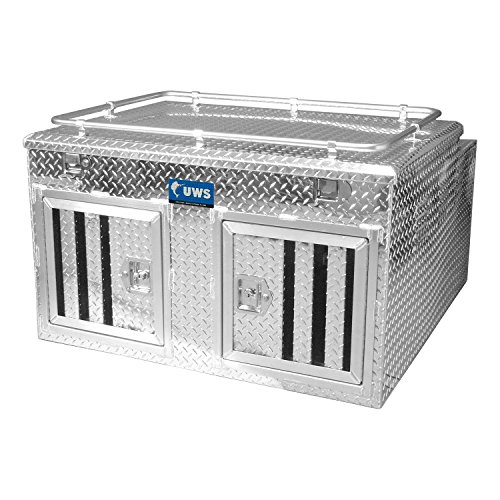 UWS DB-4848N 48" Northern 2-Door Deep Dog Box with Divider
Two dog compartment box with non-removable divider designed for dogs' comfort in cold climates
Insulated lid retains heat to keep dogs warm and helps retain the shape of the box
Lockable top of box 3.7 cu ft. storage compartment for gear
This is again a dog box specifically designed for two dogs, but in comparison to the above product, it's much better quality and also much more expensive.
Now, while the two compartments themselves are removable, the divider can't be removed. The divider is much, much better quality than the above product, however, and you may certainly not encounter any durability or safety issues with this product.
Also, unlike the above model, this dog box also comes with an adequate level of insulation to retain heat and keep a comfortable environment for your little buddies in the crate.
Apart from the doors, the top is lockable as well and comes with a storage compartment.
If you're looking for a crate to travel around with two dogs – without having to compromise on essential features like with the above product – then this product would likely turn out to be your best bet.
Pros
---
Perfect, high-quality crate for two dogs.
The divider is made of strong aluminum.
All-round quality, rust-proof aluminum construction.
Stainless steel locks are secure.
#6 Southern-Style 2-Door Dog Crate
This is another quality dog crate for two dogs made in the US. The aluminum construction is solid and secure, and the compartments for two dogs are reasonably spacious.
The ventilation is very impressive – as unlike some other similar truck beds – it is more than adequately ventilated on the sides as well.
The doors come with a folding T-handle lock for added security for your dogs, while also making it easy and smooth to open and close the doors.
The only downside is that there's no floor with this product, and although there's top storage, it's not very useful for keeping large things on it.
At this price point, this product is hard to beat as a dual dog crate, especially with the great ventilation and high-quality construction.
Pros
---
Quality construction for two dogs.
Impressive ventilation.
Spacious for small dogs.
---
Dog Crate For Truck Bed Buyer's Guide
---
While choosing the best dog crate for a truck bed can be as easy as picking one of the above truck beds that best match your needs and budget, some of you may need more information on what to consider when deciding on a particular dog crate.
Also, most dog crates for truck beds are non-moveable in nature. This means that you have to get your canine companion up on your truck bed first. To aid with this movement, getting a dog ramp can come in very handy.
So let us walk you through some factors to consider when choosing a dog crate for a truck bed.
Security
While it's much safer to use a dog crate for your dog when riding them in a truck, the level of safety your furry buddy gets may differ significantly from one product to another.
If you tend to ride at higher speeds, then you would want to avoid a crate that's very light-weight, as you run the risk of it falling off.
Similarly, the latching system is another safety factor to never compromise on. If the latching system is weak, there would always be a risk of the crate getting detached from the bed and posing a significant security threat to your pooch.
Finally, the door locking system shouldn't be ignored either. If the door gets unlocked easily if your dog tries to unlock or damage it, then the dog may escape and land itself in a life-threatening situation.
Distracting your dog with interactive puzzle dog toys also can be another option, so that your pooch wouldn't focus its energy on getting the latch open.
As an added precaution, you consider putting a GPS tracker on your pooch. This allows you to track your dog if it scurries away unexpectedly.
Quality
The quality of the crate is more critical than you may think, especially when it comes to a crate that will be used for your truck bed. We are talking of issues beyond the smaller ones like rusting here.
If the crate is cheaply made, it may not offer any protection to your dog in case of an accident. The sturdy ones made using high-quality aluminum, however, would turn out to be much better and safer for your dog during such situations.
All the dog crates on our list are made using high-quality aluminum – with the apparent exception of Gunner Kennels G1 – but it too has high-quality aluminum frames installed in it and is hence a sturdy, durable product. These strong material allow the frame to withstand the rough environment of the truck beds when you are on the road, giving your pooch paramount protection and you minimum worry.
Of course, you should also consider the fact that cheaper dog crates may need to be replaced much more frequently, while the more durable ones would stand the test of time for a long, long time.
If you are looking to pair your truck bed dog crate with an indestructible dog bed, we have compiled a list of recommendations for you.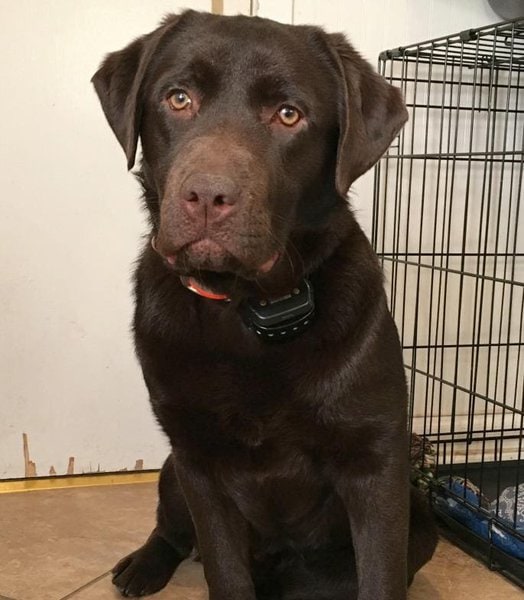 Insulation
It's surprising not many dog owners consider the insulation when choosing a crate for a truck bed. This is because you will likely be traveling through different weathers and using the crate in different seasons, including extreme climates and temperatures.
With no or poor insulation, your pooch may have an extremely hard time staying in the crate, especially during longer rides. Crates with no insulation can make it unbearably hot or cold for your dog during summer or winter, respectively.
Our top picks come with a significant level of insulation which would undoubtedly protect your dogs against these and other elements that could trouble them through the ride. However, there are some cheaper dog boxes for truck beds on our list that do not, and you should only consider getting them if you won't be traveling for longer durations or in extreme weathers with your dog.
Appropriate Size
Most dog owners do heavily consider this factor when choosing a crate for their dog; however, they only think from just one angle. They are just concerned about whether or not their dog would comfortably fit into the crate, and if it would fit their truck bed well.
However, there's more to it. While the crate shouldn't be too small to make it uncomfortable for your dog, it also shouldn't be too large for them. Also, if the weather is hot, do consider putting in a dog cooling mat inside the dog crate so that your canine buddy wouldn't overheat.
If you put your dog in an oversized crate, they may end up getting banged hard into the walls when your truck takes sharp turns at high speeds. Further, they would be at much greater risk if a terrible case of an accident does take place, as there will hit the crate's sides with a lot of force due to the extra space available.
This could be prevented if there's just enough space for them to be comfortable in the crate.
The dog crates on our list come in varying sizes suitable for truck beds, so make sure you choose the one that's right for your dog based on what we said above. Further, for most dog boxes, you will also be asked some details about your truck to ensure that the product fits your truck bed perfectly as well.
Ventilation
This is another important factor that usually doesn't get the attention it deserves. If the insulation is good and the size is just right for your dog, the crate environment could still get uncomfortable for your pooch if the crate isn't ventilated enough.
Some crates are only ventilated at the doors, but not at the sides, which isn't good for long rides. When there's all-around ventilation or thoughtful airflow design, it would certainly make your dog feel much more comfortable even during longer rides.
To aid with ventilation, you should also make sure that your pet pooch is groomed regularly with a pair of dog clippers.
Again, most of the dog crates for truck beds we have picked here come with a great level of ventilation, without compromising on safety.
---
Final Thoughts
---
All said and done, we must say you would be hard-pressed to find a crate that meets all the above requirements perfectly and even exceeds them, like our top pick.
It's an all-round product with not only extraordinarily sturdy construction and insulation, but it also comes with a great locking system and has the added advantage of a top storage compartment which can really come in handy during long rides.