The best bark collar for dogs is TUG Rechargeable Bark Collar.
It's quite natural for dogs to bark but when they do it incessantly and become disruptive, then it's time to stop the bothersome behavior using a dog bark collar.
When used correctly, the collar is a safe and effective way of correcting this annoying behavior. However, finding the right bark collar is not an easy task.
There are way too many types and brands of dog bark collars to choose from. In our article, we will review 8 of the best bark collars and provide you with a detailed buying guide to help you make an informed buying choice.
#1 TUG Rechargeable Bark Collar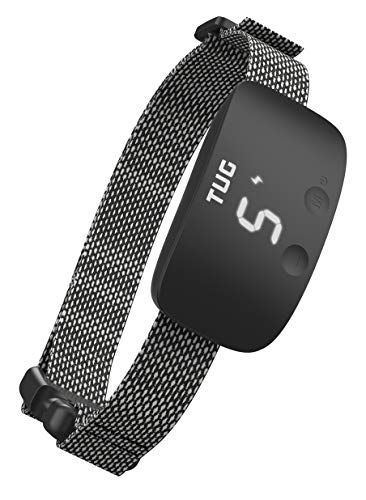 With the lightweight TUG bark collar, you get an intelligent sensor that ensures this device isn't triggered by nearby dogs barking, and dog parents also have the option to switch between seven different sensitivity levels, including harmless shock and vibration.
The collar also has an adjustable strap – between 6 to 22 inches – which makes this product suitable for use in dogs of all sizes, especially those weighing above 11 lbs.
The easy-touch buttons located on the front of this bark collar make it easy to be operated while being worn, and the addition of a large LED screen on the collar makes it easy to monitor battery level and modes.
Additionally, the TUG rechargeable bark collar is rated IP67 waterproof, making it suitable for use in the rain and indoors. And the collar's strap design makes it easy to clean and maintain.
The availability of seven different sensitivity levels, as well as an intelligent sensor to prevent false triggers, makes the TUG rechargeable bark collar one of the best products with which to curb your pooch's tendencies to bark excessively.
Pros
---
Has multiple settings which are beep, vibrate or shock which can also work together whenever your pup barks, yet you can turn off the vibrate and shock when necessary.
The high-tech sensor helps to distinguish between your furry friend's bark and other surrounding sounds to prevent unnecessary shocks.
Has an easy-to-read large LED screen, which lets you monitor the battery levels and device modes at a glance, and also comes with an adjustable strap to better secure the collar on your dog's neck.
Not only is it waterproof and can be used under wet conditions, but it is also easy to clean with water and a soft cloth.
The collar is rechargeable and can last for up to 10 hours, sufficiently to last for one day of usage.
Cons
---
Depending on the settings, your pup can be erroneously shocked if another pup barks nearby.
It is not as effective on a larger dog breed because the collar may not give off a strong enough shock or vibration to match its size.
#2 DogRook Dog Bark Collar
If the idea of shocking your dog or using citronella spray bark collars doesn't appeal to you, then you may consider getting the DogRook Bark Collar.
This is a vibration-only shock-free collar that serves as a more humane alternative to bark collars that rely on static correction. The bark control collar comes with 7 levels of sound and vibration suitable for both small timid and large dogs.
The newly upgraded DogRook humane bark training collar has a high-quality nylon design featuring reflective stripes to give you maximum visibility. It's also 100% water resistant and can be adjusted to comfortably fit dogs with varying weights of 11 to 110 lbs.
It has two probe sets that come in varying sizes to fit your pooch. The DogRook rechargeable collar is powered by a long-lasting 6-volt battery that's included in the purchase. If you're looking for a budget-friendly humane bark control canine collar for dogs of all breeds and sizes, then the DogRook Bark Collar is the best option for excessive barking.
This is a budget-conscious option for dog owners looking for an efficient bark control canine collar. It has everything you'd want in a humane bark collar, from 7 adjustable and comfortable vibration settings, to water-resistant, and high-quality reflective nylon stripes. It is an affordable bark collar for dogs of all sizes.
Pros
---
This no-shock collar helps to control your dog's barking habits as it gives off a sound and vibration combination after detecting your pup's throat vibration.
Only needs to be recharged for up to 3 hours and serves you for up to 14 days.
Comfortable nylon strap that's adjustable and fits dogs of up to 110 lbs.
It is waterproof and perfect for outdoor use or while engaged in water-based activities with your dog.
It is relatively affordable and customer support is readily available in case of any questions.
Cons
---
Some dogs can chew through the collar's nylon strap to take it off.
If the sensitivity levels are not configured correctly, the collar can still vibrate when your pup is not barking or occasionally does not vibrate at all.
#3 TBI Pro Rechargeable Dog Bark Collar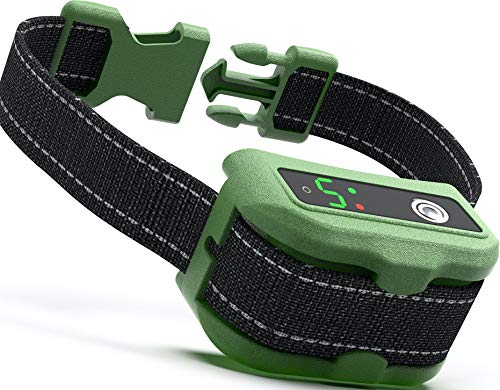 This is one of the most humanely designed static bark control device collars. It comes with three training modes namely beep, vibration, and shock. Shock is only used as a last resort.
Another great thing about the TBI Pro shock collar is its long-lasting battery. The battery can go for up to 14 days without charging which most users find quite convenient.
The TBI Pro comes with upgraded smart detection features. It uses a Qualcomm Microprocessor technology for enhanced bark detection. The collar has 5 levels of adjustable sensitivity to suit your pooch. It's a safe and gentle shock training collar for your furry friend's excessive barking.
This is an affordable static shock collar with three modes; beep, vibration, and shock. It has an extremely long-lasting battery, comes with the latest detection technology, and comfortably fits dogs of all sizes.
Pros
---
Comes with 5 sensitivity levels that can be adjusted to fit the neck size and weight of a pup weighing up to 120 lbs and needs to be comfortably placed to pick up only your dog's throat vibration.
Has the shock, beep, and vibration modes along with an anti-injury chip to help train your pup but you can turn off the shock option if it doesn't work for your doggie.
Comes with an adjustable nylon and leather TPU strap with a buckle fastening which is also reflective for low-light training.
The collar has a rechargeable battery that charges fully within 2 hours via a USB cable to give you up to 14 days of operation on standby mode.
Made of IPX7 lightweight material that is waterproof and safe for outdoor use, especially when engaged in water-based activities.
Cons
---
Not suitable for dogs who are sick or as it may cause anxiety and harm them further.
The strap may need several adjustments over the day if it doesn't properly fit your pup, so it is not ideal for all-day use.
#4 PetSafe Basic Dog Bark Control Collar
SALE ALERT!!
The PetSafe Basic Bark Control Collar is an easy-to-use static shock bark collar that's quite effective in controlling your pooch's annoying barks. It comes with six levels of static correction.
When your canine companion barks without stopping, the collar's static correction system automatically increases to the next static level until the dog stops barking. The bark collar uses a vibration sensor to detect barking movements in the dog's vocal cords.
It also comes with an automatic safety shut-off, a waterproof design submersible up to a depth of 5 feet, and a PetSafe RFA-67 battery. It's an adjustable collar designed to fit dogs with any neck size up to 28 inches. It should also fit dogs over 8 lbs.
Available at almost half the price of dog bark collars with 10 static correction levels, the PetSafe Basic Bark control collar is a perfect choice for budget-conscious users. It's a 6-level static correction with a waterproof design and an adjustable design that can fit any dog with neck size of up to 28 inches.
Pros
---
A perfect fit for dogs over 8 lbs and up to 27-inch neck size thanks to its adjustable nylon strap.
Has a built-in safety feature that switches the collar off if your pup barks over 15 times within 50 seconds.
The collar has different settings which are Static, Ultrasonic, Tone, and Vibration which let you choose a training setting that is comfortable for your pup.
The waterproof design makes it perfect for outdoors, or water-based doggie activities.
Comes with a No Bark guarantee where you can contact customer support if the collar does not meet your pup's training needs.
Cons
---
The batteries are not rechargeable which means you need to buy a new battery pack every few months.
Not the best option for small pups as they tend to bark or yap more often.
#5 Garmin BarkLimiter Deluxe Dog Training Collar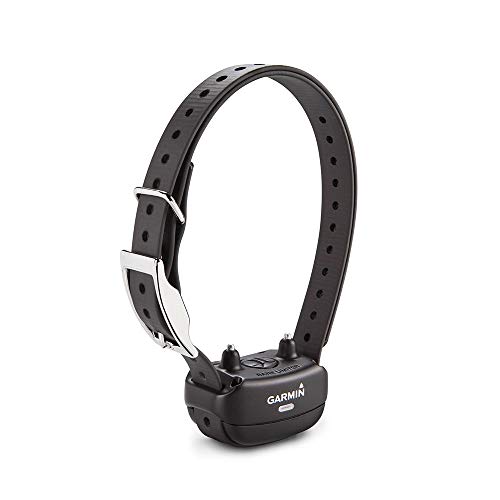 Garmin BarkLimiter comes with Tri-Tronics dog training technology, an intuitive electronic bark correction system. It can differentiate barking and other dog vocalization thanks to its accelerometer bark identification technology.
This is also a compact lightweight canine training collar that comes with a replaceable CR2 battery that can last up to 10 months.
The BarkLimiter has integrated stainless steel contact points and is quite easy to use. It doesn't require any setup as it comes ready to go out of the box. Its Autorise feature begins bark correction at the lowest level and automatically adjusts to stop the annoying barking. The BarkLimiter has both vibration and stimulation bark correction settings.
If you're looking for an effective technology-backed bark control dog collar, then you may need to look at the Garmin BarkLimiter. It's the perfect solution for correcting obsessive and annoying barking while ignoring the usual completely 'normal' barking.
Pros
---
The Autorise Stimulation feature will automatically adjust to the proper stimulation level when your dog barks and this means you don't have to adjust it manually.
Has a bark odometer that will inform you the number of times your dog is corrected when barking, and this lets you adjust the stimulation levels accordingly.
Has a bark limiter that will turn on sleep mode on the collar when not in use, which is perfect for battery saving.
The collar is waterproof and perfect for outdoor use, as well as lightweight to ensure your pup is comfortable when wearing it.
Comes with a rechargeable battery which can go for up to three months without the hassle of recharging.
Cons
---
Younger dogs may be erroneously corrected by the collar due to the number of times they yap unknowingly, which can scare them.
The collar design is rather thick and may not be suitable for small dogs to wear.
#6 NBJU Bark Collar For Dogs
SALE ALERT!!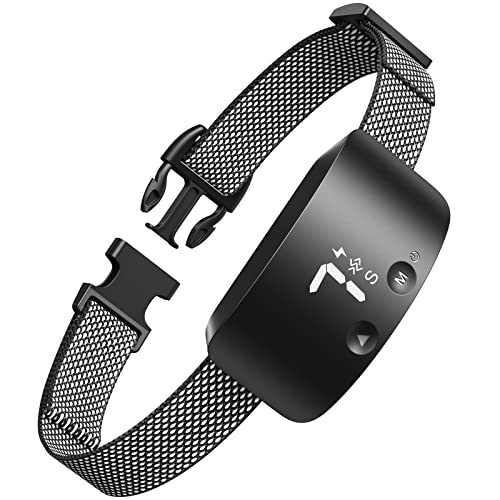 The NBJU bark collar is a product designed for use in small to medium-sized dogs, with seven different sensitivity levels and training modes such as beep and vibration, providing 64 different training methods.
Additionally, this product boasts two silicone sleeves that help protect a pooch's skin from the effects of wearing a collar for extended periods.
The NBJU bark collar is rechargeable, taking only 30 minutes to fully charge and lasting for well over a week on a full charge. And this collar's IP67 waterproof rating makes it suitable for both indoor and outdoor use.
The generous battery life of the NBJU bark collar is a plus, and its suitability for different training methods makes it worth purchasing for use on your canine buddy. Its range of colors, though limited, can be a good push factor for dog owners who are trendsetters or pet influencers.
Pros
---
With up to 64 training methods this NBJU collar can be used, it is the most versatile training device a dog owner can ever have.
Has 4 protective silicone covers that will protect your pup's skin when activated.
Has 7 sensitivity levels suitable for small to large dog breeds.
Employs a large and easy-to-read LED screen which lets you monitor the sensitivity levels at a glance.
The collar is rechargeable and rated IP67 waterproof, which means you can use it under any weather conditions.
Cons
---
Adjusting the collar to fit your pup can be challenging at times, especially if your pup tends to fidget very frequently.
Due to their small sizes, you will need to press the settings buttons harder for them to work.
#7 SportDOG No Bark Collar 10R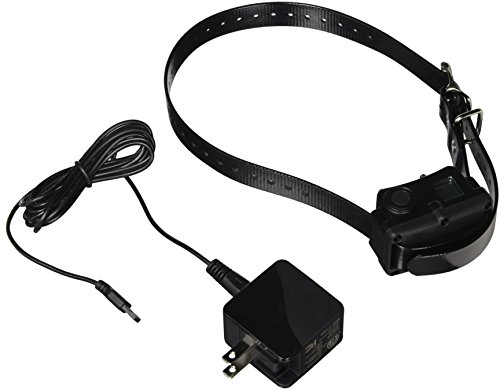 SportDOG No Bark Collar SBC-R
Can be used for dogs 8 pounds or larger.Neck sizes: 5" to 22".
10 levels of static stimulation with 3 programmable modes.
Perfect Bark sound and vibration sensors. Only your dog's bark causes correction.
The NoBark rechargeable collar from the SportDOG brand is a static shock bark collar that's great for filtering out false barks and corrections.
The collar uses Silent Partner technology to differentiate your dog's barks from other noises. It doesn't react to other non-barking noises. It has 3 training modes and 10 static stimulation levels to give you complete control over your dog's training.
One thing you'll like about the SportDOG bark collar is its long-lasting battery that gives you 200 hours from a single charge. It's also waterproof and submersible to a 25-ft depth. It's a perfect choice if you don't have a problem with the shock aspect of the dog trainer.
Pros
---
Employs a patented Silent Partner technology that only activates upon your pup's barks to prevent unnecessary shocks.
One single charge will give you up to 200 hours of use so that you need not charge the collar on a daily basis.
Has 3 modes that you can program with 10 levels of static stimulation so you can choose a setting that is suitable for your furry friend.
It is waterproof and can be used in water depths of up to 25 feet, ideal for dogs engaged in water-based activities.
Has an adjustable black collar strap so that it can fit your pup comfortably.
Cons
---
Too bulky on a smaller dog as it fits dogs that are larger than 8 lbs with neck sizes between 5 and 22 inches.
Not recommended for pups who get anxious or will not stop barking when using static shock settings.
#8 Trulrox No Shock Bark Collar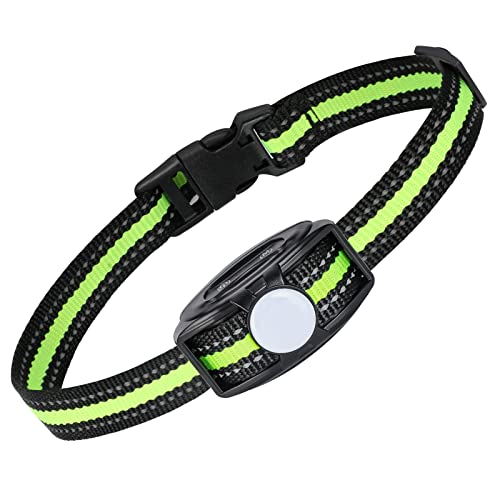 This No Shock Bark Collar is designed to curb excessive barking in various dog sizes, and as the name suggests, this is achieved by the use of a beep vibration rather than shocking the pooch.
The collar also features conductive silicone prongs that protect a pooch's skin and coat, and its lightweight design makes it suitable for use on small dogs.
Additionally, the intelligent trigger sensor featured in this product filters sounds to ensure that the bark collar is only activated when the pooch wearer barks. And the reflective design of the collar's adjustable strap makes it easier to locate the pooch in low light situations.
The No Shock Bark Collar also features a rechargeable battery, and the inclusion of a charger in the product package makes it easy for users to top up when battery levels are running low.
One feature that sets the No Shock Bark Collar apart is the ease with which dog parents can use this product to train their furry friends to stop barking at the slightest provocation. Its intelligent sensor helps prevent accidental triggers, and the reflective strap design is a thoughtful safety addition.
Pros
---
Suitable for all dog sizes as it comes with an adjustable reflective collar which is suitable for low-light conditions.
Has conductive silicone prongs that protect your pup's skin from burns or injuries as long as you properly place the silicone on the metal prongs.
Friendly design as the collar is waterproof and lightweight which makes it comfortable on your pups and perfect for outdoor use.
Comes with a triggering sensor that will only pick up your dog's barks and not those from nearby dogs.
Comes with a dual vibration motor and operates on 5 sensitivity levels so you can adjust the collar settings to suit your pup's size and comfort.
Cons
---
Is not effective on sick pups as it can be uncomfortable on them or cause anxiety, and should be used on older, trained dogs that will not try to take off the collar.
The prongs are uncomfortable on dogs with sensitive skin as it causes burns and redness at the point of contact.
---
Dog Bark Collar Buyer's Guide
---
Every dog owner loves their dog but when the dogs sometimes become a problem when they won't just stop barking at everything they see. Constant unnecessary barking is annoying not only to the dog owner but to the neighbors too.
So how do you train your pooch not to bark all the time? Well, the best solution is to use an anti-bark canine collar.
What Is A Bark Control Dog Collar?
In simple terms, a dog bark collar is a device that can detect your dog's barking sounds and stop the behavior by delivering a negative experience such as vibration, beep, static shock, or unpleasant spray.
The canine collar goes off as soon as your dog starts barking. Modern dog bark collars are more advanced and come with sophisticated features and sensors that can differentiate sounds made by your dog from other sounds in the environment to prevent false triggers.
How The Dog Bark Collars Work
Most canine bark collars work by delivering a negative stimulant when the dog starts barking. The stimulant could be in the form of a small harmless electric shock or vibration just strong enough to remind the dog that it has done something wrong.
It can also be delivered as a warning beep that's only audible to the dog when it starts barking. Some models use the smell deterrent method that releases a citronella spray when the dog starts barking. The unpleasant but harmless spray attracts the dog's attention and stops the barking instantly.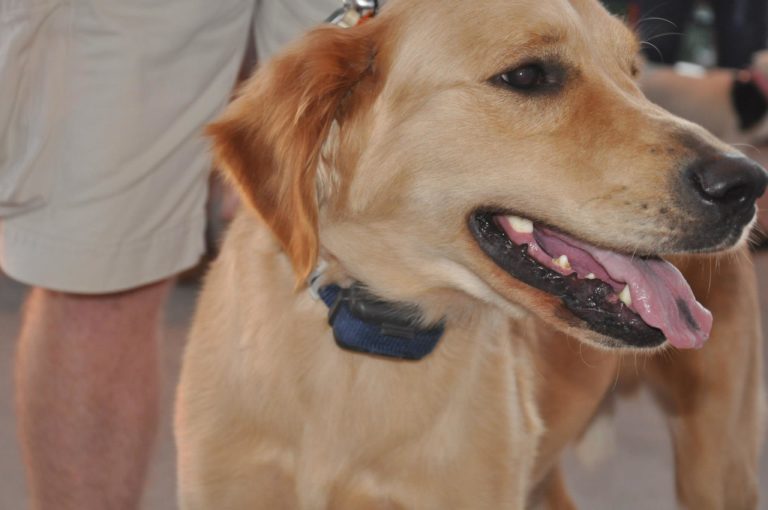 Are Barking Collars Cruel To The Animal?
There are diverse opinions on whether static shock dog bark collars are safe or cruel dog training methods. For example, Michigan State University researchers have published a study that opposes the use of electric shock treatment in dog training in preference of other positive training methods.
However, if you look at these bark collars closely, you'll realize that they are completely safe and harmless to the dogs besides providing an effective way of stopping your canine companion from unnecessary and often annoying barking.
The bark collars only use the shock remainder as a last resort after sending a beep or vibrating alert as soon as the barking is detected. They use a form of positive punishment to stop the dog from barking without necessarily hurting the animal.
Most modern bark collars even allow you to set the level of stimulation you feel is comfortable for your dog. The shock delivered is usually mild and completely harmless. It's the kind of static shock that two humans feel when they come into close contact with each other.
Types Of Dog Bark Collars
There are many types of canine bark collars out there but the most popular versions include the following:
Electric Bark Collars
These electric versions work by delivering a small static electric shock to the dog when it starts barking. There are many types of electric shock dog barking collars with diverse features such as additional beep and vibration modes, intensity level settings, and much more. Most have a low shock level that can be increased when it's not effective on your dog.
Citronella Spray Bark Collars
This type of anti-bark canine collar works by delivering a gentle spray of citronella as soon as your pooch starts barking. Dogs hate the smell of citronella and will stop barking as soon as they catch a whiff of the spray.
Spray bark collars are perfect for those who want to train their dogs without exposing the poor animal to electric shock or vibration. There are studies that show dogs respond better to citronella spray bark collars than an electric shock.
Ultrasonic Bark Collars
Ultrasonic bark control collars use high pitched sounds as an annoying weapon to stop the dog from barking. As soon as the dog starts barking, the collar emits a high-pitched noise that the dog associates with barking and stops the behavior completely. The sound is inaudible to humans and won't hurt your pet pooch in any way.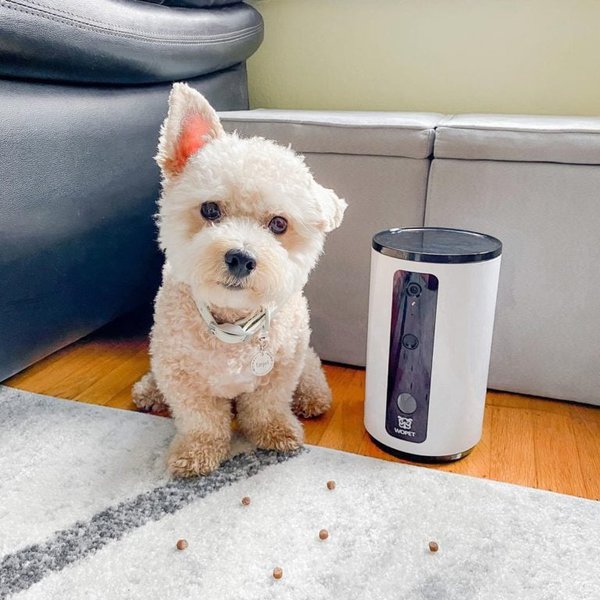 Factors To Consider When Shopping For A Bark Collar
Here are a few things to consider when looking for the best bark collar for your dog:
The Weight & Neck Circumference Of Your Dog
The good news is that most dog bark collars outline the dog's weight on the product description which means you won't have a problem getting the right one for your dog's weight.
Remember, puppies under 8 lbs shouldn't use a bark collar.
Measure the circumference of your pooch's neck and find a suitable collar that fits comfortably. The best option is to get a collar with an adjustable length to fit different dog breeds and sizes.
Adjustable Sensitivity
Get a bark collar with adjustable sensitivity. This ensures that your canine companion doesn't get punished for sounds made by other dogs in the vicinity. Look for a device with multiple sensitivity settings for the best results.
Materials The Collar Is Made Of
The type of materials used in the construction plays a critical role in how comfortable the device feels to your pooch. Choose a bark collar made of soft comfortable materials such as leather, cotton, and nylon. Leather is a good material for dogs with sensitive skin because it doesn't cause allergies.
Your Personal Budget For The Bark Collar
Dog bark collars come in a wide range of styles with different features and functionalities. Just like everything else in life, you get what you pay for but this doesn't necessarily mean that you should overspend on an expensive bark collar with features you'll never need or use.
There are many affordable options out there such as the DogRook Bark Collar that we reviewed above.
---
Final Thoughts
---
There are many important factors to consider when shopping for the best canine bark collar such as materials, your dog's size, type of collar, and the technology used. Based on these factors, our top pick is the clear winner and it's the best bark collar for dogs that the market has to offer at the moment.
Not only does it comes with all the key features of other high-end models, but it has a reasonable price tag too. A full one-year warranty also comes with the purchase and it works great for both medium and large sized dogs.