The best harness for dachshund is Muttitude Dog Harness And Leash Set For Small Dogs.
Dachshunds have, on different occasions, been called "sausages," "toy trains," or "weenies." But these stubborn little drop-eared scent hounds hardly seem to mind. What they do mind, however, is not having the best harness for Dachshunds that would spare them constant chafing of any regular old Dachshund harnesses on their deep chests and curved keels. A distinct anatomy requires distinct apparel, right?
#1 Muttitude Dog Harness And Leash Set For Small Dogs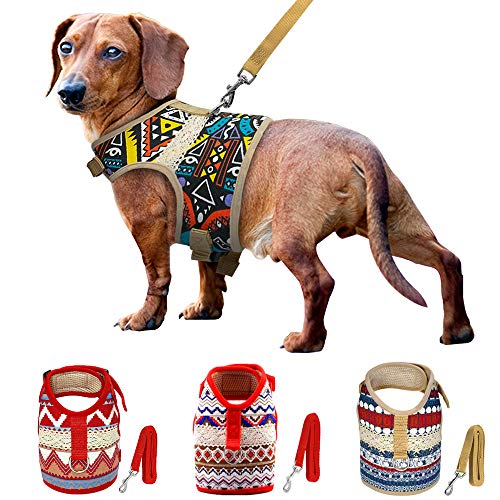 Muttitude Dog Harness & Leash Set for Small Breeds (Extra Large, Pueblo)
Walking and Training Control – Superior to collars that choke and pull a dog, this body harness helps them feel...
Quick Coverage or Removal – Offering an easy on/off design, the double buckle with heavy-duty Velcro lets you create a...
World Design Patterns – An exclusive, designer look that features rustic patterns and vibrant colors, your puppy or...
Whether you're planning an evening out with other dog lovers, or just heading to the nearest dog park, you want your darling Dachshund to look dashing as ever. Here comes the Muttitude Dog Harness to answer your unspoken wish!
This is an exclusive designer series, strictly for the fashion-conscious pet parent. Featuring ethnic patterns and striking colors, it is sure to turn the drabbest of Doxies into the talk of the town! What's more, it comes with a matching leash.
The Muttitude Dog Harness offers full coverage and is made of soft, padded fabric for maximum comfort. After a couple of uses, just pop it into the washing machine, and it'll come out as good as new!
The Muttitude Dog Harness is a cut above the rest because it combines practicality and convenience with high fashion. Embroidered in bright colors and edged with lace, it was designed to be a head-turner. Your search for the perfect Dachshund-friendly harness ends right here!
Pros
---
The Muttitude dog harness product comes with adjustable buckles that can be used with or without collars and a durable 4" leash for taking Fido out on daily walks.
Its double buckle and heavy-duty Velcro design provide a convenient means for customers to either take off or remove the harness from their pooches' bodies.
The padded inner mesh lining of the Muttitude canine harness provides enhanced breathability and ensures that Daschunds remain comfortable when wearing this product for a considerable period.
This canine harness and leash set is available in 4 different size options – S, M, L, and XL – to provide a comfortable fit for pooches that fall within the various size categories.
The Muttitude canine harness is manufactured with material that is machine washable to provide customers with a convenient way of carrying out cleaning and maintenance activities when the need arises.
Cons
---
Several customers have received Muttitude harnesses that were either too small or too large for their pooches to conveniently wear.
The Velcro straps of this product tend to break down easily, thereby making it easier for a pooch to wiggle out of the harness.
#2 Voyager Step-In Air Dog Harness
SALE ALERT!!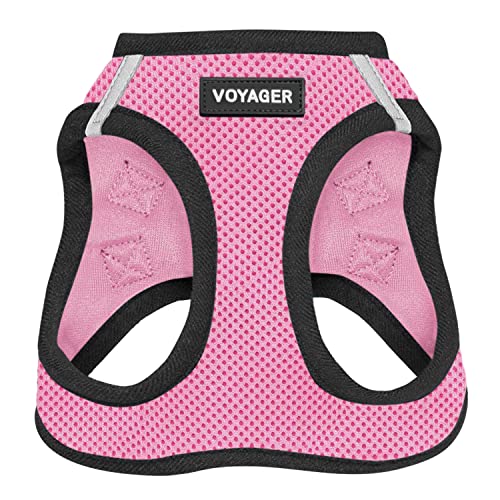 Have you ever seen a flying Dachshund? Nope? That's just because you've never tried the Voyager Step-In Air Dog Harness. This line of brightly colored accessories in lightweight and highly breathable mesh fabric is all it'll take to get your Doxie airborne!
The safety features are nothing to scoff at, either. Reflective strips on either side of the Dachshund harness ensure full visibility even in low-light conditions. The hook and loop fastener, buckle, and double D-rings work in tandem to provide multiple layers of security.
It's also a breeze to step into!
Ticking so many boxes on our perfect list of Doxie harnesses, the Voyager Step-In Air Dog Harness offers the best price-to-value ratio of all the Dachshund harnesses we tried. We're sure your furball will agree!
Do you want the best Dachshund harness in the market without burning through a fortune? Just pick the Voyager Step-In Air Dog Harness! Made of breathable mesh fabric, it can be worn all year round. A host of cleverly designed safety features means that your satisfaction is guaranteed in every way. It's so easy to step into, and users say it takes them only ten seconds to get their Doxie dressed for the day!
Pros
---
The Voyager harness for Dachshunds is designed to evenly distribute the pressure around the pooch's body, and to further prevent stress and strain that typically develops on the dog's back due to prolonged wearing of the vest.
The Step-In Air canine harness comes with a hook-and-loop fastener, buckles, and double D-rings, all of which work together to ensure that dogs can detach themselves from and escape the harness.
The soft, breathable mesh material used to build the Step-in Air harness provides comfort and ensures that pooches remain cool while putting on the harness.
The 'step-in and clip' design of this Voyager product makes it easy and convenient for customers to wear the harness for their canine buddies.
The two reflective bands included on both sides of this canine harness product glow when exposed to light during periods of poor visibility or complete darkness, thereby making it safer to walk a pooch during these periods.
Cons
---
Several customers have claimed that the Voyager harnesses they received weren't true to size and hence, didn't fit properly on their pooches.
The rings and locks on this canine harness constantly rub together when a dog is moving, and they make a loud clanking noise that is annoying to both humans and pooches.
#3 Rabbitgoo Dog Harness
SALE ALERT!!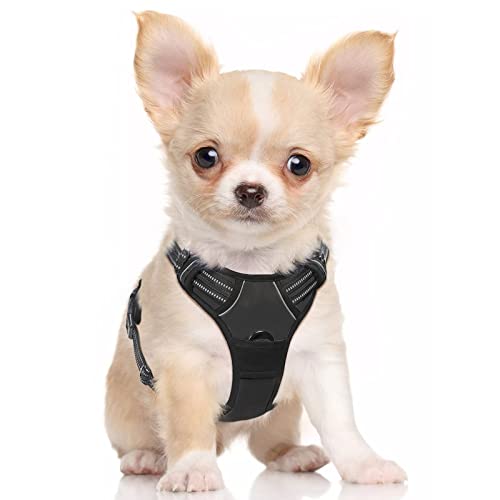 rabbitgoo Dog Harness, No-Pull Pet Harness with 2 Leash Clips, Adjustable Soft Padded Dog Vest,...
Small Dog Harness - Recommended Breeds: Small Dogs, such as Chihuahua, Havanese, Corgi, Pug, Puggle, Terrier, etc....
No Pull, No Choke - Our non-pulling dog harness is specially designed with 2 metal leash rings for safer dog walks. Use...
Easy to Use - This hassle-free overhead harness is easy to put on and take off with its 2 fast-release buckles. Slide...
The Rabbitgoo Dog Harness is just what the doctor ordered for those naughty Dachshunds who insist on dragging their parents behind them. Use the chest attachment clip when the doggie pulls hard. Its no-choke design will gently restrain your furry friend without causing injury.
Four adjustable straps around the body provide a perfectly customized fit, while two fast-release buckles add to the convenience factor. Reflective strips ensure safety even in low lighting.
This outstanding Dachshund harness is made of durable, lightweight, and easy-to-clean Nylon Oxford. It comes padded with soft cushions to protect your doxie's skin, while breathable mesh helps keep things cool and airy.
Pros
---
Rabbitgoo's canine harness product comes with straps located at various regions on the pooch's neck and chest to assist customers in making adjustments to the harness and create a comfortable fit for their Dachshunds.
Its nylon material – padded with soft cushion and a breathable mesh – is used to construct this Rabbitgoo harness, and the harness is soft and gentle on a pooch's skin while keeping dogs cool when worn, regardless of the weather conditions.
The inclusion of two metal rings on this Rabbitgoo product ensures that customers can attach a leash to the harness and maintain control over their canine buddies when going out on walks.
This dog harness product is easy to put on and take off a pooch's body, thanks to the inclusion of two fast-release buckles and an overhead design that customers can conveniently slip on their canine buddies.
The top handle design of this harness makes it convenient for customers to lift up and carry their Dachshunds to help them over obstacles or navigate difficult terrains.
Cons
---
This dog harness isn't machine washable, and it has to be washed by hand with a mild soap product to get rid of dirt and stains.
The fabric of this canine harness product can be easily bitten through by Dachshunds with aggressive chewing behaviors.
#4 Poypet No Pull Dog Harness
Another product that ranks high on the No-Pull Harnesses list is the PoyPet Dog Harness. Clip the leash on the front ring to gently discourage pulling without the risk of choking or injuring your darling. The back ring is meant for more relaxed walks.
Two buckles on the chest strap give it a highly customizable fit with adequate room for growth. Reflective stitches along the straps enhance visibility as well. This is an important safety feature for night walks, considering all the variations of a Dachshund's fur color fall on the dark side of the color spectrum.
This Dachshund harness is soft, breathable, padded, and reinforced with lightweight mesh. It has a padded and comfortable handle for convenient seat-belt attachment. A snap buckle at the neck makes for quick dressing as well as removal.
Pros
---
The sturdy D-rings fixed on top and in front of this canine harness product provide an outlet for customers to attach leashes to maintain control over their pooches while on walks while also dealing with a dog's tendency to pull at its leash.
The use of reflective stitching along the straps of this canine harness enhances a pooch's visibility during low-light conditions, thereby making it safe for customers to take their canine buddies out on walks at night.
The Poypet no-pull harness is available in five different size variants – XS, S, M, L, and XL – to ensure that customers can purchase well-fitting products based on their individual dogs' sizes.
The inclusion of three adjustable buckles on this Poypet product makes it possible for customers to make modifications to the harness to provide a comfortable fit for their canine buddies.
The padded handle – which also doubles as a seat belt loop – that comes with this harness provides a way for customers to conveniently lift and carry their pooches.
Cons
---
Multiple customers have commented that this harness was too heavy for their small Dachshunds to wear for extended periods.
The straps of this canine harness tend to loosen after being adjusted, thereby making it easy for pooches to slip out of their harnesses.
#5 Bolux Dog Harness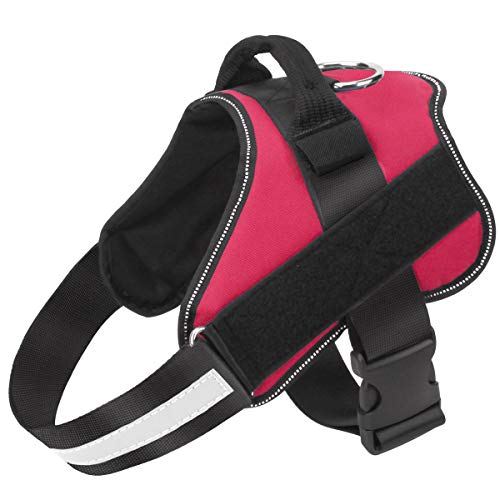 The Bolux No-Pull Dog Harness has a wide nylon strap designed to snugly encircle the front of your Dachshund's chest. This makes it highly comfortable yet impossible to escape from. Pulling pressure is distributed across the largest possible area, eliminating the risk of injury to delicate organs, such as the eyes or throat.
A sturdy nylon handle gives it extra strength. A reflective strap across your dog's chest and a range of fluorescent colors make it highly visible. Just pick your pet's favorite color, and you're good to go!
Pros
---
Bolux's dog harness product features an adjustable chest strap with a snap-on buckle that can be used to create a customized fit and ensure that the harness remains comfortable, even as a pooch is experiencing growth-related changes.
The reflective straps on this harness glow when exposed to light in the dark to improve visibility and prevent accidents, thereby making it safe for customers to take their pooches on a walk late in the evening or at night.
This canine harness comes with a heavy-duty nylon handle that customers can use to lift and carry their pooches as the occasion demands or maintain a tighter rein over their canine buddies.
The stainless D-ring that comes with the Bolux harness provides a means for customers to attach a leash for keeping their pooches in check when going for a walk.
The harnesses from Bolux come in a variety of size options, ranging from X-Small to XX-Large, to enable customers to pick out a vest that will be an appropriate fit and convenient for their canine buddies to wear.
Cons
---
The buckle of this product that goes under a pooch's belly and the adjustable chest straps both tend to pop open with movement, resulting in the harness becoming loose-fitting on the dog.
Some customers have received Bolux harnesses that weren't accurate fits for their canine buddies despite purchasing products within their pooches' size ranges.
#6 Puppia Authentic Ritefit Harness
SALE ALERT!!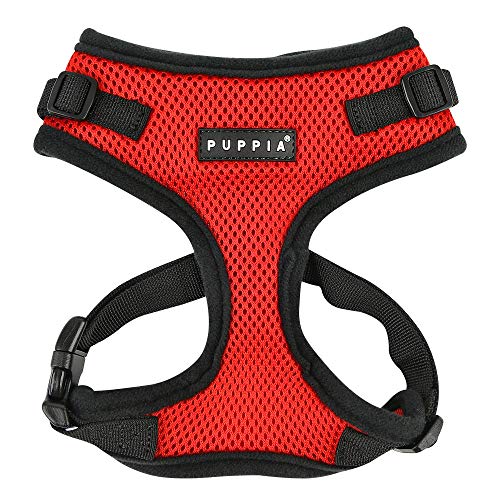 Puppia Authentic RiteFit Harness prides itself on giving your pet the perfect fit – even if it happens to be between two standard sizes. Both its neck and chest circumference are completely customizable.
It is made with soft and breathable mesh that is lightweight yet very strong. Two quick-release buckles around the neck make this an easy on-and-off harness.
Pros
---
Puppia's Authentic dog harness is constructed with air mesh fabric that provides a surface structure that offers optimal ventilation to ensure that pooches wearing the harness don't overheat.
Its adjustable chest and neck straps make this harness possible for customers to either tighten or loosen the harness with ease, ensuring a more comfortable fit for their Dachshunds.
This canine harness product features two quick-release buckles that make it possible for customers to quickly and easily take off or put on the harness on their canine buddies.
The double D-rings of this Puppia harness provide a way for customers to lead their pooches on walks while also preventing the dog from pulling at the leash.
The soft padded material used to construct the Puppia's harness is comfortable for pooches to wear and reduces the risk of dogs developing friction-related injuries.
Cons
---
The neck buckles of this canine harness have a tendency to unclasp, thereby resulting in the harness not fitting properly on a dog's body.
The Puppia harness comes with several buckles and straps, and the absence of a detailed guide usually makes the product difficult to use for customers that are inexperienced with dog harnesses.
#7 Downtown Pet Supply Dog Harness
This clever "Step-In" harness is for Dachshunds that can't hold their alert little heads still long enough to slip a harness on them. With the Downtown Pet Supply Dog Harness, dressing time is just a few seconds! Just have your Doxie step into the 'arm' holes, close the velcro, and push the buckle together till you hear a click. Off you go, head-turner!
Its breathable mesh fabric makes it all-weather wear, while the padded design increases comfort and reduces the risk of injury. Security features include double-stitched fabric, strong velcro closure, and heavy-duty metal D-rings.
Pros
---
Downtown Pet's dog harness for Dachshunds is made of lightweight and airy mesh fabric that isn't only comfortable for pooches to wear but can also be carried for a considerable period without weighing down on the dog.
This dog harness product comes with Velcro straps and buckles that are intended to provide a secure fit and make it difficult for pooches to slip out of the harness.
Customers can conveniently and quickly wear or remove this canine harness from their Dachshunds due to the easy slip-on design incorporated by the manufacturers.
The heavy-duty metal rings included on the Downtown harness provide easy leash attachment for customers to safely lead their canine buddies on walks.
The Downtown Pet harness is available in several size and color options to provide customers with greater power to choose products that will fit their Dachshunds' size and aesthetic.
Cons
---
The sizing inconsistencies of this product have resulted in multiple customers receiving harnesses that weren't a suitable fit for their Dachshunds.
The material used to construct this harness isn't always durable, and some customers have reported the fabric of their harnesses tearing and ripping at the seams after just a short period of use.
#8 Onetigris Tactical Dog Harness
SALE ALERT!!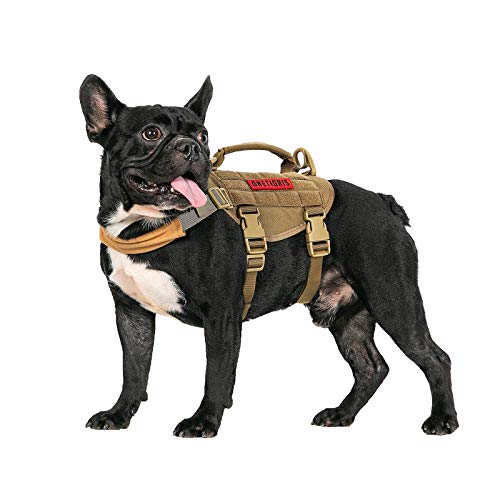 Don't let those droopy ears and chocolate truffle eyes fool you for a minute. Beneath its silky coat, your Dachshund is a pure predator.
Once bred to hunt badgers, Doxies are never too far from their inborn instincts. This is why these military-inspired Dachshund harnesses are perfect for them.
Super strong nylon offers an extra high degree of durability and resistance, while the fleece-padded front strap is for chafe-free comfort. This Dachshund harness comes equipped with quick-release buckles and a heavy-duty vertical grab handle. Built-in straps can be used to attach message patches (e.g., "Do not pet," "Blood Group__," etc.), dog treat pouches, dog bowls, etc.
Pros
---
Onetigris' canine harness product comes with a fleece-padded chest strap to ensure that pooches remain comfortable while wearing the vest.
The heavy-duty grab handle that is included on the Onetigris tactical harness comes in handy for steering pooches away from tense situations or for lifting a dog over obstacles.
This tactical dog harness for Dachshunds comes with quick-release buckles that provide a way for customers to easily put on and take off the harness.
The excessive strap fastener that comes with this canine harness product can either be tightened or loosened to provide an appropriate and comfortable fit for the pooch wearing the jacket.
The Onetigris tactical jacket is backed by a one-year warranty that covers customer non-satisfaction or damages to the harness due to manufacturing errors.
Cons
---
This harness doesn't stay in place and tends to slide around a lot after it has been worn on a pooch.
Several customers have commented that the Onetigris jacket was too bulky for their small Dachshunds.
---
Harness For Dachshunds Buyer's Guide
---
Dachshunds! What's not to like about them? They are described as alert, determined and stubborn – a ton of pluck in a pretty package! Thanks to their distinctive silhouette, they are one of the most recognizable dog breeds in the world. If you've ever wondered whether you're picking the right accessories for your hot dog, this handy guide is here to help!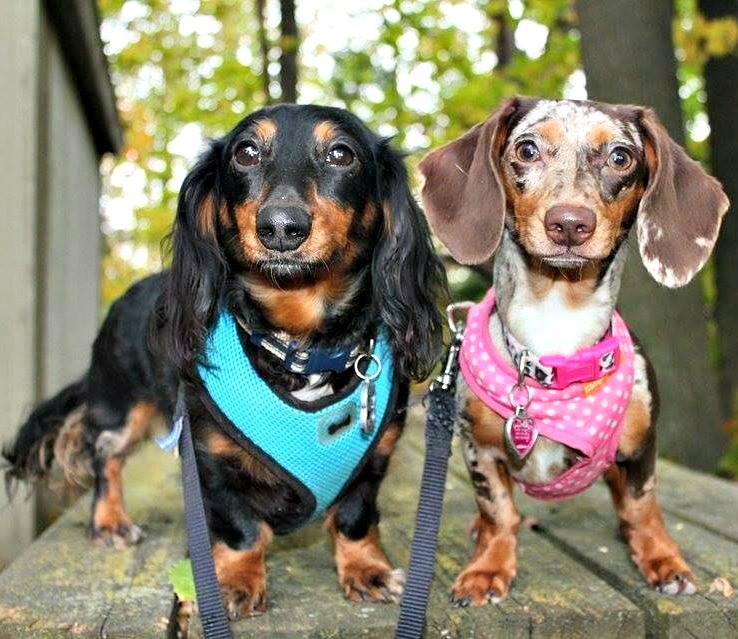 Harness VS Collar For Dachshunds
There are several reasons why a harness is a better option than a collar.
Your darling Dachshund might suddenly decide to "dash" after another doggo. And you might end up cricking your neck and throwing out your elbow – especially if you were hanging on to that flimsy collar and leash set. The worst part? You're going to forgive Dachie instantly, but it might be weeks before your neck and elbow forgive you. A harness gives you more control over your pet when you're out and about on busy streets or in crowded parks.
Leashes (especially the thinner varieties) can dig into your pet's neck, making them extremely uncomfortable – and sometimes even leading to serious canine injuries, e.g., choking or tracheal collapse. Harnesses overcome this problem by distributing this pressure away from your Dachshund's tender neck and around its much sturdier chest and shoulders.
An excited dog will often wrest off a collar – setting itself free when it most needs to be restrained. A well-fitting harness sits snugly under your furry escape artist's armpits and around its chest, making it nearly impossible to wriggle out of. For car travel, securing a seatbelt to a dog harness is a far better option than attaching it simply to a collar.
A dog that is trying to fight off a leash will often run around its owner's legs, tangling the leash and leading to nasty tripping accidents. Tangling a leash attached to a harness is far more difficult.
Dachshunds, due to their long backs, are prone to a spinal disease called IVDD (Inter-Vertebral Disc Disease). Using a body harness is one of the best ways to prevent the onset of this condition.
Flimsy collars are particularly dangerous to dogs with eye conditions such as glaucoma or thinner corneas. Doesn't your best friend deserve better than this?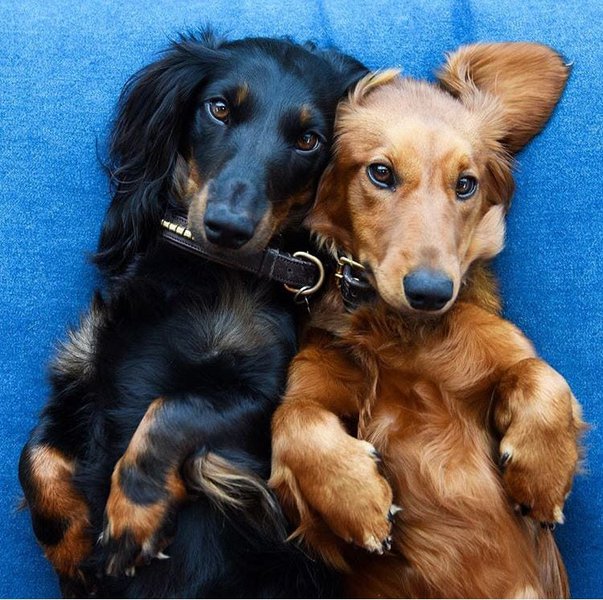 Types Of Doggie Harnesses
Looking through the multitude of Dachshund harnesses available online or in brick-and-mortar stores can leave you spoilt for choice. Should you pick the sleek leather-thong harness or the natty neon blue nylon one? Let's talk about the different dog harness types and their pros and cons!
Front-Clip VS Back-Clip VS Dual-Clip Harnesses
Back-clip harnesses have a D-ring attachment at the back. They are great if your doggie constantly runs around your legs, wrapping its leash around you as it goes. However, they don't do much to discourage determined pullers.
Front-clip harnesses are those in which the leash attaches in front. They are often preferred by professional trainers because they inhibit pulling.
Dual-clip harnesses provide the best of both worlds but are rather more expensive. When buying a dual-clip type harness, be extra careful to measure precisely.
Over-The-Head VS Step-In Harnesses
As the name suggests, over-the-head harnesses go over your pet's head. On the other hand, a Step-In harness requires your dog's forelegs to go in first.
Harness Materials: Nylon, Net, Fabric, Or Leather?
Nylon harnesses are cheap, commonly available, and can be purchased in many different colors – including those painted on with reflective stripes. They are inexpensive and easy to clean, so you can buy several of them. Padded nylon is far more comfortable than the unpadded alternative.
Net (by itself or in combination with nylon) is a great option for hotter climates, as it facilitates all-around airflow.
Fabric harnesses are available in many different colors, textures, and patterns for the picky pet parent. They are soft, comfortable (especially padded fabric), and absorbent. Read the washing instructions carefully on this one!
Leather harnesses are the Rolls Royces of dog accessories and convey unparalleled elegance. Good quality leather is soft, pliable, and ageless – but can lighten your wallet considerably! If you decide to opt for this indulgence, make sure your weenie doesn't mistake it for a snack and decide to chew on it!
No-pull Harnesses
If your determined Doxie consistently prefers to take you for a walk (instead of the other way round), you might need to invest in a no-pull harness, designed to tighten gently when doggo pulls hard, and to relax back to normal when it stops pulling. This is a far safer option than dangerous choke collars that can seriously injure your four-legged friend in a very delicate place. Ideally, these should be used only as a temporary training tool – not for constant wear.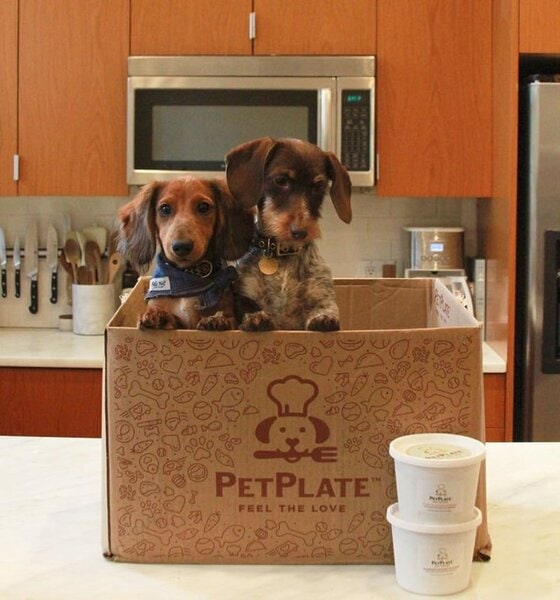 Why Does A Doxie Need A Specially Designed Harness?
Dachshunds were originally bred to hunt badgers. These 'little but fierce' pursuers would follow their prey right into subterranean tunnels. Their short legs and elongated bodies are great for maneuvering through tight spaces, while their deep chests give them extra "heart" for the hunt.
Thus, you have the peculiar Dachshund rib cage, shaped like the "keel" of a ship! It is highly curved – so deep, it only just clears the ground – and extends well beyond your dog's forelegs. Indeed, this is a dog that can "sit" on its chest while its forepaws dig furiously toward its prey. Most harness sizes are based simply on weight categories and don't do justice to their unique silhouette.
Verdict? Your Dachie is a highly-evolved marvel of engineering and absolutely needs an extra-special harness to contain its distinctive shape! So get out there and buy one already!
How Do I Pick A Harness That Fits My Doxie?
A poorly fitted harness isn't just a buyer's inconvenience.
It can chafe in the wrong places and affect your dog's gait – ultimately creating negative associations with harnesses in your dog's mind and causing it to dread this accessory. Spend a few minutes measuring your pet, and save yourself a headache.
For the perfect fitting harness, you need two measurements:
(i) Use a flexible tape measure to measure around the widest part of your dog's chest. This will be just behind the 'armpits' of its forepaws.
(ii) Measure around the wide part of your pet's neck, right above her shoulders. While collars and bandannas fit around the narrow part of the neck, harnesses sit comfortably around the wider part.
Finally, add a margin of about an inch to both measurements such that your Doxie has enough space to breathe… and you're ready to start shopping!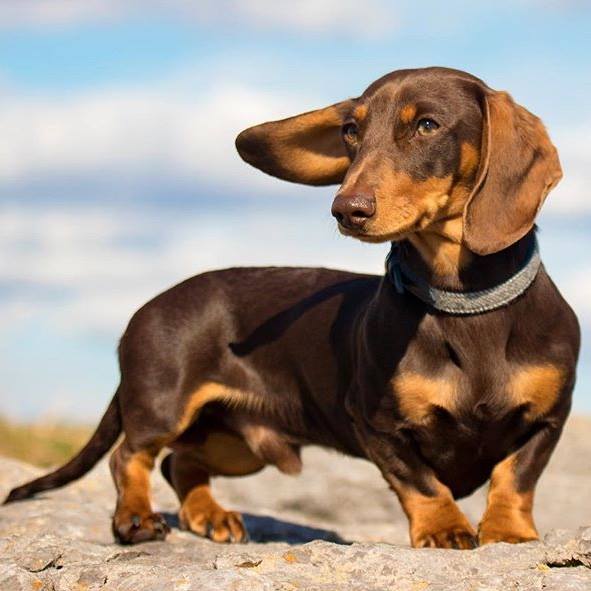 What Else Do I Need To Know About Harness Safety?
A harness should only be worn when outdoors. Constant wear can irritate the skin and matt a Doxie's fur. Sleeping with a harness on is an absolute no-no. Same with leaving a wet harness on your dog for too long. Observe hidden areas, such as armpits and under the chest, regularly to catch early signs of chafing or skin irritation.
You can train your pet Dachshund to associate harnesses with fun things like walks and playtime. This should overcome any initial resistance to the new accessory.
---
Final Thoughts
---
Apart from serving a utilitarian purpose, our accessories must also let our individuality shine through. Dachshunds are known to be spunky and sassy. Our top pick precisely matches its colorful personality!
This full-coverage harness snugly encases your doggo's distinctively shaped chest, giving it much-needed support without chafing. The eye-catching embroidery and lace work are guaranteed to make your pet stand out in a crowd! Don't you want only the best for your best friend?