The best escape proof dog harness is RUFFWEAR Web Master Dog Harness.
Many dogs are natural Houdini's.
They will duck and dive, pull and wriggle, and do anything they can to make a desperate bid for whatever they have seen that looks more interesting.
A dog prone to escapades can make an everyday walk a headache, but fortunately, there is a solution. One of the best ways to keep your dog safe is by using an escape-proof harness. These harnesses will keep your dog close by so that they can't slip their leash, while also offering more comfort than traditional collars.
The search is over with this list of the best escape-proof dog harnesses out there today. Read on and have fun picking one that suits your lifestyle!
#1 RUFFWEAR Web Master Dog Harness
SALE ALERT!!
This is the ultimate in escape-proof dog harnesses and offers everything you need to keep your pooch protected. This RUFFWEAR Web Master Dog Harness is a  versatile pick that has two leash attachment points, one in the middle, and one in the back, allowing for more control when out on a walk. It wraps snuggly around your dog's body, making it really difficult for your pup to slip away. 
The aluminum attachment ring is also reinforced with top-quality webbing, ensuring a safe and durable connection at all times.
With a dog-friendly design, the padded handle helps you to safely lift and assist your dog when they need a helping hand. Your dog's comfort is also crucial; the straps are padded to ensure comfort even during the longest walk, and the five points of adjustment make sure that the fit is snug and tailored to your pup.
There is also no need to miss out just because the weather is terrible and the evenings are early; a reflective trim helps to keep you both safe, and the optional beacon light can be added for extra protection.
The Web Master Dog Harness from RUFFWEAR is the ultimate in escape-proof dog harnesses. It combines safety, comfort, and practicality to create a result that is designed with your dog in mind. For a comfortable, snug fit and a focus on safety, your pooch is in safe hands with our top pick.
Pros
---
RUFFWEAR's dog harness product comes with five different adjustment points that customers can use to modify the size of the harness to provide a convenient fit for their canine buddies.
The foam-padded straps of the Web Master harness provide comfort for the pooch and ensure that a dog can wear the harness for a considerable period without hindering movement or putting pressure on its body.
The RUFFWEAR harness comes with a padded handle that customers can use to safely lift and carry their pooches when there is a need to help the dog over an obstacle.
This canine harness features two sturdy leash connection points for customers to attach leashes and maintain control over their canine buddies when going out on walks.
This doggy harness product is manufactured and suitable for use in a variety of ways, including for pooches going on a walk in difficult terrains, walking dogs, as well as service and amputee dogs.
Cons
---
This canine harness isn't always escape-proof, as there have been multiple reports about dogs easily getting out of the harness.
The occasionally inaccurate sizing chart of this dog harness product often results in customers purchasing harnesses that are ill-fitting for their canine buddies.
#2 Rabbitgoo Escape Proof Dog Harness
SALE ALERT!!
A lower price doesn't mean lower quality, and that statement is definitely proved with this escape-proof dog harness from Rabbitgoo. Comfort is key in this design, with soft, no-chafing sleeves which are gentle on your dog's skin, and a non-choking feature which ensures that the sensitive throat and trachea of your pup will not be pulled or injured.
With your precious pet, safety must be a priority, and the inclusion of reflective threads sewn throughout the fabric means that your pooch is fully visible even on the darkest nights.
A sturdy safety handle means that you can immediately regain control of your dos at a moment's notice, and the quick-release buckle and no-tangle lead prevent your pup from getting into sticky situations. Best of all, you can combine style and comfort with a range of styles and colors to allow your dog to choose their favorite outfit!
If you are looking for quality on a budget, this should be your number one choice. The Rabbitgoo dog harness is stylish, sophisticated and safety-conscious, allowing you to protect and control your pooch while ensuring their total comfort. For a bargain price, you can bag a top-class harness, and get back to enjoying spending time with your furry friend.
Pros
---
The special, non-choking design of this Rabbitgoo product ensures that pooches can safely wear the harness without being put at risk of choking.
The reflective strips featured on this canine harness product glow when exposed to light in the dark, thereby ensuring that customers can safely take their dogs for a walk at night or in situations when visibility is poor.
The Rabbitgoo dog harness features three straps in the chest and belly region that are designed to provide a secure restraint and prevent the pooch from slipping out of the harness and escaping.
The breathable padded mesh material and soft sponges used to manufacture the Rabbitgoo harness ensure that dogs can comfortably wear this product for extended periods without suffering from skin friction.
The inclusion of quick-release buckles on this canine harness makes it convenient and possible for customers to either quickly wear or remove the harness from their dogs' bodies.
Cons
---
This doggy harness isn't always escape-proof – as claimed by the manufacturer – as there are several customer reports of pooches being able to slip out of the harness with relative ease.
The durability of this canine harness is suspect, as there are multiple customer reports about various components of the harness getting damaged after only being used for a short period.
#3 Gooby Escape Free Sport Harness
If you have a dog who is a frequent escapee, this is the ideal solution. The Gooby Escape Proof Dog Harness works by reducing the space around the back. This makes it harder for your pup to back away and escape while walking.
The unique V shape also reduces the pressure on the neck, distributing it more evenly across the chest and creating a safer experience. The comfort is continued with the neoprene material, offering a fabric that is soft and lightweight.
This choice is a safe, smart option to help keep your dog close by on their walks. The unique design is paired with a fabric that is soft and suitable for your pet.
Pros
---
The neoprene material used to build Gooby's Sport harness product contours to a pooch's body when worn, to provide a comfortable and convenient fit for the dog.
Additionally, this canine harness features four different adjustment points located at different places on the chest and neck region that customers can utilize to ensure that the harness fits their Fido properly.
The special weight distribution design of the Gooby Sport harness evenly spreads pressure around a pooch's body to ensure that the dog doesn't choke when putting on the harness.
This canine harness product is designed to tighten and reduce the space around the back region, thereby making it difficult for a pooch to slip out and escape from the harness.
The step-in design of this canine harness, along with the inclusion of quick-release buckles, makes it easy for customers to both wear and remove this harness from their pooches, as applicable.
Cons
---
Despite the special escape-proof design incorporated in the production of the canine harness, some pooches have reportedly been able to find their way out of the harness without difficulty.
The material of this canine harness product isn't durable enough to withstand aggressive chewing from pups.
#4 ICEFANG Tactical Escape Proof Dog Harness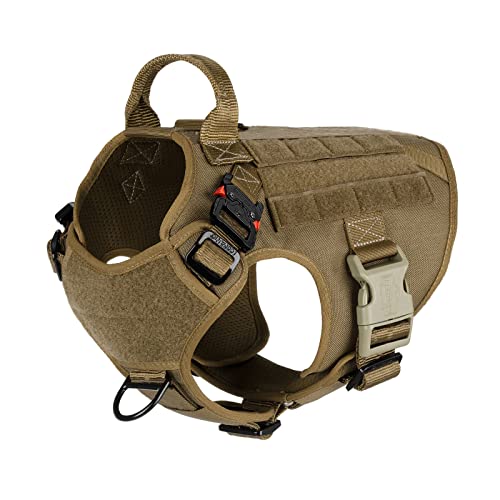 Keep your dog safe and secure on their adventures with a top escape-proof option from ICEFANG. This dog harness helps to prevent pulling with an alloy metal buckle that has the ability to bear the weight of your pup, and keeps your pooch in line with the no-pull front clip, which allows you to redirect the dog forward and regain control.
Safety is a priority, with the sturdy handle allowing you to grab the harness and stop your pooch in his tracks, as well as offering help lifting him up and down if he needs a hand.
Help your pet pooch stay safe and secure with this harness, specially designed for dominant working dogs. With no room for fuss or frills, it does the job exceptionally well, and keeps your canine safe and close at all times.
Pros
---
ICEFANG's tactical canine harness offers 5 different adjustment points in the chest and shoulder regions that customers can use to provide a comfortable fit for their canine buddies.
This dog harness product is available in 4 different size options, ranging from small to x-large, to ensure compatibility and a convenient fit for various dog size categories.
The custom-fit design of the ICEFANG canine harness makes it difficult for dogs to escape from this product.
The Tactical canine harness product also comes with a sturdy handle that customers can use to lift up and carry their pooches when walking in crowds or to help their dogs get into vehicles.
The no-pull front clip design of this escape-proof dog harness makes it difficult for dogs to pull at their leashes when being led on a walk, while there is also a back leash clip that customers can use to walk their canine buddies normally.
Cons
---
The absence of sufficient padding on this canine harness often results in pooches developing skin irritation after wearing the harness for a considerable period.
The durability of this product is in question, as there are several customer reports about the harness' leash buckles and straps breaking only after a few uses.
#5 Mihachi Secure Dog Harness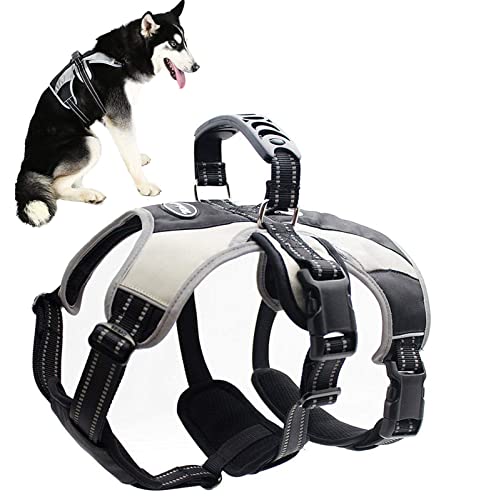 For a dog who loves adventure, there is no better choice than an escape-proof dog harness from Mihachi. The five points of adjustment allow for a finish that is customizable, allowing you to ensure a snug fit for the ultimate safety, while not restricting your dog's range of motion; perfect for pups who love to play!
Comfort is a key priority, with a lightweight, durable polyester fabric which has the added advantage of being lightweight and washable for comfort and convenience. The finish is designed not to chafe your dog's body and includes a reflective patch that helps to keep them comfortable and safe at the same time.
Combine comfort, stability, and security in this choice which was made for adventurous pooches. The design focuses on keeping pups happy, with padded loops and lightweight fabric, as well as ensuring their safety.
Pros
---
Mihachi's canine harness is manufactured with water-resistant polyester material, with the product also featuring lightweight mesh lining and soft padding on the chest and stomach regions to ensure good load distribution and prevent injury due to prolonged use of the harness.
The vertical top carry handle on the back of this canine harness provides customers with a sturdy grip for lifting and carrying their pooches when the occasion demands.
The reflective strips and reflective fabric included at strategic positions on this canine harness glow when exposed to light in the dark, thereby ensuring that the risk of accident is reduced when taking pooches for a walk at night.
This escape-proof dog harness from Mihachi features five convenient adjustment points on the neck, waist, and chest regions that can be used to ensure a comfortable fit for pooches of different sizes.
The quick-release buckles of the Mihachi harness provide a fast and convenient means of wearing – and removing – the product on a pooch.
Cons
---
The stitching used on this canine harness product isn't the best quality, as the seams tend to loosen fairly easily.
The material used to construct the Mihachi harness isn't chew-proof and can be conveniently ripped apart by an aggressive pooch.
#6 Didog Soft Flannel Padded Dog Vest Harness
Soft, smooth material and comfort are the key features of the Didog padded escape proof dog harness. Designed for pampered pooches, this design offers soft fleece pads behind the straps on the back and neck to help your dog feel comfy even when walking. The full finish is lightweight, allowing your pup to move freely and have the full range of movement while remaining snug and safe with reflective stitching to light the way on a gloomy night.
The front D ring is also designed with comfort and safety in mind, reducing harsh pulling and eliminating the risk of choking.
It combines practicality and comfort, offering a finish that prioritizes the safety of your dog and the luxury of a snug finish. No need to avoid gloomy weather or dark nights; you will be ready for any occasion with the reflective element of the design, placing safety as a top priority.
Pros
---
The lightweight design of this canine harness product ensures that pooches can comfortably wear the harness for extended periods without feeling the pressure of added weight on their bodies.
Didog's vest harness for pooches features reflective straps along each strap that glow in the dark to enhance a dog's visibility, thereby making it safer for customers to walk their canine buddies at night.
This escape-proof harness comes with a single buckle that customers can use to either wear or take off the harness from their Fidos' bodies, without hassle.
The front D-ring design of the Didog flannel harness ensures that customers can walk their canine buddies without having to worry about the dog pulling against the leash and making the walk a stressful one.
Didog's dog vest harness is generally available in five different size options – XXS, XS, S, M, and L – to ensure a comfortable fit for pooches that fall into these weight categories.
Cons
---
Several customers have commented that their pooches were able to easily slip out of this harness, even after it had been adjusted to fit the dogs in question.
The stitching of this harness' front D-ring tends to come apart easily, thereby resulting in the leash dangerously getting detached from the harness when a pooch is being walked.
#7 SCENEREAL Escape Proof Large Dog Harness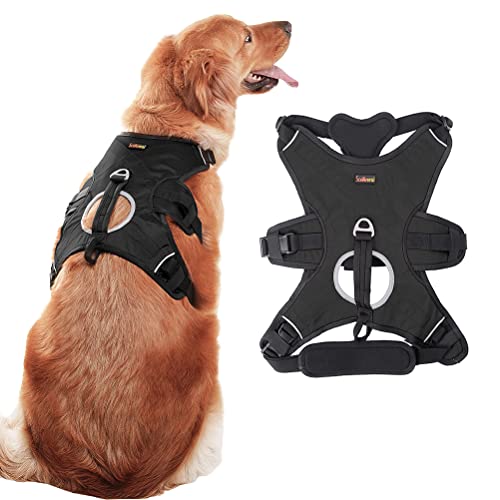 Larger dogs can be tricker to keep under control; they are strong and powerful, and often like to achieve whatever they set their mind to – including escape! This escape-proof dog harness from Scenereal is specially designed for larger pups and contains two leash attachment points for better control and more relaxing walks.
Comfort is also critical, with padded belly and chest panels to keep your dog feeling happy and preventing injuries from pulling, and a padded handle, allowing you to lift and control your dog when the need arises.
A bigger dog doesn't have to mean less control. Instead, keep your canine safe and secure with this design which was built mainly for their larger frames. The padded elements mean that there is no danger of them hurting themselves or causing discomfort if they pull on the lead, and keeps them fully protected while allowing you to retain full control.
Pros
---
The extra-padded panels present on the belly and chest regions of this canine harness help prevent the development of friction-related injuries and ensure that dogs can remain comfortable while wearing the harness.
The breathable mesh material used to craft the insides of this canine harness is soft and comfortable on a pooch's skin.
SCENEREAL's harness product for large dogs features two leash attachment points that customers can use to exercise more control over their canine buddies when going on walks.
The multi-use design of this canine harness product makes it suitable for use in hiking, mobility assistance, and rehabilitation of injured dogs.
This SCENEREAL harness is designed with a padded handle that customers can comfortably grab to assert more control over their pooches when needed.
Cons
---
The back strap of this canine harness tends to pass over a pooch's genitals, thereby resulting in the strap getting soaked with urine and needing a wash after every use.
The stiff and occasionally constricting design of this canine harness tends to restrict movement when this product is used by pooches within certain size categories.
#8 Didog Multi-Use Escape Proof Dog Harnesses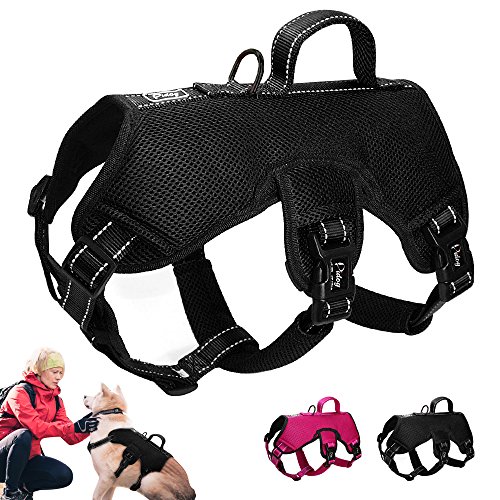 Designed for wannabe-escape artists, this multi-use harness from Didog works by supporting and assisting your pooch, while keeping them safe, secure, and well within your reach. A unique, durable breathable mesh is used alongside a reflective, soft lining material, which keeps your pet visible on dark nights while ensuring that they are comfortable and snug.
Ease of use is a key factor of the design, with adjustable straps to help you get the perfect, tailored fit for your pooch's body, and a shape that is easy to put on and remove, reducing any discomfort to your pet, speeding up the process, and helping to make life as easy as possible for both of you.
No matter the size or shape of your dog, this is a harness which can be adjusted to achieve a perfect fit. With a specially designed material, your pooch remains safe and secure in total bliss. There is no need to choose safety over comfort; both are equally important within this design, giving your dog a fully supported, escape-proof experience.
Pros
---
Didog's multi-use canine harness features straps that can be adjusted to provide a convenient, comfortable fit for a pooch wearing the harness.
The durable air mesh material used to manufacture this canine harness product ensures that dogs continue to remain cozy when there is a need to wear the harness for extended periods.
The multi-point tension and pad design of this Didog harness facilitates weight distribution around a pooch's body and prevents pressure-build up on a certain region, which can result in a dog feeling uncomfortable.
The grip handle located on top of this Didog harness makes it possible for customers to grab, lift and carry their canine buddies in situations when the pooch requires assistance to move.
The reflective strips embedded in this harness' straps glow when exposed to light in the dark, thereby ensuring that customers can safely walk their pooches when visibility is poor.
Cons
---
The paddings that are designed to cushion the effects of this harness on a dog's belly get displaced easily, thereby resulting in a pooch's skin getting irritated due to the resulting friction.
This canine harness has quality control issues, as there are reports from several dissatisfied customers about parts such as the harness' seams or straps breaking easily.
---
Escape Proof Dog Harness Buyer's Guide
---
There is a range of benefits to finding the ideal escape-proof canine harness for your dog, and it is essential to do your research.
Large, muscular dogs are strong and powerful, and an escape-proof harness allows you extra control over your pet. As well as control, a well-fitted harness can reduce the likelihood of your pooch pulling and causing themselves injury.
This can also occur in smaller dogs, who may suffer from having the pressure of the lead concentrated on a single small area on the neck.
Related: Best No-Pull Dog Harness
Why Does My Dog Need An Escape Proof Harness?
A harness helps to spread the stress over a larger area, leading to a more comfortable experience.
A harness can reduce the risk of choking, or injuries to the neck and trachea. Some dogs will constantly pull and fight the leash, and without a harness, this restricts the collar on the neck. A harness can connect the leash to the back and shoulders, offering a wider area and reducing stress.
Harnesses can also be useful for dogs who tend to tangle the rope. This act can unbalance the owner and give the dog a chance to escape, and both pet and owner can be injured by becoming trapped. Your canine friend will find it much harder to tangle himself up when attached to a harness.
Harnesses can be beneficial in training, as they offer more control over your pet, putting you firmly in control and allowing you to set and reinforce the desired behavior.
It can also be a useful alternative for dogs who react badly to a collar during training; a good, well-fitted harness will be comfortable for your dog, as well as being trickier to slip.
Safety is also a factor if your pooch is in a vehicle; a seat belt can be attached to the harness, keeping them firmly in place and safe and secure in the event of an accident.
Related: Best Heavy Duty Dog Leash
What Are The Types Of Escape Proof Dog Harness?
There is a range of escape-proof dog harness types, and it is important to try and test the best ones for you and your dog to get the safest and most comfortable fit.
Type 1: Back-Clip Harness
A back-clip harness has a ring on the dog's back, and the leash is clipped to this. Many dogs find walking with these easy and have little objection, and they are particularly useful for smaller dogs. They are good for dogs who are already well trained and unlikely to pull; the design is not intended to discourage pulling, and this may result in the owner being dragged.
Type 2: Front-Clip Harness
Front clip harnesses, as the name suggests, allow the leash to attach to the center of the chest, and can be ideal if your pooch tends to pull on the leash.
The owner is more in control with this option, allowing them to redirect and replace the dog when an escape attempt is made. They may not be suitable for dogs who have severe behavior issues; such canines may need additional control, such as a head halter. These are also the most likely to tangle if the owner allows too much slack.
Type 3: Tightening Harness
Tightening harnesses are examples that should be used with caution, as they run the risk of causing pain.
They work by tightening and adding pressure if the dog pulls, and this discomfort discourages the behavior. It is essential to make sure that the pull is slight, and doesn't cause the dog any pain.
It is important to thoroughly research the variety of options that are available, to help you to make the best possible choice for you and your dog. This decision can depend on factors such as the size of the dog, prior training, your lifestyle, and any issues your pooch may have.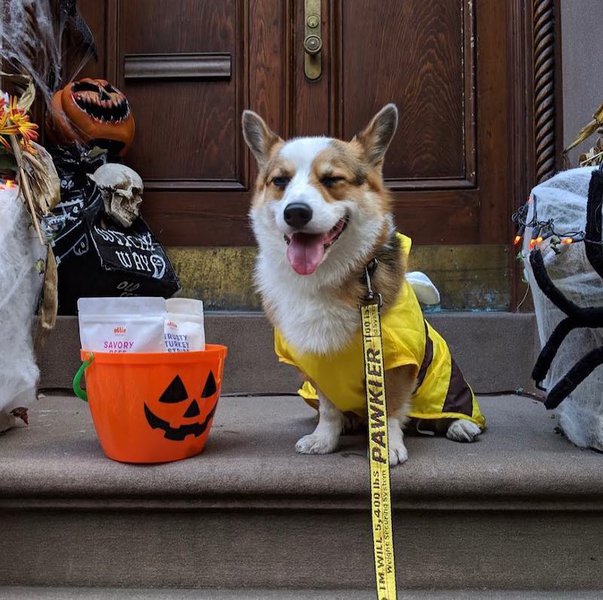 Getting Your Dog Used To A Harness
Helping your dog get used to an escape-proof dog harness starts with them being comfortable with touching. Regular petting and making sure they are comfortable with contact will make the process easier.
Step 1: Start Slow
Take it slow; if your dog is unused to being petted or has a nervous disposition, it can take time to build up to be happy with regular contact.
Rushing the process and introducing the harness too early or forcefully will only make your pet scared of the item, and will lead to outright refusal and potentially aggressive behavior when faced with an escape-proof dog harness. Taking it slowly will help improve your connection with your pooch, gaining their trust and making them more willing to accept a new item.
Step 2: Introduce The Harness
Once this trust and ease with contact are achieved, your pet will need to get used to the escape-proof dog harness itself, and this starts with an introduction. Start by allowing your pooch to see the harness clearly from all angles, offering plenty of opportunities to sniff, to help them to determine the shape, feel, scent, and other attributes, lessening the surprise when it is attached to them.
A good idea is to add a treat on the back or top to it for your dog to enjoy, to help make a positive connection between them and the harness.
This will encourage your dog to sniff the escape-proof dog harness in the hope that they will receive a treat. If there are any fastenings, such as Velcro or buckles, make sure that your pooch is used to the sound so that it doesn't scare them. Slowly open and close the straps until they no longer bother your dog.
Step 3: Gently Place The Harness On Your Pooch
The next stage is contact, and this begins by placing the escape-proof dog harness gently on the areas where it will sit, such as the back, chest, and neck. Make sure you reward with a treat after each contact to ensure the experience is positive.
Allow your pet to be entirely comfortable and happy with the harness touching their body before proceeding. When you come to put the harness on, start very slowly and make sure your dog is totally happy at every stage.
Dangle the escape-proof dog harness in front of them, and let them poke their head through in return for a treat, before easing their body into the structure without fastening the straps. Follow this step by removing the harness; this tells your dog that this is a temporary object to be worn, not a permanent feature.
Step 4: Repeat & Repeat
Repeat this process a few times, to allow your pet to get used to the weight and feel of the escape-proof dog harness. When they are ready, try fixing the fastenings to secure the piece. Before embarking on an adventure, allow them to roam familiar territory such as the garden, to get used to the feel of the harness.
Related: 14 Unique Types of Dog Collars
---
Final Thoughts
---
Making sure you have the best choice for your escape-proof dog harness is an integral part of dog ownership. A good quality harness can help to ensure safety for your pet, as well as keeping them comfortable and working to protect their necks, backs, and throats from unnecessary stress caused by straining or choking.
The best option will combine comfort and flexibility with safety, allowing your dog full freedom of movement and the flexibility to enjoy their life, while ensuring that you as the owner have complete control over your pooch, and the ability to keep them close and well-controlled no matter the situation. Our top pick option, the RUFFWEAR Web Master Dog Harness, combines all of these elements in one stylish design and is the ultimate escape-proof dog harness for your pooch.