The best dog automatic ball launcher is PetSafe Automatic Ball Launcher Dog Toy.
Do you find yourself constantly throwing tennis balls for your dog or just going out to throw them? Maybe it's because you're tired of running in the yard, but either way- have you considered buying an automatic ball launcher?
There are a lot of different types of launchers on the market. Some are small and portable, which is perfect if you want something that will fit into your house without being too bulky. Other models might be better suited for larger yards with more space to run around.
If you're looking for a way to get your dog more exercise and spend more time with them, then purchasing the best automatic dog ball launcher might be the perfect solution. We've put together this list of the best ones available right now so that you can find one that's just right for your pup!
#1 PetSafe Automatic Ball Launcher Dog Toy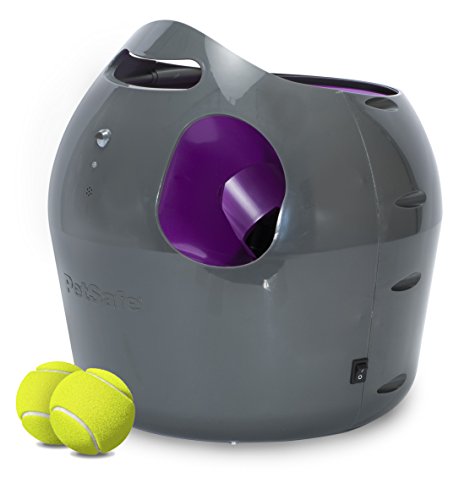 PetSafe Automatic Dog Ball Launcher All Breed Sizes
Automatic Ball Launcher plays fetch with your dog; interactive features aid in training
Pet receives plenty of exercise chasing launches between 8-30 feet; 9 settings; 6 angle settings
Multiple safety sensors keep people and pets safe; MOTION SENSOR on the front protects dogs and people from launched...
You might find it strange that we're starting off our list with what we consider to be one of the best automatic ball launchers out there – many lists will make you read through pages of information before revealing the "top dog." We thought we'd start off strong, though, and that's why the PetSafe Automatic Ball Launcher Dog Toy is our leader of the pack.
Not only is this automatic ball launcher easy to set up and safe to use, but it's also small and easy to store. It's the premium choice for dog owners looking for the absolute best for their pets, and it comes with a whole bunch of smart features.
It throws a varied distance of 8 to 30 feet, which makes it really exciting for your pooch. Each throw is entirely random, which brings hours of endless fun. However, we didn't really like the fixed 15-minute timer rest intervals. For future models, an adjustable timer would be better instead. This will allow us (as dog parents) to set our own rest intervals or to remove that option completely.
The PetSafe Ball Launcher comes with a wired power cord, or you can use it wirelessly by using 6-D batteries. This makes it extremely convenient to bring along this ball launcher on all of your road trips.
We listed the PetSafe Automatic Ball Launcher as our top pick because of how much effort has gone into producing a toy that's not just fun and functional but safe for the whole family to use. Your pooch can even use it on its own – it's that safe!
Pros
---
This automatic ball launcher has nine launch settings of between 8 to 30 feet and six angle settings.
Provides safety for both people and pets alike thanks to the front motion and launch pocket safety sensors which protect everyone up to 7 feet away from the launcher.
It can be used indoors and outdoors as it is powered either with 6-D batteries or the provided power cord.
Provides endless fun and interactive play for your pup and also offers a 15-minute rest feature for breaks, applicable to both the launcher and your doggies.
The launcher has a clean, modern design and is easy to transport thanks to the top carry handle.
Cons
---
Its lightweight design needs to be anchored to the ground to operate well.
The high-pitched sounds the launcher makes may frighten pups.
#2 iFetch Interactive Ball Launcher For Dogs
Coming up second on our list is the iFetch Interactive Ball Launcher for dogs – the perfect choice for all you thrifty dog owners out there. This automatic ball launcher is created especially for smaller dogs, packed to the brim with innovative features, and because of its price tag, it is ideal for budget-conscious folks. It's around 40% to 50% cheaper as compared to our #1 pick.
The family-run business behind this "fetching" dog toy has created something fun, affordable, and award-winning – having taken "Best in Show" and first place at a number of expos around the country.
If you're after something to keep your dog mentally stimulated and physically fit, you'd be hard-pressed to find anything as good as the iFetch Interactive Ball Launcher at this price point.
Let's face it, not everyone has the cash to splash on toys for their pets – some of us have to think economically and budget around these kinds of purchases. The iFetch Interactive Ball Launcher eliminates these worries by keeping the cost low and not skimping on features and quality.
Pros
---
The launcher caters to smaller pups as it comes with three small 1.6-inch tennis balls.
Changes to the launch distance are performed at the touch of a button between 10, 20, and 30 feet.
It is ideal for indoor and outdoor use as it is powered by either a Type C battery or using the AC adapter provided.
Comes with a ball carrier at the bottom of the launcher, and it launches only one ball at a time.
Made in the USA and comes with a one-year manufacturer's warranty.
Cons
---
The balls are of poor quality because they will not launch properly when wet, so keeping the balls dry is necessary, and such a launcher may not suit dog breeds that drool the most.
The battery dies quickly, so you are either forced to purchase more of them often or use the launcher not far from a power source.
#3 AFP Dog Automatic Ball Launcher
SALE ALERT!!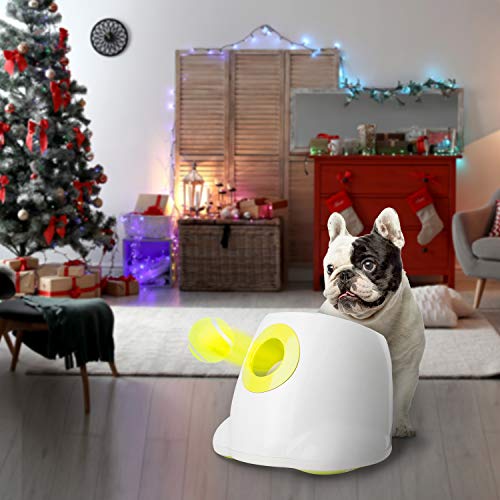 Next on our list is the All For Paws Automatic Dog Ball Launcher – a sleek automatic ball launcher for small to medium-sized dogs. Straight off the bat, this machine wins points from us for being extremely small and portable. Perfect for small and medium pooches
For a simple dog toy, this little machine is designed really well. It's a lovely curved shape and could easily be mistaken for something you'd find in the kitchen. Certain dog owners may choose this because of how surreptitious it looks.
The 3 years warranty is really impressive. This shows the amount of confidence that AFP has with its products.
If you're looking for something that can be hidden away easily and doesn't draw attention to itself while not in use, the All For Paws Automatic Dog Ball Launcher Toy might just be the device for you.
Pros
---
It is easy to operate thanks to a button that changes the launch distance between 10, 20, and 30 feet.
Comes with three small 2-inch balls, which are a perfect fit for the launcher and suitable for smaller pups.
Compact in size and can be powered indoors or outdoors with either 6 Type C batteries or a provided AC adapter.
Safe and healthy for pups as the launcher offers hours of training while the non-abrasive balls are safe for their teeth.
Comes with a one-year warranty and a money-back guarantee.
Cons
---
You can only use the provided balls and will not work with other regular tennis balls.
While your pup is using the launcher, supervision is strongly recommended to prevent choking on the small balls.
#4 PetPrime Dog Automatic Ball Launcher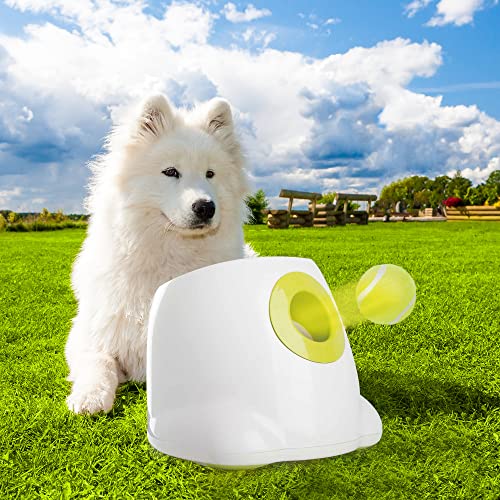 There is no greater joy for a dog than catching balls in its mouth and enjoying some playtime. The PetPrime Dog Automatic Ball Launcher is an interactive ball launcher for dogs. It can hold up to 3 tennis balls that your dog can fetch after launch.
It is a compact device at 10.6 inches long by 10.2 inches wide by 8.3 inches tall and weighs only 4.7 lbs. It is rechargeable with an adapter or can be powered by six Type C batteries. This device is made out of high-quality ABS plastic, making it durable and safe for your dog's use.
The launcher can throw balls up to 30 feet away – it can even make it to the 8m mark when on a low battery charge. Your dog can use this launcher on his own if you are handling other tasks. The balls are about 2 inches in diameter for even smaller dogs to catch. There is an opening on top of the launcher where your dog can place its balls ready for launch.
Using it is easy: Simply turn it on, choose the launch distance and place the balls in the launcher. The balls are released every 10 seconds. Keep in mind that the balls will launch at a closer range when wet.
The fact that there is a ball launcher that your dog can use even when you're busy is a life-changer. Large and small dogs can use the balls. However, extra caution must be exercised when it comes to larger dog breeds due to the inherent risk of choking on toy balls. It launches at different distances, and it works either by recharging or with batteries.
Pros
---
Provides three launch distances with one operation every 10 seconds and offers between 10, 20, and 30 feet, which is perfected by using the AC adapter and provided balls.
Great for training your small and medium pups through interactive fun and also helps to improve their IQ and weight management.
Simple design which comes with a top pitching hole and a ball launcher hole that will keep your pup entertained for hours.
It is safe for use both indoors and outdoors, and you can use the AC adapter it comes with or purchase 6 Type C batteries.
Comes with an after-sale guarantee so you can replace a faulty launcher if defective.
Cons
---
For pups growing impatient with the long 10-second launch timeframe, they may try to rough up the launcher, causing some level of damage to the launcher.
You may have to spend more on extra balls made specifically for his launcher, as regular tennis balls do not work.
#5 IDOGMATE Big Dog Ball Launcher
With some of the best engineering and design we've seen yet, the IDOGMATE Big Dog Ball Launcher is next on our list. This toy is specially designed for dogs over 30 lbs and can last for as long as 1,000 ball launches. Even the largest of dogs will get tired out after a day of playing with this.
If you're a fan of feature-heavy tech, then you'll love what the IDOGMATE has to offer. Multiple settings allow distances of 10, 20, 40, or 50 feet and this can even be operated and changed via a remote controller.
The large box-shaped machine has been constructed to avoid any accidents from dogs tipping it over and comes with a large funnel for dropping balls in (so even the clumsiest of dogs can't miss).
With such a powerful range of settings – and a long-lasting battery life – your big canine companion is sure to delight in chasing balls all day if you go with the IDOGMATE Big Dog Ball Launcher.
Pros
---
Perfect for medium and large pups as it comes with three 2.5-inch washable balls and can accommodate regular tennis balls.
Perfect for both indoor and outdoor use as it is easy to carry and operates on a rechargeable Lithium battery.
You can either use a remote control or the launcher button to adjust the launch distance and speed. The provided battery will give your pup up to 250 launches on a full charge.
Comes with an LCD remote that lets you view the programming settings like Pause, Rest, and Trainer functions.
It offers hours of training and fun for your furry friend with a 15-minute rest for every hour of play.
Cons
---
The noise the launcher makes can scare your pups within the first week of using it.
The launch mechanism can get stuck and cause balls to be randomly launched, which is unsafe for you and your pup.
#6 Greenvine Automatic Ball Launcher Dog Ball Thrower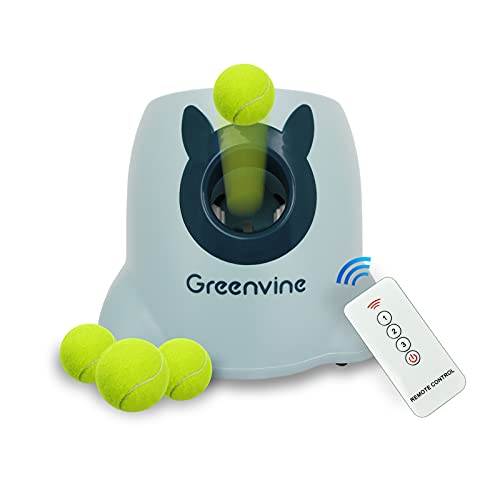 Greenvine Automatic Ball Launcher Dog Ball Thrower Chuck it Fetch Machine
ADJUSTABLE LAUNCH DISTANCE: The special design of the ball dispenser for dogs allows for different shooting ranges,...
REMOTE CONTROL: The pet ball thrower equipped with remote control makes independent play easy and convenient. The...
PERFECT GAMES FOR DOGS: The chuck it launcher functions as perfect dogs' throwing toy, which can not only train your...
The Greenvine Automatic Ball Launcher Dog Ball Thrower is a fetch machine that will keep your dog happy during playtime. This launcher allows you to choose preset distances of 10, 20, and 30 feet as an added advantage of varying distances to meet your dog's needs.
This device is a compact product at 10.24 inches long by 10.63 inches wide by 8.27 inches tall and weighs a comfortable 2.98 lbs.
The Greenvine launcher comes with a remote, which you can use to set it up in an automatic manner. This means you can be working a distance from your dog while it enjoys its day. The launcher uses scratch-resistant, durable tennis balls – you can use the standard 2-inch balls available everywhere.
The balls get launched within 5 seconds after switching on. The launcher can be powered with a battery charger or 8 pcs Type C batteries (which you must purchase separately). The kit comes with a 2-pin plug, five tennis balls, the launcher, the remote control, and a manual.
The Greenvine launcher is lightweight and highly portable. We like that the launch distance can be adjusted with a simple press on the remote. You can use a battery charger or batteries to power up your launcher. You can use standard tennis balls if you have used balls lying around the house.
Pros
---
Its modern design offers launch distances of either 10, 20, or 30 feet, and there is also a randomized distance option.
Comes with an easy-to-use remote control for launch distance that independently lets your pup play while you are indoors or handling other tasks.
Comes with three 2-inch durable and scratch-resistant balls, which are perfect for medium-sized pups, and you can also opt for regular-sized tennis balls.
It can be powered by a battery charger or separately purchased 8 Type C batteries, and this is perfect for indoor and outdoor use.
Modern design with a chuck-it launcher that will keep your pup active for hours while boosting their IQ.
Cons
---
It is not ideal for large dog breeds as such dogs will not appreciate the small balls and can easily damage the lightweight launcher.
The launcher function can get stuck when overused.
---
Automatic Ball Launchers For Dogs Buyer's Guide
---
If you are looking for a way to keep your dog entertained and out of trouble, then the automatic ball launcher is a great option. These devices will shoot tennis balls into the air so that your furry friend can fetch them!
Now that we've had a chance to show you the six best automatic ball launchers for dogs, let's dive right into our helpful buyer's guide. Here we'll explain what you should specifically look for in your purchase, what to avoid, and how to ensure you get the most out of the product.
Related: Best Dog Frisbees
What Features Does It Come With?
Having a large number of features shouldn't necessarily be the deciding factor when purchasing a dog toy. It does, however, play a large part in the value-for-money you're getting and can certainly affect how much enjoyment you and your furry friend will get out of the toy.
When it comes to automatic ball launchers, you're going to want to look for machines that have multiple settings for the angle of the shot and the distance of the shot. Tennis balls can be easily lost (or cause damage/injury) if you've bought an over-powered launcher with zero customization.
Being able to adjust the speed, distance, and angle of the shot can really vary your dog's playtime and help to provide them with varied stimulation. Keeping your pooch constantly guessing about where the ball will go next is a great way to keep them happy and on their toes.
You'll find that some of these devices come with unexpected features, such as treat dispensers, remote control capability, lighting systems, and more. These could potentially be enough to sway you in the direction of a particular purchase, depending on what you're looking for. Don't let yourself be overwhelmed by the 'bells and whistles,' though.
Sometimes all you need is the bare-bones – just the basics. We won't judge you if that's all you're after with your purchase. Your doggy is going to love their new toy whether it's packed with exciting features or not.
In fact, if you're looking to save some money on your purchase you might actively be seeking a more stripped-down and basic device. Luckily for you, a lot of these products all come with certain features as standard – so you're almost certainly guaranteed a reliable and exciting toy whichever you decide to opt for.
Related: Best Boredom Busters Dog Toys
Training Functions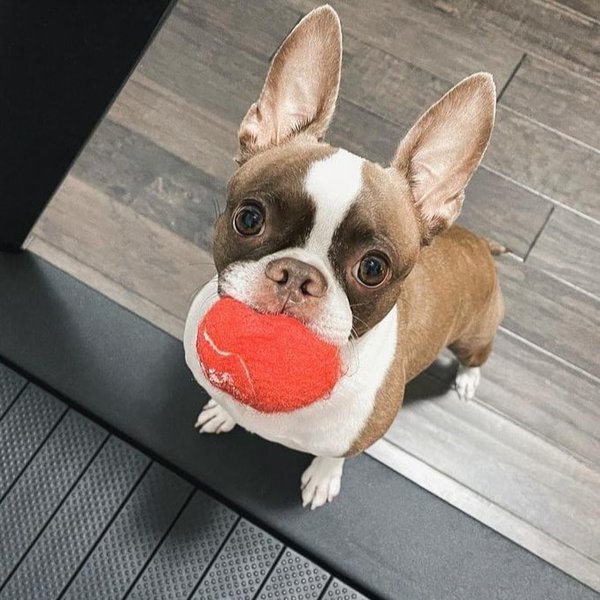 Although giving your canine companion the option of playing without you is one of the main reasons for buying a tennis automatic ball launcher, there is another great reason. These types of machines – if they include the functionality – give you the ability to effectively train your dog to properly fetch and retrieve balls.
Some dogs simply don't take to fetching balls straight away but the right launcher can use a variety of tactics to help train your pooch playing fetch. Sooner or later they'll be chasing down balls and bringing them back in record time.
If this is something you're desperate to teach your pooch, hunting down a reliable product with these features can be a massive deciding factor in your purchase. Especially if it's fitted with multiple functions to encourage good fetching discipline.
Some of these ball launchers will include special tones which sound so that your pooch knows when they have placed the ball in the funnel correctly. Over time, your furry friend will learn how to do this perfectly every single time because of this simple and effective training technique.
Another great option that some dog toys come with is the ability to store and dispense treats from the device itself. Making sure you give your pup a treat at the right time when you're first training them to fetch is very important – so this could definitely be a useful feature.
Several ball launchers are designed in such a way that the dog is inadvertently trained to put the ball in the right place in the funnel. For example, some toys will be engineered so that one side of the device is lower down, so your pooch naturally heads to that section to place the ball.
All of these functionalities can help ensure your four-legged companion has a smooth learning experience and will help keep your pet mentally stimulated and physically fit.
Related: Best Dog Training Books
Safety Tips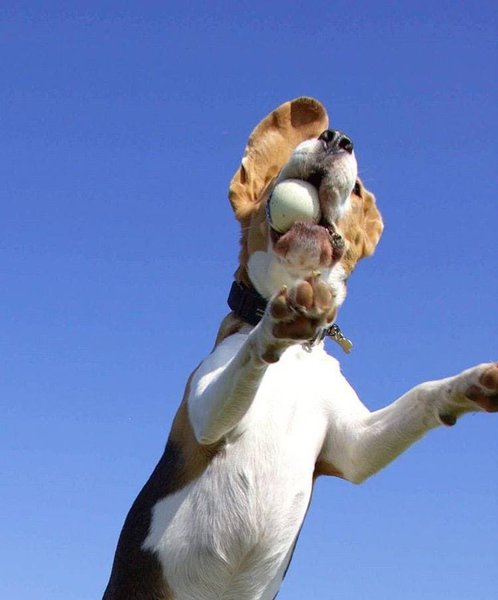 Many modern tennis ball launchers will come with safety features that make the device much safer for you, your dogs, and your family. If you're worried about a stray ball causing damage or injury then you should definitely opt for a model that's fitted with motion sensors. These will stop the machine shooting when someone is in the immediate vicinity of the business end.
Something else that's important to look out for is whether or not the canine toy is listed as being suitable for both indoor and outdoor use. A lot of small-dog owners prefer to have their pets play indoors – so a launcher that comes with smaller, softer balls and an adjustable shot distance would be preferable for them. They'll operate with just enough power for your pooch to have fun without shooting high-speed balls at your valuables.
It should go without saying that you need to make sure these devices aren't left on for extended periods of time without supervision. Like any electronic product, you never know when a fault could occur – so always keep your eye on it.
Also, even though several products state they're safe enough for your pooch to use on its own, we'd still recommend you be present when your dog is playing with the ball launcher. Even if you just head outside and check on them occasionally to make sure they've not caused any doggy accidents.
Warranty And Product Care
As with all electronic goods, it's important to check that the product you're purchasing comes with a decent warranty. You'll find many of these dog toys come with at least one year's warranty but it's always best to check and make sure before buying.
Same as with warranties, always check that the device you're purchasing is produced by a company that offers stellar customer service. A lot of these brands have dedicated customer service centers where calls and emails about complaints or problems are handled. When a company knows how to take care of its customers, that's usually a good sign.
To avoid having to send an item such as this back due to faults or damage, make sure you read any and all instructions that are provided. There may be small things you wouldn't think to avoid which could damage your doggie toy. For example, some of these launchers come with warnings about ensuring you don't put damaged balls inside the funnels. Always check for hints and tips like this so that you can avoid having to send off a new product.
Much like damaged balls, try not to let your pooch put especially wet or dirty balls into the funnel. The interior mechanisms and wheels could become damaged in the process, and that's another call you don't want to be making if it's possible to avoid.
Find out if there are any other things you should avoid with your canine ball launcher by ensuring you thoroughly read the instruction manual before turning it on and getting started – no matter how excited your furry companion might be with their new toy!
---
Final Thoughts
---
We've reached the end of our awesome guide to the six best automatic ball launchers for dogs. Hopefully, we've provided you with more than enough information to find the perfect toy for your furry best friend.
Among all of the products that we've looked at, our top pick emerges as a clear winner, and with good reason. As a tennis ball launcher with easy-to-use training functionality and a top-of-the-line safety detector, it simply blew the others out of the water for us.
If you're looking for something that doesn't compromise, then our top pick is the best choice for you too.