The best citronella bark collar is PetSafe Remote Citronella Spray Trainer.
An alternative to shock collars, the citronella bark collar is able to help with your dog's excessive barking tendencies.
A citronella bark collar sprays a citronella substance on dogs when it detects that your pooch is about to bark. The sprayed substance will make the dog feel uncomfortable, which will then prevent it from barking.
If this is the first time you are buying this type of bark collar for your pet, then here's a guide to help you choose the a suitable option in the market, along with reviews of some of the best citronella bark collars online.
#1 PetSafe Remote Citronella Spray Trainer
Our top choice is the PetSafe Remote Spray Trainer, said to be the new generation of spray bark collars. This product works very accurately in detecting the barking of the dog, as it comes with a vibration sensor and a microphone. It will release a gentle spray that is efficient and safe enough to stop your dog from barking without causing any damage.
This bark collar can be used both outdoors and indoors. It also comes with a free USB cable for charging. Equipped with an LED indicator, you'll immediately know if the battery of the collar has already gone low and needs charging.
Made by PetSafe, one of the leading brands of pet accessories worldwide, this bark collar is definitely worth buying. However, the biggest downside of this product is that you'll need to buy a replacement cartridge separately as it doesn't have a refill bottle, unlike the other citronella dog barks. This can be somewhat expensive for pet owners whose dogs bark a lot.
We like that this PetSafe Remote Spray Dog Trainer collar is rechargeable through a USB charger that comes with the product for free. The battery can last up to 40 hours.
Pros
---
Dogs' sensitivity levels vary, and this spray trainer has three sensitivity settings, which you can choose from, including spray (scented or unscented), tone, and vibrate.
This trainer comes with a pre-filled cartridge and gives off up to 35 sprays.
Works for different pup neck sizes of up to 27 inches and dogs weighing over 8 lbs.
You can use this trainer outside as it is waterproof and can be remote operated up to 300 yards away.
The trainer and remote have a rechargeable battery with a low-battery LED indicator, which you can use for up to 40 hours on a single charge.
Cons
---
The spray trainer remote control needs you to apply extra pressure on the buttons, and this can cause you to release an ill-timed spray.
Some dogs may not be trained adequately with only a spray trainer and may need a static collar.
#2 PetSafe Elite Little Dog Citronella Bark Collar
Another great product from PetSafe is this Elite Little Dog Spray that's compact and portable, and it's a great choice for budget-conscious dog owners. Its vibration sensors and dual sound are the most accurate in the market, making it truly effective in teaching your dog not to bark. The casing is durable but lightweight and is waterproof too. As such, you can use it on your dog even when it's raining.
This citronella bark collar from PetSafe is among the brand's bestselling citronella spray so it's not surprising to see dog owners still using this collar that's already five years old or more! This is proof that this product can truly give you the best value for your money.
Using this PetSafe citronella bark collar is very easy. It works straight from the box by fitting it with a replaceable and adjustable collar. It also comes equipped with indicator lights that will alert you if the spray or battery is already low. Simply fill the collar with the citronella spray that comes with the product you purchase and you can immediately start using it for your dog.
We like the fact that each refill of this citronella spray collar can spray up to 30 to 40 times. The collar can be easily adjusted to 16 inches of neck size and can be used for dogs weighing up to 55 lbs.
Pros
---
Lightweight, adjustable, and ergonomic Quickfit collar, which can fit dogs weighing up to 55 lbs and neck sizes of up to 20 inches.
Has a citronella spray can which emits 400 to 500 sprays that help to control or stop dog barking.
Comes with dual Perfect Bark technology, which produces both sound and vibration that respond to your pup's vocal cords but not external noise.
The collar is waterproof in depths of up to 5 ft, and this is perfect for outdoor training or wet conditions.
It operates on a rechargeable and replaceable battery that can last for up to 6 months, so you can train your doggie without worrying about low charge.
Cons
---
The collar spray may sometimes not work as and when needed, and this will disrupt the dog's bark training.
The collar is reported not to be effective on dogs larger than 55 lbs or those with very thick necks or dense coats around the neck area.
#3 WWVVPET Citronella Dog Training Collar With Remote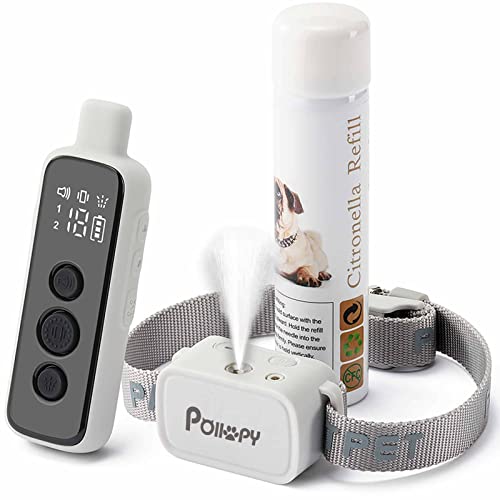 Citronella Dog Training Collar with Remote 【Can't Work Automatically】, 3 Modes...
【3 Training Modes & 3 Spray Levels】 – 【Note: This collar can only be used by the remote, can not work...
【Safe & Effective & Humane】 – Unlike electric shock collars, our citronella spray collar is extremely safe,...
【Remote Control & Adjustable】 – Remote Range up to 1000 ft / 330 yards. Includes collar, remote controller, a can...
The WWVVPET Citronella Dog Training Collar with Remote aids in safe, humane, and anxiety-free dog training. It comes with three training modes – Citronella Spray + Beep, Vibration + Beep, and only Beep. The citronella spray mechanism has three spray levels which offer high, low and no spray.
It is not automatic and uses a remote control with up to 1,000 ft or 330 yards range. The kit also includes a quality nylon collar, a refillable can of citronella spray, a USB cable for recharging, and a user manual.
The adjustable 8-inch to 27-inch long nylon collar works on almost all dog breeds weighing over 8 lbs. The can offers 300 to 400 sprays in total, with 30 to 35 sprays per refill. Once the collar detects your dog's bark, it releases a soft jet of citronella spray.
The pack, whose casing is made using impact-resistant ABS plastic, comes with a built-in rechargeable lithium-ion battery. It fully charges within 2 to 3 hours and will go for 11 days for the collar and 27 days for the remote control.
There is a low battery indicator on the collar so you can know when to recharge.
We always fear that many training collars can trigger stress and anxiety in our dogs. The remote works in a long-range and can be used for up to 27 days with a full recharge. The microphone will not pick up any other sounds, so there is no chance of a collar mishap. The full kit will give you everything you need to train your dog safely.
Pros
---
You are fully in control as this collar is remote-controlled and has three training settings which are vibration/tone, spray/tone, and tone only.
Operates on a rechargeable battery with a low-charge LED indicator, which fully charges within three hours and lasts up to 11 days on a single USB cable charge.
Has a safe and humane remote-controlled citronella spray, which holds between 300 to 400 sprays.
The collar fits different size pups from 8 lbs and fits neck sizes between 8 to 27 inches.
The collar is waterproof and ideal for outdoor use up to 1,000 ft away.
Cons
---
For hairy doggies, it means that you must shave the neck area for the collar to work effectively.
Because it is remote-controlled and only works up to 1,000 ft, you have to be close by for the collar to do its job.
#4 Downtown Pet Supply No Bark Citronella Spray Collar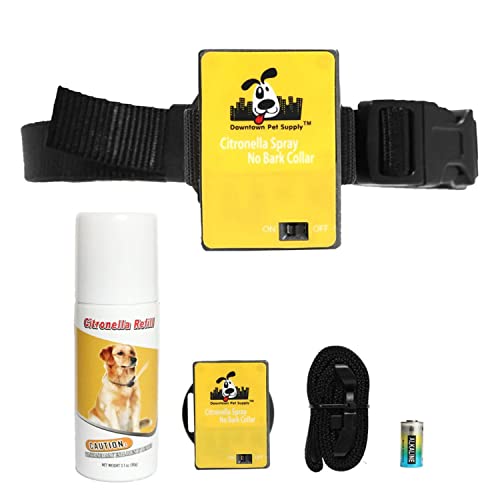 The No Bark Collar Citronella Spray Collar from Downtown Pet Supply is a safe and humane anti-bark deterrent kit. We are always looking for items to make training more tolerable for our furry friends, and this can go a long way. You need a training tool that does not trigger anxiety, aggression, or stress in your pet.
This collar has citronella (lemon) spray mechanism, which releases a safe jet when it detects your dog's bark. The bottle offers up to 15 sprays and is refillable.
The built-in microphone only picks up your dog's bark and will not detect any other sounds. The high-quality nylon collar is durable and adjustable so it can fit any pet up to 8 lbs in weight.
The full pack comes with the collar, spray device, citronella spray refill, battery, and user's manual. No Bark offers a 60-day manufacturer warranty – all you have to do is contact the manufacturer, and they will quickly respond to your questions.
We always fear that many training collars can trigger stress and anxiety in our dogs. The No Bark training collar will only spray citronella if it detects a dog's bark. The microphone will not pick up any other sounds. The full kit will give you everything you need to train your dog safely.
Pros
---
Your pups are well taken care of by this spray collar as it can fit those as small as 6 lbs.
Comes with a built-in microphone, and the spray only discharges when the collar picks up your pup's bark.
Comes with a 6V replaceable battery which lasts for weeks and ensures you enjoy hours of bark training.
Perfect for dogs with anxiety, as the spray collar does not give off shocks or loud sounds.
An adjustable nylon collar, which is durable and will not break when in use.
Cons
---
The batteries are disposable and non-rechargeable, translating to higher costs in the long run due to periodic replacements.
Its spray mechanism is not considerably effective on larger dogs.
#5 Citronella Bark Collar For Small Dogs
The Citronella Bark Collar for Small Dogs is a spray dog training collar. It has no remote and works by automatically picking up a dog's bark and releasing a safe citronella spray to calm them.
It comes with two sensitivity levels and two spray volume levels. The collar has a built-in battery that can rapidly charge within 1.5 to 2.5 hours, which you can use for ten days.
If you train in light rain or wet surfaces, the collar has an IPX5 Waterproof suit – just avoid soaking it in water or pools. The pack comes with two nylon straps for easy replacement.
The length of this adjustable collar can vary between 3 inches to 21 inches long and should fit dogs of sizes between 8 lbs to 120 lbs. You should use it on dogs over six months old.
We are always looking for safe training collars that will not trigger stress and anxiety. The No Remote training collar will only spray citronella in less than 10 seconds of detecting a bark. It is waterproof and offers a long-life battery. It doesn't have a remote control, but it serves its purpose.
Pros
---
This collar does not use a remote control to release the refillable citronella spray, and this means your pup can use it even when you're away.
This is a humane and dog-friendly collar as it doesn't emit static, and only the spray is used for bark training.
You can adjust the 2-level sensitivity and spray levels to suit your pup's bark training needs.
It comes with a built-in rechargeable battery that can operate for up to 10 hours on a single 2.5-hour charge and is also IPX5 waterproof, perfect for outdoor training.
Adjustable and durable nylon strap that can fit pups over 8 lbs with neck sizes of up to 21 inches.
Cons
---
The spray mechanism may not always work as needed, which means your pups will not be well trained.
The spray collar will not work for aggressive pups or those that are smell impaired.
#6 WWVVPET Citronella Spray Dog Training Collar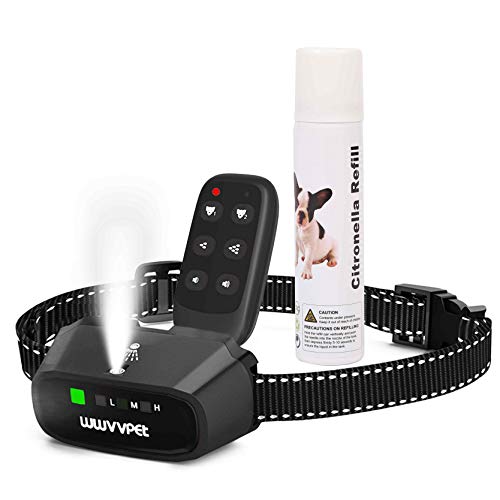 Featuring another collar from WWVVPET, this collar is a lightweight device boasting increased effectiveness and a more humane manner to assist dog owners with greater control over their dogs.
The adjustable strap of the collar can vary between 8 to 27 inches long, capable of fitting all dog ages and breeds, as well as dog sizes weighing over 8 lbs. The added citronella spray functionality, with a capacity of up to 35 sprays, helps calm the dog down safely, putting an end to undesired behaviors.
To begin with, it comes with remote control, allowing you to have direct control over not one but two collars. The remote control has a range of 500 ft or 167 yards so that you may use this collar at a distance away from your dog.
This WWVVPET training collar uses long-lasting, rechargeable batteries, and it can be left on standby for up to 5 to 7 days. The red light on the collar will blink when the battery is low, ensuring that you are never caught off guard. Also, with the USB cord included in the kit, recharging becomes a breeze.
This collar from WWVVPET is simple to operate, features a remote control, and has long battery life. If you have a big yard, you'll appreciate how useful this long remote range is. We really like how light and compact the collar is, as citronella collars may be rather heavy!
Pros
---
A remote-controlled collar that lets you control the spray and beep levels on up to 2 different collars up to 500 ft away.
This is a humane and dog-friendly training collar as it does not use shock to train your pup.
The collar comes with a built-in rechargeable battery which offers seven days of uninterrupted service with a single charge lasting 2 to 3 hours, and includes a red LED indicator light for low-battery status.
The collar has an IPX5 slight waterproof design which can be used outdoors; however, you should avoid soaking the collar in water or engaging your dog in swimming activities while wearing the collar.
Has an adjustable nylon collar to fit dogs with neck sizes of 8 to 27 inches, weighing above 8 lbs, and aged at least six months old.
Cons
---
After some time, the collar begins to spray indiscriminately, and this will eventually disrupt your training with your pup.
It is cumbersome to fasten the collar on young pups and is ineffective on those smaller than 8 lbs.
---
Best Citronella Bark Collars Buying Guide
---
When looking for the best citronella spray bark collar for dogs, there are important factors that you need to take into consideration to make sure that you're buying the right one. Here are some of the factors to consider.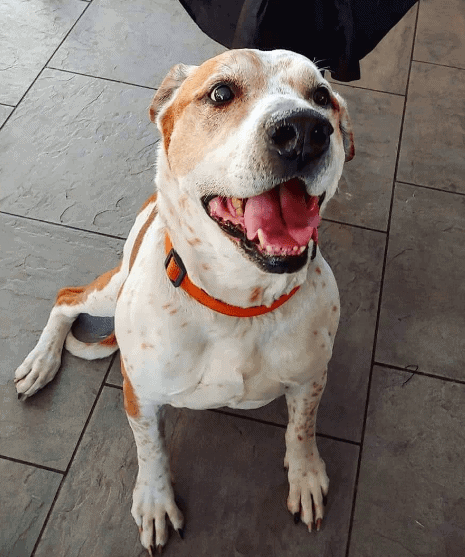 Size
It's important that you buy a model that will fit your dog's neck. Otherwise, the collar will be useless. To be sure, measure your dog's neck so you will have an idea of which collar will work for your pet. The citronella bark collars that are being sold online will come with information on which neck sizes will it fit. Don't just rely on an estimate. Instead, get a tape measure and measure your pet's neck to obtain the most accurate measurement.
Water Resistance
If your dog loves to play in the rain, then choose a waterproof citronella bark collar. However, these collars are not completely waterproof. They might work in the rain but will not function when used for swimming. But there may be a few collars that can be used even in the pool. If your pet loves to play in the water, this feature is something that you should consider a priority. Although most of the citronella bark collars can survive the occasional downpour, other models will become useless when they get wet so better do your research well.
Manual VS Automatic
The decision whether to go for a manual or automatic citronella bark collar is a personal choice, depending on what the pet owner prefers. However, there are situations where the manual or automatic model will be more beneficial than the other.
If you work a full-time job, your pet may bark a lot while you're away. This can be a disturbance to your neighbors, especially to those who have babies and small kids that will be disturbed in their sleep. In this case, you need to get an automatic citronella bark collar that will work even without your presence.
As the name suggests, the manual citronella bark collar needs to be operated manually, which is only effective if you are near your pet. On the other hand, if you're training your dog to stop barking under your presence, the manual option can work for you. So, give it a try!
Two-Part Verification
If you find the automatic citronella bark collar to be more suitable for your dog, then choose something that comes with a two-part verification system. This keeps the collar protected from accidental activation that can affect your ability to train your dog not to bark. Accidental activations can also confuse your dog because they will not understand what it is that triggers the device to spray. This sense of confusion can also traumatize your pet because it will feel like it's being punished. You definitely don't want your dog to go through this traumatic experience.
So when it comes to getting the automatic citronella spray collar, make sure you choose something that's equipped with a verification system. It may be more expensive, but it will truly be worth it!
---
Final Thoughts
---
We highly recommend our top choice among all the best citronella bark collars in the market because the collar has everything a dog owner needs in training a dog not to bark. It is capable of accurately detecting the dog's bark, as it's equipped with a vibration sensor and a microphone.
Furthermore, the citronella spray that the bark collar produces is harmless so the safety of your dog is assured. More importantly, it does not cause pain to your dogs like what shock collars will do.
It's also equipped with an LED indicator so you will know if the collar needs to be charged. Made by one of the leading brands of pet accessories in the world, you can be sure that this dog collar can last for a long time despite regular use.