The best dog stroller is Pet Gear No-Zip NV Pet Stroller.
If you are a dog owner, then you know all about the joys of having your favorite canine companion by your side. Whether it's for walking, running errands or just hanging out around the house, there is nothing better than getting to spend time with our furry best friend.
Getting a dog stroller is a convenient way of walking your dogs – especially if they are injured or they are getting old. With a dog stroller, your dogs are sheltered from the elements, making their walks literally a walk in the park. It provides a much-needed exercise an opportunity to get out and explore without compromising their comfort level.
Your furry buddy deserves the best. Therefore, we have decided to compile the best dog strollers that deserve that title. So, let's start with our top pick!
#1 Pet Gear No-Zip NV Pet Stroller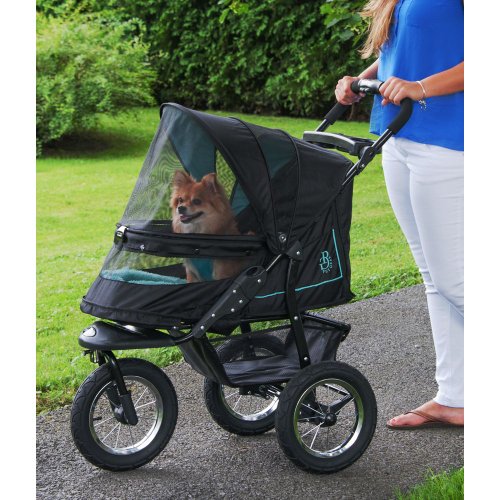 The first one on our list is the dog stroller we believe to be the best on the market today. The reasons why we think so are numerous, starting with the fact that it's made of the finest materials, so your furry friend is bound to feel comfortable riding in it. And because the materials are top-quality, if your dog is a chewy little devil, he or she won't be able to destroy the dog stroller easily.
This Pet Gear No Zip Pet Stroller is also water-resistant, so you can be sure that your dog is kept dry during rainy days. It also has a waterproof hood that is made of clear plastics that stretches from one side of the stroller to the other. This gives your dog a panoramic view even when the hood is down.
Apart from being great from your pup's point of view, this dog stroller is also fantastic for being easy to control. You won't have to waste too much energy to push it around, because the dog stroller comes with air tires. This makes it easy to move around in rough terrain too.
It's also easy to fold down, so you can store it without any problems. And that is something that can be done singlehandedly. On top of that, it comes with a cup holder to make your stroll as enjoyable as it is for your dog.
You can't go wrong if you decide to buy this dog stroller. It's excellent both for the dog and for its owner. On top of everything, the dog stroller looks lovely and you're going to proudly push it around. You will see that the dog stroller is probably the best of its kind, just by taking a look at its features.
Pros
---
Constructed of high-quality materials
Generous space and very comfortable for your dog
Easy to control, as well as to fold/unfold
Beautiful monochrome design
#2 Paws & Pals City Walk N Stride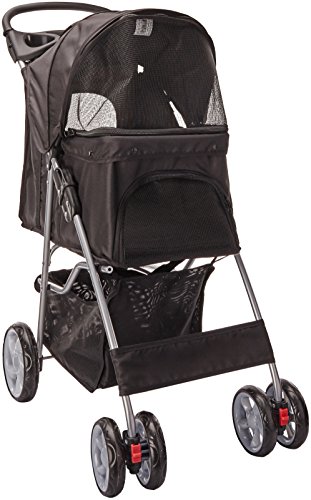 OxGord Pet Stroller Cat/Dog Easy Walk Folding Travel Carrier Carriage, Onyx Black
Quality Certified: HD Lightweight which Meets GB14748 Stroller Safety Standard and Manufactured under GB/T2161...
2 Cup Holders, Seat Belts Leash, Rear Security Brakes, Hooded Peak Top Window, Simple Fold for Easy Handling & Storage...
Ventilation Mesh Screen Windows for Keeping Bugs Out, Large Undercarriage Storage Compartment for Pet Supplies, Meds,...
Paws & Pals is famous for the quality and durability of its products. The reason why this is one of the most popular dog strollers on the planet is that its price is low, while its quality is very high. This dog stroller is also very lightweight, therefore it's super easy to control. It also comes with some safety features like a hood, rear brakes, seat belt leash, and so on.
Another great thing is that it features a large mesh screen window, so your pooch will get a nice view of the surroundings while still being protected from annoying insects.
Don't want to spend too much money on a dog stroller? No problem, you can get a beautifully-designed stroller of superb quality which will not exceed your budget.
Pros
---
Ventilation mesh screen windows
Foldable waterproof hood
Made of lightweight, but sturdy materials
#3 VIVO Three Wheel Pet Stroller
SALE ALERT!!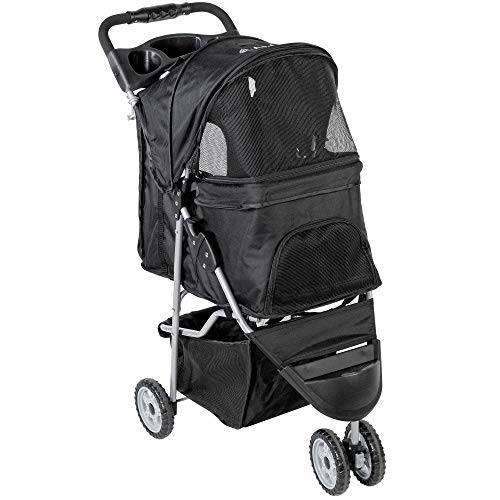 Unless you have a dog of a large breed like Great Dane, this pet stroller from VIVO should be able to accommodate your dog. In fact, it's meant to be used for pets (both cats and dogs) weighing no more than 30 pounds. This dog stroller is very sturdy so even if your canine companion is restless, he/she won't be able to cause too much damage.
And they probably won't feel any need to destroy the dog stroller, as its interior is very comfortable. Apart from comfy cushions, the pet area also has a large mesh window that allows them to have a good view of what's going on in front of them.
Everything about this pet stroller seems excellent, starting with the fact that it has three wheels, which makes controlling it very easy. It's also pretty sturdy and can be used for dogs of up to 30 pounds of weight. If your dog (or cat) falls into this category, we see no reason not to buy it.
Pros
---
Spacious pet compartment
Large mesh window
Fold-up mechanism guarantees easy storage
#4 Bigacc 4 Wheels Dog Stroller
This isn't an ordinary dog stroller; it can also be used as a carrier. Actually, you can think of this product as a regular side-loading pet carrier that comes with wheels. And because its design is side-loading, your pup will have protection above its head, meaning that the sun and the rain can't hurt it.
Still, the thing we love the most about this product is that it can accommodate dogs of up to 45 pounds. It's interior compartment is so large that you can use it for two or three pups at once.
You will love this pet stroller/carrier. It's large, yet lightweight; sturdy, yet pretty reasonably priced. And on top of everything, it looks lovely, no matter which color you pick, out of 2 available.
Pros
---
2-in-1 product: stroller and carrier
Spacious pet compartment (24" x 16" x 16")
Suitable for pets weighing up to 45 pounds
#5 HPZ Pet Rover Premium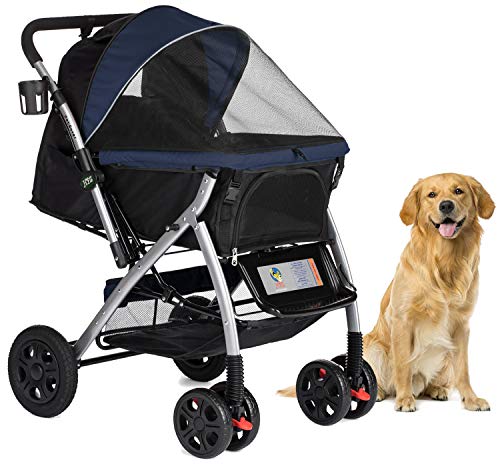 There aren't many dog strollers out there that can compare to this one in terms of ruggedness. This heavy-duty stroller is suitable for both small dogs and larger dogs, including those that weigh over 50 pounds. But, apart from being excellent from a dog's point of view, it's also great for the dog's owner. Why? Because this dog stroller is easy to assemble, easy to control, and very easy to store.
It's a bit pricey when compared to other dog strollers, but there is a reason for that. This pet stroller is large and sturdy, thus suitable for dogs of all breeds.
Pros
---
Large pet compartment, perfect for large and heavy dogs
Zipper-less entry (the overhead frame can be rolled back in the same manner most baby strollers are used)
Huge mesh window provides the dog with a great view of what's going outside the pet stroller
#6 BestPet T13 Three-Wheel Carrier
SALE ALERT!!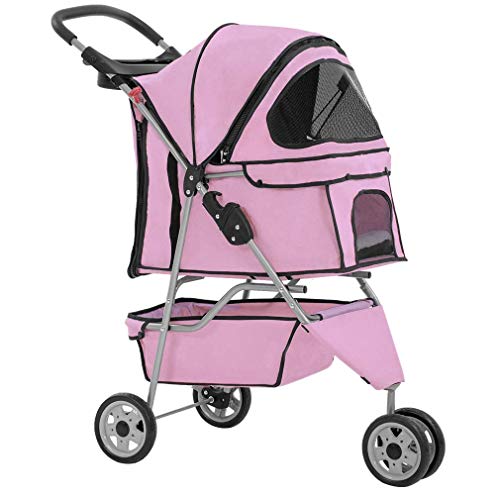 Who says you got to pay several hundred dollars in order to get a top-quality stroller for your puppy? This dog stroller from BestPet is proof that you don't! It looks nice and is a pretty suitable choice for small dogs weighing up to 30lbs.
This pet stroller is mainly used for small dogs. It is super easy to use and even more importantly, this stroller is super-comfortable inside, so your dog is going to love it!
Pros
---
Three wheeler, with a 360-degree rotating front wheel for easier maneuvering
Made of non-recycled plastic, which makes it more sturdy
Easy to open/fold, something that takes no more than just a few seconds
#7 Gen7 Regal Plus Pet Stroller
SALE ALERT!!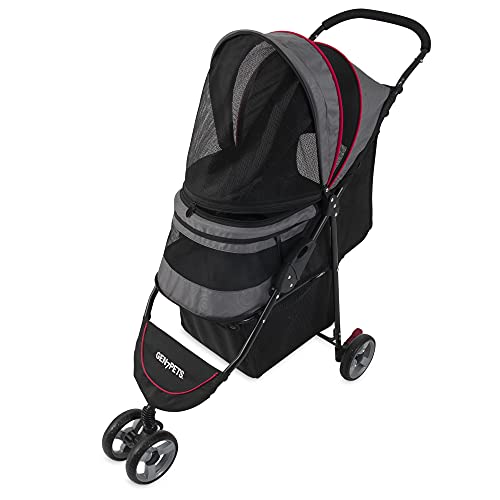 Gen7Pets Gray Shadow Regal Plus Pet Stroller
MOBILITY & STYLE – The Regal Plus Pet Stroller is the perfect combination of mobility and style for your pet. Your pet...
SMART-FEATURES – The Smart-Canopy folds under the canopy hood avoiding cramping your pet's space on a leisurely...
COMFORTABLE FOR PET & OWNER – Any pet up to 25 pounds will love a long stroll in the Regal Plus Pet Stroller with a...
ProduThe maximum recommended dog weight is 25lbs, which isn't too much, but if your puppy belongs to this category, he or she is going to love riding in this dog stroller. This is one of the most comfortable dog strollers you can find, plus, it's very easy to use. And it's all thanks to the features below!
Gen7 are famous for making comfy pet products and this is one of their most comfortable dog strollers. If you get this dog stroller, your puppy is going to be very grateful.
Pros
---
360-degree-swivel front wheel
The Smart-Canopy feature can be folded under the hood, thus making the petcompartment more spacious
Lightweight construction makes this dog stroller easy to control
#8 Hauck TOGfit Pet Roadster
The Hauck Togfit Pet Roadster is a must-have dog accessory that can be used for indoor or outdoor use. The soft and cozy mattress guarantees high comfort and visibility while the tear-proof, durable netting provides perfect airflow and keeps out insects.
It's easy to get your pup in the stroller from any of its three sides with zippers. Once they are inside, you'll love how they ride high on this stable steel frame that fits pets up to 32 pounds!
With one quick adjustment, the front swivel wheel locks when pushing over rough terrain like grass, sand or cobblestone for extra stability. The spacious storage basket is great to bring along supplies such as treats, toys or water bottles.
The Hauck TOGfit Pet Roadster is a great option for dog owners that are looking for more features! With a padded mattress and mesh windows, you can be sure that your pup will feel extremely comfortable inside this dog stroller.
Pros
---
Tear-resistant mesh for air circulation
Large zippered rear door allows for easier exit
Comes with a padded mattress, providing maximum comfort for your dog
#9 PawHut Foldable Dog Stroller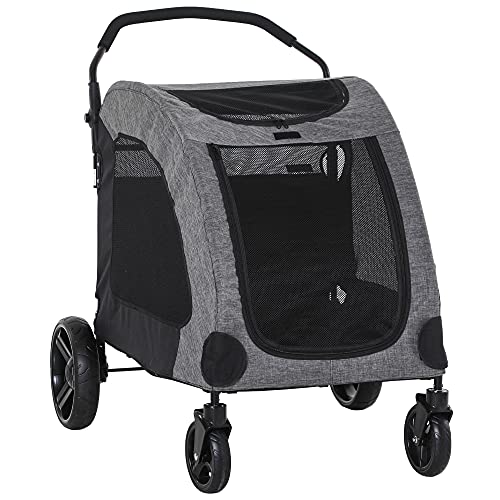 The Pawhut Foldable Dog Stroller is designed for your dogs on the go. It folds up easily and conveniently when not in use, saving space in your home or car. The netted window provides great ventilation and two large windows on each side of the fold-away stroller allow you to keep a close eye on your dog at all times as he snoozes away inside.
Safety features include swiveling front wheels that rotate 360° and safety brakes for every rear wheel to help prevent any missteps while walking with human companionship. Made from Oxford material that lasts through everyday wear and tear, it can withstand heavy loads like 121lbs so you don't need to worry about leaving your dog unattended ever again!
Unlike most of the other dog strollers (which can accomodate only small breed dogs), the PawHut Foldable Dog Stroller is suitable for heavier dogs – up to 121 lbs.
Pros
---
Made from wear-resisitant Oxford fabric material
Its frame is foldable, meaning that the pet stroller can be stored easily
Comes with multiple mesh windows, which provides good ventilation
#10 Petique All Terrain Berry Pet Stroller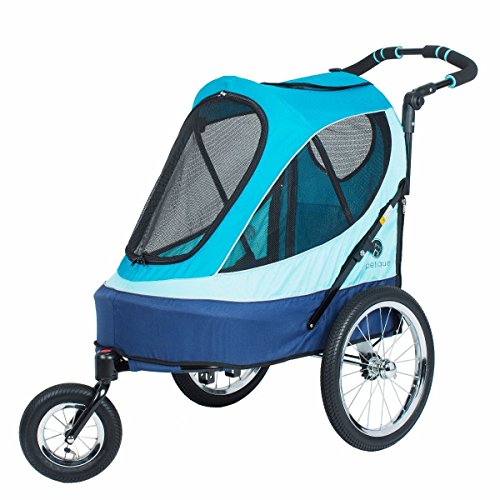 Whether you're looking for a relaxing stroll in the park or traversing some tough terrain, your dog will love the Petique All Terrain Berry Pet Stroller. This unique dog stroller has an innovative design with wide tires that absorbs shock and offers traction on rough terrains.
In addition, there is a plush seat for comfort and five other accessories included: removable fabric; two extra strong pockets to hold supplies such as water; cell phone; barbells…whatever we've left out The heavy-duty frame can support dogs up to 60 lbs (30 kgs) which means it's perfect for bigger breeds like Rottweiler pups and French Bulldog mixes.
With a variety of features to consider including ergonomic handle with EVA foam grip, one-step dual wheel braking system and durable PVC mesh design, this pet stroller from Petique provides innovative features that lead to an overall fun experience for both your pup and you.
Pros
---
Large tires – which helps for a smoother, less bumpy ride
Weight capacity of up to 60lbs
Removable machine washable fabric for easier washing
#11 Ibiyaya 5-in-1 Dog Stroller With Detachable Carrier
SALE ALERT!!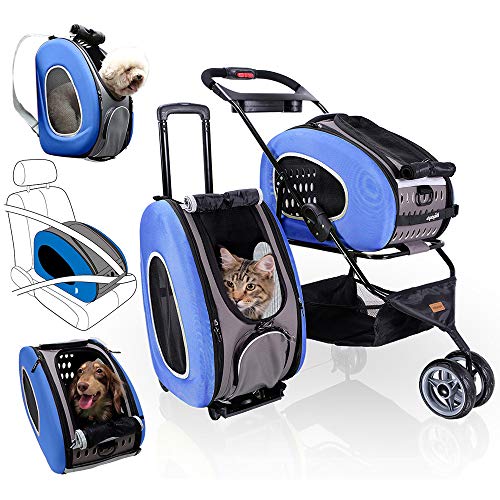 Ibiyaya is perfect for stylish dog owners who want to make sure that their furry companions are always comfortable when they're on the go. This 5-in-1 dog stroller with a detachable carrier lets you convert it into a shoulder carrier, dog backpack carrier, car seat, stroller, or backless dog carrier.
The Ibiyaya's sturdy wheels and one-hand folding mechanism combined with passed environmental stress-cracking resistance and SGS quality tests ensure that your dogs will be safe and sound from day one. You won't have to worry about nauseous substances in the air either – just press the 360° swiveling front wheel locks at any time during use before reclining into its spacious design.
This modular carrier can be converted into five different modes – a shoulder bag, backpack, private pet car seat, walker with wheels or a carrier upon request.
Pros
---
5 different versitile configurations
Foldable space saving design
Sturdy yet lightweight metal frame
#12 Petbobi Large Dog Stroller
SALE ALERT!!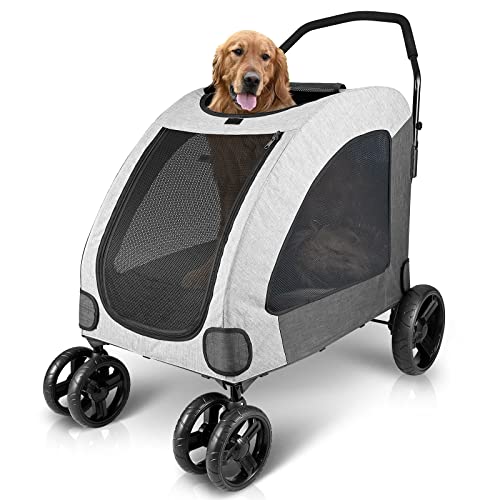 The Petbobi dog stroller has a spacious cabin that can fit dogs up to 120 pounds. This durable and lightweight dog stroller is perfect for any active dog owner with a larger pup.
Made of waterproof oxford, it is easy to assemble with mesh screens for airflow. The thickened iron pipe ensures the stability of the whole cart, and its four wheels make maneuvering rough terrain much more manageable. Front wheels enable you to deal with rougher terrains without getting stuck – so go ahead and try an off-road adventure if your canine four-legged friend allows.
It has a front brake system designed for extra safety against accidents like sudden jolts from bikes or cars in traffic, which means no worries when hiking on rough terrain or going over rocky paths
The Petbobi Large Dog Stroller is a sturdy, lightweight dog stroller for dogs up to 120 pounds. Made of waterproof oxford with mesh screen windows and four wheels that can tackle most terrains, this cart provides the ultimate in comfort and safety.
Pros
---
Suitable for dogs up to 120lbs
Thickened iron pipe sturdy frame
Made with waterproof oxford material with zippered pockets
---
Dog Stroller Buyer's Guide
---
We understand that you want nothing but the best for your little four-legged friend and that's why we've decided to help you out. Although you can't make a mistake if you decide to buy one of the products from our list, it is true that some dog breeds feel better in certain types of dog strollers. Therefore, your dog's breed, as well as its size and weight must be taken into account when shopping for a stroller.
Related: Best Dog Carrier Sling
Choosing The Right Size
The first thing you got to check is the weight limit of the stroller. Usually, what says in the specs is slightly lower than the actual weight the stroller can handle. But, if you push it to the limit, the chances are that it won't serve you well for too long.
Apart from the maximum weight, you also need to check the actual dimensions of the dog compartment, including not only its length and width but its height as well. The bigger, the better is the rule here. Your dog is going to feel best if there's plenty of room for it to sit, instead of laying down all the time.
Still, this doesn't mean that you should get the biggest one even if your dog is tiny. Smaller dog strollers are not as heavy as large ones, therefore, they're usually much easier to handle.
Another reason why you ought to pick a perfectly sized stroller for your dog is that you won't have to waste more storage space than necessary.
Related: Best Dog Bicycle Trailer
Making Sure The Stroller Is Comfy
If your dog has just had surgery, you can speed up its recovery by taking it to the fresh air. The only way to do it is by using a dog stroller. The problem here is that not all dog strollers are cozy enough for a dog that's recovering from an illness.
This is why you ought to pay attention to the good cushioning the mat provides instead of the stroller. Apart from being nice and soft, it also needs to be thick enough so that dog wouldn't feel cold. In the best-case scenario, the mat should be made of tear-proof material. So, even if your pup is a nervous little devil who likes tearing things apart, he won't be able to destroy the interior of the stroller.
Another thing to pay attention to is how breathable the stroller is. It needs to have a large mesh window that would let the fresh air in, but without letting any insects get through.
You also need to pay attention to the hood, which shouldn't be transparent, at least not all the way around. Otherwise, it wouldn't provide good protection from the sun. Of course, dog strollers are meant to be used all year round, so the hood needs to be made out of material (such as Oxford fabric) that won't let rain through.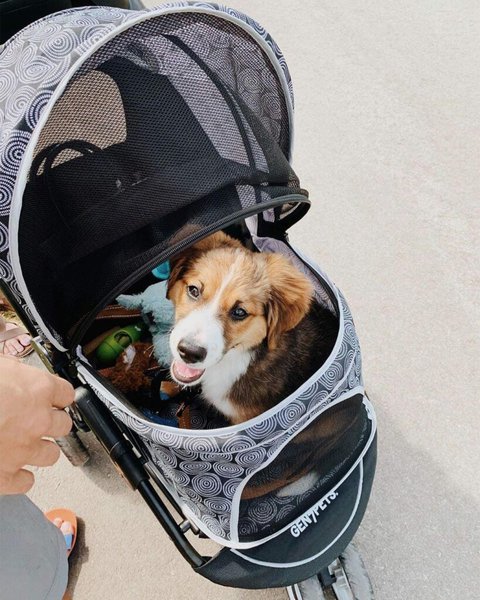 Easy To Handle
It's essential for the stroller to be easy to handle, especially if you plan to use it for a heftier dog. A thing that makes it easy to maneuver is the rotating wheel (or wheels) upfront. Speaking of wheels, you also need to take a look at what they're made of, as it's something that can tell you a lot about its terrain capabilities.
The thing about air tires is that they make it easier for you to push the stroller around while ensuring the dog won't get catapulted in the air every time you hit a bump or a hole on the road. However, if you're planning to take the stroller off-road, there is a risk that these types of wheels might burst. In that case, a much better solution is to choose a stroller with plastic or rubber wheels.
And there's also the issue regarding the height of the stroller. If you got to bend your back to push it around, the stroller is no good. The ideal dog stroller needs to come with a handle that perfectly matches your height. Unfortunately, it is challenging to find one that 100% matches your height, which is why we advise focusing on those that come with adjustable handles. This way, you, as well as each member of your family, will be able to adjust it according to your own height.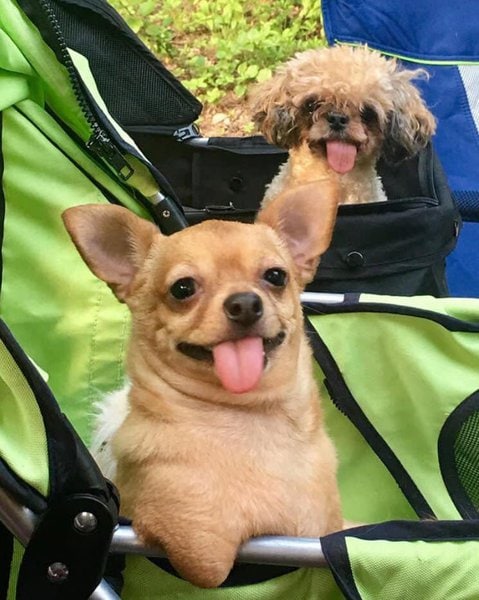 Best Brands To Look For
As there isn't a single specification that can tell you whether a dog stroller is going to work fine for a long time, the best thing you can do is read people's reviews and recommendations. Unfortunately, they can sometimes be biased or just written by the sellers themselves.
But, there is a solution – just focus your dog stroller quest on those products manufactured by reputable brands. As these brands have no intention of ruining their reputation, they will not make a stroller that's not durable.
If you have no idea about anything related to the manufacturers of dog gear & equipment, let us tell you which brands are considered the best. Here are some of them:
You can't make a bad decision if you decide on buying a dog stroller manufactured by one of these companies. Still, if you want the very best for your furry friend, our advice is to go with a stroller discussed at the top of this article.
What About The Price?
Of course, one of the most important criteria for choosing a dog stroller is its price. If your dog is going to need it for just a few days (if it's recovering from surgery, for example), then it would be not advisable to spend a decent chunk of your salary on a stroller.
That's precisely the reason why you can find all sorts of dog strollers among our 12 reviews, including those whose price is way below the one-hundred-dollar mark.
Related: Best Dog Car Crate & Carrier
---
Final Thoughts
---
It's true that dogs are happiest when they get to run around, but sometimes they just can't do it. Whether your dog is too young, too old, or recovering from an illness, a stroller would enable you to take them outside on fresh air.
The problem here is that if a stroller is not comfy enough, your dog will not be happy and neither will you. Therefore, our advice is not to risk anything. Choose one of the top-rated strollers from our list.
If you want the very best one, go with Pet Gear's No-Zip NV Pet Stroller!