The best dog bed for large dogs is Big Barker Orthopedic Dog Bed.
Do you have a large breed dog? If you do, you will need a dog bed that is made specifically for them.
Dog beds are an important accessory for any dog parent – they help to keep your XL-sized canine well-rested and comfortable.
This is especially important for larger breed dogs (such as the Great Dane or Rottweiler), as they have a tendency to suffer from hip and joint problems. That's where letting your dogs sleep on a dog bed will be important – it helps to ease the pain and discomfort that is associated with these conditions.
In our guide, we will take you through the 16 best dog beds for large dogs, to provide the ultimate comfort for your furry friend.
#1 Big Barker Orthopedic Dog Bed
SALE ALERT!!
The Big Barker 7-inch pillow top orthopedic dog bed is our best choice because it is more comfortable than other products and is specially made for large dogs and giant breeds.
With a 7-inch memory foam and a pillow top, this dog bed is sure to assist your pup in getting a very peaceful sleep. Handmade in a workshop based in California, USA, the bed is made by experienced professionals who use the best materials available, guaranteeing you value for your money.
It is not only comfortable and luxurious but also offers joint support. With joint support, this bed helps to alleviate any joint aches.
The 10-year warranty backs the quality of the Big Barker orthopedic dog bed. This bed is elegantly built and adds a classy touch to your home's interior décor.
Pros
---
This dog bed's 100% micro-suede cover is machine-washable and easy to clean.
Clinical studies carried out by the University of Pennsylvania have shown that this Big Barker bed effectively reduces canine joint pain and stiffness while improving overall joint health.
This dog bed comes in Large, Extra Large, and Giant sizes to cater to different large pooch sizes.
Big Barker Orthopedic Dog Bed is handmade in the United States with a premium orthopedic foam material that is designed to last for a considerable period.
Although this bed doesn't have a non-slip bottom, its large size ensures that it doesn't shift around under a pooch's weight.
Cons
---
The cover of this dog bed isn't made from chew-resistant material, so determined pooches will be able to dig through and tear up the cover.
Customers claim that the large Big Barker bed is too narrow to be comfortable for large pooches that like to curl up when sleeping.
#2 FurHaven Giant & XL Pet Dog Bed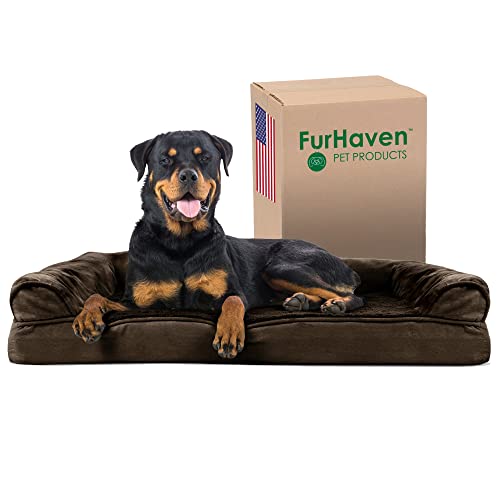 If you are looking for the best dog beds for large dogs but on a tight budget, then the FurHaven Pet Dog Bed is perfect for you.
This dog bed features an orthopedic foam base to support your pooch's joints, keeping your young pups in shape and the aging ones providing more comfort. On top of that, it has soft, supportive edges with a comfortable sleeping surface ensuring your furry friend enjoys long naps without getting disturbed.
A water-resistant polycanvas fabric makes up the base of the bed making it more durable compared to other beds. The bed made in the USA is rigorously tested to have the best quality.
The soft sleep surface is friendly to the paws and noses of your dogs. This extra-large dog bed comes with a removable zipper cover that is machine washable.
Pros
---
This bed's main sleep cover and supportive bolsters are lined with cuddly plush faux fur and easy-care suede, respectively, to ensure that pooches feel comfortable when burrowing or snuggling on the bed.
The bed's cover comes with a zipper that makes it easy to remove and wash, and the cover itself is machine-washable.
The foam used to manufacture this dog bed is completely manufactured in the United States and independently tested by the CertiPUR-US program to guarantee that certain quality standards are met.
This jumbo-sized bed comes with a 30-inch by 27-inch sleeping surface that is wide enough for large-sized pooches to comfortably lay on.
This FurHaven bed is thoughtfully designed with three side bolsters that provide additional support for pooches, as well as an open side that is convenient for small, older, and arthritic dogs to climb on.
Cons
---
Several customers claim that this dog bed's inner foam material sinks easily and is too thin to effectively provide any form of support for their pooches' hips and joints.
The raised pillow rim around the bed's edge doesn't have any support, and it tends to wear down and flatten to the bed's level after a few months of consistent use.
#3 BarksBar Gray Orthopedic Dog Bed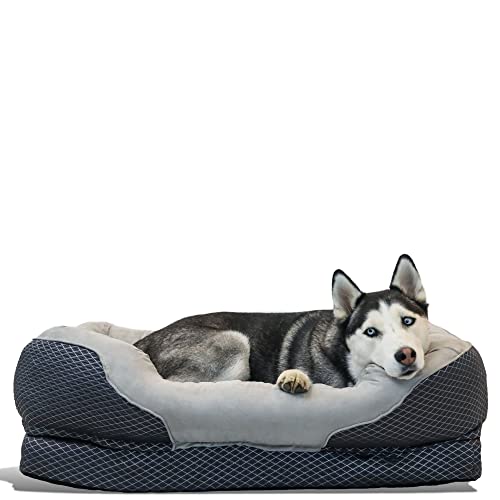 With an ability to support weights of up to 100 lbs, this dog bed is a perfect solution to large dogs and even several small pups. The bed features an orthopedic base that helps in alleviating joint aches, arthritis, and other mobility-related concerns.
We like that it has a non-slip rubber backing to minimize any unwanted accidents. It also has cotton-padded walls for that added comfort.
Pros
---
This large-sized bed features a 36-inch by 24-inch inner sleeping space, which makes it comfortable for large pooches to lay in.
Non-slip rubber backing on this bed's bottom ensures that the bed doesn't slip and slide on wood and tiled floors when under pressure from a pooch's weight.
This product comes with a soft polyester plush cover for comfort and a cotton-padded rim cushion that supports the neck of a pooch sleeping on the bed.
Installing this bed is straightforward; start by unwrapping the orthopedic foam, inserting it into the base of the bed, and zipping the cover close.
The bed's cover is removable and can be machine-washed on a gentle and delicate cycle.
Cons
---
This bed's cover isn't chew-proof, so it may not withstand aggressive chewing from pooches.
This bed's foam tends to trap fur from pooches that shed a lot, and this fur can be very difficult for dog owners to get rid of.
#4 Friends Forever Orthopedic Dog Bed

Apart from providing comfort to your fluffy friend, a good canine bed should also be durable and look presentable when placed in the house. This is one of the qualities of Friends Forever orthopedic dog bed. The cover is water-resistant and fur-resistant, leaving you with little cleanups afterward.
The human-grade memory foam gives the bed ultimate comfort. With a 1-year limited warranty, you can assured of quality delivered in the product.
Pros
---
This orthopedic dog bed comes with cushioned bolsters that provide appropriate joint support for pooches.
The bed comes with a removable cover that can be machine-washed for easy maintenance.
The Friends Forever dog bed is easy to assemble and disassemble for washing when necessary.
Human-grade memory foam is used as this product's fill material helps to ensure that dogs are comfortable when lying on the bed.
This bed has a huge clearance that provides ideal and ample sleeping space for large-sized pooches.
Cons
---
Several customers have claimed that this dog bed comes with an overpowering odor, which suggests that chemicals may have been used in the manufacture of the memory foam.
There are no replacement covers available for bed covers damaged by pooches that are aggressive chewers.
#5 PetFusion Large Dog Bed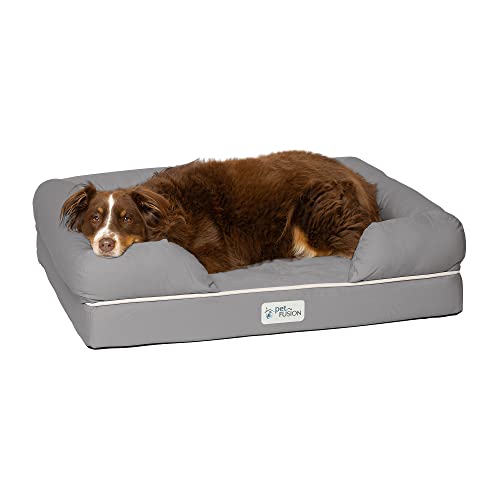 With a comfy head and neck support for your pooch, PetFusion is your go-to choice of dog beds. It provides enough comfort to your dog, regardless of its size or age. This dog bed also has a 4-inch memory foam with a bolster to provide your dog support and comfort.
The durable and comfortable polyester/cotton material used is friendly to the dogs and is soft enough to give your furry friend a cozy sleep.
Support bolsters of this dog bed are generously filled, and they offer maximum support for your dog's peaceful sleep.
Pros
---
This bed has a 4-inch memory foam base that provides medium firmness for a pooch's comfort when sleeping.
Each part of this large dog bed – the bolster, memory foam base, cover, and liner – is removable, which makes washing and maintenance a breeze.
The PetFusion bed has filled bolsters on three sides to provide ample neck support for pooches and opportunities for nestling.
The CertiPUR-US memory foam used in manufacturing this large orthopedic dog bed is devoid of chemicals such as mercury, lead, and formaldehyde that can harm pooches.
The non-skid bottom of this product ensures that the bed doesn't shift around under a pooch's weight.
Cons
---
Several customers claim that this dog bed product has PF zippers with plastic teeth rather than the YKK zippers with metal teeth that are advertised.
The bed is made of fur-retaining fabric, and this usually gives owners of medium-shedding and high-shedding pooches a difficult time when cleaning.
#6 JOYELF Orthopedic Dog Bed
SALE ALERT!!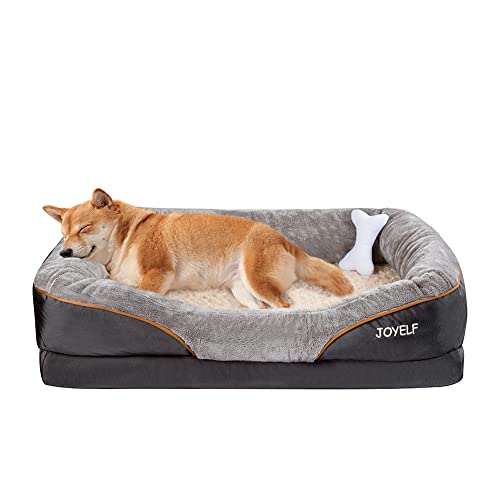 This dog bed from JOYELF has been manufactured with attention to the tiniest details. The human-grade solid memory foam used in the dog bed is both durable and comfortable. The cushioning of the pillow provides more support to the pooch and has better orthopedic functionalities.
The built-in non-slip rubber base is ideal for preventing unnecessary accidents. The waterproof cover comes in handy especially when the dog is aging.
Pros
---
This orthopedic dog bed features a solid memory foam base constructed with flame retardant materials that contour perfectly to a pooch's body to provide comfort and support for bones and joints while sleeping.
Built-in non-slip rubber backing on the bottom of this JOYELF product helps eliminate unnecessary movement of the bed caused by a pooch's motion.
This bed is surrounded by soft and fluffy PPcotton-padded bolsters that provide additional support for a pooch's neck.
Customers can unzip this bed's bolsters and foam base and toss the bed's cover into a machine for easy washing.
This bed comes with a squeaker toy gift that most pooches will love.
Cons
---
Customer feedback suggests that the rubber-lined material used for the bottom of the bed is cheap, as the product tends to crack and peel off in bits after washing.
Some customers claim that their JOYELF Orthopedic Dog Bed came with an unpleasant chemical smell that is difficult to get rid of.
#7 MidWest Deluxe Bolster Dog Bed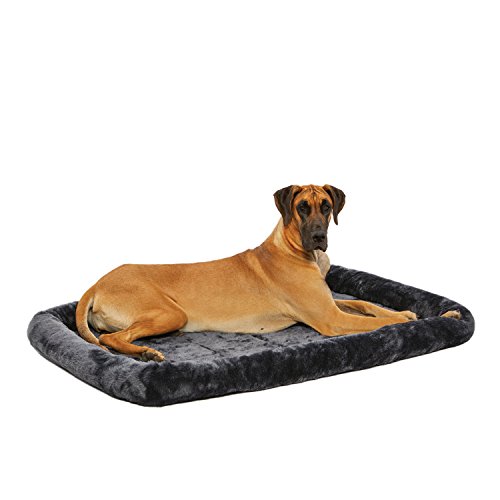 Made specifically for your dog's comfort and cozy periods of sleep, this dog bed from MidWest fits inside 36-inch dog crates and can also work as a stand-alone bed. The bed comes with four straps at the bottom to keep it in balance and to also make sure it does not bunch up when putting in crates.
It is also exquisitely soft to add more comfort while containing a double bolster which unrolls to provide a sense of comfort and security around the walls of the crate.
Pros
---
This bed features padded polyester bolster cushions along its sides, thereby providing a comfortable platform for pooches to lay their heads on.
This dog bed is suitable for use in a variety of locations and situations, including in crates, dog carriers, dog crates, and dog houses.
The fleece material used in making this dog bed's cover is both removable and machine-washable, which makes cleanup easy.
The bed can be folded for convenient storage and transportation.
The ultra-soft, rich texture faux fur used for this bed's exterior provides a surface that pooches can comfortably sleep on.
Cons
---
Several customers claim that the fiber material used in making the exterior of this deluxe bolster dog bed tends to shed and fall off without reason, making a mess in the process.
The center/base of this dog bed has insufficient cushioning, which usually makes the bed uncomfortable for pooches to lay on.
#8 Majestic Pet Poly-Cotton Sherpa Bagel Dog Bed
40" Blue & Sherpa Bagel Bed By Majestic Pet Products
Outside Dimensions: 40"L x 29"W, Inside Dimensions: 30"L x 18"W, Bolster: 9"H, Cushion: 8"H. Perfect for large dogs 45 -...
Waterproof Denier Base: Base of round bagel bed is made of waterproof 300/600 Denier for any unwanted accidents or...
Premium Materials: The dog bed is stuffed with a Premium High Loft Polyester Fil and is fully machine washable. Warm...
With a bagel-like look, this dog bed is extremely appealing not only to the dog but also to you, adding a nice touch to your home décor. It is made from premium polyester fill, which is 100% machine washable and more comfortable.
The denser fabric which makes up the base is waterproof hence avoiding spillages and other unnecessary cleanings. The materials used are highly durable yet quite inexpensive.
It features a bolster that keeps your furry companion well supported, as this helps to straighten their spines when they are resting on it.
Pros
---
This Majestic Pet bed comes with bolsters on all sides, providing a convenient platform for pooches to rest their heads.
The Majestic Pet Bagel Dog Bed is designed with a 300/600 Denier waterproof base that offers a level of protection against accidents and spills.
The inside of this dog bed is stuffed with high loft polyester fill that provides a comfortable surface for pooches to lay on.
The round design of this plush dog bed offers 360º of comfort and provides a hugging feel for pooches.
Cons
---
Several customers have remarked that this dog bed product comes with too much stuffing, which results in the center of the bed being higher than its bolsters.
This bed's cover can't be removed, making cleaning and maintenance somewhat a hassle for dog owners.
#9 MidWest Homes Large Deluxe Dog Bed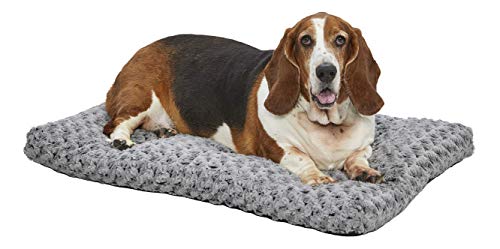 This dog bed provides your pooch with a cozy and comfortable place to sleep while complimenting your home's décor. It is made from ultra-soft synthetic fur and has a non-skid grip at the base to prevent accidents. The dog bed is dryer friendly and machine washable.
Available in different sizes and colors, you have various options to choose from which will be more design-friendly for your pooch and your house.
Pros
---
This MidWest product offers variety as it can be used either as a standalone dog bed or for the lining of a dog crate, dog carrier, and vehicle.
This tufted cushion bed for dogs features a non-skid bottom surface that helps prevent the bed from unnecessarily shifting when a pooch either steps on, steps off, or sleeps on the bed.
The swirl pattern of the ultra-soft polyester material, which typically blends from light gray to charcoal, used in producing this dog bed looks great and contributes to home aesthetics.
Maintenance is convenient as all the parts of the dog bed product are machine washable.
Cons
---
There is a noticeable absence of bolsters for canine neck support around the edges of this bed.
The durability of this dog bed is suspect, as several customers have remarked that the bed tends to get very flat fairly quickly.
#10 Best Friends Shag Faux Fur Donut Cuddler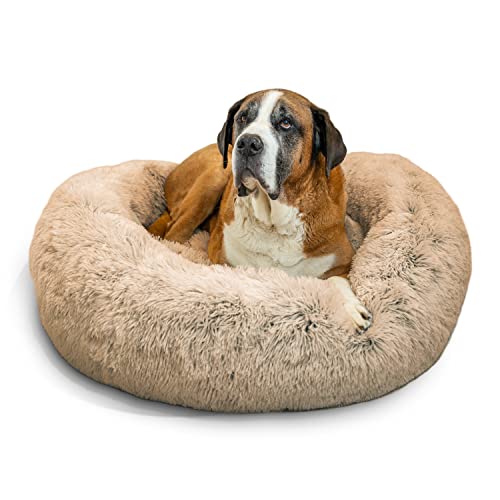 The large round design of this dog bed is ideal for large dogs that prefer to curl up. The faux shag fur is not only comfortable but also has a self-heating functionality to keep your pet warm during the colder seasons.
The round design provides a sense of security while the bolstered edges have orthopedic functionalities aiding your dog's joints and spine.
Pros
---
The raised edges of the Best Friends Donut Cuddler provide an ideal platform for pooch burrowing, support for a pooch's neck, and extra orthopedic support for dogs.
Best Friends Donut Cuddlers come in a variety of natural color options that fit seamlessly with home décor.
This dog bed has a water-resistant nylon bottom that offers a layer of protection for floors in case of an accidental spill.
The round shape design of this Donut Cuddler is ideal for pooches that like to sleep in a curled-up position.
This bed is thick and luxurious, with its faux fur material being soft to the touch and providing sufficient comfort for pooches.
Cons
---
Several customers have claimed that this dog bed gets spoiled during machine washing, with seams bursting open and the bed's tiny polyester filling bits making a mess in the washer.
Customer feedback also suggests that the center of this Faux Fur Donut Cuddler could do with a bit more stuffing, as one can feel hard floor surfaces through the center of the bed.
#11 The Dog's Bed Premium Orthopedic Memory Foam Bed
Made from a high-quality, premium-grade luxury 4-inch memory foam, this dog bed gives your dog the ultimate comfort it needs while sleeping. With complete orthopedic aid, this dog bed is ideal for aging dogs or those who may have issues with their joints.
This dog bed also allows enough room for stretching out while the two layers of orthopedic memory foam and the high-density premium foam give your dog maximum comfort.
It comes in a few large sizes, such as:
Large: 40 inches long by 25 inches wide by 6 inches thick.
Extra-Large: 46 inches long by 28 inches wide by 6 inches thick.
Giant: 54 inches long by 36 inches wide by 6 inches thick.
Pros
---
Customers can remove this bed's cover to wash with a machine. Alternatively, customers can vacuum or wipe the bed's easy-clean cover to clean drool or other liquids.
This dog bed product comes with a waterproof mattress protector that is designed to catch and protect the floor from dog urine, either due to incontinence or accidents.
This bed's design of orthopedic memory foam over support foam provides adequate stability for pooches while still being soft enough for dogs to lay on.
Customers can purchase replacement covers for this memory foam bed in the event that the original cover gets damaged.
Cons
---
Several customers claim that this memory foam bed's cover is too thin, with there being instances where they can even see through the cover.
Some customers have also commented that The Dog Bed's memory foam product tends to make a lot of noise when pooches shift on the bed.
#12 The Dog's Bed Premium Memory Foam Orthopedic Dog Bed With Bolsters
With an extra-large size, this dog bed features 10-inch bolsters to provide extra support, comfort, and orthopedic functions. It is made of a faux fur top with suede sides which ensure comfort and durability of the bed.
The comfort this dog bed for large dogs provides is of the highest quality, might even beat your bed or sofa! The waterproof materials protect the dog bed from damage and also avoid accidents.
Pros
---
This bed comes with bolsters on three sides to provide additional neck support while also ensuring that pooches don't roll off the foam when sleeping.
This dog bed is thoughtfully designed with an open end providing easy access for pooches with reduced mobility that may find it difficult to climb over the bolsters into the bed.
The bed comes with removable covers that are easy to wash and dry fairly quickly.
Customers can purchase replacements for covers that are damaged by a pooch's chewing or digging.
Cons
---
The plush material used for this bed's cover is difficult to clean by vacuuming.
Some customers find odors and stains tend to get into the inner foam bed, and once they get in, they are extremely difficult to get rid of.
#13 Villa Bagel Dog Bed By Majestic Pet Products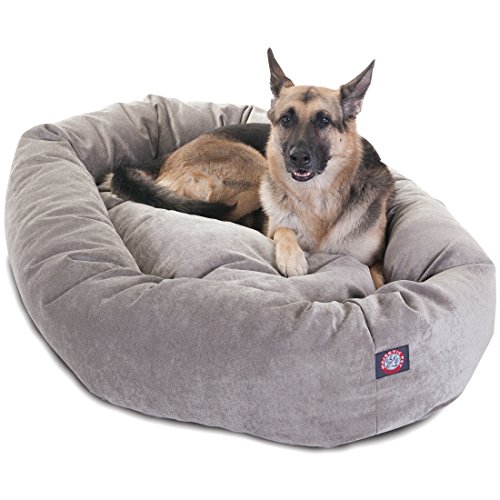 52 inch Vintage Villa Collection Micro Velvet Bagel Dog Bed By Majestic Pet Products
Dimensions: Approximately 52"L x 35"W x 11"H. Perfect pet bed for extra large sized dogs between 70 - 100 lbs
Waterproof Denier Base: Base of round bagel bed is made of waterproof 300/600 Denier for any unwanted accidents or...
Premium Materials: The dog bed is stuffed with a Premium High Loft Polyester Fil and is fully machine washable. Gentle...
Designed to give 360° comfort, this dog bed is the ultimate option for good sleep. Stuffed with premium high loft polyester fill, this dog bed can last for a longer time than others. The bolsters on the walls of the bed provide additional head and spine support.
This bed is not only designed for comfort but also for style. The different colors available will give you an option to complement your home's décor.
Pros
---
The base of this dog bed is made with waterproof 300/600 Denier, which offers protection against accidents and spills.
Villa Bagel Dog Bed has bolsters on all sides to provide extra head support for pooches and to help straighten the spine when a dog is lying down.
The bed comes with a removable cover that is machine-washable, thereby providing convenient maintenance for dog owners.
This bed is stuffed with high-loft polyester fill to provide a comfortable lying surface for dogs.
This dog bed product comes in ten different color options, which provides a seamless fit with existing home décor.
Cons
---
Customers claim that the bed's stuffing is a bit excessive, and this results in raised centers that cause pooches to roll off the bed.
Several customer reviews have highlighted the poor quality of the Villa Bagel Dog Bed's zippers.
#14 Bedsure Large Orthopedic Foam Dog Bed
SALE ALERT!!
We all want our furry friends to be comfortable, and this is why you should consider getting the Bedsure Large Orthopedic Foam Dog Bed. You can use it for not only dogs but also cats or other pets you have.
The dimensions of this 3-inch bed are 36 inches long by 27 inches wide by 3 inches thick. Its egg crate foam design offers even weight distribution, and older dogs would definitely find it comfortable.
This is a reversible bed as both sides are made of Oxford fabric. The rectangular Plush Sherpa top pet bed offers more comfort and space for your pet to stretch out. While the inner foam is not washable, the outer cover has a zipper and is easily removable for cleaning.
A comfortable dog bed is a must for my pet. If you have a senior dog, you don't have to worry that it is not sleeping well. Bedsure Large Orthopedic Foam Dog Bed comes in different sizes and firmness. The fact that you can still clean the zipped external cover is an added plus.
Pros
---
This Bedsure large dog bed comes with a plush Sherpa top that is soft and cozy for pooches to lie on.
The bed comes with a zippered cover that can be easily removed and machine-washed for convenient maintenance.
This bed features a reversible design with Oxford fabric on the bottom and sides to ensure that dogs equally feel cool during summer.
Assembly of this large dog bed is easy as the Bedsure dog bed's cover can open on two sides, which makes it convenient for customers to slip in the foam and zip the cover shut.
Cons
---
Some customers claim that this product is too soft to effectively serve as an orthopedic foam bed for their dogs.
The lack of waterproof material under this bed's Sherpa top causes liquids to seep through and soak in the bed.
#15 KOPEKS Rectangular Orthopedic Memory Foam Dog Bed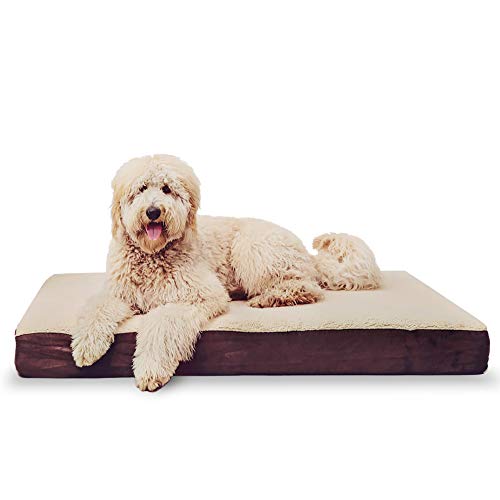 Made from 100% memory foam, this dog bed is of high quality and will last a long period without getting flattened. With a 6-inch thickness and a diameter of 50 inches, there is enough room and space for your pooch to stretch and have an enjoyable sleep without having to strain.
The round shape of the bed is unique and blends in well with your home's décor. It is easier for any dog to fit in and stretch itself, getting good sleep.
Pros
---
The KOPEKS dog bed has an inner waterproof cover and an external cover that can be removed and machine-washed.
This product has an anti-slip rubber bottom that helps keep the bed in place when a pooch is shifting.
The bed's construction features a soft micro-suede cover that provides a comfortable surface for pooches to snuggle on.
This KOPEKS dog bed is produced with hypoallergenic foam that is ideal for pooches with sensitivities.
Cons
---
The bed lacks side bolsters to provide additional support for a pooch's head when lying down.
Some customers claim that the bed's sizing is different from what is advertised.
#16 Magic Dog Super Soft Large Dog Bed
SALE ALERT!!
The Magic Dog super soft large dog bed is one of the orthopedic beds you should look out for. It is perfect for medium and large pets. The dog bed cover is made of 10% flannel, 15% fiber, 70% foam, and 5% silicone dots.
At the same time, the filling is made of foam and polypropylene. The bed is fur and scratch-resistant, although tour pet can bite through if determined.
If you have disabled or old pets, they are safe from falling off the bed, thanks to the non-slip bottom. All the materials used to make the bed are safe for use.
You will appreciate the well-detailed finish on the cover's inner and bottom. If you need to clean the bed, the removable cover with a zipper can be washed regularly. Keep in mind that you don't need to wash the bed filling.
The Magic Dog super soft large dog bed is yet another dog bed with perfect sizes to fit most dog breeds. The use of high-quality material means that the durability of the bed is assured. In addition, thanks to its non-slip bottom, the bed remains secured in position when placed on the floor. You can keep your dog bed clean with the removable cover with a zipper.
Pros
---
This product's non-slip bottom helps keep the bed in a fixed position, thereby helping to ensure the safety of active and elderly pooches.
This sleeping bed is stuffed with recyclable PP fiber and high-density foam, which combine to create a comfortable lying surface for dogs.
The bed's cover, which comes with a hidden zipper, is removable and can be washed with a machine.
The Magic Dog Bed's short fluff top is durable enough to resist scratches from dogs.
Cons
---
Some customers have commented that this bed is too thin to offer adequate support for large dogs.
Unfortunately, there is no option for customers to buy replacement bed covers for this product.
---
Dog Beds For Large Dogs Buyer's Guide
---
When going out shopping for your new bed or mattress, you always try it out first before buying. Moreover, you also have a few other factors to consider before settling on your best choice.
Well, the same also applies to dog beds. Since our large breed furry friends might not help us in picking the right bed for them, here are a few key factors you should consider before getting your canine's next bed.
Does It Fit Well To Your Dog's Size?
Usually, this is the main factor to consider while buying a new bed, especially for a larger breed.
Always keep your canine companion's size in mind. Look for a bed that will provide enough stretching and sleeping space for your pooch. Make sure that no legs are left hanging outside – not unless it is by choice.
What Is The Quality Of Material Used?
The quality of the materials used in the manufacture of the bed matter a lot when it comes to buying a new canine bed. Human-grade high-density foam is always recommended as it is more durable and can withstand heavier weights.
A big dog weighs more as compared to a smaller one, hence it is recommended to pay a little more for a better-quality dog bed. Otherwise, you will end up having the bed/foam flatten over time and it is not cost-effective to keep replacing the canine bed.
On top of that, a premium quality dog bed can last a long time, which is good for senior dogs. Older dogs are often troubled by joint pains (such as hip dysplasia) and back problems. The dog bed will definitely pay for itself in the future. In fact, given a good bed to sleep on in the early days will reduce the chances of your dog suffering age-related problems that older dogs commonly face.
Moreover, it is also essential to know your pooch's behavior.
If it is a livelier and playful dog, then it is recommended you get a high-density memory foam bed. But if the dog is less active and what it just does is sleep and weighs less, then you may consider low-loft fiber filling foams. Playful and heavier dogs also require foams with the firm and thicker bases to support their weight and take in all the pressure without getting damaged or flattening with time.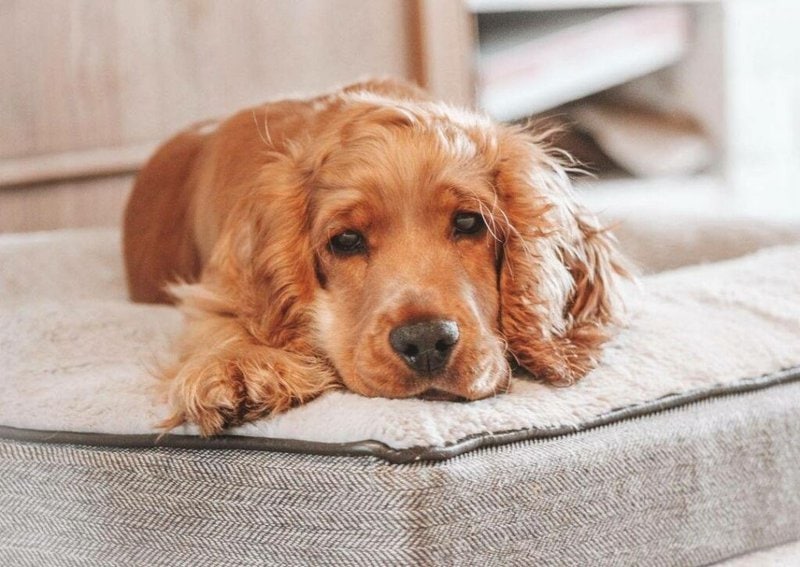 Does It Have A Removable Cover?
The best dog beds have a water-resistant removable cover. This is ideal when it comes to keeping your furry friend's bed clean at all times and maintaining your home's hygiene. Some dogs, especially the aging ones may at times have issues with their bladders and cannot make it to pee in their designated areas. Hence, the bed might get dirty.
If the bed is not made of waterproof materials, then the urine might get inside the foam which makes a foul smell coming from your dog's bed. It's also much harder to remove the urine smell from the foam as compared to the removable cover.
The cover should preferably be made from materials that are friendly to washing machines and dryers. Furthermore, the cover should be easy to remove and put back. We recommend that you look out for one that you can open and close with a zipper.
Different Types Of Dog Beds
We all have our preferences when it comes to selecting the perfect bed for ourselves. This might be because of different varying reasons, and that accounts for the many types of beds we sleep in. Just like us, dogs too have different preferences when it comes to the different types of beds.
With different functionalities and designs, it all depends on you to understand what your pooch will be more comfortable on. A few of the most common bed types include:
Bolster Style Dog Beds – These beds have a raised wall and give your pet a chance to lean on. This type is excellent for head support and is also great at offering your dog a sense of security, calming their anxiety. If you go for this type, always ensure that your pooch is tall enough to get in over the walls or if not, get a bed with a spot that has no bolsters or walls for easier entry.
Orthopedic Dog Beds – These beds are a perfect solution for dogs with arthritis or other joint issues. This is highly recommended for aging dogs as they are more prone to joint or spine challenges.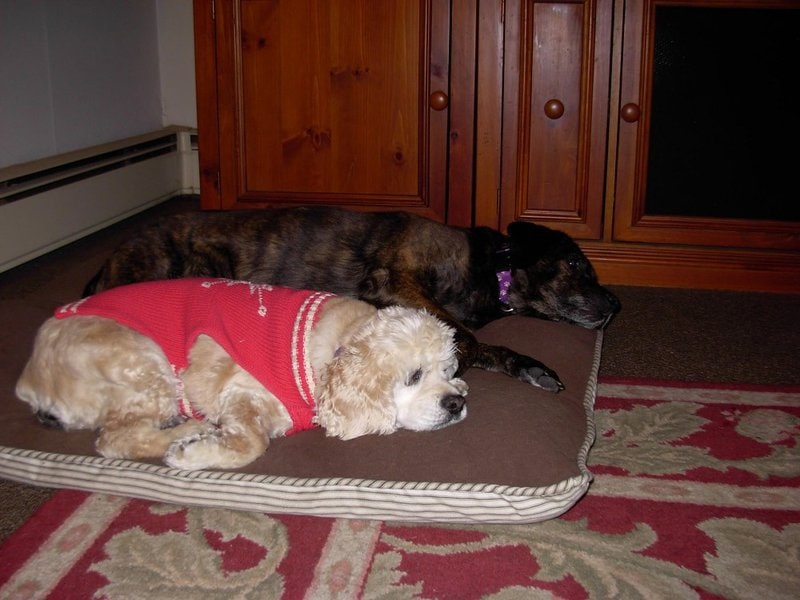 Location Of The Bed Matters
The location of where you will place your doggie's bed also matters a lot before purchasing one. If you will place it on a wooden or tiled floor surface, then it would be recommended if you bought one with a non-skid rubber base.
This is because dog beds with smooth fabric surfaces tend to move every time from one designated place to another. The ones with rubber bases tend to be more firm and cannot easily move unless you pick them up yourself and change their location. Moreover, beds with a rubber bottom are more secure and prevent minor accidents from occurring near them.
Colors And Design
The design and color of the dog's bed is one often overlooked trait. Getting a bed that would clash with your home's design would be a terrible idea.
Always consider your home's décor before purchasing a doggie bed. Consider the size of the room you wish to keep the bed and also consider the color. If your pooch loves going outside, then it would be recommended to get the cot-style bed which is elevated off the ground for a few inches.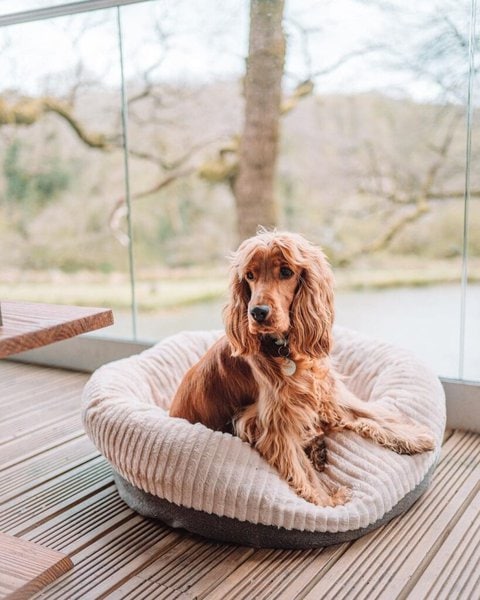 Budget Considerations
Applicable to every other purchase, you should always consider the prices before buying them.
The same is the case with dog beds. Cheaper models don't always have the best materials and comfort with them as compared to the more pricy models.
However, if you want the best bed while on a tight budget, our list covers you on that. We have covered some of the best canine beds in the market, which are heavily discounted from time to time.
Warranty Of The Dog Bed
Anything from a trusted dealer always comes with a warranty. The best canine beds come with a warranty, some cover up to 10 years! A warranty is usually one way of assuring clients that the product is safe and durable for a long period.
If anything happens to the bed during a specified period, then the company will be liable and either pay you or replace it with another. Always read the manual before buying the bed to understand the terms of the warranty.
---
Final Thoughts
---
If you love your dog, you wouldn't mind spending a couple of bucks for their safety and comfort. After all, they are man's best friends and give you that warm feeling. Take your time to go through our buyer's guide, as it gives you all the details of whatever to look for before purchasing a dog bed.
Our list of the 16 best large dog beds is very much conclusive. Rest assured that our top pick will sort your dog's security, health, and comfort needs – all in one bed!