The best pet odor eliminator is Sunny & Honey Pet Stain & Odor Miracle.
Living with pets can bring you all the joy in the world! However, this does come with its fair share of work.
You would have to clean up after your pet's messes at home – such as urine, pee, or even excrement. It's not just the stains that you have to remove, but the odor in the air too.
An easy (and effective) method of removing these stains and odors is to use a pet odor eliminator. It is also known as an "enzymatic cleaner" or a "deodorizing spray", which helps to remove stubborn stains and neutralize smelly pet odors in your chosen areas.
With so many different options available, you might be asking – just which is the best pet odor eliminator?
We consider a variety of factors from actual customer reviews to safety and pricing to identify our list of the top picks for pet odor eliminators.
In this article, we will help you find out the one that you definitely need to make living with a dog, cat, or even a pet bird so much more enjoyable!
#1 Sunny & Honey Pet Stain & Odor Miracle
SALE ALERT!!
All the products that we have reviewed here are tried and tested and absolutely safe for your pet and children at home.
But, there is no denying the Pet Stain & Odor Miracle from Sunny & Honey its top spot.
Why?
Simply put, it works like a charm.
This enzymatic cleaner is your one-stop solution for all your odor elimination needs. When it comes to cleaning up the mess caused by your pets, including dogs, puppies, cats, and other animals, you can trust this to mop it all up without giving pet parents the least bit of hassle.
It can handle urine, vomit, drool, and even feces stains effectively!
But you must be thinking, is it safe with pets and children?
Yes, definitely! The manufacturers care as much for the health and safety of your children as they do about the sale of their products. This is exactly why it does not contain harmful chemicals that could make things worse than just urine smells and drool stains. It is a pet-friendly, child-friendly, and planet-friendly product.
It has also been certified by The Leaping Bunny as a 100% animal cruelty-free product makes it even more popular.
What's more?
This pet odor eliminator is highly efficient at cleaning carpets, furniture, upholstery, tile, hardwood as well as concrete. You can also use this incredible cleaner to eliminate pet odors, including urine smell, from leather furniture, animal bedding, litter boxes, travel bags, and a lot more.
We recommend this product because it is an all-in-one solution for a pet owner who seeks to eliminate pet odors in the safest and most effective way possible.
Pros
---
Works great with removing urine smell and stains.
Eliminates pet odors completely instead of masking them.
Child-friendly and planet-friendly.
Cons
---
If you are asthmatic, we recommend that you wear a mask to prevent the inhalation of chemical fumes while spraying the product.
#2 Particular Paws Pet Stain And Odor Remover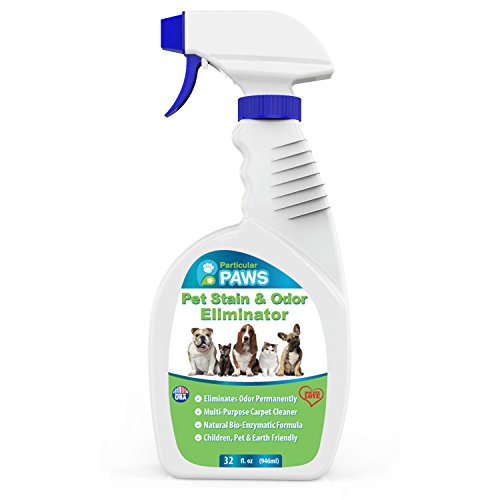 A lot of enzymatic cleaners can claim to eliminate new pet stains but how many would successfully remove old stains and pet odors?
While reviewing the top product, this is the one factor that made Particular Paws Pet Stain & Odor Remover our second favorite.
Its triple-action formula is professionally tried and tested to effectively eliminate the oldest and the toughest pet stains. It consists of a trio of good bacteria, enzymes, and odor neutralizers – that work on all kinds of pet stains.
Whether you have pet urine, feces, vomit, or any other organic stain, this has been formulated to deal with all while also preventing your pet from marking the same area all over again.
Did you know?
Most odor neutralizers in the market work by masking the odor with an overwhelming fragrance but that does not deter pets from returning to the same spot.
This is where the pet odor eliminator from Particular Paws comes in handy. It does not mask or overwhelm; rather, it gets rid of the source of the odor with the help of the beneficial bacteria and enzymes that chemically break down the organic stains.
Once proven to completely eliminate the odor, it is then tested on carpets and upholstery and tried for consistent results. Instead of restricting the product to carpets alone, the manufacturers have ensured that it can be used on many surfaces like cages, crates, litter boxes, and cars.
What's more?
This product is safe to use with pets and children around. It is an environment-friendly product that promises to leave behind a fresh and appealing fragrance once the work is over.
We recommend the product because of its versatility of use and its effectiveness on old and new pet stains and odors alike.
Pros
---
Works well on both old as well as new stains.
Can be used on most surfaces.
Made in the USA and comes with a manufacturer's 100% satisfaction guarantee.
Cons
---
The fragrance fades away quickly after use.
#3 BUBBAS Super Strength Commercial Enzyme Cleaner
After a long day at work, the last thing that you want to do is clean up the mess that your pet has just made. While you cannot really prevent Brownie the small pup from having accidents, you can at least have a product at hand that makes cleaning up seem like the easiest task.
This is the kind of formula we could find in the BUBBAS Super Strength Commercial Enzyme Cleaner.
The very first factor that stole the limelight was the use of dormant enzymes. Most odor eliminators use active enzymes in their formula while this product uses dormant enzymes.
And what is the difference, you might ask.
This odor eliminator's dormant enzymes become active only when they are introduced to organic food sources such as feces, urine, vomit, blood, etc. Dormant enzymes are way more effective than active enzymes because, unlike the latter, these don't sit on shop shelves for months and gradually lose their potential. They are as good as new whenever and wherever they are used.
The fact that this professional strength cleaner from BUBBA'S ROWDY FRIENDS can be used on a number of surfaces like mats, rugs, hardwood floors, tiles, carpets, and upholstery makes this even more popular. It is also versatile enough to remove a lot more than simple stains and pet odors.
It can cater to a wide range of things like dog urine, feces, vomit, coffee spills, soda stains, chocolate, human waste, etc. without the need to use a shampoo or even a steam cleaner. It further neutralizes the area affected to prevent your pet from getting a lead and using the same area again.
It is made up of natural ingredients and there are no harmful chemicals that could possibly be toxic to you, your pet, or your children.
We recommend this because it contains dormant enzymes that make life so much simpler and remove pet stains and odors so much easier.
Pros
---
Made from natural dormant bacteria, which activates upon contact with a surface.
Available in two size options; 32 fl oz, and 1 gal.
Cons
---
It could stretch your budget since the product is quite expensive.
#4 Angry Orange Pet Odor Eliminator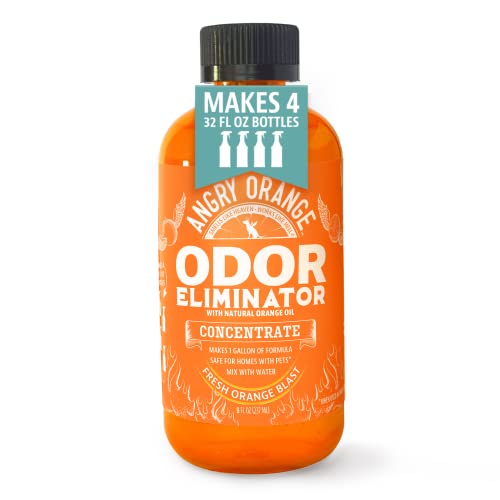 This Angry Orange Pet Odor Eliminator, which contains both orange oil and orange peels, is the most pleasant-smelling cleaner very effective against pet odors and urine. This can be sprayed into areas, such as litter boxes, kennels, or the yard.
This product helps to maintain your spaces odor-free and fresher than before. The solution is safe to use around children and, of course, your dog. It may also be used on hard surfaces, on clothes without stains, and even in the bathroom.
As urine hardens, its pH rises, making it difficult to remove. It attracts bacteria and causes the surface to discolor. With the help of Angry Orange, it will not only remove stains but also clean them and leave a pleasant scent behind.
In conclusion, the Angry Orange Pet Odor Eliminator is a product of great value. It removes stains and odors from pet urine and appears to deter pets from soiling the same area again. We loved that it has a pleasantly nice citrus scent, unlike the overwhelming, chemical-like scents from other products.
Pros
---
Works on both old and fresh odors and stains.
Has a pleasant citrus scent.
Packaged only in an 8 oz bottle in a concentrated form.
Has a long-acting formula.
Cons
---
Requires a preparatory step before use; dilution is needed to make the cleaning solution, simply add 4 tbsp into a 32-oz spray bottle of water.
#5 Rocco & Roxie Stain & Odor Eliminator
Rocco & Roxie Stain & Odor Eliminator for Strong Odor - Enzyme Pet Odor Eliminator for Home - Carpet...
CERTIFIED GENTLE AND SAFE Chlorine free and color safe. Safe to use around pets and children. No hazardous propellants,...
ELIMINATES STAINS, ODORS AND RESIDUE If it's gross, it's gone. Not just the stain, but the stink. From stinky yellow...
EVERY SURFACE, EVERY TIME For use on carpets, floors, furniture, clothing, litter boxes, kennels, carriers, all pet...
Whether you have stinky yellow poop stains to get rid of or vomit stains on your carpet, the Stain & Odor Eliminator from Rocco & Roxie ensures that both the stain and the smell are gone for good.
The basic problem with cleaning pet mess is the fact that they go deep down into the pores of the fabric and getting rid of the pet stains can be quite tricky.
The natural enzymatic bacteria of this spray get activated when they come in contact with pet odors and pet stains. This ensures deep and thorough cleaning.
It's free from chlorine too.
The fact that the spray is free from chlorine and is color-safe makes it safe to use with pets and children around. You will not have to worry about residual toxins or propellants. Your rugs and carpets will not face damage of any kind because the spray has been certified by the CRI to be safe for use on all carpets.
Whether the pet mess is on floors, carpets, furniture, carriers, or litter boxes, this spray can be used anywhere and everywhere. It also comes with a promise of a 100% refund if the customer is not satisfied with the results.
We recommend this Rocco & Roxie product because it is a best-seller on Amazon, it comes with a 100% satisfaction guarantee and it does not leave behind any residue, leaving your home smelling fresh.
Pros
---
Does not contain chlorine or hazardous propellants.
Available in two size options; 32 fl oz and 1 gal.
Eliminates pet odors and pet stains effectively.
Cons
---
The scent could be too strong for some users.
---
Pet Odor Eliminators Buyer's Guide
---
It's a promise. We are here to help you.
That's why we have identified all the factors that go into making an effective pet odor eliminator and compiled them into a Buyer's Guide to help you choose the best.
The guide consists of factors that you need to bear in mind before choosing a pet odor eliminator and a few tips from professionals. Its information should assist you as and when you need it.
The first thing to remember before buying any household cleanser is to ensure that it is safe for your pets and pooches.
If the cleanser leaves residues that are loaded with toxins and harmful chemicals, it is only going to worsen your situation by making your pet fall sick often.
This is why you should always opt for cleansers that have natural products as ingredients.
What To Look Out For When Choosing A Pet Odor Eliminator?
There are times when a sub-standard product gets released in the market and most users wouldn't know how to differentiate between the better and the worse. Here are the essential factors listed so that you do not end up bearing the consequences of a wrong choice.
All-Natural Ingredients When Possible
It is a wise idea to stay away from products that contain harmful chemicals. You may not notice these chemicals because they could be labeled as common household chemicals that are in reality toxic to your pets.
When you are not aware of chemical names, always opt for cleaners that have the least number of chemical ingredients and the manufacturers clearly mention them as all-natural.
Safe On Furniture And Upholstery
What's worse than wet dog smells? Carpets stained with products that contain bleaches! Always stay away from odor eliminators that contain bleach because these could ruin your carpet and its colors completely. If you have an all-white surrounding, you can consider using them but never otherwise.
You can ensure that you are buying a quality product by checking if it is certified for the same by the Carpet and Rug Institute. It helps customers to check whether the products are safe and can ensure their longevity.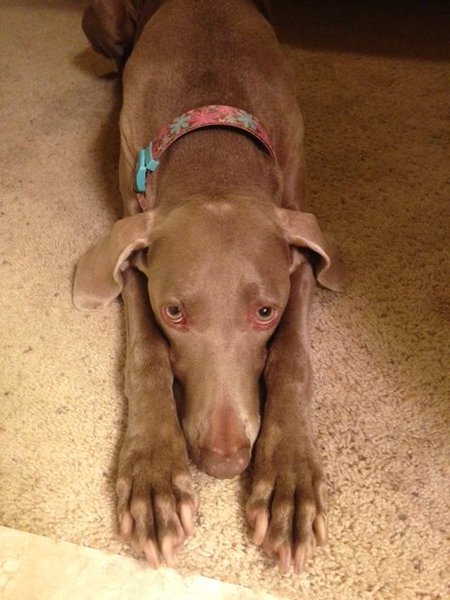 Additional Handy Tips From Professionals
Being a pet parent is not easy but it does get a lot more manageable when you are aware of a few essential pointers. Listed below are a few steps that can make your life easier when you have a pet around.
A newspaper can soak up a lot more urine than a washcloth or an equivalent. Use it generously. In fact, it is a better idea to use a newspaper before using a stain or odor remover because it will lead to a lesser mess.
The stained area should be cleaned thoroughly with cold water. Once that is done, it is advisable to dry it up by blotting it.
The final step is to spray or steam the area with an odor neutralizer.
There are also other DIY odor neutralizers that you can consider trying.
There are a number of ways in which you can prevent accidents from happening time and again. We all have our own ways of toilet training our dogs but knowing in advance the ways in which you could prevent further mess, always comes in handy.
The best way out is to always have an action plan ready whenever such accidents happen. If you don't, you might as well have to replace the entire carpet and who would want that?
---
Final Thoughts
---
A Spray A Day Keeps The Smell Away!
Now that you have a fair idea of which pet odor eliminator to choose, here's hoping that you opt for the one that caters to your preferences effectively.
The two factors to be kept in mind before you set out on your hunt are its safety of use and its effectiveness.
Last but not the least; even if you have finalized the best pet odor eliminator, always remember to housetrain your dog before it is too late.
It is always a good idea to inculcate good habits early in life.
We have listed the top picks, included a Buyer's Guide, and mapped out the reviews of the same to ensure that your efforts do not go in vain.
Whether you have poop stains or vomit smells sitting on your carpet looking nasty and smelling gross, you can trust these products, especially our top pick, to take care of them effortlessly.