The best dog blanket is TETON DOG Waterproof Fleece PET Throw Dog Blanket.
Comfortable doggy bed; check. Perfect toasty corner in the house; check. All that is missing now is the perfect blanket and your dog can start truly enjoying their much-deserved naps. To help you out, here are 11 of the best dog blankets on the market so you know where to begin your search.
#1 TETON DOG Waterproof Fleece PET Throw Dog Blanket
Comfort should be your number one priority when shopping for a dog blanket and this option delivers! TETON DOG Throw Dog Blanket stands out with the use of premium fleece lining. In addition to being soft and cozy, it is gentle on your pooch's paws and nose. It also helps keep them warm making it perfect for use on cold nights and during winter.
It also stands out with the use of nanopore technology for waterproofing. This is ideal if your dog is prone to potty accidents whether due to incontinence or lack of training. You, therefore, do not have to worry about constantly getting your floors, carpet, or furniture cleaned.
The best part is that you get to decide which side to use based on your specific needs with the reversible design of the carpet. The versatility means you get multiple services from one purchase whether you want something warm for the night or light and airy for daytime lounging.
With high-quality materials, superior comfort features and resilient-focused construction, it is not so hard to see why this is one of the best options on the market. It is ideal for puppies in potty training as well as older dogs. However, whatever age your pooch is, it is a fantastic blanket with a lot to offer.
Pros
---
The premium fleece, NanoPore backing fabric used for this dog blanket is stain-resistant and also machine-washable, which in turn makes maintenance easier for owners.
Additionally, the fleece material used in manufacturing this dog blanket is waterproof, thereby making this blanket ideal for sick, elderly, or incontinent pooches.
This blanket comes in eight different colored design variations to ensure seamless blending with home décor themes.
The reversible nature of this dog blanket ensures that customers can use it either way for their pooches.
This TETON blanket is designed to not shift or make noise when in use, thereby providing even more comfort to a pooch.
Cons
---
This waterproof dog blanket from TETON is one of the more expensive options on the market.
Many customers were disappointed with the product's quality because its fabric was reported to shed thread strands upon frequent washing.
#2 ALLISANDRO 350 GSM Pet Dog Blanket
What sets this blanket apart from other alternatives is the use of 350 GSM flannel fleece. This is not the ordinary run-of-the-mill type of fleece. It is incredibly soft to feel and therefore ideal for pooches with sensitive skin as there is no uncomfortable friction to be worried about.
Moreover, the material is built to be durable and resistant to mechanical damage from things like scratching and biting. So, if you have a doggy that gets a little too trigger-happy with its claws, this would be a fantastic option to help you protect your upholstery. Finally, the material does a good job of collecting fur and clears out easily.
The blanket measures 24 inches by 31 inches. This is a decent size for both uses as a blanket and a lounge pad. For this reason, it would be ideal for use if you are shopping for a puppy or a small breed of dog.
The Allisandro blanket is ideal for multipurpose use and with the use of 350 GSM flannel, it will not disappoint. Additionally, you do not even have to spend too much money to enjoy all these wonderful benefits as it is one of the more affordable dog blankets on the market.
Pros
---
This dog blanket is made of flannel fleece material which is fluffy enough to keep a pet comfortable while in use.
The versatility that this dog blanket offers is impressive as it has multiple purposes, such as a furniture cover, warm blanket, bath towel, and picnic blanket.
This blanket is portable and lightweight enough to be rolled up and transported from one place to another.
It is available in four different sizes and color options to cater to different dog needs.
The ALLISANDRO blanket is manufactured with material that can be washed in a machine for easy maintenance.
Cons
---
Customers claim that this dog blanket tends to shed a lot of lint before and after washing.
Several customers have been left unimpressed by the thinness of the fabric used to manufacture this pet dog blanket.
#3 furrybaby Premium Fluffy Fleece Dog Blanket
The furrybaby Premium Fleece Blanket is ideal for all-weather use. The fleece finishing ensures your pooch stays nice and cozy during cold weather. The use of polyester, on the other hand, keeps the dog cool by facilitating breathability on those hotter nights.
The best part is that with the high-quality construction, the blanket is durable and can handle all-year-round use without falling apart on you and shedding all over your home.
Speaking of shedding, the blanket does a really good job when it comes to protecting surfaces from the dog's fur. In addition to trapping whatever the pooch loses, the soft feel prevents further shedding due to friction.
This is a fantastic alternative if you love to cuddle with your dog. Whether it is a small pooch or a gentle giant, there will be plenty of room for everyone.
Pros
---
This blanket comes in five size options – Small, Medium, Large, X Large, and Jumbo – to cater to a variety of dog sizes.
The furrybaby blanket is made of soft fleece that is machine washable and can be tumble dried, thereby making maintenance easier for customers.
The blanket is lightweight enough for pooches to carry around.
The soft, comfy nature of this pet blanket helps keep dogs warm and cool.
Cons
---
This blanket tends to trap dog hair, in which cleaning requires more effort from dog parents.
Several customers stated that the blanket they received was too thin to provide adequate comfort for their pooches.
#4 Furhaven Water-Resistant Thermal Throw Blanket
If you are in the market for a winter blanket for your furry best buddy, the Furhaven throw blanket is definitely worth considering. It features a convenient thermal layer that makes it ideal for this application. This layer traps warmth and keeps things nice and toasty for the pooch even on the coldest of nights.
Furthermore, the blanket includes 2 super soft and warm surfaces. On one side you have fine fleece finishing for a softer and airier touch. On the other side, there is thick Sherpa. Both are effective in providing insulation and perfectly complement the thermal layer for improved functionality.
There is no reason why your dog should shiver their way through winter with alternatives like this one on the market. It's also very easy to maintain as it is machine washable and dryer-friendly so you can have it clean and ready for use again with minimum hassle.
Pros
---
The polyester construction of this throw blanket features an inner coating that is water-resistant and offers a level of protection from liquid spills and doggie accidents.
This throw blanket is available in a wide variety of color options to ensure seamless blending in with existing home décor.
This dog throw blanket is machine washable for convenient maintenance.
This Furhaven thermal blanket contains a thermal sheet that reflects a pooch's natural body heat to create a warmer sleeping surface.
The plush faux lambswool and soft terry fabric used in making this blanket provide nestling comfort and warmth to pooches enveloped by it.
Cons
---
Some customers claim that the self-warming side of this blanket makes crinkling sounds that can be annoying to deal with.
This blanket tends to slide when in use, and that can be dangerous for both pooches and dog owners alike.
#5 Pawsse Dog Blanket
This is a wonderful alternative if you want versatility in the form of a reversible blanket design. On one side, you will have soft mink micro-fleece fiber. This is ideal for keeping your dog warm and comfortable without stifling them with heat on those already toasty days or nights.
The other side features a Sherpa faux wool finishing. This offers more insulation which makes it perfect for use on really cold nights. It is also sufficiently thick allowing comfortable use of the blanket as a lounging mat whether you set it up on the couch, on the dog bed, or even on your floor.
This choice gives you more bang for your buck by essentially offering you the benefits of two blanket types from one single purchase. With its dimensions, it is perfect for small and medium-sized dogs.
Pros
---
The reversible design of this Pawsse blanket, with plush micro fleece on one side and lambswool on the underside, ensures that both sides of the blanket can be used to provide different textures for pooches.
This Pawsse product is suitable for both indoor use, as a furniture cover and dog blanket, or for use as a car seat cover.
This dog blanket is made of ultra-soft plush fleece material that provides a comfortable and warm bedding option for pooches.
The Pawsse dog blanket is easy to clean and can be machine washed without shrinking.
Cons
---
Some customers claim that the blankets they received were smaller than what is advertised.
Customer feedback also suggests that the blanket's microfleece surface is slippery and doesn't stay put very easily.
#6 SmartPetLove Snuggle Blanket For Pets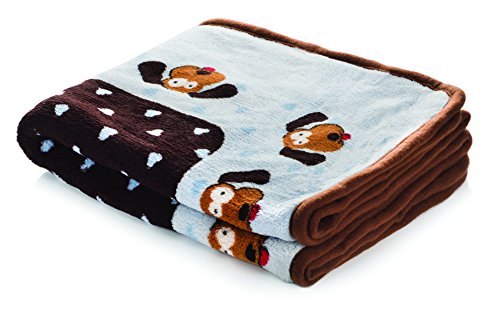 The SmartPetLove Snuggle Blanket earns its spot on our list with its fun and unique aesthetic design. It includes print details like love hearts and drawings of little doggies. If aesthetics matter a lot to you with dog blankets then this should be high on your list of possible options.
In addition to being incredibly adorable, this visual design is meant to be safe for your dog. First off, it is a dye print and not the sew-in style that tends to be uncomfortable for the dog and fragile. There is also the fact that the dyes used are high-quality and pet-friendly.
This is an excellent doggy blanket to give as a gift to a dog owner. Side note: If you want it for yourself, there are few options on the market that will offer the same level of aesthetic value for a dog enthusiast.
Pros
---
This SmartPetLove blanket is made of hypoallergenic material that is ideal for pooches with allergies.
The versatility of this product ensures it can be used either as a snuggle blanket, crate liner, cuddle bed or furniture cover for pooches.
The ultra-soft fleece material of this snuggle blanket is designed to provide dogs with adequate warmth and comfort.
The high-density material of this blanket is machine washable, thereby making maintenance and cleaning easy for customers.
This blanket is designed to attract and retain dog hair to prevent it from getting on the floor and making a mess.
Cons
---
This blanket is available in just one size, i.e., 48 inches long by 0.5 inch wide, thereby limiting a customer's options.
Some customers claim that their SmartPetLove blankets tore after machine washing.
#7 Comsmart Warm Paw Print Blanket
SALE ALERT!!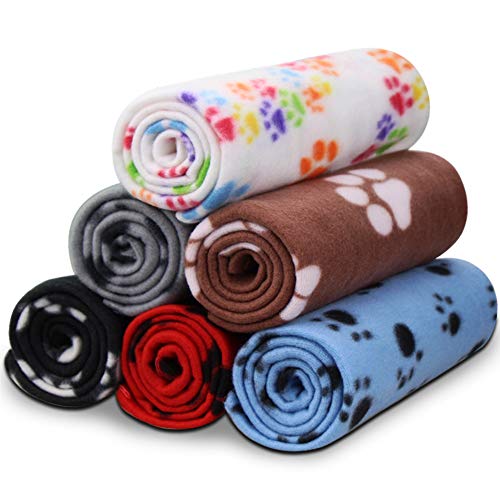 Comsmart Warm Paw Print Blanket/Bed Cover for Dogs and Cats, 6 Pack of 24x28 Inches
An ideal bedding for pet carriers, beds and nest; Also perfect for sofa or car seats to stop from scratching or...
Suitable for every season and many situations, such as warm blanket, mat pad, bath towel, picnic blanket and so on.
Made by double-sided fleece material, not so heavy but in good warmth, also ultra soft with comfortable touching.
The Comsmart Warm Paw Print Blanket is a great way to keep your pets warm and comfortable. The blanket is 28 inches long by 24 inches wide and is perfect for pets weighing up to 18 lbs. It is made of double-sided fleece material, which makes it soft to the touch and not too heavy.
It is a multi-purpose blanket that can be used in pet carriers or beds. You can also use it as a car seat cover to prevent shedding and scratching. You need the Comsmart blanket because you can use it in any season of the year.
You can use it as a bath towel or picnic blanket when out and about with your pet. It comes in packs of six, each with its unique color. Your pet will appreciate the animal print design on the blankets.
Given that the Comsmart Warm Paw Print Blanket comes in packs of 6, it is a certainty that its purchase is value for money and you will not be short of new blankets for your beloved pet. We also like the many colors and designs which we can choose from. It can be used in cold and warm weather, so that is a plus.
Pros
---
The double-sided fleece construction of this print blanket is soft and comfortable for pooches to sleep on.
This blanket comes designed with paw prints that are aesthetically pleasing.
This paw print blanket is suitable for use as a sofa or car seat cover to mitigate the effects of dog scratching.
The blankets come in packs of six to ensure that customers have quick and easy access to replacements.
Comsmart print blankets are machine washable and equally easy to clean.
Cons
---
Several customers have reported that these blankets have loose strings that can be extremely dangerous for pooches if chewed and swallowed.
Customer feedback suggests that this blanket, in some cases, is considerably too thin to provide adequate warmth and comfort for pooches.
#8 Pet Parents Premium Pet Blanket
The Pet Parents Premium Pet Blanket is the perfect addition to your pet's comfort items. It is made of Sherpup, a soft and cozy fabric. It comes in 3 sizes, from small to large, and can fit pets of almost any size.
The blanket also comes in two stylish colors, namely chocolate, and slate. It is lightweight for easy carrying. Its fabric is reversible so that you can use both sides of this pet blanket.
The blanket has triple-stitched edges, meaning that it will not fray as quickly or be destroyed by your furry friend. The pet blanket is water-resistant and can handle drool or wet fur. It is machine washable, so you can clean it as often as needed.
Any blanket that can protect your lounge and car seats from liquids, fur, or scratching is a winner. Its lightweight design is also great. We love the reversible feature, so We can get the most out of the blanket. It comes in various sizes and colors.
Pros
---
The reversible design employed in making this product ensures that the pet blanket remains stylish and comfortable for pooches on both sides.
This blanket features triple-stitched edges to prevent the development of fraying edges and to ensure that pooches can't loosen the seams.
This Pet Parents product is manufactured with water-resistant material that keeps drool, water and urine on the blanket for as long as possible, to facilitate easy clean-ups.
The lightweight nature of this pet blanket ensures easy transportation from one place to another.
The multi-layered threading and finishing on this blanket provides a surface that is cozy and soft enough for pooches to sleep comfortably.
Cons
---
Some customers commented that the Pet Parents blankets they received were too thin and flimsy to effectively keep their pooches warm and also last for a considerable time.
Several customers also remarked that their blankets weren't water-resistant as advertised, with liquids easily passing through.
#9 Friends Forever Deluxe Dog Blanket
SALE ALERT!!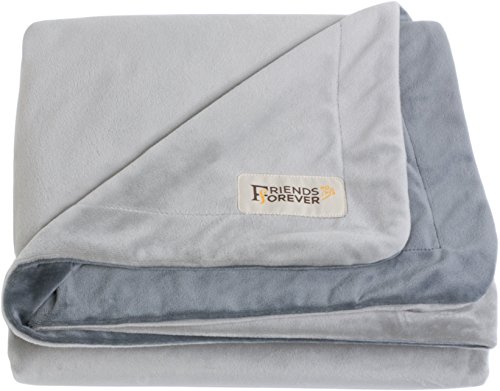 A lot of the other alternatives on our list are soft but not many come close to what the Friends Forever Deluxe Dog Blanket has to offer. The 100% polyester material features a 200 GSM fleece finishing which gives it an extra cozy velvet feel. This is good for dogs who need that extra smooth feel whether it is due to sensitive skin or the fact that they are just picky and love to be comfortable.
In addition to being snug, the material holds on really well to shed fur from your dog. That way your surfaces will be protected from fur balls and dander.
With the incredible soft feel of this dog blanket, your doggy is essentially guaranteed warm and cozy naps whether it is a cold winter's night or a toasty summer afternoon.
Pros
---
The Friends Forever blanket has a reversible design which ensures that both sides of the blanket are equally comfortable for pooches to cozy in.
This blanket is made with super soft velvet material and this is complemented with a 200GSM fleece finishing that is effective at keeping dogs cozy.
This double-sided dog blanket can be machine-washable for easy maintenance.
The neutral colors of this deluxe dog blanket can easily blend into and fit with most existing home décor.
Cons
---
Customers claim that this product isn't chew-resistant and that their pooches were easily able to chew holes in the blanket.
This dog blanket tends to shift around, which makes it poorly suited for use as a furniture cover.
#10 Mighty Monkey Pet Blanket
The Mighty Monkey Pet Blanket is a soft, reversible faux fur pet throw blanket. It can be used to cover pet beds, pet carriers, and car seats.
It comes in 5 sizes which you can choose from depending on your pet's size and weight. The smallest is 32 inches long by 24 inches wide for pets up to 10 lbs, and the largest is 70 inches long by inches wide for pets 70 lbs or more.
The blanket is soft and plushy as well as reversible. It is made with soft and cozy faux fur on the topside. The underside is made of thick, cuddly sherpa fabric, and both sides can be easily used.
The pet blanket is machine washable and easy to clean. It is also safe to use in a dryer as often as needed.
What we look out for when it comes to choosing a pet blanket is the reversible feature. We also like how warm and comfortable it is. If you have small or large pets, you have five blanket sizes to choose from. You don't have to worry about cleaning it because it is machine washable and dryer friendly.
Pros
---
This pet blanket product is available in five sizes to fit pooches of different sizes.
The Mighty Monkey blanket is designed with soft faux fur on the topside and thick Sherpa on the underside to provide two different surfaces for pooches to enjoy.
This product can be used in a variety of ways, such as lining for a dog's crate or carrier and as a car seat protector.
A large number of customers have commended the soft and cozy feel of this Mighty Monkey blanket.
This blanket is easy to maintain and can be kept clean with machine washing.
Cons
---
Customers have commented that this blanket sheds and leaves fuzz around the home.
Several customers have described the 24" by 32" size option of the Mighty Monkey pet blanket as being too small to cover their pooches.
#11 PetFusion Premium Plus Quilted Pet Blanket
Rounding up our list of top 11 best dog blankets is an option with a unique quilt design. In addition to the aesthetic effect, this style offers a functional benefit with an anti-slip effect. Your dog will enjoy this extra safety detail especially if you choose to use the blanket as a furniture or floor mat for the pooch to lounge on.
The blanket is made of 100% polyester material with soft fleece finishing that is durable, breathable, and great at heat insulation. This ensures all-weather protection for the dog so that they are comfortable whether it is freezing cold or uncomfortably tasty.
This reversible doggy blanket is pretty simple in design but definitely gets the job done as far as ensuring your dog is comfortable is concerned. It's particularly awesome if you favor the quilt blanket style.
Pros
---
This PetFusion blanket features a reversible design that provides pooches with two different plush surfaces for comfort when sleeping.
This blanket is made with ultra-soft polyester material which has a texture that is mostly soothing to pooches.
The blanket is available in various size options – Small, Medium, Large, and X-Large – to meet different dog size requirements.
The PetFusion quilted blanket is made with premium shed-resistant fabric that doesn't hold on to fur or hair that falls off a pooch's body.
This blanket is machine-washable, thereby making maintenance effortless for dog parents.
Cons
---
Customer feedback suggests that this quilted pet blanket can be shredded by pooches with chewing tendencies.
These blankets come in just two colors – brown and gray – which limits customers' options when it comes to maintaining home aesthetics.
---
Dog Blankets Buyer's Guide
---
Shopping for the ideal dog blanket can be a little bit of a nightmare. The problem is that there are so many options out there that look so similar on paper that narrowing down your options can get you on edge.
Fortunately, there are ways to set apart the truly great blankets that will offer you the best value for your investment in terms of comfort for your pooch and overall durability. You just have to take several factors into account in order to identify them. Here are seven of these considerations and what the different options mean for you and your furry best buddy.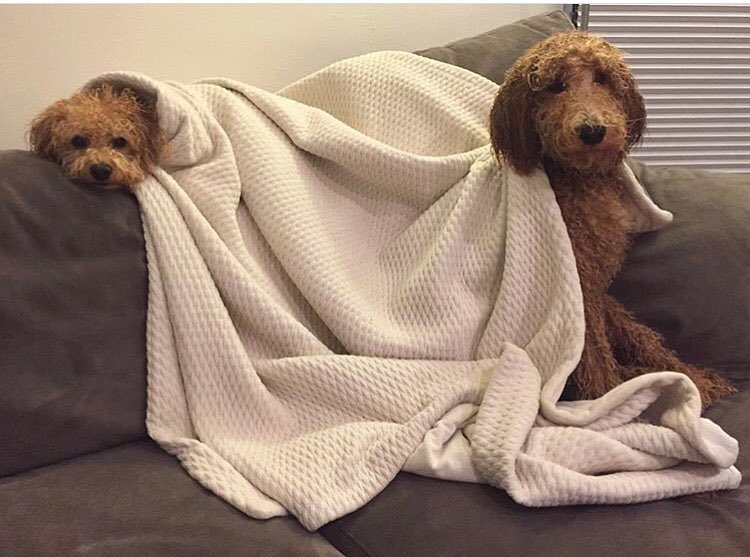 The Material
The choice of material is very important for many reasons. The first is that it determines just how comfortable the blanket will be for the dog. In this case, polyester is one of the best options. In addition to being incredibly soft, it is highly breathable. Sometimes that extra breeze is all that is needed to take things to the next comfort level.
The material also determines the amount of warmth your dog gets to enjoy. This is particularly important to consider when shopping for a blanket to use in extremes of weather whether it is warm summer months or chilly winter nights. Wool is ideal for colder months while cotton is fantastic for hot weather. Polyester again stands out as it offers the best of both worlds and is therefore ideal for all-weather use.
The Finishing
In addition to the type of material, you need to consider the threading and finishing on the blanket. Options here include fleece, flannel, microfiber, and Sherpa. These determine the surface feel of the blanket. Some like Sherpa also contribute to the insulation effect for warmth.
With fleece options, in particular, you will come across a lot of variety denoted by a specific GSM value. This in full is grams per square meter and is a measure of the weight and overall density of the fabric.
Higher values of 250 to 300 and above are preferable if you want something heavy for use during very cold months. Lower values of below 200 are light and awesome for use in warm weather as in addition to being light are usually more breathable.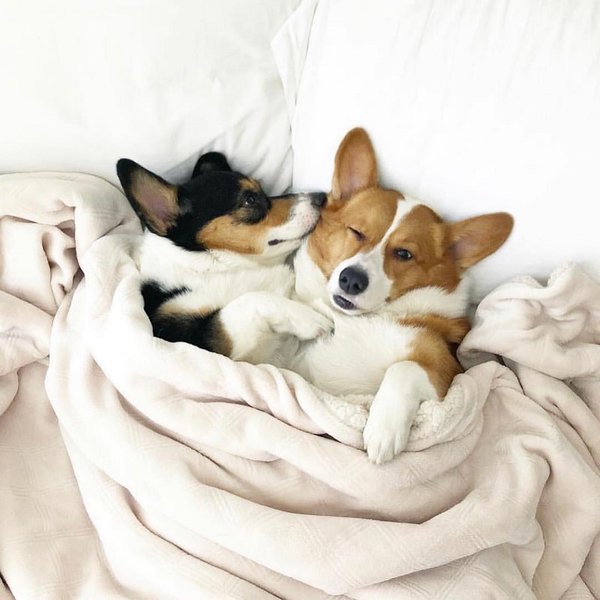 Size Of The Blanket
This determines the size of a dog that you can comfortably cover using the blanket. The best part is that, more often than not, brands give suggestions of breeds and ages that can comfortably use different sizes of the blanket. You could also get some insight from the review section on the blanket that you are interested in.
What matters most is that you get something that will offer full coverage to the dog and then some. With the extra space, they can roll around in their sleep without fully falling out of the range of cozy cover from the blanket. In this case, it doesn't hurt to go a size up, especially if you are shopping for a growing doggy.
However, you could size down if you want a blanket you could use as a surface mat for your carpets, furniture, or even the dog's kennel.
Overall Construction Quality
The construction quality plays a huge role in determining the overall durability of the material. One of the key features to look out for in this case is whether or not the blanket is built to be pill-resistant. Pilling refers to fabric shedding. In addition to being completely inconvenient to clean up and uncomfortable for your dog, this shedding leads to faster aging of the blanket into a dysfunctional mess with several bald spots.
Another crucial feature when it comes to determining construction quality is the stitching, particularly along the edges. Here, you can never really go wrong with double stitching. This not only looks good but also prevents deterioration in the form of fraying edges.
Pet Safety Features
As a dog owner, your furry buddy's safety should be one of your biggest priorities. With dog blankets, this means getting something that will not cause any kind of reaction whether it is skin irritation or pulmonary reactions.
One way to get this perk is by going with hypoallergenic blankets. These are ideal for dogs with allergies to specific fabrics or to particulate matter. The blankets are designed with high-quality materials like polyester or cotton. These materials are safe both through their composition and the fact that they do not pill off into irritating particles. No more sniffles or weird skin reactions for your doggy.
You should also take this into consideration when picking out prints. First off, make sure you get prints made from pet-friendly dyes. Secondly, stay away from stitch prints which often end up irritating your dog's skin by creating friction.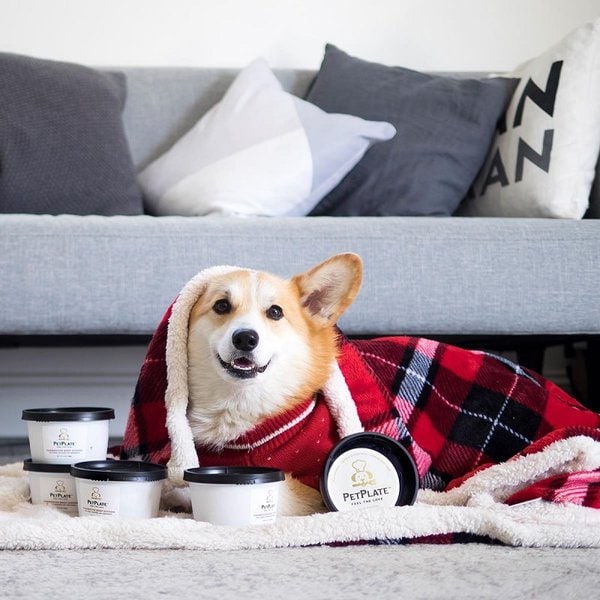 Ease Of Maintenance
Dog blankets tend to get dirty very easily. Whether it is potty accidents, dander buildup, or dirty paws, this can be a nightmare to deal with. You should therefore look for something that is easy to maintain as you make your decision of which dog blanket to go with.
Machine washable options are by far the best option. All you have to do here is throw it into a washer and dryer and you are good to go. This is a particularly vital consideration with plush-finish alternatives that tend to be more delicate. The last thing you want is something comfortable but impossible to maintain.
Aesthetics
What the blanket looks like actually matters. The dog, of course, couldn't care less as all they want is something comfortable. However, the design makes a huge difference for you as the dog owner. You might want something that blends in seamlessly with your interior décor themes. In this case, neutral options like most of those on our list should do the job.
However, if you want something flashier, prints are the way to go. These help you announce to guests that your's is a dog-friendly home. They are also perfect for giving as gifts or for use in doggy-themed spaces. Whatever the case, a paw print here and a splash of color there won't hurt if that is your preference.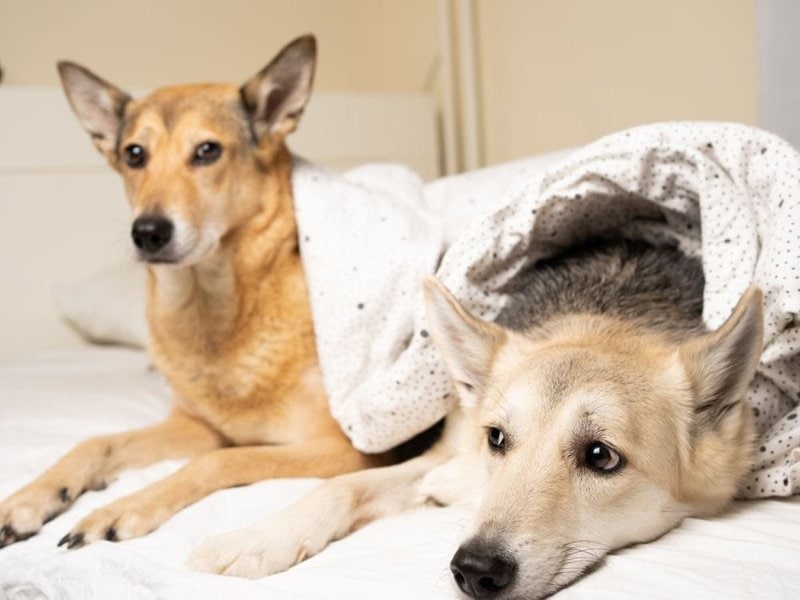 ---
Final Thoughts
---
At first glance, a lot of dog blanket options seem pretty much the same. However, not all soft and cozy options are built the same. It is the little details that make all the difference and determine whether or not you actually end up getting full value for your money. With our buyer's guide, you now know what factors you need to consider in order to identify the best dog blankets on the market.
By these standards, our top pick definitely stands out as the best on the market with its combination of great aesthetics and fantastic overall functionality. So if you are looking for the perfect snuggly blanket for your snuggly doggy, you have somewhere to start and 10 other options, in case you would want something different.