The best pet hair vacuum is Hoover WindTunnel 3 Upright Vacuum.
Is your furniture covered in fur?
Check.
Do you have pet hair all over your car seats and clothing?
Double-check.
Perhaps your floor is littered with pet hair as well?
Bingo. As pet lovers, we totally understand and relate to your situation.
The simple solution? You need a rockstar vacuum cleaner to get rid of those pet hairs! One that is able to guzzle away all the pet hair effectively and leave your house clean.
However, finding the right pet vacuum cleaner can be tricky. Some of them might not be as effective in vacuuming up those fur balls and dust bunnies.
Not to mention, there is also a wide selection of vacuum cleaners available. Therefore you are most likely to look for a vacuum that is easy to use and is affordable at the same time.
This is why we come along with product reviews for the best pet hair vacuum you could ever lay your hands on!
#1 Hoover WindTunnel 3 Upright Vacuum
SALE ALERT!!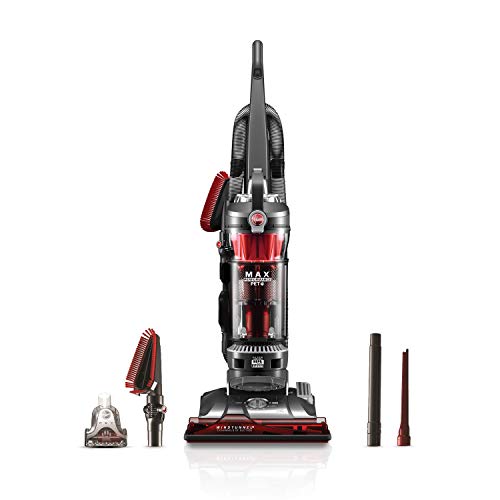 Upgraded from its predecessor WindTunnel 2, the all-new WindTunnel 3 upright vacuum from Hoover is our best pick.
It is by far the best upright vacuum you can get for your home. You can easily manage unruly pet hair with the help of this vacuum cleaner.
So, let's take a closer look:
An interesting feature of this vacuum is its 4-position floor height adjustment. No matter what height you are trying to get to, this adjustment mechanism will help you to clean with convenience and ease.
Did we mention the 40-ft long cord as well? Check this out:
The 40-ft cord rewind system ensures that you can vacuum longer distances or a larger room without a need to locate another electrical socket. With it, you can skip the manual winding and unwinding the cord for every vacuuming task. The pedal simply needs to be gently tapped to release the cord for pulling and retracting.
What's more?
This vacuum comes with a pet hand tool that takes vacuuming pet hair to another level. No more stubborn pet hairs on carpets or furniture, how does this sound? For ease of differentiation, the tool is imprinted with a paw.
The final feature of this vacuum is its upgraded WindTunnel 3 Technology. Its triple channels of suction can generate powerful yet efficient airflow to tackle all sorts of dirt you can find in your home.
We highly recommend this WindTunnel 3 upright vacuum because it has everything that you ever wanted. You will no longer have to worry about suspended dust particles with its WindTunnel technology and HEAP filter. The dirt is trapped and channeled into the dirt cup without any mess at all. It is the best product at the best possible price!
Pros
---
Uses a HEPA filter and a dirt cup capacity of 50 fl oz for maximum dust absorption.
Features an easy-to-use on/off brushroll for cleaning different surface types.
Affordable pricing.
Cons
---
One shortcoming is its short extension pipe.
#2 Bissell-1650A Pet Hair Eraser Vacuum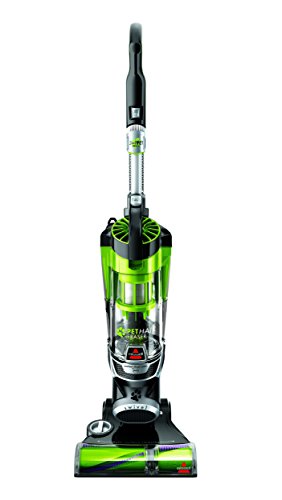 The Bissell-1650A Pet Hair Eraser Vacuum comes in narrowly at our second option.
Let's get straight into it.
What we really like about it is that it has a patented cyclonic pet hair filtering system that separates the human and pet hair from dirt. This allows for a hands-free experience while vacuuming as you do not have to use your hands to empty the vacuum chamber.
Now, isn't that amazing?
We all know the hassle of trying to remove the clogged-up dirt and pet hair from our vacuums, often leading to more mishaps.
Also, it has been innovatively designed with a set of tools to help remove dirt and pet hair from all possible areas of your home. You can easily clean carpets, upholstery, and hard surfaces.
But wait – there's more.
The Allergen system is intelligently designed to retain the allergens so that they don't escape into the air after the cleaning process is over. Instead of using just one side of the brush roll as most vacuum cleaners do, this one has a direct suction path that removes dust, debris, and pet hair optimally.
You will no longer need to stop at turns and corners because of the swivel steering that helps turn your vacuum effortlessly around edges and furniture.
Are you often put off by unwanted pet odor in your living room? This vacuum not only ensures a thorough cleaning but also eliminates odors and refreshes your home from within.
A few more features of this vacuum are its easy detachability for interchanging tools, lighted crevice tool for cleaning tight and dark areas, turbo eraser to remove pet hair from carpet, upholstery, and dusting brush to clean delicate surfaces.
We strongly recommend this product because its unlimited features will amaze you every time.
Pros
---
Provides a hands-free pet hair and dirt removal solution.
Easily cleans tight, cramped, and dark areas.
Eliminates pet odor.
Cons
---
It is pricier than its counter
#3 Dirt Devil Endura Reach Vacuum Cleaner
SALE ALERT!!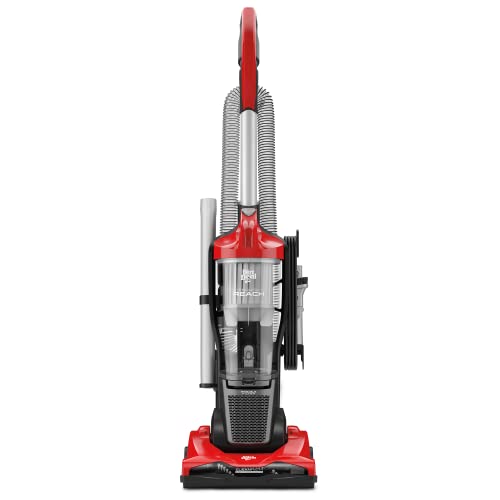 Dirt Devil Endura Reach Bagless Upright Vacuum Cleaner, UD20124V, Red
NO LOSS OF SUCTION: Consistently powerful performance on carpets and hard floors
HASSLE-FREE MAINTENANCE: Easily access the rinsable filter for quick maintenance that will help extend the life of your...
EASY-EMPTY DIRT CUP: Take fewer, quicker, and easier trips to the trash with the one touch easy-release dirt cup
The Endura Reach model from Dirt Devil is a bagless vacuum cleaner that provides powerful suction to handle cleaning operations around the house. The vacuum's multi-floor brush roll system can clean up messes, especially pet hairs, on hard floors and carpets without losing suction.
With a mere weight of 9 lbs, this red-colored cleaner is very comfortable to handle. The product package also includes a 2-in-1 dusting brush and crevice tool suitable for cleaning a variety of surfaces.
The Endura Reach cleaner has an onboard extension wand system that guarantees cleaning for heights measuring up to 10 feet. Its 20-ft long cord should provide sufficient coverage for cleaning operations.
Additionally, this cleaner features a one-touch release dirt cup that makes it easy to dispose of collected dirt. Users can easily access and rinse the included filters to promote the longevity of the vacuum cleaner.
With a substantial height and length, the Endura Reach vacuum cleaner from Dirt Devil is designed to conveniently reach hard-to-reach areas and clean wider areas with ease. It comes with a 2-in-1 dusting brush and crevice tool ideal for cleaning up dirt on hard flooring and in tight corners.
Pros
---
Uses patented Endura filtration system with washable filters.
Uses multi-floor brush roll to tackle dirt on carpets and hard flooring with ease.
One-touch release dirt cup.
Corded design with a cord length of 20 feet.
Onboard extension wand for cleaning heights up to 10 feet.
Comes with a 2-in-1 dusting brush and crevice tool.
Cons
---
The device may not stay upright and can topple due to uneven weight distribution.
#4 Kenmore DU3017 Vacuum Cleaner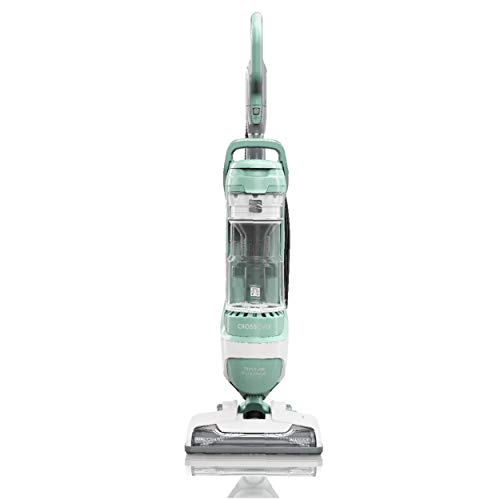 The DU3017 cleaner model from Kenmore is a bagless upright vacuum designed with a two-motor powered Cyclonic Action Technology that typically employs centrifugal force to create a 195W suction to suck dirt from the target surfaces and for effective brush rotation.
This Kenmore cleaner is recommended either for use on hardwood floors or for getting rid of pet hair entangled in upholstery. It also features an air-driven turbine that generates enough power to spin a roller brush, which gets rid of stubborn pet hair and stains on furniture around the house.
The cleaner's lightweight design is easy to handle, and users can easily transform it into bare floor cleaning just by pushing a button. Its swivel steering system is worth mentioning as it will certainly make vacuuming effortless and easier while tackling corners.
The vacuum's triple HEPA filtration system traps up to 99.7% of the dirt it comes in contact with, and this filter can be washed and reused as many times as possible. Additionally, the vacuum's waste canister can be easily detached, thereby simplifying the disposal of collected waste.
With its two-motor system, the Kenmore DU3017 vacuum cleaner is well-equipped to handle deep cleaning operations at home. This product is easy to operate and handle, and the included attachments, such as the swivel steering system, are perfect for gliding and cleaning around corners and furniture.
Pros
---
Corded design.
Lightweight.
Washable HEPA filters.
Detachable canister.
Uses a two-motor system with Cyclonic Action Technology.
Height adjustment system.
Cons
---
The vacuum is pretty loud, at 71 dB or higher, while operating.
#5 BLACK+DECKER 20V MAX* Lithium FLEX Hand Vacuum
SALE ALERT!!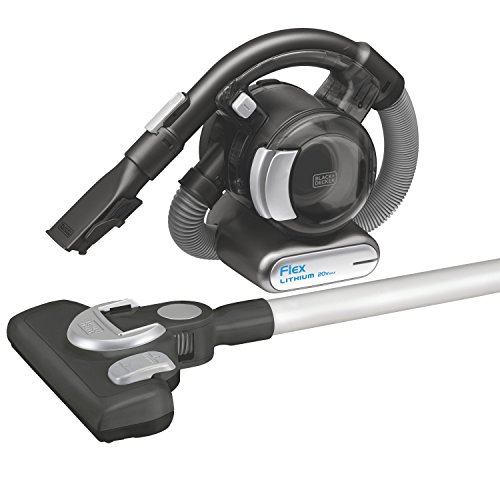 We can't deny it.
BLACK+DECKER products have always been known for their exceptional quality and durability. That's why 20V MAX* Lithium FLEX Hand Vacuum deserves a spot in our top-rated pet hair vacuum cleaners.
It offers limitless possibilities for cleaning from the floor to the ceiling. Whether you choose the extendable hose, the stick vac attachment, or the Pet Brush attachment, nothing spells multi-functional vacuuming as the Flex Vacuum does.
With a 20V Max* lithium-ion battery, it is powerful yet lightweight. The operating motor provides high suction capabilities that make cleanup as effortless as it gets.
Tired of lugging your heavy vacuum cleaner in and out of the storage room?
Wow, the Flex Vacuum comes in at an impressive lightweight 3.2 lbs. It is a truly portable, ultra-compact, lightweight vacuum cleaner that takes the toil out of your cleaning tasks.
It has a cyclonic action that enhances performance and its 3-stage filtration system prevents dust and debris from escaping into the air you breathe, once the cleaning procedure is over.
We recommend this product because the manufacturers have prioritized ease of maintenance all through. It features a removable and washable bowl and filter so that cleaning is a breeze. This lightweight vacuum makes places like car seats, stairs, and ceiling fans absolutely convenient to clean. Cleaning pet hair from these places will never be a chore anymore.
Pros
---
Lightweight and portable.
Can clean all kinds of surfaces.
Various attachments for robust cleanup.
Cons
---
The attachments might not be universally adaptable.
Its battery life may not last as long as we like.
#6 Shark Rotator Powered Lift-Away TruePet Upright Vacuum
SALE ALERT!!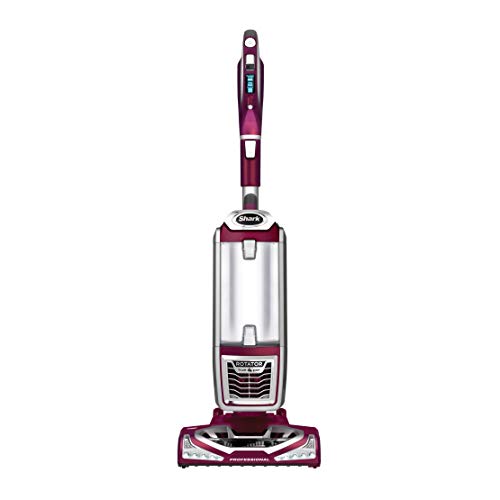 There is no doubt about the fact that an upright vacuum makes for portable cleaning.
The Shark Rotator Powered Lift-Away TruePet Upright Vacuum comes along with a detachable canister and caddy for portable cleaning.
Yes, you read that right.
A 100% detachable canister and caddy.
You touch a button and the canister can be lifted away to clean hard-to-reach areas and all these are done while delivering enough power to keep spinning the brush roll.
What's more?
The Bordeaux-colored vacuum comes equipped with swivel steering technology that gives you excellent maneuverability around furniture legs and difficult-to-reach areas. You will no longer need to worry about obstacles being in your way while vacuuming.
The handle of the vacuum features fingertip controls. This allows you to easily switch from one surface type to another so you need not worry about uneven or irregular surface depths at home.
Isn't it a task to clean dark corners and areas under low-lying furniture?
This vacuum cleaner ensures that all the pet hair hidden under your couches, beds, and wardrobes can be driven out with the help of the LED lights on the hand and the nozzle. You will be amazed by the amount of dirt that finally gets sucked out from beneath that couch in the living room!
It comes with a completely sealed system that retains dust and allergens after cleaning is done. This is an important feature because many a times vacuum cleaners end up creating more mess than there already was.
We highly recommend this product if deep cleaning is on your mind. The hard floor attachment that comes along with this vacuum is equipped to suck in the debris of all shapes and sizes. Apart from removing pet hair, it also dusts your bare floors efficiently.
Pros
---
Highly versatile and easy to use.
The sealed system cleans efficiently.
Cleans carpeted areas and hardwood floors alike.
Cons
---
Some of our readers have feedbacked that the internal cyclone technology is not as good as it claims to be.
The power rush bristles are not as durable as we thought.
#7 Tineco iFLOOR Cordless Wet Dry Vacuum Cleaner And Mop
The Tineco iFLOOR is an effective and convenient way to clean hard surfaces, wet floors, sticky stains, and dog hair. It achieves all of this at a relatively low price point.
It also has an excellent battery life that lasts for about 22 to 25 minutes when used in standard mode on a single charge. This Tineco iFLOOR should easily replace your standard cordless vacuum cleaner.
This device will reach every nook and cranny, making cleaning a breeze and enjoyable for you. It is also significantly less noisy than its competitors, which dogs may like because they hate loud noises due to their sensitive ears.
Dog footprints, fur, pet dander, pet hair, and wet messes get cleaned up fast with this product. Every time the Tineco iFLOOR cleans, it uses new water and solution from a tank separated from another, storing only the debris and dirty water. This saves you the effort of having to constantly refill the bucket with clean water.
This product has the added benefit of being cordless, as well as other features. This cleaner is effective, lightweight, and dependable, and it can help you clean your entire house. The Tineco iFLOOR vacuum cleaner is well worth the money if you have a dog that is a messy eater and sheds a lot.
Pros
---
Easy to use and lightweight.
Has a high-capacity lithium-ion battery.
Its durability is further assured by a 2-year warranty period provided by the manufacturer.
Highly convenient due to its self-cleaning cycle and cordless design.
Value for money.
Cons
---
Not ideal for vacuuming sessions longer than 20 minutes.
Is considerably loud, even for dogs and cats, and can reach 82 dB during operation.
#8 Shark Navigator Lift-Away Upright Vacuum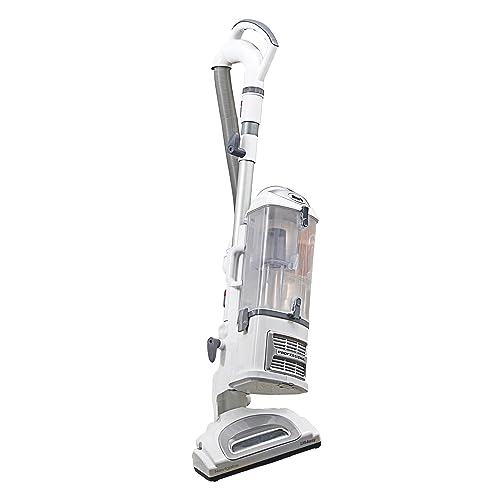 The Shark Navigator Lift-Away Upright Vacuum is built to ensure maximum convenience on the part of the user.
By simply pressing a button, the canister pod can be released from its suction base and lifted with one hand, while the other free hand holds the suction hose to clean hard-to-reach areas with ease. This 2-in-1 vacuum deeply cleans carpets and bare floors alike. The canister has a large 0.5-gal capacity for maximum dirt absorption and is portable, thus making cleaning fast and easy.
This pet hair canister vacuum is light in weight and is steerable for those turn-around areas where regular vacuum cleaners often get stuck. The system is completely sealed that retains dust and allergens efficiently.
Its hard floor attachment ensures that debris of all shapes and sizes is sucked in without any hassle. What's more, the Brushroll Shutoff button makes switching between carpeted areas and bare floors a matter of touch and go.
A lot of users we have spoken to were vacuum snobs before they opted for this particular model.
We recommend this product because after using this model, they reported that it cleaned each and every strand of pet hair that had got embedded in carpets and rugs. When you see the size of your dirt pile after a quick vacuum, you will be nothing short of amazed because it is bound to be bigger than your usual vacuum dirt pile.
Pros
---
Deep cleaning technology.
Portable and larger canister.
Switches from bare floors to carpeted floors easily.
Cons
---
The vacuum head could have been wider so that it forms a much more stable base.
#9 Dyson Cyclone V10 Animal
SALE ALERT!!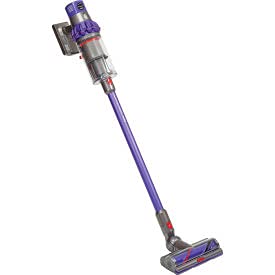 The Dyson Cyclone V10 Animal is a vacuum cleaner designed specifically for removing pet fur. It is significantly less expensive than other Dyson models, so if you are a dog owner who needs to clean dog hair from your home on a regular basis, the V10 Animal's capabilities should meet your needs.
The main features of the Cyclone V10 Animal revolve around battery life and power enhancements of up to 60 minutes of usage. You can simply recharge the battery in the compact wall-mounted charger once you've already cleaned your home from pet hair or dander.
The V10 Animal can remove particles as tiny as 0.3 microns. If you are allergic to pet hair, dander, or just about any airborne allergen, the main filter will effectively trap those particles. The high-quality filtration will make your home's air and surfaces cleaner, fresher, and healthier.
The Dyson Cyclone V10 Animal Cordless Vacuum delivers what it exactly promises. It effortlessly cleans up even the most horrendous messes that pets make, especially pet hair. Its cleaning power is unrivaled among cordless vacuums, and the accessories are functional and well-designed.
Pros
---
Improved battery life, lasting up to 60 minutes.
Powerful suction.
Has three power modes of varying suction strength to tackle any type of mess.
Captures 99.97% of particles as tiny as 0.3 microns.
Has a 'point and shoot' feature for emptying the dustbin.
Cons
---
Its "point-and-shoot" mechanism for vacuuming high places and top corners will take a while to get used to.
#10 Eureka Stylus Lightweight Cordless Vacuum Cleaner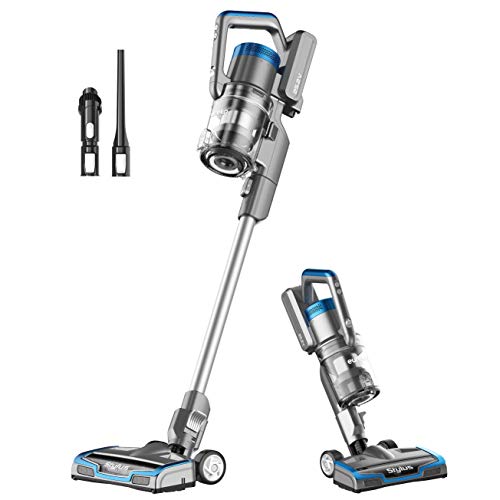 Powered by a brushless DC motor, the Eureka Stylus vacuum cleaner offers 350 air watts of suction power. It also weighs only 6.4 lbs, making it ideal for cleaning any type of carpet or hard floor.
It boasts an ergonomic design and a 45-minute battery life, making short cleanups around the house effortless. The lay-flat form makes it easy to reach behind furniture, while the LED headlights improve visibility.
The HEPA media filters and cyclone filtration system ensure a deep clean, and fresh feeling. When you need to clean furniture, hard-to-reach locations, or even your car, you can transform the Eureka Stylus into a handheld vacuum.
A dusting brush, crevice tool, and a wall-mount docking station are all included with the vacuum cleaner set for easy storage.
The Eureka Stylus is the ultimate vacuum for pet hair because of its strong suction on both hard surfaces and carpets. Since it may also turn the stick vacuum into a handheld vacuum, it's ideal for quick cleaning or even removing pet hair from your car.
Pros
---
Ergonomic design with a one-click dust cup release.
Highly powerful suction.
Lightweight.
Long battery life of up to 45 minutes for each cleaning session.
Extremely adaptable.
Comes in four colors; Gray, Elevate, Blue and White.
Cons
---
Its docking station requires drilling to be securely mounted to the wall.
Its "point-and-shoot" mechanism for cleaning high places is not intuitive.
---
Buyer's Guide – Pet Hair Vacuum Cleaner
---
You might wonder whether you can trust our recommendations.
We understand.
To reassure you, we have been in this industry for a while now, and we understand pet products like none other. We believe in giving impartial reviews solely based on what users report and the current market trends.
To take our recommendations to a level where you can effortlessly trust us, we speak to experts in the concerned field and add their valuable input.
These experts can include long-term users, reviewers, manufacturers, and pet owners. We hope to give you a wide range of choices while picking the ones that are doing the best in the market at the moment.
Still not convinced?
Yet another effort on our behalf is to head over to Amazon, where new and existing users review products impartially. We read a minimum of 450 reviews before coming to a conclusion. We hope that these efforts help you to get the best results!
How We Found The Best Vacuum and Reviewed Them
Picture this:
Your pets are playing all around the house, bringing endless joy to the family.
All of us absolutely adore our furry friends, but we might not really like our furniture and carpets to be covered in fur.
Most pets shed their fur. Don't blame them for it, as it's a natural process.
When you have dogs at home, you can expect your couches, living area, and your bedrooms to have dog hair at any given time of the day. If this is what hinders you from getting your own pet or allowing yours to move around freely inside the house, all you need is a good vacuum for pet hair.
Now that we are on the same page, let's move on to helping you to choose the best pet vacuum.
We have listed the things you should look for while buying a pet vacuum so that you can tally these with the best brands that we suggest.
Why Can't I Use A Normal/Traditional Vacuum?
Well, that is because pet hairs are very fine.
Even if your traditional vacuum manages to keep your home absolutely clean, it is certainly no match for hair that gets stuck onto carpets and upholstery.
There is a reason why we recommend buying a vacuum for pet hair if you have pets at home. Traditional vacuums work with a two-part brush and hose mechanism. This works well on dust and debris as the brush stirs up the dust and the hose sucks it in.
For pet hair, regular vacuums can actually worsen the situation by further driving the hair into the fabric or having them tangled around the brush head. This becomes a complete mess when you have to untangle the hair and clean the brush itself.
Vacuums that are specially designed to get rid of pet hair have a more powerful suction system. They have silicon brushes instead of soft-hair brushes and specialized attachments. These ensure that hair is sucked into the dirt cups instead of lingering around.
The filtration system of pet vacuums is much more enhanced than traditional vacuums and effortlessly removes dander from the air that has been expelled.
This is why we keep emphasizing the fact that you need a pet vacuum to make cleanups easier after your pet has had a great day.
How Big Is Your House?
This is an important consideration because a vacuum cleaner needs to have the required efficiency as per the storage space of your house.
Big House
Ideally, an upright model is what you need for a big house. You need a bigger vacuum with a larger dirt cup so that you do not have to empty the cup frequently.
Smaller House
If you have a smaller apartment, why would you waste money and space buying a big vacuum cleaner? You can invest in smaller and more compact models that are also easier to clean. Opting for a smaller version of a canister vacuum or even a handheld model will suit your needs.
What Is The Type Of Flooring Inside Your House?
The type of flooring your house features is yet another decisive factor when choosing a pet vacuum. This is because different vacuums suit different surfaces. A completely carpeted house would require a different vacuum from that of a house with hardwood flooring.
The problem with modern households is the fact that we tend to have a combination of floorings and surfaces. There is a carpet in one room, rugs in the other, and tiles in yet another. This is where an all-rounder vacuum cleaner will play its part.
The high-end models come with a number of helpful attachments that can assist you in tackling difficult areas, such as curtains, sofas, etc.
Upright, Canister, Or Handheld?
It is generally believed that the best kind of vacuum for pet hair is an upright vacuum because of the way it targets individual strands. However, even handheld and canister vacuums have made advancements as far as efficiency is concerned. Let us take a look at what you should use as per your situation.
Upright
If you have a large home, you should ideally opt for upright vacuum cleaners because they cover more spaces in lesser time. Yet another benefit of an upright vacuum is the fact that it allows you to hold an ergonomic posture while vacuuming. Your shoulders will not be hunched and this will prevent backaches.
Canister
If you are looking for a lighter model with a compact design that can also reach tight and cramped spaces with ease, then the canister vacuum is a good bet. There are small, medium, and large varieties available, so you can pick one that suits you best.
Handheld
Did you know that your dog's hair does not only settle on floors but can also reach your curtains and upholstered furniture? For these crevices, cramped spaces, and small storage advantages, handheld vacuums are the best.
With Cord Or Cordless?
When it comes to the right type of vacuum to choose, pet owners often have a very common question on their minds. Corded or cordless, which is better?
Corded Vacuum
If you have a larger home or a dog that is too furry, a corded vacuum cleaner will be more appropriate. This is because in a corded vacuum, there need not be any batteries and all the space will be taken up by the motor while being directly connected to the mains.
Cordless Vacuum
Is unplugging and re-plugging a serious issue in your household?
Worry not, because a cordless vacuum will get rid of the problem by requiring neither.
Cordless vacuums also tend to be smaller and take up as little space as possible. The only thing to remember about cordless vacuums is the fact that they need to have enough charge to finish off one round before time.
Do You Have A Budget Constraint?
This is by far the most important consideration before and while buying a vacuum for pet hair because effective ones are generally expensive.
However, it makes more sense to look at a vacuum cleaner as an investment rather than a short-term solution.
While low-cost vacuums will also help you with your job, they have recurring costs, such as repair, maintenance, etc. A good vacuum cleaner will not incur these costs and will keep serving your needs for quite a long time.
So the idea is to invest in a good vacuum cleaner and look for deals online that can get you the best price instead of opting for cheaper versions.
---
Final Thoughts – Choosing The Right Vacuum Cleaner Is Important!
---
You have made it to the end of the article!
We hope that our reviews & buyer's guide have given you a greater understanding of how to choose a pet vacuum cleaner.
Do not worry if you are reeling under new-found terminology.
If the features and specifications of a product or two seem difficult to comprehend, we recommend going back to the buying guide. It will help you to find out the basics that we have talked about.
What you need to remember before making the final decision is to find out what your preferences are. The best pet hair vacuum cleaners might not suit your needs. However, to be able to make that choice is a factor that lies in favor of you.
All the pet hair vacuum cleaners listed in this article are top-rated on most websites and are highly popular in the market. Each one has different specializations, and they have been designed keeping in mind the need to efficiently eliminate pet hair from your home.
We have given you a comprehensive idea of the different factors that go into making the right choice.
Pets are your best companions for life.
And if you have a dog or cat along with you, then there is nothing like it. To ensure that both you and your pet have an enjoyable and clean environment to play in, order your pet vacuum cleaner right away!