The best outdoor dog toilet is Synturfmats Dog Potty Patch.
Potty training your pooch is not always as hard as it seems. You just need the right tools with you. The best outdoor dog toilet, in this case, is a great place to start, and to help you with your shopping, here are the seven portable loo options on the market for your beloved pooch.
#1 Synturfmats Dog Potty Patch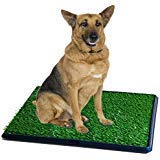 One way to get your dog comfortable with potty training is by making the process as natural and familiar for them as possible. That is exactly what you have to look forward to with the top layer of this tri-layer potty patch. It features an artificial faux grass design that in addition to helping your dog feel more comfortable allows it to easily fit into your outdoor space.
The second layer of this pet potty is a grid tray for draining the pee. This helps keep the synthetic grass layer nice and dry. You, therefore, do not have to worry about your pooch running around wet and stinky after their potty break. There is also better airflow with this design which significantly odors.
Finally, you have the last layer which is a collecting base tray where all the liquid pools for easy disposal. The best part is that it is made from waterproof plastic which in addition to making it durable means that it is easier for you to clean and it does not hold on to the stink.
One of the best perks you have to look forward to with this pick is the versatility in terms of offering both indoor and outdoor use. It is therefore one of the best choices out there for potty training as you can ensure consistency by moving it indoors or outside as needed. The ease of cleaning and quality construction also means that it will be around long enough to serve you and your dog for a very long time.
Pros
---
It measures 20 inches by 30 inches by 1.25 inches.
Lightweight and compact design for easy portability.
Pet-friendly, non-toxic materials.
It is weather-resistant.
#2 Blyss Pets Klean Paws Indoor Dog Potty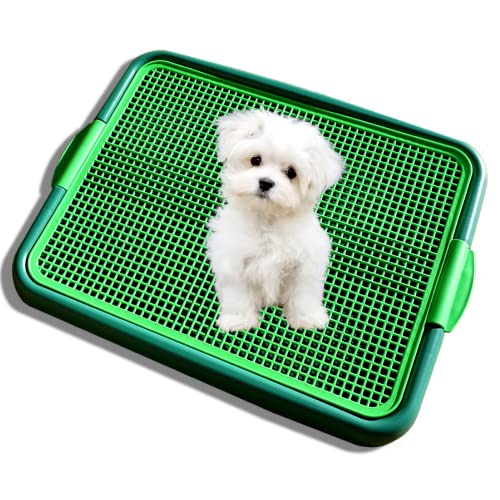 Our top budget pick has what is a pretty standard dual-layer design with a grate and a collection tray. The grate features pet-friendly plastic material that offers a comfortable yet steady surface for your dog so they don't feel nervous or unsafe when it is time to answer nature's calls. Cleaning up afterward is very easy as all you have to do is to dispose of the urine from the tray and clean both parts with soap and water and it is good as new.
With these multilayer setups where a urine collection tray is involved, there is always the fear of having leaks or spills onto your yard or patio flooring. And wouldn't this be ironic that after all that training you still end up with potty accidents? That is what the secure snap fastening on this outdoor potty exists to help prevent. So you don't have to tiptoe to the toilet to empty it afraid that you will spill. Just keep it upright and you should be safe for the trip.
Your dog's safety is also a priority with this potty's design and you will therefore appreciate the presence of the anti-skid rubber floor pads. Your dog can therefore hop on and off safely without slipping and getting hurt. You also do not have to worry about any pee spills from such accidents either. This will come in handy if you are planning on setting up on your patio or in a kennel outside the house.
What's not to love about this potty from the ease of use to the dog safety-centered design? So if you are shopping for an outdoor dog toilet on a budget then this is an option that will definitely not disappoint with all its perks and the even more awesome price point.
Pros
---
It measures 18 inches in length by 14.25 inches in width.
Made from durable polypropylene and PVC materials.
Mesh design on grid for aeration and odor reduction.
#3 Petmaker Artificial Grass Bathroom Mat
SALE ALERT!!
The Petmaker Artificial Grass portable dog loo is similar to our top pick with its tri-layer design. The three are the top synthetic grass level, the grid, and a collection tray. The dog will be more drawn to the natural landscape that resembles real grass and therefore is more inclined to make use of it. The design also allows the potty to blend in with your yard aesthetic. The grid and collection trays on the other offer you the benefit of easy urine disposal and quick-wash materials.
What makes it stand out is the extra antimicrobial reinforcement on the synthetic grass layer of this potty. In addition to making the toilet safe for your dog, this goes a long way to help with odor reduction. Therefore, you can just as easily use it indoors without turning your home into a stink bomb aftermath.
This alternative is definitely worth considering if you want something similar to our top pick in terms of general design and versatility offered.
Pros
---
Made from pet-safe synthetic materials.
It measures 20 inches by 25 inches by 1.25 inches.
Easy snap-on assembly.
#4 Richell Paw Trax Mesh Training Tray
SALE ALERT!!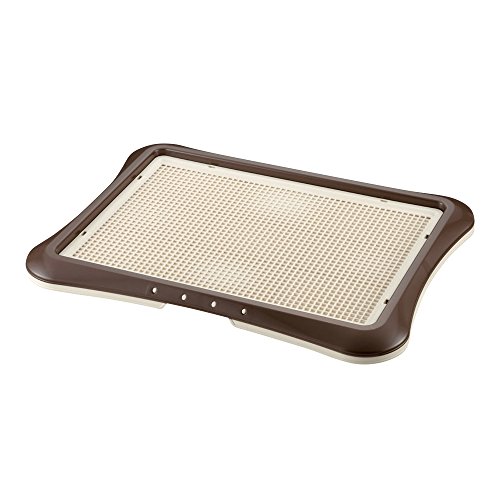 Richell Paw Trax Mesh Training Tray, Brown
The snap-in frame holds the doggy pad firmly in place and keeps dogs from chewing the pads
The tray provides superior protection to floor surfaces when used with doggy pad
Comes in three colors to fit your dog's personality; choose from brown, green and pink
The 3 layers on this option are a little different. At the very top is a grid where your dog will sit and do the deed. It is designed to be soft yet firm for a steady and secure surface which is particularly useful on yard surfaces that may not be very stable. The mesh design also allows airflow and helps keep both the surface and your dog nice and dry. The second layer is where the removable absorbent Paw Trax pads go. You will need to regularly replace these but they are definitely easier to work with for dog toilets set up outside the house than litter filling or pour-out trays.
Finally, you have a collection tray to catch any excess pee and to use directly as a pour-out option if you run out of pads or simply choose not to use them. It is an awesome feature as the option to leave out the pads makes maintenance costs a lot lower for you in the long run.
What makes this a worthy alternative is how easy it is to maintain whether you choose to use the absorbent pads or not.
Pros
---
Available in 3 colors.
Secure snap-on fastening for the 3 layers
It measures 25.2 inches by 18.9 inches by 1.6 inches.
#5 PetSafe Pet Loo Portable Indoor/Outdoor Dog Potty
SALE ALERT!!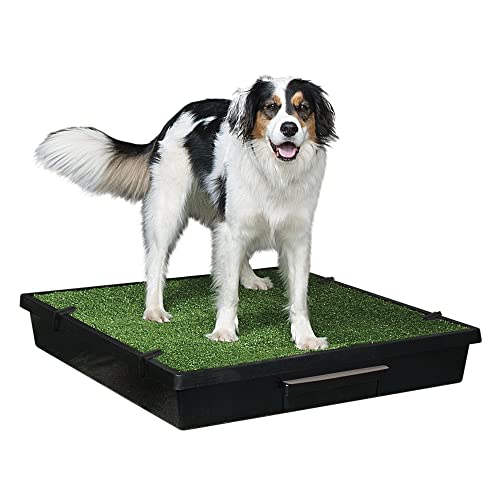 PetSafe Pet Loo Portable Dog Potty, Alternative to Puppy Pads, Large
PEACE OF MIND: Great for working pet parents or those that live in apartments and want to train the dog to use the...
LESS ODOR: The covered waste bin and Wee Sponge powder work together to trap smells and help keep the potty odor-free....
CONVENIENT CLEAN-UP: The Pee-Pod slides out of the base and the Wee Sponge powder turns the urine into a gel on contact...
On the surface level, this is just another synthetic grass outdoor dog potty. So, other than its close resemblance to real grass, what is it that sets it apart as an alternative worth your consideration when shopping for your pooch? The answer is the disposable pee pod used.
This unique feature has the urine from the top layer directed through the grooved second layer into a pod. This thus keeps the top layer dry and muffles the smell that would be coming from in the layer below. You can also easily remove this compact pod and dispose of the contents. This is definitely a whole lot more convenient than carrying a whole tray from your yard to your disposal spot but you will need to empty the pod out more frequently.
This dog potty also boasts the wee sponge powder. This compound binds the urine and its stinky fumes forming an odorless gel. For this reason, you can have the loo indoors if you wish or near outdoor living spaces so your dog doesn't have to go too far out into the yard for some potty time.
No one wants a stinky dog potty whether indoors and outdoors which is why this one definitely deserves a spot on our top 7 list. And if you really want something easy to maintain and clean out then this is worth considering as an option.
Pros
---
It is made from durable Polyethylene Terephthalate plastic
Washable synthetic grass top layer
Plastic hooks to keep the artificial grass layer in place
#6 DogCharge Indoor Dog Potty Tray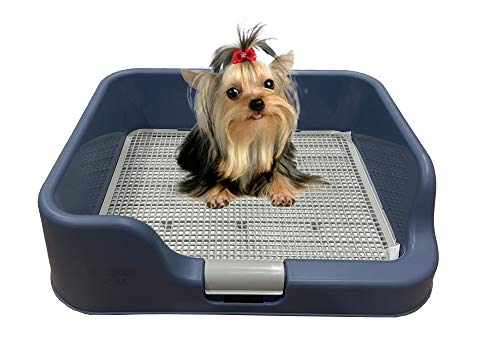 The DogCharge Indoor Dog Potty Tray is unlike any of the other models reviewed on our top 7 list with its walled-off design. It is like a potty mat and litter box combination and offers you the best of both worlds. The protective wall helps keep the dog safe from slipping off making it ideal for puppies in potty training.
You can also very easily create a nice private nook in your garden or yard space for the dog as opposed to having it sticking out in the open. This design also helps minimize the incidences of leaks. The walls also make it easy to carry the potty around with less chance of spilling the contents of the tray.
The tray mat design with the grid and collecting tray, on the other hand, offers the benefits of easy maintenance and minimizing odor. You also have the option of using absorbent pads that further reduce the stink and make it easier for you to clear out the dog toilet.
The walled-off design is the standout feature which makes this toilet a definite contender especially when it comes to shopping for pups or potty-anxious dogs that need a little more comfort and support.
Pros
---
Grid snaps to keep the top layer stable and secure.
It measures 22.6 inches in width by 17.77 inches in length by 6.1 inches in height.
Available in 4 colors.
#7 PuppyGoHere Dog Litter Pan Litter Box

As suggested in the name, this is pretty much a simple litter box with the basic basin design. It is a versatile piece that is ideal if you have multiple pets whether they are all dogs or different species. The simple litter box basin is particularly popular with puppies and small breed dogs for the fit. The high-quality material used also makes it weather resistant so you can leave it outside your house for your pets to use when they are out playing.
With this design of outdoor toilet, you will have to invest in litter box filling material or absorbent pads. These are usually a lot more efficient at odor minimization than open collection trays. They are also easier to maintain as all you have to do is swap out the pad or filler regularly and give the box a simple clean and you are good to go.
If you have small breed dogs or puppies that you would like to potty train, this alternative has a lot to offer in its simplicity. It is also easy to maintain which makes your job during the training a lot easier.
Pros
---
Built for dogs up 20 lbs.
It measures 24 inches by 20 inches by 5 inches.
Available in 9 colors.
---
Outdoor Dog Toilets Buyer's Guide
---
Picking the right toilet for your dog is something you cannot afford to take lightly. Your choice will determine a lot from how willing they are to comply with the training to their own safety while using it. It also means a lot for you as it determines the value of your investment, how easy it will be for you to maintain, and the overall impact on your hygienic standards.
With so much at stake, you cannot afford to mess up. And to help you out here are three key things you need to know in order to pick the best potty.
Ease Of Clean-Up; Collection Trays VS Absorbent Pads
Collection trays are generally cheaper when it comes to the cost of maintenance. They are also pretty easy to clean especially with waterproof material construction as all you need is soap, a brush, and some water. However, they require clearing out more frequently as they can get stinky really fast.
Absorbent pads on the other hand though expensive to maintain offer the benefit of further minimizing the odors. They can also stay in the potty for longer which means you don't have to clean the toilet as often.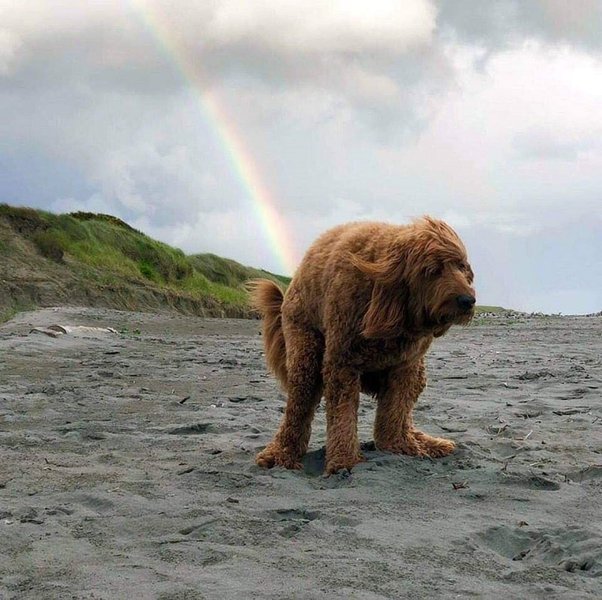 Indoor-Outdoor Applicability
A great outdoor toilet is one that you can use both inside and outside. Unless, of course, you do not mind buying two toilets for your dog.
If this versatility and the spared cash are a priority for you, it is important to consider the flexibility in terms of design allowing use in any setup. Does it have odor-reduction features? Does it fit in with your indoor space as well as your outdoor space? Is it easily portable? If the answer in all instances is yes then that is a model worth looking deeper into.
As a bonus, a dog potty with synthetic grass that has a close resemblance to real grass will get your dog very much more comfortable using it. Dogs are inclined to be outdoors and in contact with nature. With a dog potty that resembles real grass, it creates an environment that your dog will be used to and feel natural to do its business on the dog potty.
Weather-Resistant
Outdoor dog toilets are exposed to the elements including direct sunlight and additional environmental moisture whether it is rain the humidity. You need something that can stand strong for a long time in such conditions without falling apart. The best option is anything that uses high-quality synthetic materials in which case being waterproof is non-negotiable and UV resistance is always a bonus worth celebrating.
---
Final Thoughts
---
Our number one choice stands out with its versatility and all-natural look of the synthetic grass with the texture of real grass. You can use it indoors or outdoors. You can use it for potty training or on a fully trained pooch. And the best part is that it is built to last with easy maintenance and aesthetic appeal to sweeten the deal. So is it worth all the hype? Absolutely.
Whether you are shopping for your very first outdoor dog toilet or for a replacement on an old set, you came to the right place. With all that you have learned about the top picks on the market and all the special considerations that you need to make, it should be a lot easier for you to make the best decision for both yourself and your best friend.