The best portable dog bath tool is Bissell BARKBATH Dual Use Portable Dog Bath & Deep Cleaner.
Have you ever found yourself in a situation where your dog rolled in a pile of mud?
Or stepped on someone's poop?
Or even had a quick shower in the filthy pond near your house?
Well, if you are a dog parent, chances are you have to deal with such situations on a daily basis. After your dog is done with its adventure, it is time for you to have it cleaned. Luckily, the market offers many of these tools.
Here are the best portable dog bath tools that will make the cleaning process easier and more practical.
#1 Bissell BARKBATH Dual Use Portable Dog Bath & Deep Cleaner
SALE ALERT!!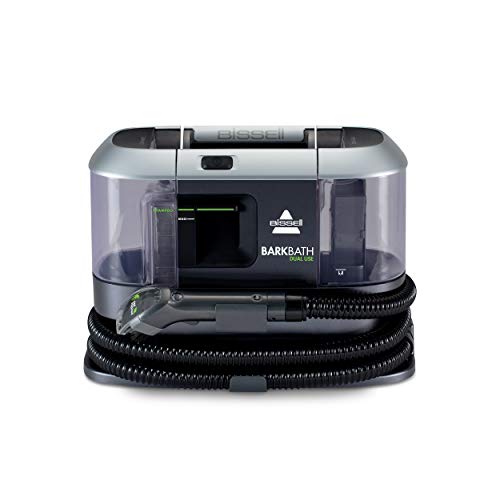 Bissell BARKBATH Dual Use Portable Dog Bath & Deep Cleaner, 2592 (3rd Gen),Grey
Every BISSELL purchase helps save pets. BISSELL proudly supports BISSELL Pet Foundation and its mission to help save...
The first 2-in-1 Portable Dog Wash and Deep Cleaner. This portable all-in-one system can be used to wash your dog in any...
Three Customizable spray nozzles (based on fur length) get beneath the fur and down to the skin to allow water and...
As the name suggests, the Bissell BARKBATH Dual Use Portable Dog Bath & Deep Cleaner has two main purposes – bathing your dog and cleaning your dog's dirty messes. In a nutshell, it offers an easy, fast, and less messy way of cleaning both your dog and your home.
Including a set of three customizable spray nozzles, this tool can be used on dogs with smooth, thick, and fine fur. It can even successfully disperse water and non-rinse shampoos in dogs with heavy, double coats. Featuring a set of grooming clips, the fur can be not only cleaned but also brushed. Ultimately, this all-in-one system can be used to remove tough stains on carpets, rugs, and upholstery. The self-cleaning attachment enables easy cleaning of the hose between uses.
This 2-in-1 portable bath tool is both environmentally friendly and pet friendly. Namely, this bath uses only 68 oz of water for cleaning an 80-lb dog, while a traditional tub bathing would require at least 19 gallons of water. Moreover, purchasing this tool helps the Bissel Foundation in its goal – saving homeless pets worldwide.
The Bissell BARKBATH Dual Use Portable Dog Bath & Deep Cleaner is the ultimate dog-bathing and stain-removing machine. Easily adjustable and suitable for different coat types, this bath tool can be used on all dogs. Classified as more than just a grooming tool, the Bissel BARKBATH can remove deep and tough stains from a plethora of different materials.
Pros
---
This portable cleaner has 2-in-1 capabilities in that you are able to not only clean your carpet or upholstery, but it can easily convert into a pup deep cleaner.
It helps to save water and time while cleaning your pup, as it can comfortably clean doggies of up to 80 lbs regardless of their fur length, and it uses only 68 oz of water.
It comes with 3 customizable spray nozzles, which allows you to clean down to the skin, and the soft suction helps to pull water and dirt off your pup into a separate container.
You can keep your pup's coat soft, untangled and clean with the three customizable grooming clips so you can clean your dog while brushing the fur.
It is ideal for anxious pups as the cleaner does not emit loud noises and is similar to a vacuum cleaner's sounds.
Cons
---
Emptying the cleaner is messy as you have to open the bottom instead of the top to drain the dirty water.
It does not always reach your pup's skin and will only clean the fur, meaning you still have to use traditional dog washing methods to get them clean.
#2 Booster Bath Elevated Pet Bathing & Grooming Center
SALE ALERT!!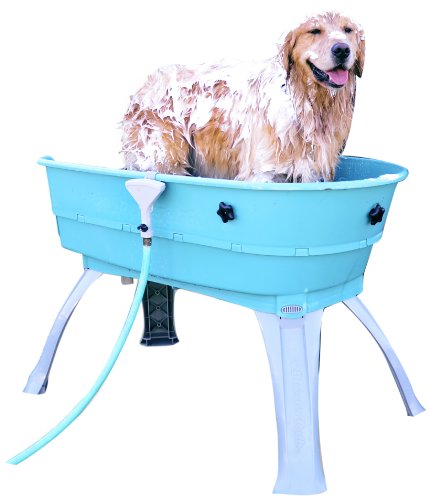 The Booster Bath Elevated Pet Bathing & Grooming Center is specifically designed to eliminate the most common dog bathing troubles, such as containment, elevation, 360° access, and easy drainage. Including a quick-snap tub and quick-snap legs, this bathing center is easy to assemble and transport. When not in use, the legs can be stored inside the tub.
Featuring a U-shaped opening, the bath can be easily entered and exited. The textured and rubberized non-slip mat eliminates the risk of slipping and sliding, thus making the bathing process as safe as possible. The spray nozzle enables easy adjustment of the water pressure and direction. This bath tool also features a 3-point safety harness, an easy-to-reach shampoo caddy, and a fan nozzle hook on the rim.
The Booster Bath is available in three different sizes – medium, large and extra large. Each model comes in three different colors – Teal, Lilac, and Red. Since it is made of UV-stabilized propylene, you do not have to worry about color fading.
Designed for light commercial and home, The Booster Bath Elevated Pet Bathing and Grooming Center is the ultimate tool for keeping your dog clean and well-groomed. This budget-friendly bath tool is made in the United States and comes with a 1-year guarantee, thus ensuring both quality and durability.
Pros
---
This grooming center measures 45 x 21.25 x 15 inches, can fit pups of up to 125 lbs and is available in distinct colors, such as Teal, Lilac and Red.
It is easy to assemble as it has two pieces, the quick-snap tub, and the quick-snap legs so you do not have to worry about storage or moving the tub.
It is designed to allow your pup to easily get in and out of the tub using the 20-inch U-Entrance and also helps your back during baths with the legs reaching 32.25 inches in height when assembled.
It is durable and easy to clean as it is made of UV-stabilized polypropylene, which does not fade even when kept outdoors under the sun.
It gives you 360° access while cleaning your pup and you can easily direct water drainage with the drain hose.
Cons
---
Larger doggie breeds may cause the bath station to break under their weight.
The plastic legs of the tub bend outwards, and this can cause it to be unstable and make your pup scared of using it.
#3 LuxPal 2-In-1 Pet Groomer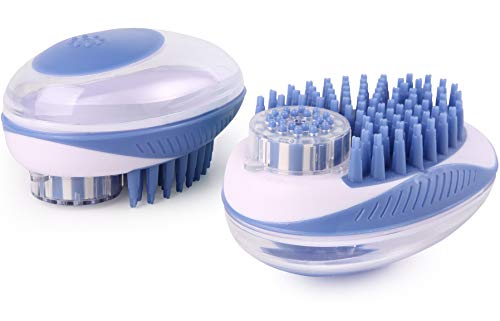 The LuxPal 2-in-1 Pet Groomer is the ultimate, high-end bathing and grooming tool designed for short and long-haired dog breeds. The tool consists of an ergonomic handle designed for comfort, soft, silicone bristles for scrubbing, and a shampoo dispenser for lathing.
The silicone bristles are soft enough to enable gentle massaging of your dog and strong enough to ensure efficient dirt removal. The bristles are also good for eliminating loose hairs. Plus, the silicone, as a material, is non-toxic and completely safe for your canine baby. Featuring a non-slip hand grip, this bath tool can be used easily and comfortably. The flow of the water-shampoo mixture can be easily controlled by a light touch.
Last but not least, the LuxPal 2-in-1 comes at a budget-friendly price, and it is available in two different colors – blue and green.
The LuxPal 2-in-1 Pet Groomer is a durable, high-quality tool featuring soft but powerful silicone bristles that can be used for several different purposes, such as washing, shampooing, massaging, and de-shedding.
Pros
---
This blue pet groomer comes in a compact design, measuring 4.7 x 3.1 x 2.5 inches and weighing only 4.8 oz.
This is a plastic groomer made with soft silicone bristles that are non-toxic and used to brush your pup's coat during bath time.
It is easy to handle, thanks to the non-slip grip that lets you control the groomer.
It is easy to use as you only need to unscrew the bottom cap, add shampoo and water before tightening the cover and then pushing the top release button.
It is used to clean various types of dirt like mud and loose hair from all body parts including the paw.
Cons
---
It does not penetrate the undercoat or skin, so it only removes top coat dirt.
It is considerably hard for some users to pump the soap through the bristles.
#4 Paw Plunger For Dogs
SALE ALERT!!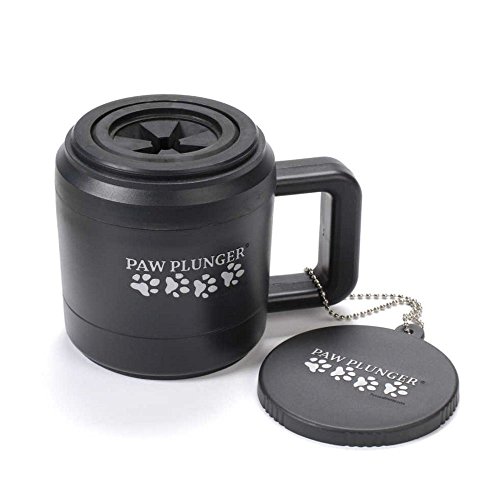 The Paw Plunger is the ideal tool for keeping your furry baby's paws free of mud, dirt, allergens, sand, salt, and harmful chemicals. Designed with practicality as its main feature, this cleaner is easy to use and even easier to maintain. All it takes are a few quick plunges, and the paws are perfectly clean.
This sophisticated yet simple mug-resembling gadget consists of a convenient and easy-carry handle, soft, multi-layered, and densely dispensed bristles on the inside, and a flexible rubber top used for paw insertion.
This highly efficient paw cleaner is available in three different sizes – Petite (for dogs up to 15 lbs), Medium (for dogs weighing between 10 and 100 lbs), and Large (for dogs weighing heavier than 100 lbs).
The Paw Plunger for Dogs is capable of cleaning your dog's dirty paws gently, safely, efficiently, and in a matter of just seconds. Simply put, it keeps dirty paws at bay. Keep in mind that clean paws mean a clean house with clean flooring and furniture.
Pros
---
This easy to handle paw plunger measures 8.55 x 6 x 6.5 inches with a paw opening of 3.5 inches and can comfortably clean paws for pups between 15 and 75 lbs.
It has soft bristles on the inside and you apply shampoo to the top bristles before placing your pup's paw inside for cleaning.
It has an easy to carry handle that lets you hold up the plunger while using it.
It helps to keep the paws free of allergens, sand, dirt, mud and loose fur.
The wide no-spill opening with a flexible rubber top ensures that the floor stays clean as you use the plunger.
Cons
---
Pup owners or pups can injure themselves as they pull out a hand or paw from the plunger after cleaning because of the stiff collar.
Some pups do not like to insert their paws inside the plunger out of fear or anxiety.
#5 AquaPaw Pet Bathing Tool
SALE ALERT!!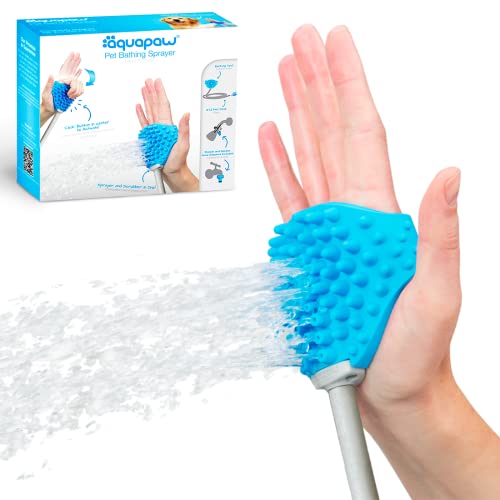 As a one-size-fits-all bathing glove, the AquaPaw Pet Bathing Tool is the first wearable sprayer-scrubber combination that can be turned on and off with a simple press of a button. Easily operable with only one hand, the glove is not only easy to manage but also leaves your other hand free for grabbing towels, shampooing or restraining your dirty canine baby.
The slim and highly flexible sprayers, controlled by your hand's grip allow soaking, scrubbing, and rinsing off your dog by injecting water into the densest of fur. Featuring several different adapters, the bathing glove can be connected to the garden hose, the bathtub, or your shower, thus making it suitable for both indoor and outdoor use.
The AquaPaw Pet Bathing Tool is designed with three key features in mind – saving time, reducing the mess associated with bathing rituals, and eliminating the stress caused by the bathing process. The lifetime warranty indicates the tool's ability to successfully withstanding the test of time.
Pros
---
This is a multifunctional bathing tool, which lets you clean your pet while brushing them at the same time.
It has a button mechanism, and it lets you turn it off and on with a single hand movement, which frees your other hand to soothe and pet your pup during a bath.
It is made of durable and easy-to-maintain 100% FDA-grade silicone that is tough on dirt but gentle against your pup's skin.
Comes with adapters for showers and garden hoses, which let you attach a hose from either water source while cleaning your pup.
It is perfect for indoor and outdoor use and also comes with an 8-inch hose so you can clean your pup anywhere.
Cons
---
Some pup owners feel that the control button is hard to operate sometimes.
The adapters leak and waste water if not fully compatible with your shower or garden hoses.
#6 Bodhi Dog New Grooming Pet Shampoo Brush
SALE ALERT!!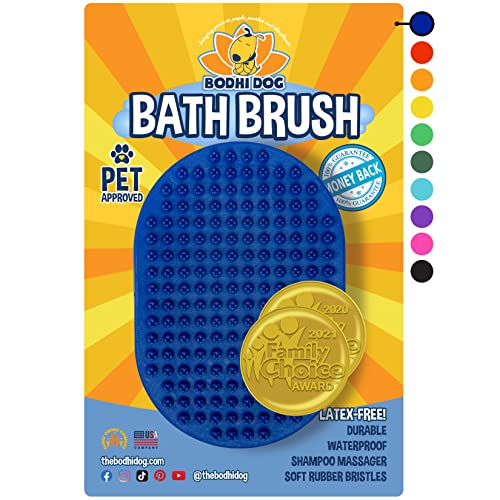 The Bodhi Dog New Grooming Pet Shampoo Brush is a durable, waterproof shampoo massager with soft rubber bristles. Awarded with the Family Choice Award for 2020, this pet-approved brush comes with a 100% money-back guarantee.
The brush's soft yet effective rubber tips with split ends are good not only for scrubbing away dirt and dead skin cells but also for removing loose fur. It also increases the shampoo lathering and achieves a deeper and more thorough cleaning. The ergonomic oval shape of the brush ensures easy and highly-comfortable use.
Bodhi Dog New Grooming Pet Shampoo Brush makes the bathing time a fun and pampering experience. The tool is best suited for bathing, grooming, and massaging miniature and small dogs with short-haired furs.
Pros
---
This pet shampoo brush measures 8.54 x 5.47 x 1.3 inches and weighs 3.52 oz; it is also available in 10 distinct colors, such as Blue, Yellow, and Black.
This is a handheld tool with soft rubber tips, which can clean away dead skin or loose fur and is also soft against your pup's skin.
It is waterproof and can be used as a dry or wet brush during doggie baths.
It is durable, which means it will serve you for a long time and is also latex-free and safe for doggies with allergies.
It is an award-winning pet brush that is made of animal cruelty-free products, making it environmentally friendly.
Cons
---
It takes time to clear the brush of fur and you sometimes have to use tweezers to pull them out.
The handle might be too big for some hands, making it slip off your hand during doggie bath time.
#7 Waterpik PPR-252 Pet Wand Pro Shower Sprayer Attachment
The Waterpik PPR-252 Pet Wand Pro Shower Sprayer Attachment is a professional grade shower that ensures fast and easy bathing. Using a unique hand-held water spray technology, the shower is suitable for dogs of all sizes.
High-pressure comb-shaped water spray enables penetrating through particularly dense coats and performing thorough cleaning and rinsing. The water flow can be easily adjusted and even paused when cleaning sensitive areas. The wand's ergonomic rubber grip can be easily operated with only one hand.
Featuring an additional hose and adapters, the shower can be attached to shower pipes, utility sinks and garden hoses thus making it perfect for both indoors and outdoors use.
Engineered with your dog's cleanliness in mind, as a professional grade shower, the Waterpik PPR-252 Pet Wand Pro Shower ensures a hassle-free bath time. The shower's unique wand shape ensures full coverage and makes it suitable for dogs of all sizes and coat types.
Pros
---
This product is made of plastic and comes with a flexible 8-Foot hose, suction cup hook, indoor shower inverter and an outdoor hose adapter, and these parts all work together to give your pup a clean bath.
It comes in a unique wand shape design and allows for one-hand operation to let you clean your pup while soothing them with your other hand.
It has a flow rate of 2.5 GPM that gives your large doggie a proper clean but you can also opt for the 1.8 GPM flow rate shower sprayer attachment for smaller pets.
It has a contoured water combing spray, which helps with shampoo removal and helps to clean all types of fur, coupled with the targeted narrow spray for spot cleaning.
It can be installed on a shower indoors or a garden hose outdoors so you can clean your pup any time.
Cons
---
The diverter valve is made of plastic, which means it will break after a short time.
The suction hook does not properly attach to some bathroom walls.
---
Portable Dog Bath Tools Buyer's Guide
---
All items that can be used to bathe your dog, either indoors or outdoors, are defined as portable dog bath tools. There are countless different types of bath tools, but they all have one main purpose – keeping your dear Fido clean in the easiest and most convenient way possible.
As stated, there are many different types of bath tools – different shapes, sizes, designs, and functions. However, the most popular bath tools include: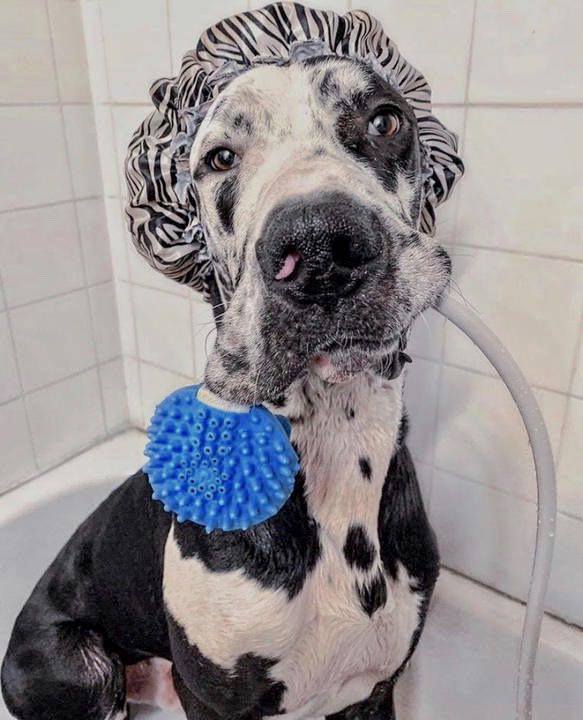 Portable And Elevated Bathtub
This type can easily be used both indoors in the comfort of your bathroom or outdoors in your yard. Additionally, elevated bathtubs are easy to assemble and can be transported and used anywhere.
Shower Bags
Designed with simplicity as the primary concept, shower bags just need to be filled with shampoo water and used on the go. Shower bags are practical and easy to carry around. Therefore, they can even be used while camping or hiking.
Multifunctional Cleaning Systems
As the name suggests itself, these devices are more complex. Besides using it to wash your dog with doggy shampoo, they can also suck the dirty water back but in a different container from the clean one. Depending on the manufacturer, some multifunctional cleaning systems can even be used to remove dog hair from furniture.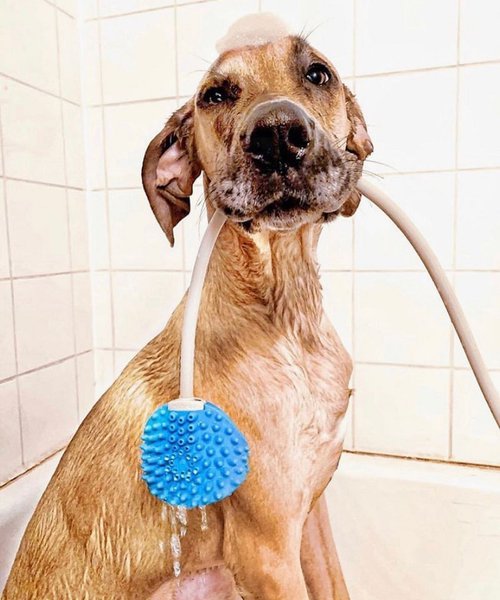 Benefits Of Using A Portable Bath Tool
As a responsible dog parent, you know how hard it is to deal with your dog's dirtiness. Bath tools make the process of cleaning your dog much easier. In fact, there are several benefits of using a portable bath tool:
Large dogs are hard to lift and fit into your bathroom's bath. Additionally, if scared of the bathing process itself, large dogs may try to wrestle while being placed in your bath. This is not only exhausting but can also be dangerous if either you or your dog slip.
Bath tools allow 360° access. Unlike regular baths, portable bath tools allow you to have better access to your dog. Consequently, the cleaning process will be more efficient.
Your bathroom will remain clean and tidy. We can all imagine what a mess our dogs can make if given the opportunity. Decorating the bathroom took time, money, and effort and if not careful, it can all be ruined.
Active and working dogs often get beyond dirty. To be honest, active and working dogs (such as hunting dogs, herding dogs, and service dogs) often come back home covered in mud, dirt, and grime.
Hunching over the bathtub can be painful. If you have some form of disability or physical limitation, hunching over the bathtub would be impossible. Even if everything is alright with you, hunching for a longer period of time can be uncomfortable.
Your canine baby is a heavy shedder. If your dog's hair goes down the drain, you will definitely need a plumber. Using a portable bath tool prevents you from having to pay a plumber.
Keeping your dog clean while away from home can be hard. Well, it is not hard if you have a portable bath tool. That way, your dog will be clean anywhere and at any time (particularly important if participating in dog shows and field trials).
Being bathed outdoors is less stressful for your pouch. Some dogs are reluctant when it comes to bathing. Performing the bathing ritual outdoors, in a more comforting environment, can have a positive, calming effect.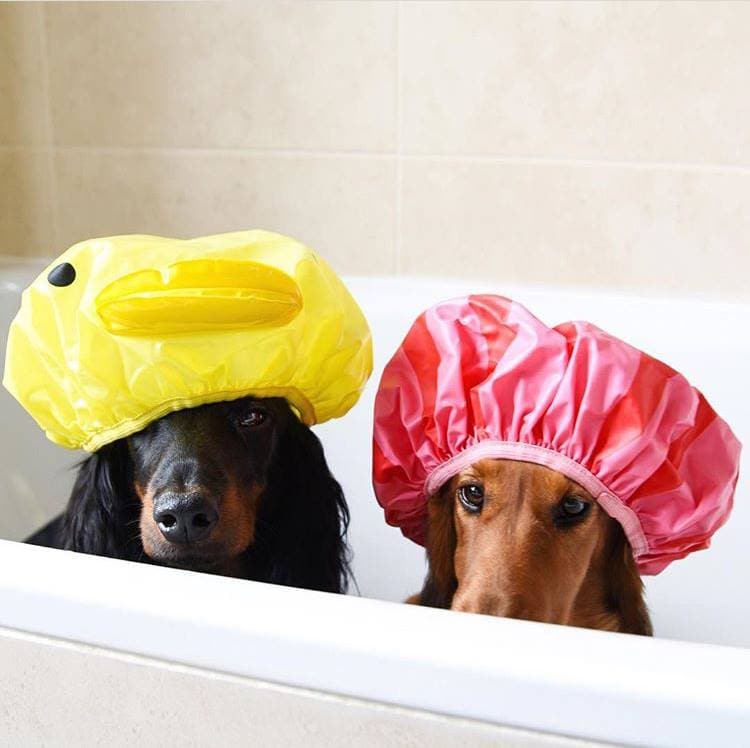 How To Choose The Perfect Portable Bath Tool?
When choosing the perfect bath tool, you need to take into consideration several factors:
Type
As previously stated, there are several different types of bath tools. Whichever you choose depends on your needs and the needs of your dog. There is no such thing as the ideal bath tool. Each type has its advantages and disadvantages.
Size
Make sure you measure your dog before purchasing a bathtub. The tool needs to be spacious enough to comfortably suit your dog.
Material
Make sure the bath tool you are going to purchase is made of strong and durable materials capable of withstanding years of continuous usage. Today, most bath tools are made of high-quality PVC.
Price
Last but not least, take into consideration the product's price. Usually, high-quality products are of better quality. However, that is not always the case.
Taking care of Your Portable Bath And Tools
How to properly take care of your portable bath tool depends on its type and model. Different models require different maintenance procedures. However, certain basic principles apply to all types and models. Those include:
Protect the bath tool while not using it. Portable bath tools are specifically designed for quick showers; they are not intended for full-time use. Therefore, when not in use, they need to be properly protected.
Consider replacing certain parts when needed. Good and regular maintenance is important for prolonging the bath tool's life. Keep in mind that even high-quality bath tools require parts replacement once in a while. If you use the bath tool for large dogs, chances are you will need more frequent replacements.
Keep your dog's parasites away from the portable bath tool. Before using the bath tool, thoroughly check your dog for external parasites such as lice, fleas, ticks, and other insects. Sometimes, those parasites can damage the bath tool. Not to mention they are dangerous for your dog and need to be timely and properly removed.
---
Final Thoughts
---
Our top pick offers far more than just bathing and keeping your canine friend clean and dirt-free. This 2-in-1, or all-in-one, system for bathing and cleaning is designed for portability and manufactured to work in an environmentally-friendly way.
Simply put, as a tool for bathing and cleaning, it takes the bathing tasks to an entirely higher level. Last but not least, by buying this product, you donate to the Bissell Foundation, which is devoted to saving homeless pets.