The best fish oil supplement for dogs is Zesty Paws Pure Wild Alaskan Salmon Fish Oil Supplements For Dogs.
Every dog owner knows the importance of keeping their pup healthy and happy. Fish oil supplements are a great way to support your canine's health as they provide important nutrients that help maintain a healthy heart, skin, and coat.
The question is: what type of fish oil supplement should you be giving your dog?
It is important to know what ingredients to look for. Omega-3 fatty acids and EPA/DHA are two of the most important ingredients that help support healthy joints, skin, and coat as well as a happy heart.
We have compiled a list of our favorites below for you to make an informed decision when buying the best fish oil supplement for dogs!
#1 Zesty Paws Pure Wild Alaskan Salmon Fish Oil Supplements For Dogs
SALE ALERT!!
This fish oil supplement from Zesty Paws puts together all the benefits of omega-3 fatty acids into one bottle. It contains 75 milligrams of EPA and 95 milligrams of DHA for every gram of fish oil. The Zesty Paw's Pure Wild Alaskan Salmon Fish Oil Supplements are 100% natural.
In fact, they only contain salmon fish oil and nothing else. If you don't like products that have too many ingredients, then the Pure Wild Alaskan Salmon Fish Oil is the ideal choice for you.
This product is available in liquid form, soft gel preparations, or chewable tablets. You can choose whatever option feels more natural to use for your dog. Besides, the liquid can be mixed into the dog's food. Zesty Paws also gives you a small nifty table that you can use to determine the total amount of fish oil supplementation that your dog needs each day depending on its weight.
This fish oil comes fully packed with EPA and DHA. You also get omega-3 fatty acids that support joint & heart health. It comes in a liquid form, which makes it easier to add to your dog's existing diet.
Pros
---
Fish oil from wild-caught Alaskan salmon
Contains no artificial preservations or flavoring
NSF and GMP-certified in the US
Promotes healthier and shinier coat
#2 Vital Pet Life Salmon Fish Oil Supplements For Dogs
SALE ALERT!!
Salmon Oil for Dogs & Cats, Fish Oil Omega 3 EPA DHA Liquid Food Supplement for Pets, All Natural,...
✅ SOFT, SHINY, & SMOOTH COAT - Does your dog, cat, ferret, horse, or energetic ball of fur have a dull, dry or coarse...
✅ DRY SKIN, ITCHING, FLAKING, SHEDDING, & ALLERGIES? - Is your pet constantly itching or scratching due to dry skin...
✅ INFLAMMATION, JOINT PROBLEMS, & ARTHRITIS? - Have you noticed your pet playing less and having trouble with common...
The Vital Pet Life Salmon Fish Oil is an affordable option that costs around $1.11 per Oz. Comparatively, other fish oil brands are costing around $1.50 to $2.0 per Oz.
It is 100% natural and made from wild-caught Alaskan salmon that is also sustainable. They have been accredited with "Certified Sustainable Seafood" by the Marine Stewardship Council.
It offers an optimal ratio of EPA and DHA. The supplement promotes reduced inflammation and joint pain, can support cardiovascular health, and improves the immune system.
In addition to this, the salmon fish oil is made in a controlled facility. It's 100% natural and has no GMO byproducts, preservatives, artificial flavoring, or coloring.
We loved that it is 100% natural, sustainably made fish oil that is also affordable.
Pros
---
Certified sustainable by the Marine Stewardship Council.
Manufactured in USA.
Contains both omega-3 & omega-6 fatty acids.
#3 Grizzly Wild Alaskan Salmon Fish Oil Supplements For Dogs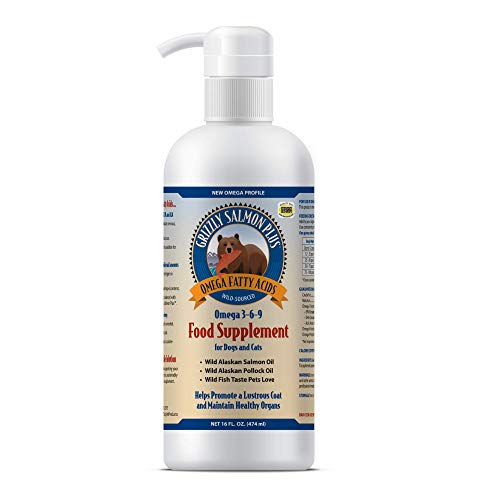 The Grizzly Salmon Fish Oil for Dogs is one of the most popular fish oils out there. It provides exceptional amounts of EPA and DHA, and has three fatty acids (Omega-3, -6, and -9) that deliver a wide range of potential health benefits for your pooch.
The oil is secured from the wild Alaskan salmon, but unlike the two options above, it has a higher concentration of omega-3 and omega-6 fatty acids. The product also contains higher amounts of arachidonic fatty acids.
The Grizzly Salmon Fish Oil for Dogs is pure. It does not have any other ingredient other than the wild Alaskan salmon fish oil. The oil delivers many health benefits for the canine companion. It can lead to a better healthier coat, stronger immune and cardiovascular system, and improved nervous system functioning. Additionally, due to the high level of EPA, the oil can have positive effects in reducing inflammation among dogs.
The Grizzly Salmon Fish Oil has omega-3, -6, and -9, which most other fish oil supplements don't have. It is highly recommended to store this fish oil in the refrigerator after opening.
Pros
---
Contains omega-3, -6, and -9.
Offers a more balanced blend of omega-3 EPA and DHA
Promotes stronger immune system and cardiovascular health
#4 Zesty Paws Soft Chews With Omega-3 Fatty Acids Fish Oil Supplements
SALE ALERT!!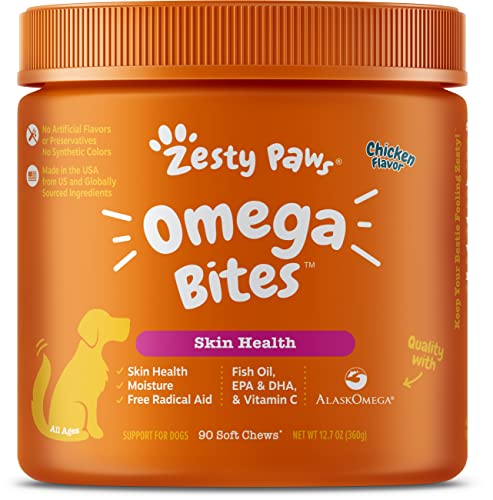 The Zesty Paws Omega-3 Soft Chews are designed for any canine. It doesn't matter how old your pooch is or how small or big it is, this fish oil supplement treats can have significant positive effects on its health.
Specially formulated to improve and support the dog's skin and coat, it includes vital components such as Vitamin C, E, and Biotin that are needed for healthy skin and coat. These ingredients also help to reduce itching, irritation, and shedding in both senior dogs and puppies.
The product delivers 500 milligrams of essential fatty acids per chew, which is quite high. In addition to the skin and coat-related benefits, this fish oil supplement also offers cardiovascular health benefits. The Zesty Paws Omega-3 is rich in vitamin C, EPA, and DHA too. If your canine buddy has been suffering from pain and stiffness, the fatty acids in this product can help lubricate joints which will improve overall mobility.
A delicious chicken-flavored fish oil supplement chew. It's easy to store and bring with you wherever you go.
Pros
---
Contains high amounts of omega-3 for better skin and coat support
Can be used as a training treat
Supplemented with antioxidants Vitamin C and E
#5 Amazing Nutritionals Omega-3 Fatty Acids Fish Oil Supplements
SALE ALERT!!
Amazing Omega 3 for Dogs - Dog Fish Oil Pet Antioxidant for Shiny Coat, Joint and Brain Health - 120...
Great tasting fish oil for dogs skin and coat, odorless, no fishy smell, no mess, small and easy to chew bite-sized...
Our dog supplements for skin and coat have no byproducts, no allergies, 100% safe, Made in America, veterinary science...
Make your dog look & feel great with the ultimate chewable Omega 3 6 9 fish oil supplement for shiny coat, healthy skin,...
One serving of the Amazing Nutritionals Omega-3 Fish Oil contains a total of three tablets. Each of these tablets has about 50 milligrams of fish oil and 17 milligrams of sunflower oil. This provides a ratio of roughly 3:1 of omega-3 to omega-6. Each tablet also contains omega-9 fatty acids.
These fatty acids are all essential in enhancing the dog's health. They can lead to better skin and coat, improved immune system, healthier bones and joints, and a stronger nervous system
Additionally, the chewable tablets are flavored in bacon and liver. This makes them quite delicious and tasty for the dogs. The product is manufactured in a GMP-certified facility for safety and quality assurance. The oil is fast-acting too.
From feedbacks provided by dog owners, they have seen noticeable improvements in their dogs after 30 days of usage.
The oil offers a good ratio of omega-3, -6, and -9 acids. The product also has a formulated balance between EPA, DHA, ALA, and non-essential fatty acids. You will need to spend a little extra on it, it offers a lot of value, especially when it comes to the dog's health.
Pros
---
Helps to promote a shinier coat, healthy bones, better brain health, and stronger joints
Made in a USA-based GMP and organic certified facility
Money-back guarantee
#6 Nordic Naturals Omega-3 Fatty Acids Fish Oil Supplements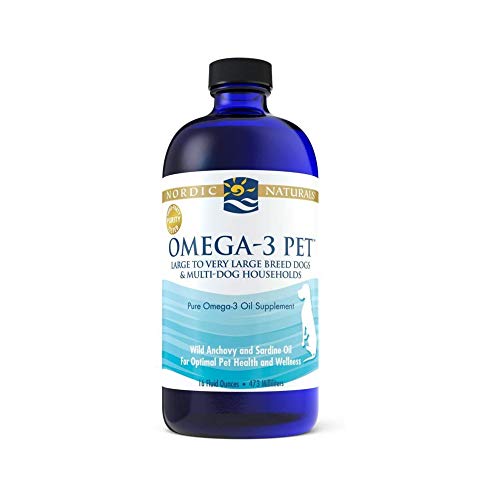 Nordic Naturals Omega-3 Fish Oil Liquid is a pet-based dietary supplement that comes loaded with high amounts of omega-3 fatty acids. The oil is sourced from the sustainable anchovies and sardines of the South Pacific. Their fish oil supplements are also delicious, and they offer many health benefits.
In addition to this, unlike many other fish oils in the market that are produced in ethyl ester molecular form, this one is formulated using triglyceride form. This form makes it easier for dogs to absorb it faster. The product has also been subjected to third-party lab tests to verify its purity.
Nordic Naturals Omega-3 Fish Oil Liquid for Dogs is one of the most excellent sources of essential omega-3 fatty acids. It also offers outstanding amounts of EPA and DHA. The oil supports various health aspects for your pooch, including stronger joints, better heart function, and an improved immune system.
Pros
---
Distilled for extra purity
Made from non-GMO, gluten and dairy-free ingredients
---
Fish Oil Supplements Buyer's Guide
---
Now that you understand what fish oils are and the possible benefits they have on dogs, the next question is how to find the right product. Sadly, there are no easy answers here. The market has plenty of fish oil brands available.
The health needs of your pooch will determine the kind of product you choose. Nonetheless, there are still a few factors that you can use to distinguish between high-quality fish oil supplements and common ones.
What's The EPA And DHA Concentrations?
Different products have varying concentrations of DHA (Docosahexaenoic Ccid). However, higher concentrations are not always necessary unless you are buying the oil to help improve the dog's brain function. Besides, dogs have their natural mechanism of storing DHA in their body. Giving them more and more will not have any noticeable impact on their overall health.
Many experts believe that EPA (Eicosapentaenoic Acid) is far more vital than DHA. The reason is that dogs do not have a way of producing and storing EPA in their bodies. They have to rely on external ingestion to meet the EPA nutritional requirements. This is where the fish oil supplements come in. Additionally, EPA has other health benefits including anti-inflammatory properties.
In that case, it's often advisable to go for products with higher EPA concentrations and lower DHA. For added convenience, you can always consider salmon dog food which is generally higher in EPA and DHA.
Are The Fish Oil Harvested From Wild Sources?
Wild fish should always be used as a source of fish oil. It is possible to use farmed fish but there are many quality concerns. You never know the kind of farming practices the farmer uses and whether they are safe for your pooch or not. Besides, it is a well-known fact that fish farms use a lot of synthetic ingredients in farming and this reduces the nutritional value of the fish oil offered by farmed fish.
That's why you should always make sure the fish oil is sourced from wild fish. It's prevalent to find the statement "caught in the wild" in the labels of many fish oil supplements out there. Do not take their word for it. A disturbing fact is that many products will claim they are wild but in reality, they are sourced from hatcheries. While fish from hatcheries is healthier than from farms, the purity and quality of wild fish are always highly recommended.
Apart from fish oil supplements, there are other healthy dog food options that you can consider feeding your pooch too.
Real Fish Oils
Some fish oil supplements offer additional ingredients in their formulation. Some even claim they can provide ALA which is typically converted into APA and DHA.
However, your dog's body may lack the capacity needed to process some of these ingredients and make them useful. In that case, it is often better to go for pure fish oil. In essence, these are simply supplements that contain pure fish oil as their main ingredient. Nothing else is added. This makes it easier for the dogs to fully process the oil and benefit from it in the best way possible.
Supplementing your dog with fish oils is a great step in ensuring that your pooch has a healthy and active life. Be sure to keep them active with regular exercises such as swimming and walking.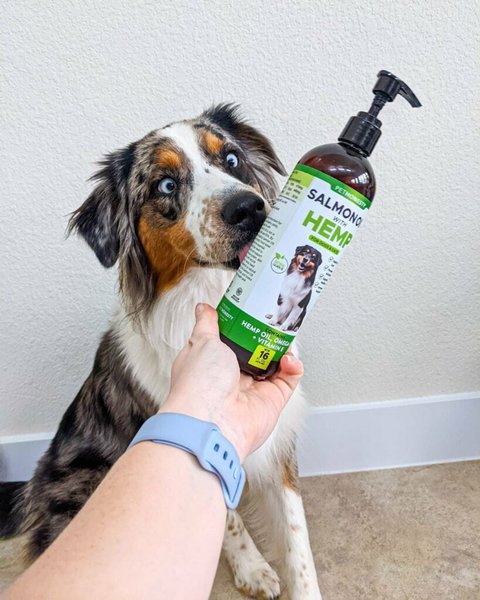 Health Benefits Of Omega-3 For Dogs
One of the most common ingredients that you'll find in dog food is omega-3 fatty acids. These acids also come in the form of supplements or natural sources like fish oil.
Health experts around the world have praised omega-3 fatty acids for being very beneficial to health, most especially for the heart and skin. But it is not only humans that can benefit from omega-3. In fact, a pet diet that's rich in omega-3 fatty acids can help to protect your dog from allergies and different skin conditions.
The only way for dogs to get a good amount of omega-3 is through diet and nutrition.
Below are some of the health benefits of omega-3 for dogs.
Treats Inflammation
Omega-3 and omega-6 work together to control inflammation. While omega-6 increases inflammation, omega-3 lowers it, which maintains the balance.
If any of these nutrients go out of balance, the immune system of your dog will be in jeopardy, and it could end up suffering from various conditions associated with inflammation, including an impaired immune system.
Boosts Heart Health
Studies have shown that dogs that are getting enough omega-3 in their diet are protected against the development of atrial fibrillation, a condition characterized by irregular heart rhythm.
Furthermore, getting enough omega-3 can also minimize the risk of suffering from heart disease. This is because omega-3 works as an anticoagulant that prevents blood clots.
Improves Cognitive Function
The omega-3 fatty acids can also help to support the neurological health of your dog as well as its cognitive function. This is especially beneficial for dogs that are suffering from age-related conditions and may have challenges in mobility.
Several studies suggest that consuming a good amount of omega-3 fatty acids has a positive impact on the dog's behavioral memory, cognitive functioning, and performance.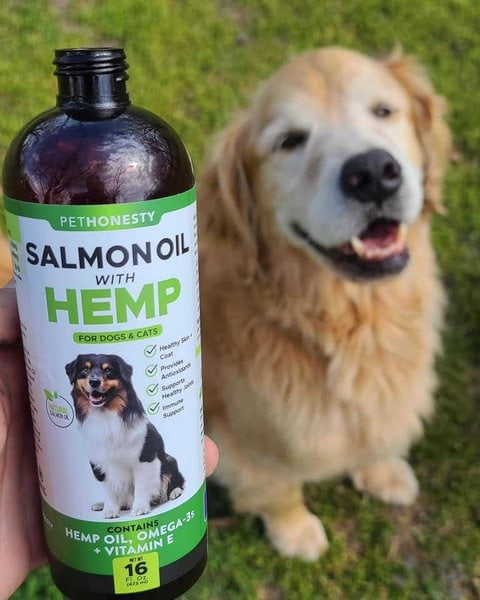 Prevents Dry Skin
Dogs that have unhealthy skin and poor coats are at high risk of developing skin irritation, itchiness, bacterial infections, and allergies. Supplementing with omega-3 fatty acids regularly can greatly help to improve the coat and skin of your pooch. Furthermore, it can also help to prevent the development of certain types of skin conditions, such as yeast infection and allergies.
In fact, omega-3 may also help to prevent the incidences of hotspots and get rid of dandruff. Above all, omega-3 may help minimize shedding on dogs while promoting a healthy, beautiful, and shining coat.
Helps With Joint Inflammation
Since omega-3 has anti-inflammatory abilities, studies show potential improvement in osteoporosis in dogs that exhibit lameness. Some studies also suggest objective improvement in the weight-bearing score of dogs.
The omega-3 fatty acids derived from supplements, such as flax, work by minimizing the production of prostaglandins, which is responsible for joint inflammation in dogs.
Upon observation, dogs that have plenty of omega-3 in their diet are more agile and can move freely around compared to dogs that don't get enough omega-3.
Adding More Omega-3 To Your Dog's Diet
Now that you know the importance of omega-3 in a dog's diet, you're probably wondering how much of this nutrient you should give to your dog. This will pretty much depend on certain factors, such as the age of your dog, health, and weight.
When you purchase omega-3 supplements, the label will most likely include information about the proper dosage to give to your pet. If you can't figure out how much to feed your dog, we recommend you talk to a vet.
Aside from giving your dog omega-3 supplements, you can also feed your dog with foods that are rich in omega-3 fatty acids, such as sardines, anchovies, salmon, and trout.
Related: Best Omega-3 For Dogs
---
Final Thoughts
---
Many factors go into deciding what kind of fish oil is perfect for your dog. However, even with the massive variety of options available in the market, our top pick emerges as the winner of the rest.
It's a pure and natural product that comes with essential fatty acids. If you are looking for a safe and quality product that delivers an array of health benefits, then you won't have any problems with the top pick. It's also affordable, especially when you consider the benefits that it offers.