The best extra large dog house is MidWest Homes Outdoor Wood Dog House.
When you have a dog that is bigger than your average pup, it can be hard to find a place for him to stay when you're out and about. Dogs love nothing more than to play outside and jump around in the grass, snow, or rain puddles. But, once your dog's done with all that, you may not want it to come into your house and track dirt all over your floor. This is where dog houses come in.
The only issue is that it's not always possible to get suitably sized dog houses for large breed dogs. In fact, the older your pup gets, you might find that its dog house is getting even more cramped every year, to the point that it doesn't fit anymore.
What you need is an extra-large dog house, which has plenty of room for even the largest dogs to stretch out, sleep comfortably, and rest easily.
Let us share with you the list of the best extra-large dog houses and provide you with some helpful tips on how to pick out the perfect dog house for your big pup!
#1 MidWest Homes Outdoor Wood Dog House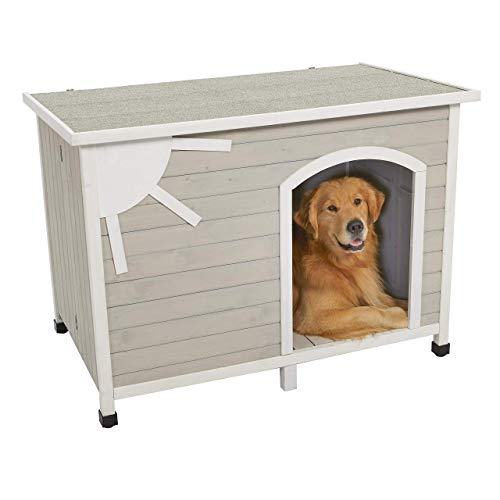 Are your dogs so big that you can't even lift them anymore? They will fit right into this MidWest Homes Outdoor Extra-Large Wood Dog House. It's made of wood and designed for large dogs below 80 lbs.
It is made with water-resistant, stained wood that gives a new look and feels to the dog house. With its stainless steel hinges, it requires minimal maintenance, and you don't have to worry about rusting or paint peeling off in time.
The asphalt shingle composite roof is also highly durable – this material is well known in the construction industry to last between 15 to 40 years.
You'll be glad to know that this dog house is super easy to install and assemble. It comes preassembled; all you need to do is unfold it and attach the roof. No tools are needed.
A great product at a decent price point. This extra-large dog house from MidWest Homes is an excellent choice for your canine companion because it has all of the features that make it cozy and comfortable without sacrificing quality or strength!
Pros
---
This dog house is available in three different sizes, such as Small, Medium, and Large with the Large option measuring 28.94 x 45.16 x 33.12 inches and being capable of handling medium dog breeds of up to 80 lbs.
This dog house doesn't require any assembly as it comes in a foldable design that allows you to store it away or pack it for travel.
It is made with durable materials like water-resistant stained wood, stainless steel hardware, and strong asphalt shingles, so your pup stays comfortably in a sturdy house.
In this kennel, maximum ventilation and a dry surface are catered for since the floor is elevated from the ground up, a large arched doorway is set up, and each ground post comes with an adjustable foot to help you level the house.
This dog house comes with a one-year manufacturer's warranty.
Cons
---
After some time, the wooden parts begin to warp, and this causes the bottom to lose its adjustability as needed.
It can easily fall apart due to the light materials used to design this dog house, especially if you have an overactive pup.
#2 Petsfit Extra-Large Dog House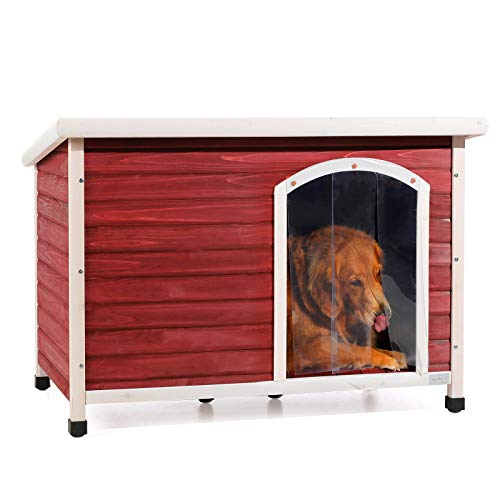 A large dog breed can take up so much space upon maturity, and you will find it difficult to house your dog in the dog house you bought for it back when it was just a puppy. This roomy extra-large dog house from Petsfit with spacious dimensions measuring 45.6 inches long by 30.9 inches wide by 32.1 inches tall should help you out. Your big pup will definitely seek comfort in this big house, as it is able to stretch the legs, move around and sleep peacefully.
This is an extra-large dog house with a raised floor, which means it won't get flooded when it rains, and it won't flatten or damage your precious lawn. In addition to its construction from waterproof and weather-resistant wood, this dog house is super cute and looks like the pet version of a Cape Cod house.
The only downside to using this type of wood is that it can be quite hard for your dog to sleep in. But, you could always add a few blankets and a sleeping cushion to make it extra comfy for your pet pooch.
With this extra-large dog house, you won't feel guilty about making your dog sleep outside because you'll know it has its comfy abode to retire to.
This Cape Cod-style extra-large dog house from Petsfit comes with pre-drilled holes for easy assembly. The roof is detachable such that you can open up the top, and your dog will enjoy the skylight. It makes it that much easier to keep the house clean too.
Pros
---
This dog house is available in three sizes, namely Small, Medium, and Large, and in three distinct colors, with the large house measuring 45.6 x 30.9 x 32.1/28.2 inches, suitable for medium pup breeds weighing up to 80 lbs.
It is easy to assemble thanks to the pre-drilled holes, and it is made of Finnish spruce panels manufactured with stainless steel hardware and strong asphalt shingles, and this offers durable protection and shelter for your doggie.
It comes in a log cabin design that employs a slanted asphalt roof and door flap, both of which help to keep the dog house dry and warm.
It has an open-up roof that lets you easily access it for cleaning and ventilation while also arranging bedding for your pup.
It is elevated from the ground, has an additional bottom rail and a removable floor, and they work together to offer a dry surface and proper ventilation for your doggie.
Cons
---
For those dog owners who live in humid areas, they may experience mold and rot on the roof of the house, so this product is not ideal for such weather conditions.
The floor has gaps between the slats, and this will make your dog cold and uncomfortable during chilly weather.
#3 Ferplast DogVilla Dog House
Ferplast Dog Villa Dog House, Small 28.74 x 23.23 x 20.87"
Durable Dog House ; Made with anti-shock robust plastic that is waterproof and UV rays resistant ; Dog house measures...
Patented Fold-Out Porch ; Side panel opens into a porch providing additional living space and ventilation for your dog ;...
Suitable Ventilation ; Large entry-way, fold-out porch along with built-in ventilation and drainage system provides your...
The Ferplast DogVilla is constructed from durable plastic material that is equally effective at keeping out rays and protecting dogs from harmful UV rays. This DogVilla kennel features a patented fold-out porch design that provides extra living space for the pooch, and a fold-out door located either on the left or right side grants easy access to the dog villa.
This dog house offers built-in ventilation to ensure optimum airflow, and its drainage system helps keep the villa, and by extension, the pooch, dry at all times. It measures 28.74 inches long by 23.23 inches wide by 20.87 inches tall, which makes it suitable for use with small dogs only.
Additionally, this DogVilla kennel can be easily assembled without any tools, and in situations when it becomes necessary to move the dog villa, dismantling can be done in a jiffy.
The Ferplast dog villa is portable and provides dog owners with a convenient means of housing their small furry friends. And the dog house's built-in ventilation system, coupled with a drainage system, ensures the pooch will be comfortable at all times.
Pros
---
It is available in five different sizes, and its measurements are 23.23 x 28.74 x 20.87, which is suitable for small pup breeds.
This dog house is made of waterproof and UV-resistant anti-shock robust plastic, which makes this dog house durable and stays dry and warm during extreme weather conditions.
It has a side panel, which opens out to the front porch that can be assembled with the fold-out door, and this allows for more space and comfort for your furry friend.
This dog house has a large doorway and drainage system that keeps the inside dry while also boosting ventilation.
This brown, white and black dog house is easy to assemble and requires no tools to put it together, so your pup can be nice and comfortable in no time.
Cons
---
The plastic is thin and brittle for some customers as it can easily crack and break.
There are fewer holes than screws on the door frame, and this leads pup owners to screw directly into the plastic.
#4 TRIXIE Natura Classic Outdoor Dog House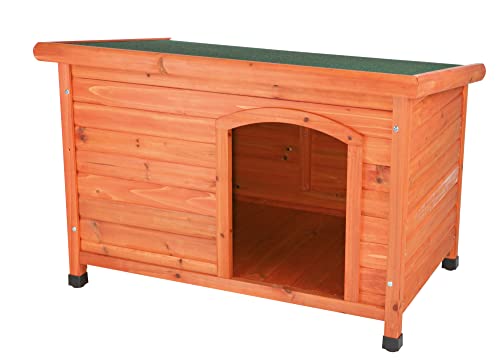 The Natura Classic outdoor dog house from TRIXIE is the perfect spot for your dog to enjoy a calm nap when it's too hot or cold to be outside. It's made from solid pine with a nice glazed finish which means it's made to last. It requires very little maintenance, thanks to its gloss finish.
As part of its thoughtful design, this extra-large dog house comes with an off-center door for added protection from the elements. This is in addition to a tongue-and-groove and drought-resistant exterior that protects against rain, snow, and sleet.
But, don't let its wooden finish fool you; this house isn't stuffy or constricting. On the contrary, it's well-ventilated due to a duo of locking arms that can be pried open from the hinged roof to let in some fresh air and even some sun. This feature also makes it easier for you to clean the house when you need to.
This extra-large dog house from TRIXIE stands on an elevated platform with extra-high feet that help to prevent flooding. This feature will also guarantee comfort and protection from extreme weather conditions.
Pros
---
This outdoor dog house is available in Small, Medium, and Large sizes, with the Large option measuring 31.1 x 32.28 x 45.67 inches and suiting doggie breeds of up to 95 lbs.
The roof is made of heavy-duty mineral roofing felt, weatherproof sealer, and plastic cover feet, which makes it ideal for outdoor use, all while keeping it dry and warm.
The roof is slanted to keep rain and water away from the dog house and also employs a locking arm that lets you easily access the interior for ventilation and cleaning.
The structure comes in a traditional brown design and is made of wood, plastic, metal, and asphalt shingles, which makes it durable.
The dog house floor is removable for extra ventilation and easy cleaning, and it is also elevated to keep the moisture out.
Cons
---
The supplied screws are tiny, and this will not hold the dog house together securely.
The floor material is light and flimsy, and larger pups can easily break through it.
#5 Petmate Precision Pet Products Extreme Outback Log Cabin
SALE ALERT!!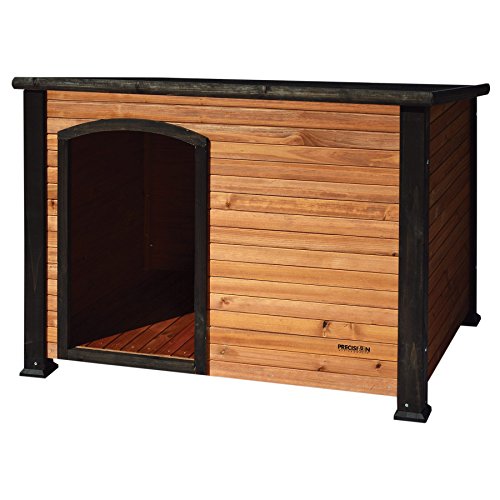 Are you looking for a secure and sturdy place for your dog to retire to after a long day of playing chase? Look no further than the Petmate Precision Extreme Outback Log Cabin dog house for the extra-large dogs. As the name implies, it's designed like a cute mini log cabin for your large breed dog, and it's resistant to rust, rot, dust, debris, pests, and different weather conditions.
The raised roof is made with asphalt and has shingles to prevent rainwater puddles from accumulating on the surface. It also contains a weather-resistant liner for extra strength to make sure that your dog stays nice and dry.
We love that this extra-large dog house from Precision Pet Products is available in multiple different sizes, and it has a beautiful black and brown finish that makes it look like a real log cabin.
Pros
---
This dog house comes in two colors, namely Dark Brown and Taupe, and is available in Small, Medium, and Large sizes, with the Large option measuring 32.7 x 46.1 x 5.3 inches and suiting adult doggie breeds.
It is made of solid wood and stainless-steel hardware, which makes it long-lasting and durable for your doggie.
It is easily assembled in three steps, so you do not have to hire a professional or follow complicated instructions.
It is suitable for extreme weather conditions, thanks to its sealed coating and weather-proof construction.
It has adjustable feet, raised floor, and a slanted roof, which helps to adjust to any surface while keeping the house dry and well-ventilated.
Cons
---
The wood coat or finish smells like strong paint, which can be uncomfortable for pups and homeowners with sensitive noses.
The wood can warp or become damp after being rained or snowed on.
#6 Starplast Dog House Kennel
Give your large breed dog its own special home with this adorable Starplast extra-large dog house. It comes in a matte mocha/brown color combination and has a terracotta-style roof that'll look elegant next to your house.
This durable dog house is made of UV stabilized polypropylene plastic, which makes it long-lasting and resistant to rust. It will not fade or be easily damaged by the weather, so you can keep your pup out in any season!
The innovative design includes an open doorway for fresh air circulation when needed, plus a PVC floor that keeps warmth inside during cold winter days – this ensures maximum comfort for both humans and dogs alike.
This product from Starplast comes in two neutral colors, namely Brown and Beige, and at an affordable price point. However, this extra-large dog house is not elevated, which might make it unsuitable for certain climates.
Pros
---
The kennel from Starplast comes in attractive colors, such as Brown, Brown/Mocha, Green, and Beige/Green, and it is available in small and large sizes, measuring 33.1 x 33.8 x 32.3 inches, which can comfortably fit pup breeds of up to 50 lbs.
It is easy to assemble as you receive a box with six pieces that easily clip into place and clear instructions, which let you set this kennel up within minutes.
It is made of durable, heavy-duty plastic that is UV-resistant and weather-resistant, so it can keep your pup cool, dry, and happy.
It comes with a large doorway and a removable roof such that this feature helps you to clean the interior with ease and to organize the kennel while offering your doggie sufficient ventilation at the same time.
Its stylish design is perfect for outdoors, and it will not warp, bend or fade after using it for some time.
Cons
---
The lightweight plastic can easily crack and break during assembly or after being hit against an object.
Having an overall structure made out of plastic, this can be a challenge for pups with anxiety, especially when the roof emits loud noises during rainfall.
---
Extra Large Dog House Buyer's Guide
---
Getting a customized dog house built can be very costly, especially if you hire someone to design it from scratch. The good news is that you don't have to go all through that. An increasing number of manufacturers are now making dog houses that fit large-sized dogs. Most of them are weather-resistant and made rugged to withstand the elements and protect your dog from the rain, cold weather, and other weather conditions.
They're also very roomy and comfy enough to serve as your dog's very own private "clubhouse." Read on for a list of the best extra-large dog houses on the market and a guide on what to look for to choose the right option for your large dog.
Alright, now that you have a few extra-large dog house options to choose from, it's time to discuss the different features and considerations to make before you choose your ideal option.
Related: Best Outdoor Dog House
Sloped Roof
A sloped roof is good for more than just adding visual appeal to your extra-large dog's house. It's also a highly functional feature that'll protect your dog from the elements. When it rains, the water travels down the slanted roof instead of accumulating and causing leaks. This feature also contributes to improved air circulation to keep your dog comfortable for longer.
Related: Best Dog DIY House Plans
Play Space
A lot of extra-large dog houses have ample space for your dog to play in. But, other manufacturers go the extra mile to add a balcony ladder or a front porch to encourage activity. You don't have to go for a dog house with all these added features, but it's a nice gesture for your big pup.
Elevation
Elevated extra-large dog houses are a great idea for anyone that lives in an area that experiences frequent rainfall. This type of design will prevent water from getting into the house, which prevents moisture, dampness, and mold build-up. Another benefit of dog houses with a raised floor is that it makes for better air circulation, which means your dog will stay cool during the hot summer months.
Bedding
Flooring is another essential feature to look out for when shopping for an extra-large dog house. You want to make sure that the flooring is sturdy yet comfortable enough for your dog to sleep on. A dog house made from solid wood might be a bit hard for your pooch to lie on, but you can always remedy that by placing a few comfy blankets or cushions.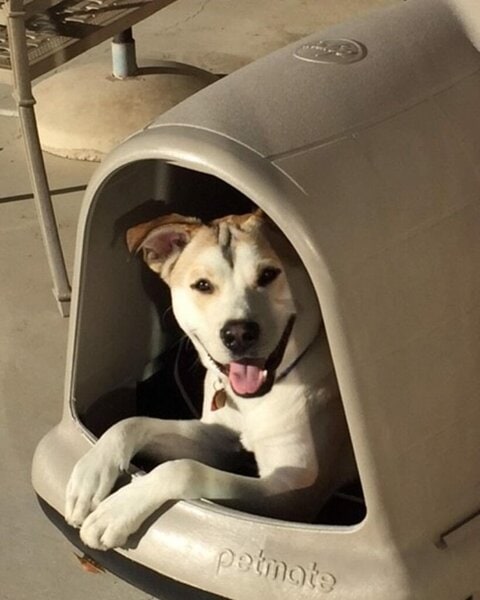 Doors
The doors in your extra-large dog's house should make it easy for your dog to enter and exit the space. The doors are also responsible for protecting your dog against the elements and making sure that the cold, wind, rain, pests, dust, and debris don't come in.
Vents
It's incredibly important to make sure that there's enough air circulation in your extra-large dog's house. That way, it won't suffocate or feel uncomfortable, and the house won't smell like a wet dog all the time. Both hot and cold air won't get trapped in the house.
Easy Cleaning
Like most people, you probably don't have enough time to constantly clean your dog's extra-large dog house. The good news is that most models come with a detachable roof and walls for easy cleaning and maintenance. Just make sure that the house is easy to assemble and disassemble so it doesn't feel like too much of a difficult chore.
Insulation
An insulated extra-large dog house is great at keeping out the cold during those nippy winter months. So, if you are located in an area that experiences regular rainfall, snowfall, or sleet, then this is a great option for you. Insulation will make your dog feel nice and cozy in its house, which means it won't come jumping into your bed when the temperature starts dropping. Look out for signs of insulation, such as wood construction, insulated panels, or having a hardy plastic frame.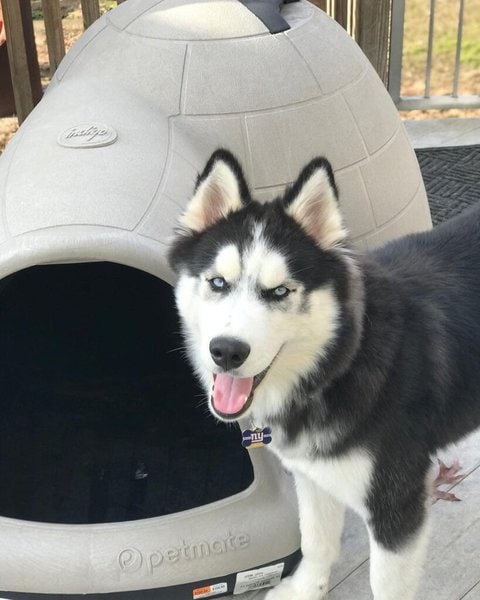 Privacy
Most people don't realize this, but dogs need their privacy too. That's why your extra-large dog house must have enough space for your dog to retreat to whenever it feels like it, and it should have a door that can close so the dog can feel like the king of its castle.
Cable Organizer
You may want to add a fan or a heating element to make the extra-large dog house more comfortable, but you can't do that without a cable organizer. This feature will keep your dog from chewing on the cables while keeping the house neat and organized. Unfortunately, a cable box doesn't come as a standard feature in most dog houses, but some models do include it.
Durability
Make sure to buy an extra-large dog house that's made to last and can withstand the weather elements. Sturdy construction from plastic or solid wood is usually a good indication of durability. But, wooden units go through several tests to protect against water damage, decay, and insect infestation.
The last thing you want is an extra-large dog house that'll fall apart after one season of harsh weather. Keep in mind that you may have to pay more for a sturdy and durable dog house, but it's well worth the investment and pays for itself in the long run. Unlike cheaper models that'll break down and require regular repairs, a durable dog house requires very little maintenance.
Assembly
A good quality extra-large dog house shouldn't be hard to assemble. Most models come with easy-to-understand instructions, and they don't require any prior experience or knowledge. All you have to do is line up the screw holes and secure them tightly.
Luckily, most models come with snap-together assembly or pre-drilled holes to simplify the process further. The latter options are a perfect solution for anyone that doesn't want to go through the effort of putting together the extra-large dog house.
---
Final Thoughts
---
An extra-large dog house is an excellent investment for dog owners with large breed dogs. It'll give you peace of mind, knowing that your dog isn't cramped or cold, but it's feeling comfortable in its protective dog house.
Out of all the options we reviewed in this article, we highly recommend our top pick.
Why?
Well, for one, it offers superior protection from the elements thanks to its weather-resistant wood construction. It's designed like a cute mini duplex and has a weight carrying capacity of more than 100 lbs.
It's easy to assemble and clean, and it's big enough to fit more than one pup comfortably. So if you are looking for the best extra-large dog house on the market, you can't go wrong with our top pick.