The best dog paw washer is Paw Plunger Portable Dog Paw Cleaner.
Your pup has just come in from a long walk, and it's time to clean its paws, but the struggle is real! You don't want to get your hands dirty, but you also don't want to make them wait too long until they can finally relax inside.
It's also important that you clean their paws before they come inside. It will keep dirt and bacteria off the floor and furniture where they play. Plus, it's much more sanitary than letting their paws drip with mud all over the place!
Well, now there is a solution for this problem – dog paw washers! These products are designed specifically for washing dogs' paws and will allow you to keep yourself dry while still caring for your best friend. When they're done washing their paws, rinse off with water or wipe off with a towel, and voila! Clean pup feet for all-day playtime.
That is why we have created this comprehensive guide to help you find the best dog paw washers that will keep their paws clean!
#1 Paw Plunger Portable Dog Paw Cleaner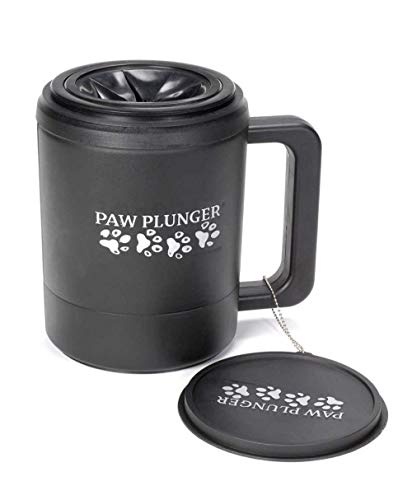 Introducing Paw Plunger, the portable dog paw cleaner! Shaped like a cup, it works with gentle precision to clean dog paws.
With the help of soft silicone bristles and in an up-and-down motion, it is capable of removing all types of dirt, including mud, snow, winter salt, and regular debris that your dog may come across while on a walk.
What makes the Paw Plunger so effective is the fact that it is suitable to be used throughout the different seasons of the year. It is by far the best way to keep your pooch from soiling your favorite carpet and furniture pieces.
In this way, you'll save a ton of money that would've been spent dry cleaning or steam cleaning your rugs to remove the stains.
The Paw Plunger has plenty of positive online reviews. Almost everyone who's bought and tried it says the same thing; it's easy to use and doesn't cause a lot of mess afterward. That's because it has an aperture-style list that keeps all the dirt and dirty water inside the container, while the ergonomic handle makes it incredibly easy to carry around. It's a useful paw cleaning tool that's easy to use straight out of the box.
Pros
---
This is a paw washer that measures 9.75 x 7 x 9.5 inches and has a paw opening of 4.5 inches, and this is specially designed for pups over 75 lbs in weight.
This is perfect for getting rid of salt, mud, dirt, and sand out of your doggie's paws, as these can irritate them in the long run.
The special design of this paw cleaner consists of soft bristles that can easily clean the nails, paws, and lower legs.
The cleaner also has a no-spill opening that is wide enough to clean your puppy's paws and lower leg area quickly and effectively as well as a hassle-free handle.
It is easy to use and clean as you only need warm soapy water to clean the paws, and it can be easily poured out after use.
Cons
---
The lid is sometimes hard to screw on and off, and this means water can spill while cleaning your pup's paws.
The opening is sometimes hard for some pups, which means they can get stuck or hurt their paw during use.
#2 Dexas MudBuster Portable Dog Paw Washer
SALE ALERT!!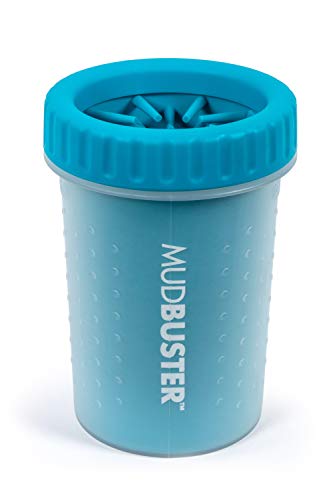 Dexas MudBuster Portable Dog Paw Cleaner, Medium, Blue
For Proper Use & Effectiveness: The medium MudBuster is perfectly sized for medium sized dogs with paws between 2...
To use, add a little water, insert the muddy paw, do the twist, dab the paw dry, repeat for 3 more paws
The gentle silicone bristles will help remove dirt and mud from your dog's paws- keeping the mess in the MudBuster and...
Now you can take your canine buddy out for walks and hikes without worrying about dragging back dirt into the house. With the Dexas Mudbuster, you'll be able to keep your dog's paws clean with ease.
This dog paw washer has a unique tumbler-like design that's made to carry the designated cleaning mechanism. This works to remove dirt from between the most difficult-to-reach spots in your furry friend's paws. Why is the cleaning mechanism so effective? Well, it features multiple layers of silicone bristles that are soft and gentle yet sharp enough to get rid of dirt particles stuck beneath your dog's paws.
You'll be glad to know that it's easy to use with no complex processes required. All you have to do is place your pooch's paw into the cleaning hole and slightly turn the tumbler so the mechanism can work its magic. From there, rinse and repeat until all of your dogs' paws are clean.
The Mudbuster paw washer from Dexas has garnered a very positive reputation among customers because it works as advertised. Its soft bristles are gentle enough to clean your pet's paws thoroughly without harming them, and dogs seem happy with it as well.
Pros
---
This paw washer comes in three sizes (Large, Medium, and Small) and is available in 8 different colors that you can choose from.
This product has gentle silicone bristles that will remove dirt, mud, and other debris from your puppy's paws and keep it in the cleaner.
It is easy to use as all you have to do is insert each paw one at a time, twist the washer and dry each paw gently.
It is perfect for doggies with allergies as you just need to clean their paws before they enter the house, and this keeps all the irritants away.
You can use this washer indoors or outdoors and during travel, thanks to its light and compact design.
Cons
---
It has a strong smell when initially unpackaged, and you need to thoroughly clean it before use so that your pup does not refuse to use it.
The soft silicon bristles may not always remove heavy mud from your pup's paws, and you have to do multiple cleaning sessions in such an instance.
#3 DOGNESS Automatic Dog Paw Cleaner
SALE ALERT!!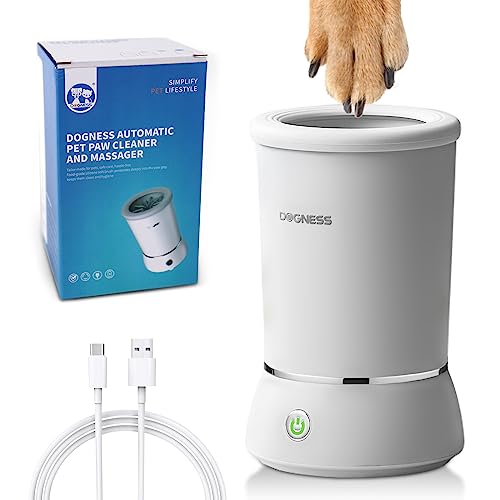 For a deep clean of your dog's paws after a walk or a hard play outside, the DOGNESS Automatic Dog Paw Cleaner is a convenient product that simplifies your life by not worrying about the dirt and bacteria that your dog may have brought into the house.
The device works effectively through its dual speed and two-way rotation. The slower speed first removes the surface dirt, and the faster gear works to deep clean the crevices and inner linings of their pads without hurting your dog.
The bristles are made from soft and food-grade silicone materials, which have the added benefit of massaging their paws. Cleaning your dog's paws never felt this good. It also has a splash-proof lid, so you would not worry about any mess.
The two-way action of the bristles thoroughly cleans your pet's paws, including the inner creases in the nails and the paw pads. It also provides a massaging action, relaxing your pet while getting cleaned.
Pros
---
This is an automatic paw cleaner available in white that comes with a 2000mAh rechargeable lithium battery and a USB cable for charging, which can operate up to 10 days on a single 2.5 hours of charging.
It comes with 157 food-grade soft silicone bristles, which are safe for your doggies as it is gentle, durable, and elastic in nature.
It has dual speeds and a two-way rotation mode, which can offer different cleaning strengths, from basic cleaning to deep cleaning, with a simple button press.
It is easy to take apart and clean as you only need to remove the cover, remove the bristles, and clean each part directly.
It is easy to use, and all you have to do is insert each paw at a time and press the operating button to clean their paws of dirt, mud, and other debris they may have carried.
Cons
---
Doggies with larger paws will not be able to use this cleaner as they can get stuck and panic.
The motor is noisy, and some dogs may not be comfortable with the noise.
#4 bealy Dog Paw Cleaner
SALE ALERT!!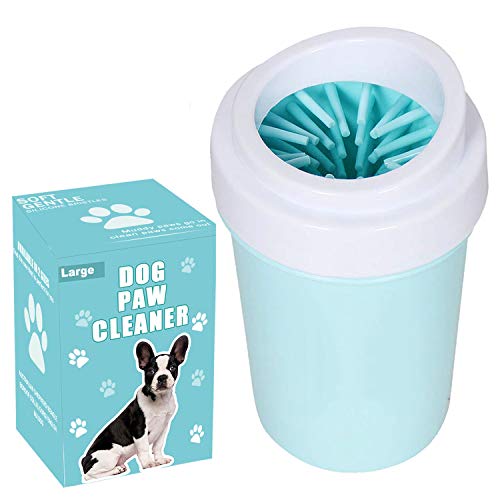 The Dog Paw Cleaner from bealy is a hassle-free way of cleaning your dog's paws from all kinds of debris, dirt, and mud. The cup is easy to handle, so rotating it with just one hand is very manageable. It has a unique slanted tip design, and the container cup is made from high-grade plastic.
The product features soft and elastic silicone bristles that are very effective in cleaning their paws properly, including the inside of their pads. It is painless and would not cause any anxiety on your dog's part.
Cleaning after use takes no time. All you have to do is pour out the dirty water and then rinse the cup with water.
Given that it is light and does not take too much space, this product from bealy is convenient to bring anywhere, whether you are camping out of town or just going for a walk in the park. Regarded to be safe, effective, and a totally painless method of cleaning the paw pads, what more can you ask for with this cleaner.
Pros
---
It is available in blue green and you have two sizes to choose from, and they are Petite and Large, which means it can cater to most pup paw sizes between 2.5 and 3 inches.
It has soft, elastic, and safe silicone bristles, which are responsible for cleaning your doggie's paws, nails and lower leg area of dirt, mud, sand, and other irritants.
It can be used anywhere, indoors or outdoors, due to its compact design, as you can hold it with one hand and clean each paw with the other.
The paw cleaner is easy to take apart and clean to get rid of any dirt it may have accumulated.
It is perfect as a gift for other doggie parents and can be used to keep your home and furniture clean, as well as protect dogs with allergies as it keeps irritants out of their paws and your home.
Cons
---
It is sometimes hard to put the scrubber back into the container after disassembling the cleaner.
Some pups are afraid of putting their paws into the small opening, such that it will take some getting used to.
#5 Pawee Tree Dog Paw Cleaner
The Pawee Tree dog paw Cleaner is an easy-to-use dog foot washer that has a unique 2-in-1 design that not only lets you clean their paws but can also be used as a bathing brush. The cup is made from soft silicone material that is reversible.
The inside is constructed with soft bristles that gently remove dirt and grime simply by rotating it around your dog's paws. Then it can be turned inside out so the bristles can be used as a brush to lather their coat when you are bathing them.
Because it is made in only one piece, there is no need to disassemble the product. Rinsing is as easy as running it under the faucet and hanging it to dry out. The only disadvantage is you cannot set it down on the ground because it does not have a flat base.
Its unique 2-in-1 design lets you use the cup as a paw cleaner and as a bathing brush when folded out. Another example of its versatility, this product from Pawee can be repurposed as grooming gloves.
Pros
---
Comes in a simple design that is suitable for large doggie breeds with paws larger than 3.95 inches, and it is available in 3 colors, namely, green, yellow and blue.
The cleaner has soft and flexible spines while the bristles are soft and made of silicon, and this helps you to safely clean your puppy's paws without worrying about cuts or bruises.
It is easy to clean as it does not need to be disassembled and only needs water to clean it after use.
The design works both as a paw cleaner and a hairbrush, and all you need to do is turn the cleaner inside out to get the bristles on the outside.
The cleaner has loops, which help you to fold and easily carry it wherever you go to keep your dog's paws clean anytime.
Cons
---
Due to its full silicon design, it can easily fall apart after many cleaning sessions, which means you have to buy a replacement.
Not all dogs are comfortable putting their paws into the cleaner and need some time to get used to it.
#6 CHOOSEEN 2-In-1 Dog Paw Cleaner
SALE ALERT!!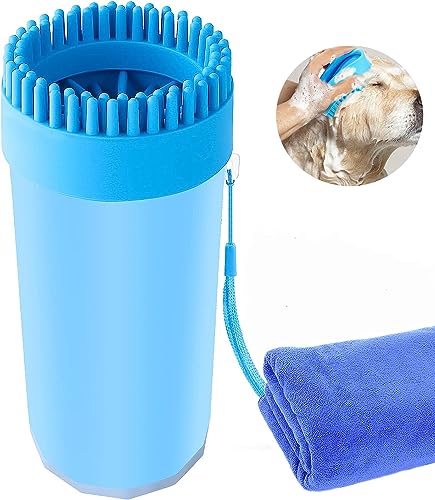 This awesome product from CHOOSEEN features a 2-in-1 purpose where you can clean your dog's paws and brush their coat as well. Its upgraded design with a removable upper lid has the dual purpose of a mini brush that lets you groom their bodies after rinsing their paws.
The material is made from high-grade silicone bristles that gently brush away the dirt and grime. Your worries about your dog getting sick caused by microorganisms when licking their dirty paws would be greatly minimized.
Manufactured from sturdy plastic and non-toxic materials, you are assured that your pet is safe from harmful chemicals while using this product. It is very easy to clean and store since it is made up of only three parts: the plastic cup, the foldable silicone cleaner, and the upper lid.
Its 2-in-1 feature lets you clean your dog's paw pads and brush its coat. All in all, this product from CHOOSEEN is very handy and can be taken anywhere you go.
Pros
---
This is a paw cleaner that comes in Large and X-Large sizes, is available in blue and is suitable for medium and large pups with paw sizes between 2.5 inches to 3.5 inches.
It comes with a soft silicone brush, the paw cleaner, a towel, and the cup, which are easy to assemble, and you can use the brush to also take care of your doggie's coat.
It is environmentally safe as it is BPA-free, which means it is also safe for your dog to use.
It is ideal for cleaning paws, nails, and the lower leg area, and all you have to do is insert the paw into the cleaner and twist it to clean, then use the towel to dab it dry.
You can get rid of dirt, mud, sand, and other irritants that can get caught in the paw or nails with this product for indoor or outdoor use.
Cons
---
Not all dogs are comfortable having their paws cleaned, and it takes some for them to get used to it.
It is sometimes hard to reassemble the cleaner parts after cleaning, and this means that you risk spillage the next time you use it.
---
Dog Paw Cleaner Buyer's Guide
---
Keeping your canine buddy's paws clean is about more than just maintaining a clean house. It contributes to ensuring that your pooch doesn't get infected by bacteria that might get into their paws and nails when they play outside. After all, dogs always lick or bite their paws without considering the amount of germs that might be lurking beneath the surface.
But the good news is that it's getting easier than ever to keep your pooch's paws clean and healthy. Thanks to the dedicated paw cleaners and washers, paw cleaning is a breeze, and you can keep your dog healthy and clean while preventing them from dirtying your floor and furniture items without taking up too much of your time. It's a win-win!
With all that said, buying a paw cleaner and washer is not all cut and dried. You have to keep in mind several important factors that'll help you make the right choice.
Cleaning Mechanism
Since a dog paw washer is designed to keep your dog's paws clean, it's essential that it has an effective dog paw cleaning mechanism. The most effective washers feature silicone bristled brushes, which are safe and strong enough to get rid of dirt from beneath paws and in between fingernails.
Other models come with a cleaning cloth which is gentler, while others have an automatic contraption to which you can pour liquid soaps and disinfectants. It's up to you which cleaning mechanism you prefer. Otherwise, they're all quite effective.
For a comprehensive canine hygiene routine, clean your dog's ear and brush your dog's fur regularly.
Cleaning Efficacy
Aside from choosing the right cleaning mechanism for your needs, you'll have to check the unit's overall cleaning efficacy. But, since you can't test products before use, there's usually no way to tell how it's going to work once you purchase them.
That's why it's helpful to read customer reviews to determine the product's effectiveness at removing mud, snow, and other types of dirt from your dog's paws. The good news is that most of these products feature the same design, but if you check the customer reviews, you'll find that they perform differently.
Similarly, if you are considering buying other canine accessories such as dog head halters, dog hair removal tools, or dog strollers, always make it a point to read actual customer reviews.
Cleaning
A dog paw cleaner must be easy to maintain so you won't feel lazy to clean it. Luckily, most dog paw washers come with a self-cleaning mechanism and won't spill over the dirty water because they have tightly sealed lids. Some are easy to clean thoroughly because of their straightforward design.
Automatic units feature electronic components that require you to be mindful when cleaning the dog paw washer. This means you'll have to take your time to disassemble and clean the model.
Other automatic dog accessories include automatic dog feeders and automatic ball launchers.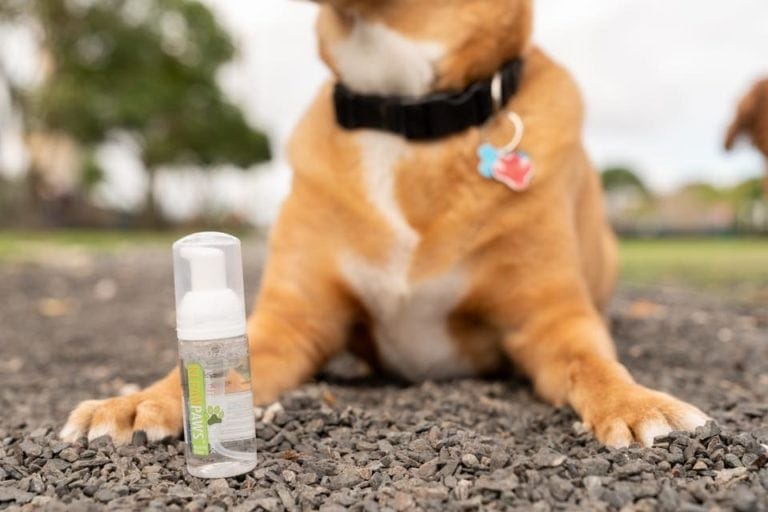 Ease Of Use
Ease of use will depend on the model you purchase. For instance, manually operated dog paw cleaners and washers require manual rotation of some type of receptacle. Twisting a lid apparently doesn't take a lot of elbow grease, so it shouldn't be hard for most people.
On the other hand, you have automatic dog paw cleaners that work according to a cleaning mechanism. Simply press one button to activate the washer, and you're good to go. This is the easiest and most convenient model that you can get.
Value For Money
Value for money is another important consideration to make when looking for a dog paw cleaner and paw washer. The good news is that there's a wide variety of dog paw washers available at different price points.
Some models even come with a 100% money-back warranty, generous refund policy, or limited 90-day guarantee. The approach to finding a good deal is to look around and consider each option carefully before you make your choice. What you want is a washer that combines quality, performance, and price.
If you own a Golden Retriever, Great Dane, Labrador, or Pitbull, do check out our article on what are some of the values for breed-specific dog foods.
Dog Paw Washer Types
Dog paw washers come in two different types, and both work quite well. First, you have manual paw cleaning cups, which come with a lid. To operate these models, you must simply place your dog's paw into the cup and rotate it based on the instructions that come with the product. The washer typically comes with a gentle cleaning brush that will thoroughly clean your four-legged buddy's paws.
Automatic dog paw washers, on the other hand, are powered by a powerful motor. This is what's behind the effective cleaning mechanism that starts to work as soon as you press the "on" button.
---
Final Thoughts
---
Well, there you have it! We hope you've enjoyed this guide on how to find the best dog paw cleaner. Now you know what to look out for and which options are available. To make your decision even easier, we've chosen our "top pick," which is what we consider to be the best dog paw cleaner and washer out of all the options we reviewed.
Our recommended product is made from gentle brush bristles that work to get in between the nooks and crannies of your dog's paws. It's available in three sizes and three colors and can remove mud and dirt without the use of detergents or sanitizers. The best part is that it has an ergonomic handle that makes it easy to bring it with you when walking your dog.