The best dog paw balm is Pet Head Oatmeal Natural Paw Butter.
Your pooch may develop dry, uncomfortable paws depending on your activities, where you live, and your canine's breed.
The best dog paw balm will remedy this problem while being comfortable for your pup, easy to use, and protecting from further paw damage. Explore some of the top balms for dog paws and learn how to choose one.
#1 Pet Head Oatmeal Natural Paw Butter
SALE ALERT!!
Pet Head Oatmeal Natural Paw Butter 2oz
Oatmeal scented paw butter designed to deliver protection and comfort to dry, cracked paws
Wholesome and eco-friendly formula is pH balanced for cats and safe if licked or swallowed
Paw health promoted through use of paw butter
This oatmeal scented paw butter from Pet Head is perfect for keeping your dogs' paws safe from cracking and drying. It is made with a wholesome and eco-friendly formula that is safe for pets.
The paw butter also works on cracked noses or conditions related to nasal hyperkeratosis. It has great ingredients like aloe vera, jojoba, coconut oil, olive oil, shea butter, and vitamins E and F. It smells great too, thanks to its fresh fragrances.
The paw butter is easy to use, and all you have to do is gently massage it into their paws or nose before and after walking them. The butter is pH-balanced, contains no petroleum ingredients, and is safe if your pet licks or swallows it.
We love how great this topical cream product from Pet Head smells, and we're sure your pet will love it too. It is safe in case your pet licks or swallows any of it. We love that it is made of natural ingredients and works on their paws and noses.
Pros
---
Pet Head's oatmeal butter contains a balanced pH formula that poses no harm to dogs if accidentally ingested and swallowed.
This natural paw balm product features a blend of coconut oil, olive oil, shea butter, vitamins E and F, as well as aloe vera, all of which possess anti-inflammatory properties that help to soothe dry and cracked dog paws.
This paw butter is easy to use, and it can be applied by gently massaging into the desired areas on the pooch's paws.
This natural paw balm from Pet Head is manufactured in U.S.-based facilities to guarantee adherence to human quality standards and ensure that the products are safe for use on dogs.
The fresh fragrance of this natural paw butter leaves a pooch's paws smelling great at all times.
Cons
---
This paw butter has an extremely smooth texture that can be dangerous for pooches when walking on smooth surfaces.
The sweet fragrance of this Pet Head product entices some dogs to completely lick the butter off their paws.
#2 Musher's Secret Paw Wax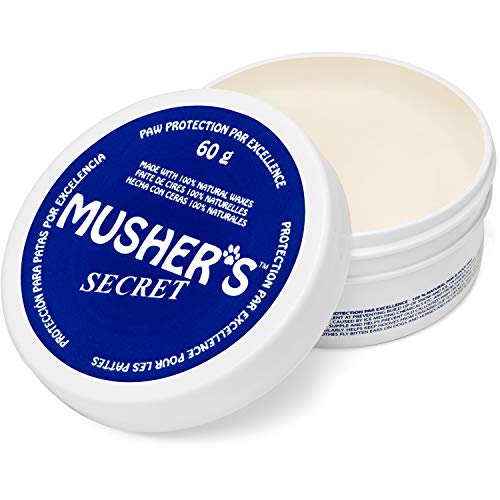 Musher's Secret paw wax uses high-quality ingredients, including natural food-grade oils and waxes. The formula is non-allergenic, non-staining, and fast-drying. Unlike some products, this one will not leave stains on clothing, floors, or carpets.
Musher's Secret has a long history of satisfied customers and is the balm of choice for sled drivers and their team of sled dogs in Canada. They use it to heal and protect their sled dogs' paws from damage due to cold weather.
In fact, the formula was developed to protect a dog's paws under the coldest and most harsh weather conditions, thereby providing the confidence that sled drivers need for their sled dogs. It also provides protection and healing for heat, rocky terrain, and sand.
The product also lasts longer than some, as it only needs to be applied two to three times each week in most situations. It is made in North America and is from a family-owned company spanning three generations. So, its purchase should support the local economy.
We appreciate that instead of just using all-natural ingredients, the waxes and oils in this balm are food grade for extra confidence. The balm is tried and tested by Canadian sled drivers and heals paws equally well after damage from heat as it does from cold.
Pros
---
Musher's paw wax features a moisturizing blend of pure natural waxes that revitalize dry dog skin and are safe to use on a pooch's paws.
The non-toxic formulation of this paw wax is suitable for use on a dog's paws in any season, without needing to complement the doggy boots.
This paw protection product contains vitamin E and beeswax, both of which work to condition, and relieve irritated dog paw pads.
This fast-drying paw wax soaks into a dog's paws within minutes after application, thereby ensuring that the pooch can't leave track marks on house flooring.
Musher's Secret wax can effectively protect a pooch's paws from damage typically caused by a variety of surfaces, including sand, hot pavements, snow, and salt.
Cons
---
Several customers have reported that their dogs' eyes become inflamed and irritated after using this paw wax product.
There are doubts over this product's quality control measures, as multiple customers have received paw wax packages that had either been used or came without a lid.
#3 Primens Paw Balm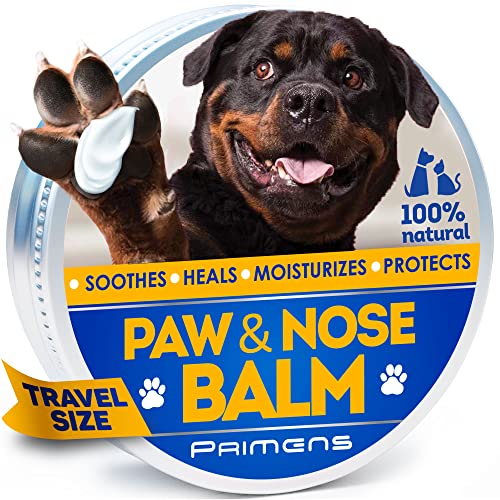 The Primens Paw Balm is the solution for your dogs as they walk on hot sidewalks. It helps to keep their paws crack-free and smooth. It softens, heals, and hydrates with each use.
It also offers their paws protection from any external irritants. Its application is very simple, as you only need to warm it in your palms and then gently apply it to the nose or paws before and after walks.
The balm contains a combination of natural regenerating and moisturizing ingredients. The organic nature of these ingredients means that they will work perfectly for pets with allergies.
Its natural formula protects them from heat and cold and works on their noses too. The balm contains ingredients, such as vitamin E, aloe vera, coconut oil, and shea butter, but has no artificial additives.
The natural ingredients in this paw balm from Primens are perfect for your dogs and cats. We love that it caters to pets with allergies. We also appreciate that it works on claws and noses too. You never have to worry about cracked paws again with regular use.
Pros
---
This paw balm formula provides relief for inflamed dog paws by softening, hydrating, and then healing these paws.
Primens' balm offers protection against damage caused to a pooch's paws by ground irritants such as salt and asphalt.
The organic and natural formulation of this product, and the absence of artificial flavors and colors, ensures that this balm isn't toxic for dogs when licked off the paws.
Primens paw balm is available in three different size options – 0.5 oz, 2 oz, and 5 oz – to enable customers to purchase the quantity that would be enough to treat and protect their dogs' paws.
The organic ingredient list of this paw balm is devoid of ingredients that typically trigger allergic reactions in dogs, thereby making this product good for use on pooches with a history of allergies.
Cons
---
The pleasant fragrance of this product encourages pooches to lick the balm off their paws immediately after application, thereby making the product ineffective.
The 0.5-oz size variant of this product is considerably expensive when comparing the price to the quantity of balm gotten.
#4 Pet MD 3-In-1 Pet Balm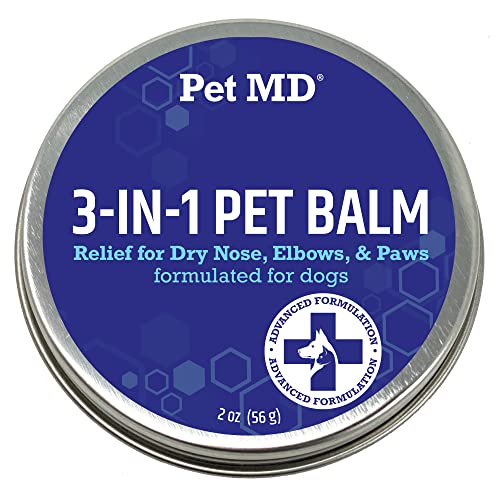 Made in the USA, the Pet MD pet balm is a 3-in-1 formula that works well for calloused elbows, cracked noses, and cracked paw pads.
The balm is easy to use and takes a few seconds to apply to the dry, cracked, or infected areas by massaging it onto the skin. Its unique formula will moisturize and provide immediate pain relief to these areas. It also provides your dog's paw maximum protection from the environment.
The soothing pet balm is made with a unique blend of 12 natural oils and butters. This healing blend is formulated to be safe yet effective, and your dog will not be harmed in any way, especially if they licked or swallowed it. It is made in the USA under strict inspection and quality control. It is also applicable to dogs of all shapes and sizes.
This pet balm from Pet MD is formulated for all types of dogs. It is organic and safe for your pet. We love that it works on not only paws but also the nose and elbow. It takes a few seconds to apply and comes with a pleasant fragrance.
Pros
---
This pet balm's non-toxic formula features 12 different natural oils and butter types that are blended to help ease irritation on a dog's paws.
The quick-absorbing action of this pet balm helps prevent a pooch from licking the product off its paws and also stains home furniture and flooring with the balm.
The pet-safe essential oils are used in the manufacture of this pet balm product, and thus, they aren't harmful to a pooch when licked and ingested.
PetMD's 3-in-1 balm is produced in licensed facilities located within the United States, with strict inspection and quality control measures in place to ensure that the products are safe for canine use.
Consistent use of this pet balm product ensures that a dog's paws are protected from cracking, bleeding, ulcers and infections.
Cons
---
This pet balm product has a thick texture that makes it considerably difficult to spread and apply on a pooch's paws.
Certain dog owners have reported that this product may cause diarrhea in dogs when licked and ingested.
#5 Pawstruck Organic Nose & Paw Wax Balm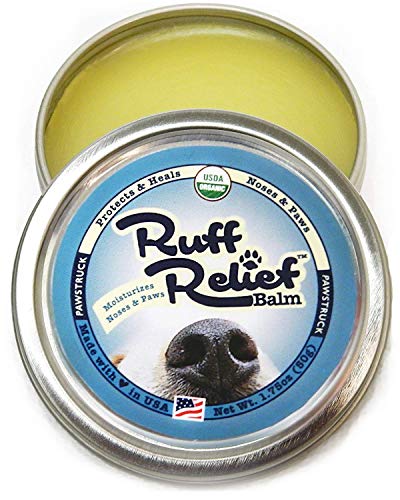 Pawstruck's Ruff Relief Balm is USDA-certified organic, a claim that very few competitors can make. Many products claim to be organic but few have this certification. All of the ingredients are easily recognizable as well, providing confidence that there are no harsh chemicals.
The balm only contains olive oil, coconut oil, beeswax, carnauba wax, jojoba wax, and vitamin E, with the ingredients being organic and non-GMO.
The natural, organic formula makes this balm hypoallergenic and non-toxic. It protects against cold or hot weather while also restoring paws to health. It can help with cracking, flaking, bleeding, itching, crusty, damaged, chapped, and dry paws. It can also reduce dermatitis, rashes, and hyperkeratosis.
This is one of the rare balms that is USDA-certified organic and carries a 30-day 100% satisfaction guarantee. It provides quick results, soothing your canine's paws right away.
Pros
---
The USDA-certified organic ingredient list of this wax balm product includes coconut oil and non-GMO vitamin C that provide instant relief for inflamed dog paws.
The Pawstruck organic wax balm is effective as a protector for shielding dog paws from damage typically inflicted by surfaces that contain elements such as sand, ice, heat, and salt.
Pawstruck's nose and paw wax balm is manufactured in the United States to ensure compliance with quality manufacturing processes.
This Pawstruck purpose is suitable and safe for use on all dog breeds, including brachycephalic dogs with short and sensitive noses.
The hypoallergenic formulation of this paw wax balm makes this product safe for use with dogs that have a history of suffering from allergic reactions.
Cons
---
The greasy texture of this paw wax balm tends to leave marks on fabric that a dog steps on, after application.
The consistency of this wax balm, which can be compared to that of a lotion, makes it difficult for customers to apply this balm on their dogs' paws.
#6 Paw Magic Organic Natural Dog Paw Butter
This paw butter stands out from the crowd with the formulation from an AKC award-winning breeder. It is also vet-recommended and made in the USA. The formula is 100% natural without parabens, alcohol, dyes, or phthalates.
Using this balm will soothe your pup's cracked, dry, or rough paws and can help control hyperkeratosis. The formula is non-toxic and hypoallergenic, making it safe for both your four-legged friend and humans. The balm also comes with a Happy Pet Company Commitment, which includes a full refund if the product does not surpass your expectations.
This formula was created by a breeder with awards from the American Kennel Club and the French Bulldog Club of America, and it is veterinarian-recommended. It features organic ingredients, such as coconut oil and shea butter.
Pros
---
Paw Magic's organic butter has an ingredient list that includes substances, such as coconut oil, beeswax, and shea butter, all of which boast properties that moisturize and repair dry dog paws.
In addition to repairing dry dog paws, Paw Magic's balm product protects canine paws from damage typically caused by exposure to harmful surfaces.
The absence of GMOs, harsh chemicals – such as parabens, dyes, and alcohol – and common allergy-inducing ingredients makes this product safe for use on the canine paw and non-toxic when ingested.
The consistency and texture of this Paw Magic natural dog butter make it easy for customers to spread and apply the balm on their canine buddies' paws.
This canine paw moisturizer is manufactured in accredited facilities located in the United States, to guarantee quality and safety for pooches.
Cons
---
Several customers claim that they needed to apply huge quantities of this natural balm product before its effects were noticeable on their dogs' paws.
Some dogs have reportedly been encouraged to lick this product off their paws, due to the pleasant taste and flavor of the paw balm.
#7 Natural Dog Company Paw Soothe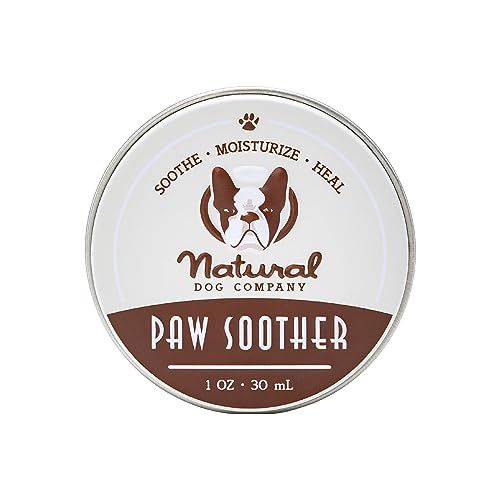 Paw Soothe is unique among its competitors, in which each of its products is handmade and then poured in a small town of Marble Falls, Texas. Handcrafted products demand extra attention to detail in the making, and every purchase goes to the support of a small business in the town.
The organic, natural ingredients help repair damage from sand, cold, heat, snow, and salt, including roughness, dryness, and chapped pads. The balm is also safe to use and effective on your canine's rough elbows or dry nose, making it multipurpose.
It comes with a 100% satisfaction guarantee and has been featured in more than 30 magazines, as well as on Animal Planet.
The versatility of this product is a high point, as it can work on your canine's nose and elbows, as well as your pup's snout. The balm is handmade to the highest quality, featuring a high level of attention to detail.
Pros
---
Natural Dog Company's paw soother contains ingredients, such as jojoba oil and coconut oil, that are effective for moisturizing chapped, rough and dry dog paw pads.
In addition to moisturizing dry paws, this balm is suitable for treating paw injuries, allergic reactions, hyperkeratosis, and other common paw conditions.
This organic paw soother features a plant-based formulation that is devoid of artificial preservatives and other harmful ingredients that can be extremely toxic to dogs when ingested.
Natural Dog's paw balm is suitable and safe for use on pooches of all ages, sizes and different breeds.
This paw balm from Natural Dog protects the canine paw from the destructive effects of excessive paw licking.
Cons
---
Several customers have commented that this balm is too thick, and it requires a lot of effort to apply on a pooch's paws, if not warmed or allowed to melt.
This product doesn't dry immediately after application, thereby making it easier for pooches to lick the balm off their paws.
#8 Handy Hound Paw Butter
SALE ALERT!!
The Handy Hound paw butter is made to do four things. When applied, this butter heals and protects pet paw pads from ice, sand, extreme weather, snow, and asphalt. The pads become raw, cracked, and dry when neglected, and this butter can soothe them. The butter also offers instant relief and moisturizes to prevent future cracks and dryness with proper use.
It is made under strict quality standards with ingredients such as lavender, lemon, coconut oil, almond oil, hemp oil, vitamin E, candelilla wax, and so much more. All the ingredients are organic and vegan, which makes it safe for your pet.
The butter comes in a 2-oz easy twist-up tube applicator. You can enjoy a 100% money-back guarantee if you are not satisfied with the product.
We love the twist-up applicator from Handy Hound, which makes it easy to use. It is made of organic and vegan ingredients, perfect for pets with allergies. It is locally made and comes with a 100% money-back guarantee if it doesn't meet your expectations.
Pros
---
This all-natural wax balm contains oils and butter types that are effective at healing and moisturizing dry and cracked dog paws.
The protective layer formed by this Handy Hound balm offers a degree of protection, for the dog's paw, from ice, sand, salt, and allergens.
The use of natural ingredients to manufacture this paw butter guarantees a pooch's product if the balm is licked and swallowed after application.
Handy Hound offers customers a 100% money-back guarantee if this balm product doesn't work to moisturize and soothe dog paw irritation.
The Handy Hound paw butter's list of ingredients includes hemp oil, coconut oil, coconut, sweet almond oil, vitamin E oil, and sweet lemon oil, all of which are safe and gentle to use on a pooch's paws.
Cons
---
This paw butter product is too thick and difficult to spread easily and quickly on a pooch's paws.
This balm product doesn't absorb into a pooch's paw quickly enough, and this, coupled with a pleasant flavor, encourages dogs to lick the balm off their paws.
#9 Paw Nectar Paw Wax
SALE ALERT!!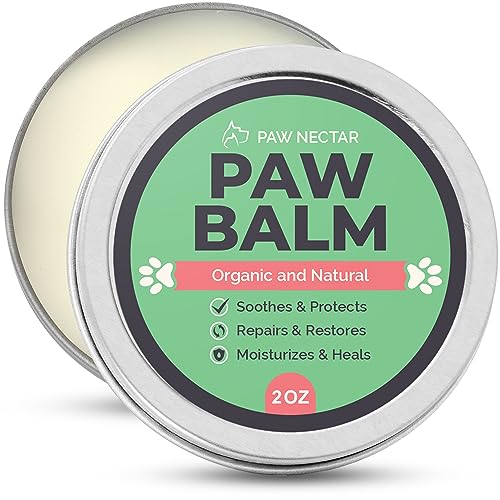 Paw Nectar is a fast-acting wax that quickly penetrates the problem areas deeply, providing your four-legged friend with relief. It then provides full protection, as well as healing properties. The formula is proprietary and contains specifically-chosen ingredients that have healing properties.
The formula is 100% organic as well as safe for canines and humans, including dogs of all breeds. The ingredients were specifically chosen to heal damaged paws yet will not hurt your canine if your pup licks the formula. This is less likely due to the smell of lavender and rosemary, an intentional decision.
This fully organic dog paw balm is safe for humans as well as canines, including if your pooch licks some of it off. It features a proprietary formula that quickly penetrates problem areas for fast relief.
Pros
---
This Paw Nectar paw wax's organic formulation is devoid of ingredients and harsh chemicals that are detrimental to canine paw health.
This paw balm product effectively keeps a pooch's paws moisturized, and this, in turn, prevents paw irritation that typically accompanies extremely hot or cold weather.
The heavy-duty salve produced by this wax product provides a barrier that protects a pooch's paws when walking on sand, ice, salt, and rough terrains.
The all-natural formulation of this product makes the paw balm safe for use on dogs of all ages, breeds, and sizes.
The natural healing ingredients, including aloe vera, coconut oil, rosemary seed extract, and lavender oil, contained in Paw Nectar's paw wax effectively repair underlying paw problems with a few days of consistent use.
Cons
---
The smooth texture of this paw wax product results in dogs experiencing difficulties when walking on smooth surfaces.
Paw Nectar's paw balm smells and tastes good to dogs, thereby resulting in pooches wanting to always lick off the balm after application.
---
Dog Paw Balm Buyer's Guide
---
All of the above products made our list of the best dog paw balms because of their high-quality ingredients and other features. As you choose among them or look for another option, keep the following factors in mind.
Heals And Protects
The best dog paw balms will both heal and protect your canine's paws whenever you use the product. The balm should be versatile enough to help heal dry, chapped, itchy, or painful paw pads. Ideally, your chosen balm will feature natural ingredients to encourage healing.
In many cases, the protection comes from a type of invisible barrier that the wax or balm creates around your four-legged friend's paws. In other cases, protection may be via providing the paws with nutrients that help keep them healthy. Some balms can even help reduce the risk of infection by letting you apply a coating over wounds to seal out germs.
Moisturizing is important, as dry paws are a common cause of cracks and damage and moisturized paws can better resist that damage in the future. To ensure your chosen product moisturizes, opt for something with natural oils or butter that provide the necessary hydration.
In the case of healing, opt for a balm that provides thorough and quick relief for Fido. You do not want your furry friend to suffer unnecessarily and many of the top balms deliver nearly immediate relief.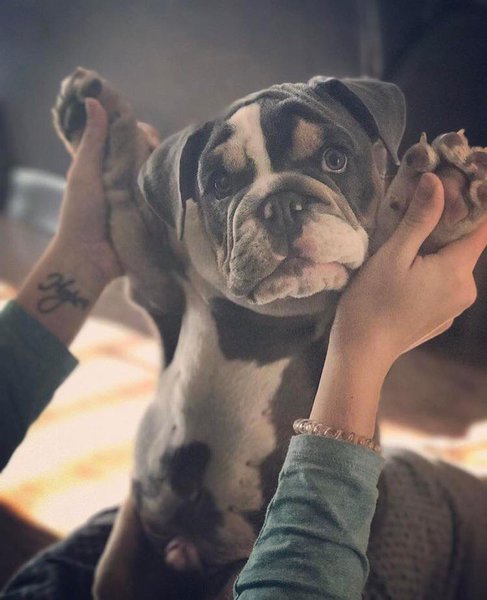 Protection In Multiple Conditions
Healing and protection of your chosen dog paw balm should apply for a full range of conditions. Some balms will only protect in hot or cold weather, but you want a product that does both.
Protecting your dog's pads with balm in hot weather is an alternative to putting booties on your canine companion when the sidewalk gets hot enough to damage paws. Extremely cold pavement can be just as dangerous for your furry friend's paws, but a balm can protect against this, offering an alternative to booties.
In addition to protecting against temperatures, the best balms will provide protection against rough surfaces. Sidewalk salt in the winter, for example, can be incredibly uncomfortable on canine paws without proper protection. The same can be true of small pebbles or sand.
As a bonus, look for multi-purpose products that also work on your doggy's nose, so you have fewer products to buy.
Organic Ingredients Without Harsh Chemicals
Before you buy any paw balm, look at the ingredients. The best products will feature mostly organic ingredients and not have any harsh chemicals. Avoid products with alcohol and chemicals that you cannot pronounce the name of. Instead, choose those with an ingredient list where you can identify every single ingredient and actually know what it is.
Very few dog paw balms are certified organic. Most simply use organic ingredients and make claims that they are 100% organic or mostly organic. At the very least, opt for products that claim to be 100% organic whenever possible. If you want to be certain, consider certified organic products.
Common organic ingredients that you will find in high-quality balms include beeswax, coconut oil, shea butter, argan oil, hemp seed oil, and jojoba. Most organic waxes and balms are high-quality ingredients.
Production Facilities
In addition to the ingredients, pay attention to where the balm is produced. Ideally, it will be made in facilities that are certified by the FDA, as this ensures a high standard of sanitization was met. Some products are even made in facilities certified by the GMP and the FDA.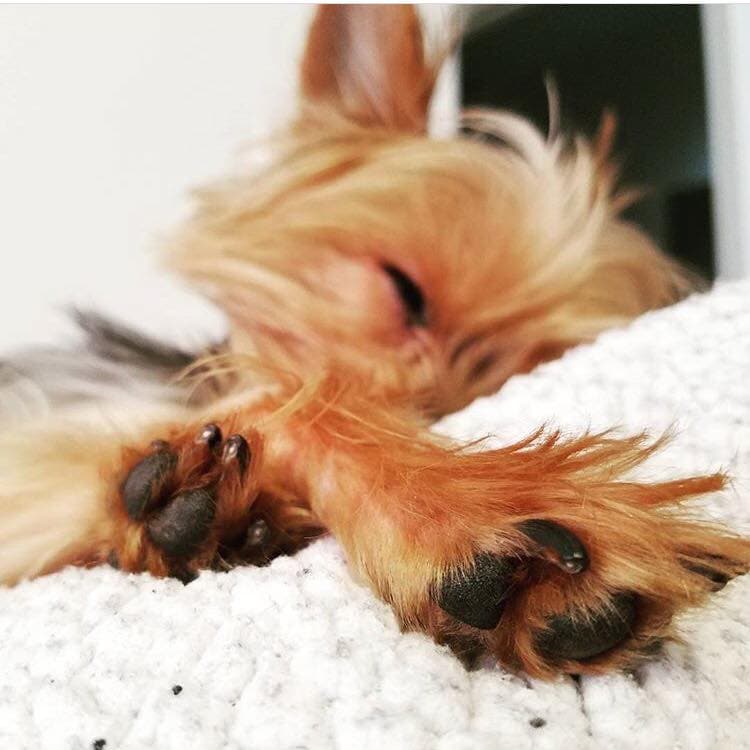 Safe If Licked
Dogs will be dogs and it is nearly impossible to guarantee that your four-legged friend will not lick his paws, especially if you put something unfamiliar on them. It is a natural reaction for your pooch to lick something odd or irritating and this will likely happen with the balm at least once.
Because of that, you should always opt for a non-toxic balm that is safe for your canine to ingest, at least in small quantities. Opting for products with natural ingredients is usually enough, but you can get extra peace of mind by choosing products labeled as non-toxic.
Some balms are even formulated in a way that discourages canines from licking it, frequently via smell. If you are concerned about your dog licking balm-covered paws too much, then consider these products. At the very least, opting for a quick-drying formula will reduce the amount that Fido eats when licking paws.
Application Method
Most dog paw balms are applied in a similar way, but the instructions can vary. Some lower-quality balms will require you to let them soak in for 20 minutes or more. Letting your canine move before then can result in some of the product coming off, resulting in less-effective results and potential stains.
Avoid this and look for products that dry either instantly or incredibly quickly. Unless your pooch is incredibly patient, opt for something that does not need to sit for longer than a minute or so.
On a related note, pay attention to how frequently you need to or can apply the balm. Most were formulated so you can apply them before you take Fido outside, even if that is multiple times each day. Some, however, including those with harsh chemicals in the ingredient list, may not be safe to apply multiple times each day.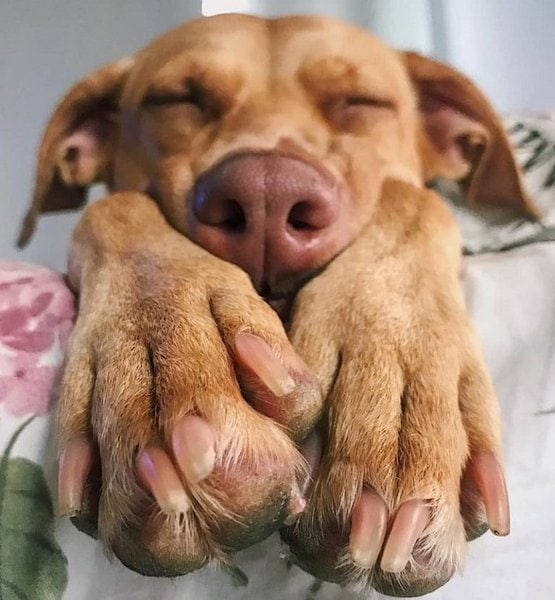 Consistency
When considering the ease of application, pay attention to the consistency of the balm, which you can find in reviews. You want something that pet owners feel is simple to spread. Products that need your hands' heat to soften are not necessarily bad, but you should know about this extra step ahead of time.
Greasiness
You also need to avoid greasy products due to the application process. Few people want to end up with greasy hands after applying the balm. Additionally, greasy balms are more likely to leave stains on your floor, furniture, clothing, or other items.
Satisfaction Guarantee
Do not forget to look for some sort of satisfaction guarantee on the product. The best dog paw balms will have a guarantee of some sort. Top products will always allow for refunds if the balm does not work as expected.
Some products have even more impressive guarantees. These may offer a refund if you are not 100% satisfied or do not notice results within a given time period, and even if it is not the best balm you have tried.
Just be cautious of guarantees that seem too good to be true. Read reviews to confirm that the company follows through with any guarantees and refund offers that it makes. At the same time, check the reviews to confirm the company handles complaints or problems, such as damaged products, well and in a timely manner.
---
Final Thoughts
---
In your search for the best dog paw balm, you want to ensure you choose a product that will heal your canine companion's dry and cracked paws while also preventing future damage. The best products have been formulated to help with cold and hot weather conditions, in addition to contact on rough surfaces like road and gravel.
Organic products are ideal, especially those that use naturally-healing ingredients such as shea butter or argan oil. Avoid products with harsh chemicals, including dyes and alcohol. To help ensure the quality of the balm, choose products made in FDA-approved facilities. Therefore, try out our top pick and witness its results for yourself.